If you purchase one of the products recommended in this article, I might receive a small affiliate commission. Thank you for your support!
The Puma brand has been around since the 1950's, starting as a sports shoe and evolving into an urban wear staple. The most popular styles come in suede or leather and are available in many different color combinations. Wearing pumas with jeans is one of the best ways to complete a sporty look and can be styled well beyond an athletic outfit.
If you want to wear Pumas with jeans, this can be achieved with your everyday jeans, tees, and accessories. We've put together the ultimate guide to wearing Pumas with jeans, to easily create versatile looks.
Black Jeans, White T-Shirt, and Jacket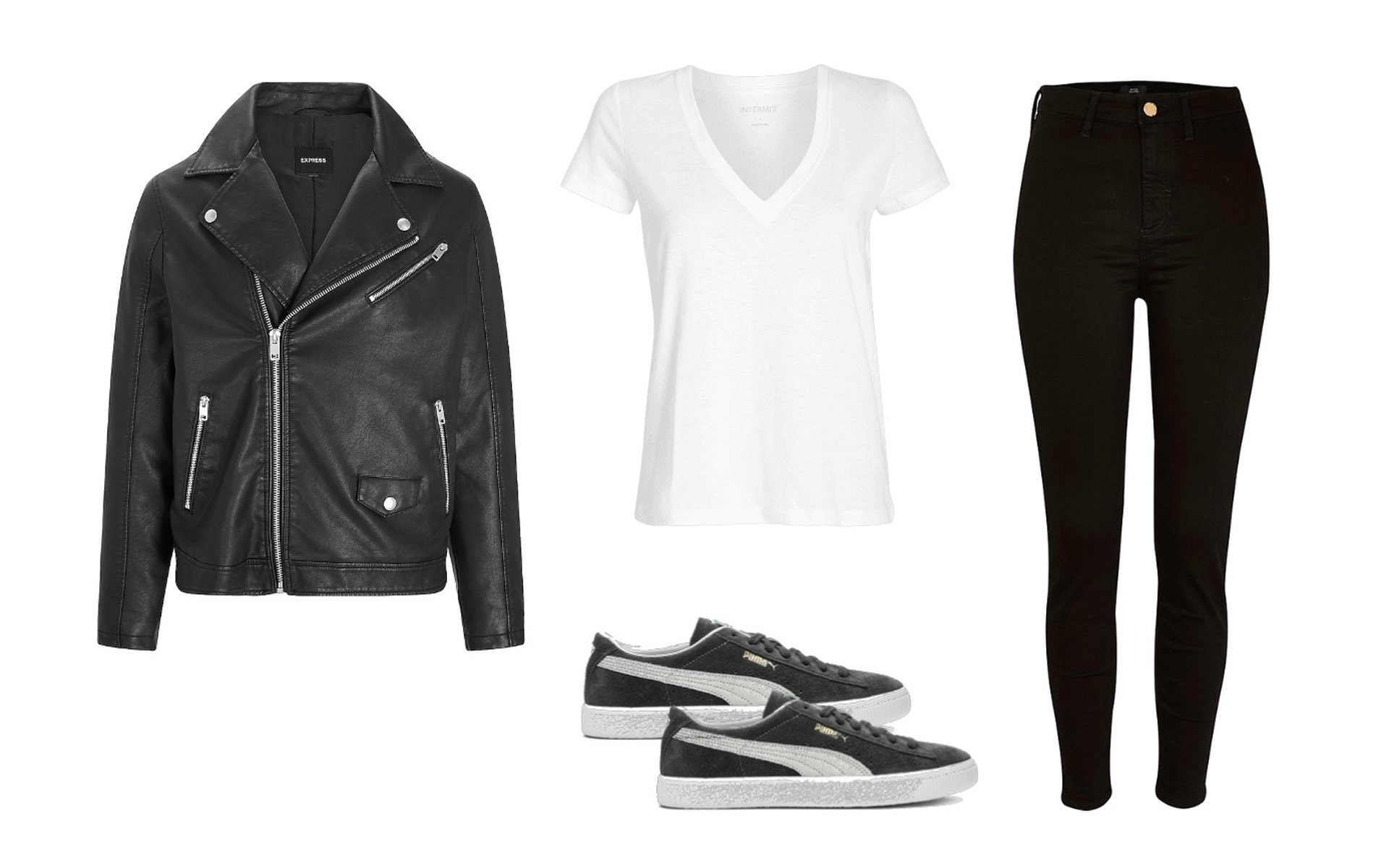 You can wear black jeans with classic suede Pumas in black and white. Or, you can wear the
GV Special Pumas in white and black, made of leather. Add black skinny jeans and a white v-neck tee shirt. You can wear long or short sleeves and add a jacket when it gets cool. Your jacket can be in a moto-style for an edgy look, or you can wear a lightweight jacket. This look will also pair well with a puffer jacket or a short trench coat.
Skinny Jeans, Dressy Top or Sweater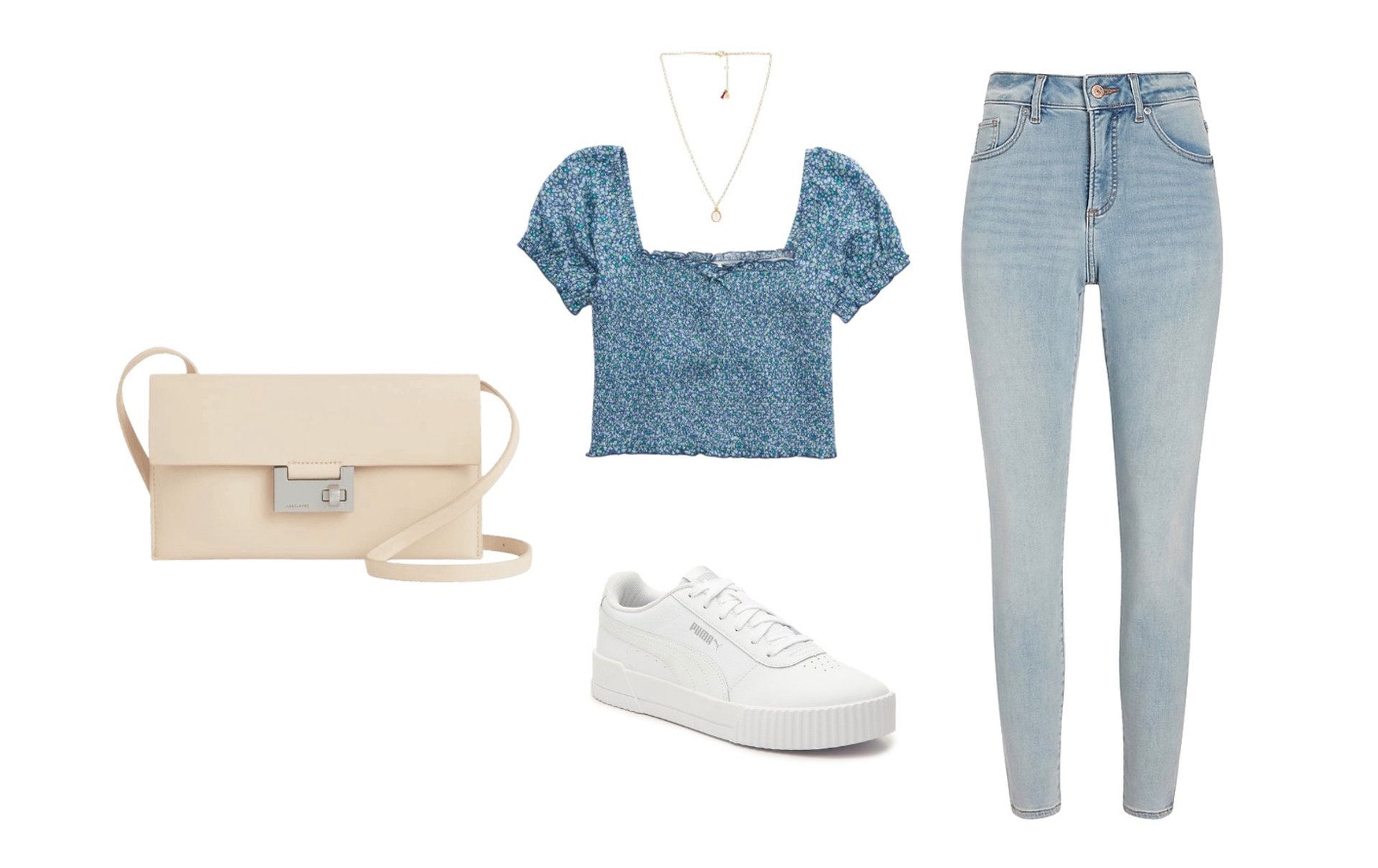 The best thing about wearing a classic, white Puma shoe, is you don't have to stick with a t-shirt. You can wear a dressy top or sweater too. Wear classic color pumas and skinny jeans that are cropped in a light wash. Try wearing an off-the-shoulder sweater for a classy look that is also flirty and romantic. You can wear classic accessories with this look, as well.
Try to keep your jewelry simple with gold or silver midi rings and a simple necklace. As far as your handbag, you can wear a mini purse, to keep the focus on your sweater and shoes. Your handbag can be a crossbody with a chain design or a simple leather crossbody.
Striped Sweater and High-Waist Jeans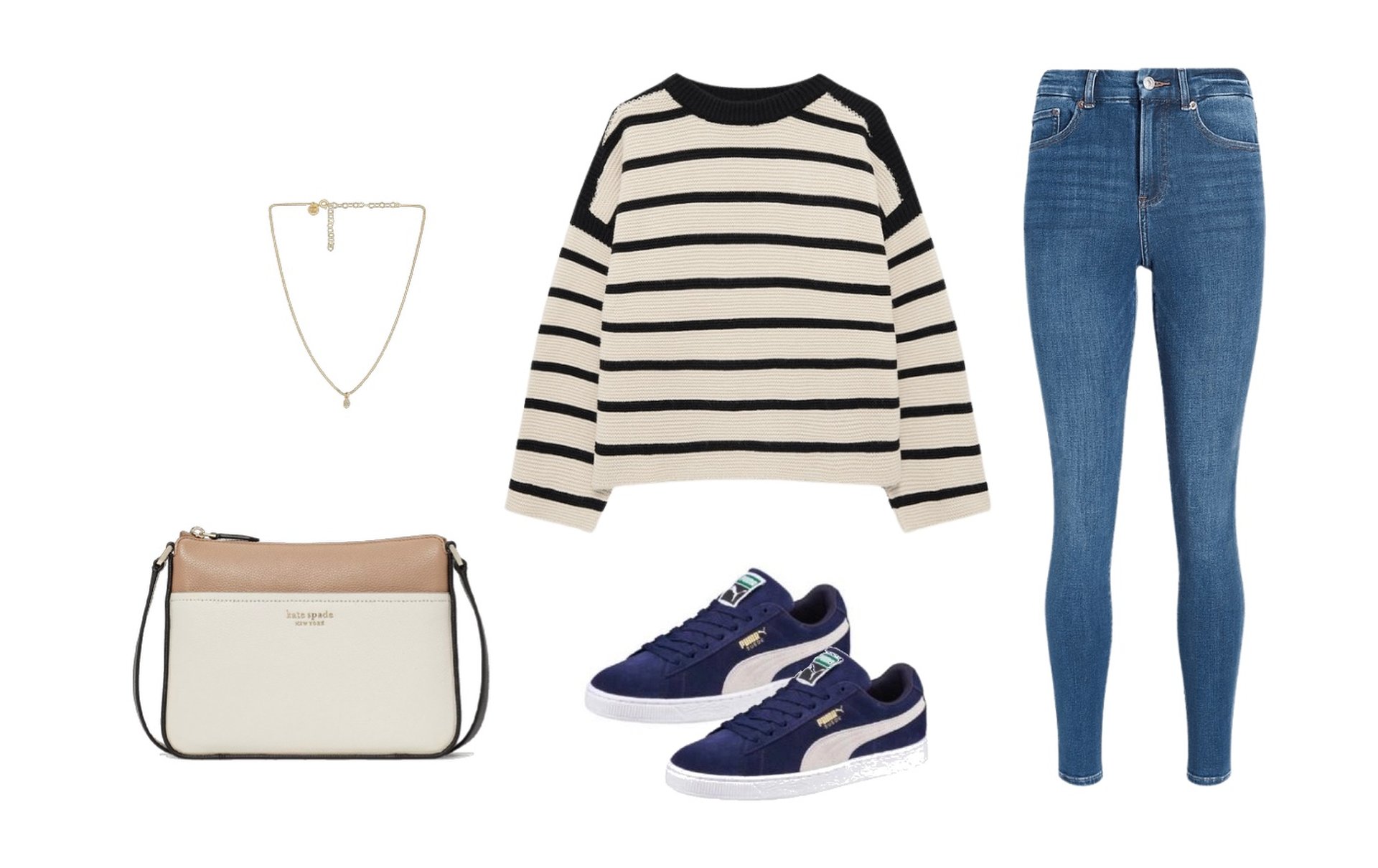 If you want to add a little color, try wearing a navy blue and white pair of Suede Classic Pumas. You can wear this look with a striped sweater and high-waist jeans in a medium wash. Your sweater can have brown, blue, black, or green stripes. Add a crossbody handbag in a white or creme* color and a long, chain necklace in gold. You can add a shorter gold necklace for layer or choose a necklace that will drape well below your neckline. This combination of pieces will create a classic, minimal design that will appear bold and sweet at the same time!
If you want your look to lean more towards bold rather than sweet, try matching your stripes with the color of your shoes. If you're wearing dark blue Pumas, choose a top in white with blue stripes. Create the same striking look with red Pumas as well.
Blazer, T-Shirt, and Cropped Jeans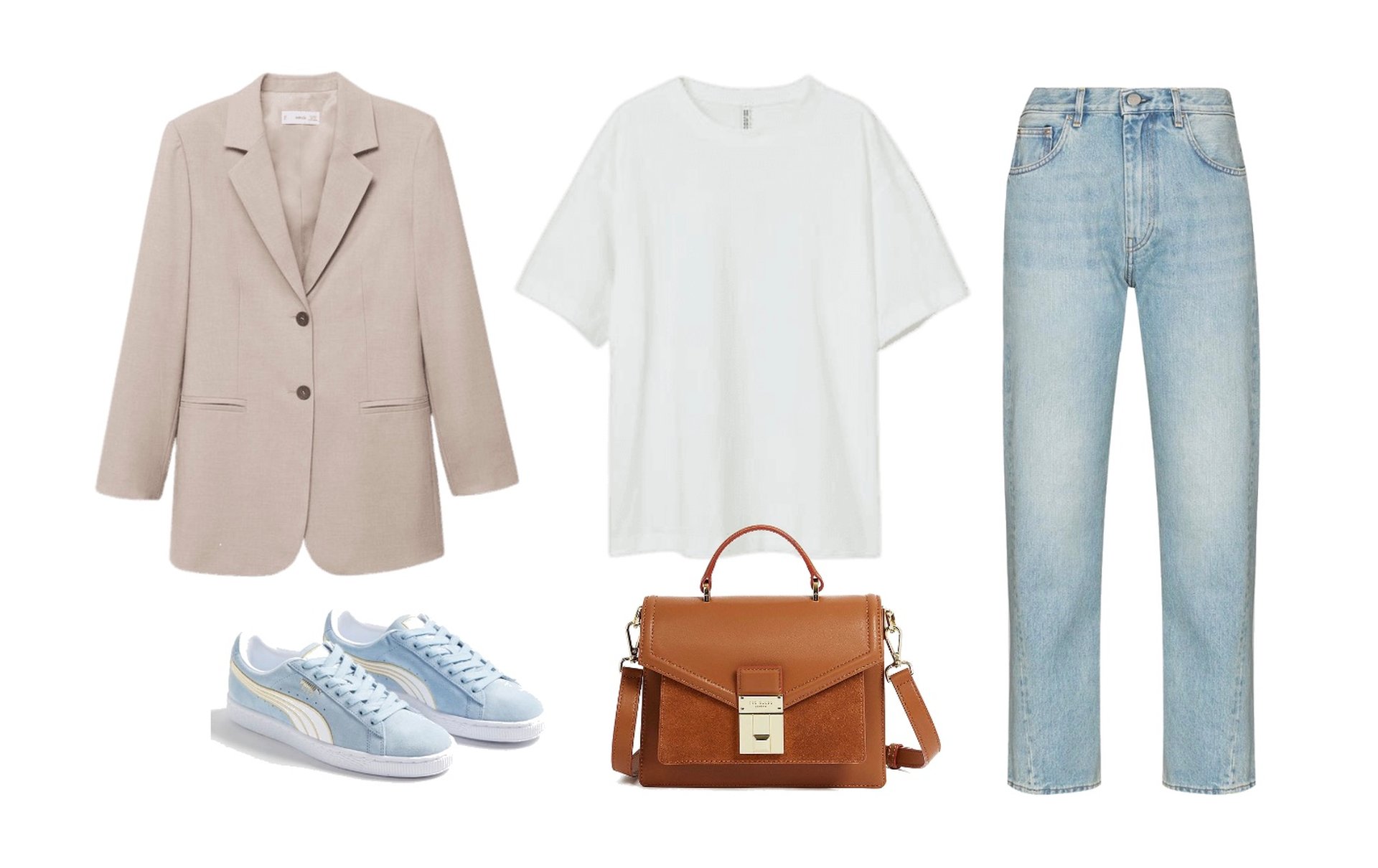 You can add a blazer to your sneaker outfit for a preppy vibe. Wear a white blazer with a camel color or dark brown cami. If you don't have a brown cami, go for a black tank. You can also wear a white t-shirt if it's more convenient. This look added with a white t-shirt will also add a laid-back, casual element if that's what you prefer. Pair your blazer and top with light-washed, cropped jeans. You can wear a high waist pair of denim pants and tuck your shirt to complete the look.
Your jeans don't necessarily have to have a snug fit. They can have a more loose fit, in a mom jean style. If you're more of a glam girl, you can opt for full-length skinny jeans and pair a subtle sequin tank (not too heavy on the sequin) underneath your blazer. Wear classic suede Puma sneakers in white or blue and white. You can also wear red Pumas with this outfit as well.
Read: What Shoes Should You Wear With Mom Jeans?
Denim Jacket, Skinny Jeans, and Scoop Neck T-Shirt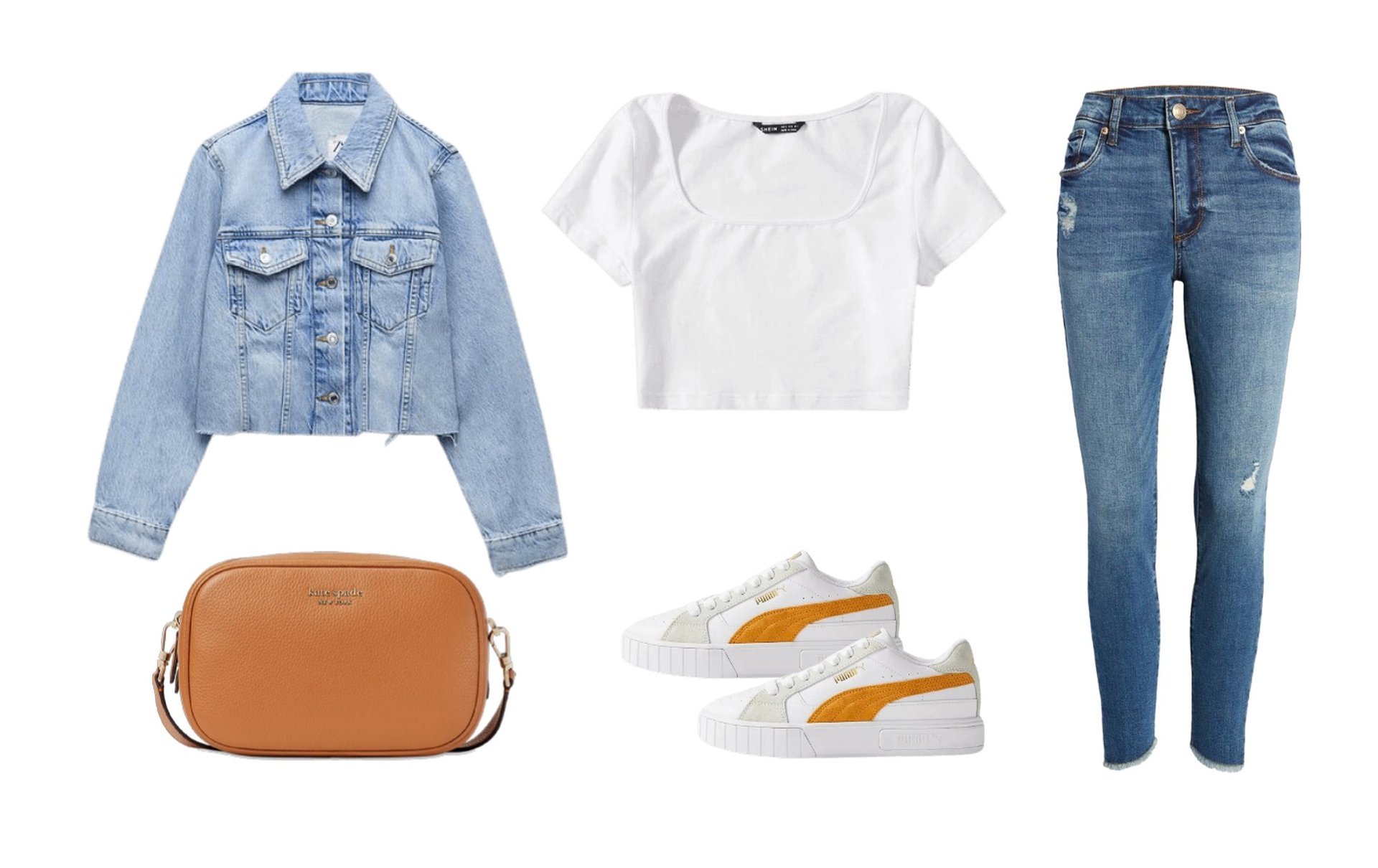 When it's cool outside, it's the best time to add fashionable layers. Try a denim on denim look with a twist, by wearing a cropped denim jacket. You can wear the traditional blue jean jacket, or you can go for a pop of color with green or blue. Choose a purple jacket if you're feeling extra girly.
Add medium-washed, destroyed jeans in a skinny or straight leg style. Finish your look with white Cali Pumas that have a thicker sole. This will keep your look trendy and fun! Accessorize with a nude or brown shoulder carry handbag and wear a white, scoop neck t-shirt.
Full-Length Coat, Destroyed Cropped Jeans, and Black Tee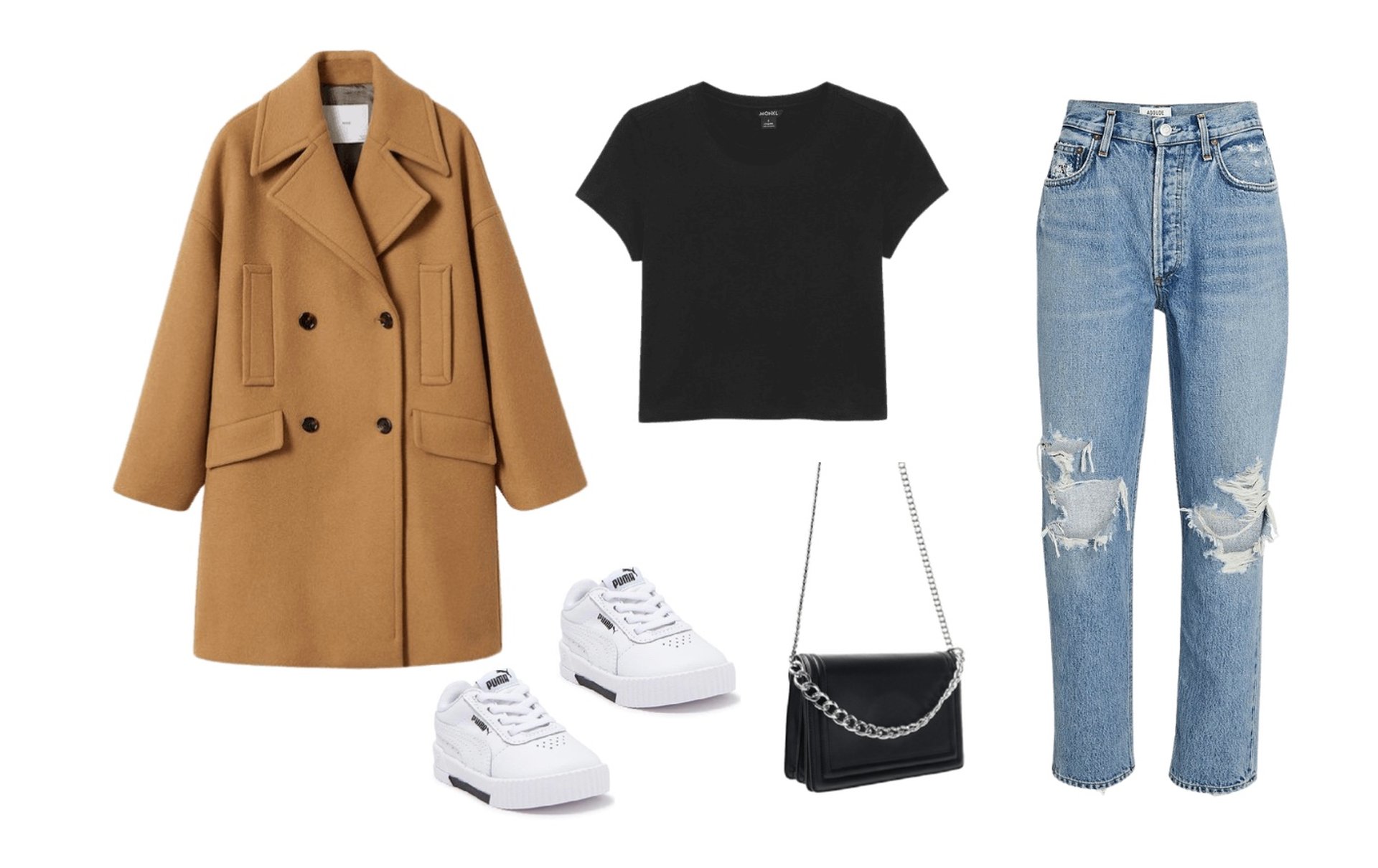 Keeping up with the same chilly weather vibes, you can wear a wool coat with destroyed denim jeans in a cropped cut. Cropped styles pair seamlessly with Pumas, since they showcase your entire shoe and accent your ankles, allowing you to tastefully show a little skin. Add a black t-shirt instead of the usual white tee with this outfit.
Accent your tee with a black handbag that has a chain strap for the shoulder carry design. Or, you can simply wear a fold-over clutch in black. You can wear virtually any black handbag with this look. However, these are the recommended styles for the most chic appeal.
Bomber Jacket, Black Jeans, and Sweater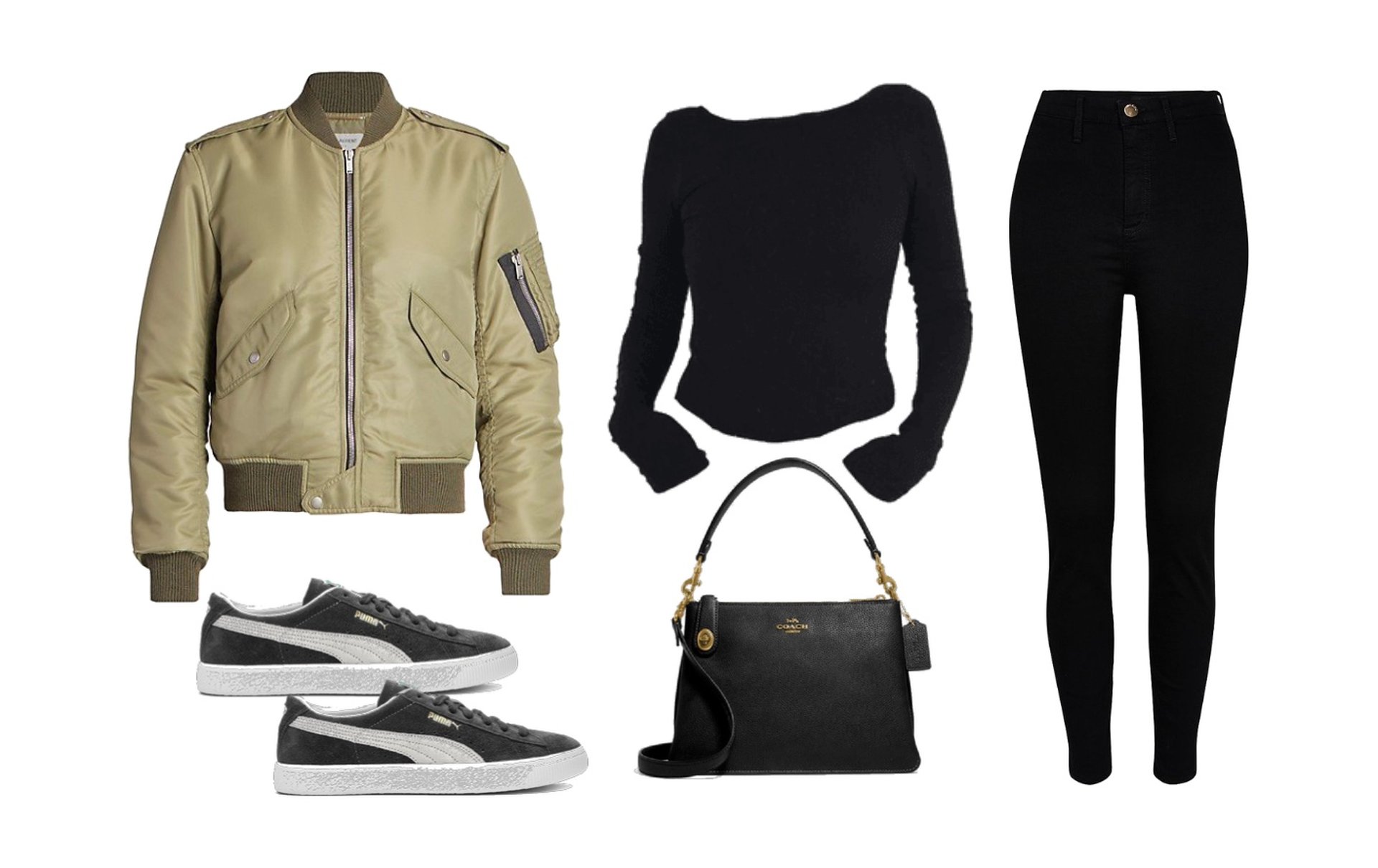 For an edgy, cool-girl look, try wearing your Puma sneakers with a bomber jacket. Wear black or grey jeans with a black t-shirt. You can also wear a black sweater if you want to combat the weather when you need to stay extra warm. Add a green bomber jacket in an olive green color. Add a crossbody handbag in black with gold hardware.
A classic pair of suede Pumas or the Speed Cat LS style will pair well in white, black, or navy blue. If you want to add even more edge to your look, wear aviator-style sunglasses. This look is ideal for hanging out with friends. Or, on laid-back days where you may be doing a lot of walking, whether it's running errands or taking a stroll through the park.
Read: How to Wear Running Shoes With Jeans
Puffer Vest, Dark-Wash Jeans, Dad Cap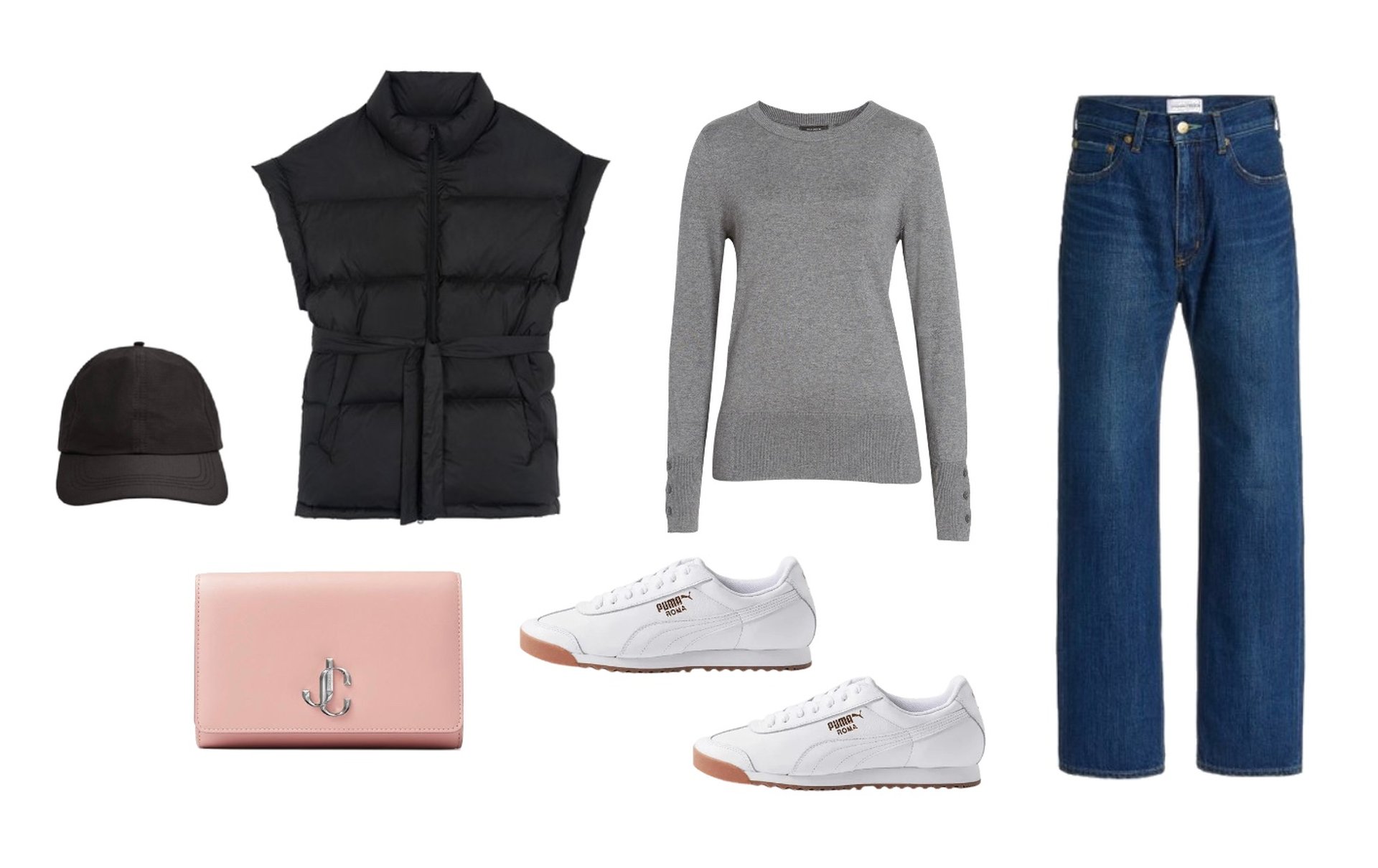 If you want a chill vibe, but you don't want to necessarily wear a full-blown bomber jacket, try wearing a puffer vest. A vest in black or dark blue will pair well with a grey or wheat color sweater. Add cropped jeans in a dark wash and white leather Pumas. You can also wear a dad cap with this look since it is the most sporty. Wear your Pumas with low-cut socks, so that your ankles can breathe and your outfit looks effortless.
You can also wear a sweatshirt with a white or blue t-shirt underneath. For a sporty look mixed with preppy, try wearing a button-up under your sweatshirt and cuffing your sleeves. This will give the scholar-like feel of a sweater vest but will be more relaxed and warm since you'll be wearing three layers. Try wearing a handbag that has a bit of glamorous elements to spice up the look by choosing a purse that has studs or simple embellishments.
Cardigan, Light-Wash Jeans, and Graphic Tee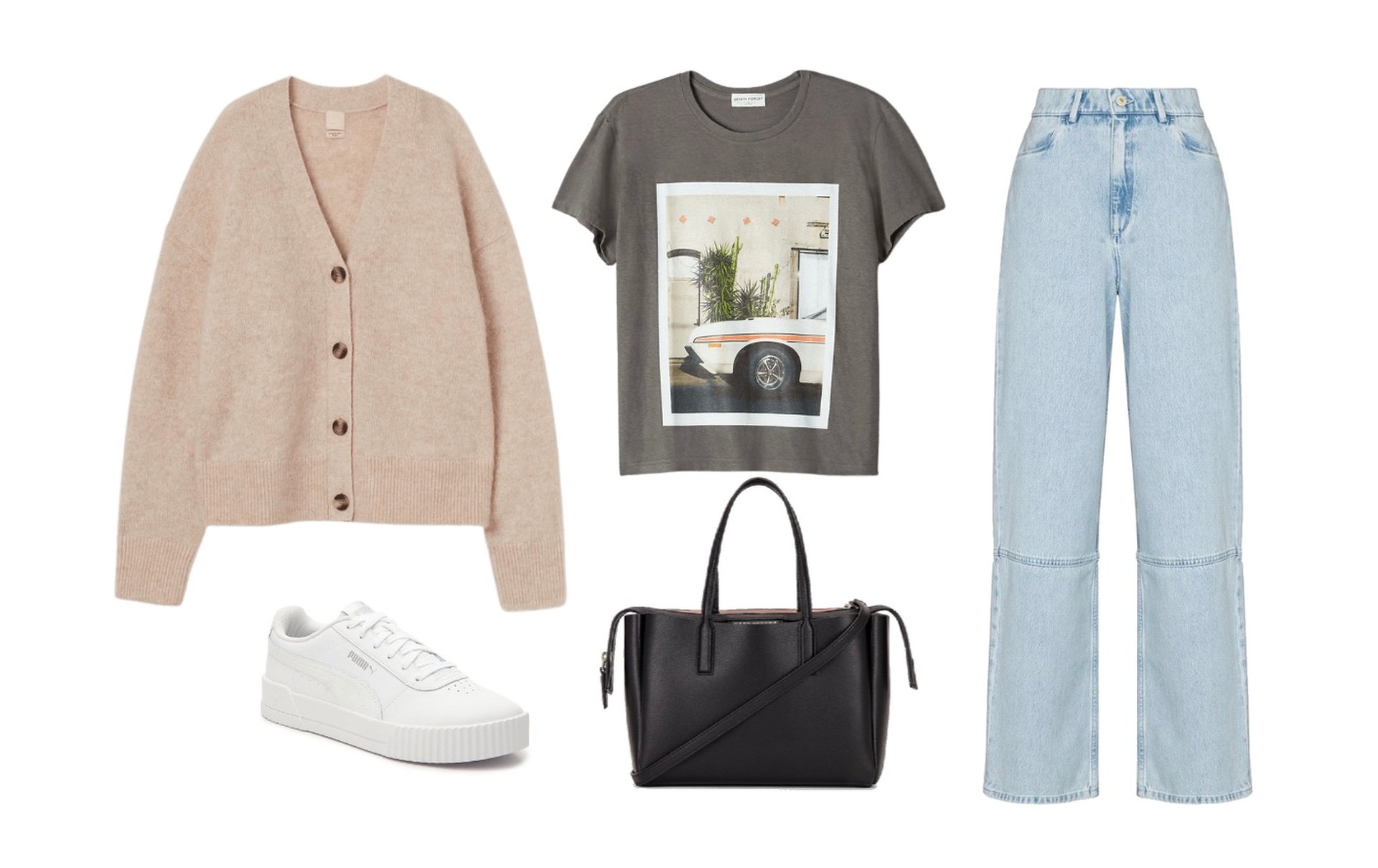 If you want a look that you can wear in cool weather but isn't so heavy with a thick sweater or large coat, try wearing a cardigan. Wear a black, brown, or beige color cardigan with light-wash jeans. High waist jeans will fit with this look when worn with a graphic tee. Keep your cardigan in a neutral color, so that your t-shirt doesn't clash.
If you want to wear a standout cardigan in a vibrant color like red or green, try to keep the colors on the darker scale with wine or olive green. Add a handbag in a double strap shoulder tote style, with leather material. Wear white leather pumas or all-black classic suede Pumas.
Plaid Blazer, White Button Up, and Black Jeans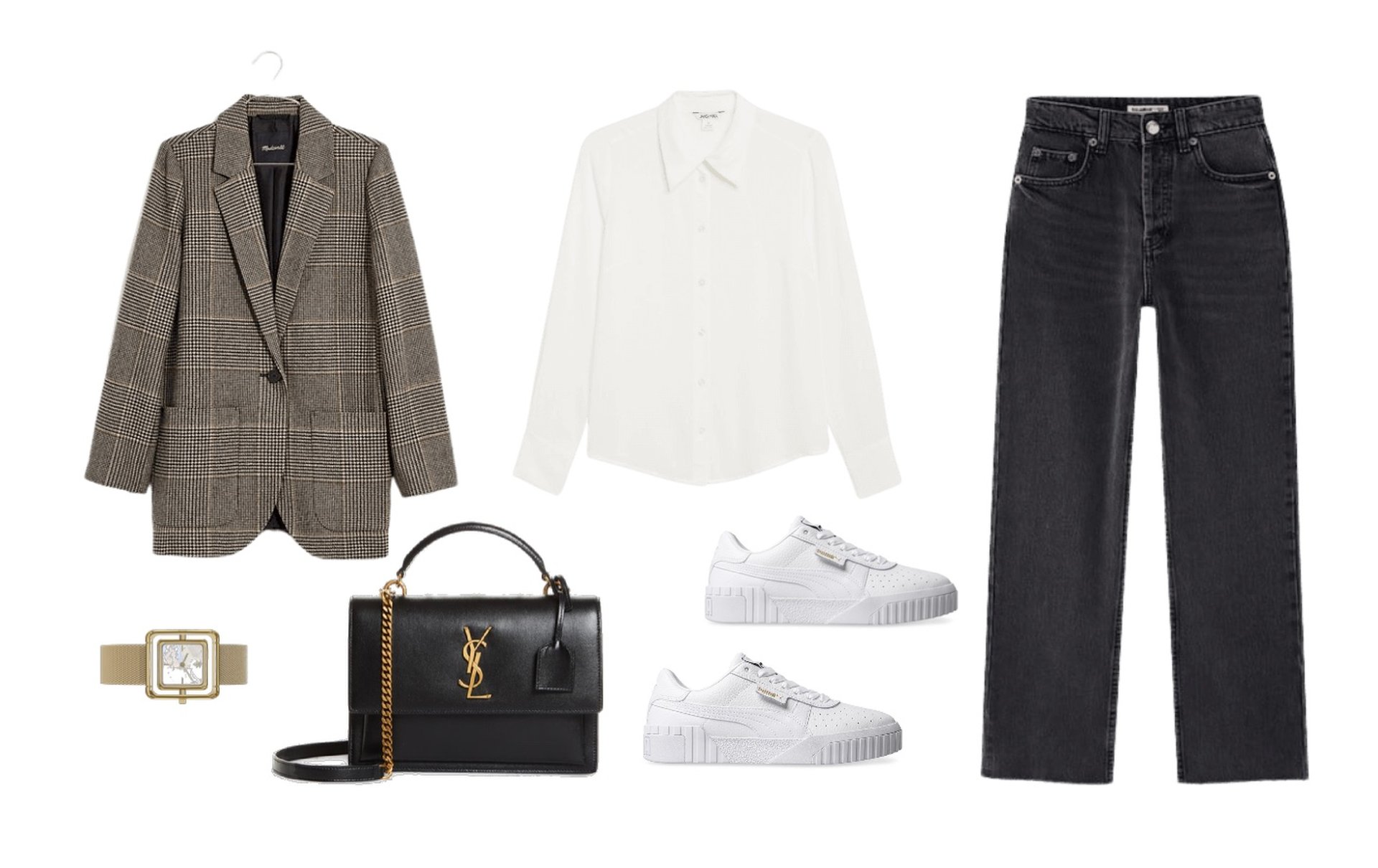 Wear a business outfit for a casual dress day with a plaid blazer. Try wearing a printed plaid that has a black and white design. Add a white button-up with black, cropped jeans. You can wear more fitted, skinny jeans that are mid-rise instead of fitting high at the waist. Add a black belt that's slim in width. Cuff your sleeves and add a silver or gold-tone watch. If you're wearing a silver watch, add the same tone of necklace and bracelet, or rings. The same combination applies to gold-tone jewelry. If you need to take your look from work to dinner or drinks, wear a sleeveless blouse underneath your suit jacket or blazer. This way, your outfit transforms, once you remove one of the top layers. Finish your look with all-white, classic, leather Pumas.
Read: How to Dress Up Jeans for Work
Wearing Pumas with jeans is super simple. You'll start with the shoe color and style to determine which pieces are needed to create the best outfit. Pumas pair best with skinny jeans since they usually come in more of a flat style, which gives off a canvas shoe aesthetic.
The suede style is simple and classy, but it's also a laid-back shoe design. The classic suede style is the best for casual, everyday outfits. The leather styles are best when you know you'll be in a casual setting that's also business-related. Whether you're wearing Pumas in the classic style or newer designs, you still get to add stand-out pieces like a blazer, without over-dressing. Remember to wear all black or all white leather style Pumas in more business casual situations, to ensure your look is crisp.`