If you purchase one of the products recommended in this article, I might receive a small affiliate commission. Thank you for your support!
Wearing jeans to work can seem a bit taboo, depending on which career path you've chosen. However, learning how to dress up jeans for work is super useful and are great to blend with your office attire since they can be coordinated with any combination of tops, shoes, and accessories.
If you work in a setting that requires business casual and allows jeans, you can style your jeans in a way that will compliment your button-up shirts and blouses. If you work in a more laid-back environment, where you work mostly behind the scenes like tech, or other companies that don't require you to wear slacks or a full-blown suit, you can wear jeans with t-shirts and polo style shirts.
No matter the dress code, when you need to know how to dress up jeans for work, these looks are appropriate and can for sure be paired with jeans.
Blazer, White Blouse, Distressed Cropped Jeans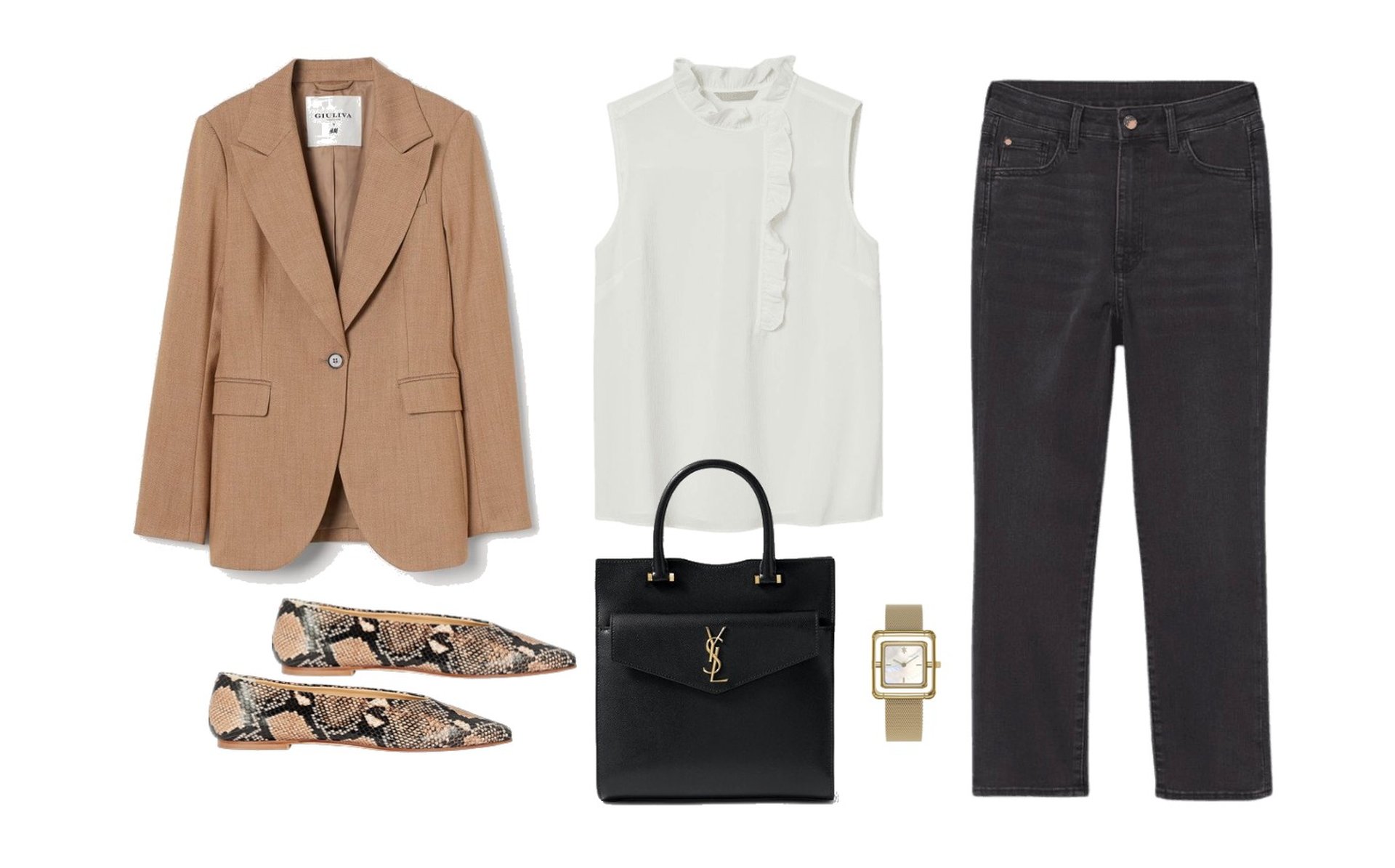 A camel or tan color blazer is a staple for a work wardrobe and can be worn with a white blouse that has a band or peter pan-style collar. You can wear a sleeveless shirt, to keep your jacket arms smooth. Pair these two pieces with black skinny jeans. You can also wear black straight-leg jeans. Your jeans can fit a little below the waist since your shirt length will cover this section on its own. Try wearing flats that have a pointed toe and a form of animal print like faux-snakeskin. Roll up your jacket sleeves and add a watch!
Read: How to Style Straight Leg Jeans
Motorcycle Jacket, White T-Shirt, Cropped Jeans, Ankle Boots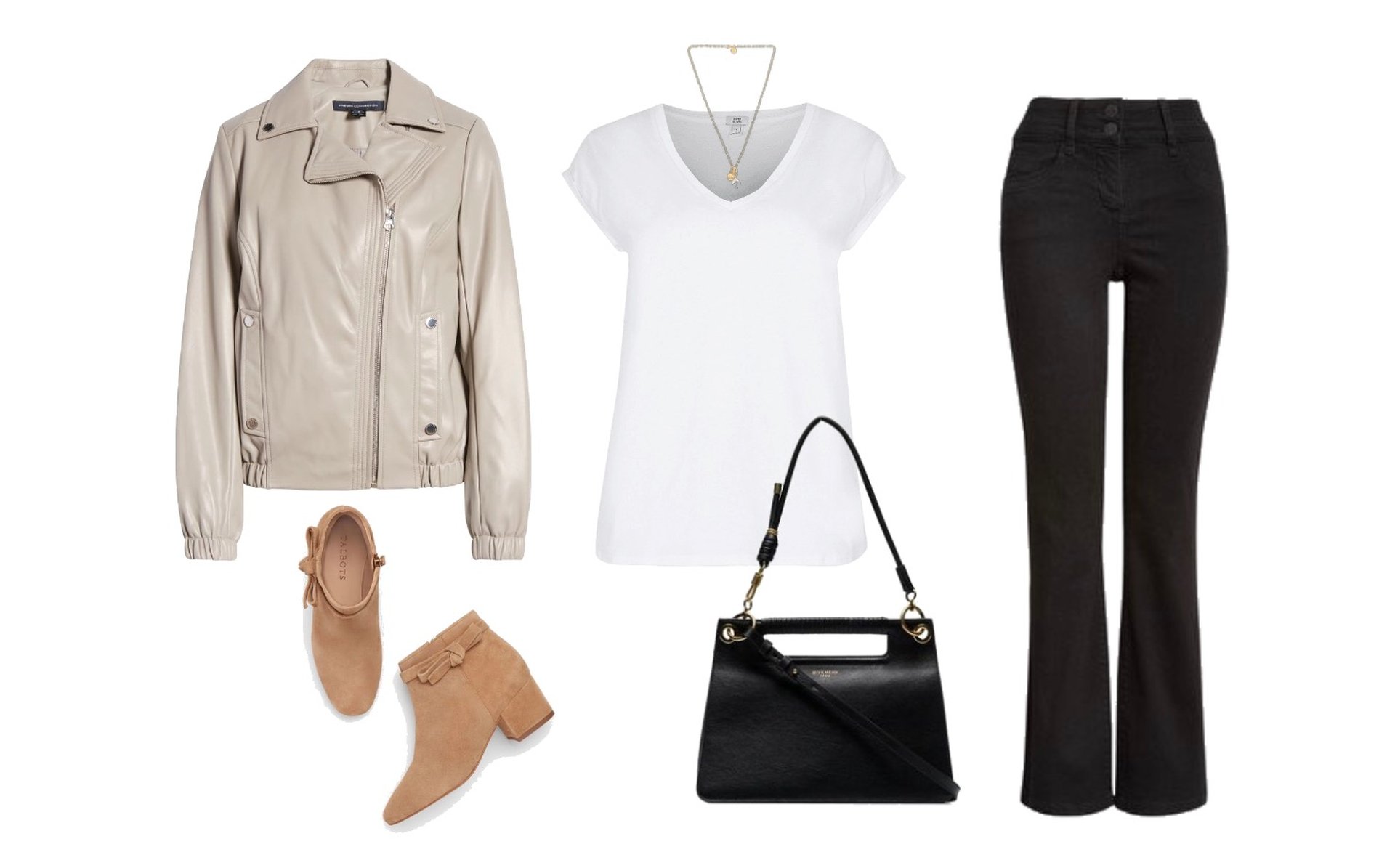 Wearing a jacket is how to dress business casual with jeans while adding more personality. Wear a cream or taupe color motorcycle jacket that is full length (not cropped). Since you're not opting for a black moto jacket, it will look more professional and less edgy. Add black boot-cut jeans that are cuffed and a white t-shirt or buttoned top.
For shoes, try weaning suede-like ankle boots with a chunky heel. You can skip accessories or wear a simple, short necklace that has a gold-tone chain.
Read: How to Cuff Jeans With Boots
White Cropped Jeans, Tank Top, Trench Coat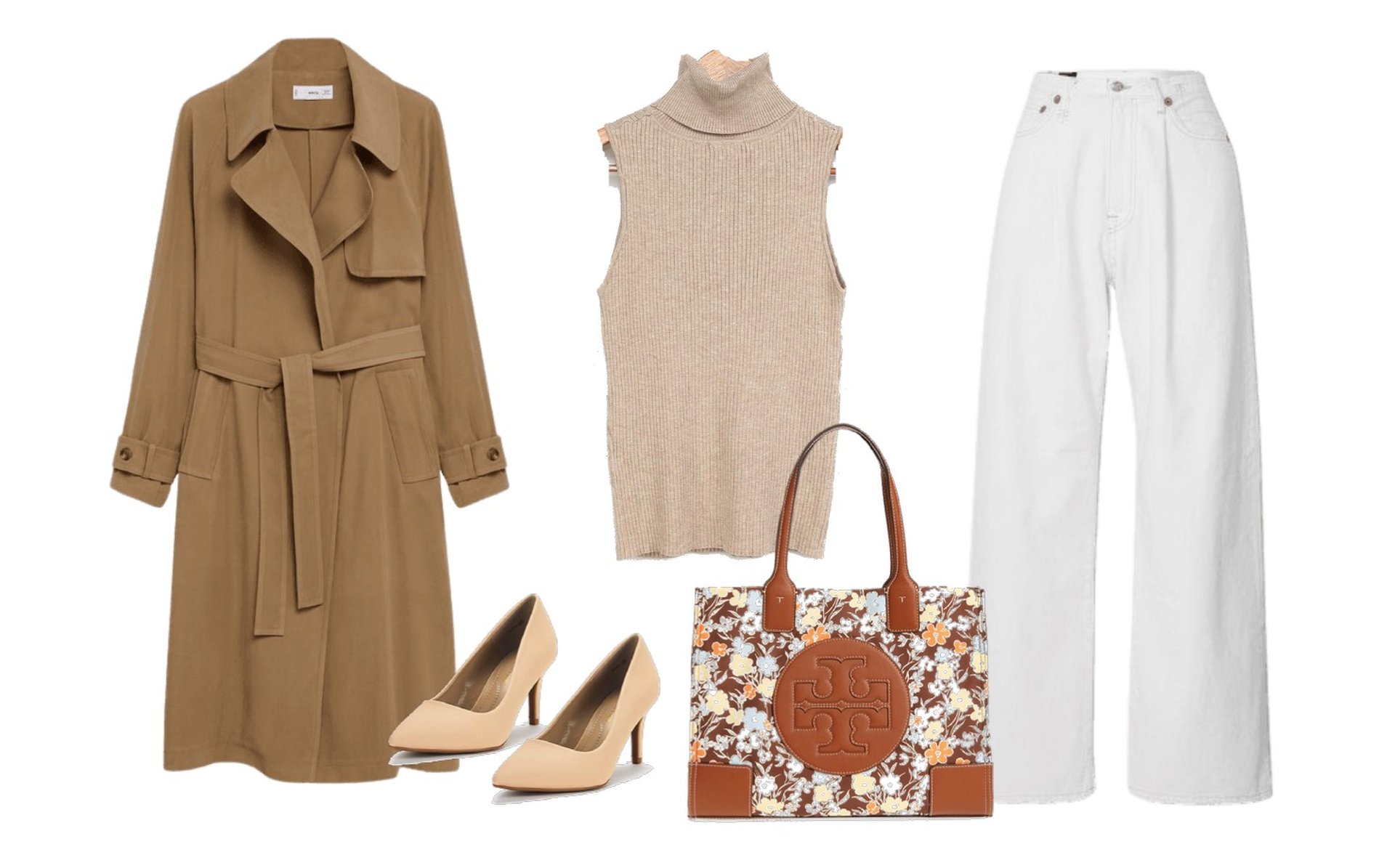 White jeans can act as trousers, making them a flexible option for work. Try wearing a cropped pair of wide-leg jeans in white that also has a high waist. Pair your jeans with a taupe, sleeveless turtleneck. Or, you can wear a white tank top that has a deep v-neck. If you want to wear sleeves, try a quarter-inch sleeve length, instead of long sleeves in blue color or black.
With all of these options, you can easily add a trench coat for the professional touch. Wear nude pumps that have a pointed toe or a slingback design. Add a tan shoulder strap tote that's slim, giving a briefcase type of effect. You can add a skinny belt that has animal print, if you'd like to have more texture, with a belt that has an animal or checkered print.
Bright Color Blazer, White T-Shirt, Skinny Jeans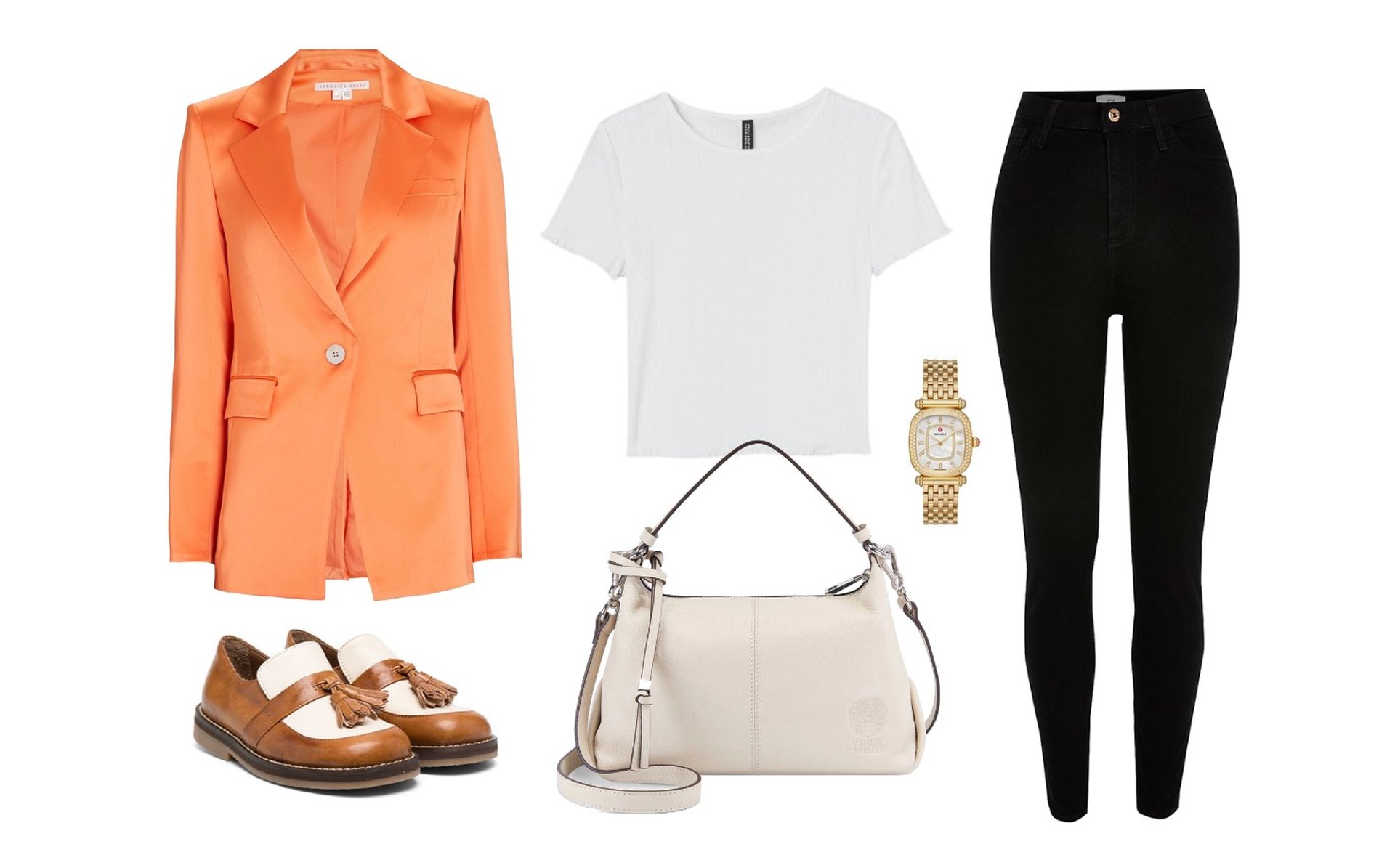 If you want to know how to dress up jeans for work and play with 80's style, try wearing a bright color blazer in orange. Wear a white t-shirt underneath in either scoop neck or v-neck. Your t-shirt can be tucked in to polish off the look and you can add a belt to cinch your waist.
You can also skip the belt and tucking your shirt, and wear a fitted shirt that stops at your waistline. Wear black skinny jeans and nude color flats. You can also wear brown penny loafers.
Try to steer away from black shoes, to keep your look from taking on a more Halloween-themed look, since your blazer will be orange. Stack gold bracelets with a mix of charms and bands. You can also wear a gold-tone watch.
Read: How to Make Jeans Stay Up Without a Belt
Cardigan, T-Shirt, Skinny Jeans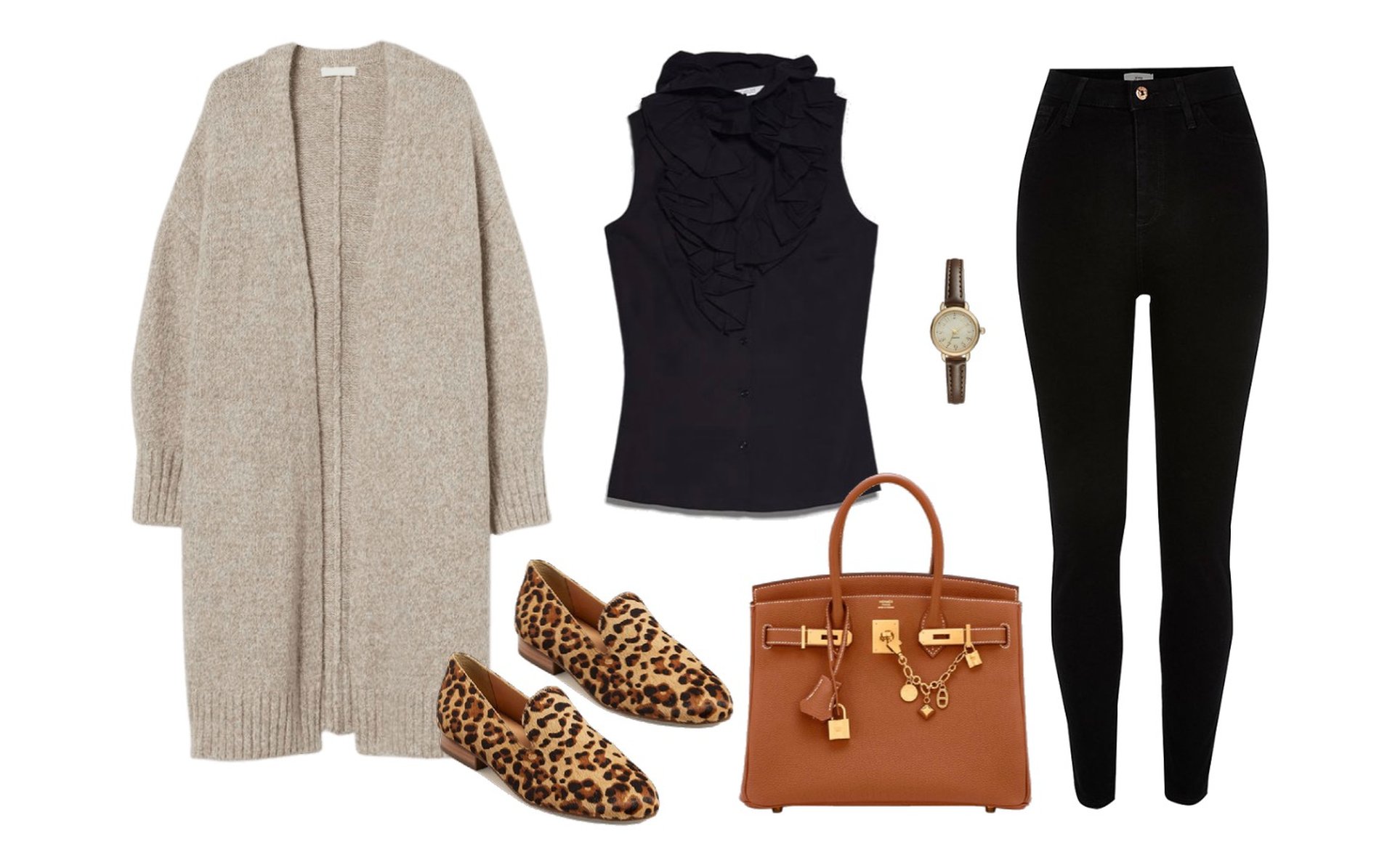 For a comfortable look, try wearing a long cardigan that drapes well below your waist and stops at the knee area. You can try wearing a sweater that has large pockets and buttons. Add a black blouse underneath with ruffles along the collar for a feminine touch.
Wear high-waist black skinny jeans and a short, shoulder handbag in a camel color. You can add accent shoes with a leopard print loafer. Try wearing a simple gold-tone ring for more accessories. You can also wear a gold-tone necklace without a pendant.
If you want to wear a necklace with a pendant, be sure the pendant has a large pendant, so that it stands out, underneath your cardigan. Choose a gemstone like Rose Quartz or Amethyst to add color.
Read: How to Wear Loafers With Jeans
Bell Sleeve Blouse, Light-Washed Jeans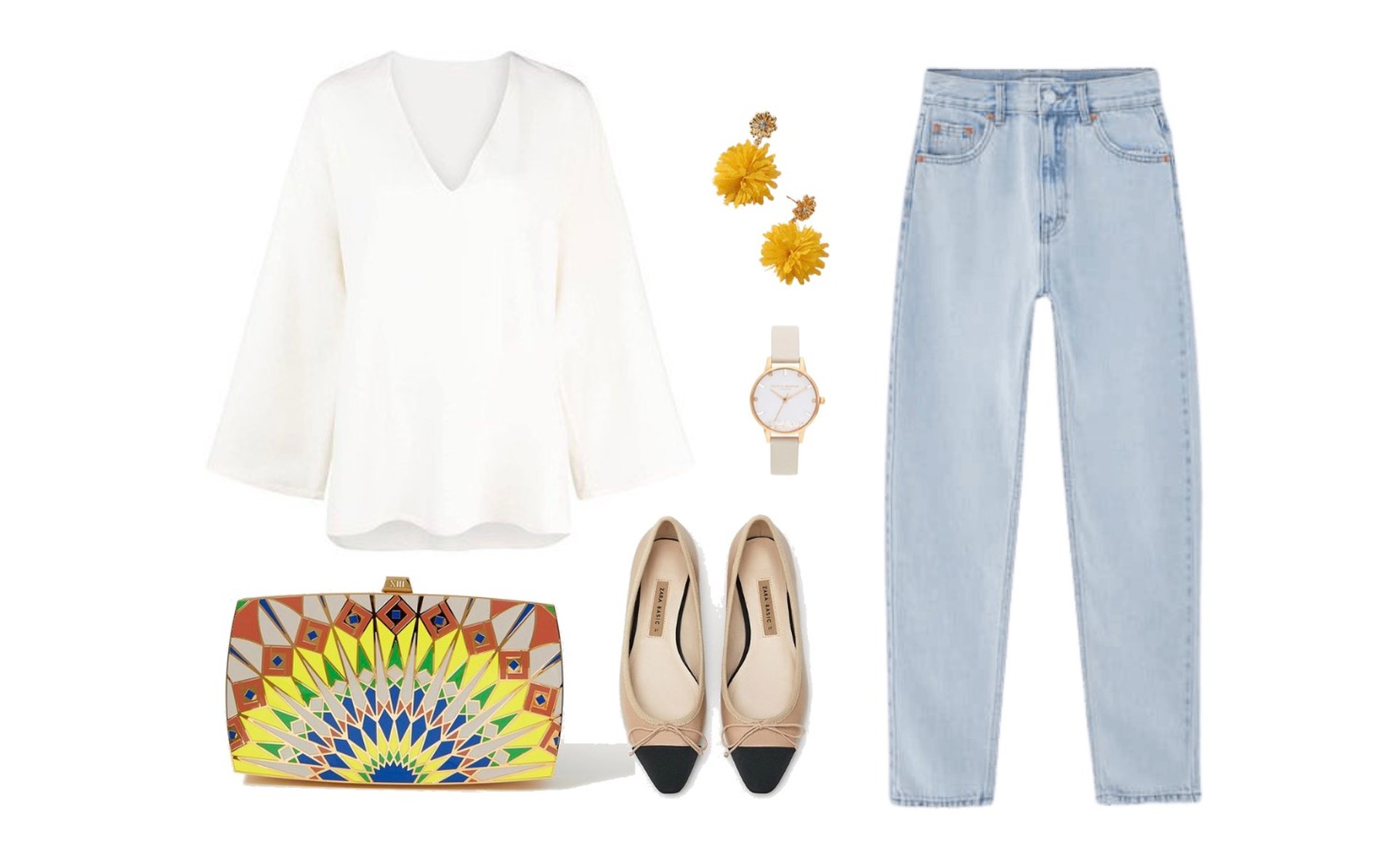 If you need to know how to dress business casual with jeans in a glamorous way, that's also work-appropriate, wear a bell sleeve blouse in white. Make sure your bell sleeves are oversized or large, for added drama! Wear light-washed cropped jeans or mom jeans that have a high waist.
Make sure your jeans aren't too tight so that you can tuck your shirt. Add large earrings in an eclectic style like flowers or a woven design. Your earrings can be playful in colors like green or yellow. Add two-toned flat shoes that have a rounded toe. The toe portion of your shoes can be blue, while the overall shoe is nude or tan.
With this look, you can add a clutch with a busy print in different colors that will tie together with the color of your earrings like orange, green, or purple.
High-Waist Mom Jeans, Sleeveless/Cuffed T-Shirt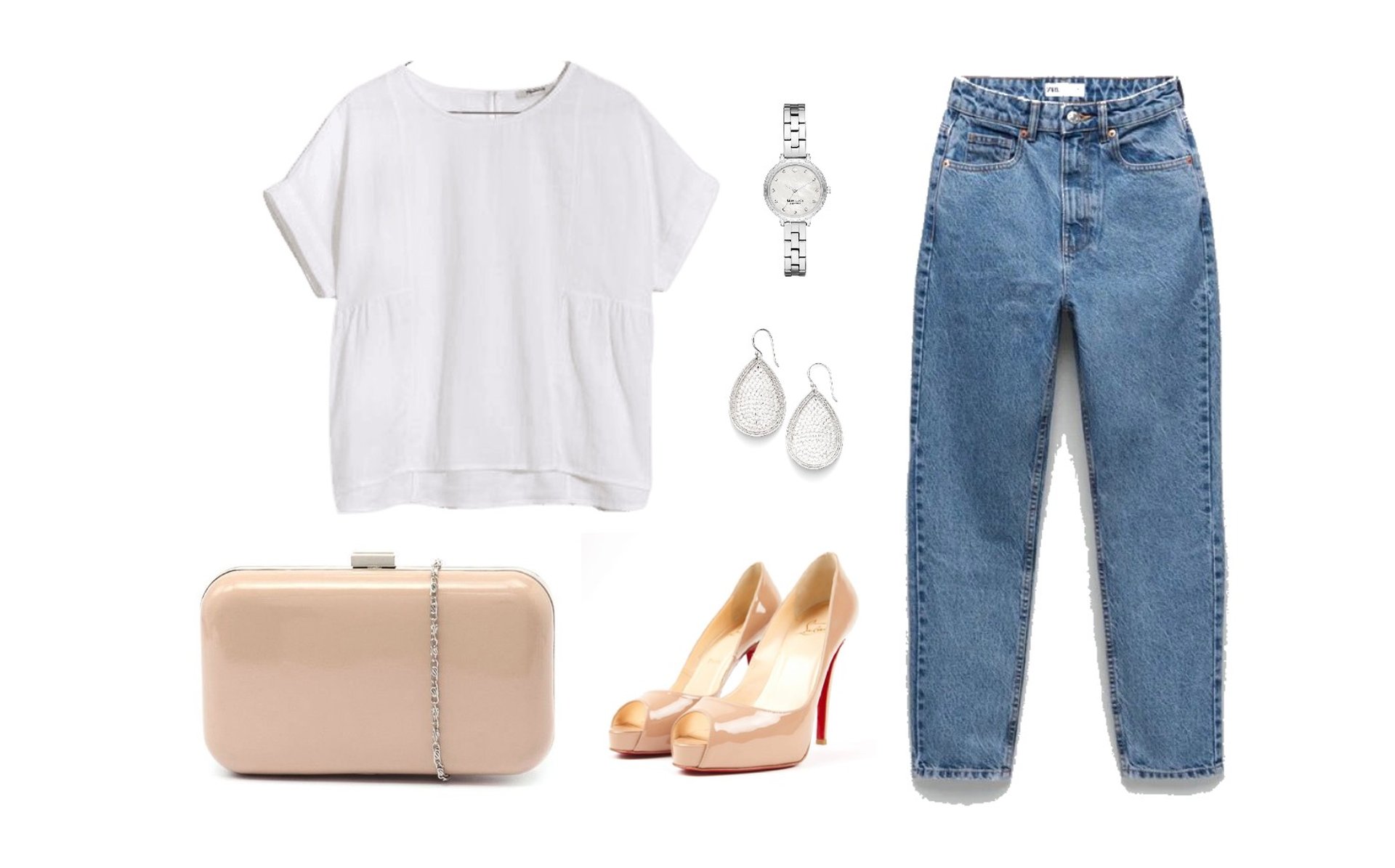 A sleeveless or cuffed t-shirt is how to dress up jeans for work with the perfect balance of casual and business. Your arms will be exposed, but only with the cuffed sleeves so that it doesn't give the effect of a more revealing shirt, versus wearing a spaghetti string camisole that shows more skin.
Wear your shirt with high-waist mom jeans that fit a bit loose, so that your jeans create a sort of puffing effect. Wear nude color heels that have a peep toe, instead of an open toe. Add a white or nude clutch and a silver-tone watch.
You can also wear teardrop earrings or pearl studs. Keep your studs smaller in size, so that your look is polished and neat.
Black Blazer, High-Waist Mom Jeans, Accent Shoes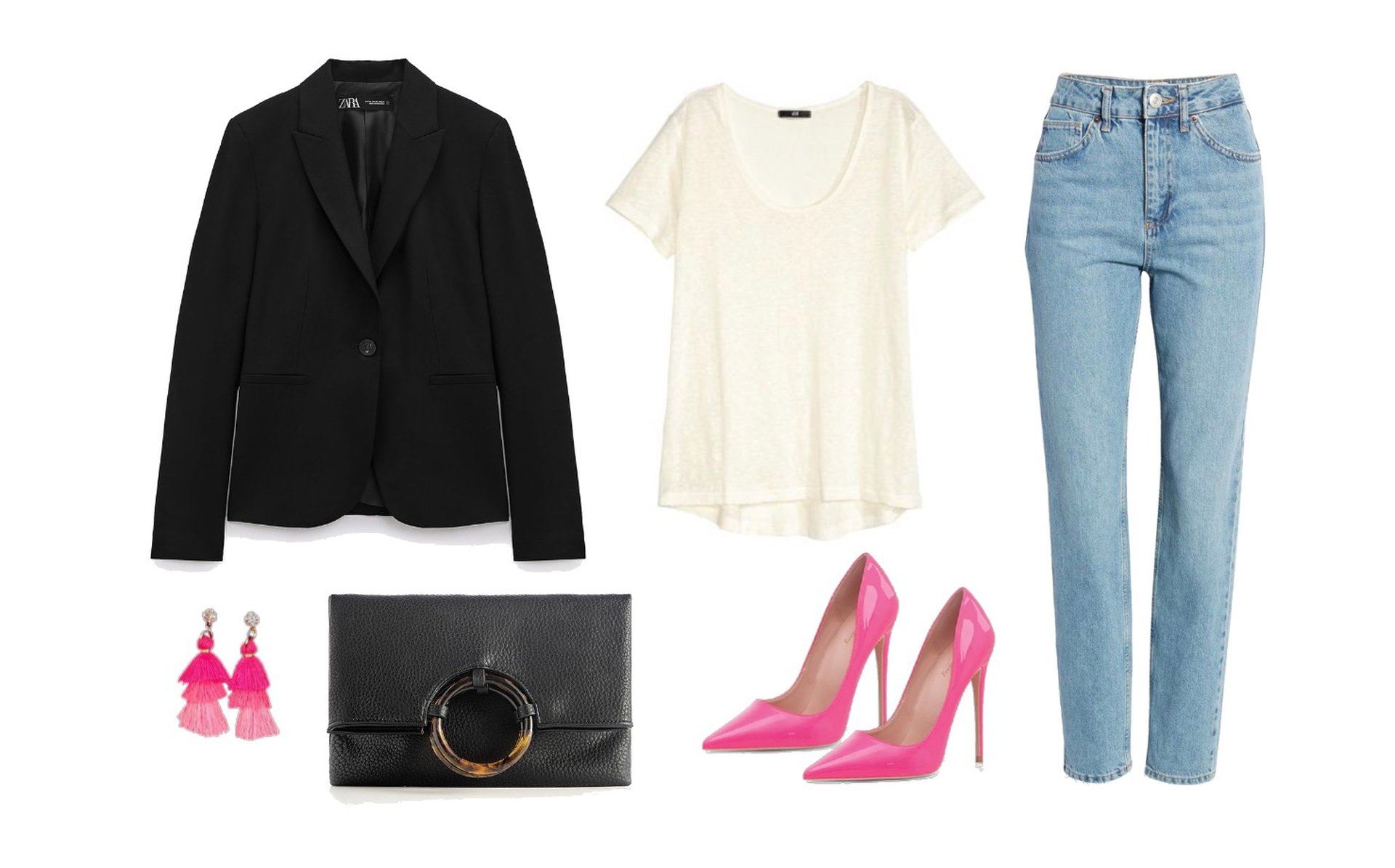 A black blazer is also a must-have for work attire and can be worn with high-waist jeans in an array of wash colors. You can also wear black or white high-waist jeans with a black blazer and a white t-shirt. Wear a v-neck t-shirt and high-waist jeans in a light wash for a modern look.
You can add a black belt with a gold buckle, but make sure your buckle isn't too big and bulky. Wear spontaneous shoes in pink or blue. Add chandelier earrings with white or black tassels and a black clutch. You can also match your earrings by wearing pink or blue fringe, tassel earrings.
Denim Shirt (Long-Sleeved and Cuffed), High-Waist Flare Jeans, Open-Toe Heels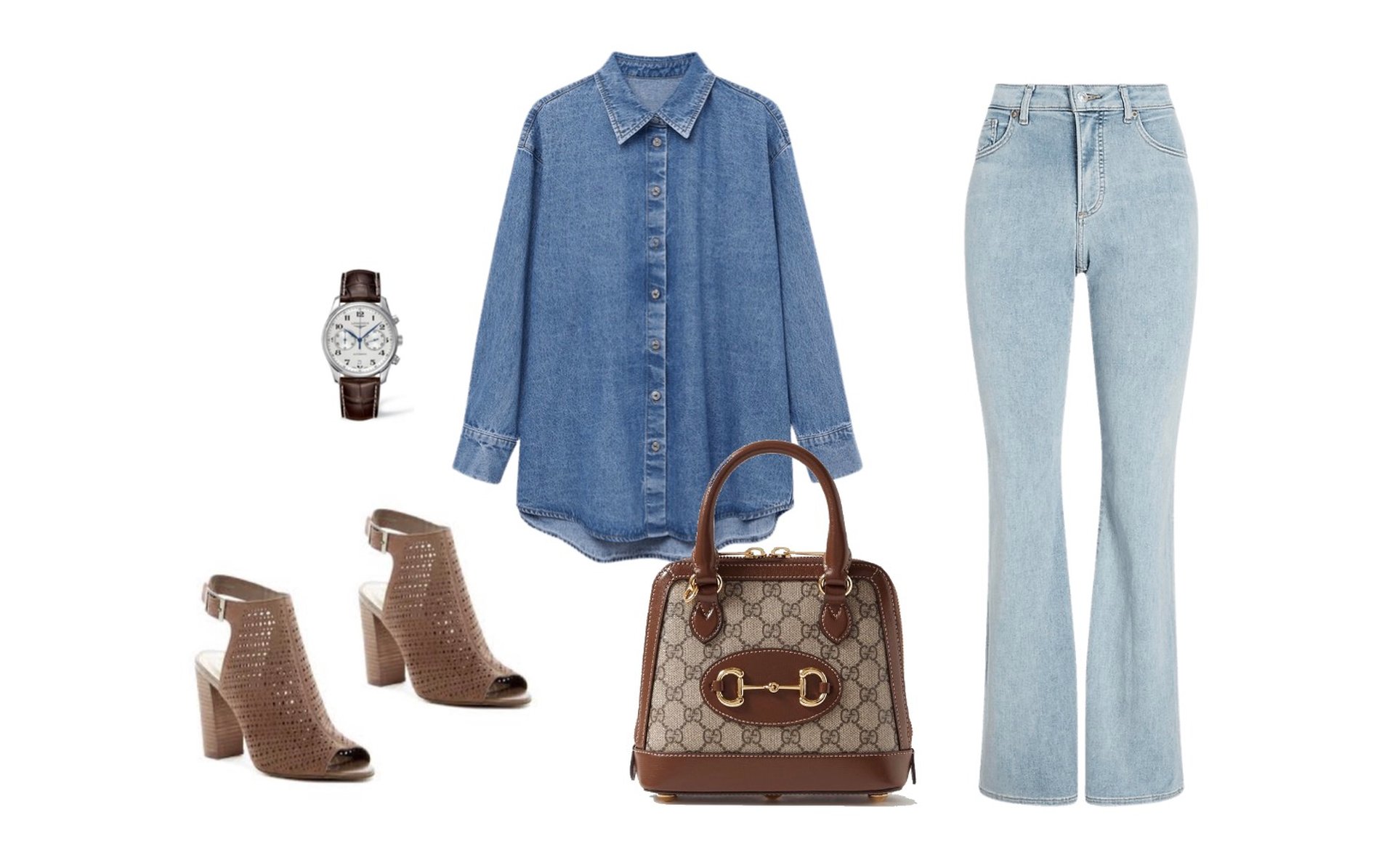 Go for a double denim look with a denim shirt that has a collar and can be buttoned. You can choose a shirt that has a short buttoned front (polo-style). Or, you can opt for a full button-up shirt in thin denim material. Wear light-wash, wide-leg, or flared jeans that will cover your ankles and the top of your shoes.
Roll your shirt sleeves and wear a smartwatch or silver-tone watch with a leather band. Be sure your jeans are high-waist and have a slight fading effect. Wear pointed-toe heels or wedges in brown or nude. You can wear small hoops with this look and you can add a suit jacket in navy blue if you want your look to be even more professional. Add gold-tone accessories, if you add a blue blazer or suit jacket.
Read: How to Wear Wedges With Jeans
Turtle Neck, Skinny Jeans, Sling-Back Heels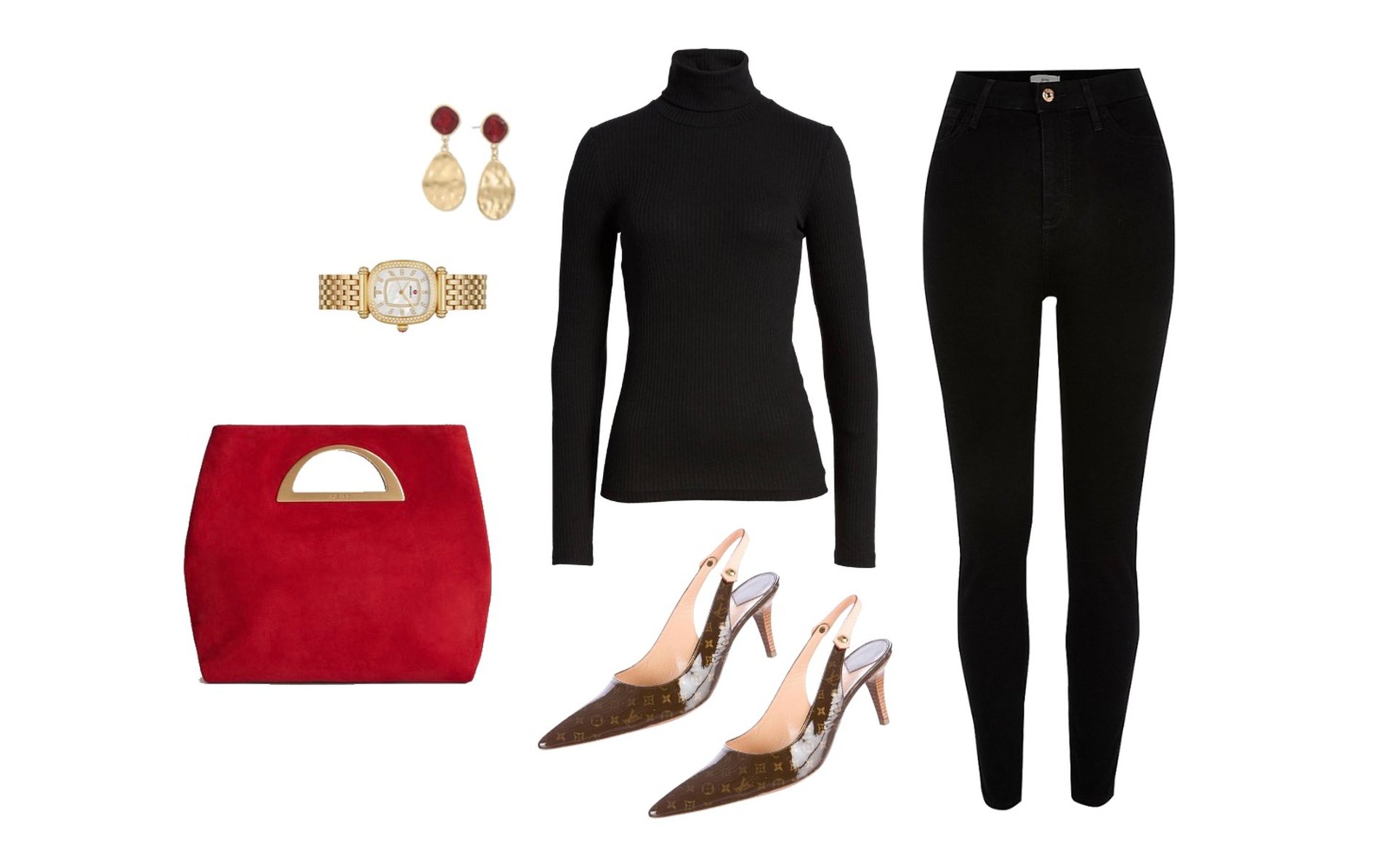 For an all-black look, try wearing a black turtleneck. You can wear a long sleeve, short sleeve, or a sleeveless turtleneck that has a ribbed design. Pair this with high-waist, black jeans that have chic details like splits at the ankle. Wear pointed-toe sling-backs in dark brown patent leather and small silver hoops. For your handbag, try wearing a top-handle clutch with a brass clasp, for an extra touch of sophistication.
When it comes to knowing how to dress up jeans for work, it's helpful to understand your work setting and wardrobe rules. The most fashionable way to add jeans into a professional setting is subtly. You want to avoid wearing too much of an urban or eclectic look if you work in a business casual or business professional setting.
Try staying away from wearing jeans with t-shirts that have busy graphic prints or inappropriate words. Keep your look clean with v-neck or scoop neck t-shirts in solid, neutral colors and add layers with blazers and cardigans or sweaters. Wearing jeans for work can be seamless and doesn't require you to over-style your look, which saves you time overall.