If you purchase one of the products recommended in this article, I might receive a small affiliate commission. Thank you for your support!
Wedges are definitely one of the most popular hybrid shoes that double as a sandal and a heel. When it comes to fashion choices, the flexible shoe design offers the height of a heel that can elongate your legs when wearing your wedges with jeans. You will also get the comfort of a sandal with most styles allowing you to shop, dine, or enjoy a romantic evening with ease.
There are multiple ways you can wear wedges since they're ideal for occasions both dressy and casual. You can quickly pair your wedges with jeans and a t-shirt for a quick, on-the-go change. You can also add to your shoe appeal with flirty tops that have ruffles! Follow this guide to find out how to wear wedges with jeans to create several fashionable looks.
Floral Ruffle Top, Cropped Light-Wash Jeans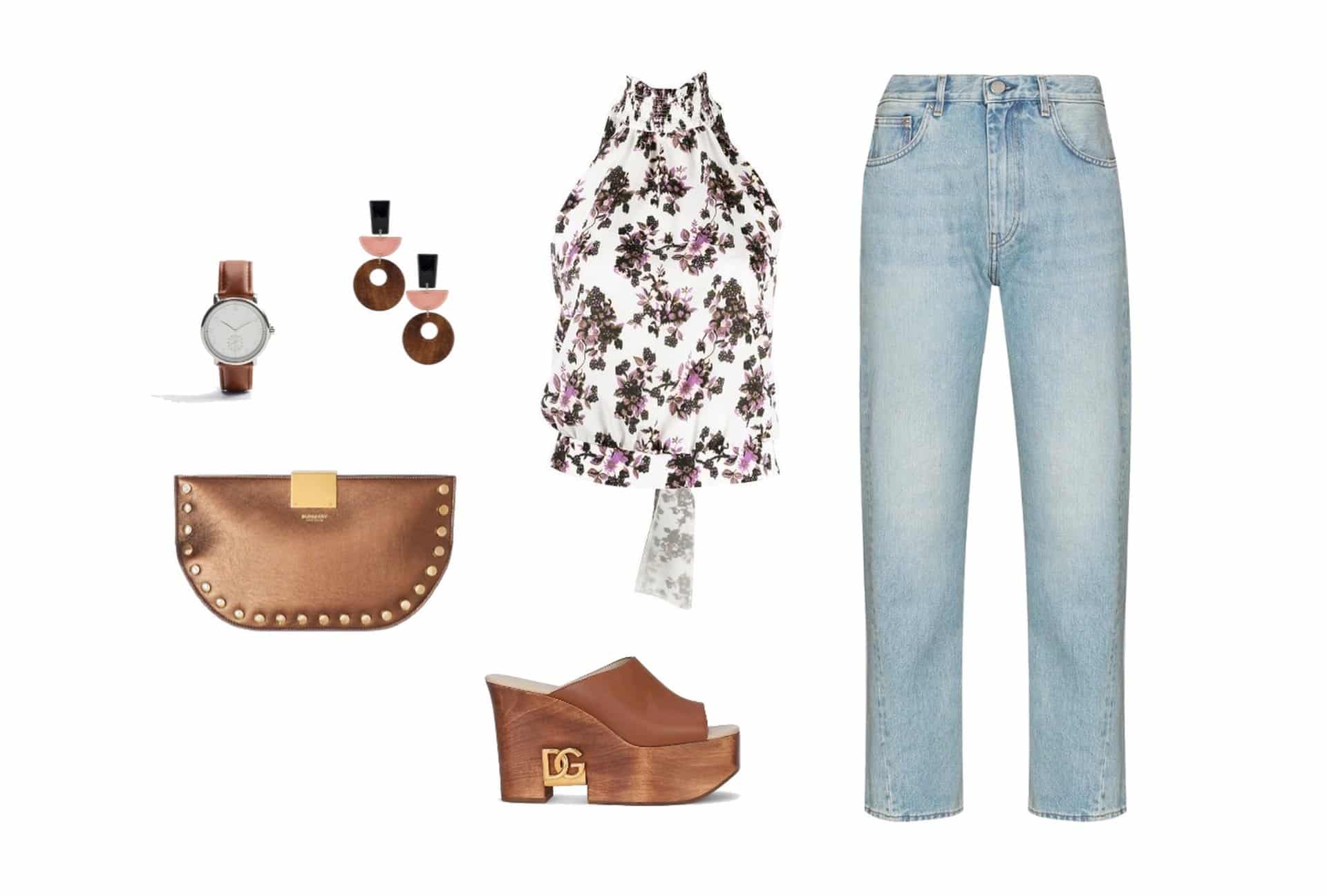 Wear a halter-style top that has an all over floral print when wearing wedges with jeans. You don't necessarily have to wear a complete halter that will expose too much skin. This type of top can show your arms and back, but can also cover your bust and stomach area. The idea of this outfit is to create breathability during warmer seasons. Try going for a top that has thicker shoulder straps, if you want to feel more supported in the bust area.
Your top can also be flowy and made of a chiffon type of material, versus polyester. Wearing a more breezy blouse will also help to conceal your tummy area, creating a more hourglass silhouette. Be sure to choose a shirt that will fit past your belly button, but not too far past your waist, leading to the thigh area. This will create a line of focus at your waist. Add to the slimming effect by wearing a pair of high waist jeans, which will elongate your figure. Your jeans can be in a destroyed style if you want to create a complete bohemian look. Wear brown wedges that are brown all around, including at the heel. The best heel type would be a chunky wooden heel, to keep with the free-spirit vibes of your look.
Destroyed Denim, Black T-Shirt, and Blue Jean Jacket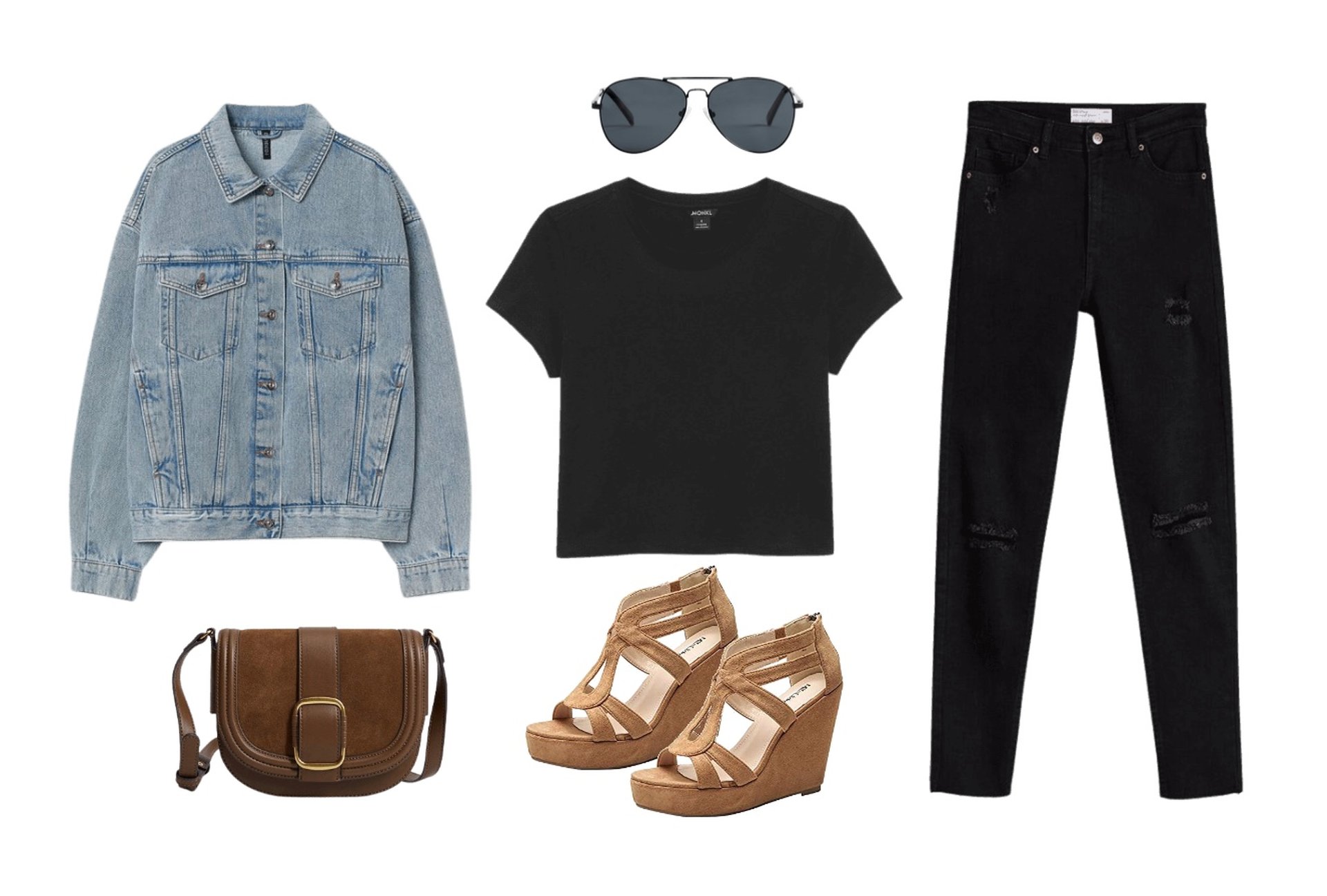 For a super cute shopping trip or a chill day with the girls, try wearing black jeans with wedges. Wear destroyed denim that has the most fringe at the knee area, in a skinny style. Add a black t-shirt that can be either scoop neck or v-neck. Your t-shirt can also be a sleeveless, 90's type of t-shirt as well that fits all-over just as a t-shirt does, but has no sleeves. This way, you'll create ventilation once you add your jean jacket.
Wear a jean jacket in blue. Your jacket can be light, medium, or dark wash denim. There are options for contemporary jean jackets that have destroyed elements as well. Be careful, if you choose a destroyed denim jacket, so that you don't overdo it with the edgy factor. Your jacket can be slightly larger than your usual size, to create a chic, oversized look. Add black or brown wedge sandals that have a strappy design. When the sun's out, wear wayfarer or aviator sunglasses.
Cuffed Destroyed Denim, Cardigan, Silk Cami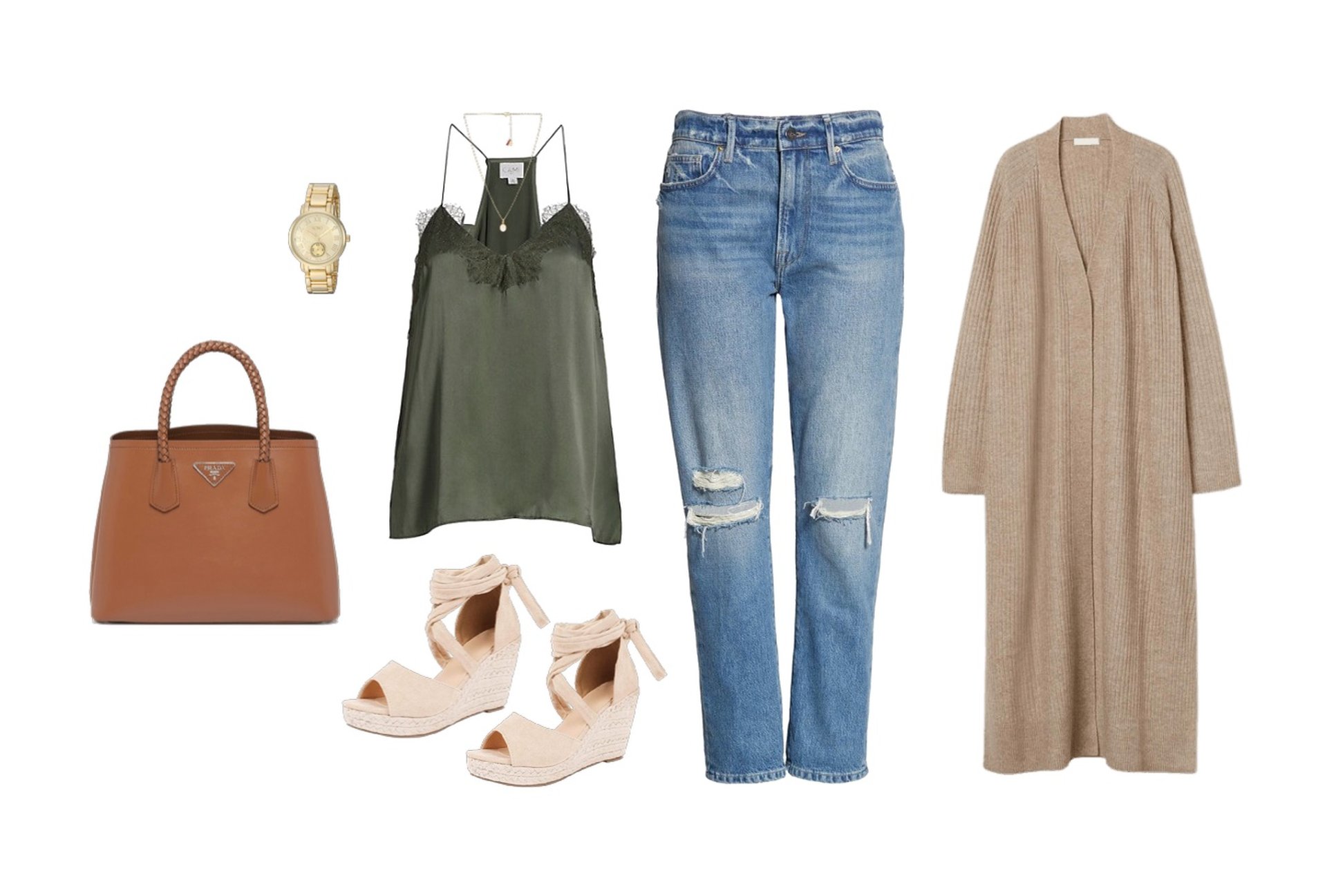 Wear wedges with jeans by creating a classy outfit that's ideal for brunch, as well as casual-dressy events. Start with distressed jeans in a cropped style that stops a little above your ankles. Your denim can be high-waist or mid-rise. High waist will work the best, but mid-rise is recommended as the next resort since you'll want to at least have room to tuck your shirt. Avoid low-rise jeans with this look, so that your outfit won't look stuffy and your clothes won't appear too small for you.
Add a v-neck camisole in black or dark color (think gray, navy, or olive green). Once you add the cami, you can then cover your arms with a cardigan. The ideal cardigan for this type of look would be a long sweater that will flow almost to your calves. The cami, cardigan and jean combination will create a beautiful palette of fall colors and can still be worn during warmer months.
Finish your outfit with open-toe wedges in a tan or nude color. This type of wedge can be more of a summer espadrille with a wheat color heel that has a weaving pattern. Add a necklace in a gold tone that has a single pendant. Wear a matching gold watch and a double shoulder strap handbag in brown leather material.
White Cropped Jeans and Off The Shoulder Top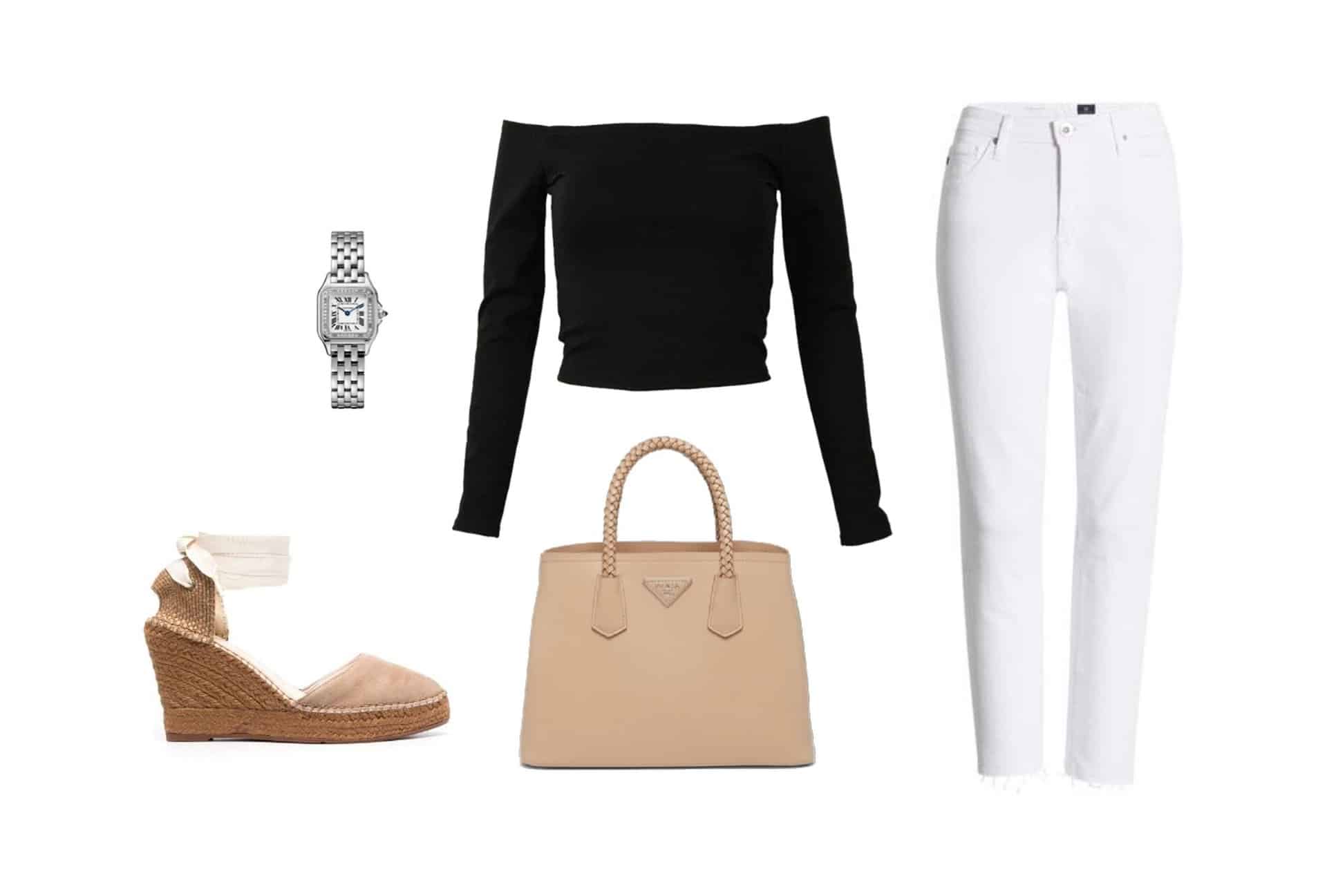 When you want a luxurious look, wear a pair of white jeans that are cuffed or cropped at the hem. You can simply choose a pair of skinny jeans that fit at the ankle. Try to keep your jeans an all-over solid design, versus destroyed with fringe. This way, your look leans more towards crisp, versus boho.
Add an off-the-shoulder top that has long sleeves as well. This way, you'll be able to accentuate your shoulders in a way that looks effortless.  Your top can be in a striped design, preferably blue and white. Be sure your top is made of breathable material and stops below your waist. This way, you'll be able to keep cool and feel the breeze as you walk, shop or sight-see.
This look is ideal for vacation-fun activities like visiting a winery or having lunch by the pier, or in any sunny weather. Add a pair of suede style espadrilles that buckle or tie at the ankle. You can pair your outfit with a double strap handbag and simplistic jewelry in the form of a silver-tone cuff or watch.
Black Cami and White Jeans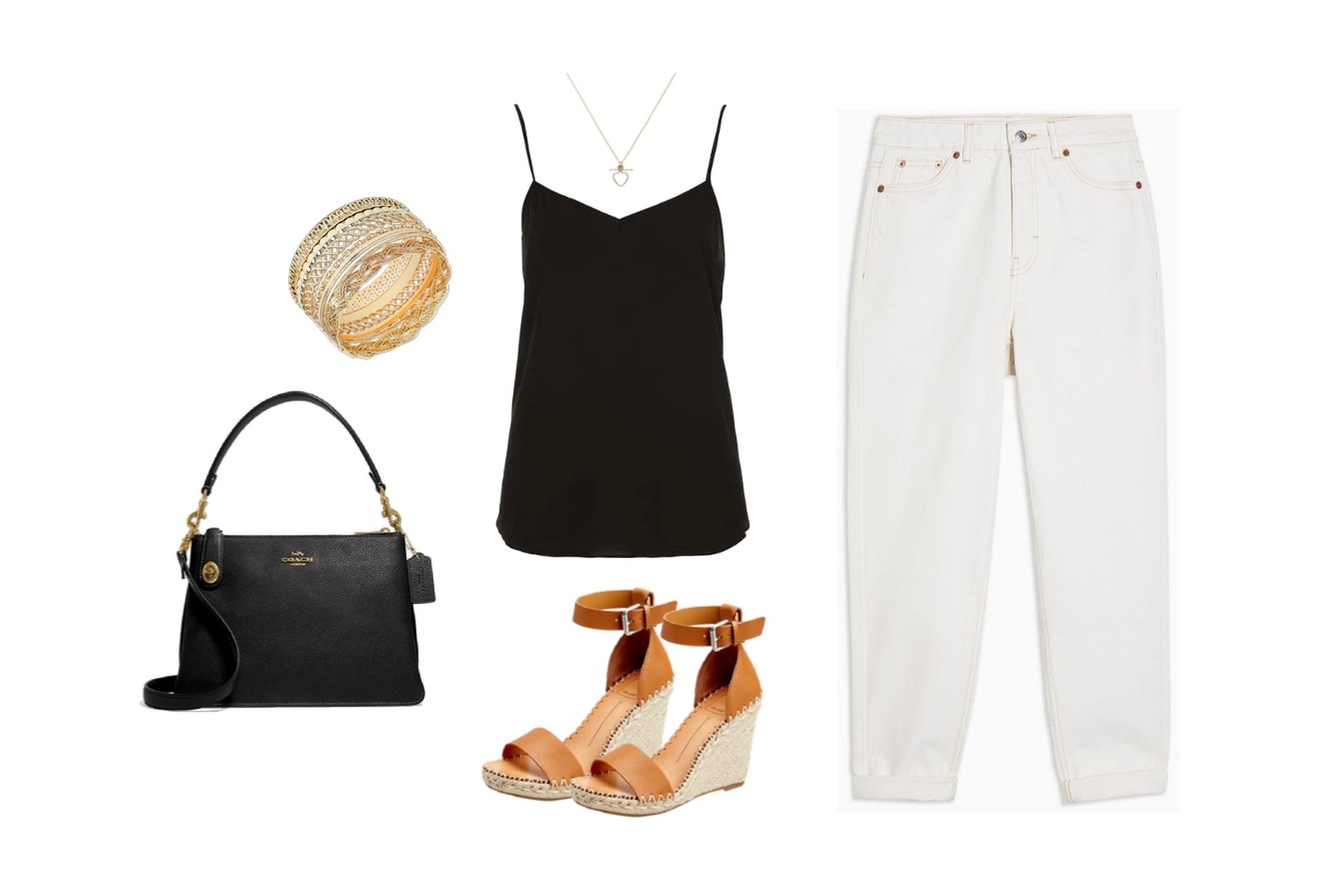 For a celebrity-style look that's more airport ready, wear wedges with jeans and a black cami. Choose a camisole that has thin spaghetti straps or you can wear a tank top that has thicker straps. Try sticking with a black top, but if you must add color, choose a darker tone. Try to avoid yellow or pink with this look, so that your outfit appears chic and modern.
Add a pair of high-waist, white jeans that you can create small cuffs with. Slightly cuff your jeans so that they showcase your ankles. Keep your overall jean design roomy, with a pair of mom or boyfriend jeans. Add a pair of tan color wedges. With this style, your wedges don't have to strap up your ankles. You can wear a pair that has only one strap at the ankle bone, to keep things simple.
Add jewelry in the form of a charm or chain link bracelet in gold or silver. You can also wear this look with stacked bangle bracelets. Wear a one shoulder crossbody handbag that doubles as a shoulder strap, as well. Make sure your handbag is in a black leather style and has a solid design with no embellishments. You can also wear a straw handbag with this look and it won't take away from the posh aesthetic. If you're having a cocktail or a brunch date with your friends, the straw handbag will add more fun to your look! Wear aviator sunglasses to block the sun, if it's a bright day. Similar styles of this look have been seen worn by celebrities like Jennifer Aniston and Jennifer Lopez.
Read: How to Make Jeans Stay Up Without a Belt
Light-Weight Sweater, Cropped Destroyed Denim, Stacked Jewelry
When you need a look that can cover you for weather that is warm, but can get a bit chilly, try wearing wedges with jeans and a light sweater. Choose a sweater that's primarily made of cotton and can be easily scrunched at the sleeves. The best type of sweaters for this outfit would be solid white, blue, or brown. You can even wear a light pink sweater in a salmon or bubble gum color. This look is meant to appear very soft and neat.
Add cropped jeans that can be either destroyed or solid. Your jeans can also be light or dark wash. Add wedges that have a leather upper material and a wooden platform, versus a woven, espadrille-type of bottom. Wear a classic top-handle handbag and oversize sunglasses. For extra bling to your look, wear stacked bracelets along with a watch on the same arm. On the other arm, stack more bracelets! You can skip a necklace since your wrist jewelry will be more of the focus. Finish your look with studded earrings.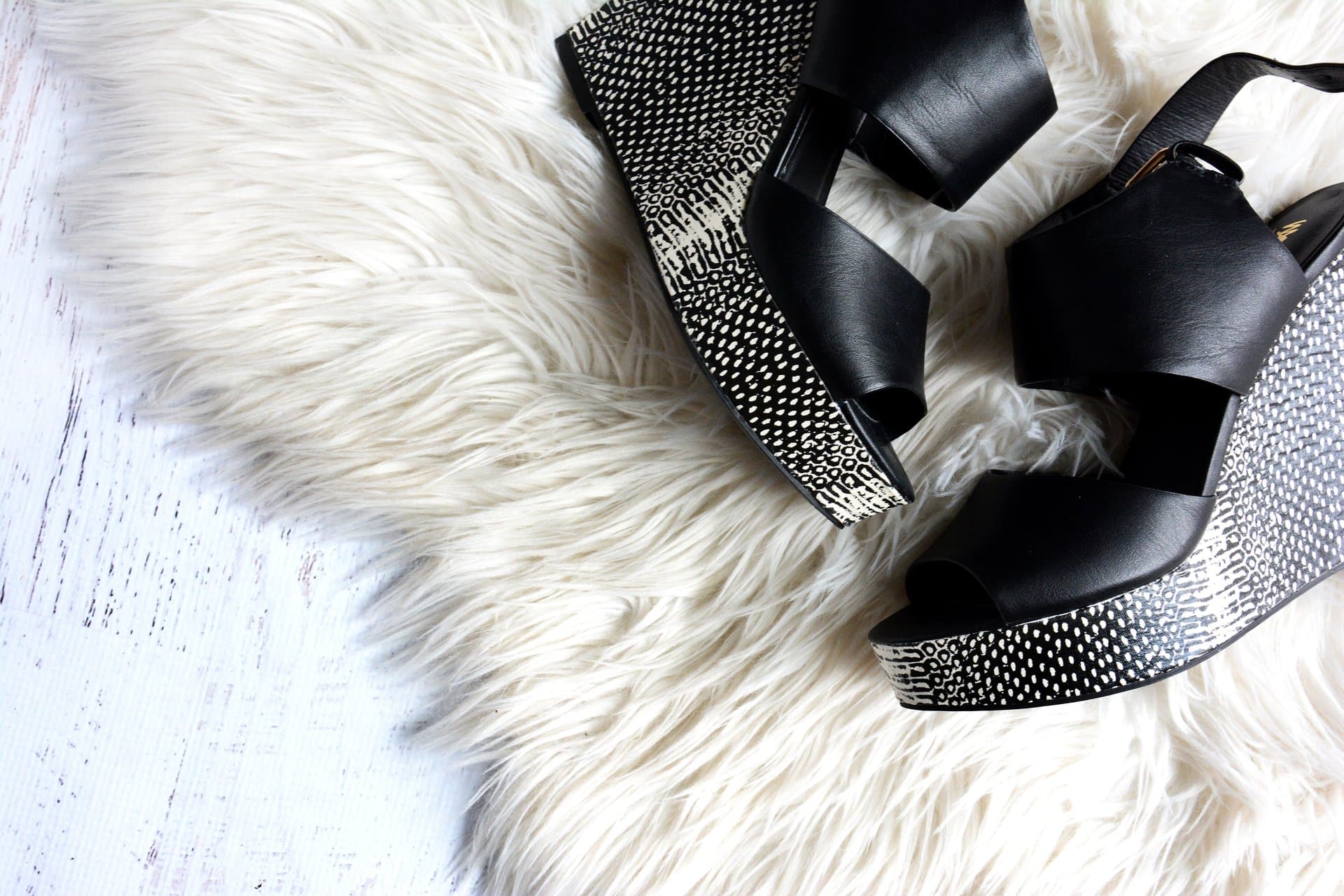 When deciding how to wear wedges with jeans, you can wear your shoes in various styles. The shoe design is best worn in warmer months, to allow your feet breathing room, while staying stylish. If you want a sexy look, you can wear strappy wedges that follow along your legs, highlighting your ankles and calves. When you're wearing the shoe design this way, the best jeans to wear are cropped denim, so that you'll have room to tie your shoe straps.
If you want a more casual look to wear to ceremonies and important events, that may also be casual-dressy, you can wear a shoe that has only one ankle strap. Or, you can wear a wedge that has a more mule design, allowing you to simply slide your feet inside. You can also wear a wedge shoe that covers your toes when it's time for bbq or laid back events. Hike up your look at any time by adding wedges with studs or embellishments!