If you purchase one of the products recommended in this article, I might receive a small affiliate commission. Thank you for your support!
Wearing boyfriend jeans over the age of 40 can be achieved with sophisticated shirts and different jean styles. You'll have a great selection to choose from, since you may have places to go and things to do, with a full lifestyle of kids, holidays, and extra fun events!
When choosing your boyfriend jeans, try choosing a classic type of jeans from reputable stores that have been around for a while, since they will more likely have the fit you need. The best go-to is Levi Strauss (Levi's). They're dependable and Levi is constantly keeping up with the latest styles.
Wear a Fitted Sweater With Your Jeans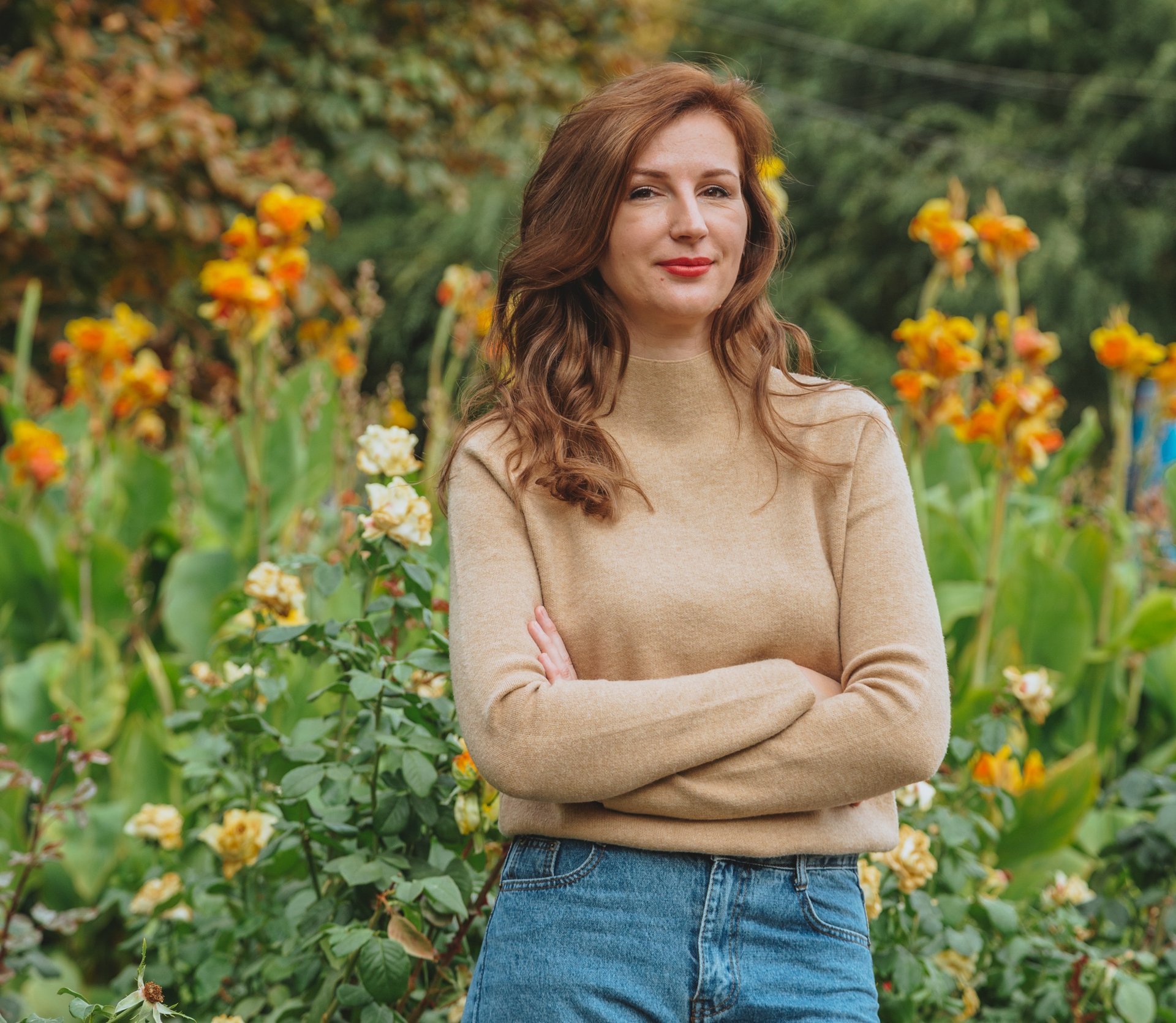 Wearing a fitted sweater will create a classic silhouette and will cinch your waist. You don't have to necessarily wear a full sweater. You can also wear a t-shirt or cami under a sweater wrap or a long cardigan that has a tie string that you can wrap around your waist and tie into a bow or knot.
You can tie your ties just enough to create a pulled-in waist look, without looking too tight. This look can be paired with heels or booties. The best type of heels with this look will be chunky. Or, western-style boots. Try wearing a pair of pointed-toe boots or booties in a brown color.  This look can also pair well with flats, especially if you're dressing up your jeans for work.
Read: How to Wear Wedges With Jeans
Wear Longer Shirts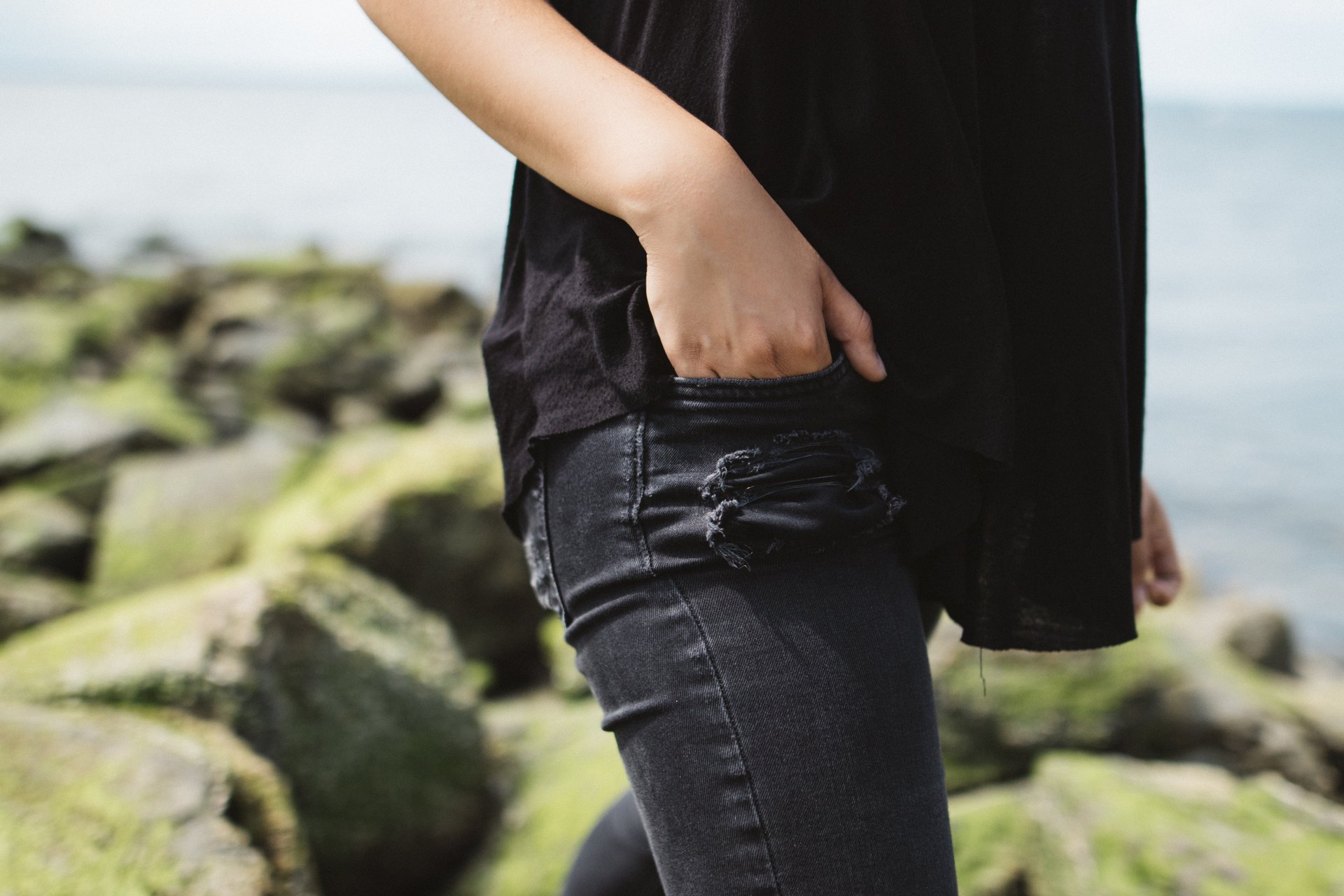 A great tip is to wear longer shirts. Wear tops that have a bit of room, so that your shirt drapes naturally below the waist. Try wearing a long t-shirt or top and destroyed boyfriend jeans for a fun casual look. You can even add a cropped jacket since your shirt will be long enough. This layered look will pair well with an aviator pair of sunglasses and a shoulder handbag. When the weather is warm, you can skip the jacket and even wear a long tank tee, to show a bit of skin! Wear your look with flats if you'll be walking around. Or, you can wear a pair of leather mules.
Read: 23 Best Jeans for Pear Shape
Choose Dark Wash Jeans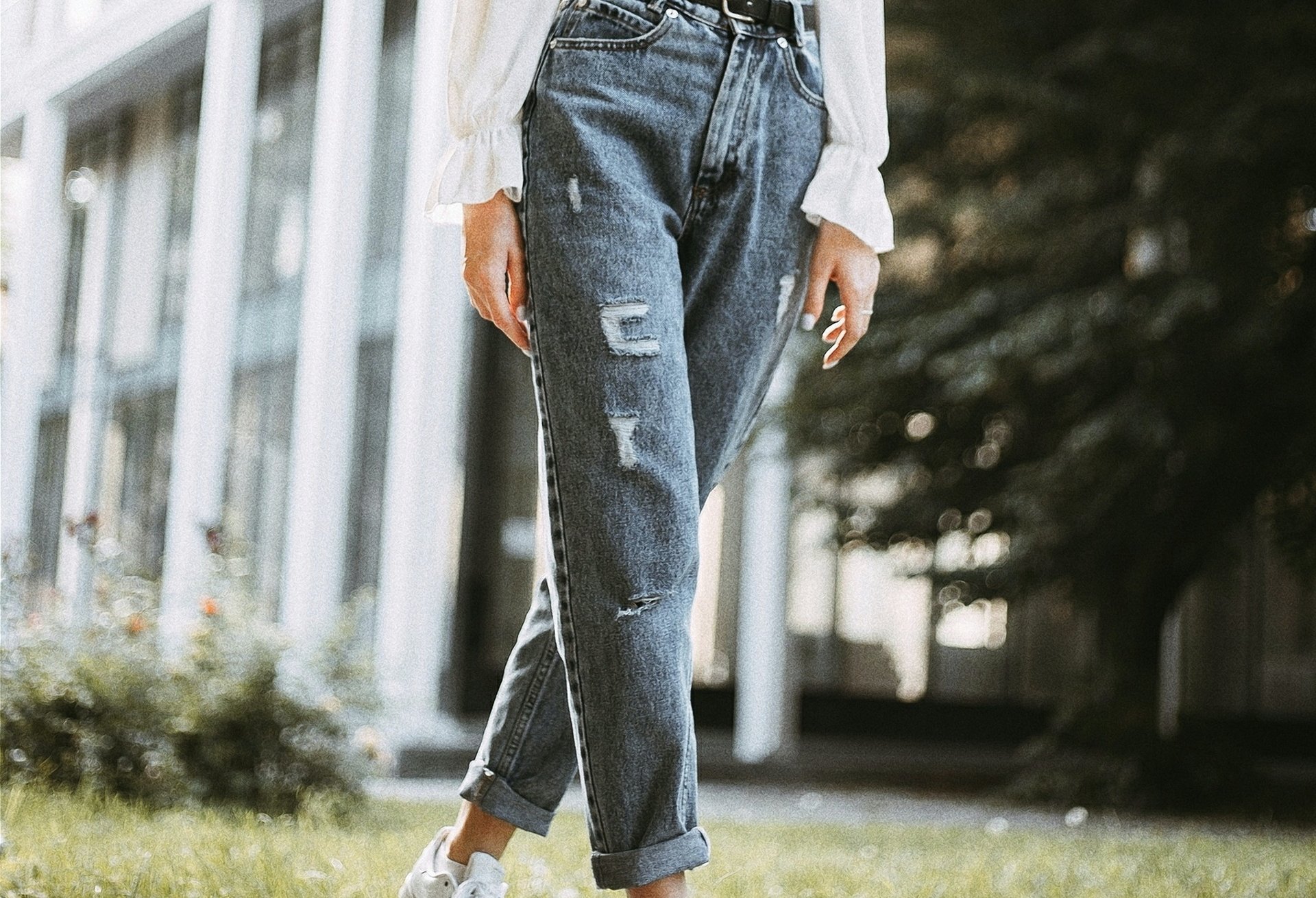 You can wear dark wash jeans that will look sleeker and have a slimming effect. Look more youthful, yet tasteful in a pair of dark wash or black skinny jeans. When you shop for your jeans, be sure they are the right fit in the waist, so that you get a pair that will last. Try measuring your waist and inseam before shopping. When choosing a darker wash, you don't necessarily have to opt for a blue or black pair. You can go for acid grey jeans as well. Jeans now come in so many different shades. Try different ones to see which shade fits best.
Read: 22 Best Jeans for Women with Big Butts
Wear Button-Ups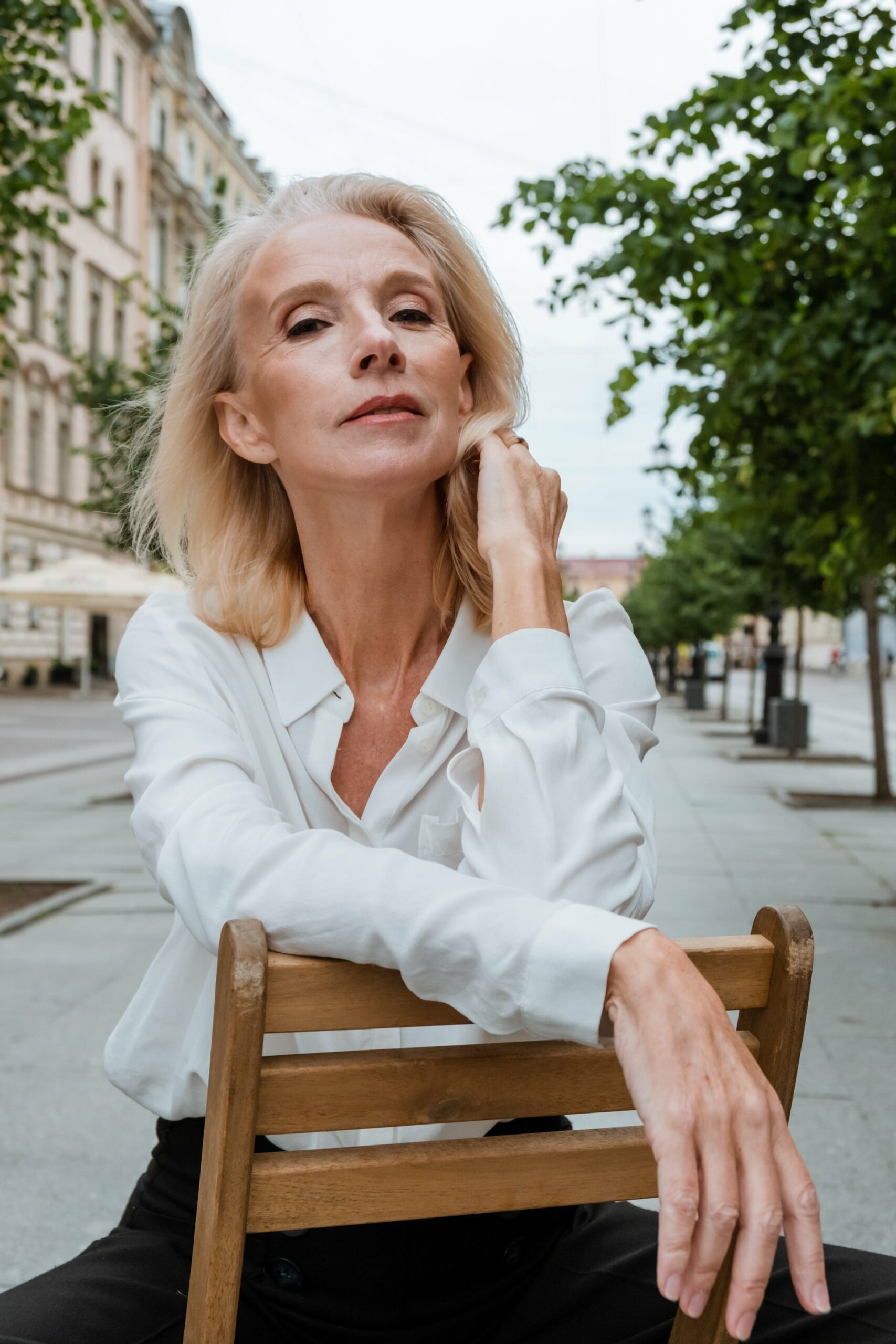 Wearing button-ups will allow you to be taken seriously but in a respectable way. Try wearing a linen button-up in a crisp white color with high waist jeans. You can also wear a blue or black top, depending on the occasion. Especially when you're going out for dinner or an evening event.
You can add necklace accessories in the form of a medallion-style necklace. Allow your button up to button all the way to the top and add the necklace. This way, it looks sort of like a peter pan collar. Cuff your sleeves and wear a watch with your button-up. Or, you can wear a cuff bracelet. If you wear a cuff bracelet, make sure it is a large bracelet. Or, you can wear stack bangles that will cover your arms, creating a focal piece.
Add a Long Coat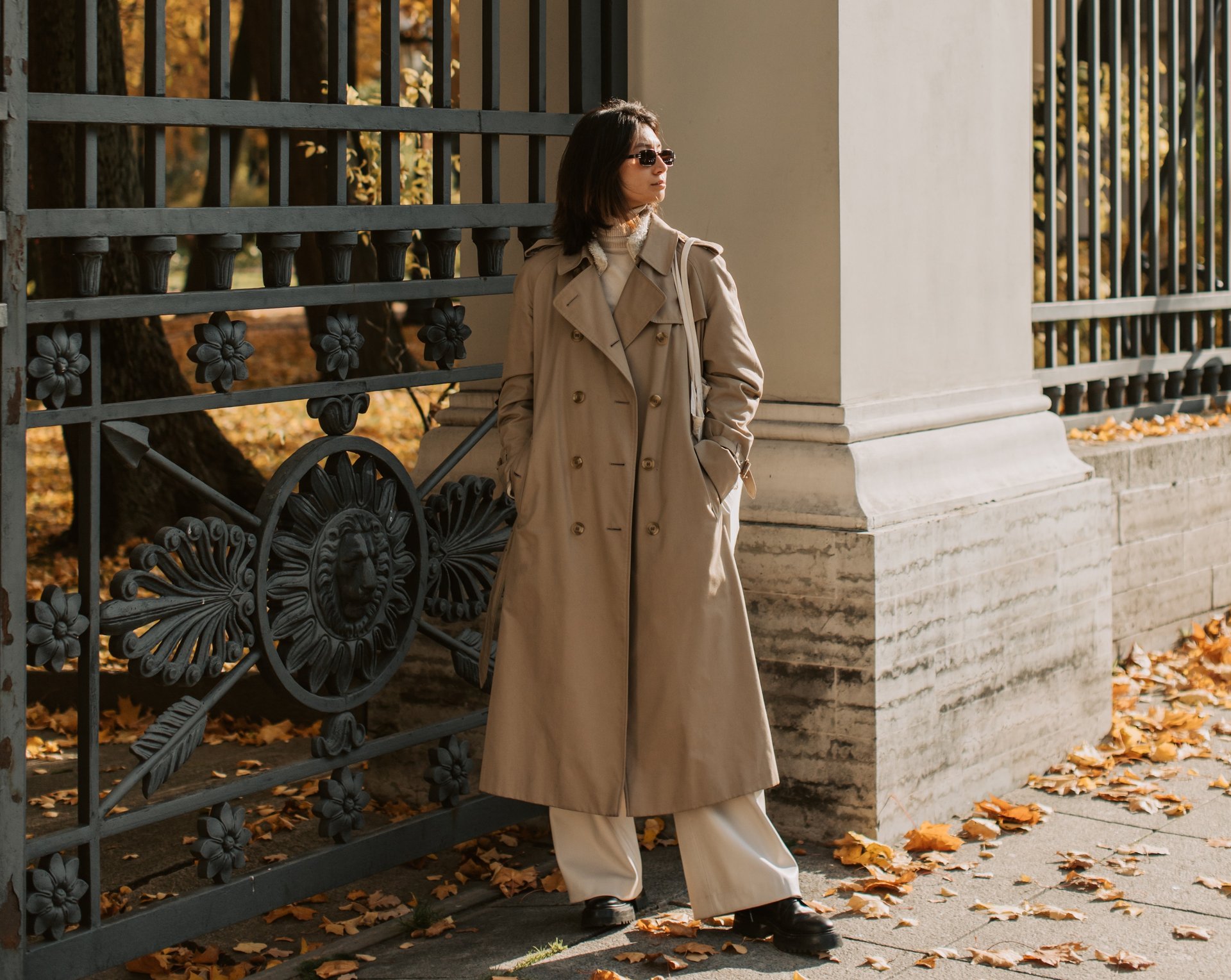 For the most polished look, you can try wearing a trench coat. The beige color is perfect for wearing with jeans. With this look, you can add a dressy top underneath, or you can keep it simple with a tank top. Depending on the weather, you can add a sweater. Since the trench is a bit roomy in the arms, you can definitely wear a thick sweater, if you need to.
You can accessorize this look with a stand-out handbag, like a patent leather top handle tote. If you want to dress up, try wearing a fiery pair of red pumps with a nude color coat. Cuff your boyfriend jeans at the bottom, when wearing a long coat. This gives an effortless look and will also be much more comfortable on your legs as you walk.
Read: How to Cuff Jeans With Boots
Wear a Blazer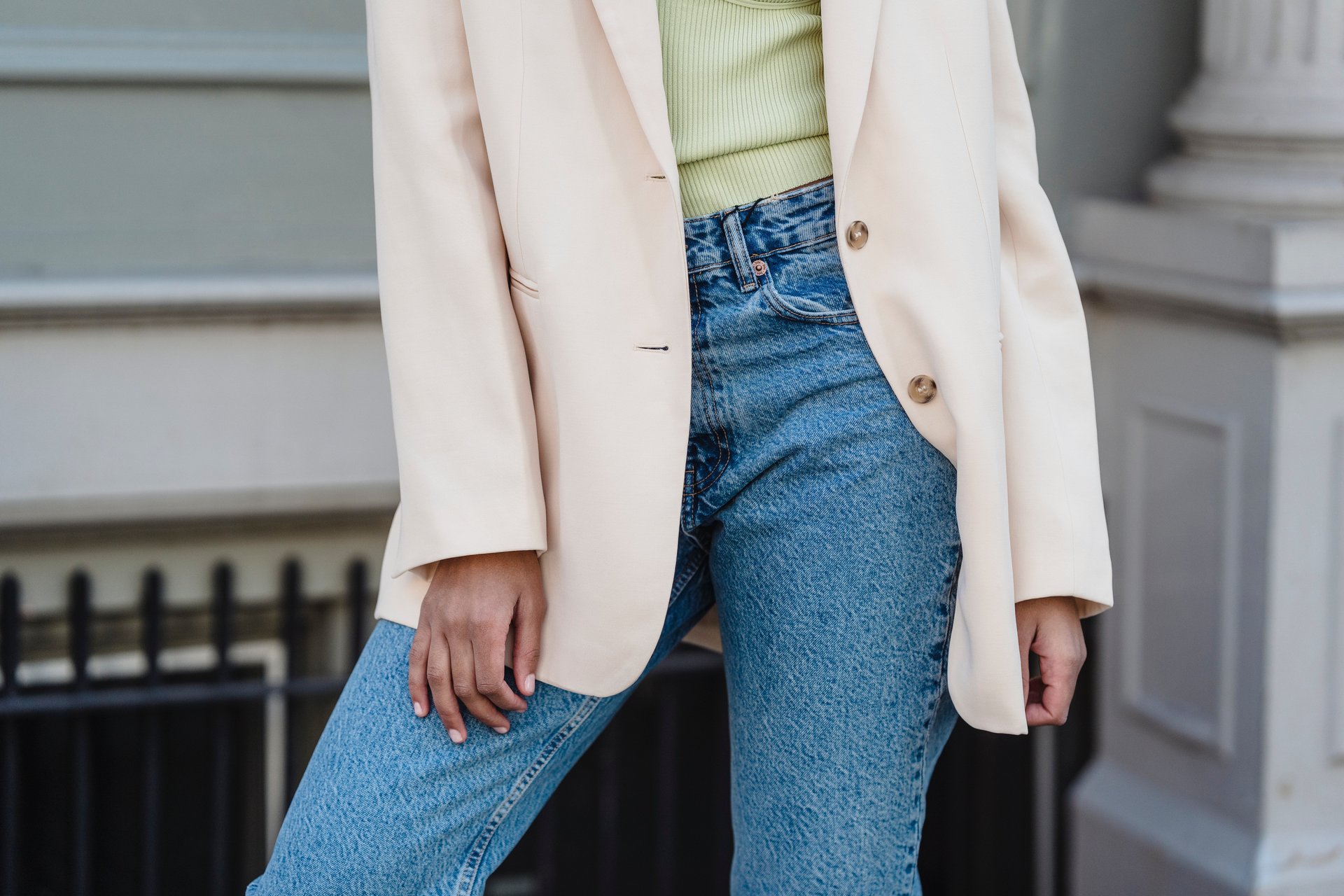 Wearing a blazer is a smart way to wear your boyfriend jeans. It will create a casual look that is also buttoned up enough to be elegant. Wear boyfriend jeans with a white tee and add a black or blue blazer. Your jeans can be destroyed if you want more of an edgy look.
Add heels to this look or boots. If you're adding boots, be careful with the style choice. Try adding a pointed toe boot that will appear as a heel underneath. If you want to wear flat boots, make sure the boots fit well above the ankle, and are more mid-calf, if you want this look to be dressy. You can wear ankle or mid-calf boots if you want a completely relaxed, casual look.
Wear Heels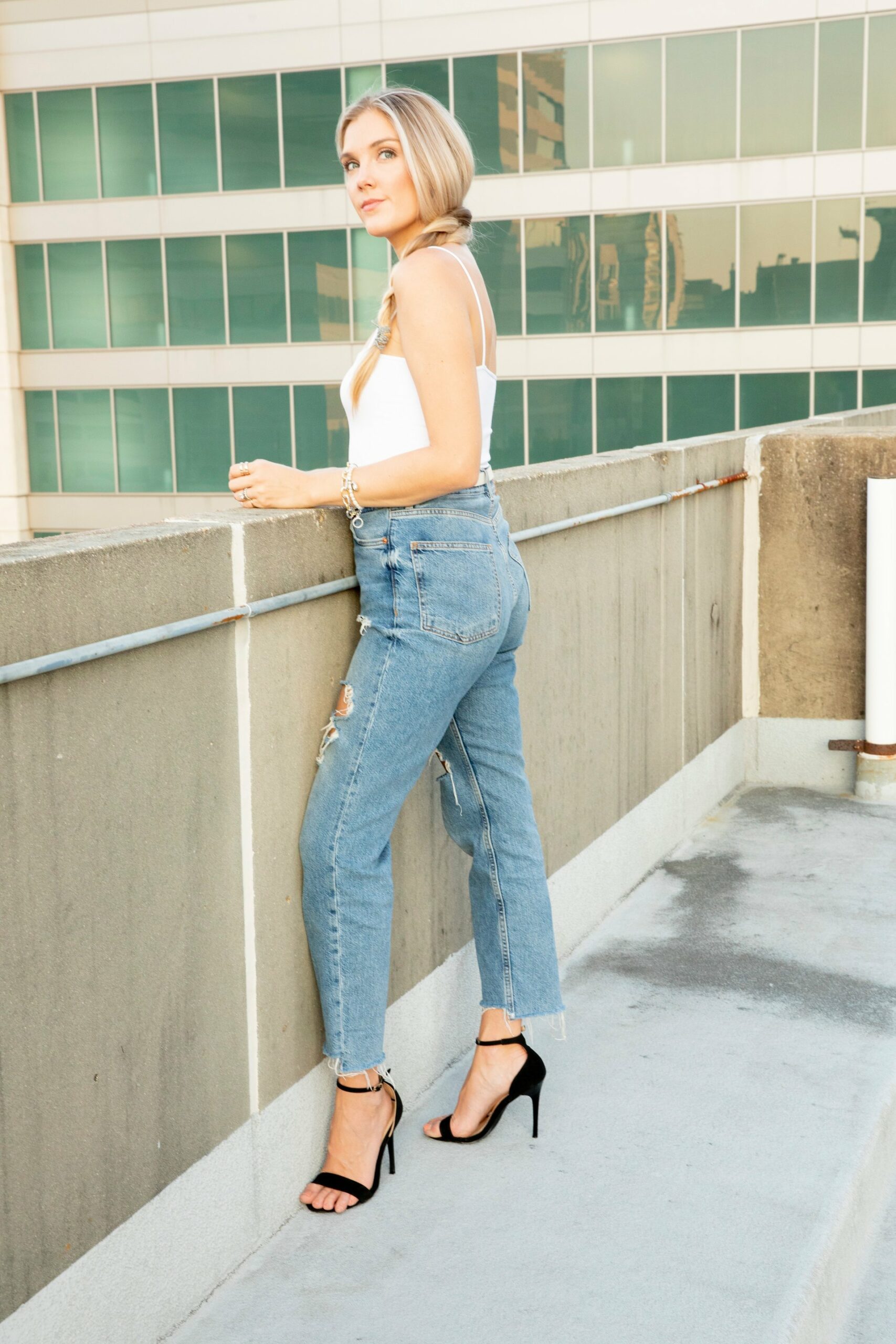 If you're looking to keep your look sexy but in a tasteful way, try wearing a pair of heels with your boyfriend jeans. A classy pair of sling-back heels will be ideal with a button-up shirt. When you're wearing your look this way, be sure to wear a tank top underneath, as well. You can wear a leather belt to add to the look so that you're able to tuck your shirt in. Add a leather watch in the matching band color. If you're wearing a black belt, try wearing a leather band in black also. You can add a long necklace as an accessory. Your necklace can have a large medallion or pendant, and leave your shirt slightly open so that your necklace will show.
Choose a Casual Sweatshirt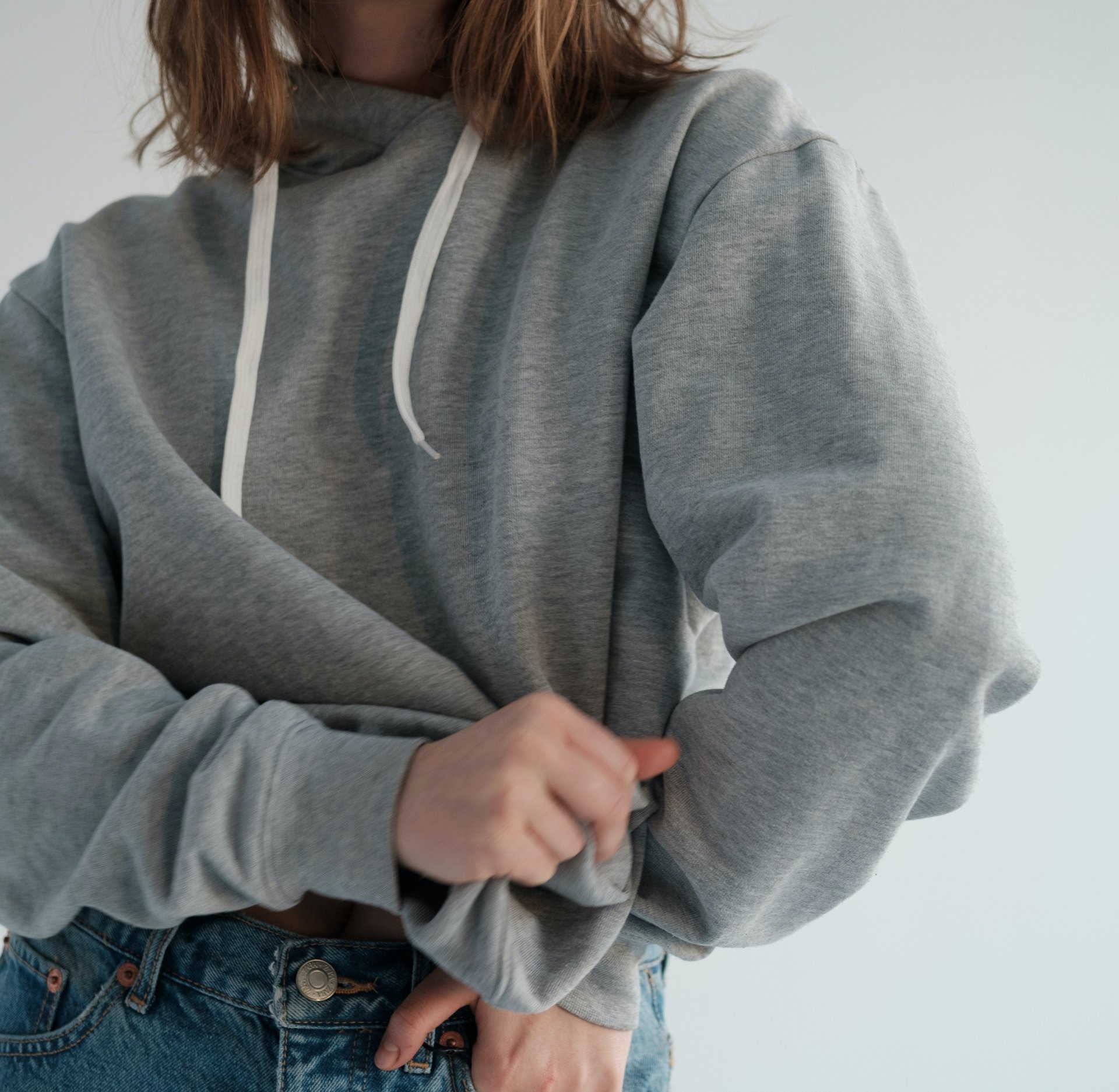 Another great way to style your boyfriend jeans is with a casual sweatshirt. Try wearing a scoop neck sweatshirt in navy. This is a special trick to create a slender look as well, since your sweatshirt will cover your tummy and a little below your waist. You don't have to wear a very thick sweatshirt. You can wear a sweatshirt that's more on the thinner side. Or, you can wear a sweater that is long enough to slightly tuck in.
Add your boyfriend jeans and canvas sneakers. If you want to dress up your look a bit, add a bib-style necklace that has beaded details. The best thing about this type of look is you can still wear it with sneakers, it just adds a touch of dressiness to your casual look, so that it doesn't look too drab.
Read: 25 Best Jeans for Muffin Tops
Wear Sparkly Tops!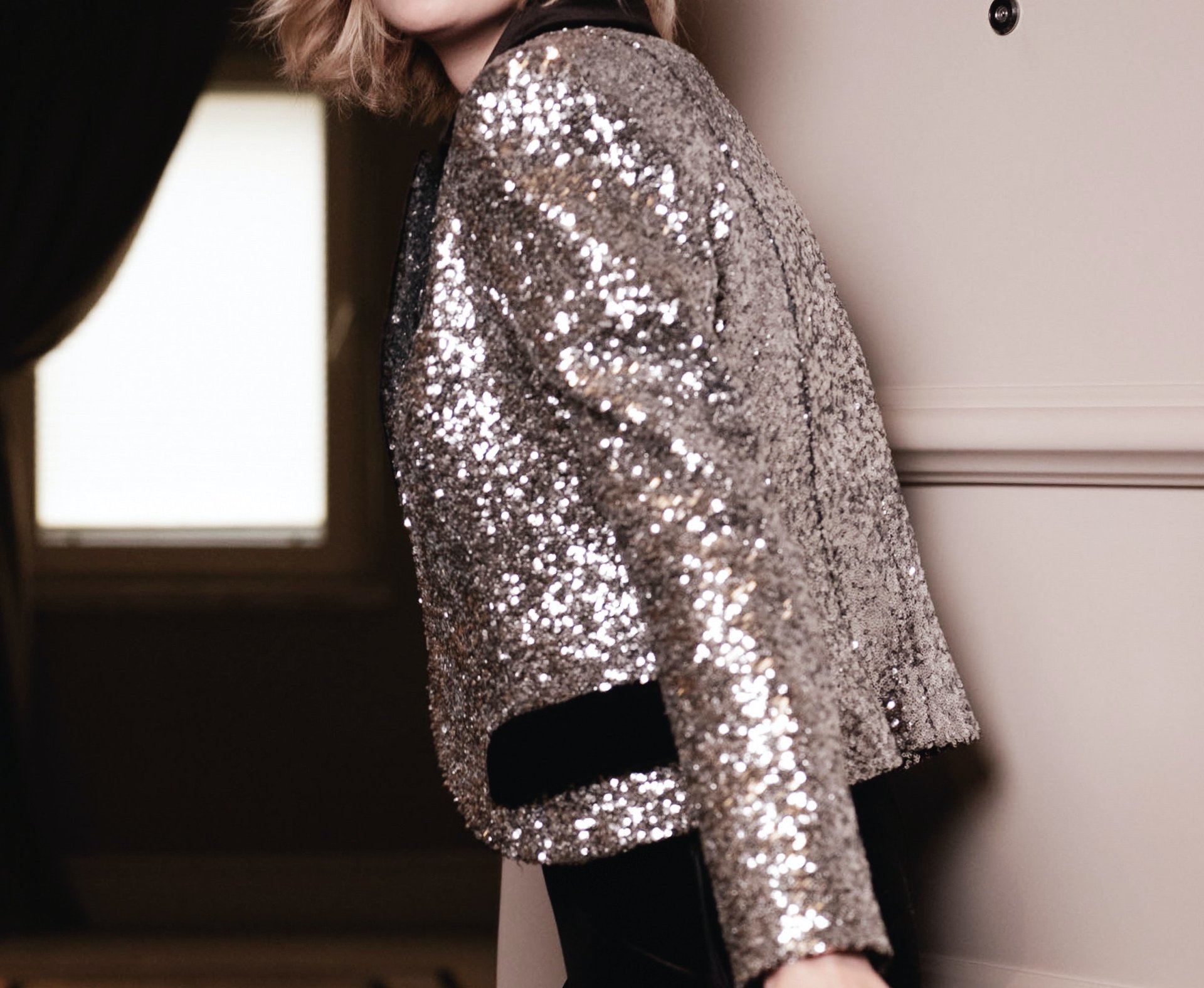 You can wear sparkly tops with your boyfriend jeans as well. Sweaters that have beading or sequin patterns are ideal to bring life to your boyfriend jeans. Try wearing sequin tanks with your jeans and add a blazer. This look can be paired with flats or heels. If you want to wear a sweater, try wearing one that has embellishments!
Wear a pointed-toe pair of pumps to complete your look. Add a fold-over wallet clutch for accessories. You can wear studded earrings in a diamond-like stone. Or, you can wear short, silver or gold hoops.
Add a Scarf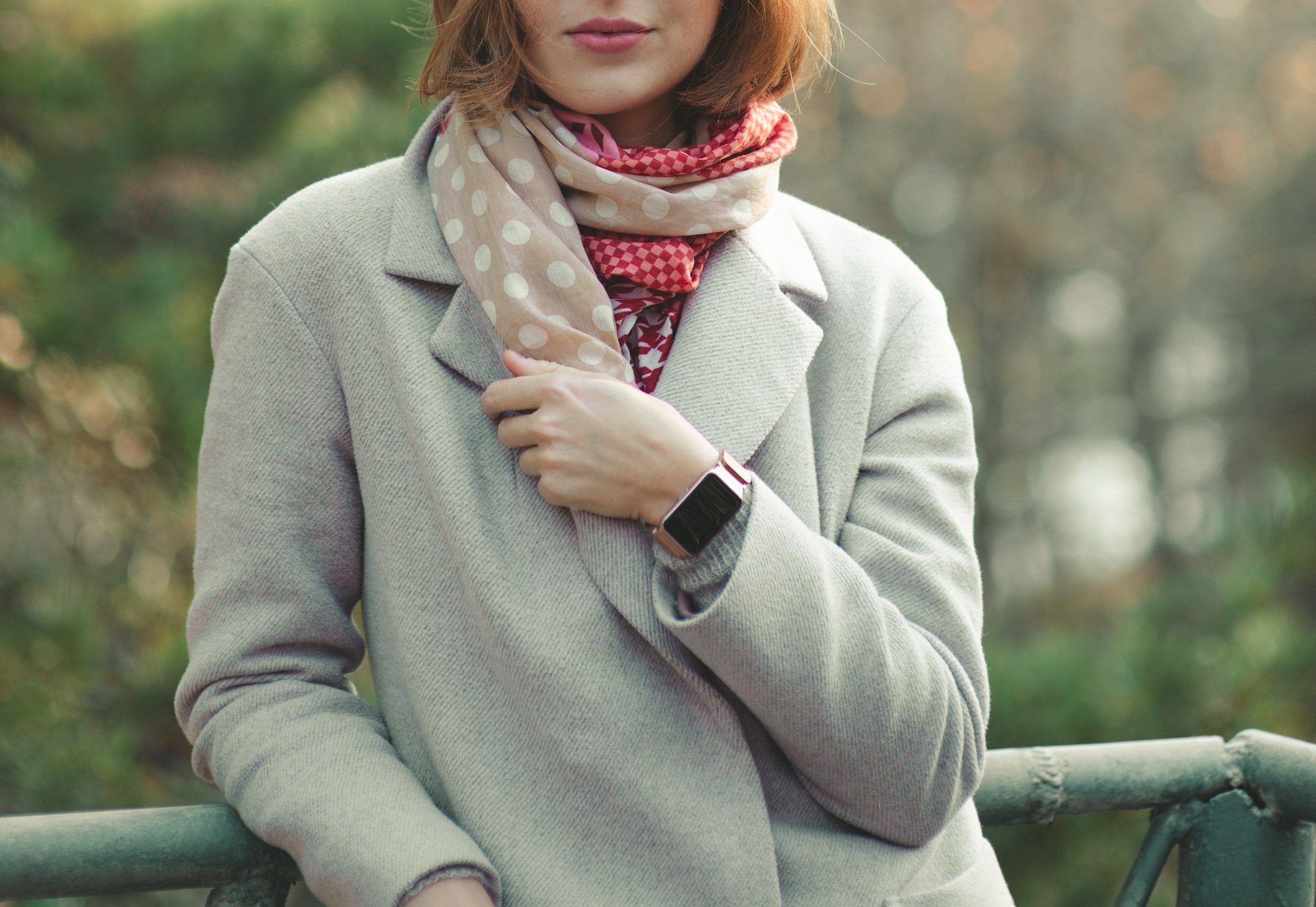 One of the best ways to wear boyfriend jeans that you may not think of right away is to add a scarf to your outfit. Scarfs add a level of class to your look, especially when worn with a blazer. You can wear your blazer open and simply allow your scarf to drape, when worn around your neck, in a sache-like way. This type of look can be used with a scarf that is not as thick when it's warmer.
If you decide to skip the blazer during the cooler seasons, try wearing your scarf with a cable knit sweater or long sleeve tee. This way, you can wrap your scarf multiple times. When you're wearing a scarf with your boyfriend jeans, it's always best to wear an oversized handbag.
Read: How to Wear Chukka Boots With Jeans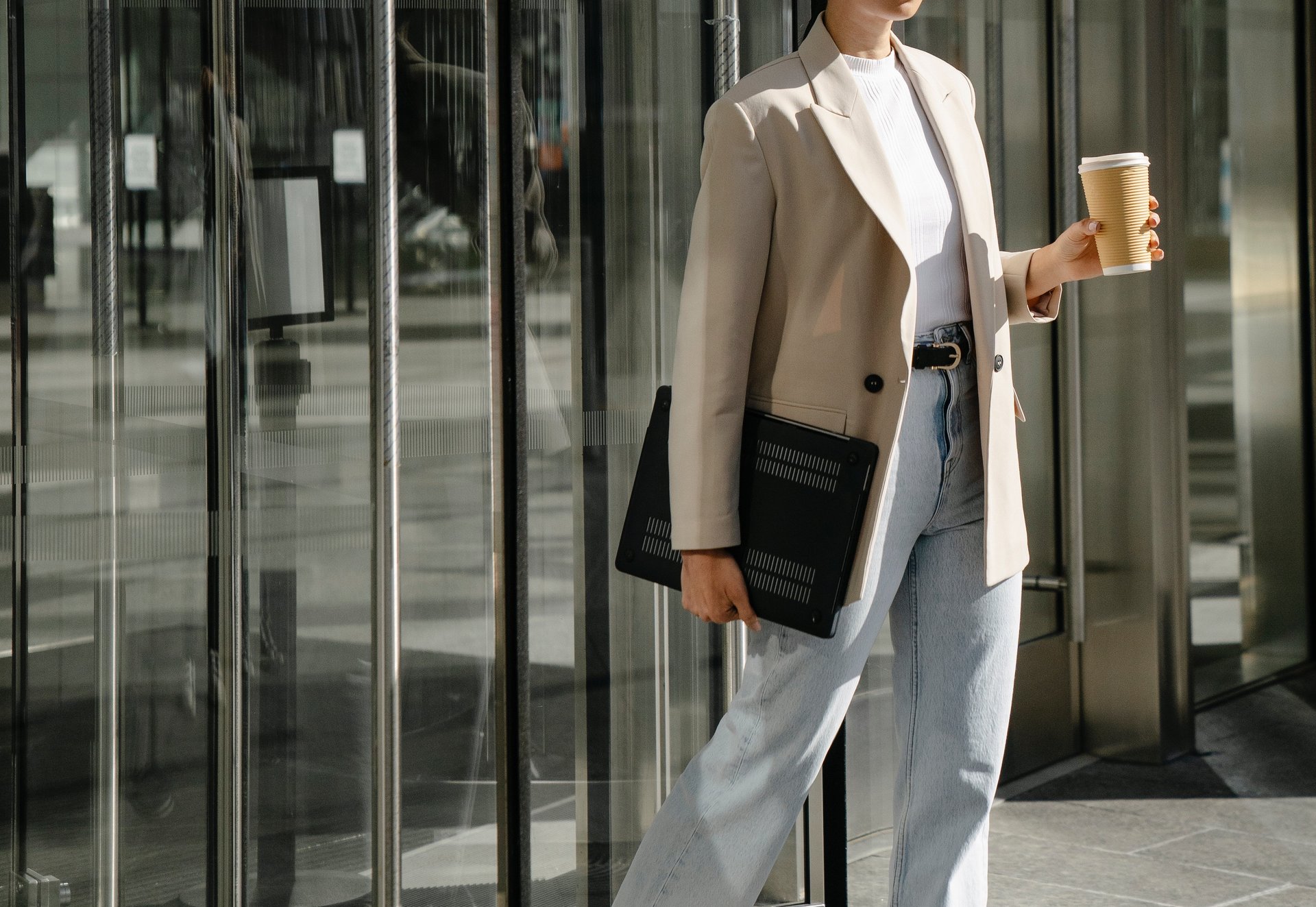 Wearing boyfriend jeans over 40 can seem a bit daring, especially since you don't want to tip the scale and end up looking like you're trying too hard to be youthful. Boyfriend jeans don't have an age limit and can be worn with sweaters, coats, and jackets, to achieve a youth-inspired, yet cultured look.
The best way to wear your boyfriend jeans is definitely with a pair of dark wash jeans. Shop for your favorite pair by measuring yourself first and trying on different wash colors. If you like wearing more colorful clothing, a dark blue pair may be best for you. If you wear more neutral colors, a black pair may be better.
---
Also read our other jean guides: Best Jeans for Big Belly and Skinny Legs | Best Jeans for Women Over 50