If you purchase one of the products recommended in this article, I might receive a small affiliate commission. Thank you for your support!
Chukka boots are low cut and the ideal hybrid as a casual shoe and a dressy shoe. The best way to wear them is with jeans since you can dress them up or down. You can create a simple look with a t-shirt. You can also create a professional look with a blazer and dressy top.
Chukka boots were created especially for casual wear and started off as men's shoes. Over the years, the boot style has progressed to becoming a large part of women's wardrobe, also. The chukka boot is like a hybrid between a dress shoe and boots. You can wear them with suits and professional wear and you can also wear them with jeans.
Cropped Black Jeans, Sweater, Puffer Jacket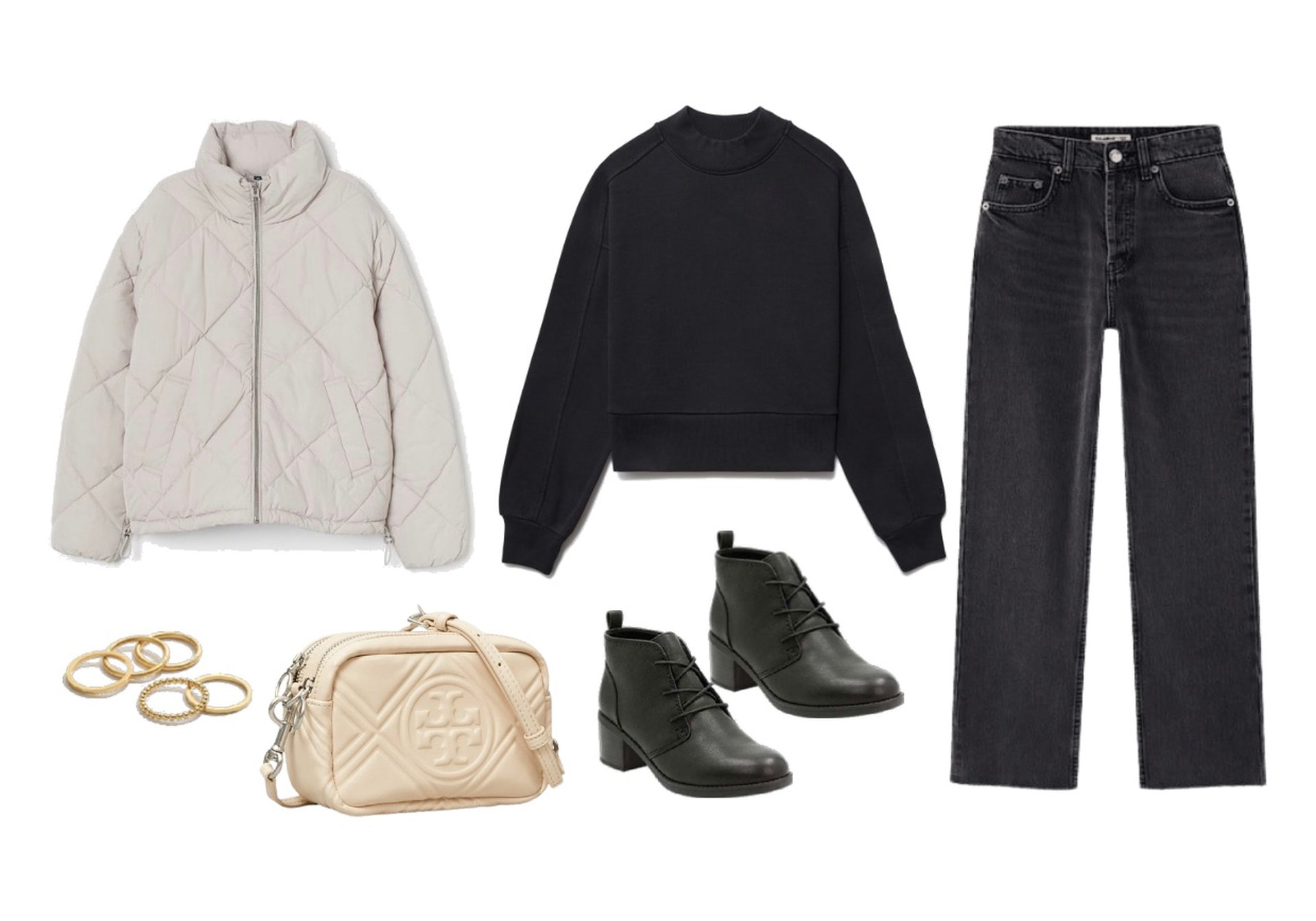 You can wear chukka boots with black cropped jeans. Your jeans can be cuffed at the bottom or frayed as well. You can add a black sweater or black circle neck sweatshirt. Add a puffer jacket in a taupe or black color. Add black chukka boots and a black backpack. This is a chic look that will combine an all-black outfit with a stand-out piece within your jacket. Wear simplistic jewelry within your necklace or finger rings.
Read: How to Wear Jeans That Are Too Long
Cropped Destroyed Jeans, Sweater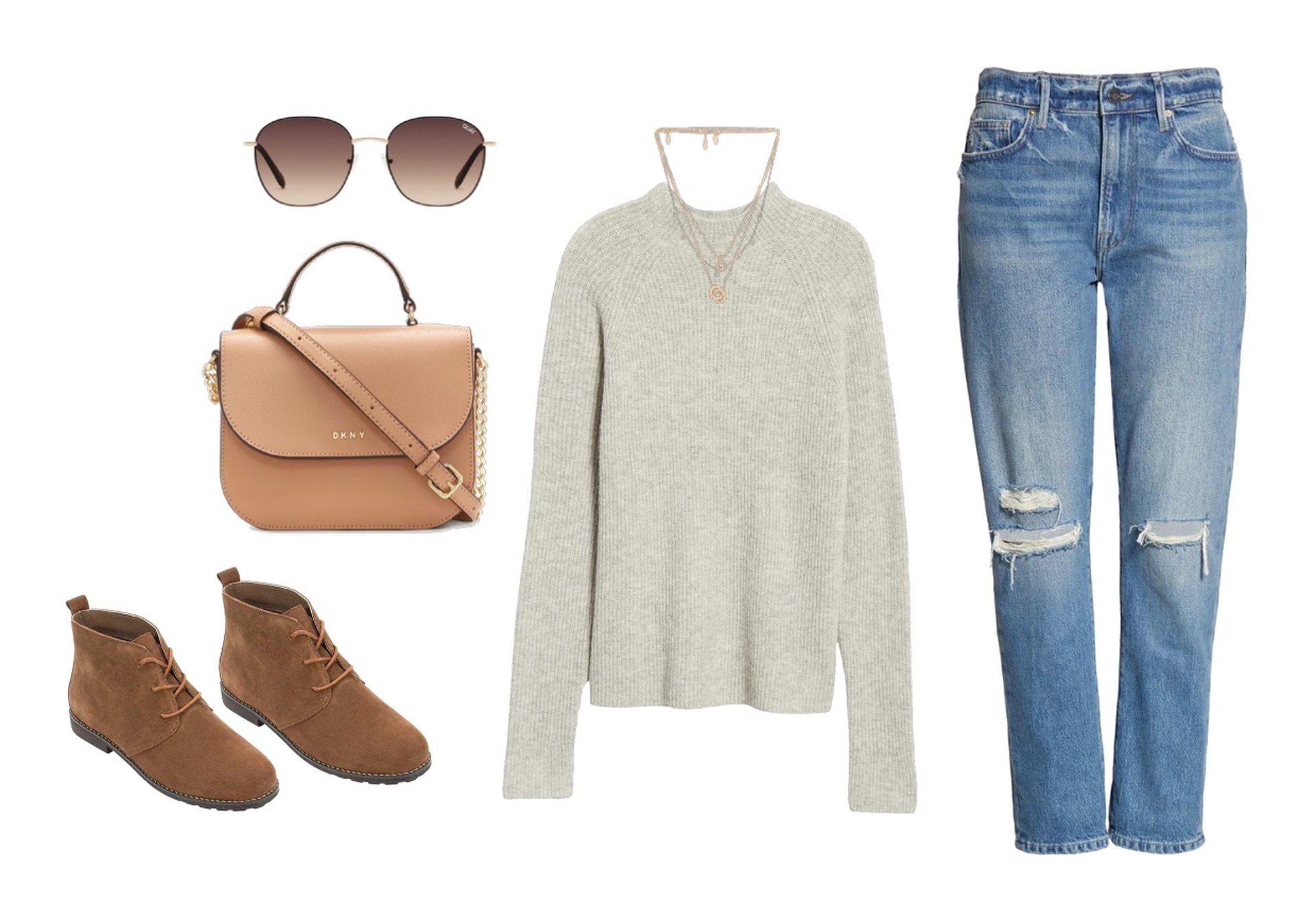 Wear blue cropped jeans that are destroyed. Add a grey sweater and layer your necklaces to create an effortless look. You can add layers to this outfit with a large puffer coat in a vibrant color like green or red. Wear brown chukka boots to complete your outfit. This look is great with hoop earrings, even chandelier earrings when you want a bit of glam and edge at the same time. Add a top handle, leather-style handbag. This look can also be worn with a watch and sunglasses on sunny days.
Long Coat or Shirt Jacket, Cropped Black Jeans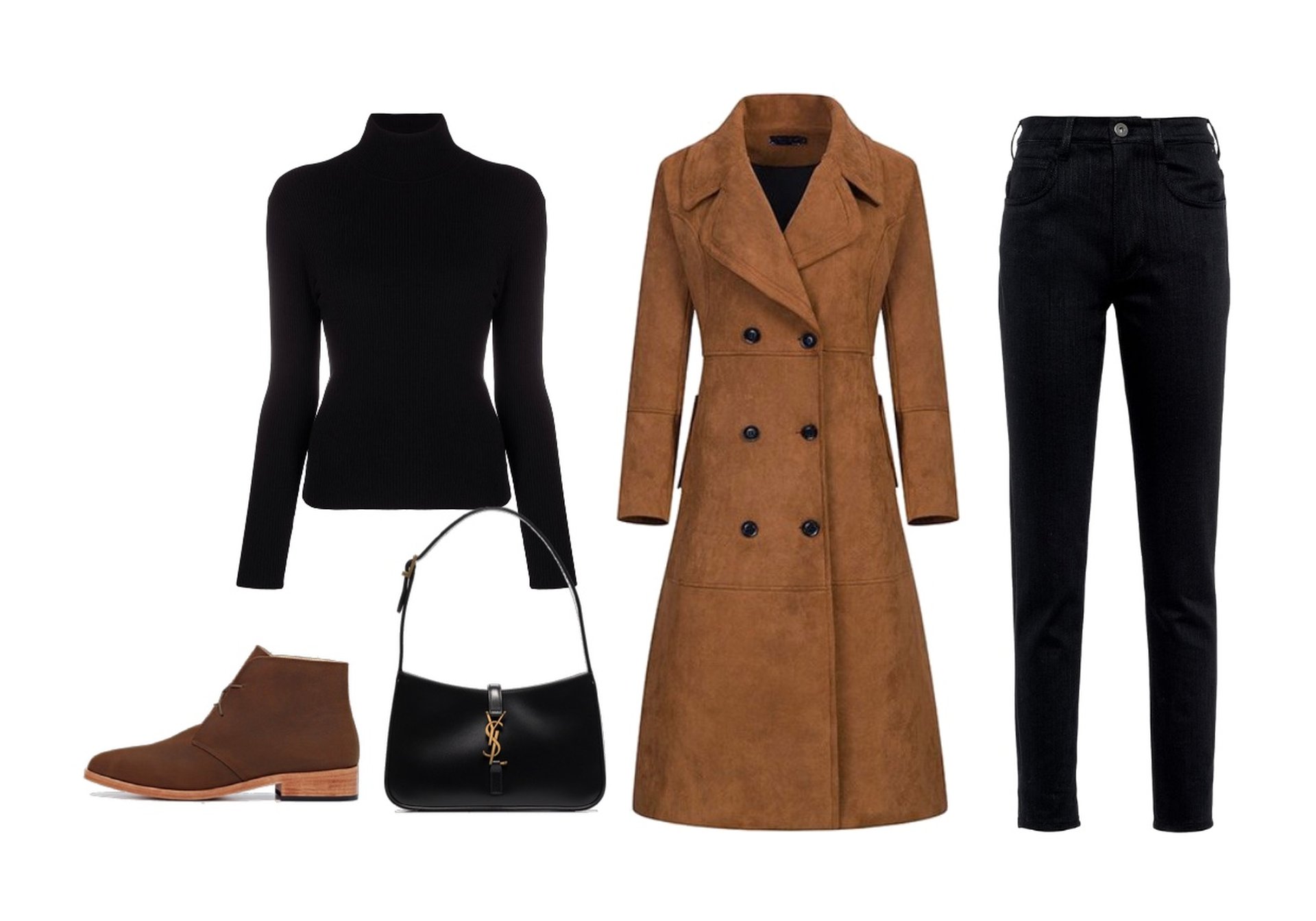 Wear a long coat in suede material with your chukka boots. Add cropped black jeans. If your jeans aren't cropped, you can also try cuffing your jeans with boots to create a cropped look. Wear slim or skinny jeans. If you choose to wear boot-cut jeans, you can leave your jeans as is, or you can crop them as well. Add a matching black long sleeve t-shirt, tank, cami, or sweater. Accentuate your outfit with a brown or tan suede jacket and wear a shoulder carry, leather-style handbag in a similar color.
Pea Coat, White T-Shirt, Skinny Jeans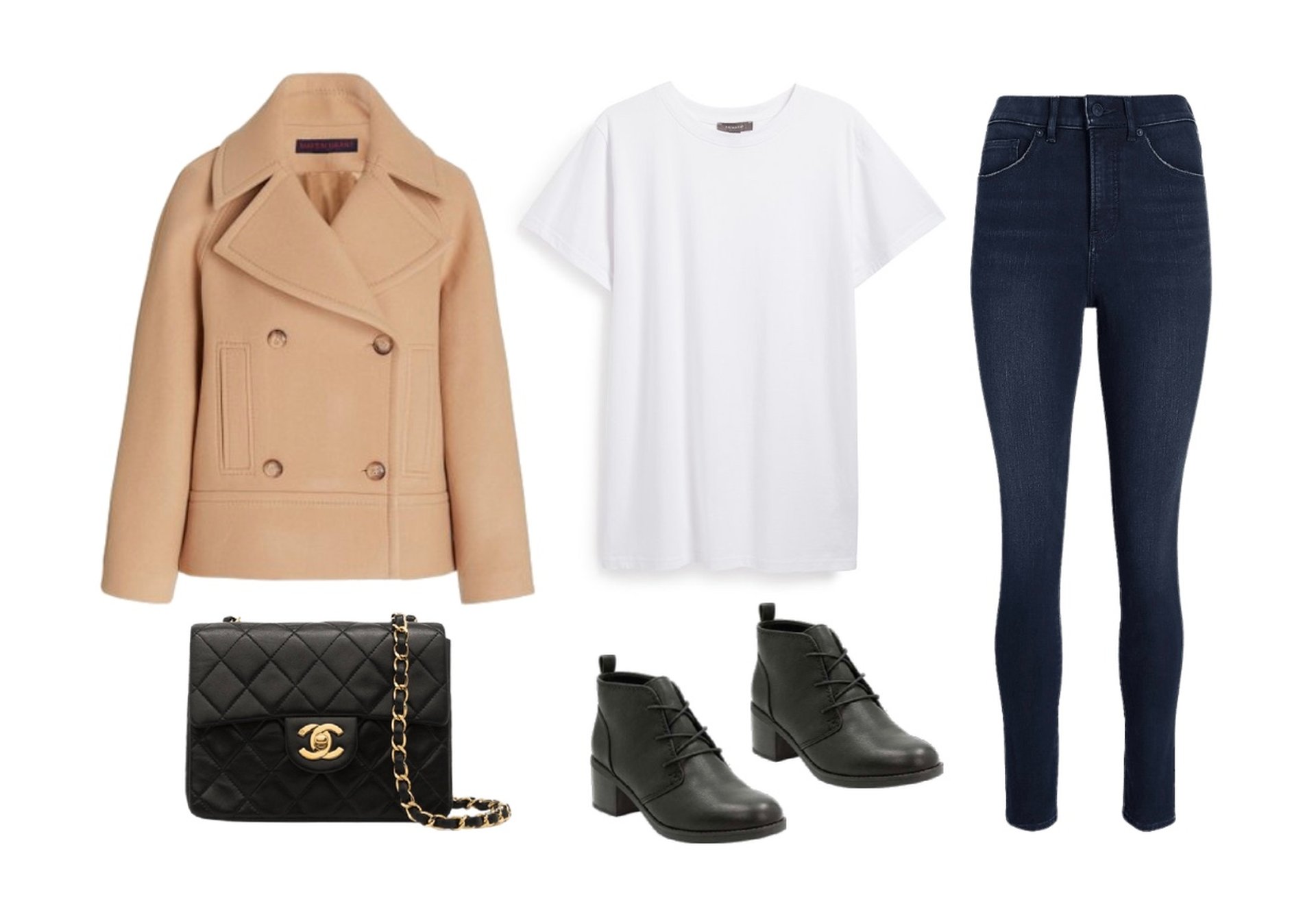 Wear a peacoat with your chukka boots. Your coat can be long or short, depending on the occasion. If you want to wear this look as a casual outfit, you can wear a shorter coat and add a beanie hat with a fun pom-pom! It can be a cable-knit beanie that's in a neutral shade. Add a simple white t-shirt. Pair with skinny blue jeans. This look will pair with wide-leg jeans as well since your jeans will cover the top of your boots in a flattering way. Your peacoat will create an hourglass silhouette. You can wear a long coat if you're going for dinner or out on occasion where you'll be outside during cold weather seasons.
Read: 24 Best Jeans for Cowboy Boots
Graphic T-Shirt, Mom Jeans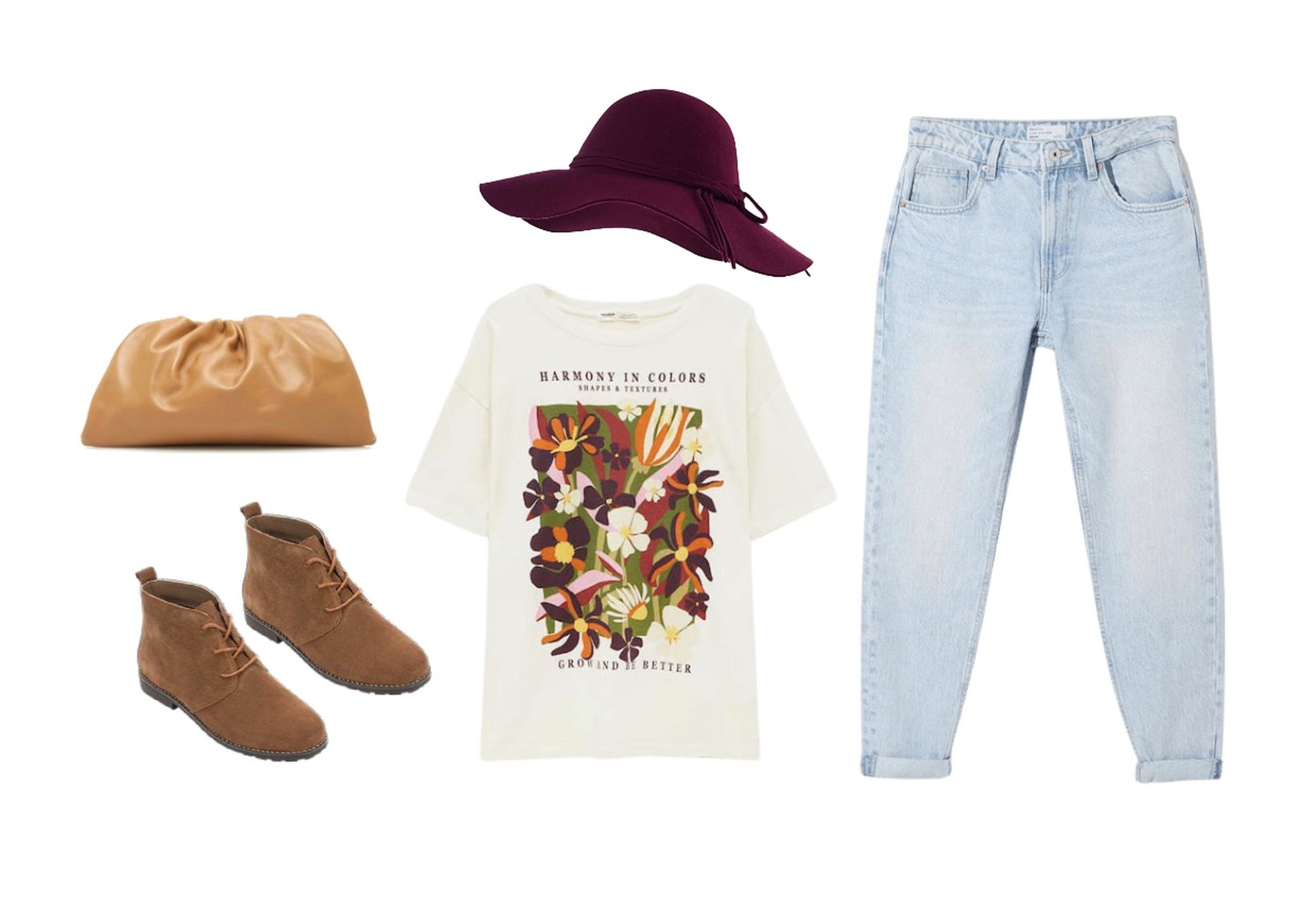 For a bohemian style look, you can wear high-waist jeans with your look. Cuff your jeans to create a western style. Add tan boots that will stop right below your cuffed jeans. Your jeans can be light-washed in this sense, to keep your palette cool and neutral. With this look, you can wear a graphic tee or you can keep your shirt plain. Also, don't be afraid to wear a very large hat, since your hat will be the focus. If you know you'll get chilly, try wearing a poncho or an oversized cardigan. This way, you can keep your look soft and won't need to wear a large coat.
Read: What Shoes Should You Wear With Mom Jeans?
Cropped Black Jeans, Button-Up Shirt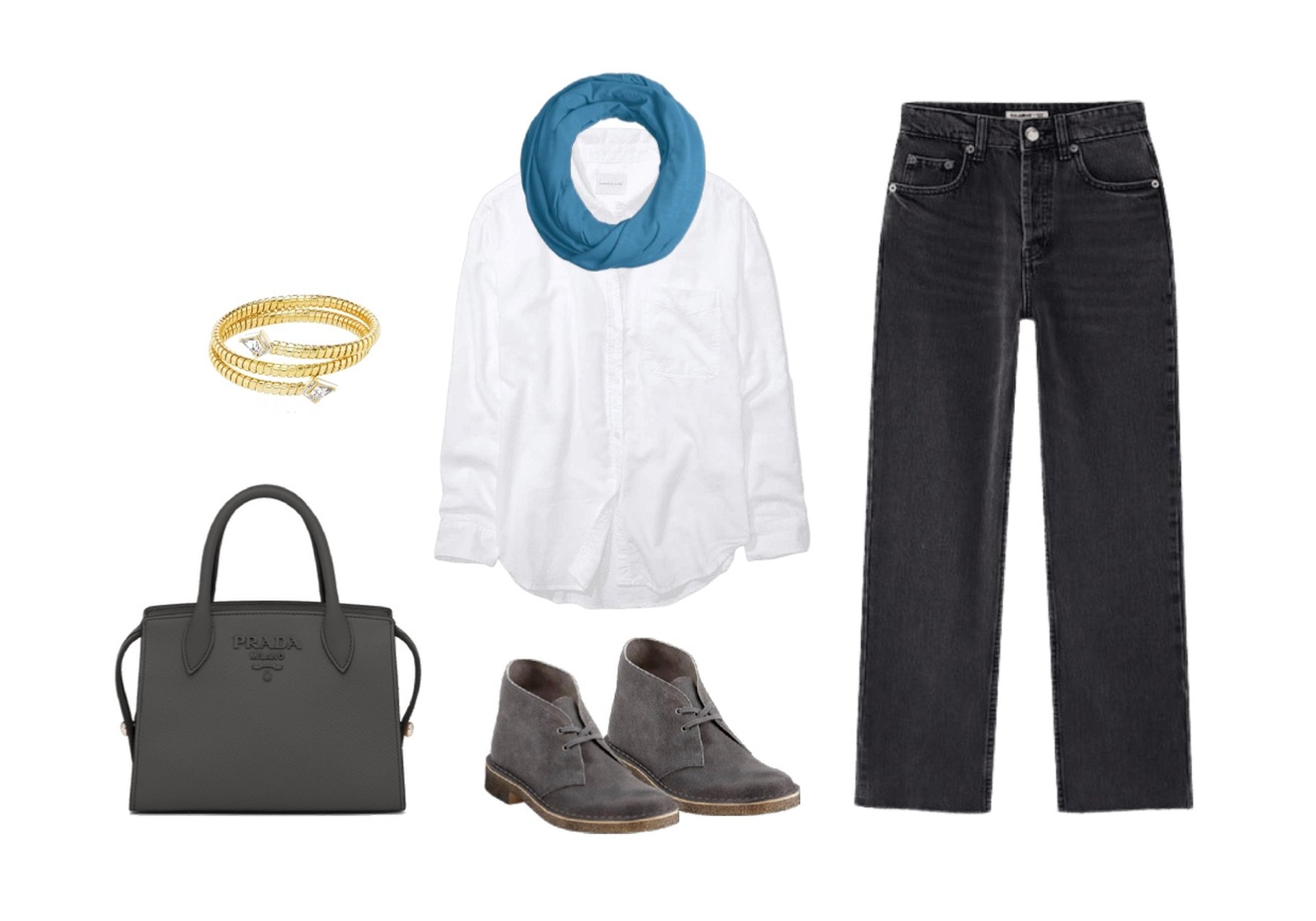 You can wear cropped black jeans and a button-up shirt. Try cuffing your sleeves for a sophisticated look. Add a gold-tone bracelet or chain watch for accessories. Finish your look with an infinity scarf in blue or black color, Try wearing a double strap top-handle handbag in taupe, grey, or a neutral color. You can also wear brown or black. You can wear wayfarer sunglasses when it's warm outside. Add a brown leather jacket if you want a lustrous look. If you want more of an urban look, try wearing your bomber jacket.
Cable Knit Sweater, Skinny Jeans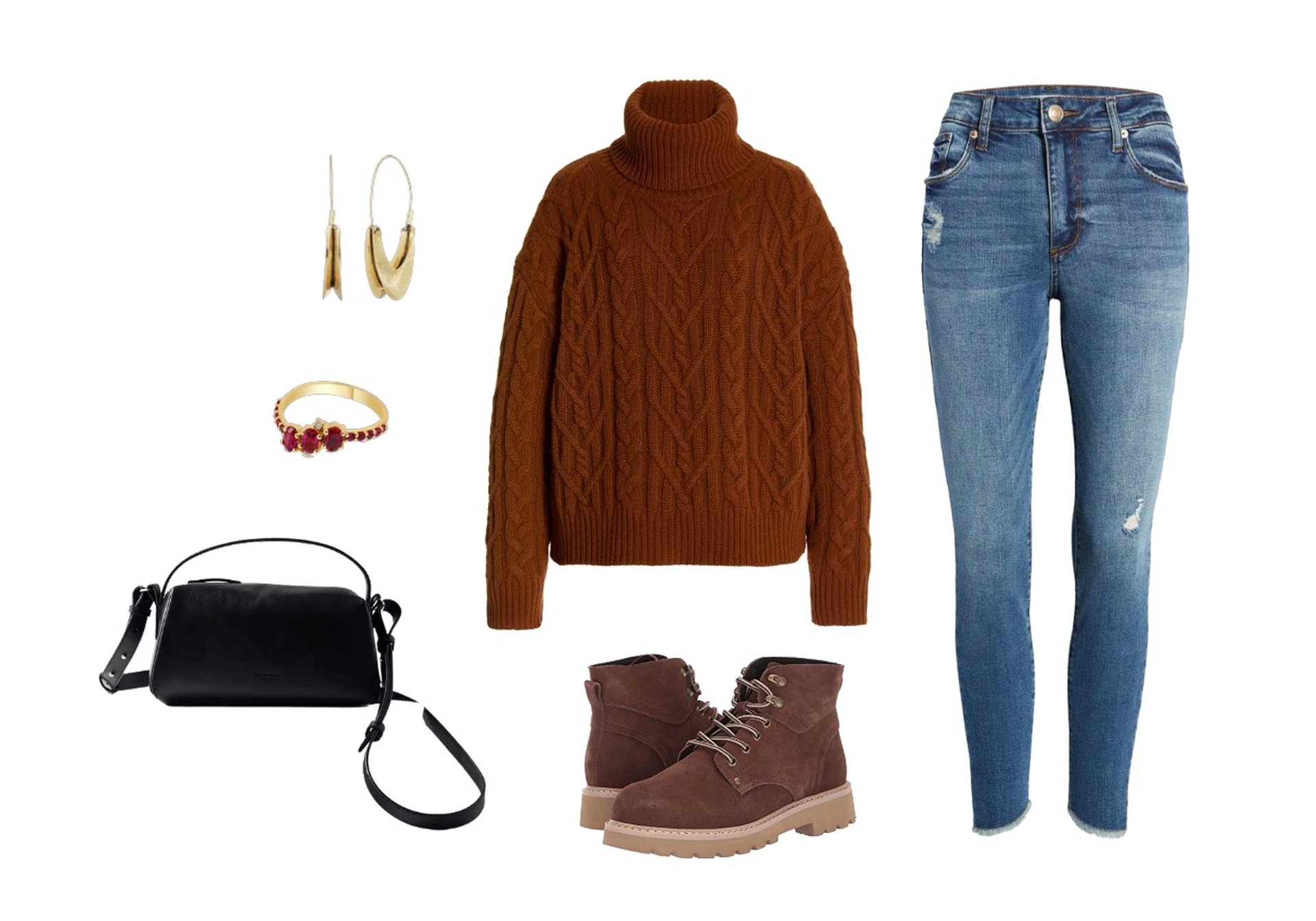 If you want to skip the coat, you can wear a really thick sweater. You can also try to get a sweater that is a bit larger in size. You can wear a crossbody handbag that falls below your waist. Wear brown chukka boots. This look works well with an accent ring and hoop earrings. This outfit is great for wearing standout hoop earrings. Especially during special occasions. This will add drama, yet will still be casual enough to wear to dinner with friends or special occasions that are also casual. Your sweater can be a thicker cowl neck or a turtle neck type of sweater that can be worn so that you skip a scarf.
Read: How to Wear Mid Calf Boots With Jeans
Peacoat, Dark Wash Jeans, White T-Shirt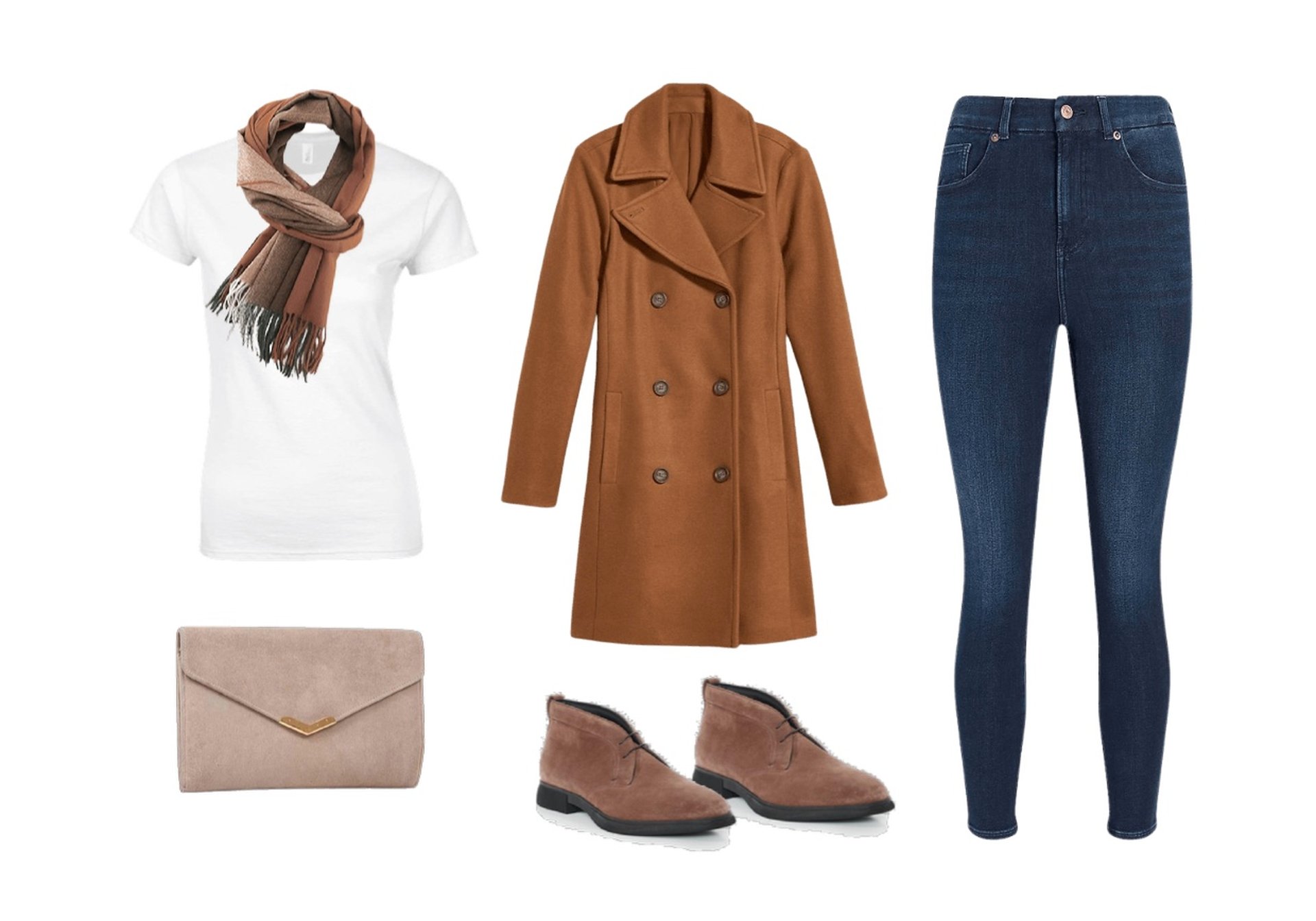 Try wearing chukka boots with dark wash jeans. Add a white tee shirt or blouse, depending on the occasion. Wear a peacoat in a full-length, medium, or short style. Add accessories like leather gloves or a warm hat. You can also wear a suede-style hat.  Wear a wrap scarf with this look, as well. Wrap your scarf in an infinity style, or you can wear it completely open and only wrapped around once. If you choose a short style, the infinity scarf look will pair the best. For the longer styles, try leaving your scarf to simply drape once around your neck.
Large Puffer Jacket, Cashmere Sweater, Cropped Jeans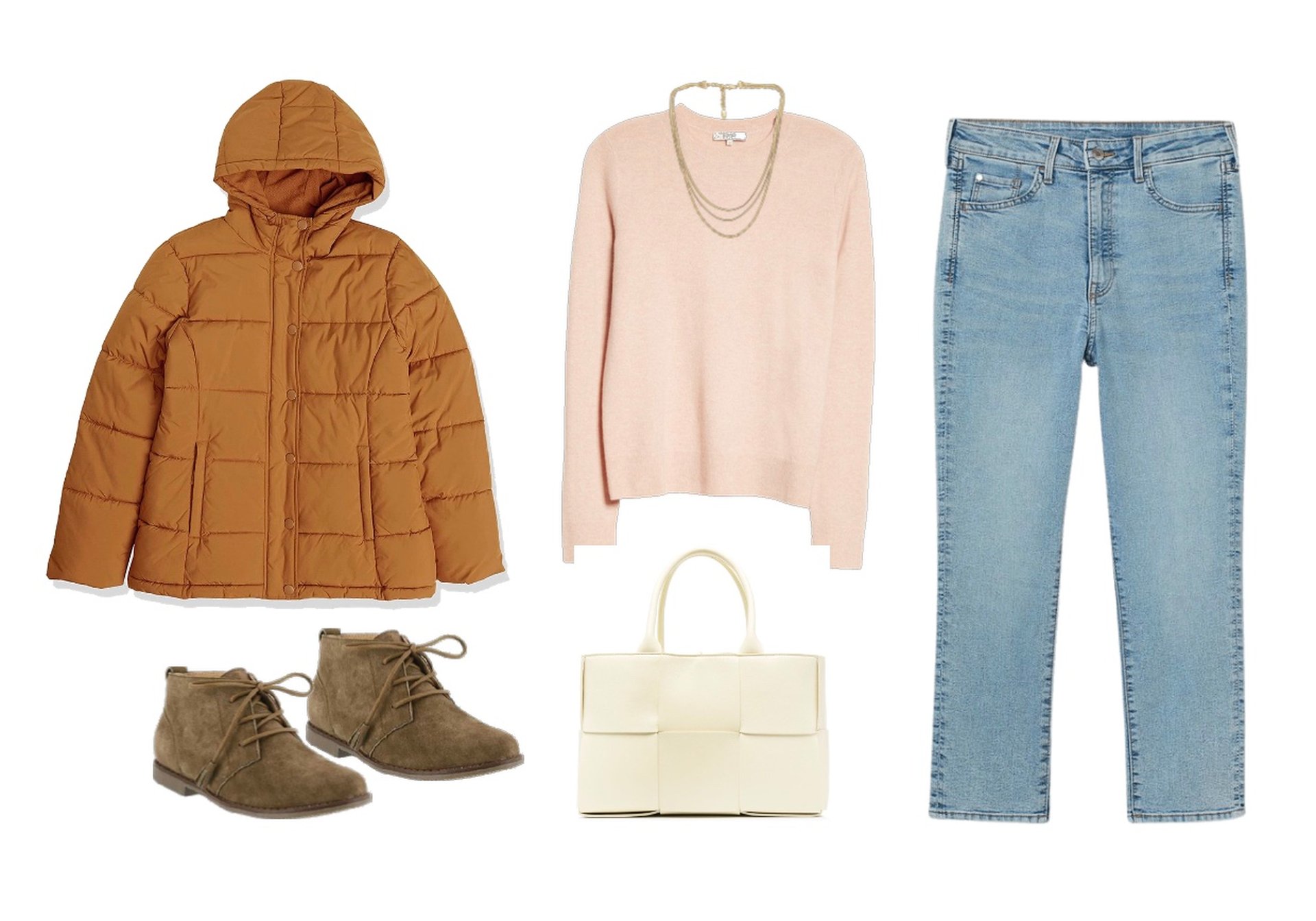 Wear a large puffer jacket for a city sleek look. Pair your bubble coat with a soft, cashmere sweater that has a circle neck. You can wear light wash jeans that are cropped, Or you can wear skinny jeans. Add a mini tote with this look or a handbag that is small, to keep the focus on your jacket. Wear minimal accessories like a chain necklace or a simple ring on two of your fingers. You can add scrunchy boot socks with jeans as well, to create a more ski-like feel. Wear chukka boots that are brown. You can even go for a wild card color like burnt orange or red!
Trench Coat, Sweater Vest, T-Shirt, Cropped Jeans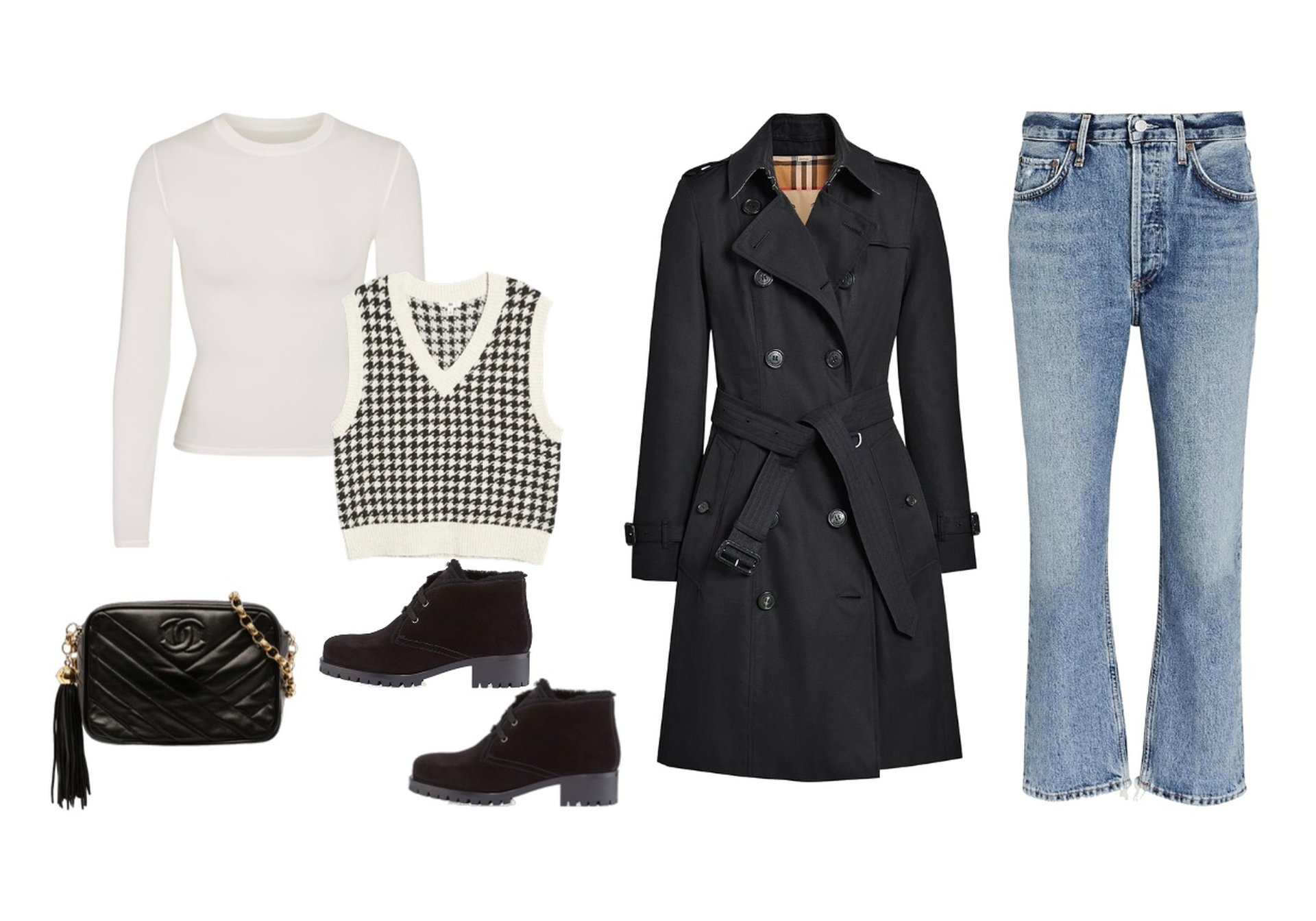 You can wear a trench coat or a long, wool coat that has large pockets. If you want to dress in extra layers, you can try adding a sweater vest on top of a long sleeve t-shirt or turtleneck in black.
Wear a black trench coat or a long, wool coat. Add cropped jeans in a medium wash and black chukka boots. You can take it an extra step and wear a black scarf. Wear a crossbody handbag in black as well. If you want to skip a large handbag, try wearing a small top handle bag that has an elegant front clasp. Or, you can wear a saddle bag or a bucket bag.
Read: How to Wear Ankle Boots With Straight Leg Jeans
Collar Jacket, Sweater, Skinny Jeans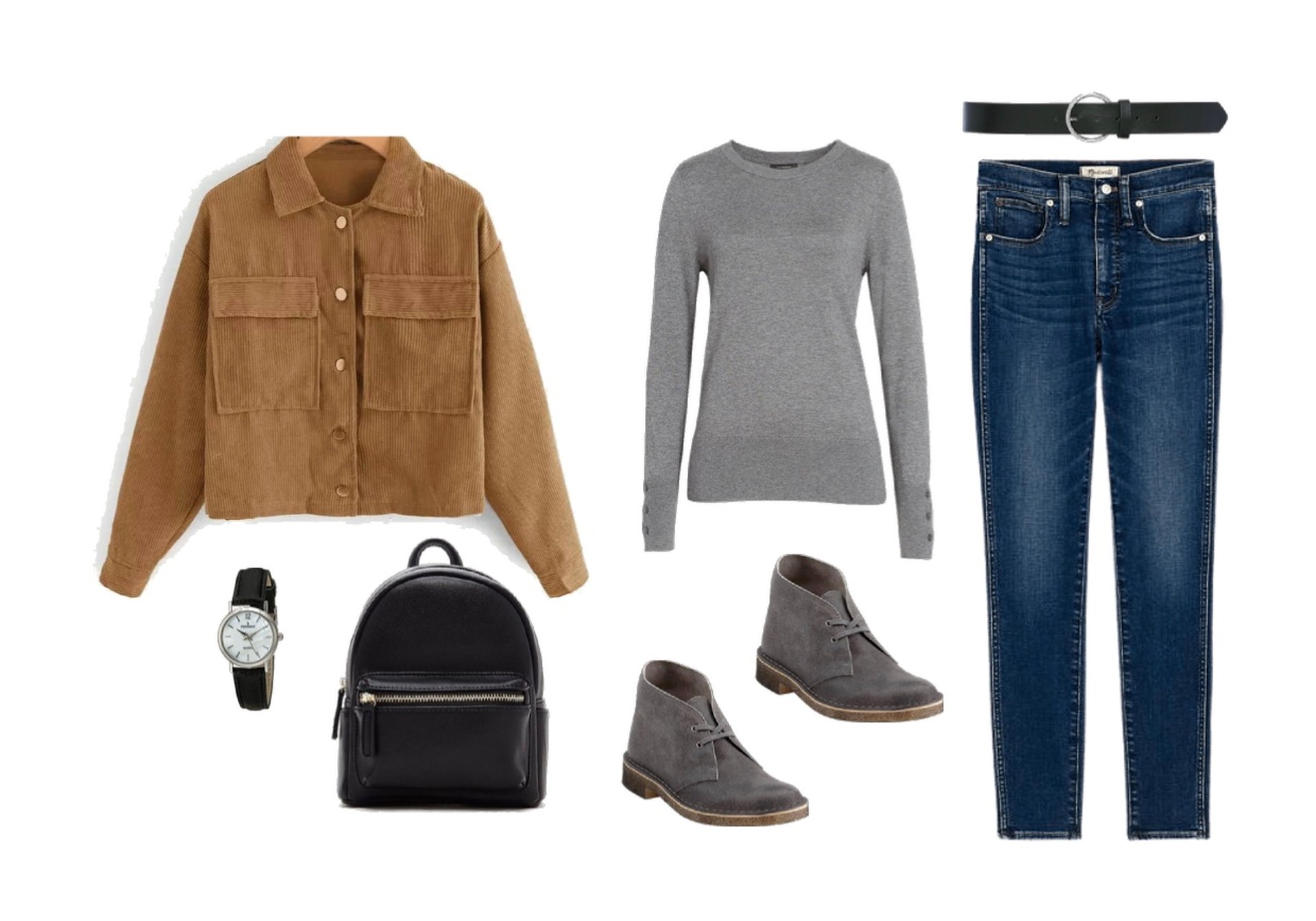 A standout way to wear chukka boots is with a collar jacket. Skip wearing a jacket with a hood and choose a shirt jacket in a corduroy style. Wear a grey sweater underneath. You can wear your sweater tucked, or you can choose a sweater that fits directly at the waist. Add a leather belt and roll your sleeves. Wear a leather watch as an accessory and a leather-style backpack or satchel. Grey or taupe chukka boots and skinny jeans are ideal for this outfit.
Cropped Jacket, Boyfriend Jeans, Sweater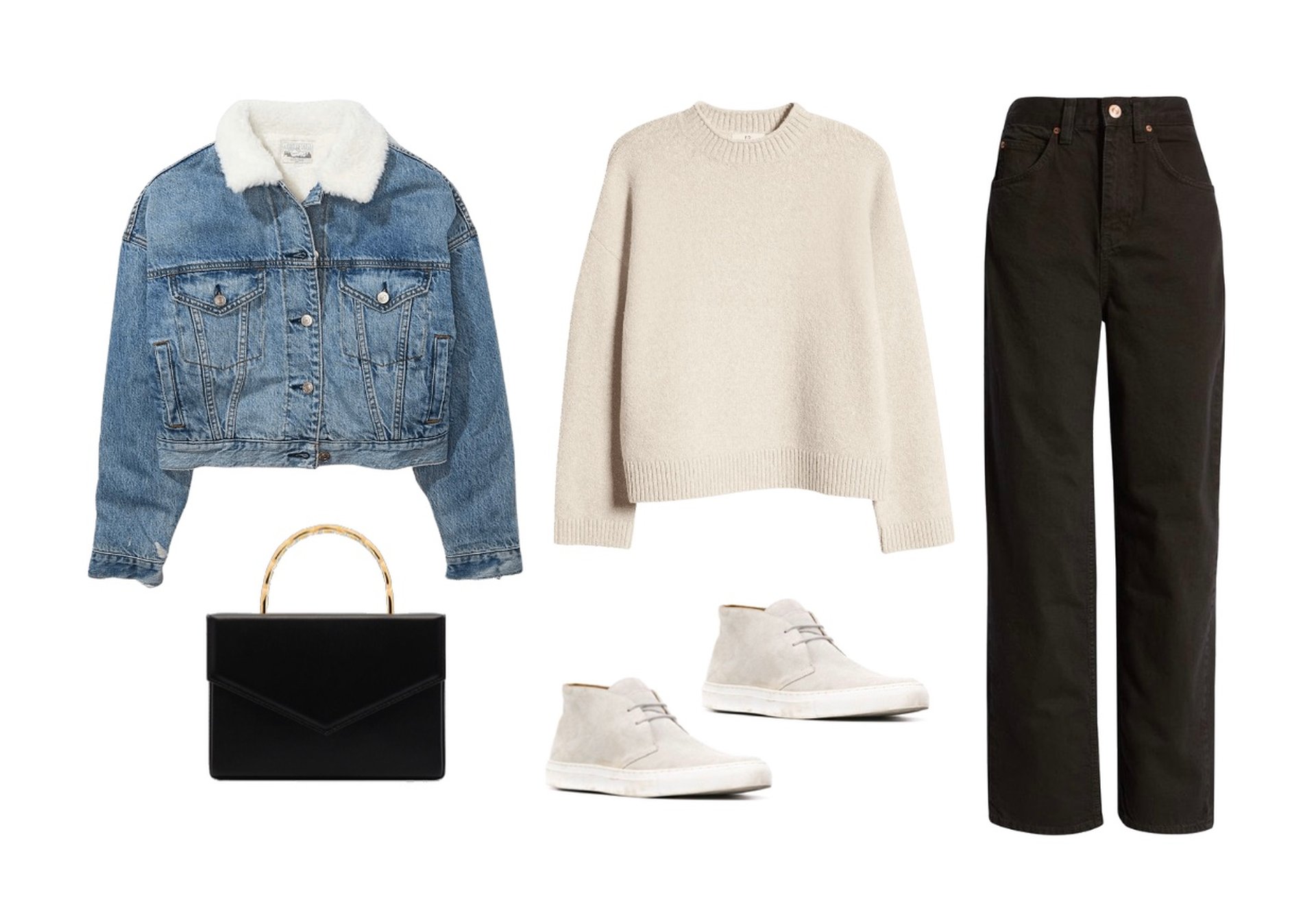 For a super relaxed look, try wearing a cropped jacket and boyfriend jeans with your chukka boots. Your jacket can be leather style or you can wear a cropped sweater and long sleeve tee underneath. This is if you want the same type of look but don't want to wear a jacket.
If you decide to wear denim on denim look, try wearing a blue jean jacket that has a shearling lining. This way, your outfit doesn't appear washed out with too much blue. You can also wear a cropped moto jacket as well. When wearing your cropped jacket, you don't necessarily have to wear blue jeans. You can wear black or white jeans.
Chukka boots are neutral-style boots that can be dressed up or down. The suede-like material pairs well with elegant and edgy pieces. Chukka boots have also come a long way from their original design. Aside from suede material, they are now made with durable cow leather, as well. They also have different styles and cuts, with many shoe companies creating their own rendition of the original. When wearing your boots with skinny jeans, you can layer tops, coats, and sweaters to create a complete look. When you're stuck on how to complete a look wearing chukka boots, you can always wear matching leather notes within your handbag or even with a belt.