If you purchase one of the products recommended in this article, I might receive a small affiliate commission. Thank you for your support!
Duck boots are flexible shoes that you can walk in and don't have to worry about changing your outfit due to the weather. They're ideal to wear when the weather is dry and when it gets rainy. The style of the boot design has a classic element that's been around since the early '50s. You can style this type of boot with different jean cuts, coats, and t-shirts.
The number one benefit of wearing duck boots is they almost match with any casual item you have in your wardrobe. They are more of a casual boot, but can easily be styled with delicate pieces, to soften the look. We've put together this guide to help you decide how to wear your duck boots with jeans, the next time you need fresh ideas.
Cable Knit Sweater, Cropped Dark-Washed Jeans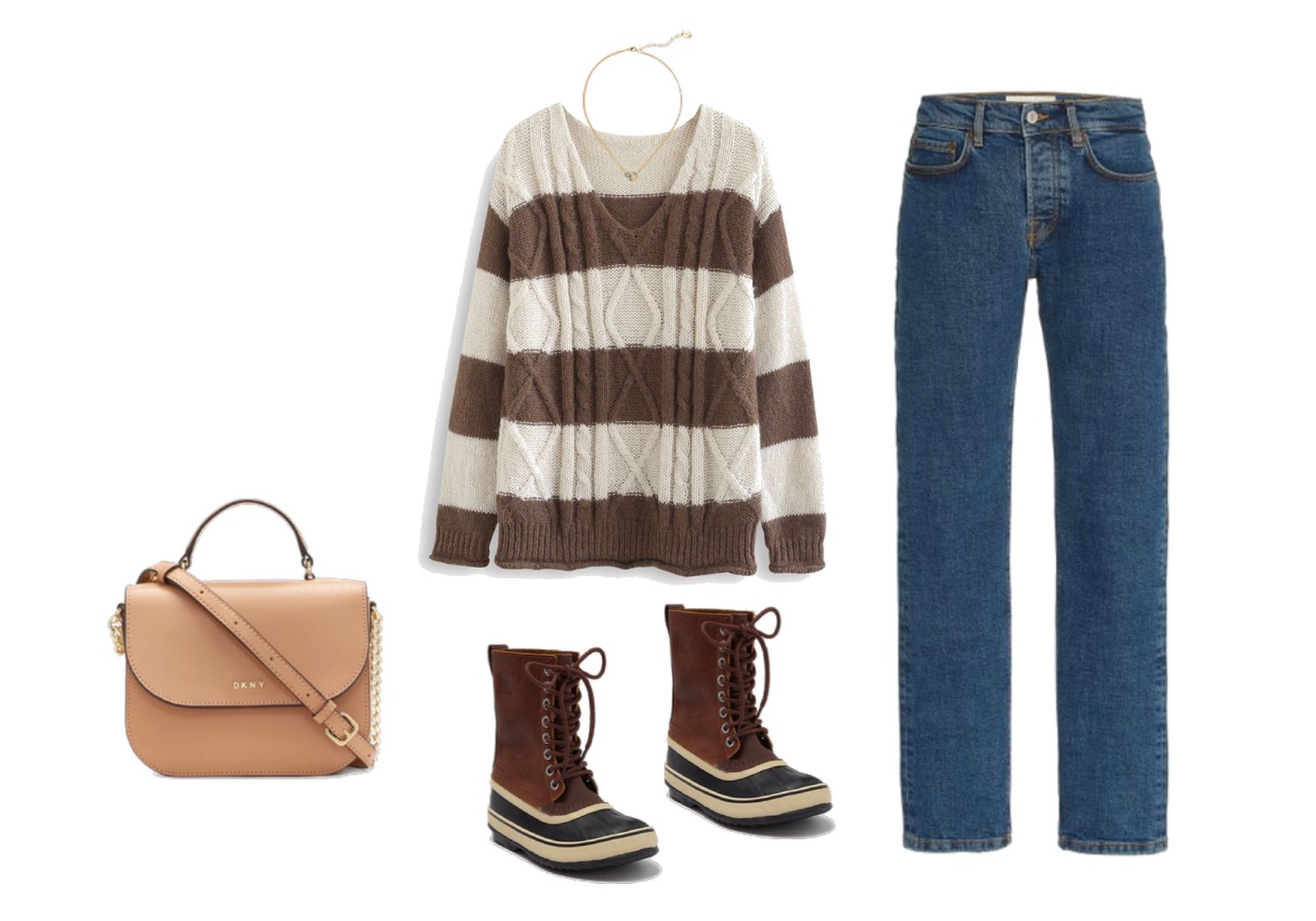 You can wear a chunky knit sweater in a cream color with your duck boots. Your sweater can be a v-neck so that you're able to wear a statement necklace. If the events for the day are more subtle, wear a simple chain necklace with a small pendant.
Add dark-washed, cropped jeans to your outfit when you're wearing duck boots with a sweater. This way, your jeans will stop right where the duck boots start, when you lace them. If you want, you can add long socks that you're able to scrunch around your calf. For accessories, wear a leather handbag in a light brown color and a scarf.
Mom Jeans, Puffer Jacket, Graphic T-Shirt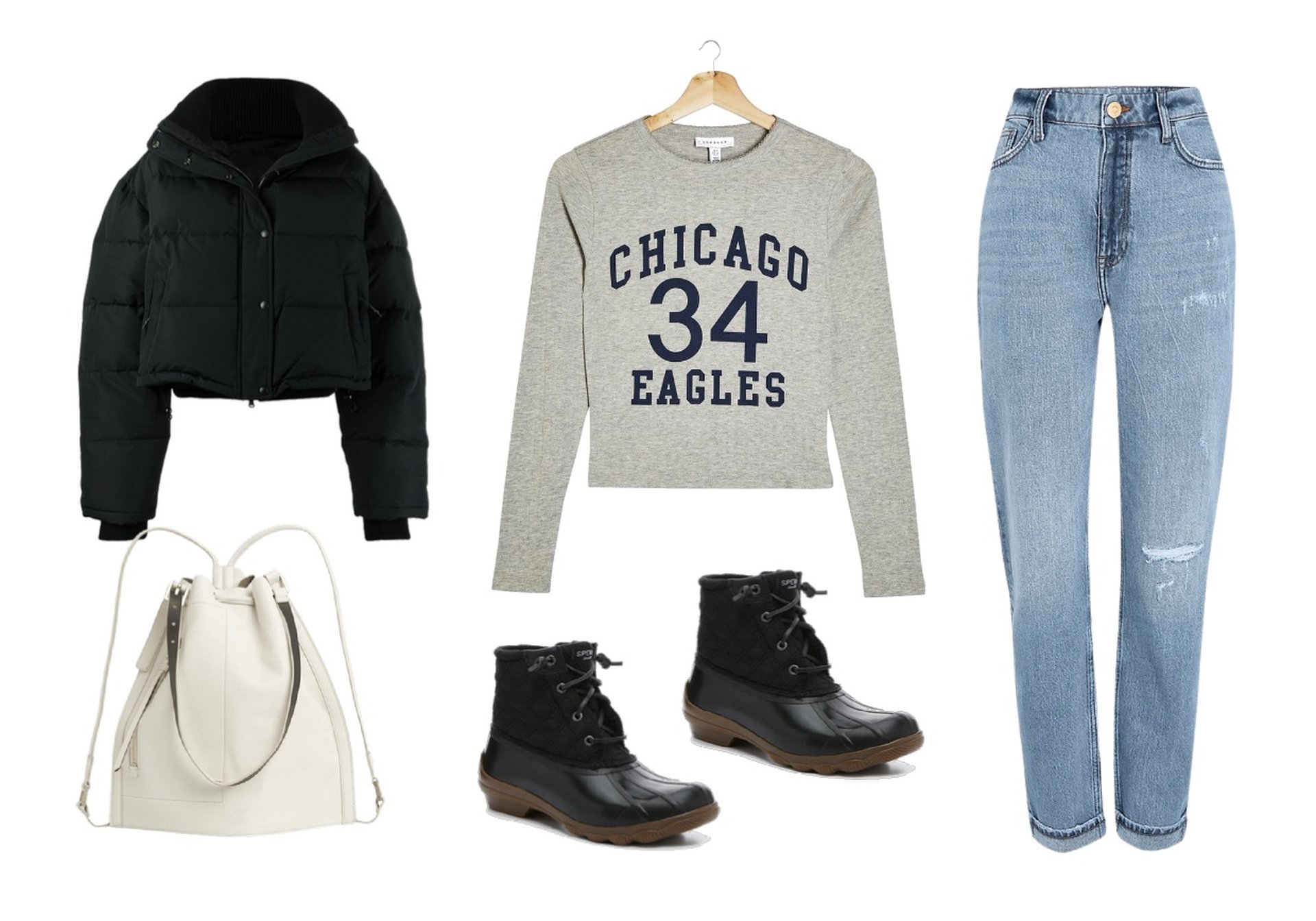 You can wear mom jeans that don't fit as tight as skinny jeans, to create a super cozy look. Add duck boots and a graphic, long sleeve t-shirt. You can wear a black puffer jacket that is short or falls directly at the waist. Wear a crossbody hobo or you can wear a small leather backpack. With this look, you can completely skip accessories and wear black gloves or mittens when the weather calls for it.
Read: How to Wear Doc Martens With Jeans
Sweater Vest, Dark-Wash Jeans, Turtle Neck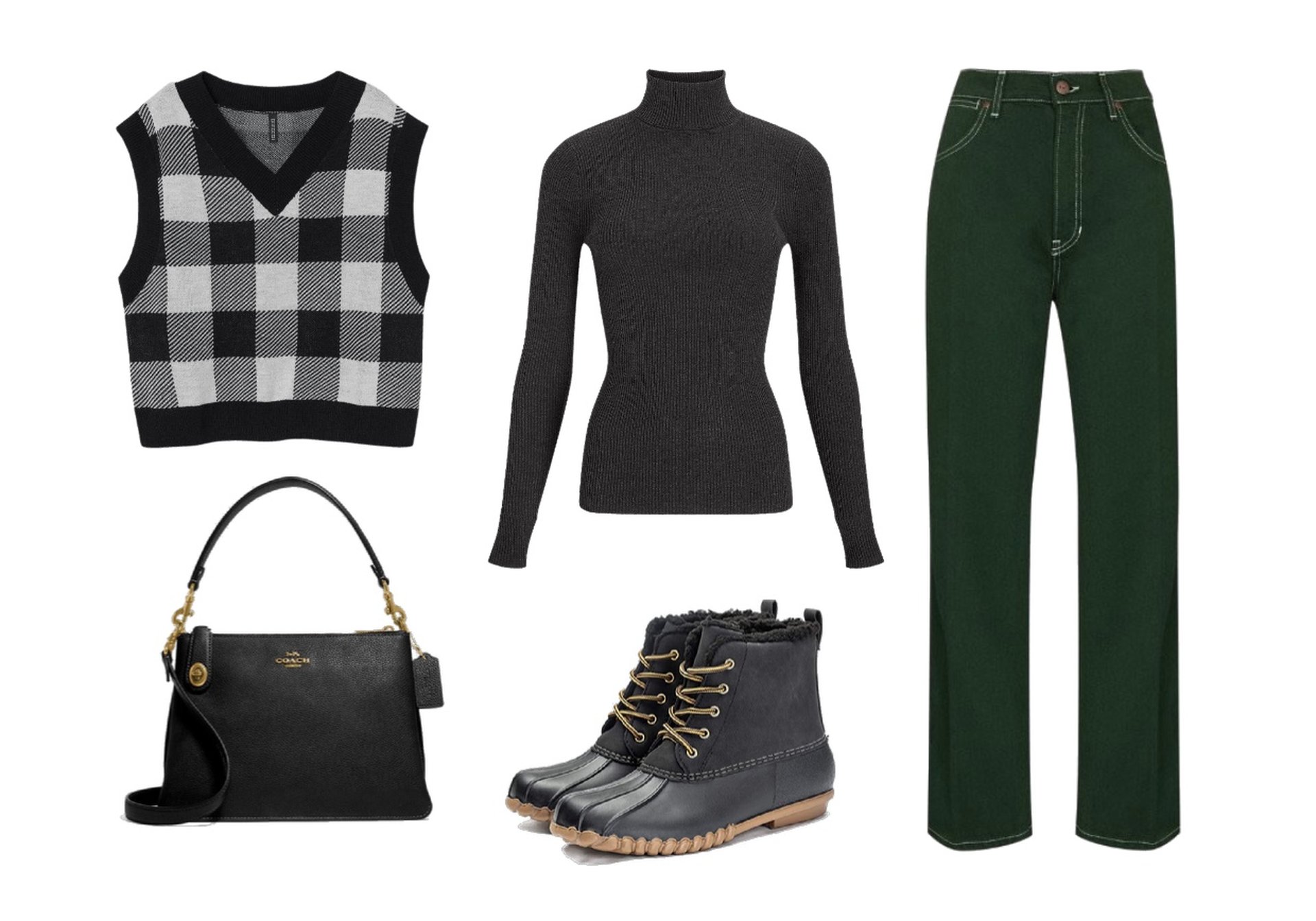 Switch things up and wear an unexpected color of jeans like forest green! These jean colors are earlier to find in the colder seasons. If you don't want to wear green, you can wear a dark wash or black. Add a turtleneck in a solid color or you can add a printed turtle neck for fun!
Wear a sweater vest that opens and is button-less. Or, if you're wearing a sweater vest with buttons, leave the buttons unbuttoned. Wear a black shoulder carry handbag in a leather style. You can also wear a brown handbag.
Read: How to Wear Ankle Boots With Straight Leg Jeans
High Collar Sweater, Button Up, Skinny Jeans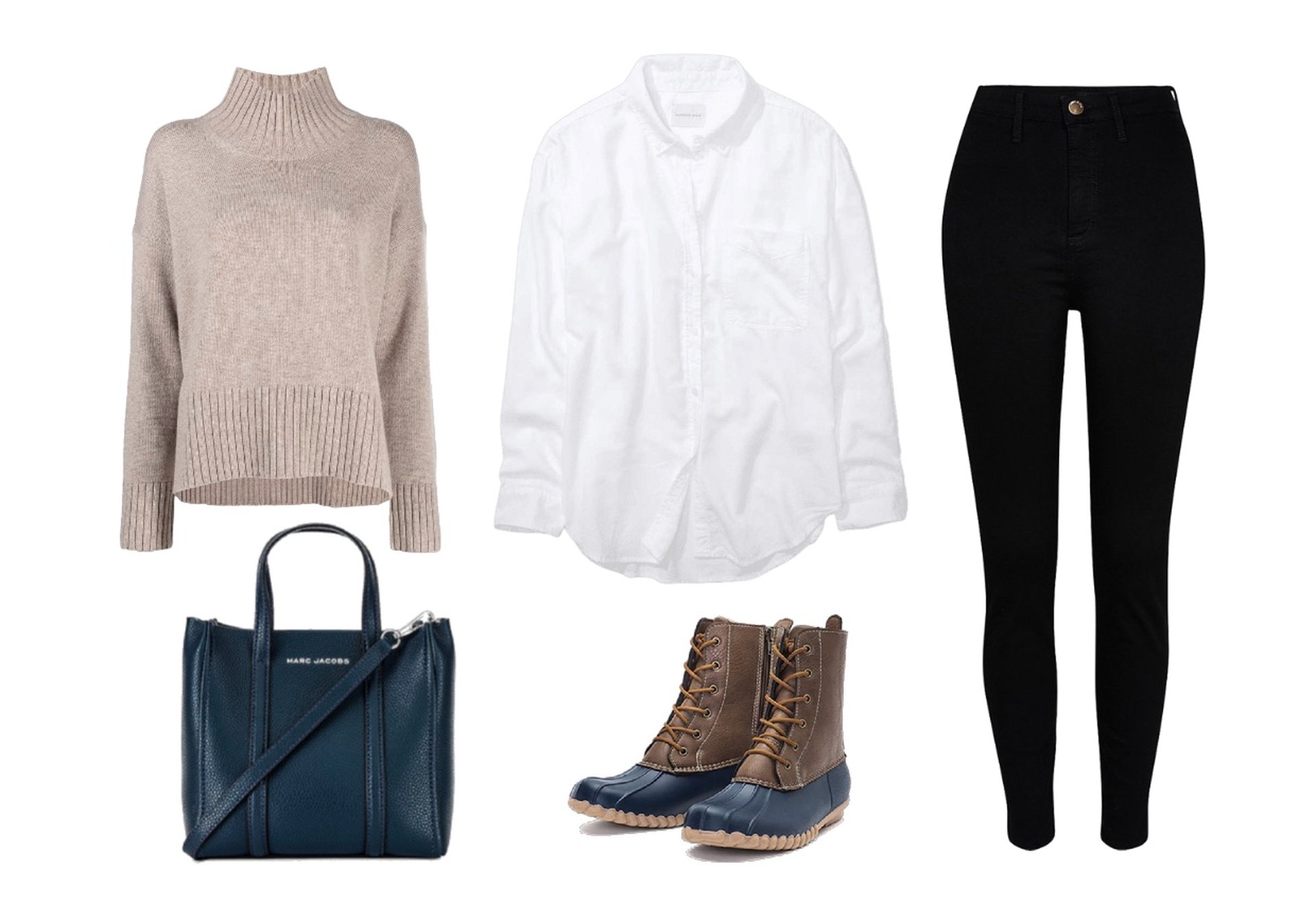 Wear skinny jeans and a button-up with a cable knit sweater that has thick ridges. Underneath, wear a button-up. You can choose a solid buttoned shirt or you can switch things up with a plaid button-up. Be sure your sweater has a high collar. This can be in a turtleneck style that stops underneath your chin. Or, you can wear a cashmere turtleneck sweater in brown. You can even wear a regular crew neck sweater and wrap a scarf around your neck, creating a high-collar effect. Choose a solid sweater and add a striped button-up. Wrap it in an infinity style, but let it sit high on your neck.
This look works best if you have a longer torso. If your torso is not as long, try wearing a v-neck sweater and leave your scarf open by only wearing it once around the neck. Wear duck boots in brown and blue.
Read: How to Wear Chukka Boots With Jeans
Fleece Zip Top or Sweater, Dark Wash Skinny Jeans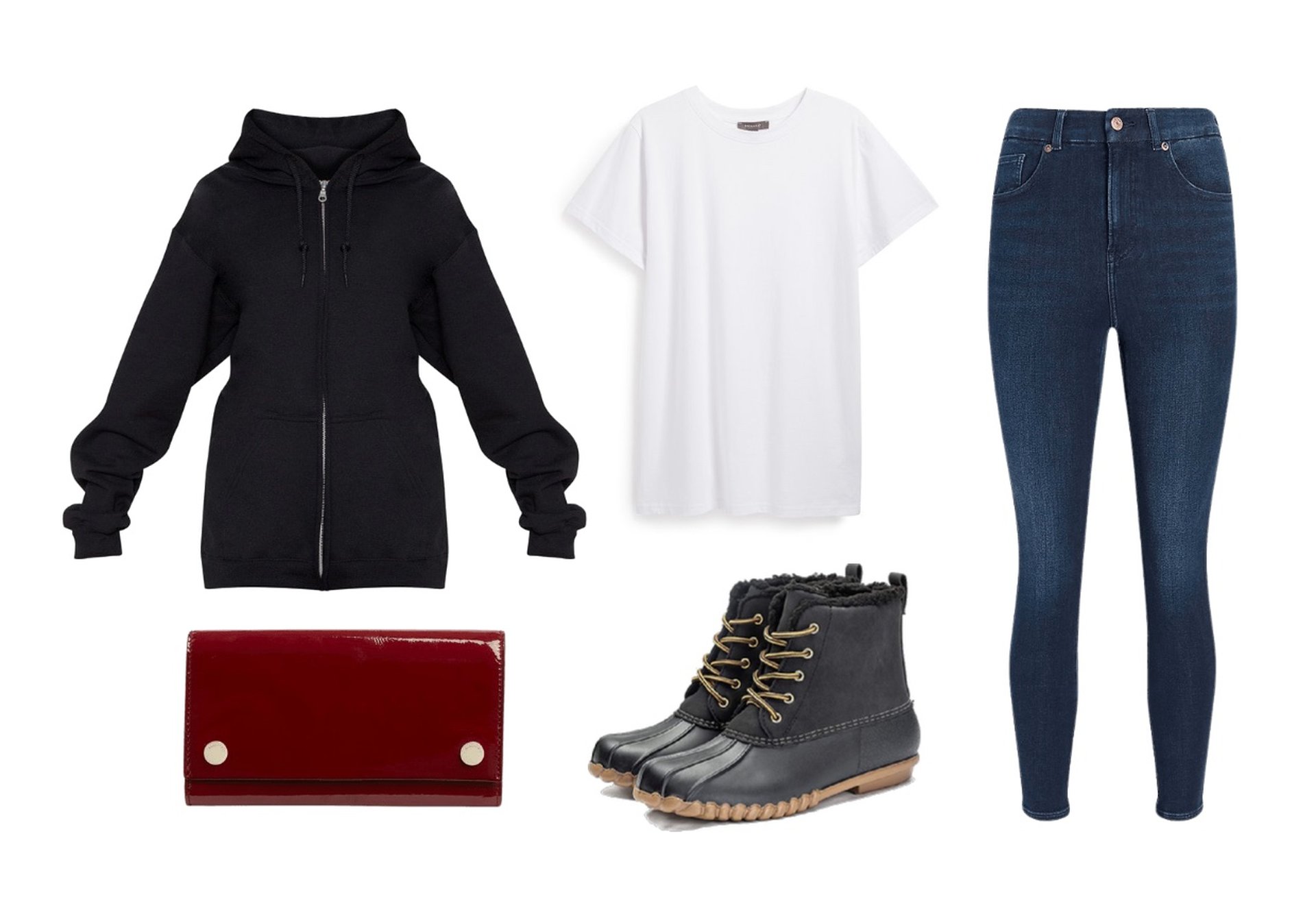 When you're having a comfy day, you can wear your duck boots with a zip-up fleece. Wear brown or duck boots that have grey and blue colors. Add dark wash jeans in a skinny style. This look will also pair well with a white t-shirt underneath.
To keep your look suave, wear a zip-up wallet as your handbag, instead of a large shoulder tote. You can even wear an oversized leather zip pouch. Be sure to wear a brown or black leather pouch. You can even wear a large white or beige zip-up wristlet.
Read: How to Wear Timbs With Jeans
Fleece, Skinny Black Jeans, T-Shirt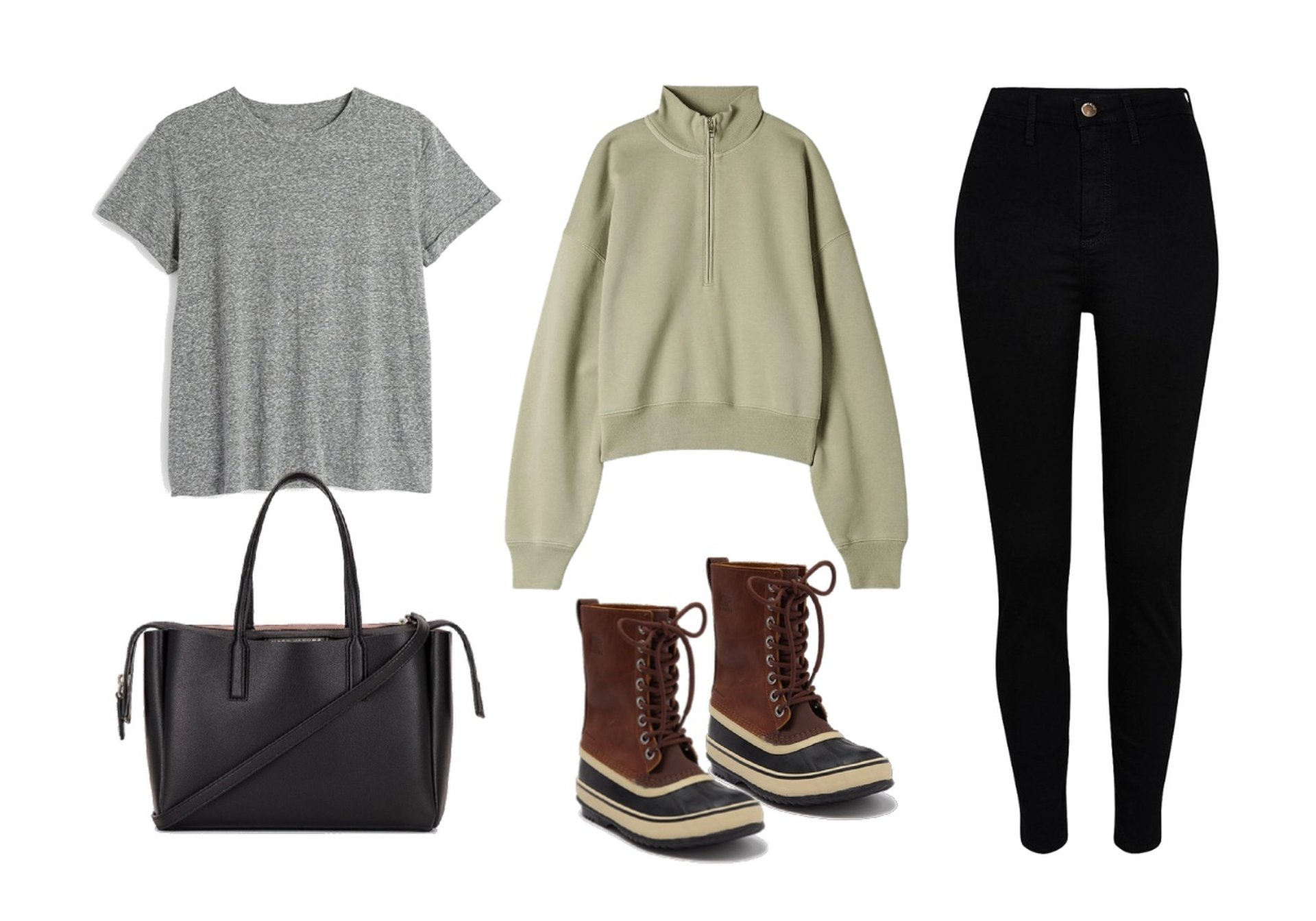 You can wear a fleece pullover with your duck boots with black jeans, as well. This look is especially crisp since it has a high collar, instead of a hood. Choose a fleece in an olive green or grey color. Add a grey t-shirt underneath that will peak through, creating a layered effect. Your top can be in a traditional fleece material, or you can keep on trend with a sherpa half-zip. These tops are especially easy to find during the colder seasons at major department stores and top brands carry them in every color under the sun! Add skinny black jeans and black and brown duck boots. You can wear a shoulder tote that falls under your arm, instead of a tote that falls much lower.
Poncho, Skinny Jeans TurtleNeck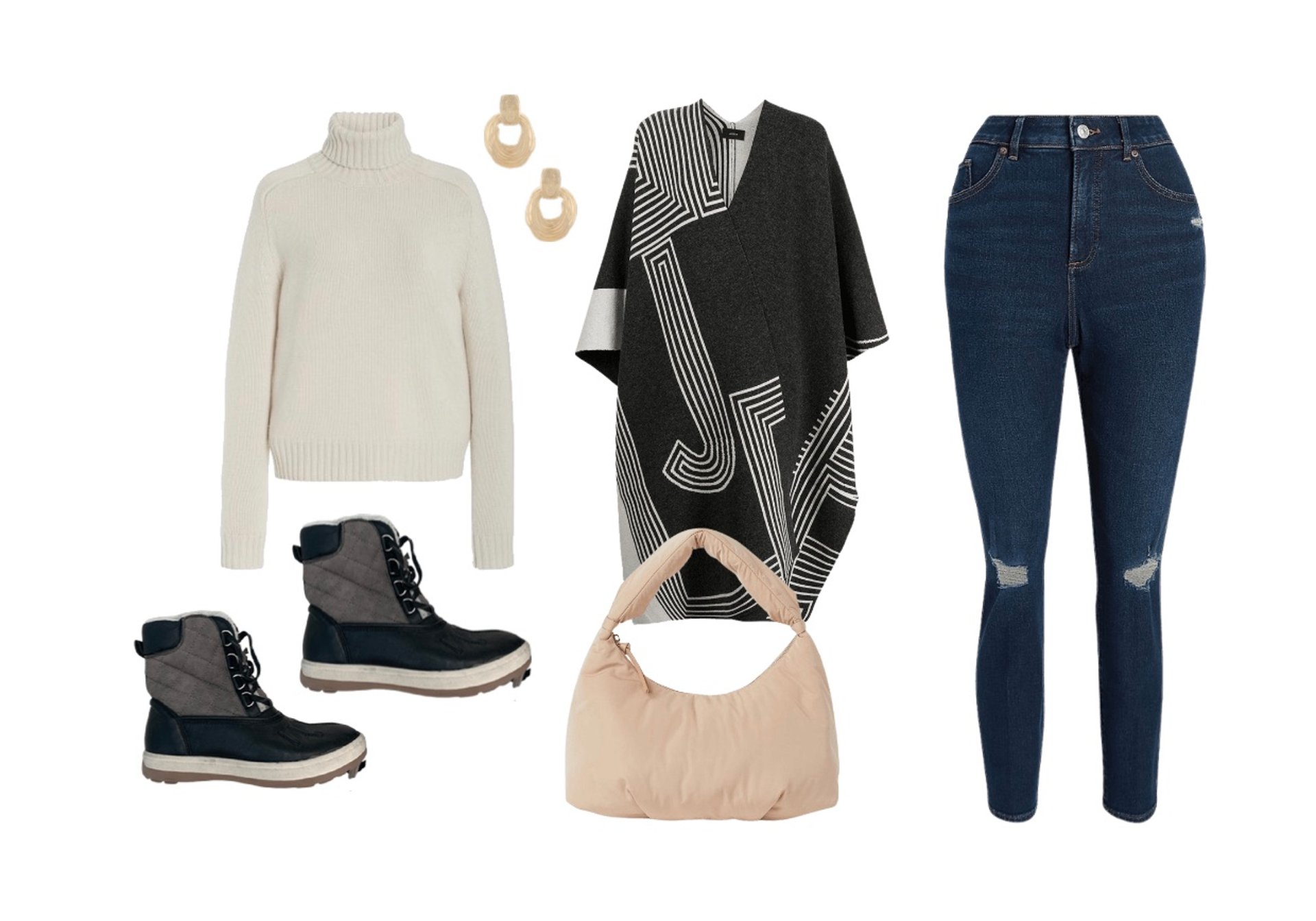 A fun way to wear duck boots is to wear a pair of light color boots with a dark wash, slim jeans. You can then add a nude color turtleneck or long sleeve t-shirt underneath. Wear an aztec inspired poncho or sweater vest in an oversized style, that drapes well past your waist. The print doesn't necessarily have to be in an Aztec print. You can have stripes as well, whether small or large.
With this look, you can add gold-tone jewelry to compliment the neutral colors. Add long socks that will cuff your legs and stop at the calf. Your socks can be white so that you won't over saturate the nude colors. This will create a clean break between the blue in your jeans and the natural colors within each of your top pieces.
Read: How to Wear Mid Calf Boots With Jeans
Oversized Cardigan, Ruffle Blouse, Destroyed Denim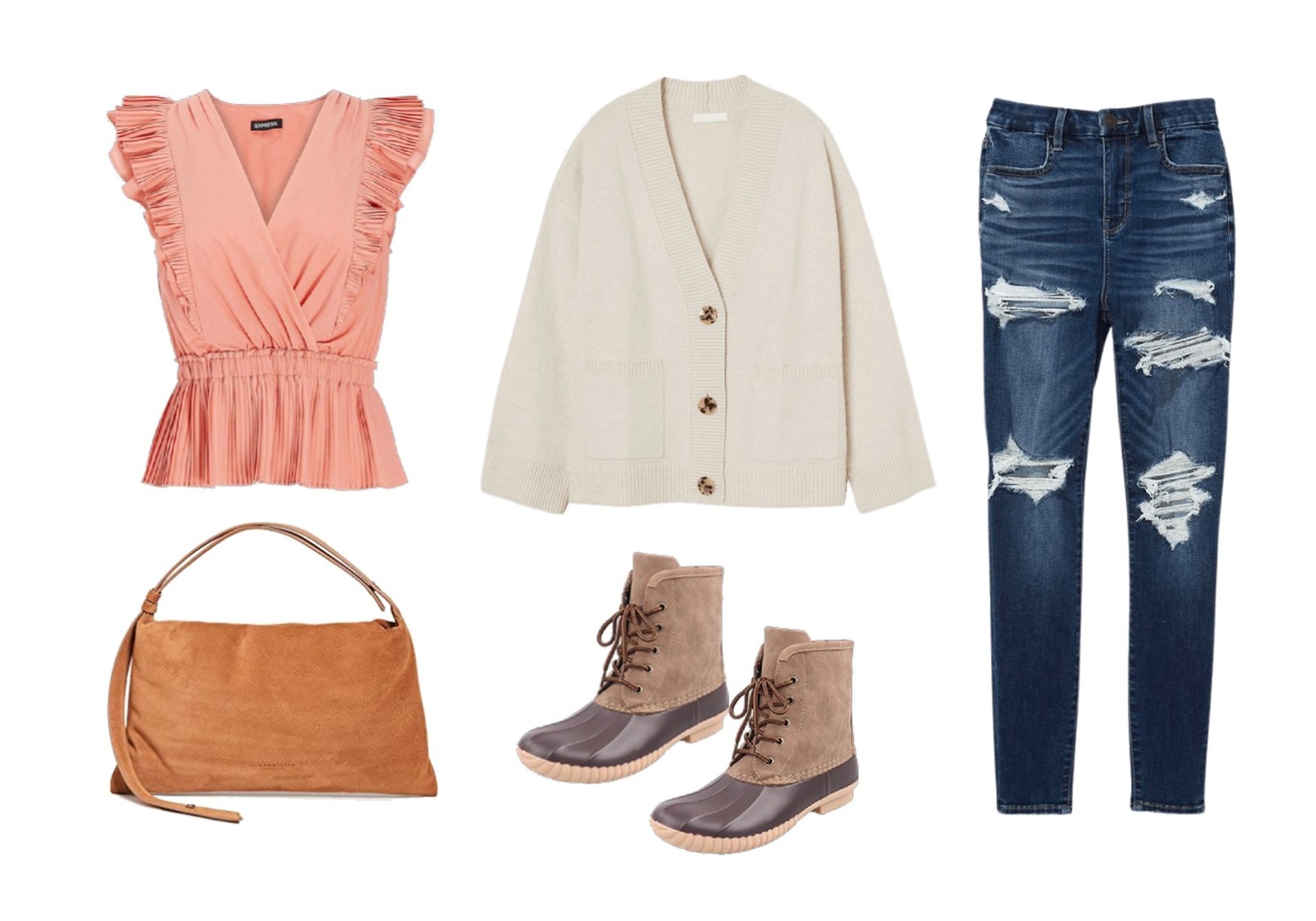 Wear an oversized cardigan in a striped pattern or you can wear a solid pattern. Be sure your cardigan is worn completely open so that your blouse is on display. Wear a peplum or ruffle hem blouse in a complimenting color. For example, if you have a wine color blouse, wear a cardigan in grey, black, or creme. This way, you don't look too matchy.
Add destroyed denim to your look in a dark wash, if you're going out with friends. Wear a lighter wash if it is a day shopping trip, or something more mellow. Since duck boots usually have two tones, this look will work best with both colors being brown.
Blue Puffer Vest, Plaid Button Up, Cropped Jeans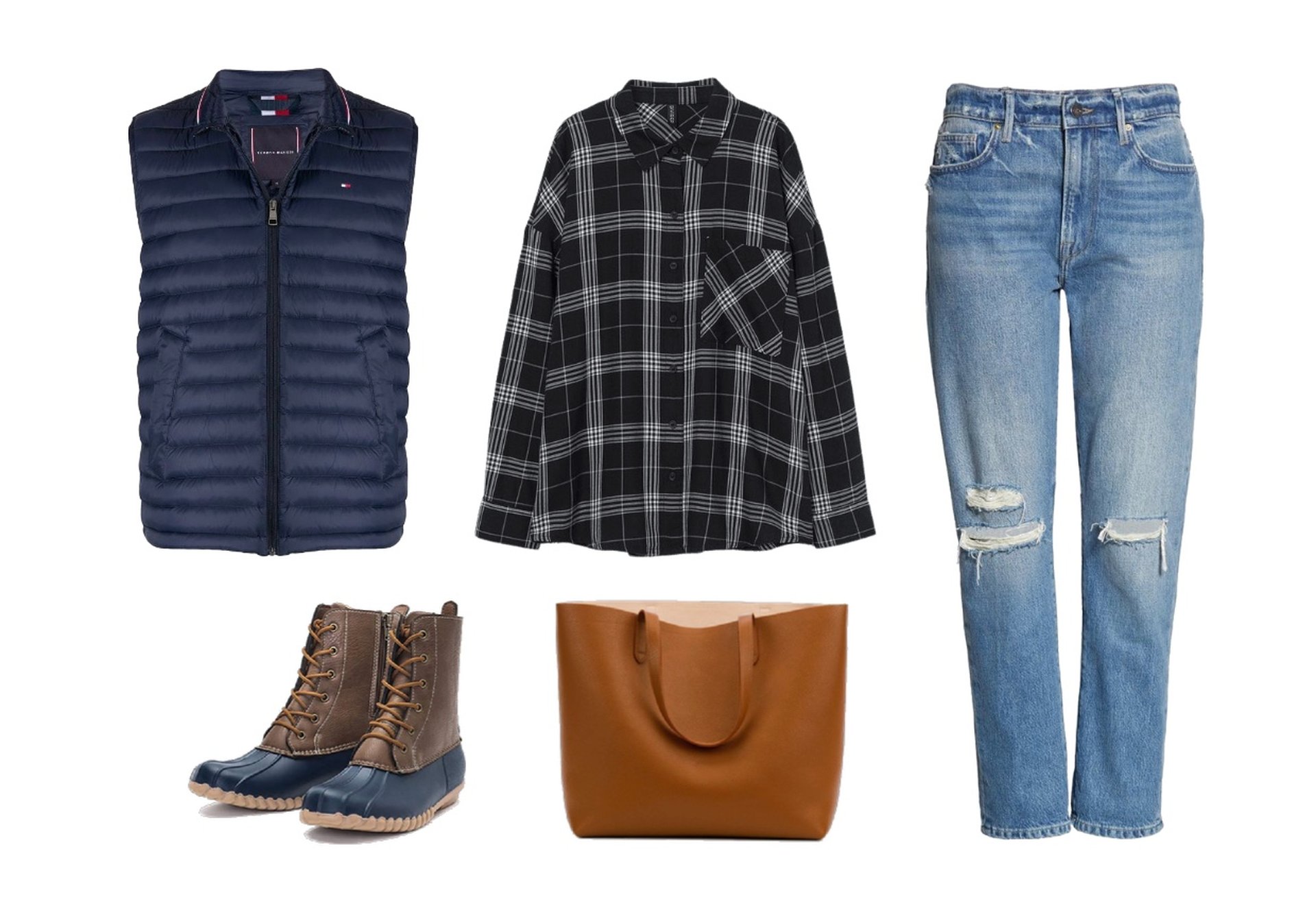 For a complete cabin vacation look, try wearing cropped denim. Wear destroyed jeans in a dark wash color and blue and brown duck boots. You can cuff your jeans or you can wear cropped jeans. Add a blue puffer vest in a navy tone. Finish your look with a plaid button-up in black and white. You can wear sunglasses for a brisk look. Add a necklace in a silver or gold-tone with a small pendant. You can wear an arm tote in dark brown leather.
Brown Puffer Vest, Sweater, Skinny Jeans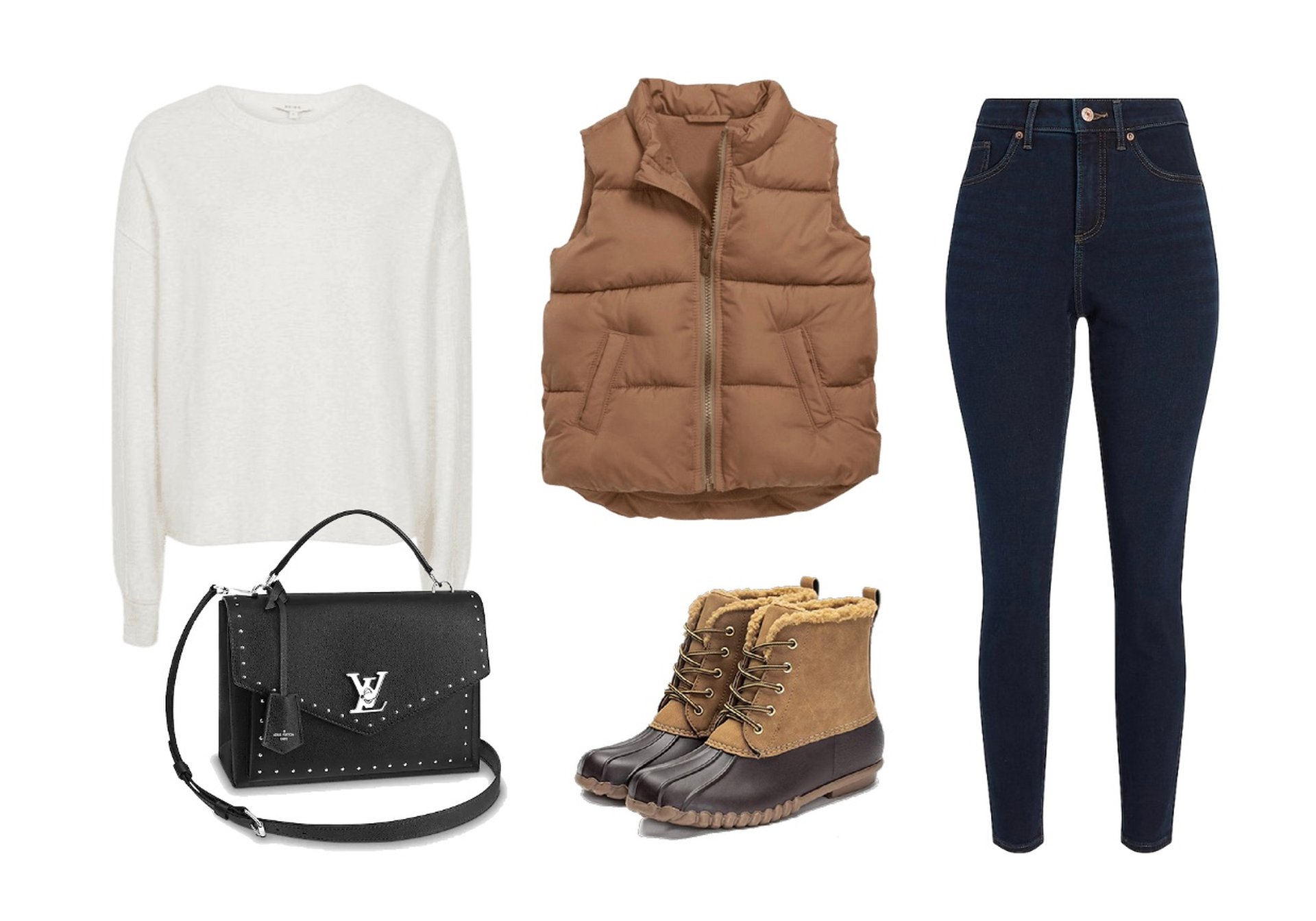 Keeping with the same puffer vest aesthetic, you can create a more fall-centric look with brown colors to match autumn leaves. Wear a brown puffer vest on top of a grey or white crew neck sweater. Add dark wash jeans and brown duck boots. You can also wear boot socks with jeans since your jeans will be skinny. Fit your socks at the calf and wear a leather-style backpack. This look will pair well with a handbag that has studded hardware, to add more glam to the outfit.
White Skinny Jeans, Sweater, Parka Coat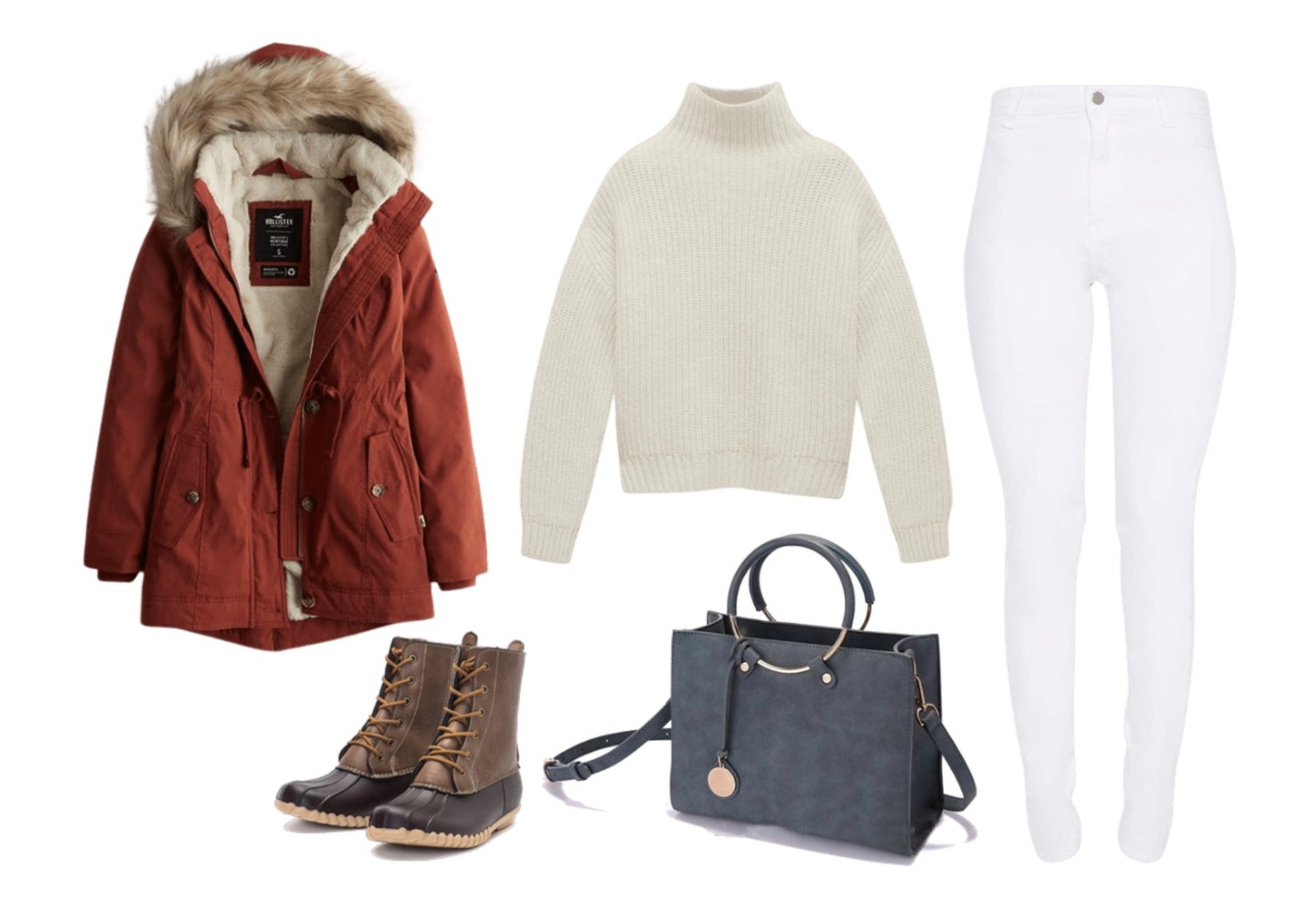 You can create a completely crisp winter outfit by wearing white skinny jeans with a wheat or cream color sweater. The best option for this look is a cable or ribbed sweater. Wear a brown parka that has a fur hood. This look is perfect for cozy accessories like a beanie hat and mittens or woven gloves. Complete your look with a taupe or grey top handle handbag. A large handbag works best with this look since you will want a bag that can fit over your coat when you wear it as a shoulder carry. Add blue and camel duck boots or all brown duck boots.
Wearing duck boots is extra fun when you keep it simple with layers. The key is to compliment your duck boots with pieces that soften your look, like fleece and puffer vests. Try not to add too much color with your duck boots, since they usually come in blue, and other natural tones.
When you want to add a flirty touch to your boots, add ruffle in a very subtle way. You can always wear duck boots in the traditional blue and brown combo. Or, you can switch things up with a newer pair of boots that now come in a variety such as a leopard print and all-over taupe colors.