If you purchase one of the products recommended in this article, I might receive a small affiliate commission. Thank you for your support!
So you've just bought a pair of fresh Doc Martens but you don't know how to style them or what jeans to wear them with. In this guide, you'll find out how to wear your Doc Martens with jeans for both men and women.
Doc Martens are a classic shoe that can be worn with skinny jeans, overalls, shorts, and much more. Read on for outfit inspiration on how to dress up this famous pair of shoes.
How To Wear Doc Martens With Jeans for Women
Worn by the most well-known celebrities, including Rihanna, Dr. Martens are flattering for women, creating a shapely leg that you can wear with skirts and dresses alike.
They give the same effect when wearing jeans since they tie at the ankle and can also be worn open to showcase printed socks. Any look worn with Doc Martens can go from grungy, to chic and elegant.
Wear these boots for an everyday coffee run or a fun day with friends.
Oversized T-Shirt, Cropped Black Jeans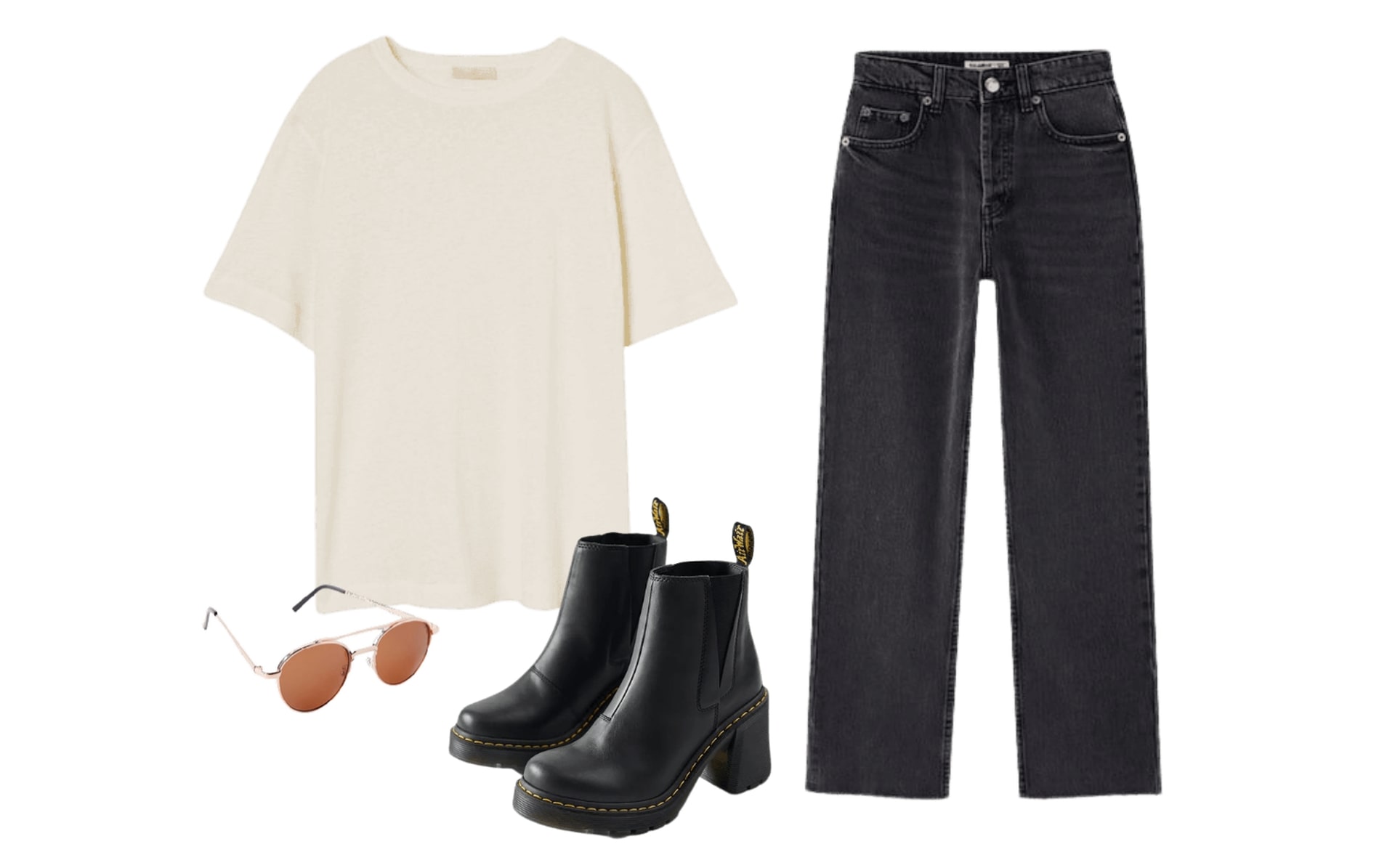 An oversized t-shirt is how to wear Doc Martens with jeans that will look flowing. Wear an oversized t-shirt in a neutral color like brown. If you can't find an oversized women's t-shirt, opt for a mens t-shirt, which will hang on your body but not look too baggy.
Tuck in your shirt and wear black, cropped jeans. You can cuff your pants, for an extra cropped look. You can wear a single chain and sunglasses. For a completely opposite look, wear an oversized tee in a bright pink or purple color!
Wear light-wash skinny jeans and high socks in white or black. Scrunch your socks a bit and leave your boots' laces open, to show your sock pattern.
Turtleneck Sweater, Cropped Light-Wash Jeans, Backpack, Sunglasses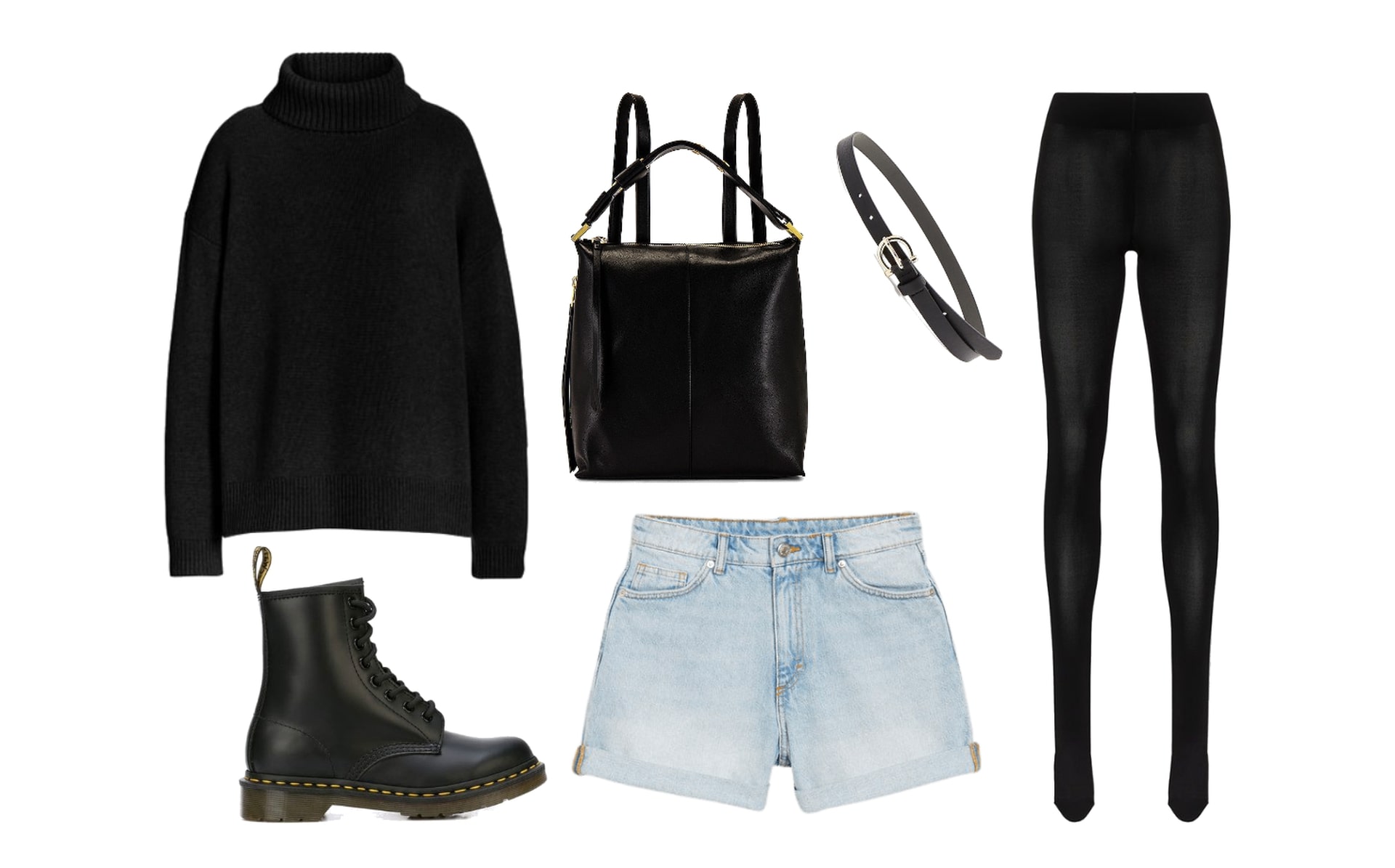 You can wear a black turtleneck with a black blazer. This look will be sharp but also sleek. Your blazer can be fitted or loose, depending on how you want to wear it. You can add jean shorts that are high-waist with a belt.
Your shorts can be cuffed. Add sheer tights for a retro-style look that is glam and sophisticated. Tie your Doc Martens all the way to the top of your shoes. Wear a top handle bag that acts as a backpack and double shoulder straps.
Distressed Jean Shorts, High Socks, Graphic T-Shirt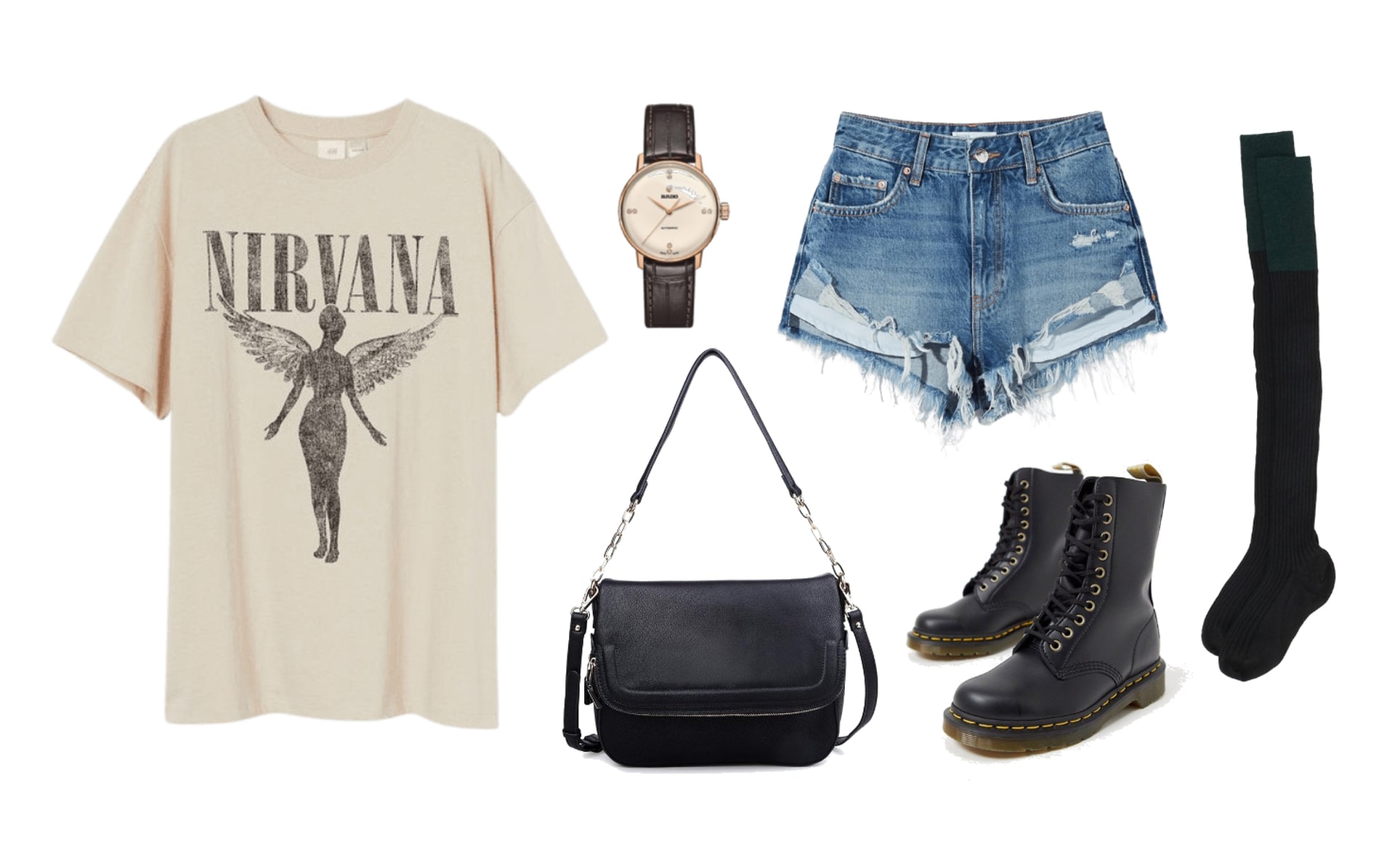 Keeping with the jean shorts, you can also wear distressed jean shorts. Add high-top or mid-top socks with your shorts. Your socks can be black and don't necessarily have to be white tube socks. Add a graphic t-shirt with your look, showcasing a band or a grungy graphic print. With this look, you can wear a crossbody handbag.
Add sheer tights or you can wear your bare legs, depending on what you're comfortable with and the way you want to style your jeans. Wear a small crossbody bag with a leather shoulder strap or a chain strap.
This look is perfect for an accent watch with a pop of color like a soft blue sports watch. Or, you can keep things simple with a leather band watch in black.
High-Waist Cropped Jeans, Graphic T-Shirt, Fanny Pack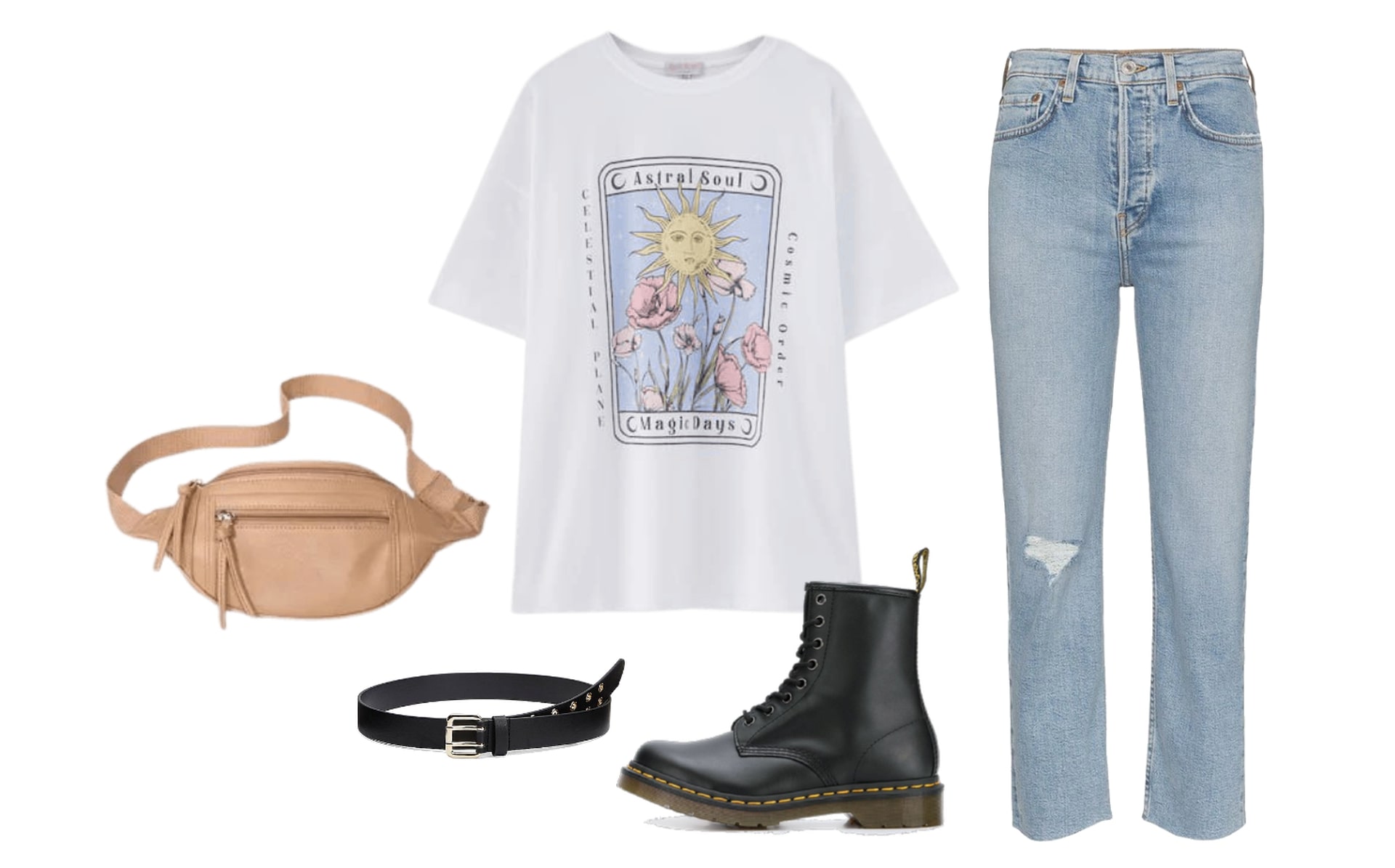 High-Waist jeans that are fitted but also roomy will pair well with a graphic t-shirt also. Try wearing high-waist, light-washed jeans and cuff your leg openings or you can skip cuffing and just wear your jeans inside your shoes.
Add a belt, to cinch your waist even more. With this look, you can add a fanny pack that you can wear across your chest. This is a cool, chic, touristic-inspired look with a twist.
Short Leather Jacket, White Tank-Top, Light-Wash Cropped Jeans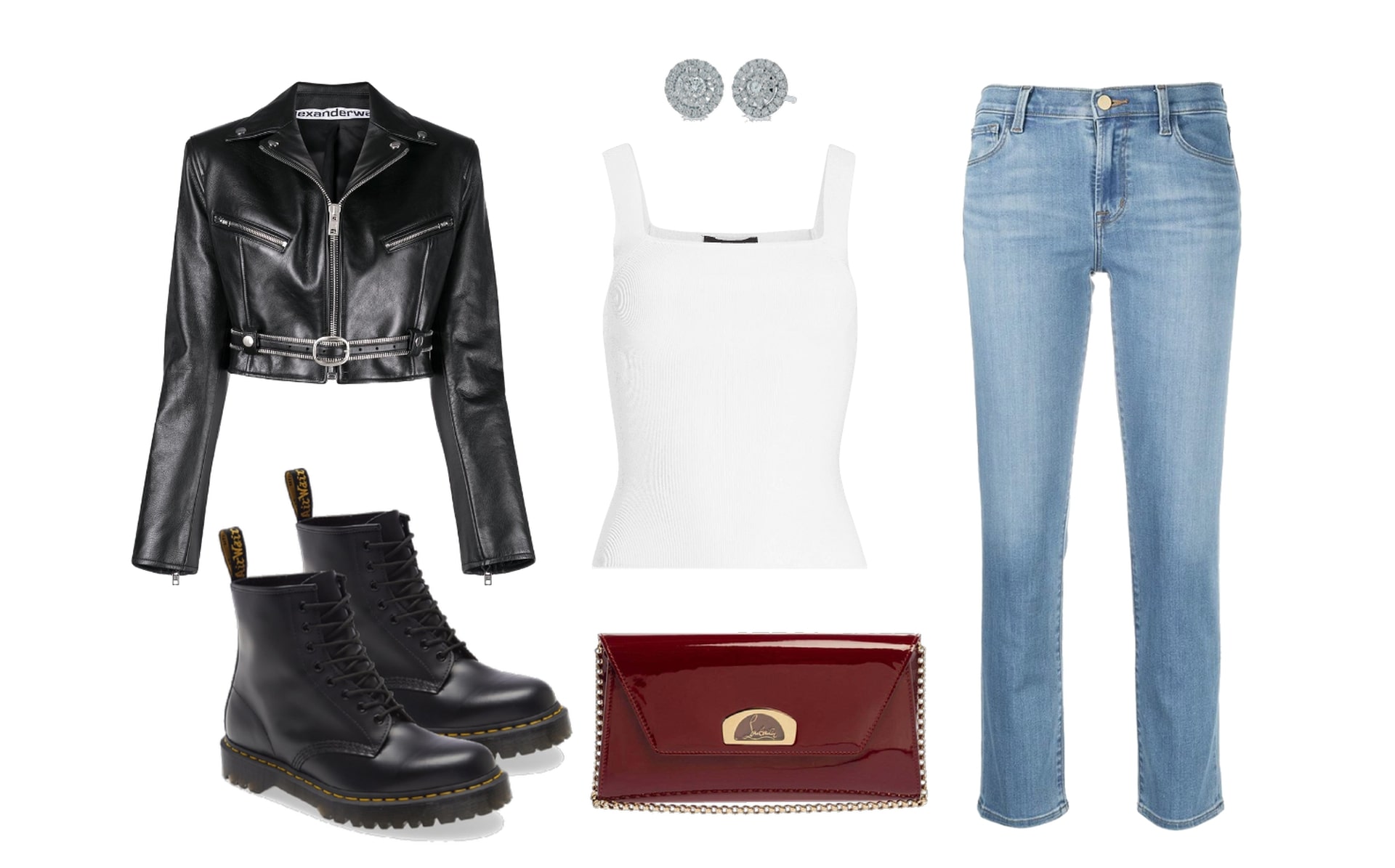 If you're looking for a sharp look, try wearing a cropped leather jacket. It doesn't have to be a motorcycle jacket per se. Adding a white tank top underneath is how to wear Doc Martens to create a clean, classic look. Your tank top can be ribbed, or it can be a simple cami. Add light-washed cropped jeans.
With this look, you can get away with wearing a clutch bag, instead of a shoulder strap bag. Add other accessories like studded earrings or small hoops.
Overalls, Camouflage T-Shirt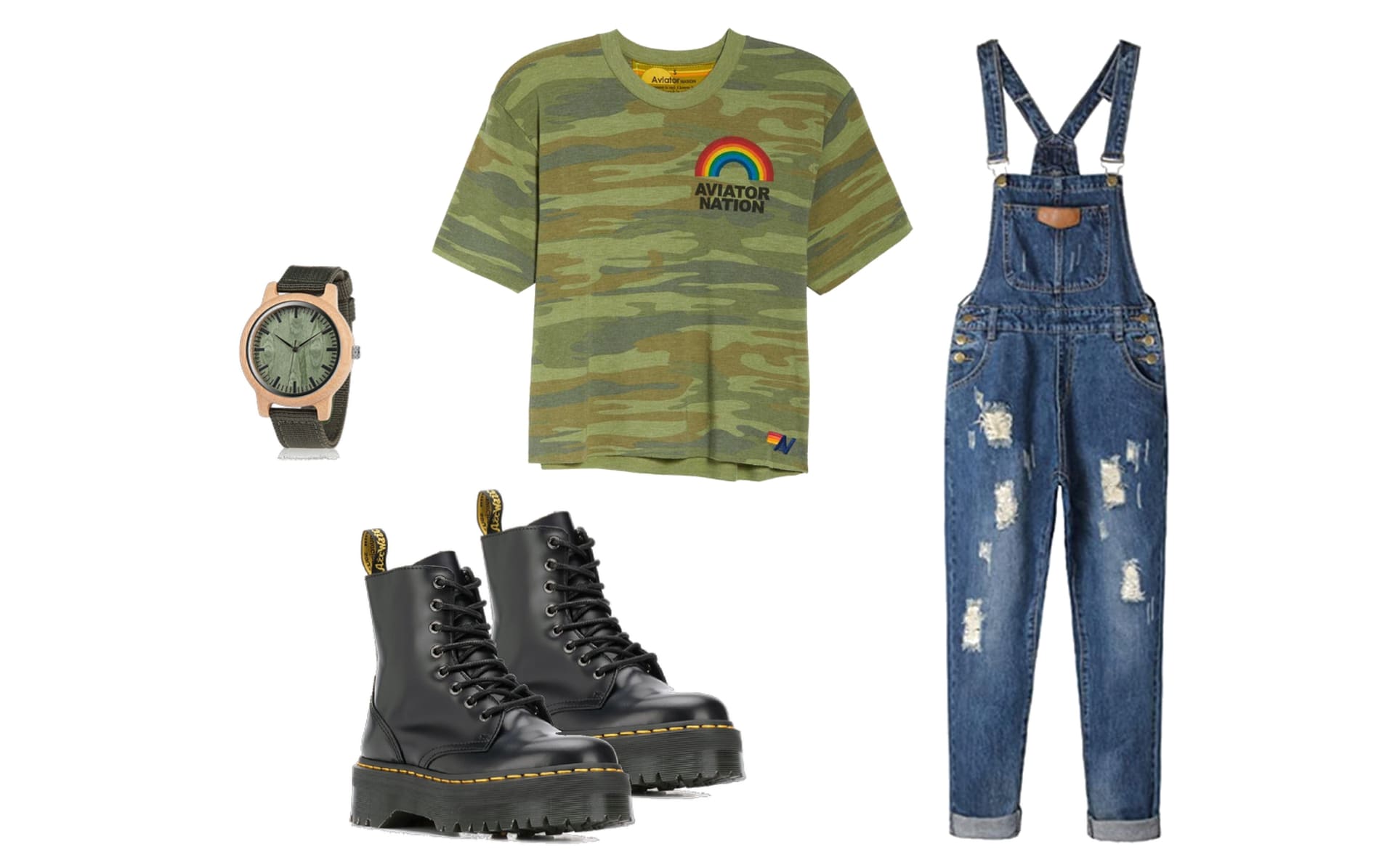 If you want a completely unexpected look that is also comfortable and grunge, go for jean overalls! Jean overalls sometimes get a bad rep as being too country or frumpy. This is a great way to change the narrative.
Wear a pair of overalls and crop your leg opening. Wear your overalls' pocket at your waist, instead of buckled traditionally at the shoulders. Add a camouflage t-shirt and a watch. This will bring your Doc Martens to life in a cool way!
How To Wear Doc Martens With Jeans for Men
Doc martens are the ultimate manly shoe that looks bold and dominant within any jean outfit choice. They have been worn by sportsmen and musicians like David Beckham and The Weekend, which shows its dynamic abilities.
Whether you want a look that is clean-cut, or you want a look that you can actually perform a heavy-duty activity in, Doc Martens are the best option. They can be worn with suits, camo pants and best of all, jeans.
Tucked T-Shirt, Belted Skinny Jeans, Low-Top Doc Martens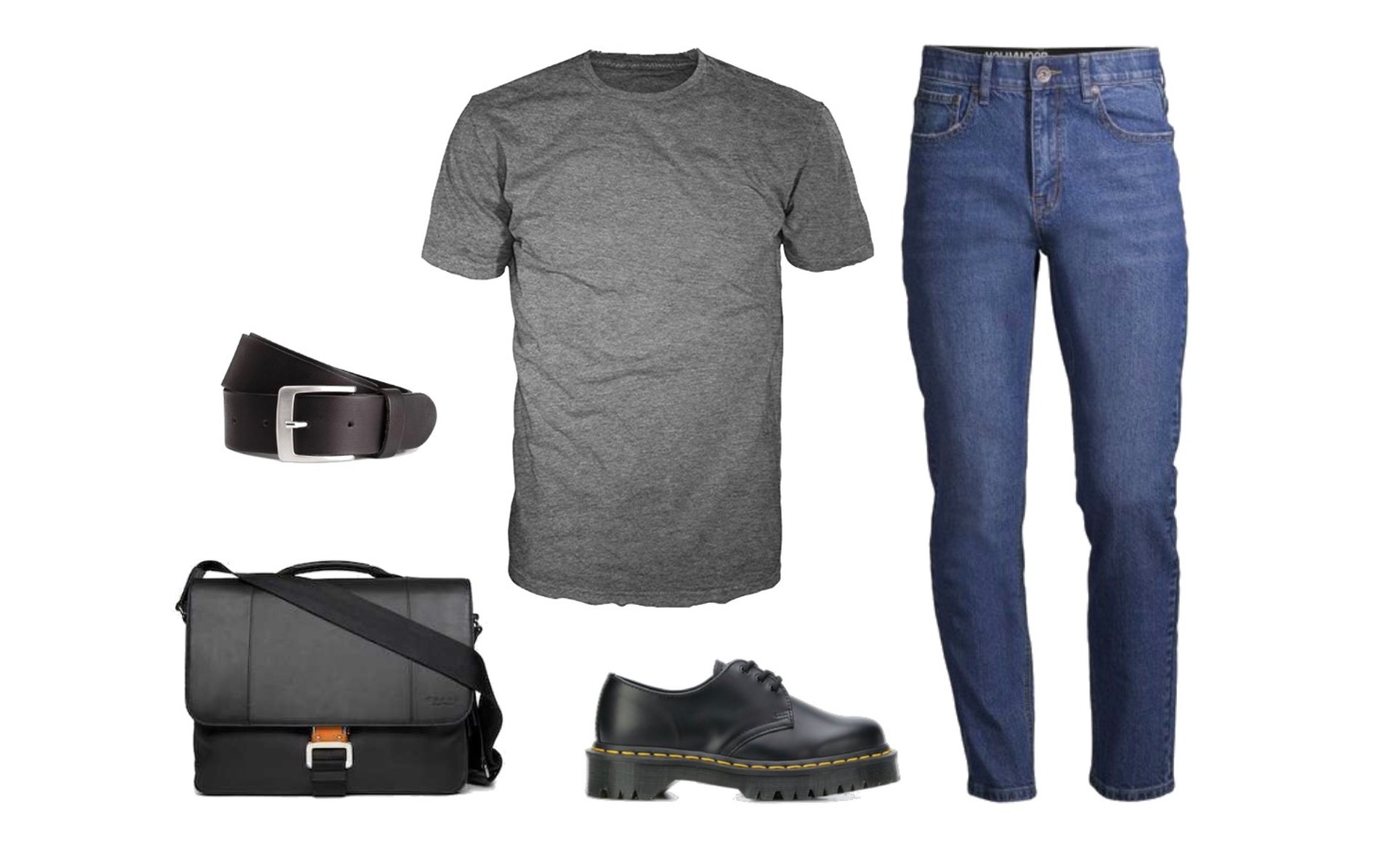 For a business-like look that is also urban, try wearing a t-shirt and belt with jeans. Keep your jeans long, not cropped, and wear low-top Doc Martens, instead of the high-top.
Your shirt can be gray or black and has a scoop neck. Top it off with sunglasses! Add a simple leather shoulder bag, which is how to wear Doc Martens with jeans for guys, if you need to carry your things around. You can skip accessories with this look.
Bomber Jacket, Hoodie, Cropped Black Jeans, High-Socks, White T-Shirt Under Hoodie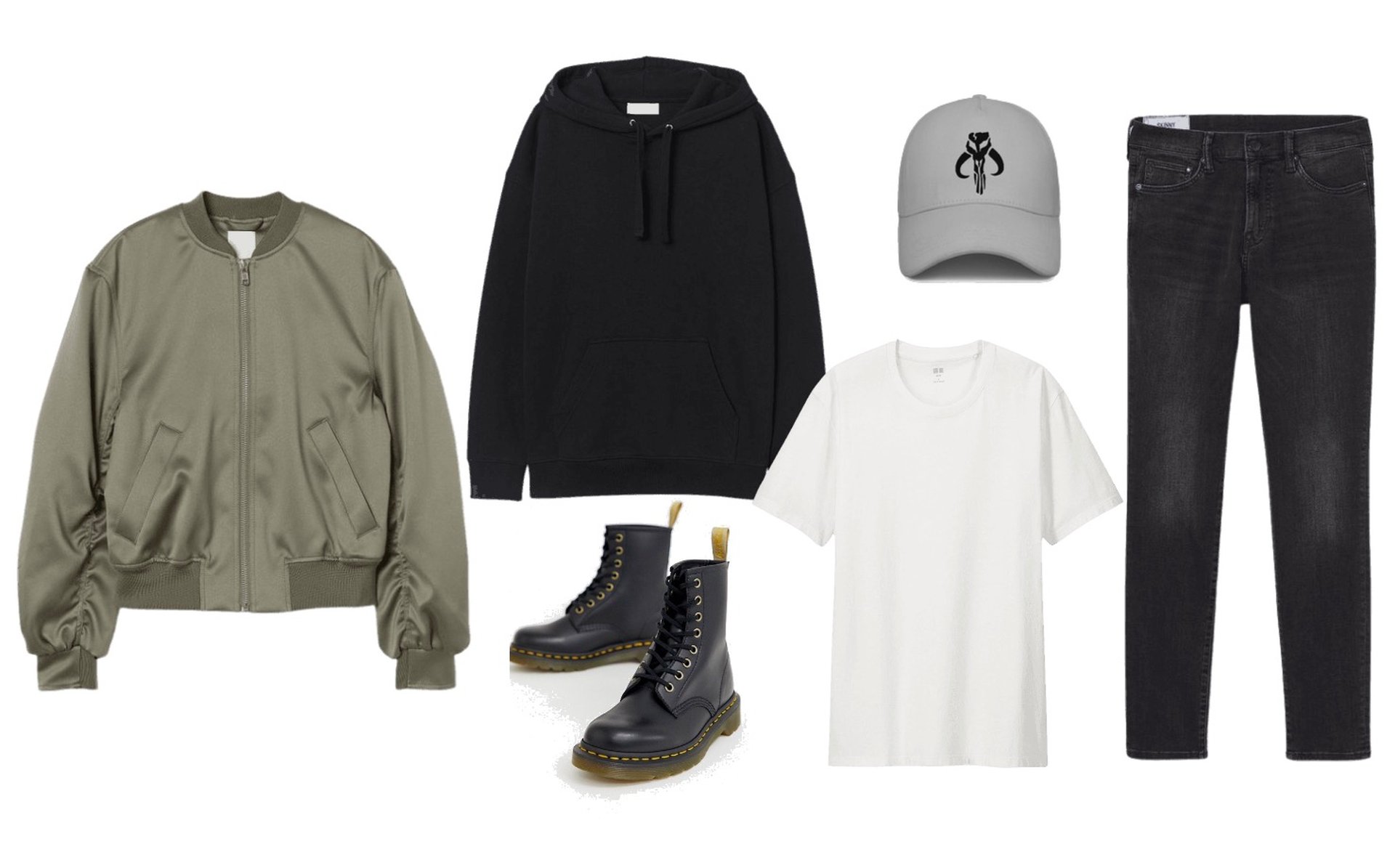 For a cool-kid, urban-type look that also looks smart and sharp, try wearing a bomber jacket with a hoodie. You can wear a jacket that has zips and pockets, kind of like cargo pants but incorporated in the jacket.
Wear a white t-shirt underneath and keep all other pieces black. Top your look off with a gray skull cap. Make sure your jeans are black and cuffed, so that the cuffed part of your pants shows inside out, which will look grey.
Bomber Jacket, Scarf in Black, Sunglasses, Hoodie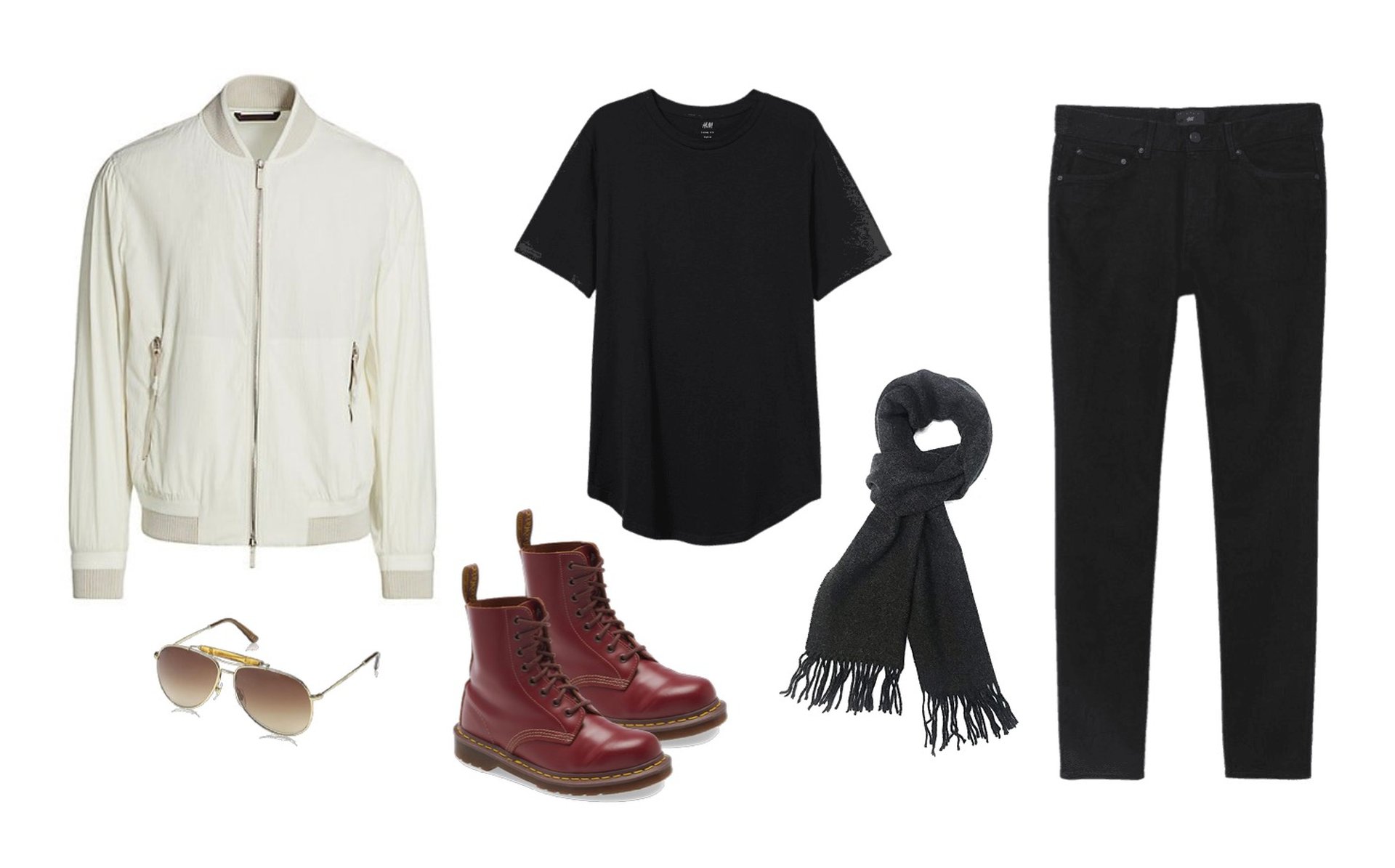 For an aviator-style look, that also looks like a high-action movie star, try wearing a bomber jacket and a scarf. Wear black jeans and wear red Doc Martens instead of black. Make sure you add simple accessories like sunglasses. You can wear a black t-shirt underneath to create more layers.
Overalls, Turtleneck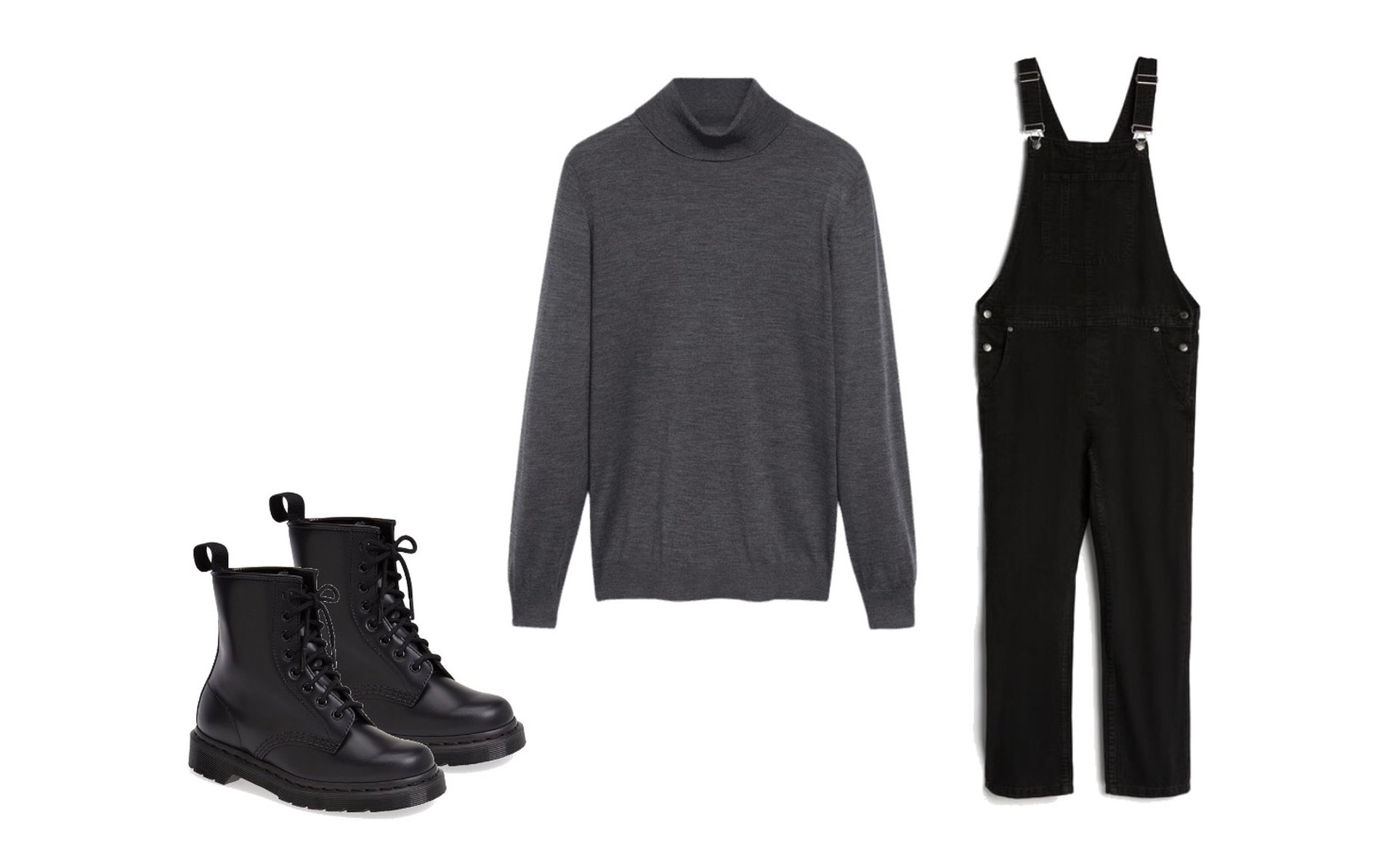 For a chic look that is also high fashion, wearing distressed overalls in black is how to wear Doc Martens with jeans for guys. You can cuff your jeans as well and make sure the overalls have a black, woven pattern underneath when turned inside-out (instead of the previous gray).
Wear a black turtleneck or a high-neck shirt if you don't want to wear a complete turtleneck. You can also wear a black short-sleeved t-shirt underneath and add a watch. If you want to add more texture to your look, you can wear a long sleeve striped shirt.
Choose a shirt that has black and white stripes, where the stripes are thick in design, versus skinnier stripes. Skinnier stripes may come off looking more like a mime-inspired look, versus high-fashion.
You can even wear blue and white stripes or a stripe pattern that has more colors like orange, red and blue.
Jean Shorts, High-Socks, Sweatshirt, T-Shirt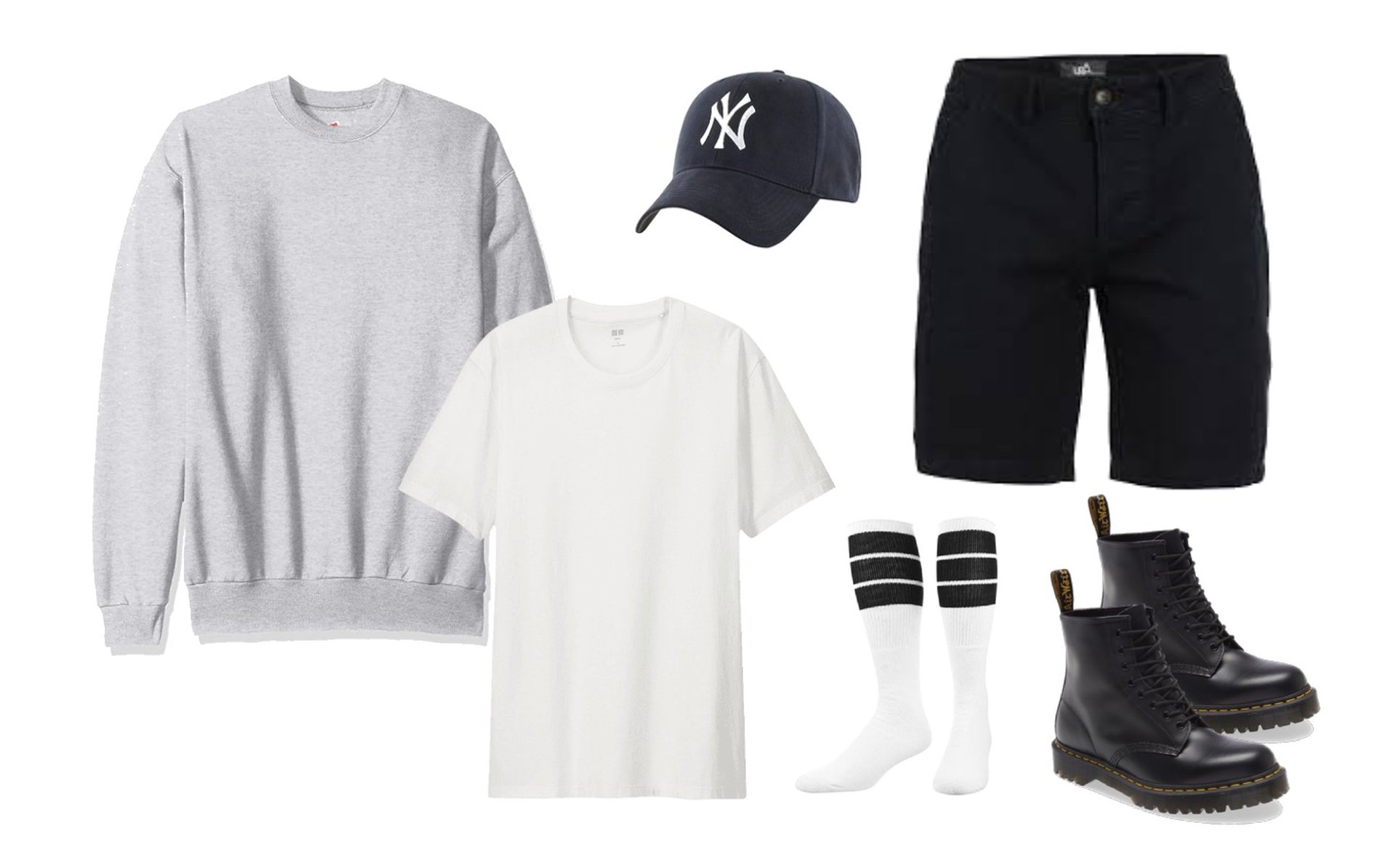 If you want to know how to wear Doc Martens with jean shorts, try wearing black jean shorts and a white t-shirt. Add a white shirt that is long. Wear a sweatshirt over your t-shirt.
With this look, you can wear classic white tube socks with black stripes that will show above your Doc Martens. Wear a snapback cap for a touch of urbanity.
Wear a snapback that has no graphics, or a strap-back hat that has a dark brown, leather strap. If you do wear a hat that has graphics, you can play more with color,  but be sure the graphic isn't overly busy.
Do you tuck jeans into Doc Martens?
You can tuck your jeans in Doc Martens, but you want to make sure you wear skinny or slim jeans. Avoid jeans with flares that will look stuffed in, instead of a clean tuck.
Do Doc Martens go with everything?
Doc Martens go with many different clothing options, but they don't pair well with an elegant dress or tuxedo. Unless you want to have a punk/rocker look and wear your Doc Martens with a suit, try to keep it more casual or business casual.
Doc Martens are one of the most classic boots that are versatile for both men and women. They are grungy enough to wear in urban styles and classic enough to dress up for business casual. There's no need to over-think your outfit choices since these boots will pull any style together.
Check out our other guides: How to Wear a Suit Jacket With Jeans | How to Wear Loafers With Jeans | How to Wear Timberlands With Jeans | How to Wear Chukka Boots With Jeans