If you purchase one of the products recommended in this article, I might receive a small affiliate commission. Thank you for your support!
Wearing loafers with jeans allows you to pull your look together in a classy way. Besides the well-known penny loafer, this style of shoe comes in a variety of designs and colors. When figuring out how to wear your loafers with jeans, keep in mind the toe shape of your shoes and how it contrasts with the cut of your jeans. You can choose from pointed toe or square toe, and different shoe material, including patent leather or suede. Some loafers are even made in a mule style, allowing you to slide your feet inside for a quick outfit change.
When deciding how to wear loafers with jeans, you should steer towards effortlessness. Try choosing jeans that are classic in cut like skinny or boot-cut. Your loafers will then be the stand-out piece of your outfit. Try not to overdress them when you're styling your jeans and avoid busy detailing like sequin pockets, embroidery, or faux paint splotches. When you accessorize, keep your jewelry and bag design simple by opting for a leather duffle or shoulder tote.
How to Wear Loafers With Jeans for Women
You can be flirty and feminine with your look by wearing loafers in a fun color like metallic gold! Choose a loafer that has a slight sheen to its design. This will allow you to move your look throughout the day, from mid-day brunch with the girls to a date or intimate gathering in the evening.
T-Shirt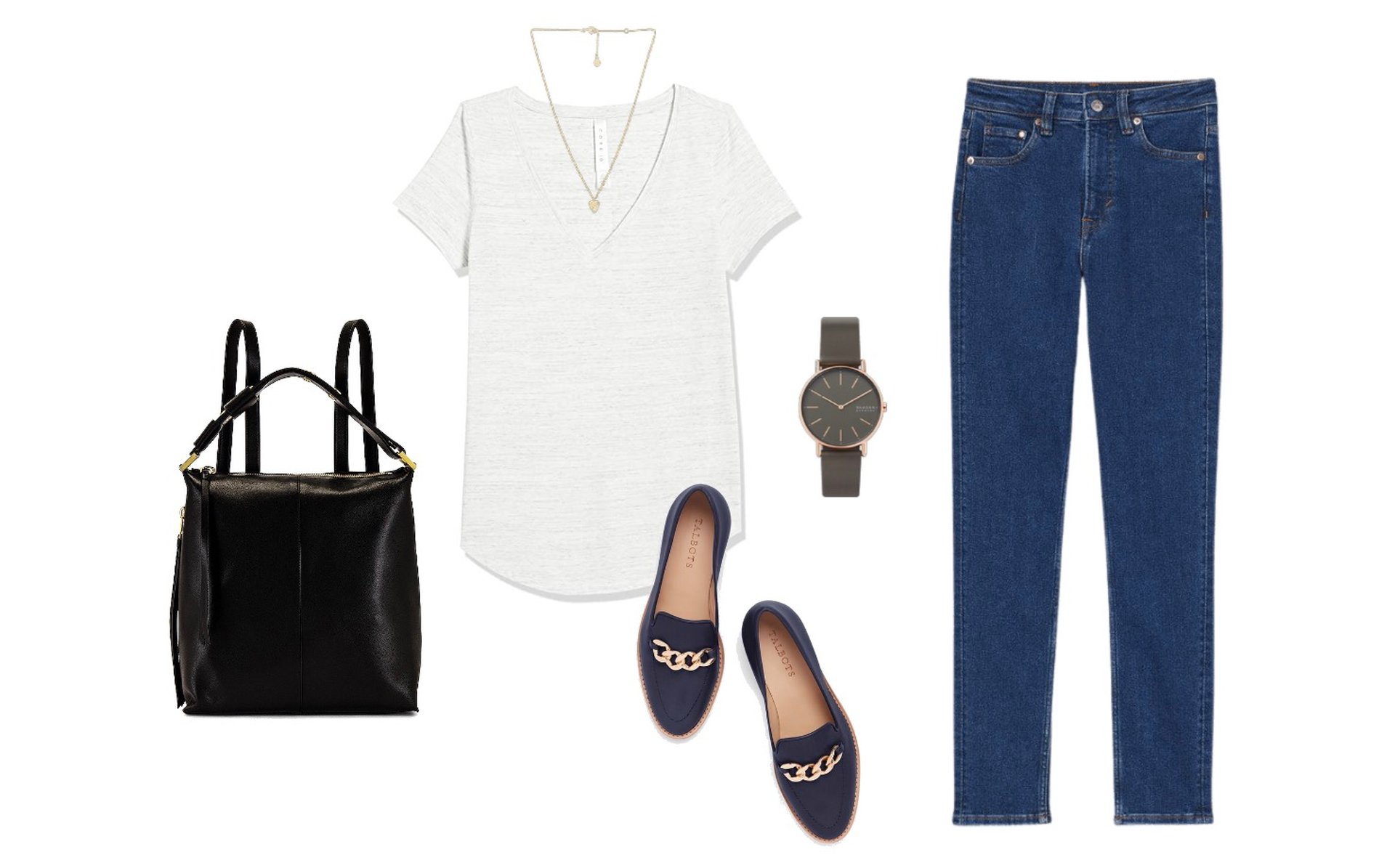 Choosing a t-shirt is a classic way to wear loafers with jeans. A white, v-neck t-shirt with medium-wash jeans and black or brown loafers will pair well. With this look, you can wear virtually any style of handbag, including a backpack or shoulder tote. If you want to add a touch of edge, try wearing a gray t-shirt with dark-washed, distressed jeans and loafers that have gold or silver hardware.
You can also wear a dark tan loafer, with distressed jeans and a v-neck t-shirt. When you want to add excitement to your t-shirt look, you can wear your loafers with a graphic top and high-waist, cropped jeans. For a preppy look, you can tuck your shirt and wear a blazer as an overcoat. You can also wear a bomber jacket for a look that is a bit more relaxed but also stylish. You can belt your jeans and add a large envelope clutch or messenger bag.
A cardigan should also be a choice when thinking of how to wear loafers with jeans. Try keeping your accessories minimal with a simple gold or silver-tone necklace and a small crossbody bag. You can wear your bag casually across your upper body, or you can wear your bag on your shoulder for a scholarly look.
Dressy Top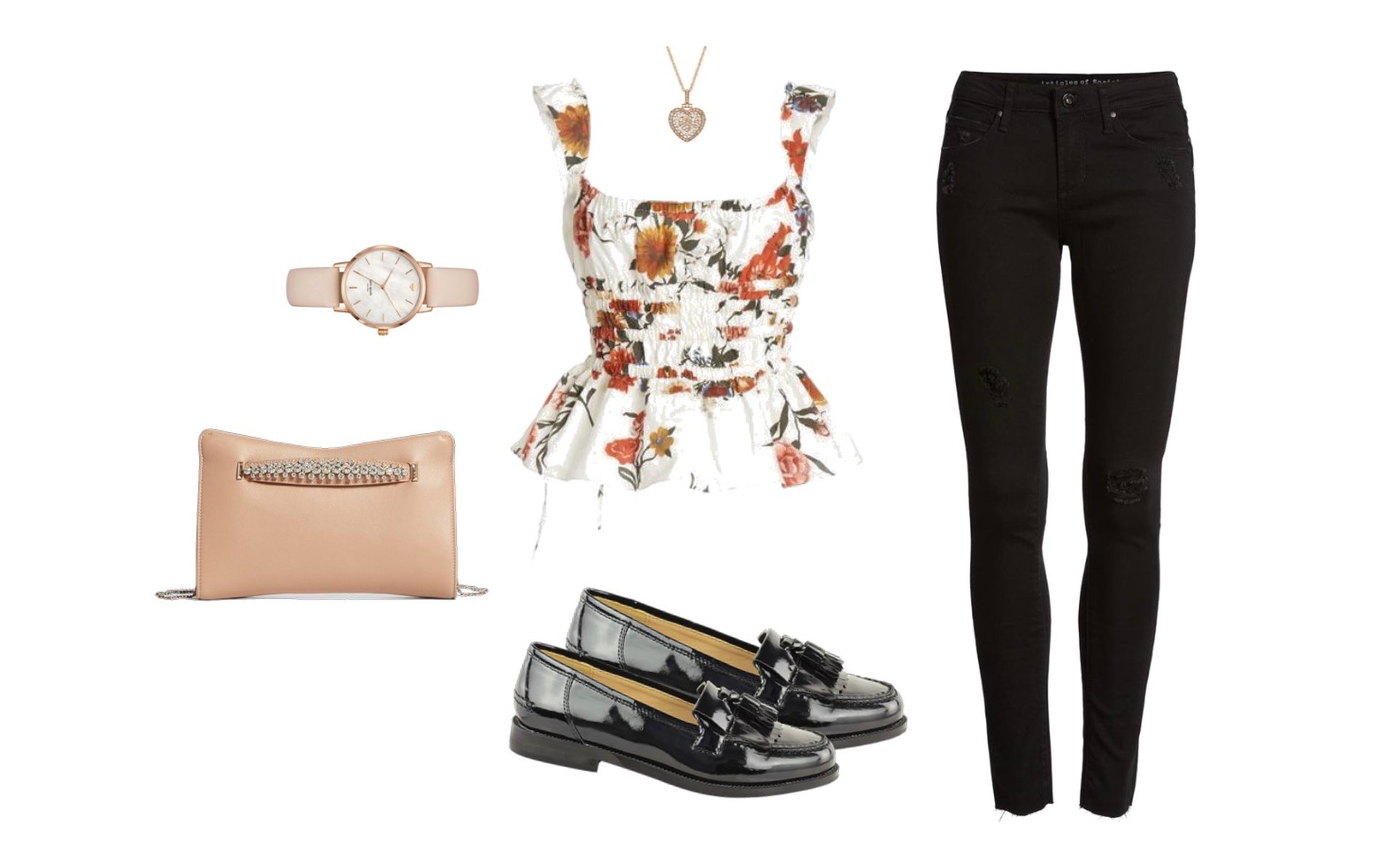 Wearing an off-the-shoulder top with an empire waist is how to style loafers with jeans in a snazzy way. Accessorize your look with a watch and an embellished clutch. To bring the look together, try wearing patent leather tassel loafers with black skinny jeans. If you want a more sultry feel to your jean look, you can add a peplum off-the-shoulder or floral print top.
Try wearing a top that compliments your skin tone. If your skin tone is fair, try wearing a light pink or golden top. If you have a medium skin tone, you can try a peach color or true red. If you have more of an olive or darker** tone, try rich colors like berry or fuchsia. This way, your top will stand out and your patent leather shoes will add shine, making your look glamorous!
If you need to think of a sweet, romantic way of how to style loafers with jeans, try wearing a top with puffed or balloon sleeves. You can also try wearing a square neck top that has bell sleeves and a small floral print design. The print on your top will give pops of color, from afar.
With this top, you can choose loafers that have a square toe and boot-cut jeans. If you want to add a bit of edge to your look, you can wear a silk-like, puffed sleeve top with destroyed denim and pointed toe loafers, instead of square.
Read: How to Style Grey Jeans
Button-Up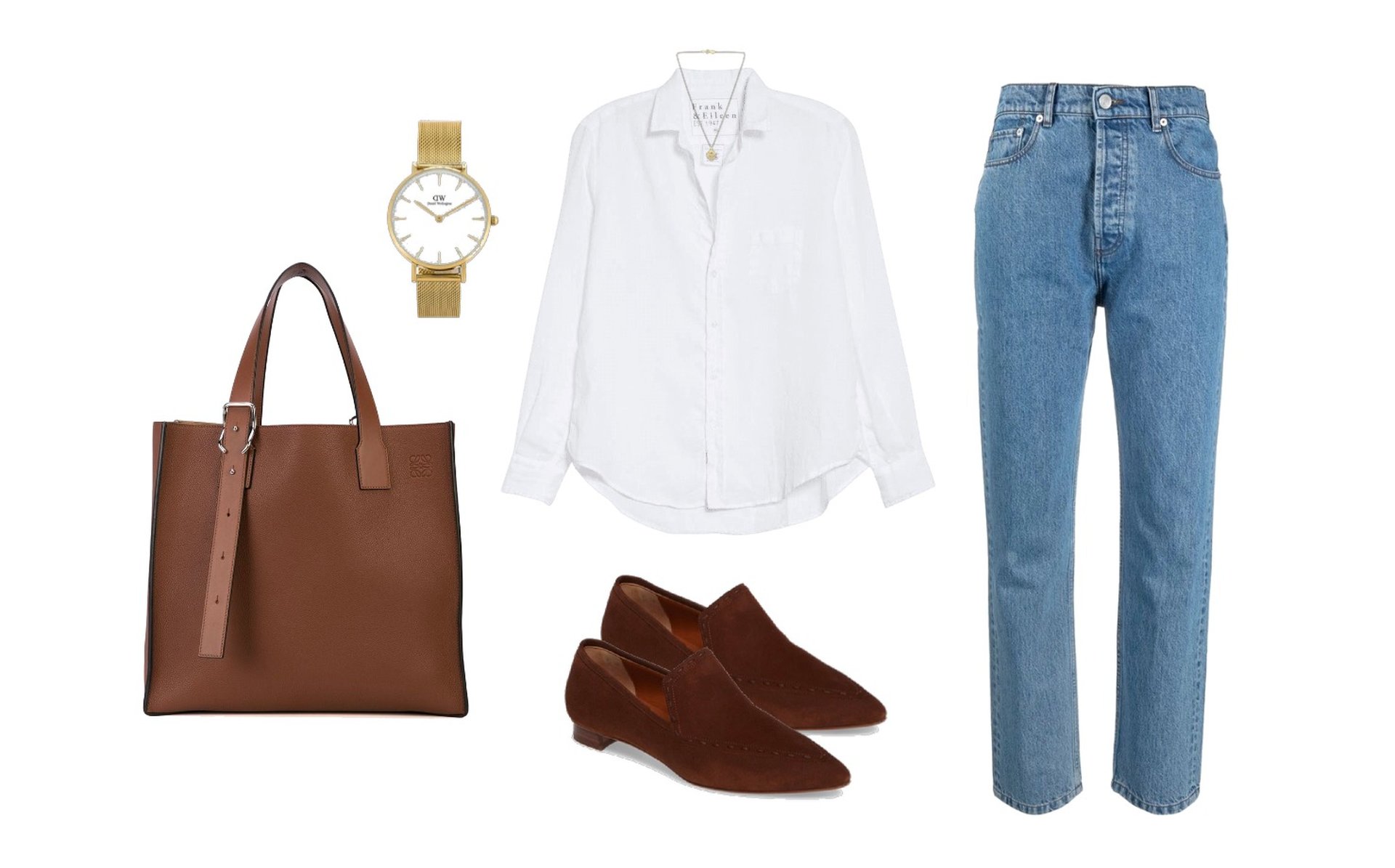 A button-up shirt with jeans and loafers is a casual look that can also be professional. Try wearing a white button-up with cropped, straight-leg jeans and dark brown or black loafers. Add an oversized bag, with subtle jewelry like a gold-tone chain bracelet or necklace.
If you want a more lively look, you can unbutton a few buttons on your top and tie the front in a simple knot. If you don't want your skin exposed, you can wear a solid color cami underneath. You can pair this look with long, bell jeans for a bohemian, western-inspired look.
Your loafers can be pointed toe, so that they peek out underneath your pants, giving the subtle illusion of pointed-toe heels. You can even wear a loafer with a small heel on the back to add a tad bit of height.
Read: How to Style Straight Leg Jeans
How to Wear Loafers With Jeans for Men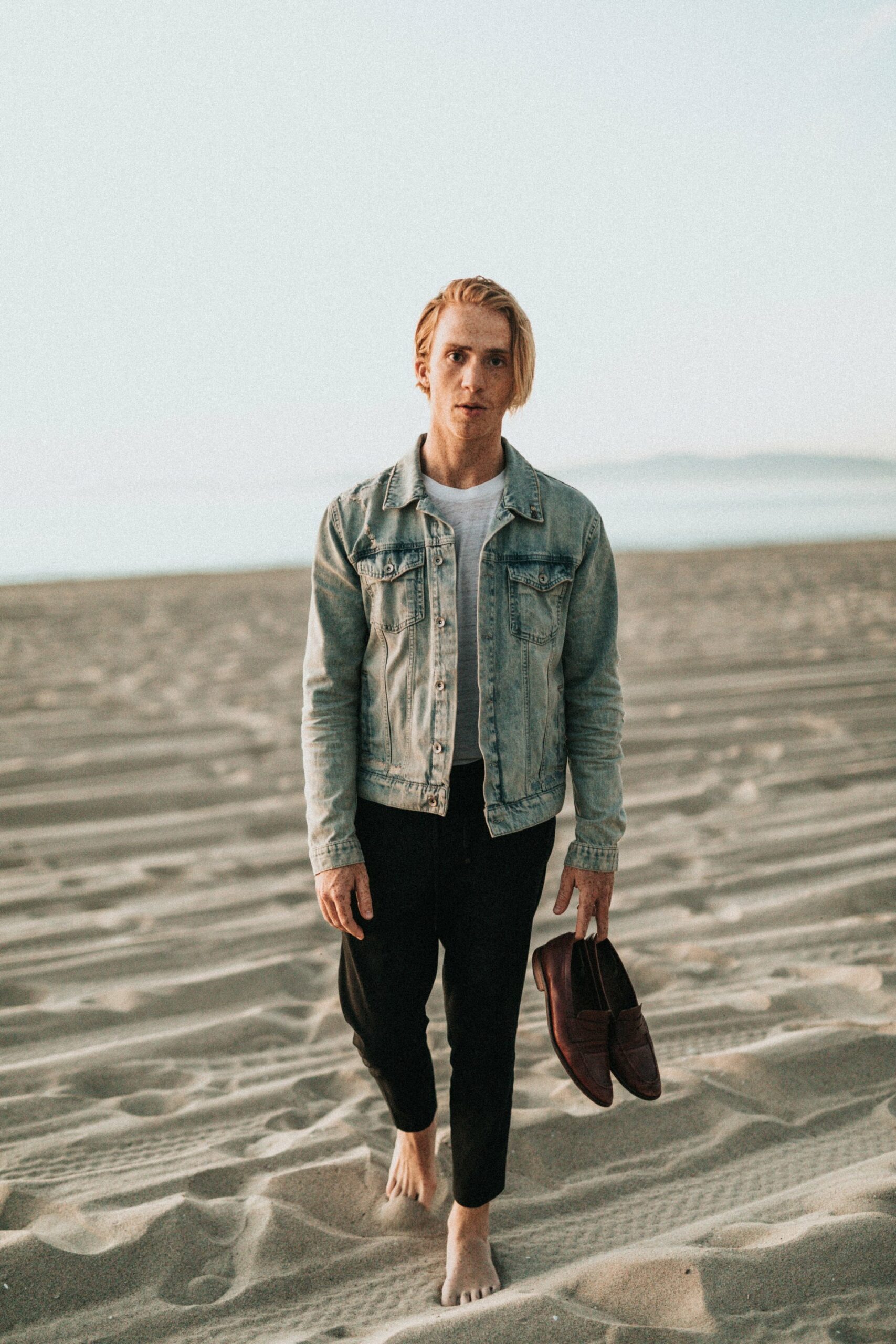 Wearing loafers with jeans gives you a sophisticated seriousness. You can try dressing your loafers down in a casual way with t-shirts or you can dress them up for special occasions with a  scoop neck sweater or button up. You can keep your accessories mild with a watch or hat.
Button-Up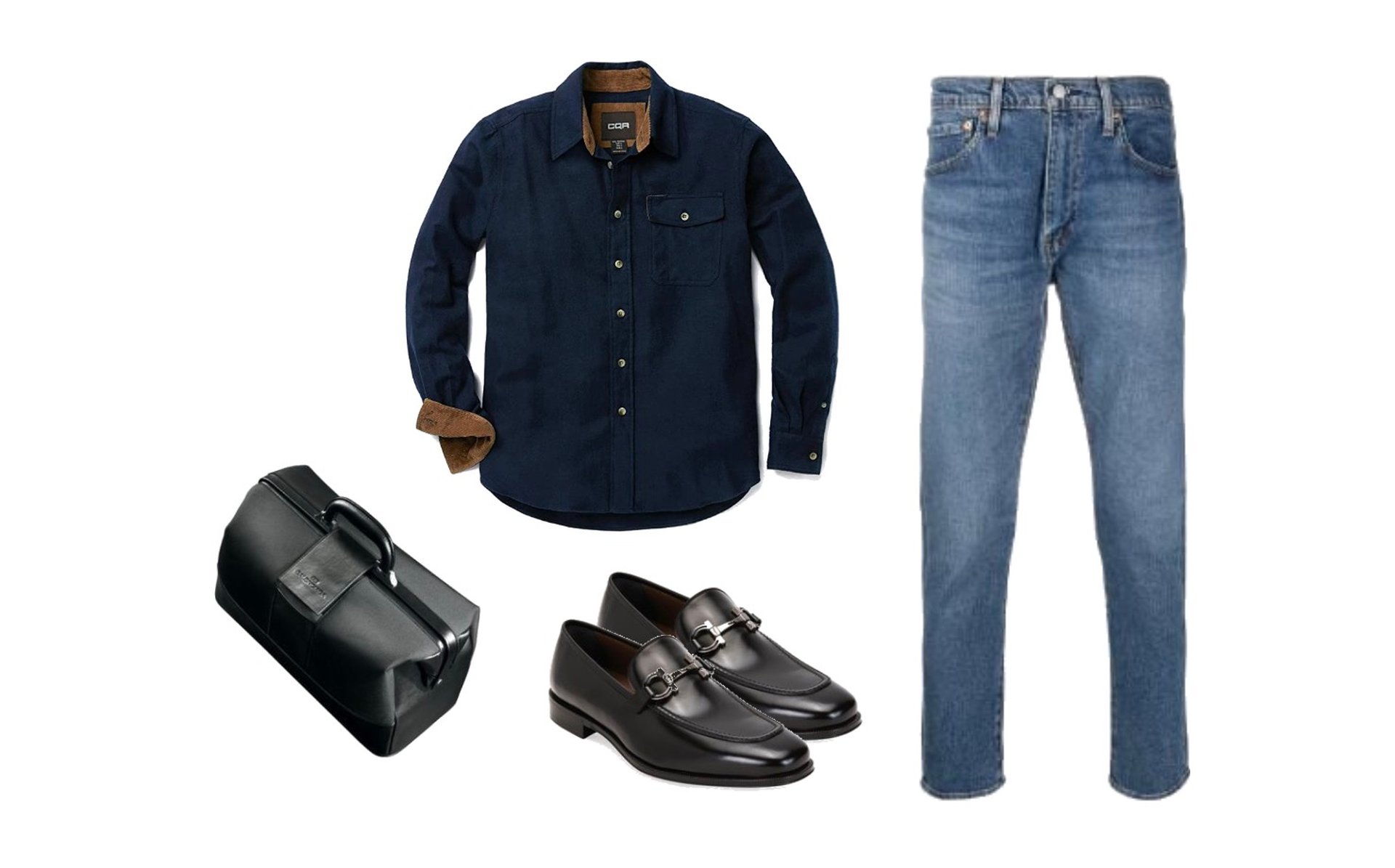 Wearing a button-up with jeans and loafers is appropriate for dinner and casual workdays. Try to avoid tops that are too loose or long, which gives an ill-fitted, disheveled look. Opt for a shirt that fits snuggly (but not too tight) in white or blue. Pair your shirt with medium or dark-wash, straight-leg jeans. You can wear silver or gold ring bands or you can leave it simple with a watch.
For a look that has personality, you can cuff your sleeves and tuck in your shirt. You can accessorize with an oversized duffle bag or leather-like, doctor bag. If you want a more laid-back look, you can try a denim button-up with white jeans and brown loafers. Add a brown, woven belt with jeans to bring your look together.
To create a more business-like look, you can add a suit jacket or blazer. Try contrasting the colors in your outfit, without directly matching each shade. You can wear a silver/grey button-up with a camel or nude color blazer, cuffed straight-leg jeans, and brown loafers.
Sweater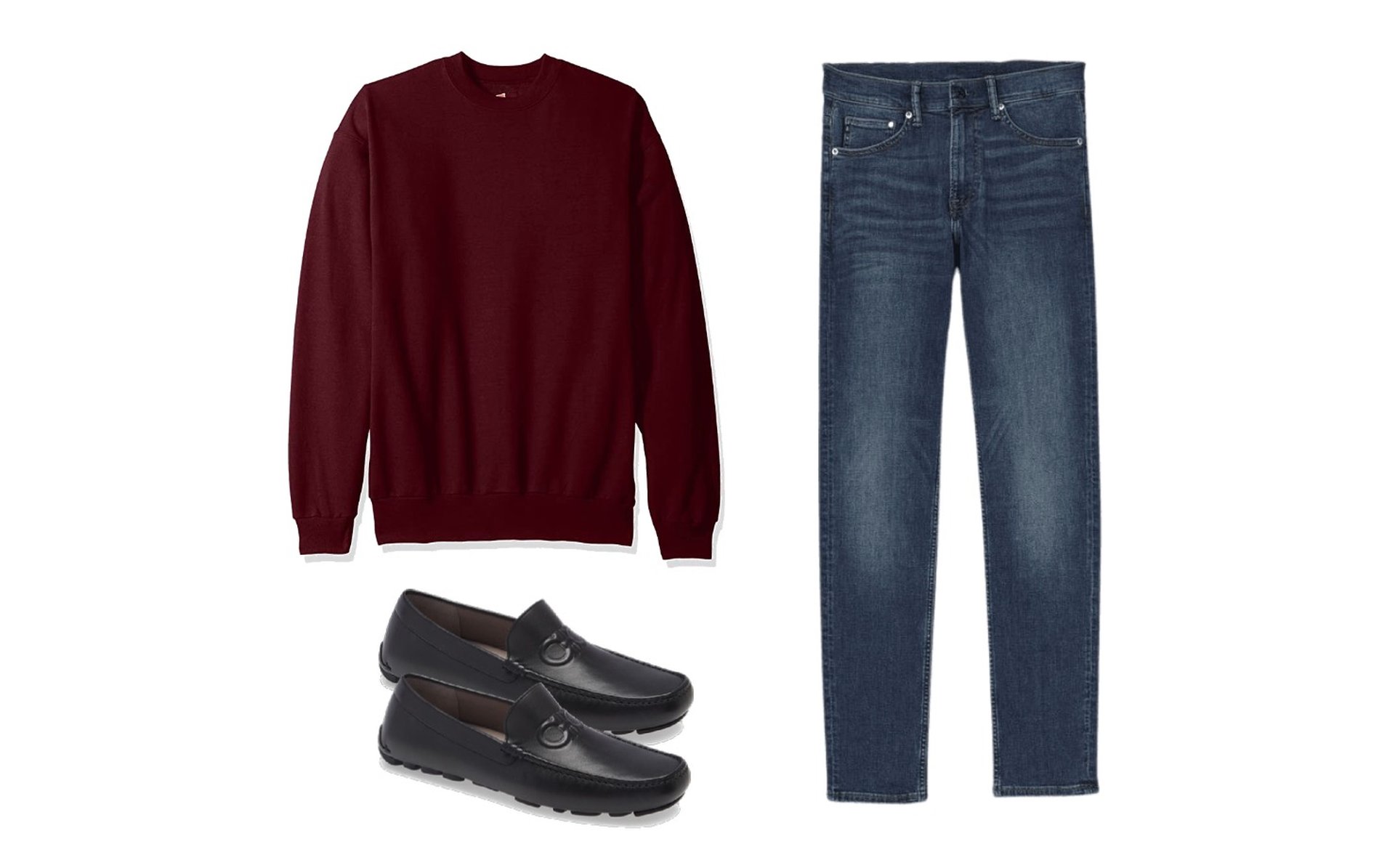 A sweater is a sharp way to wear jeans with your loafers. To create this look, you don't need a thick, winter sweater. Simply pair a cashmere-style sweater that will cover your arms and lay softly on the skin with light-washed jeans. You can wear a solid blue, brown or black sweater. If you want to add a hint of color, try wearing a deep red or a forest green sweater with dark-washed jeans and black loafers.
If you simply want the same effect of a full sweater, but don't know how to style loafers with jeans, opt for a sweater vest over a button-up. You can pair this layered look with slightly distressed jeans and a tassel loafer. You can also skip accessories since your top has layers. Add brown, suede loafers or black loafers with silver hardware detailing at the vamp (upper part of the shoe). If you want to add texture to your look, try a sweater vest that has a posh pattern,  like checkered squares or different color cable-knit designs.
For each sweater look, you can achieve an elegant effect by wearing a whole-cut loafer. Wholecut loafers are made with one large leather piece for the upper design. This style of shoe construction prevents the need to stitch up to 6 pieces of leather together, leaving visible stitches like the design of a wingtip shoe, for example. The outcome is smooth all over and looks elegant, which is appropriate for special occasions.
T-Shirt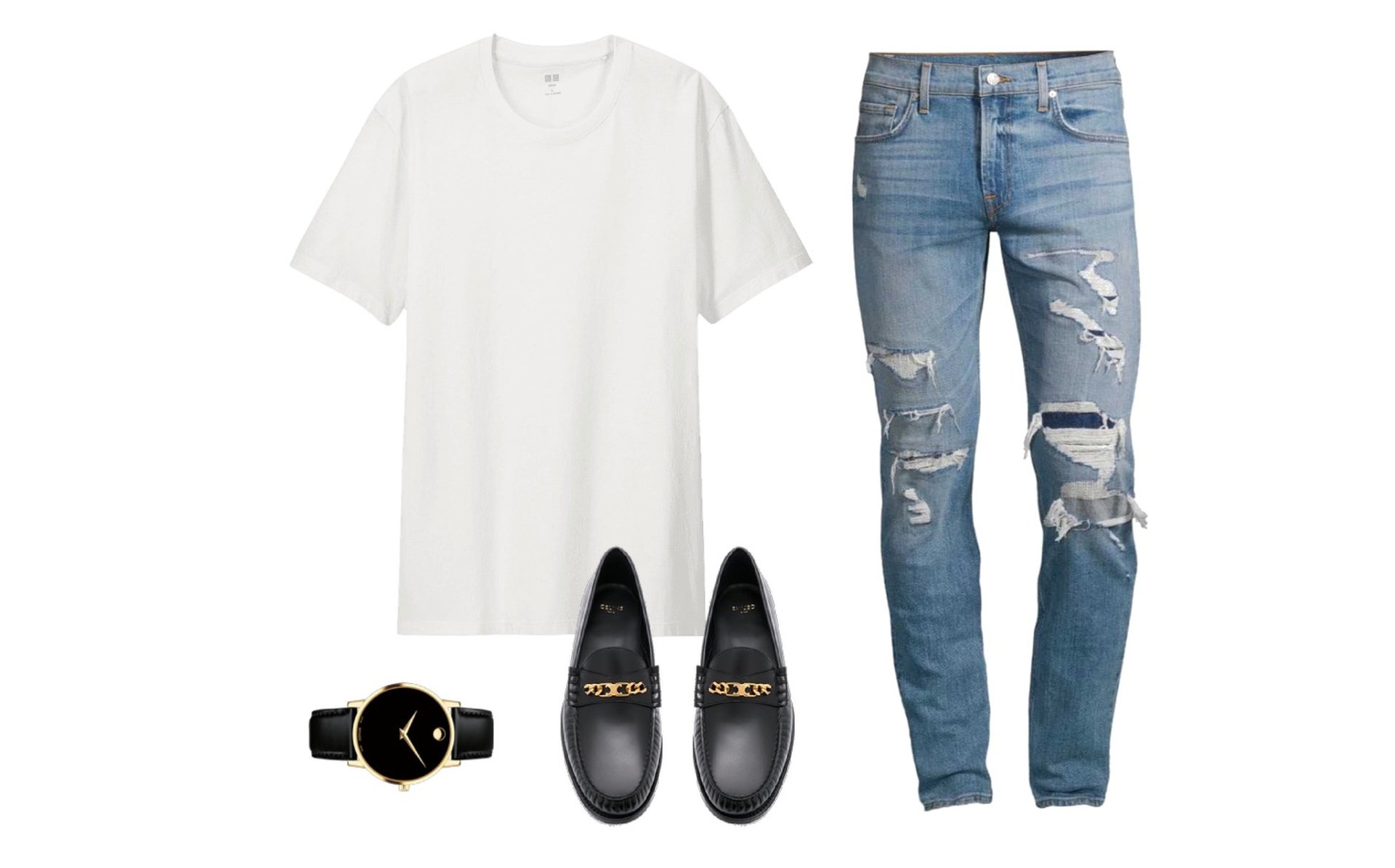 Adding a t-shirt is how to wear loafers with jeans comfortably. On your more laid-back days, try wearing distressed skinny or straight-leg jeans in a light wash. For more of an outing, you can wear a scoop or v-neck t-shirt with a watch or silver-tone bracelet. If you're wearing a v-neck tee, try adding a single necklace.
Or, you can wear two necklaces that have a thin chain and a single pendant. This will create layers, adding an edgy element, while keeping your overall look neat and refined. Add to your outfit by wearing an accent belt with silver or gold-tone hardware. Try avoiding hardware that is extremely large, to prevent a bulky look.
If you want a look that is rough, yet remains stylish, try wearing a scoop neck t-shirt with black jeans and loafers. Your jeans can be more distressed with a large opening at the knee or upper thigh. Be sure to check the fit of your jeans, to prevent a look that is too tight at the destroyed openings. Add black loafers and a watch to pull your look together.
Loafers are an iconic shoe style that allows versatility. Loafers can give you a professional look that can also function at a bar or intimate occasion. When choosing loafers to wear with jeans, be sure to brainstorm the direction of your look, first.
If you want a more preppy look, hush puppy-style shoes are how to wear loafers with jeans and remain well dressed. If you want a more edgy look, try penny loafers in black and adjust your styling in between.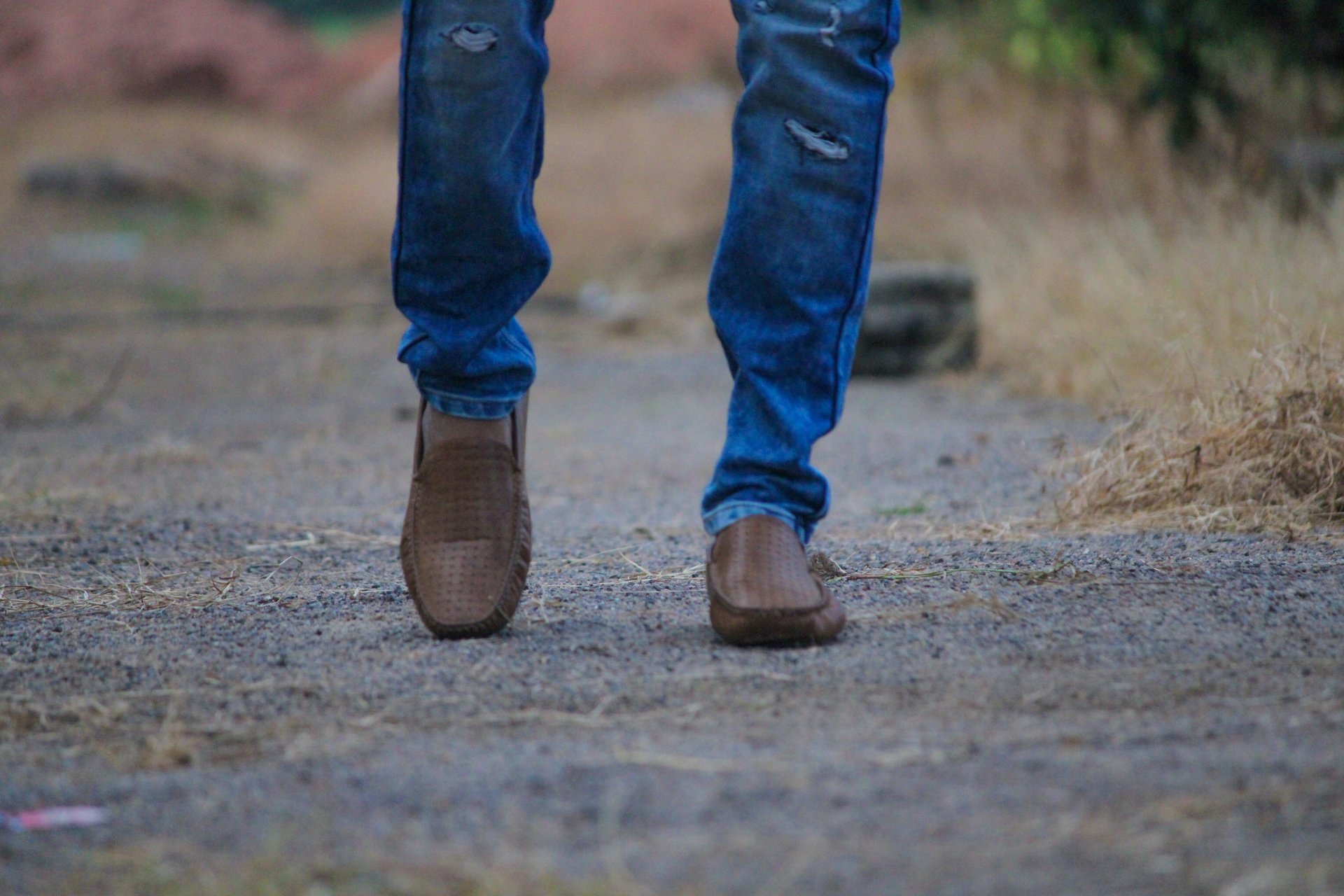 What kind of jeans goes with loafers?
The best type of jeans to wear with loafers are cuffed and have a bit of breathing room, but are also fitted. Other jean styles like straight-leg, boot-cut, and skinny jeans can easily be worn with this shoe style, as well.
Do you wear socks with loafers and jeans?
Wearing socks with your loafers and jeans is optional. Wearing loafers without socks gives a casual, everyday look. For a more traditional look, you can wear long socks.
Is it OK to wear loafers without socks?
It is completely okay to wear loafers without socks. In fact, this look is the best without socks, since loafers aren't made with laces. If you wear your shoes without socks and you're concerned with moisture control, you can wear no-show socks. This sock style is extremely low-cut and will give the illusion that you skipped socks for the day.