If you purchase one of the products recommended in this article, I might receive a small affiliate commission. Thank you for your support!
Learning how to wear bootcut jeans can be challenging. Though many people think you can only wear bootcut jeans with boots, there are plenty of shoes that look good with this cut of denim.
Whether your bootcut jeans feature destroyed elements or whiskers, come in a lighter wash or are embellished with embroidery or jeweled patterns, here's a guide to styling your bootcut jeans the right way.
How To Wear Bootcut Jeans With Boots
Balloon Sleeve Blouse, High-Waist Jeans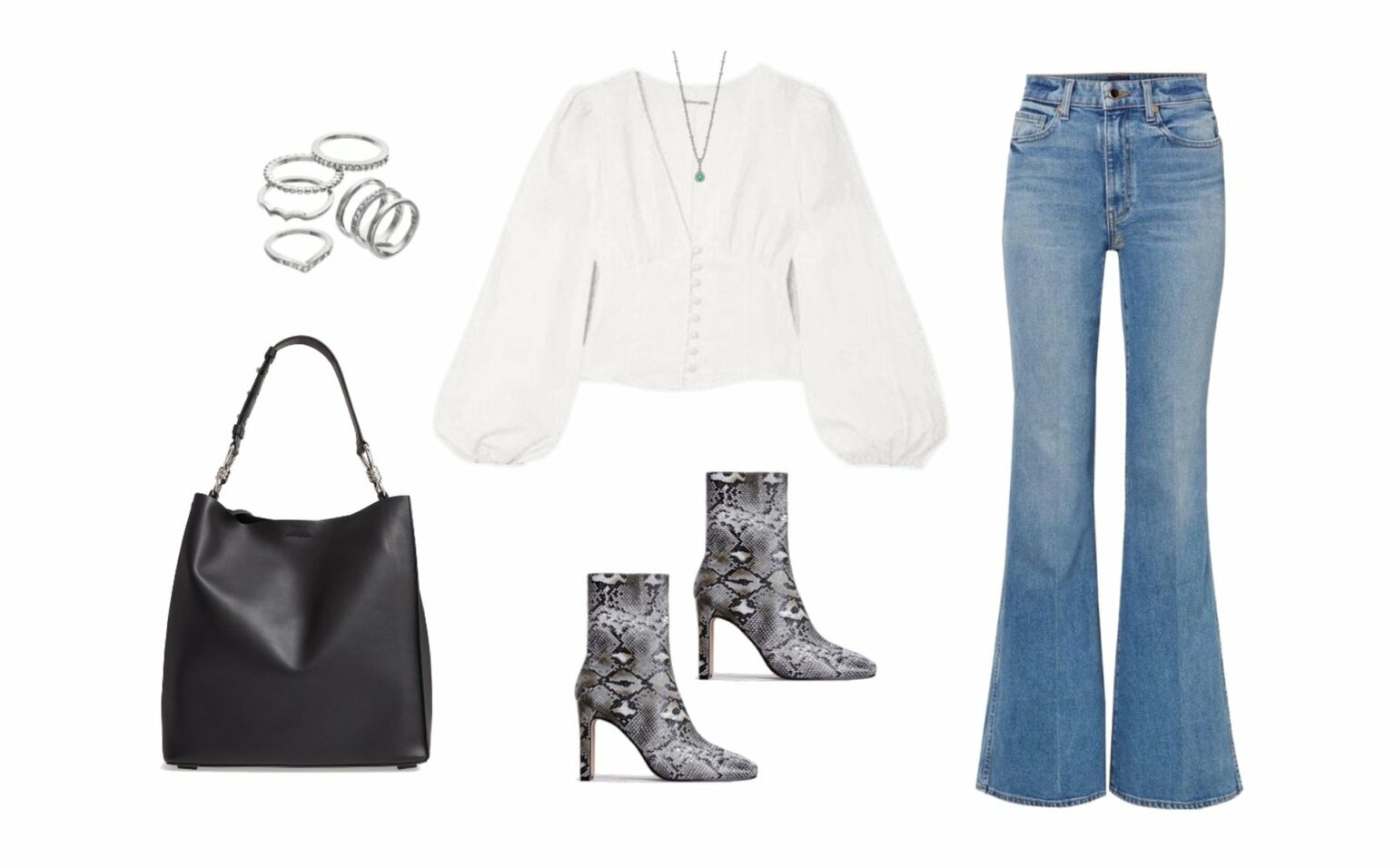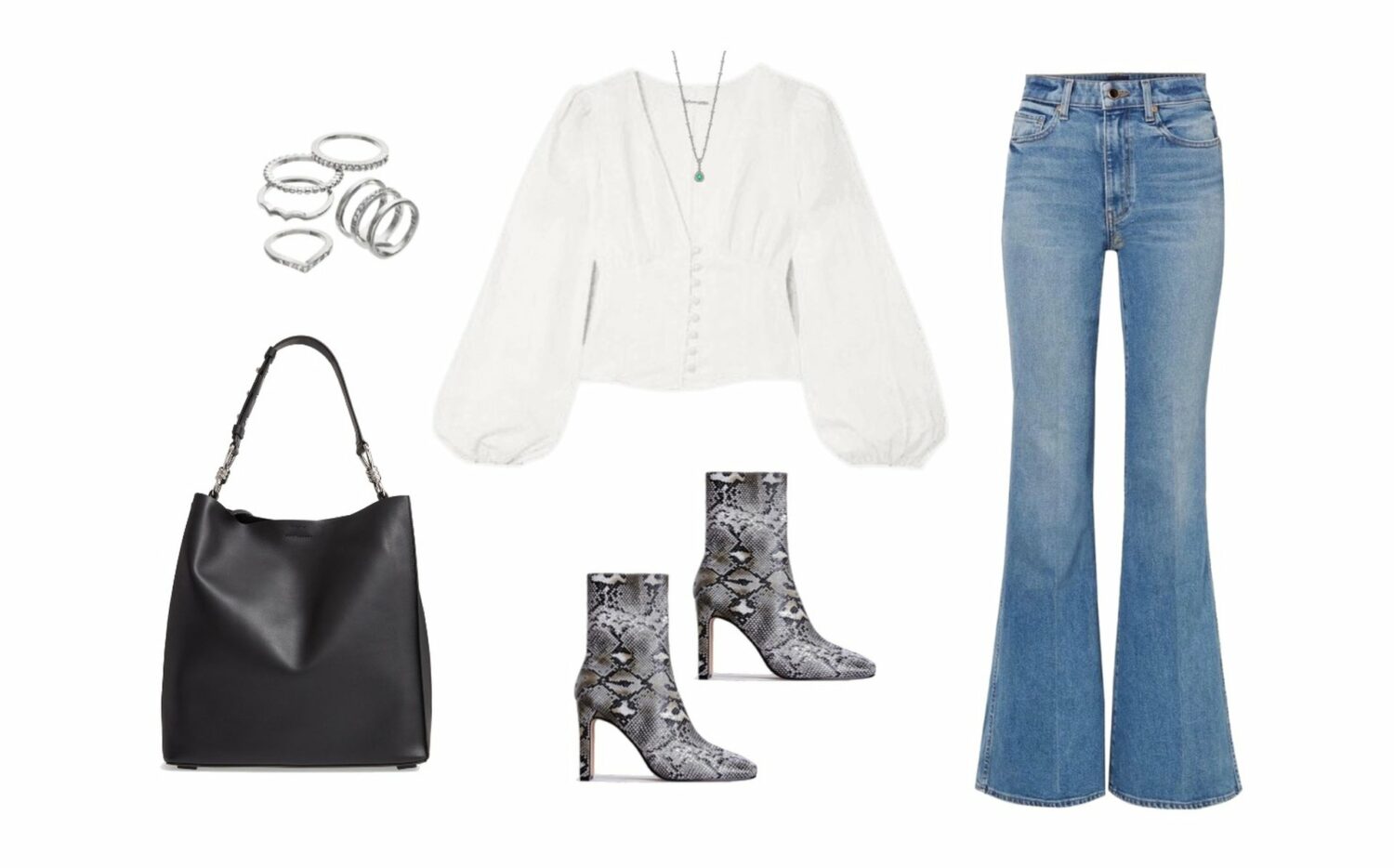 When you need to know how to wear bootcut jeans with girly tops, wear a balloon sleeve blouse with a slight v-neck. You can wear a short-sleeved shirt in white, with large buttons. You can wear high-waist boot-cut jeans with two pockets in the front. Wear animal-printed boots that have a square-toe design and fit at your ankle or calf.
You can choose faux snake skin, to give an edgy, bohemian style. Add silver-tone accessories like thin rings or stacked bracelets. You can also wear a necklace with one pendant in a diamond style. If you want a casual handbag, choose a leather backpack or one strap shoulder tote.
Read: How to Cuff Jeans With Boots
Cropped, Ribbed Sweater, Dark-Wash Jeans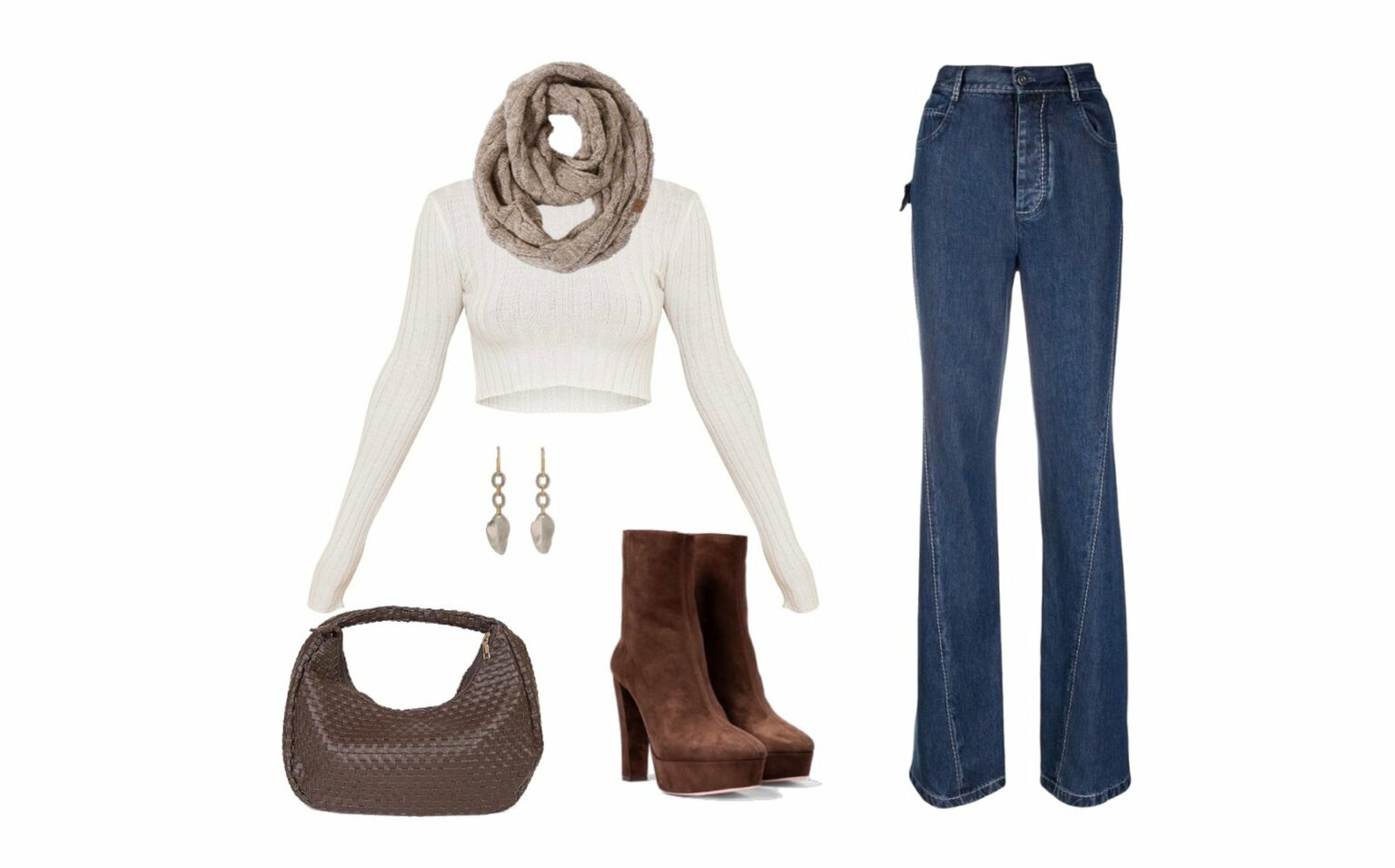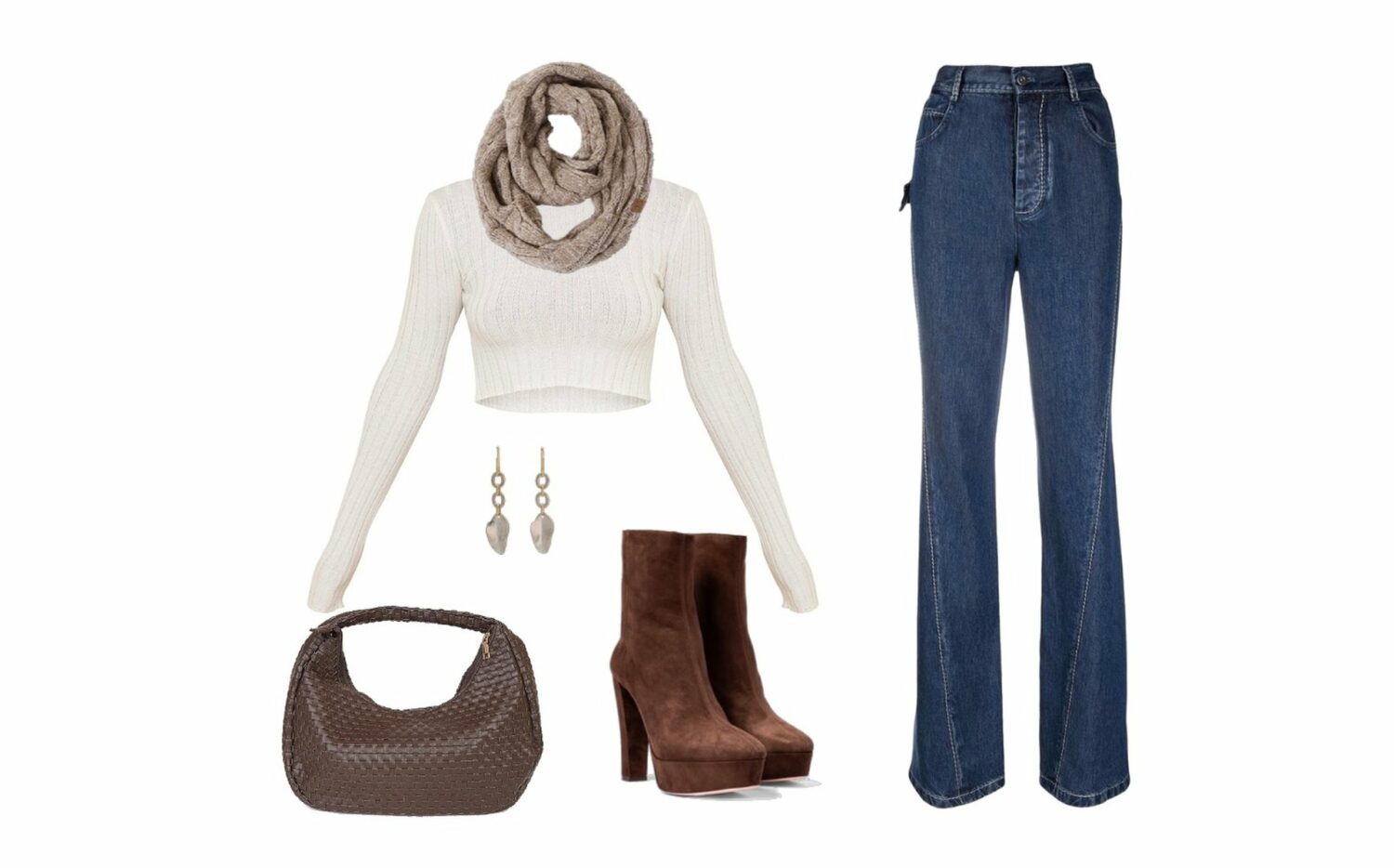 Wear a circle neck sweater that is also ribbed. Make sure the ribbed design is large in size, so that your sweater looks like an oversized towel! Wear dark brown boots that have a suede material or wear patent leather boots. You can also add a scarf to this outfit, as well. Try wearing a white, taupe, or brown scarf. Choose an infinity scarf that will cover your neck.
This way, you won't need to wear a necklace. You can also choose a long scarf that you can tie around your neck a few times, leaving the ends loose. Wear a brown shoulder tote or woven hobo handbag.
Read: How to Wear Mid Calf Boots With Jeans
Doc Martens, High-Waist Jeans, Long-Sleeve Tee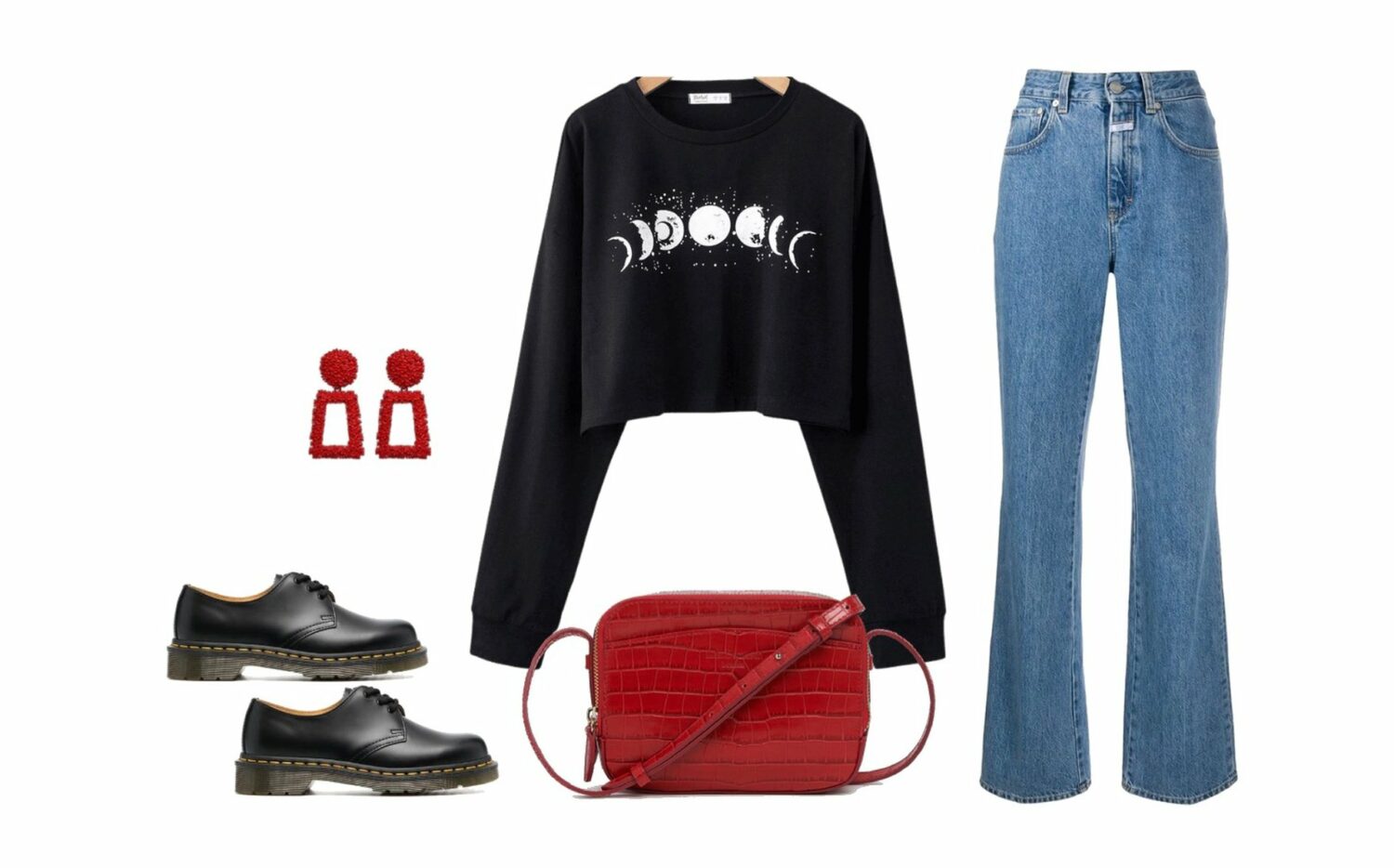 Wear a pair of low-top Doctor Martens boots and a pair of high-waist jeans. You can choose a pair of jeans that are medium-wash and have extra seams down the front of the leg. This creates a textured pattern, which will add an edge to your outfit. You can wear a long-sleeve black or green t-shirt and a shoulder strap handbag in an exotic color and style, like a faux croc skin handbag that has a patent leather sheen.
Read: How to Wear Doc Martens With Jeans
Halter, Dark-Wash Jeans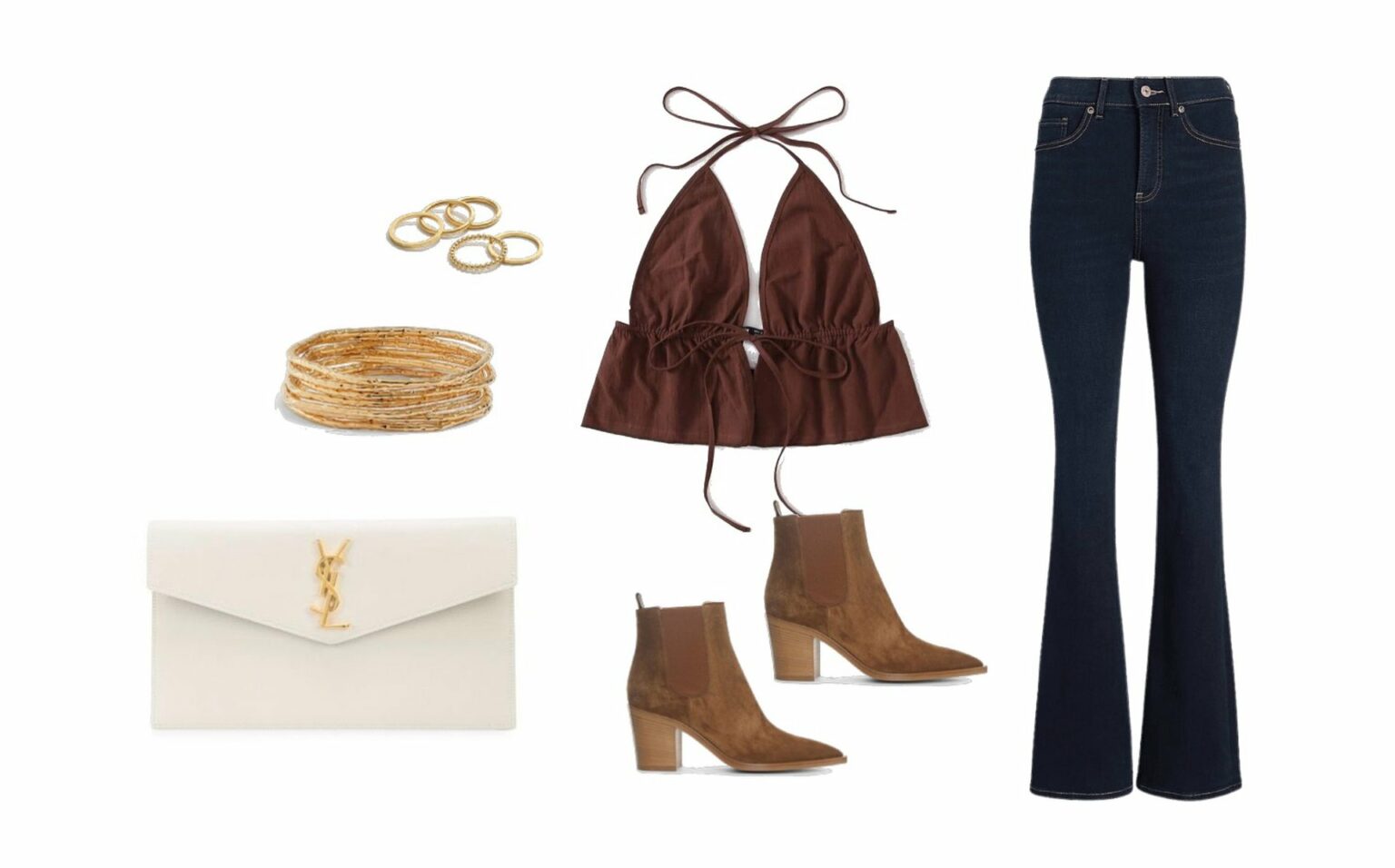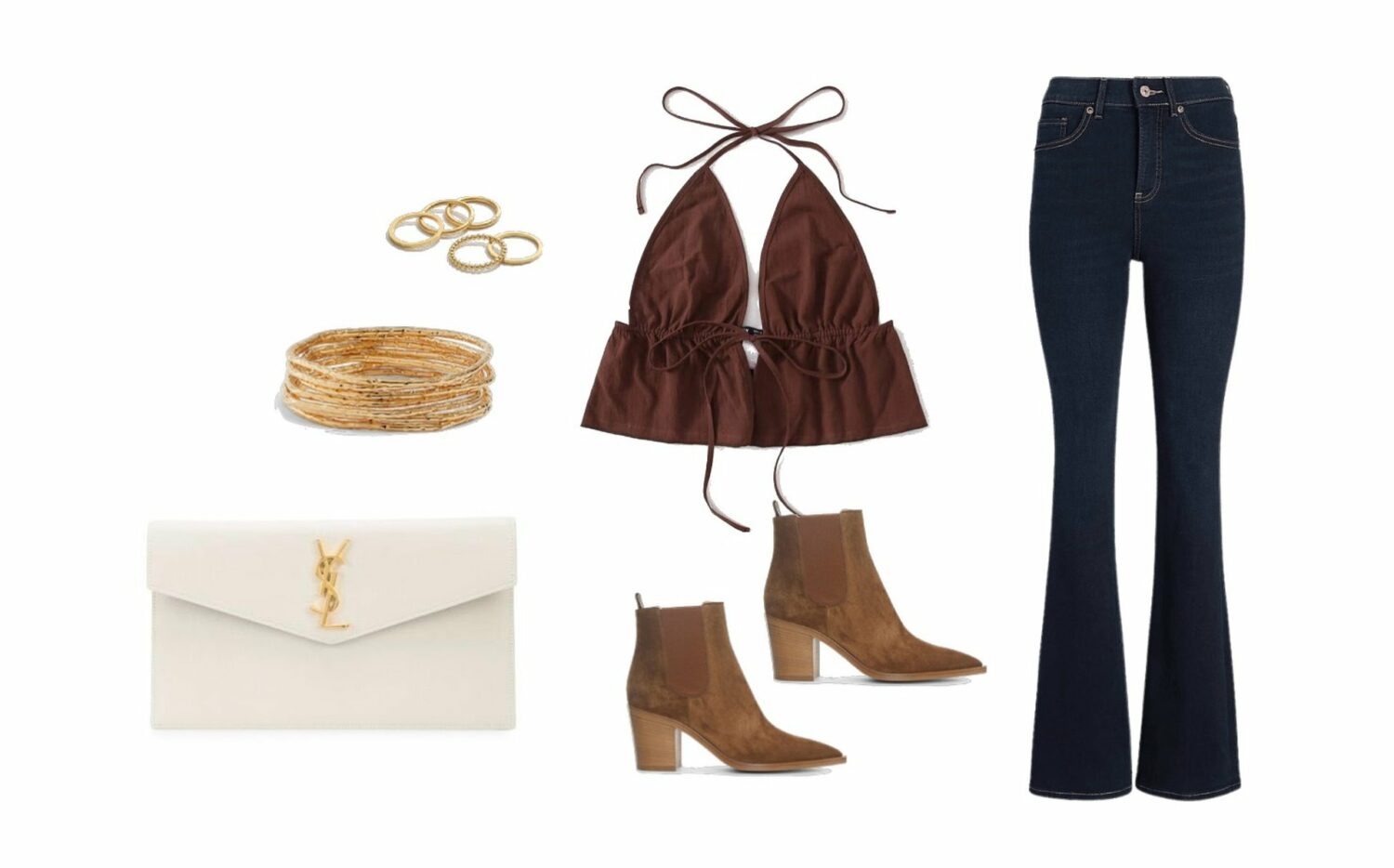 For a simple outfit that's still glamorous, try wearing a tan-colored tank top that has a small v-cut. Choose a top that's made of soft fabric that will feel smooth against the skin. Try wearing a halter style or a blouse that has double straps but also drapes in a flowing manner.
You can tuck your shirt in and wear high-waist, dark-wash jeans. You can wear black jeans if you want a more smoldering look. Wear your jeans with tan-colored boots that are made of suede.
Add stacked bracelets and midi rings. You can also wear a long, gold-tone necklace with a small pendant in a delicate circle or oval shape. You can also wear a more textured jewelry pendant reminiscent of a feather or tree silhouette.
Read: How to Wear Boot Socks With Jeans
How To Wear Bootcut Jeans With Flats
Cashmere Sweater, Medium-Wash Jeans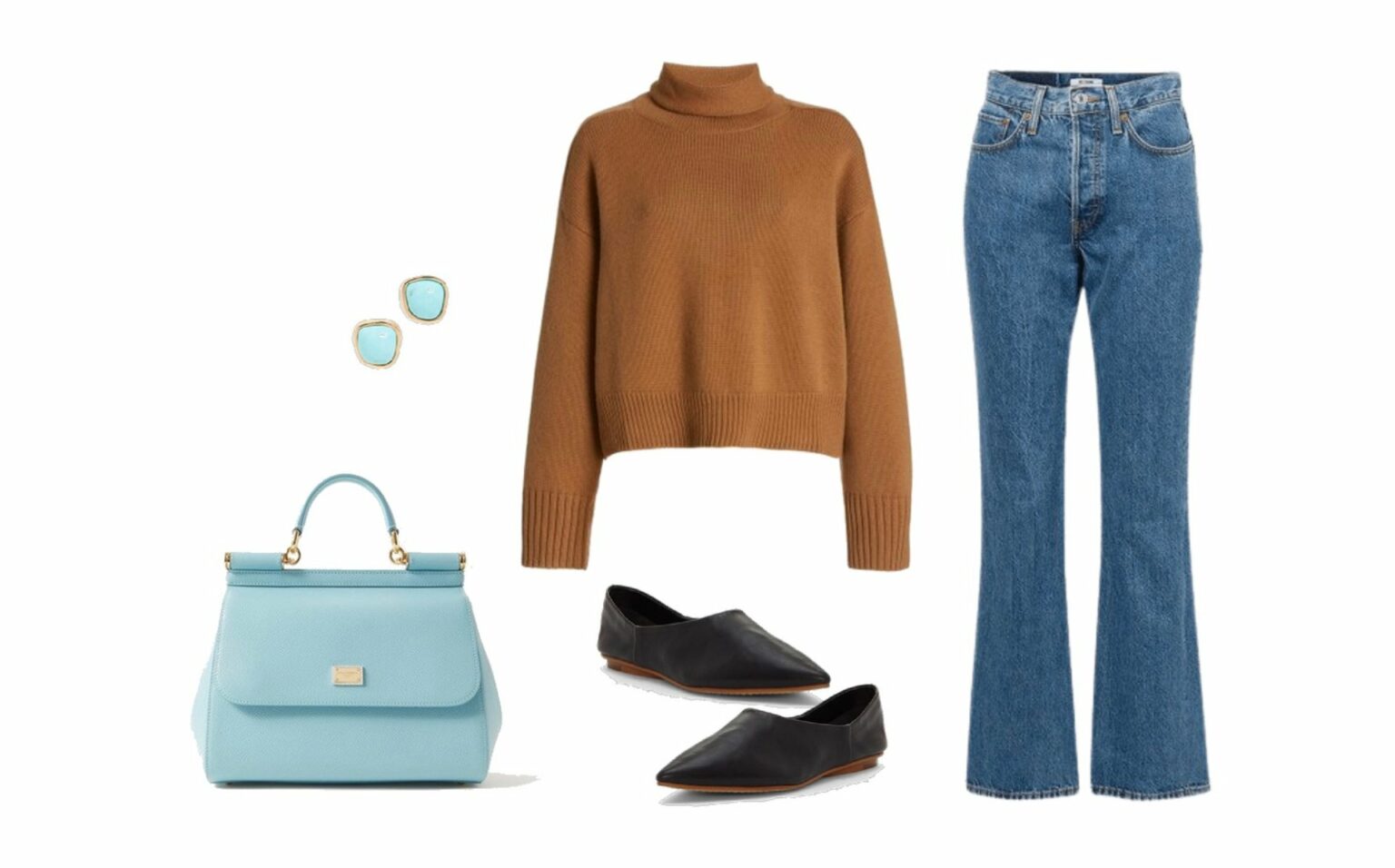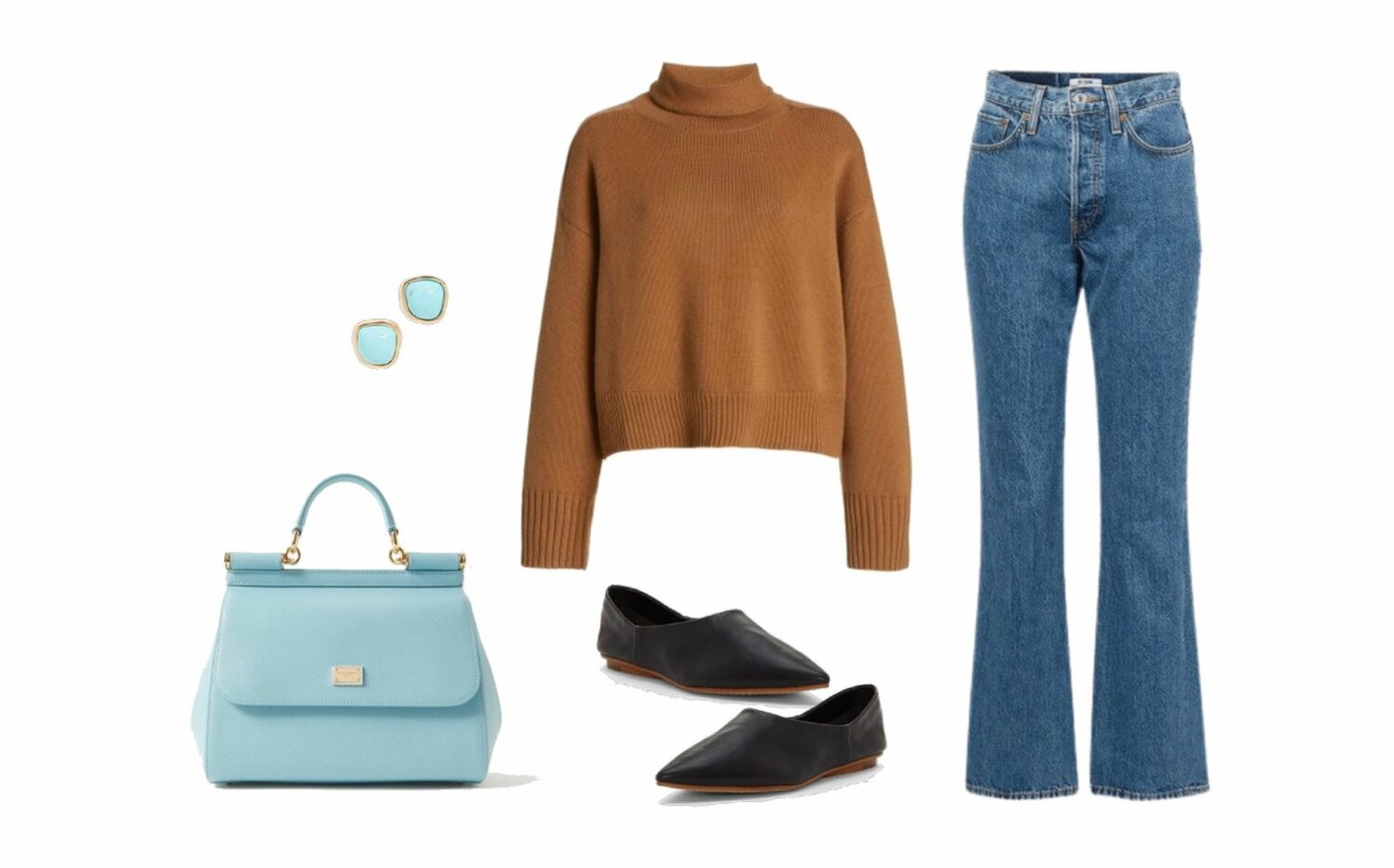 A cashmere sweater with a scoop neck design is how to wear bootcut jeans in a classy way. Cashmere or a sweater made of super soft fabric is easier to tuck in. You can wear a cropped sweater or you can wear a short sweater, with long sleeves that are long enough to tuck into your jeans without being bulky.
Wear a top-handle handbag in a soft blue or dark green color. You can wear rounded-toe flats in a patent leather brown. Or, you can wear pointed-toe, black flats.
Buttoned Shirt, High-Waist Destroyed Jeans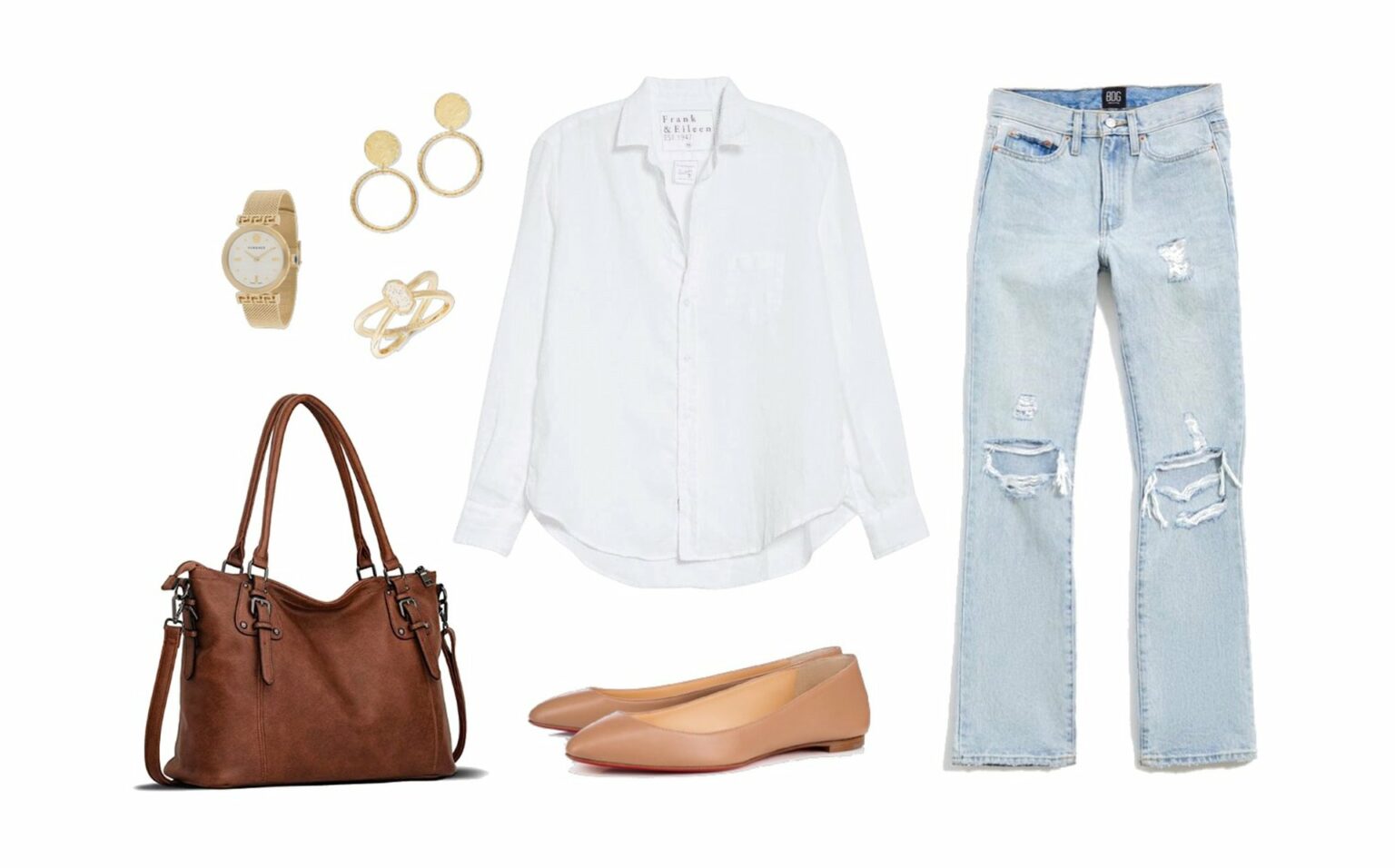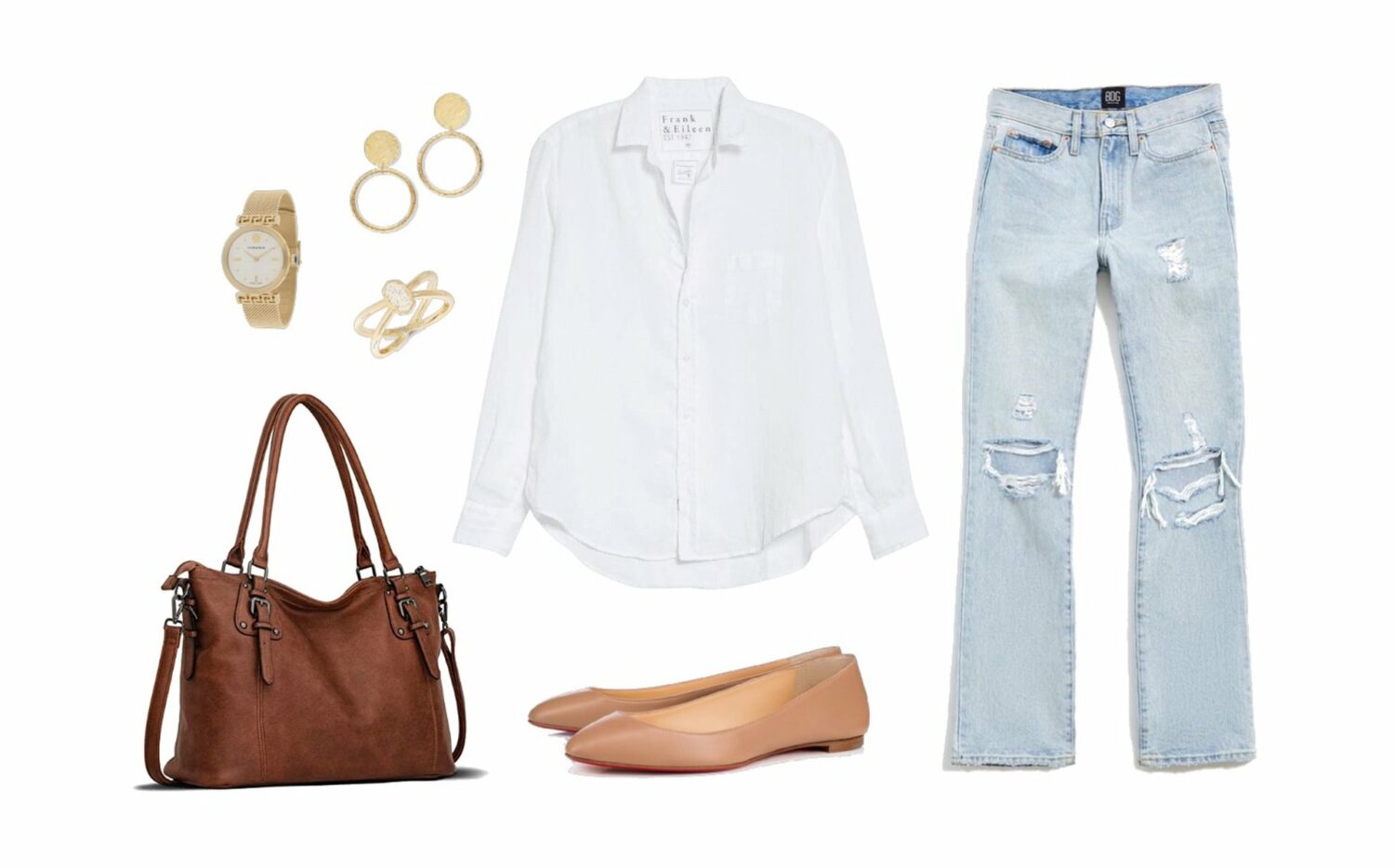 A buttoned shirt or a shirt with a v-neck front and long sleeves pairs well with high-waist boot cut jeans that have destroyed elements. Add a white or blue buttoned top with a nude color pair of flats. You can also wear black or navy blue flats and a brown shoulder carry handbag.
Wear as many jewelry pieces as you like, to add more elements to your outfit. If it's chilly, wear a puffer jacket with this look. Be sure to match your shoes with your jacket color, or opt for a tan pair of pointed-toe flats.
Read: How to Wear High Waisted Jeans With a Tummy
Cropped T-Shirt, Cropped Jacket, High-Waist Jeans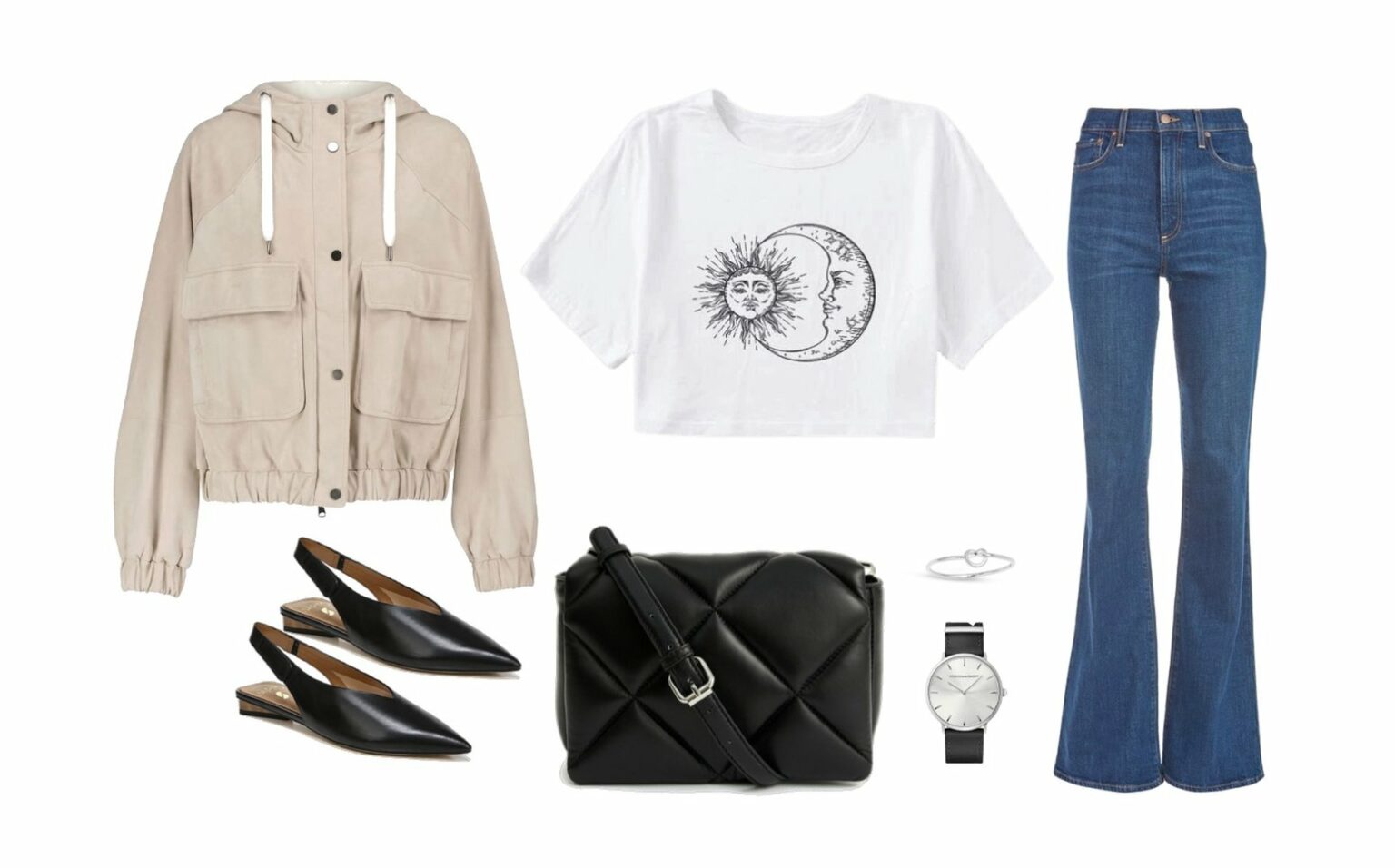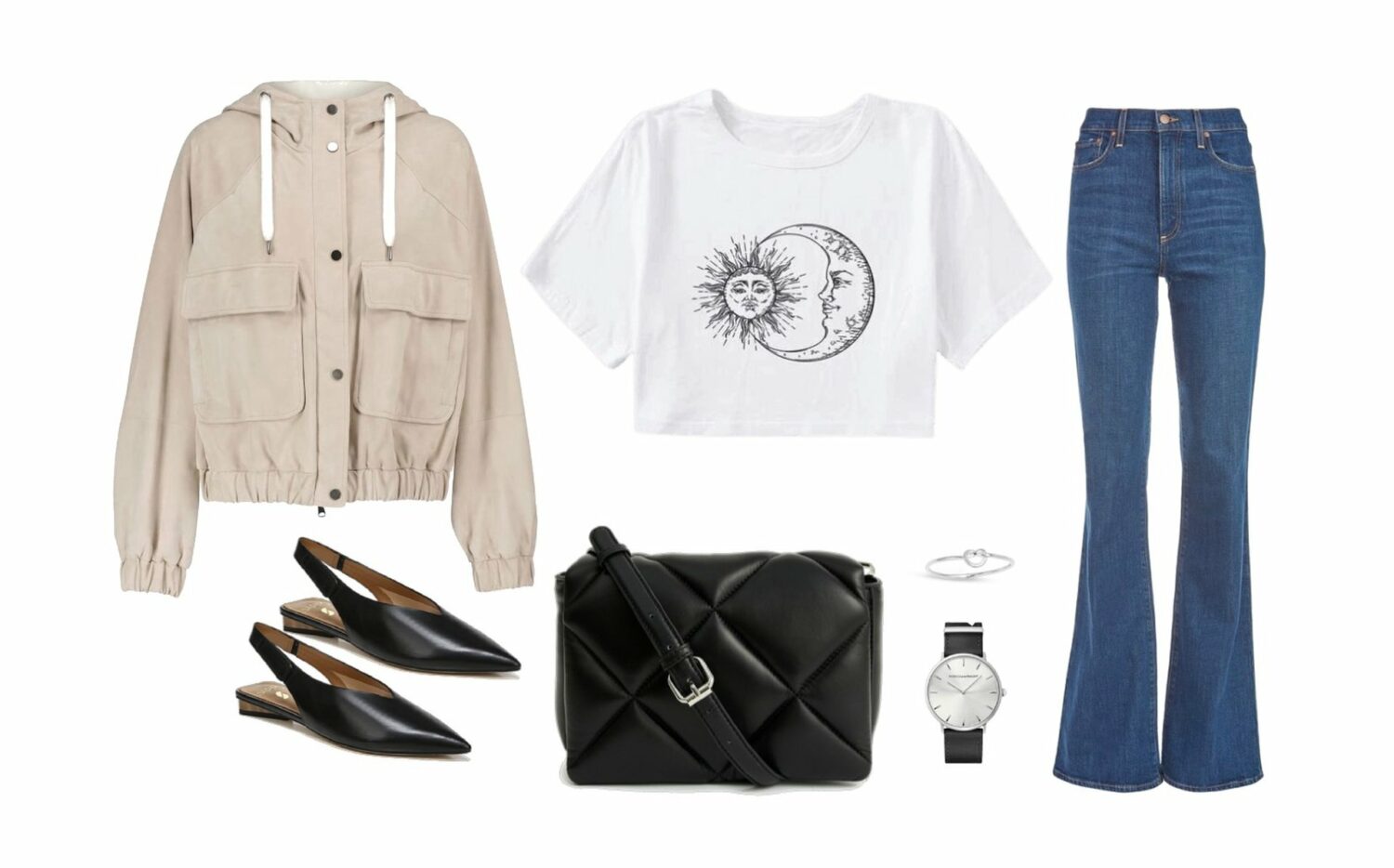 A cropped white t-shirt or blouse will pair well with a cropped jacket. Try choosing a cropped jacket that's made of suede material without a hood, for a chic, urban-inspired look. If you want to skip the jacket, you can also wear a long sleeve shirt and a cropped sweater, to create a blocking pattern with layers.
Wear brown flats in a patent leather style if you're wearing a jacket that is green or blue. If you're wearing a black or grey jacket, choose black slingback flats. You can even add printed tights when wearing sling-back flat shoes since your heel and areas of your feet will be exposed.
Black Jeans, T-Shirt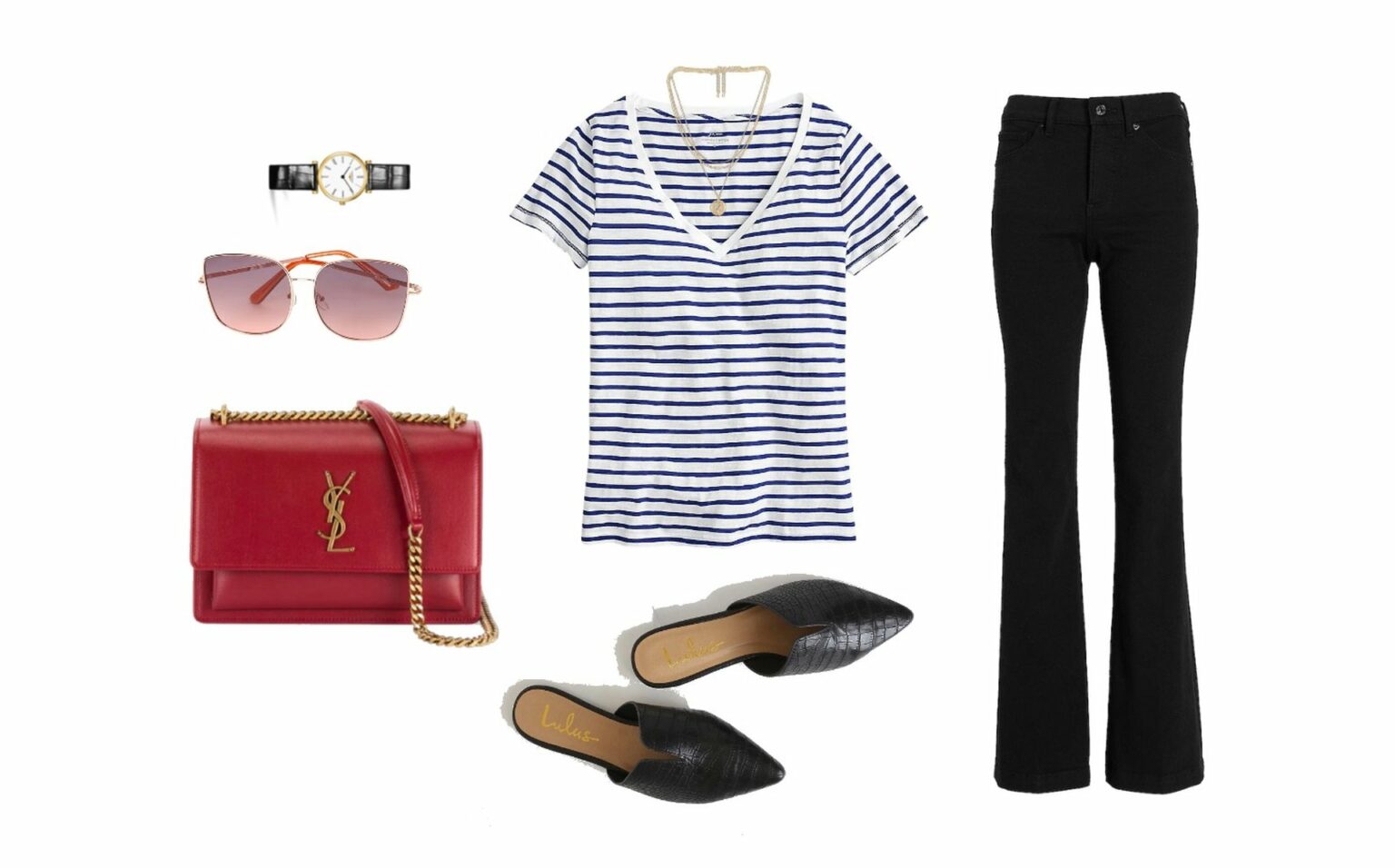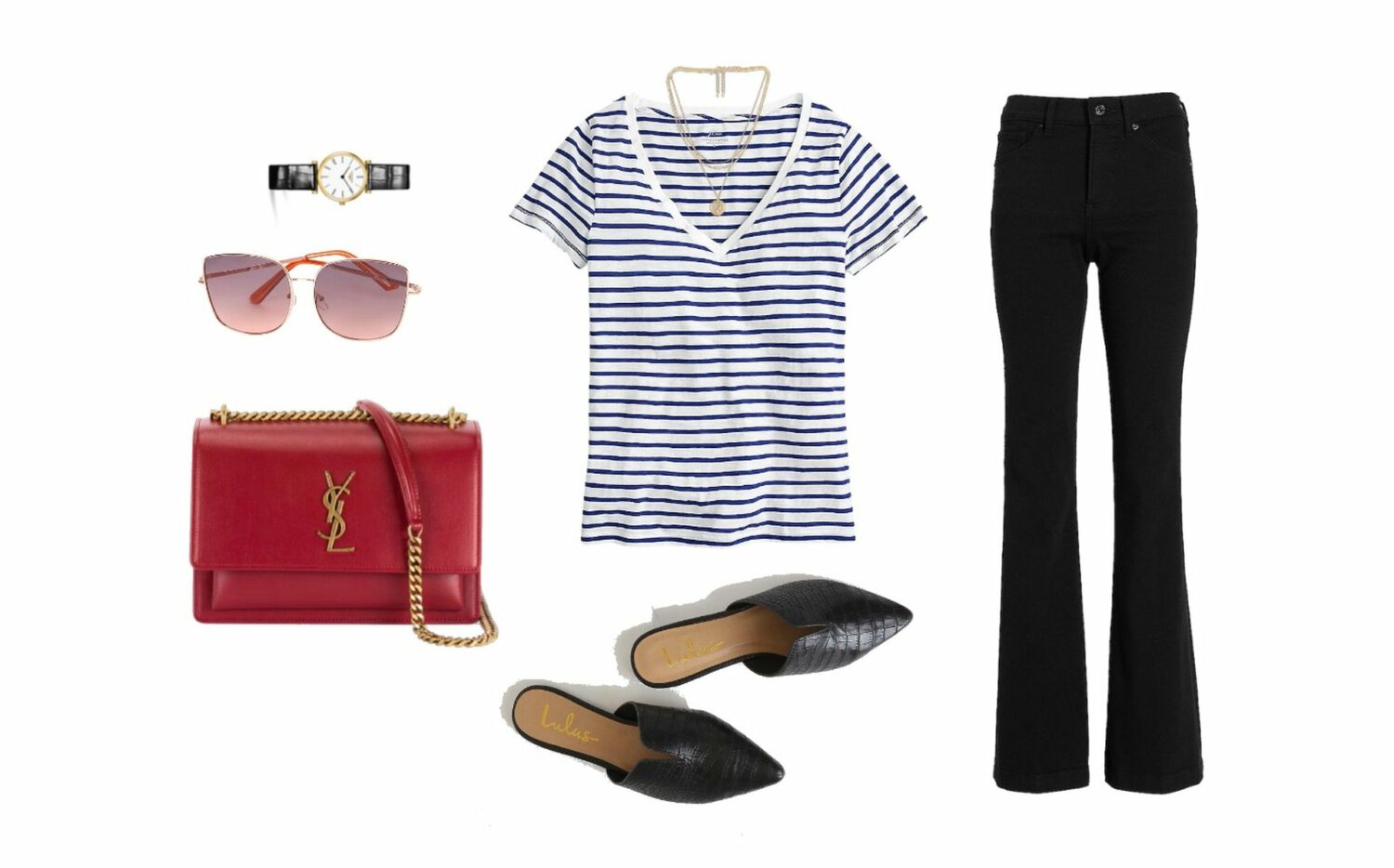 Wear a striped t-shirt and black jeans in a boot-cut style. This is a look that is casual and comfortable, especially when flats are added. Wear a v-neck tee that has horizontal stripes in blue, black, or green. If you want to add color, wear a shirt that is striped in orange or pink.
Add flats that are in a mule style, allowing you to slide your feet in. Be sure your flats have a pointed toe, to give an illusion of a pair of heels. If you want a little height, wear shoes that have a small wooden heel. Add a crossbody with a chain strap and oversized sunglasses.
How To Wear Bootcut Jeans With Sneakers
Button-Up With Sweater, Dark-Wash Jeans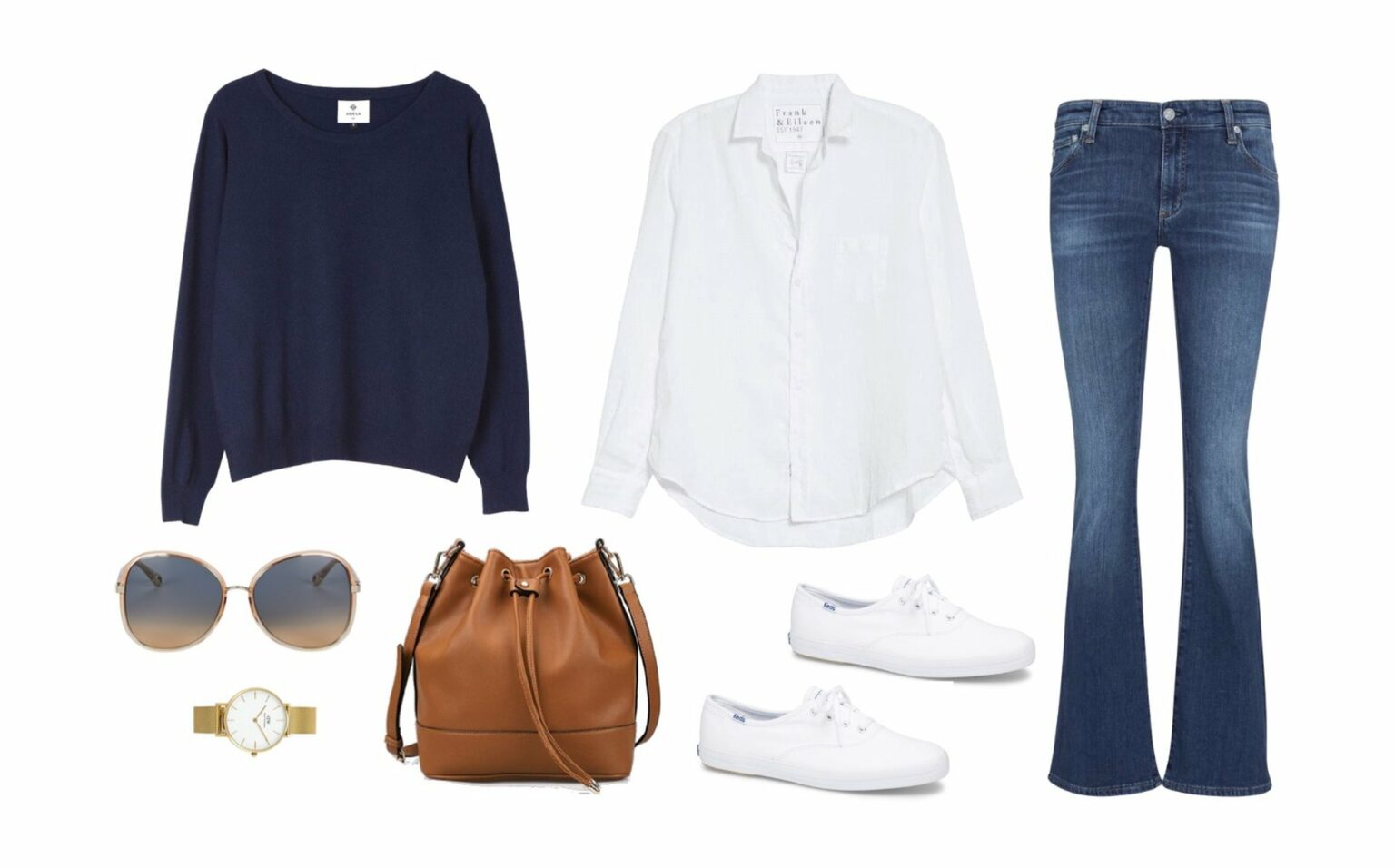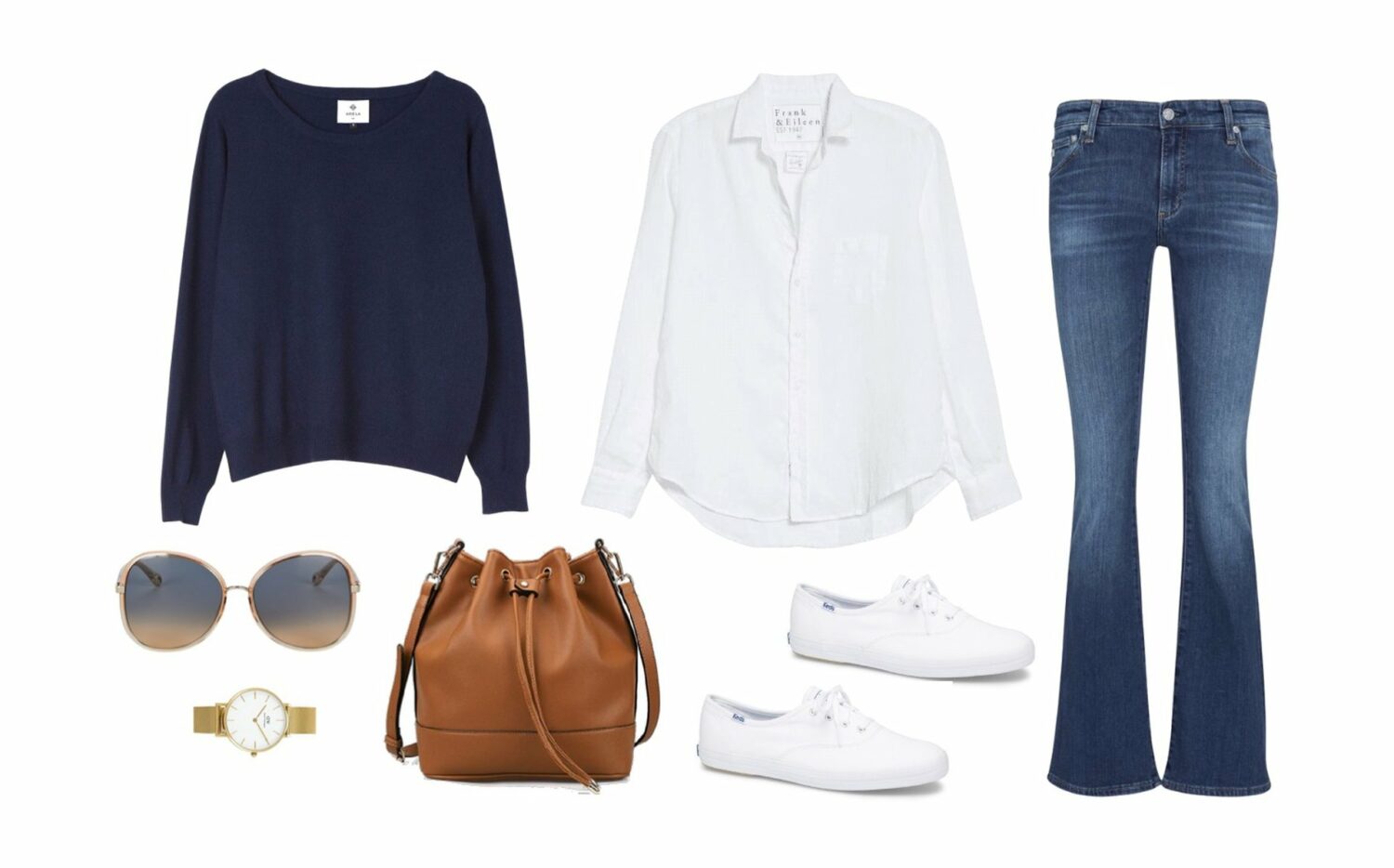 A go-to posh look that's both casual and professional can be achieved with dark-washed boot-cut jeans and a button-up. Add a sweater on top of your collared shirt and allow your collar and cuffs of your sleeves to peek out from under your sweater.
Add a gold-tone watch and oversized sunglasses. Your handbag can be a dark brown or tan color. Wear white or black sneakers that have a flat design with canvas material.
Sweater, Infinity Scarf, Dark-Wash Jeans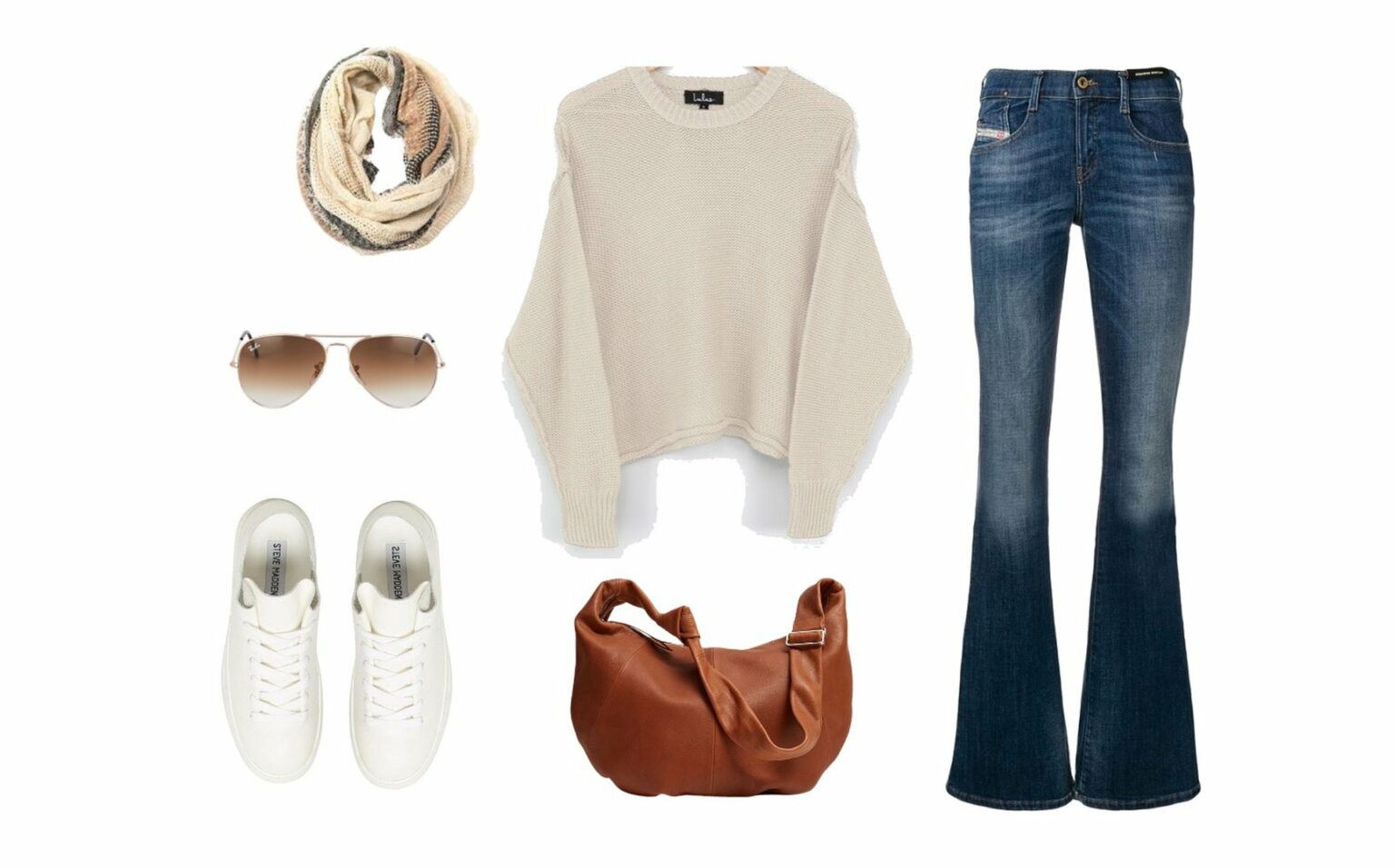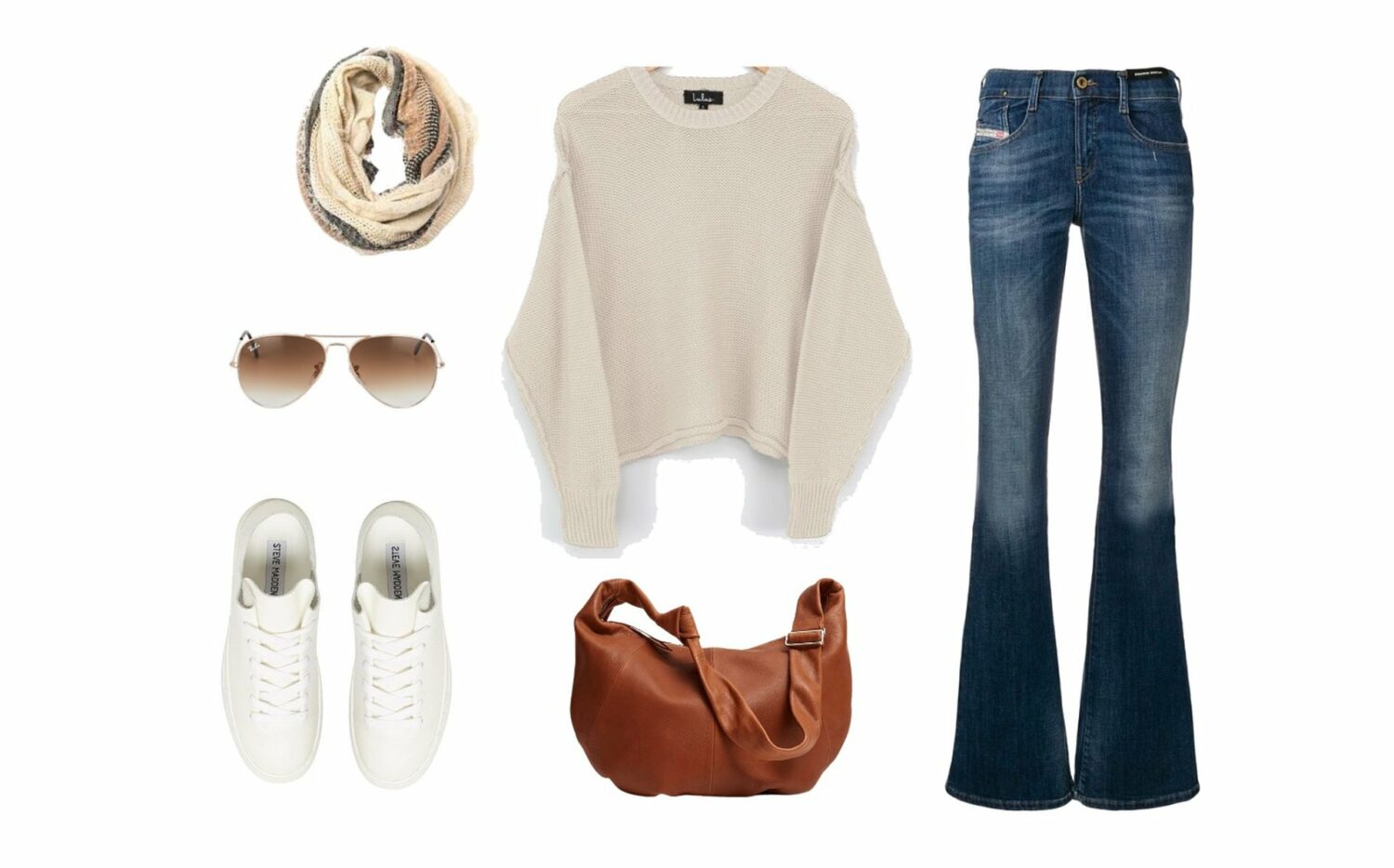 You can wear an infinity scarf to create a voluminous layered look with boot-cut jeans. You can wear an infinity scarf in white or brown with a matching sweater color. Wear whiskered and faded boot-cut jeans in a medium wash that also has fringe details at the hem.
Add aviator sunglasses and white sneakers. With this look, you don't need to add accessories, since your top is very full. Wear a stand-out handbag in an oversized crescent shape in brown or black.
Tunic, Leather Jacket, Embellished Belt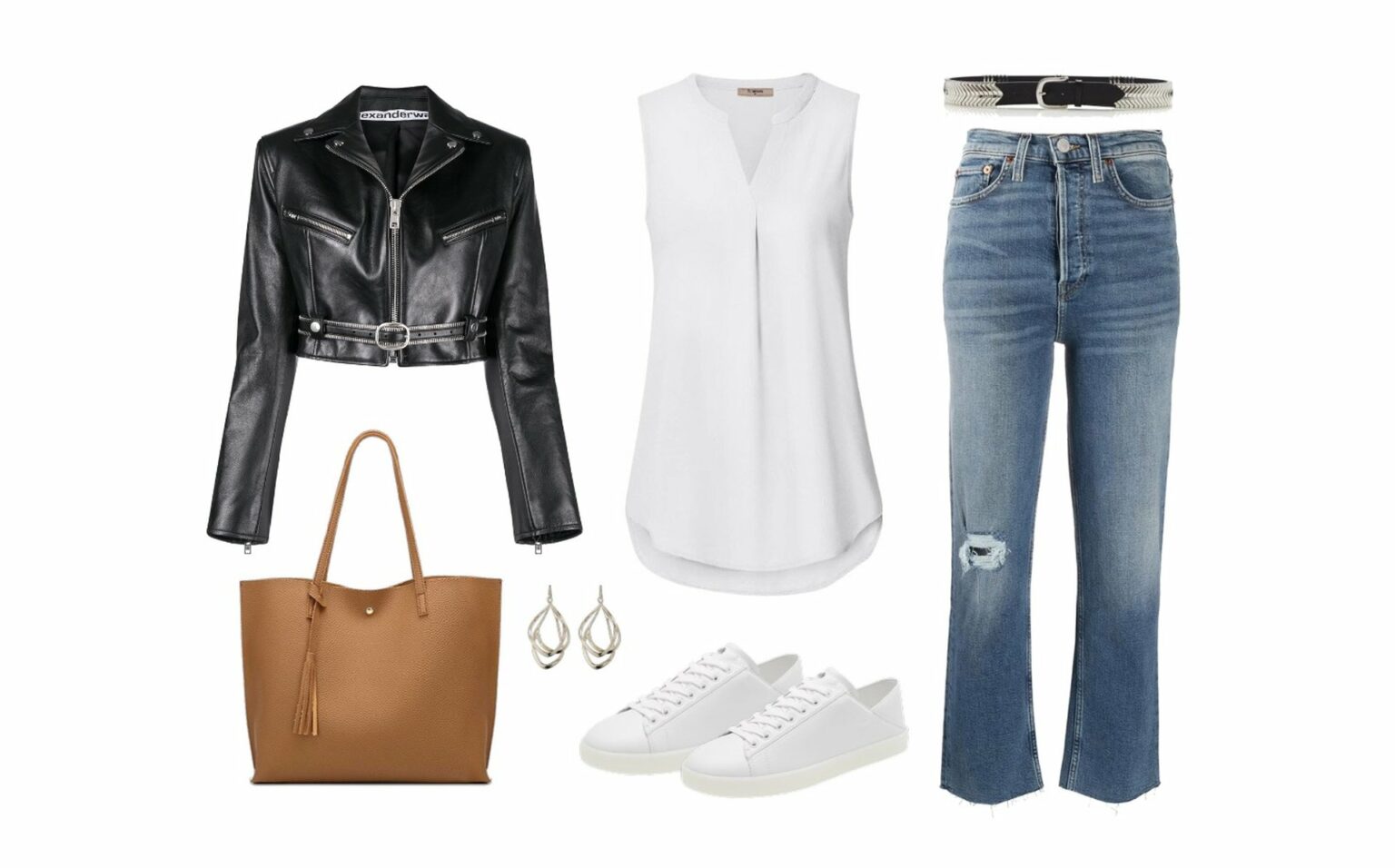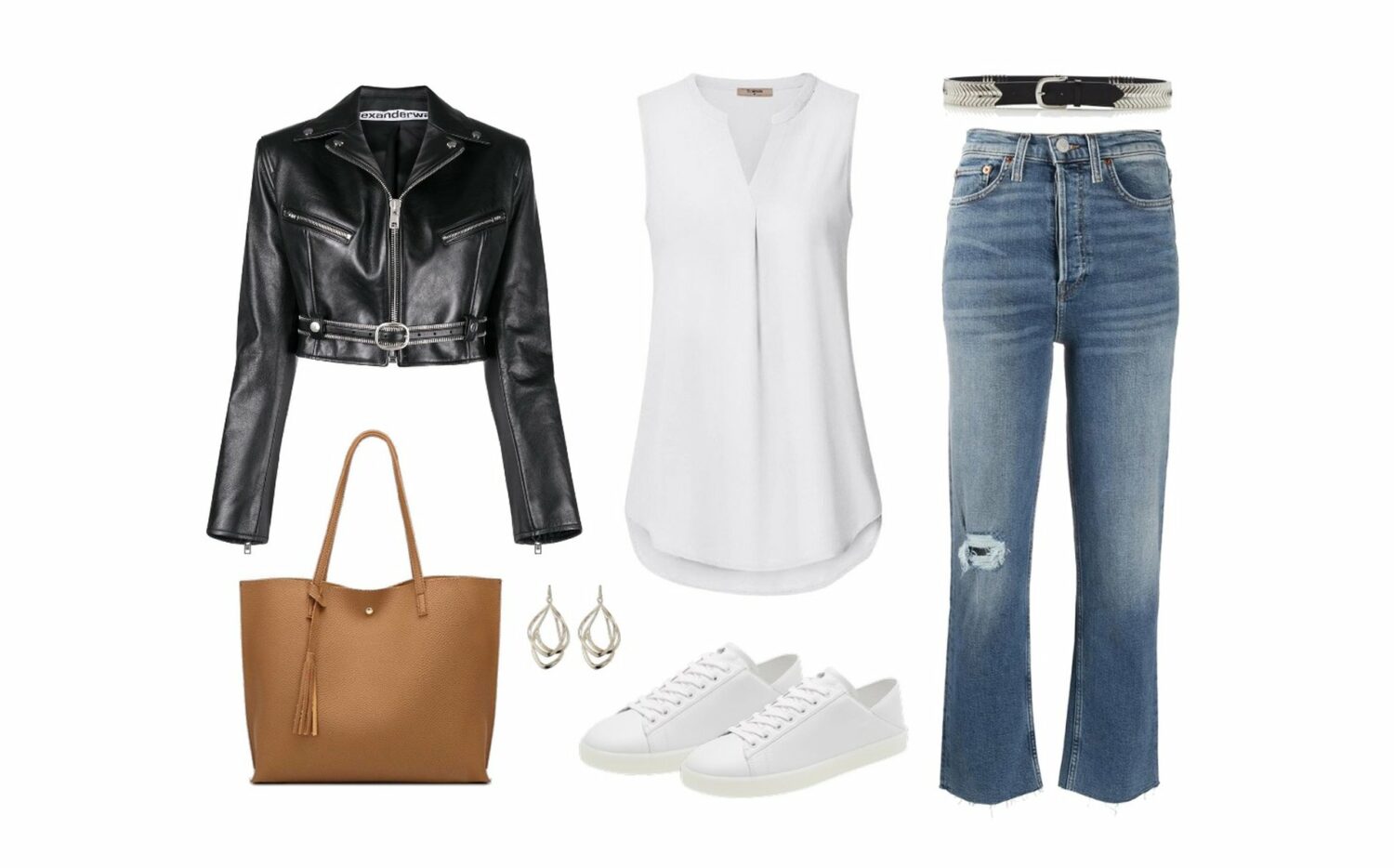 Create a grungy look that's also sweet by wearing dark wash, bootcut jeans that have lighter, fading effects to them. They can be destroyed but at a minimum, so that your look remains polished. Adding a leather jacket in a cropped or full-length style and a white tunic top that has a v-neck is how to wear bootcut jeans with a casual top, without reaching for a t-shirt first.
Make sure your tunic is sleeveless and the v-neck has lace or eyelet designs, eliminating the need to wear a necklace. Add a double strap, oversized leather handbag, and white sneakers.
Puffer Vest, Sweater, Dark-Wash Jeans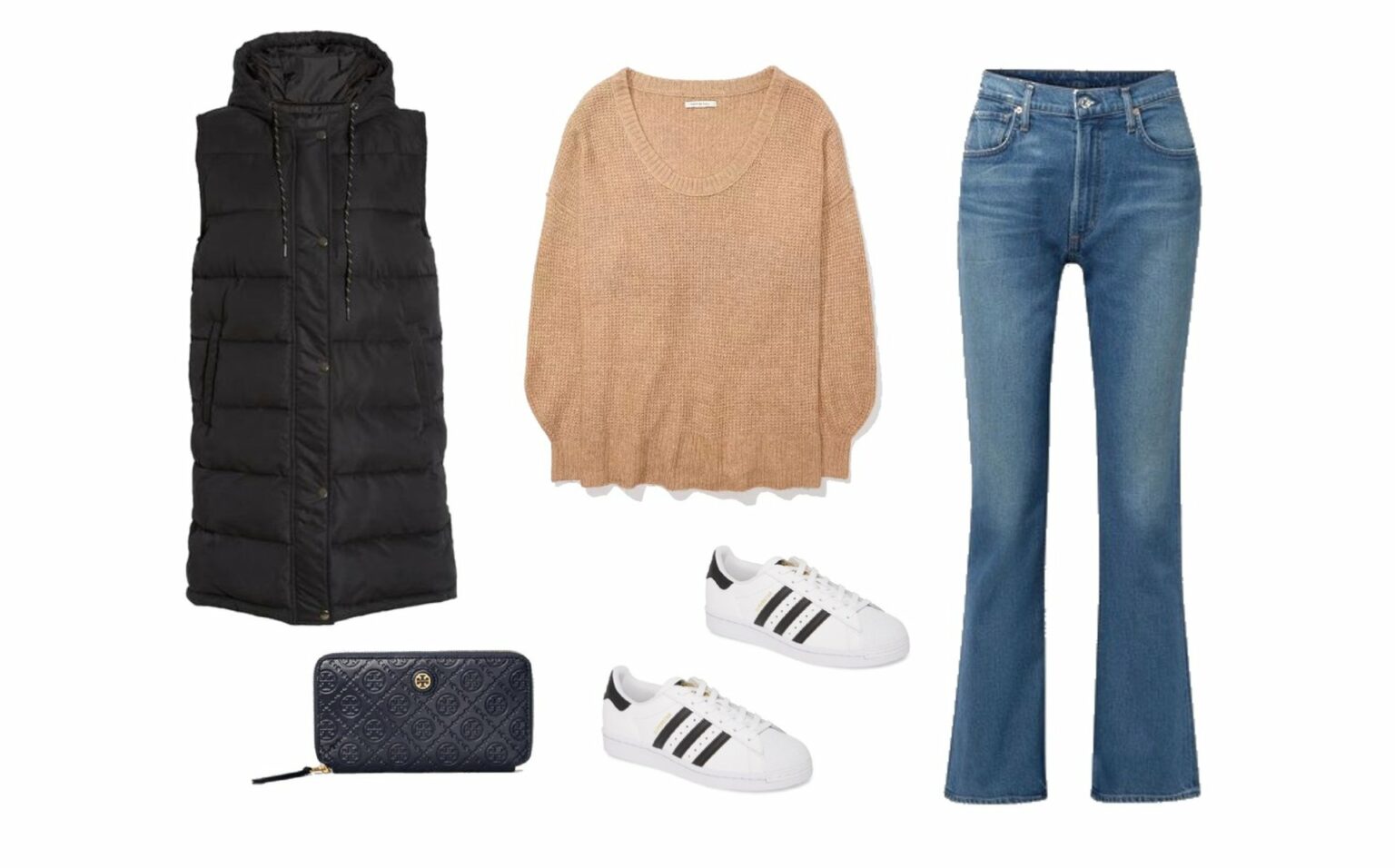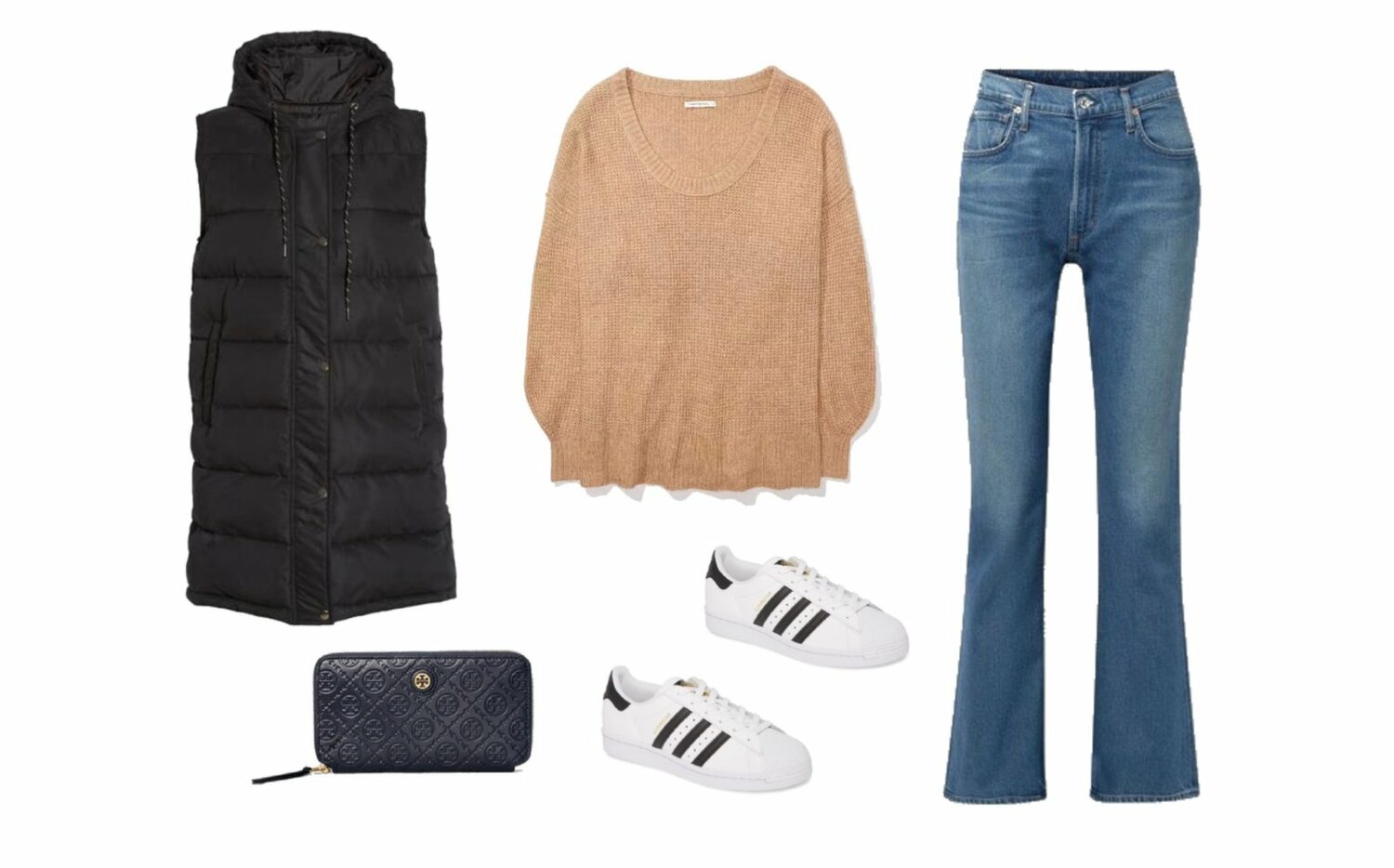 For a sporty-chic look, try wearing boot-cut jeans in a dark wash and a wheat color sweater. Make sure your sweater is made of a thick, wool material and has a scoop neckline. Add a puffer vest that resembles a full coat, but is sleeveless. Your vest can have hidden pockets or two large outside pockets that zip or button, with silver-tone hardware.
Add white sneakers that have coordinating stripes to match your vest color. The best vest colors for this look are blue, black, or forest green. Keep your look simple by skipping a handbag and wearing a navy blue zip wallet that is solid or has a monogram print.
Read: How to Wear Running Shoes With Jeans
How to wear bootcut jeans with heels
Off-The-Shoulder Long Sleeve Top, Light-Wash Jeans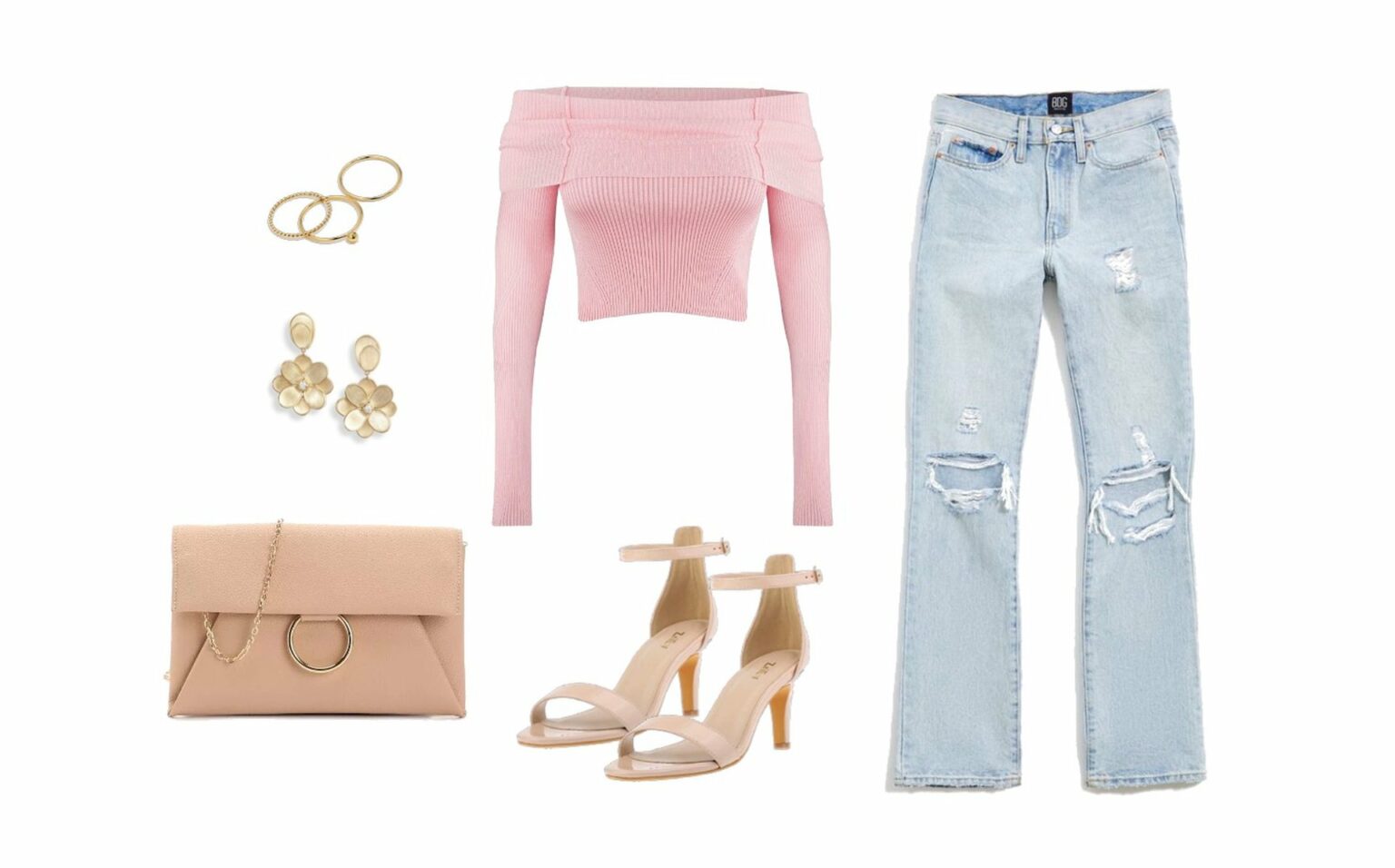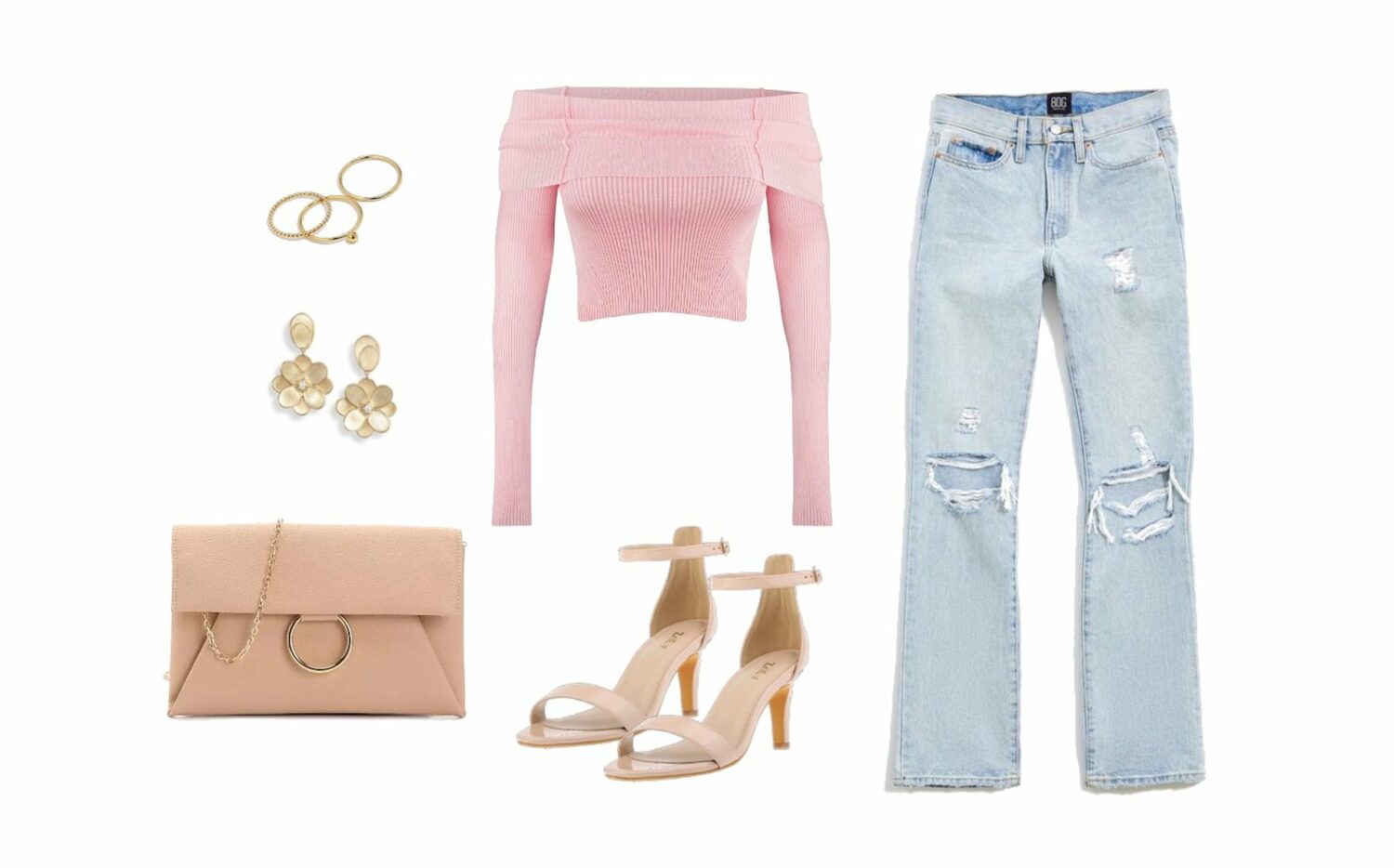 Wear an off-the-shoulder top in a soft pink color. You can also wear a tan or white color top that has a front, wrap design. Keep your top elegant with long sleeves. You can wear a cropped top, if you want to show a little skin. Pair your top with destroyed boot-cut jeans that have two openings at the knees and have fraying details around each opening.
This will create a look that is very feminine and can be paired with open-toe sandals. The best heels to wear with this look are strappy and in a neutral, nude color.
Cropped T-Shirt, Light-Wash Jeans (Faded Design)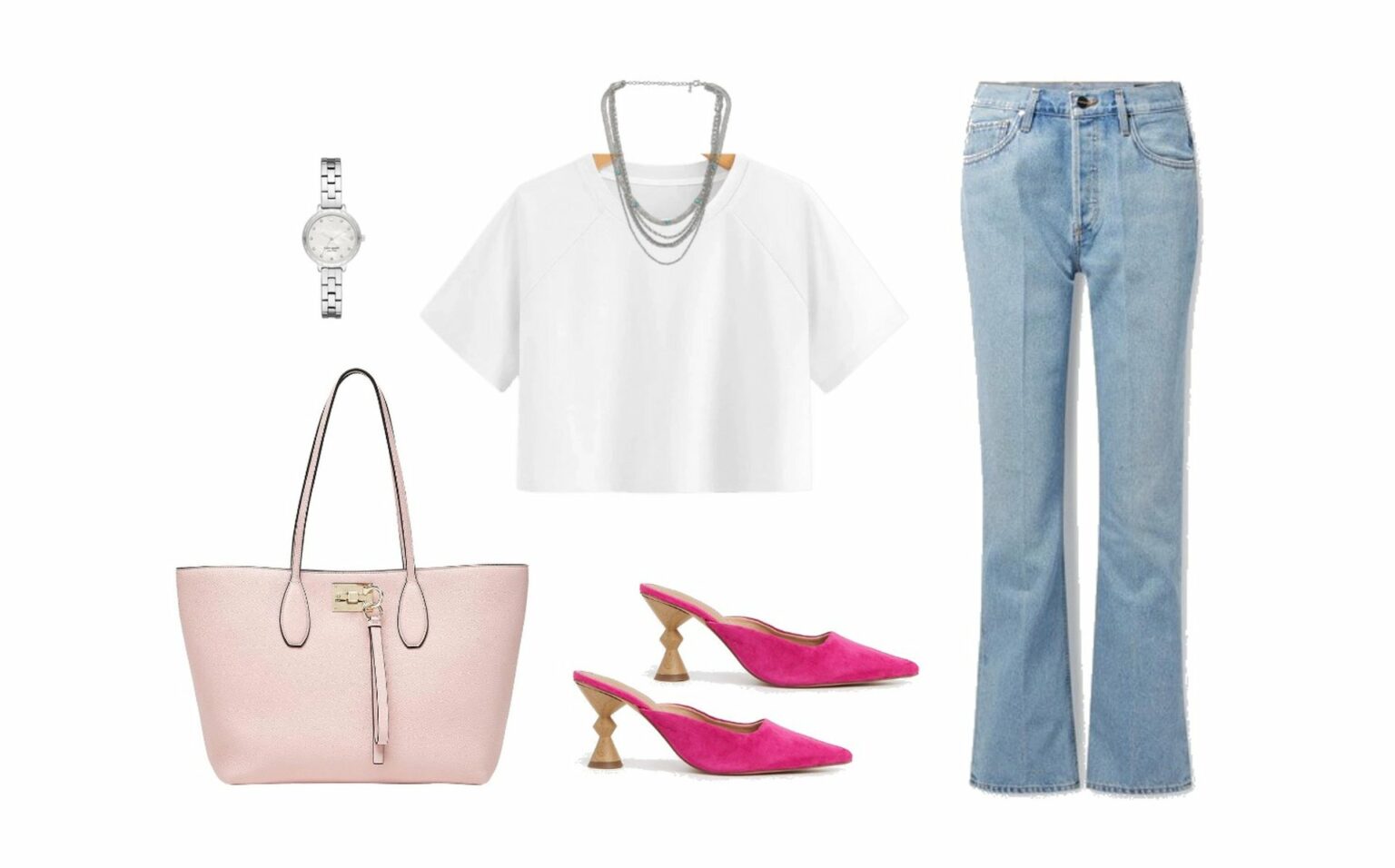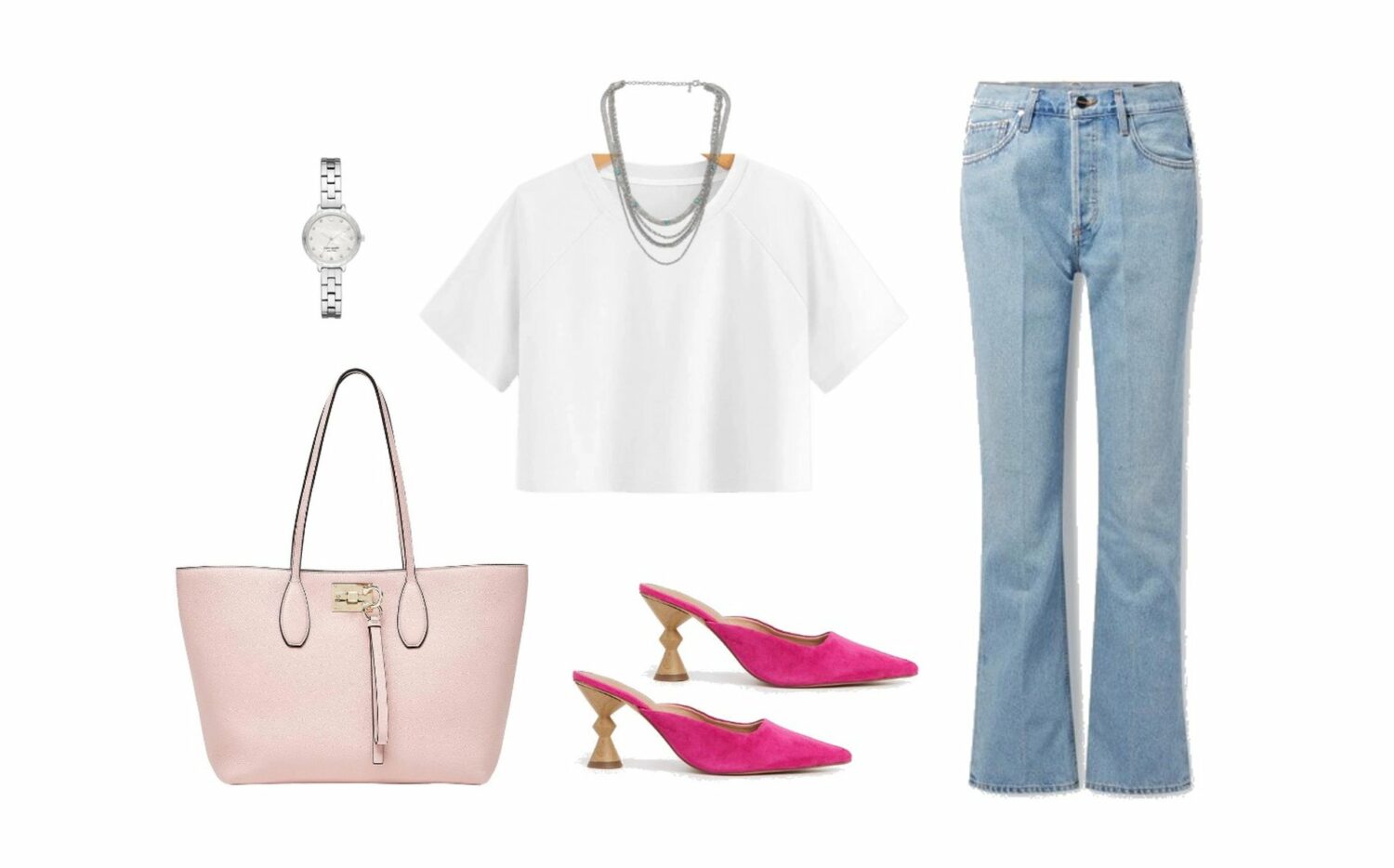 A white, cropped t-shirt with a scoop-neck design can be worn with light-wash, high-waist bootcut jeans. Simply wear a cotton tee shirt that is short in length and add accessories with a short necklace. Add a leather band or silver-tone watch and mule-style heels. With this look, you can play with your shoe colors, even wearing a hot pink heel!
Blazer, T-Shirt, Dark-Wash Jeans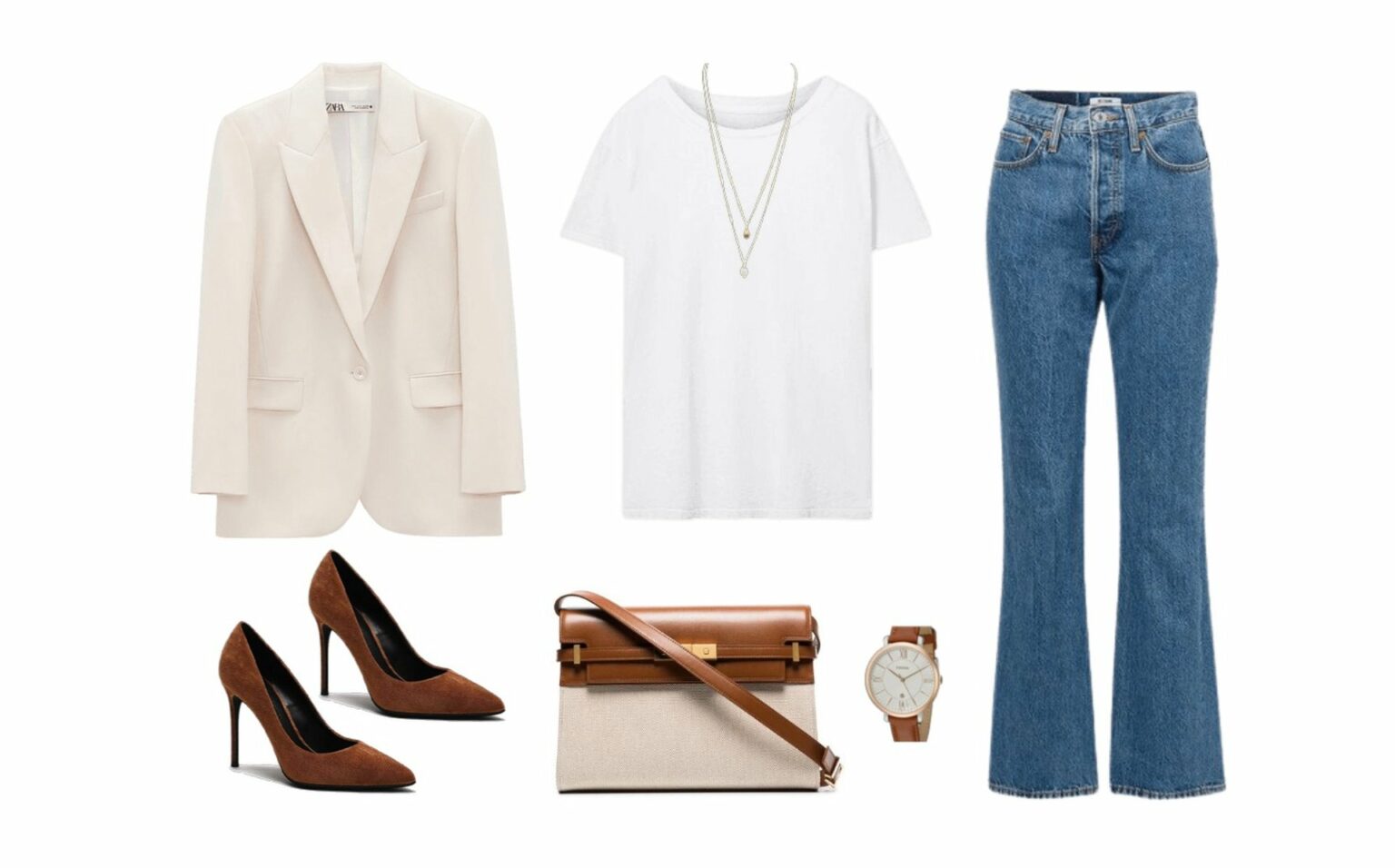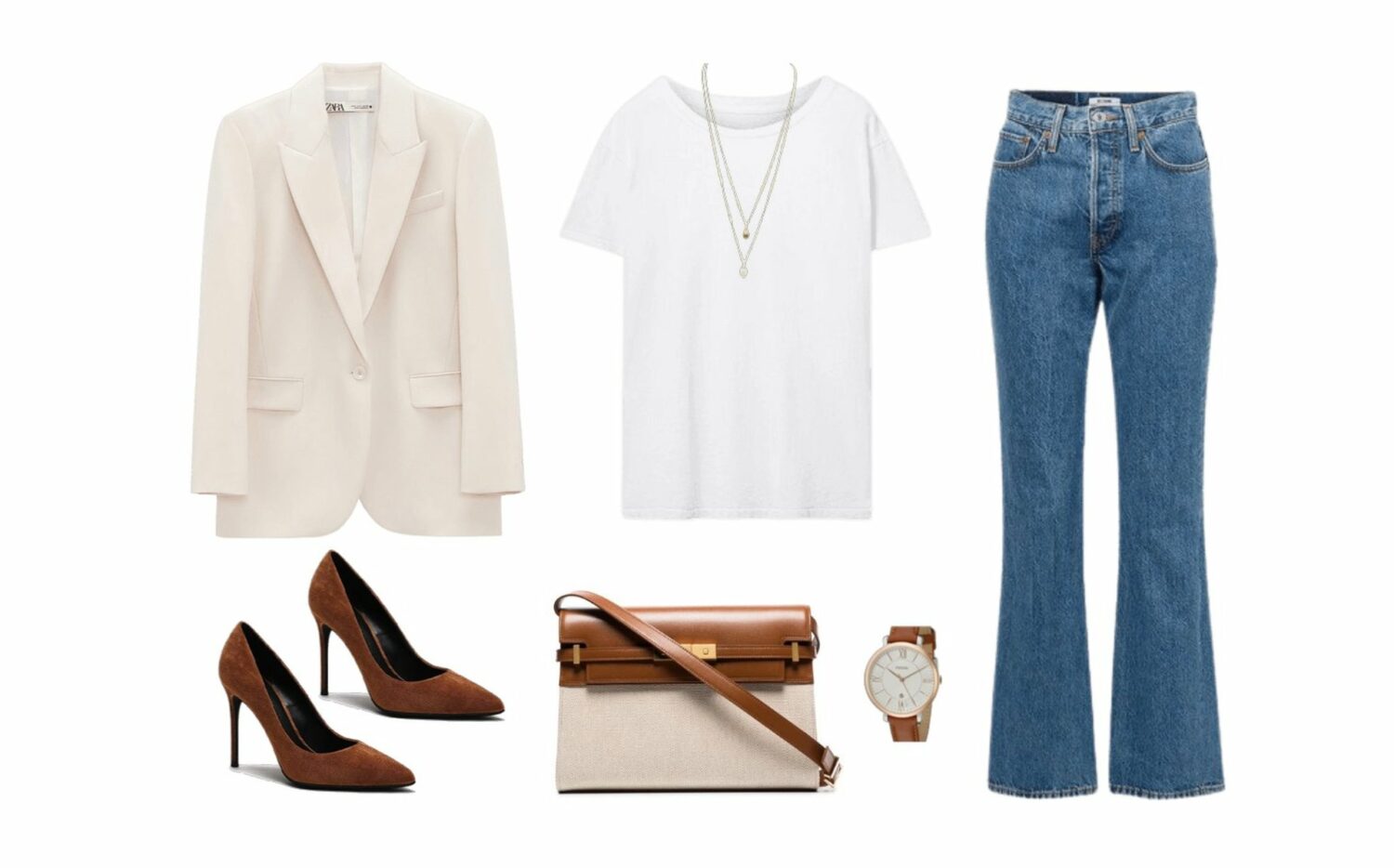 There's nothing more polished than a blazer, which brings your outfit together in a clean, professional way. Wear a light tan or cream color blazer with a white t-shirt. You can also wear a white blouse that's pleated in the front, with a halter or keyhole neckline.
Since your blazer will cover your arms, adding a blouse with a sleeveless design will stick out in a luxurious way. For shoes, wear a pointed-toe heel in a deep brown color.
Sleeveless Tee, Pointed-Toe Heels, Light-Wash Jeans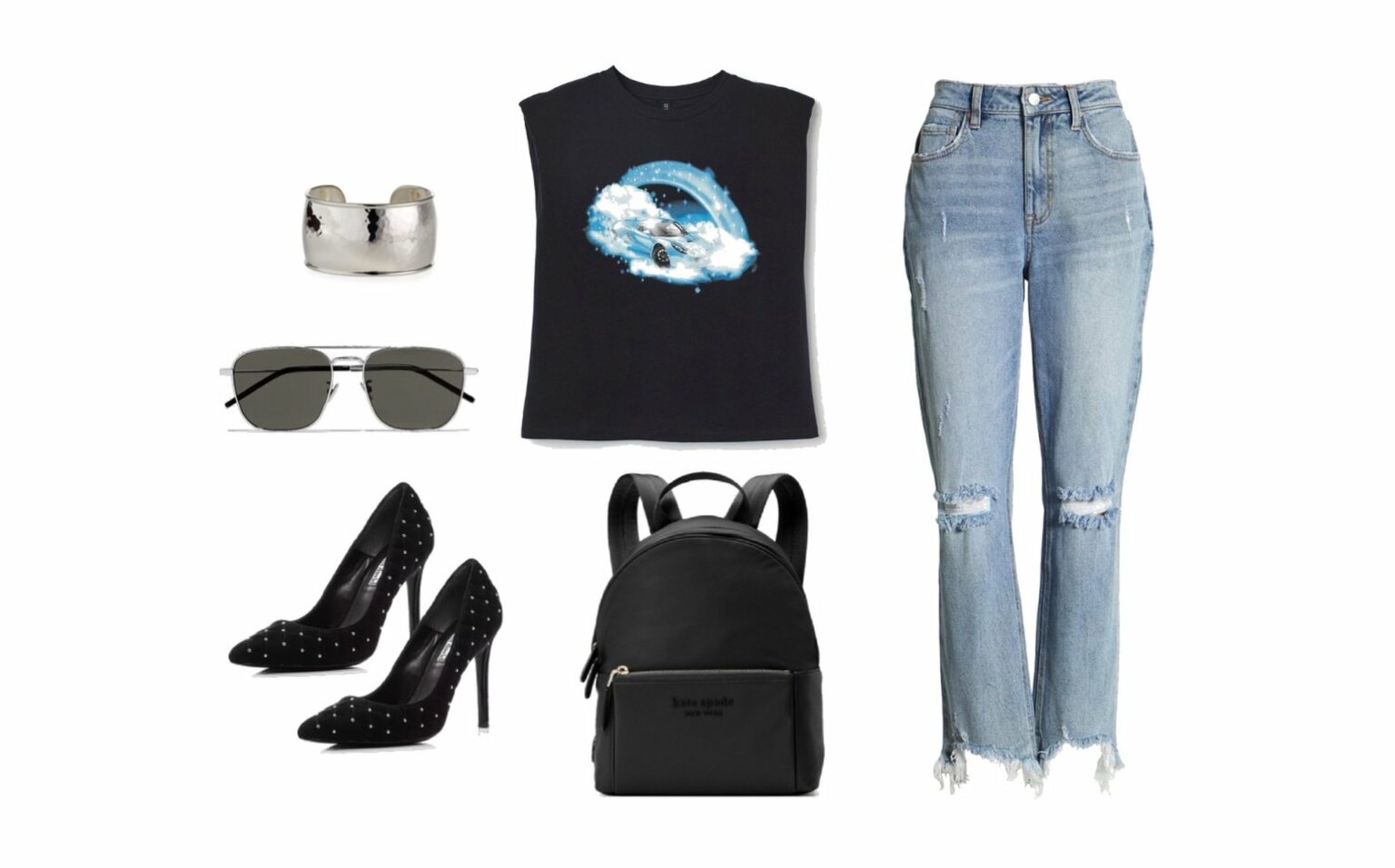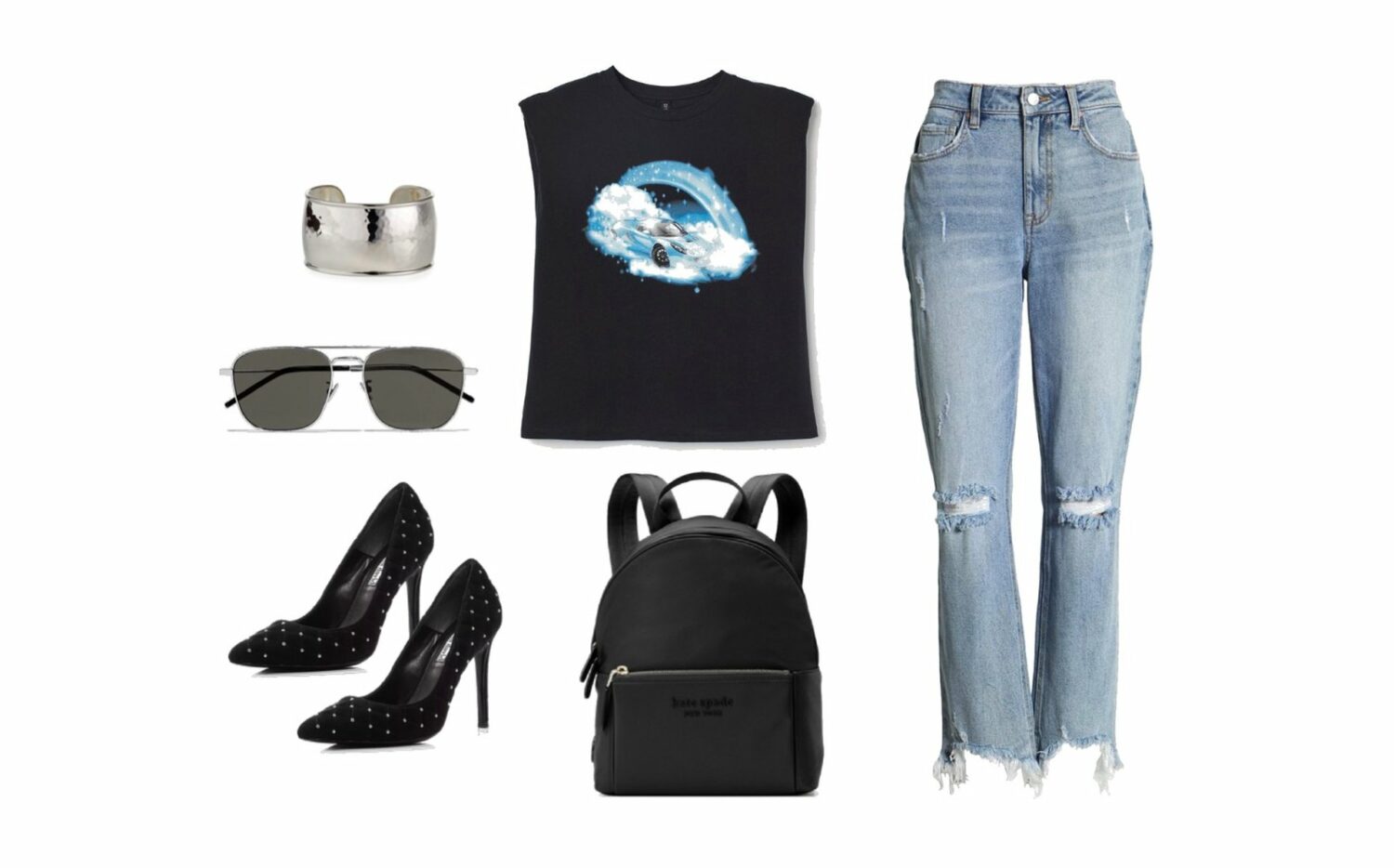 Wear a t-shirt that has cut-off sleeve designs, creating an edgy look. You can wear a graphic tee or a solid black t-shirt. Pair your shirt with destroyed denim that has larger rips and tears. Add aviator sunglasses and a silver-tone cuff or watch. For shoes, wear pointed-toe black heels in a patent leather material that also has silver studs! You can wear a backpack or a double strap shoulder carry in black.
Wearing jeans that are fit for a certain shoe style, doesn't mean you can't wear other shoe designs with them. When styling your jeans, always remember that the cut of the jeans is more narrow than flare or wide-leg jeans. This plays an important role in how to wear bootcut jeans with boots, sneakers, and flats, since you want to showcase your shoes, without leg hems overly covering them.