If you purchase one of the products recommended in this article, I might receive a small affiliate commission. Thank you for your support!
Wearing cuffed jeans can instantly upgrade your outfit. Learn how to cuff jeans with boots to prevent your jeans from fitting too long or if you simply want to add an element of sophistication to your outfit.
When you're styling your jeans, you can cuff the hem of your jeans and wear them with casual tops and accessories. Once your jeans are cuffed, they create an unexpected look that will also showcase your shoes. If you're thinking of how to cuff jeans with boots and can't come up with the most fitting shoe styles, the best type are ankle boots or booties. Usually, shoes that have a rounded toe pair best. You can also wear pointed-toe boots that are longer or you can wear western-style calf boots.
Here are a few cute outfit ideas to pair with cuffed jeans.
Dark-Wash Jeans, Checkered Jacket, Square Platform Boots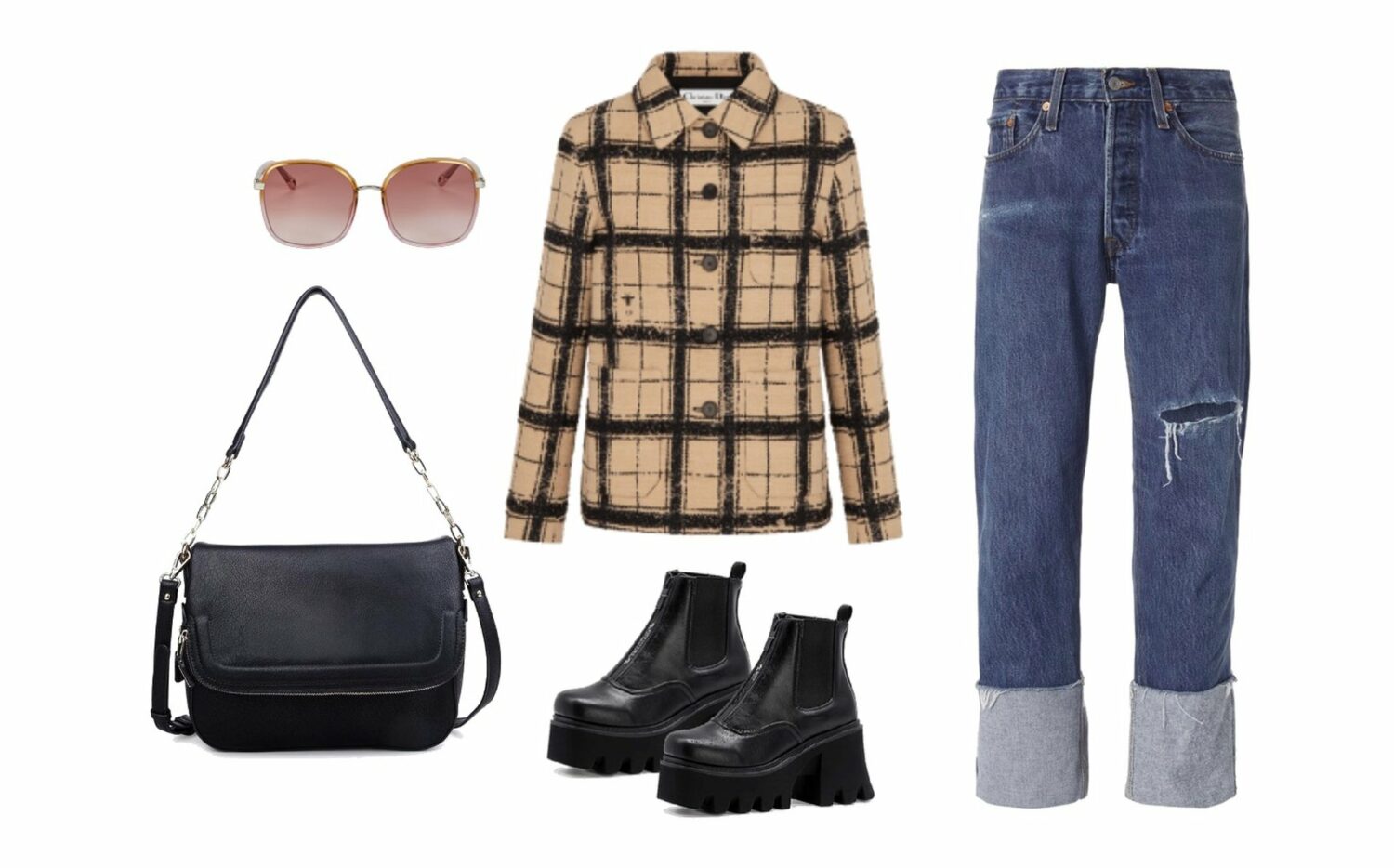 Wear dark-washed jeans and add large cuffs. Try to choose jeans that are much longer in length that drape over your ankle and feet. Fold your pants once, pulling them high enough to create an oversized cuff. Add a checkered jacket in a two-toned color palette that leans more towards neutral colors like olive green and taupe.
Wear your jacket buttoned at the collar, leaving an opening at the very bottom. This way, only your jeans are exposed when your jacket is unbuttoned. Add a black shoulder strap handbag and oversized sunglasses. The best boots for this outfit are square-toe, platform boots. This boot style will create height, so that your cuffs don't drape too low.
Read: How to Wear Jeans That Are Too Long
Light-Wash Jeans, Sweater, Pointed-Toe Boots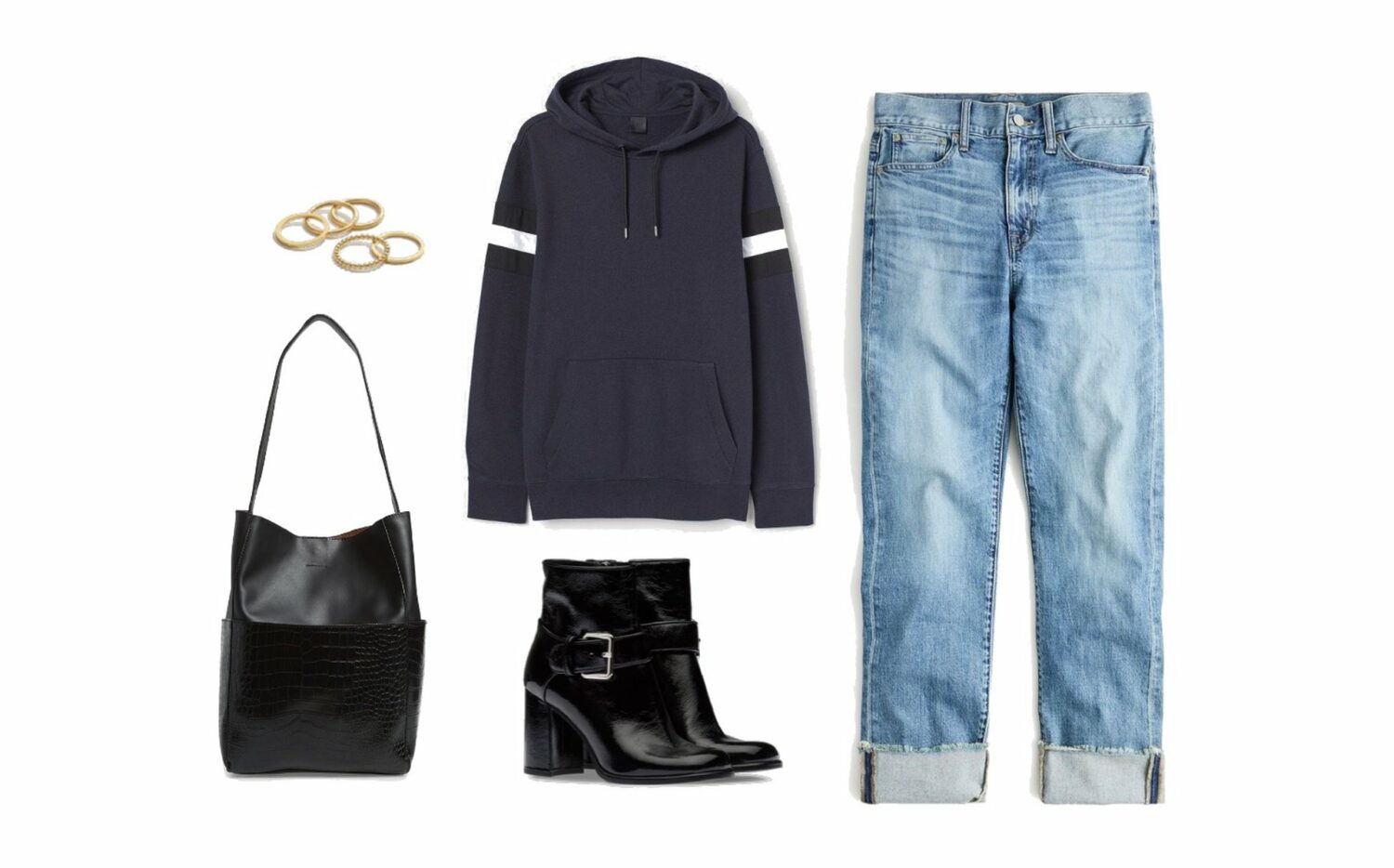 You can create a similar look with large cuffs using jeans that are cut off and frayed at the hem, instead of clean seams. Wear a pair of light-wash jeans that you can create large cuffs with. Add an oversized sweater or sweatshirt with a hood. Be sure your sweater is in an allover black or blue color. Keep your top classy, by wearing a cropped sweater or sweatshirt and a matching cami underneath.
Add ankle, pointed-toe, patent leather boots or booties. If you decide to wear longer boots, try wearing a pair that fits snugly around your ankle and legs, to create a look that appears as tights, versus boots! This will give you a high fashion look that's also casual. Add a leather-style backpack that has double pockets in the front, or wear a large bucket bag.
You can wear studded earrings for accessories in diamond or pearl style. You can also add rings, since your wrist will be covered. If you want to expose your wrist and wear a watch or bracelets, simply scrunch the arms of your sweater.
Read: How to Wear Duck Boots With Jeans
Medium-Wash Jeans, Cable-Knit Sweater, Pointed-Toe Suede Boots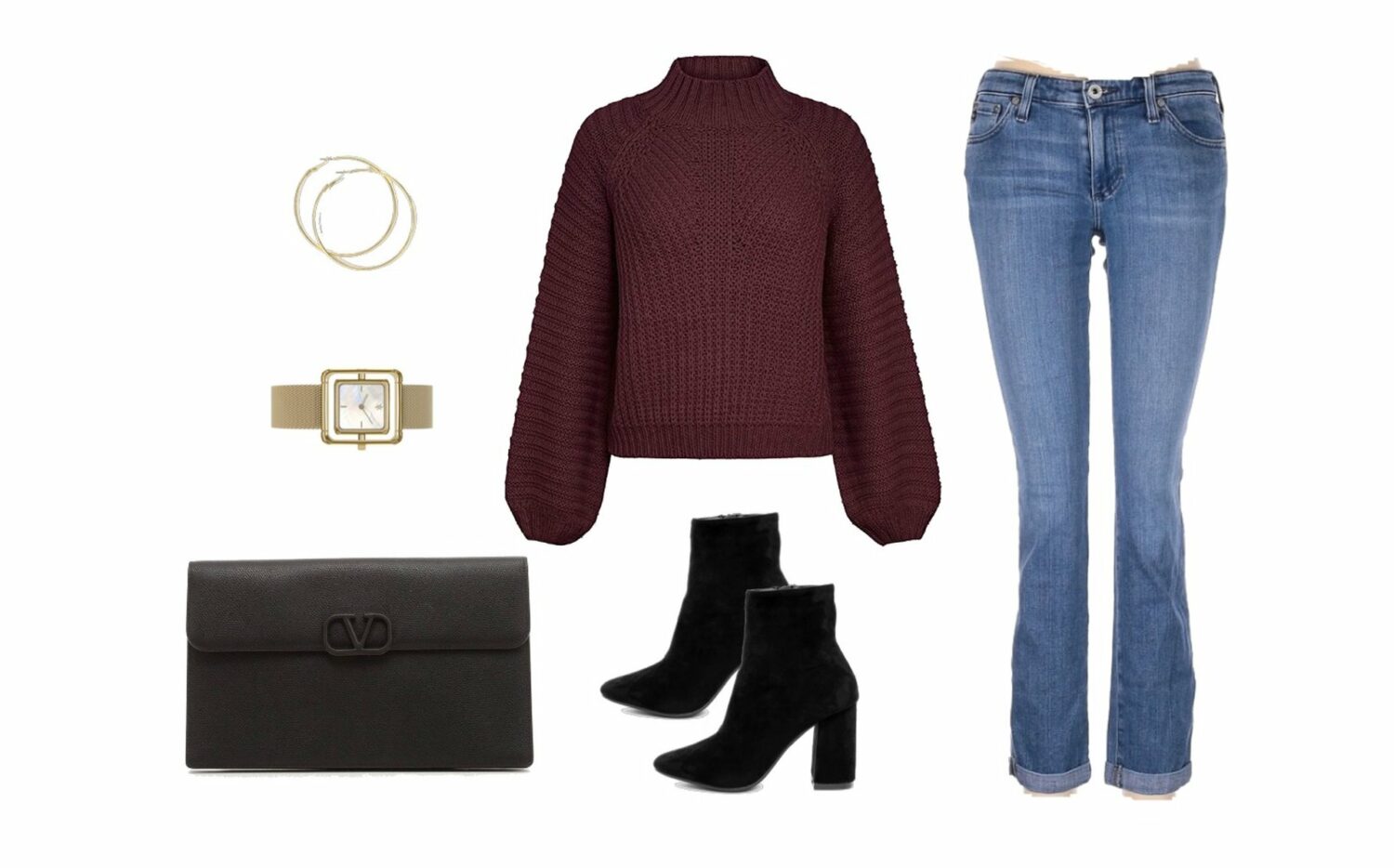 Creating a fun outfit is how to cuff jeans with boots that don't require too many pieces. Wear boot-cut jeans in a medium-wash and high waist design. Cuff your jeans in a small cuff versus a larger one. Wear a dark cable-knit sweater in red or purple. Try a cranberry color that has a mix of red and berry colors.
You can wear a scoop neck or a turtle-neck style sweater. Add suede-style booties that have a pointed-toe. You can wear a clutch bag to keep your outfit simple. Try wearing a large suede, envelope clutch. Or, you can wear a small, leather wristlet or flap clutch.
Medium-Wash Jeans, Collared Shirt, Vest, Western-Style Suede Boots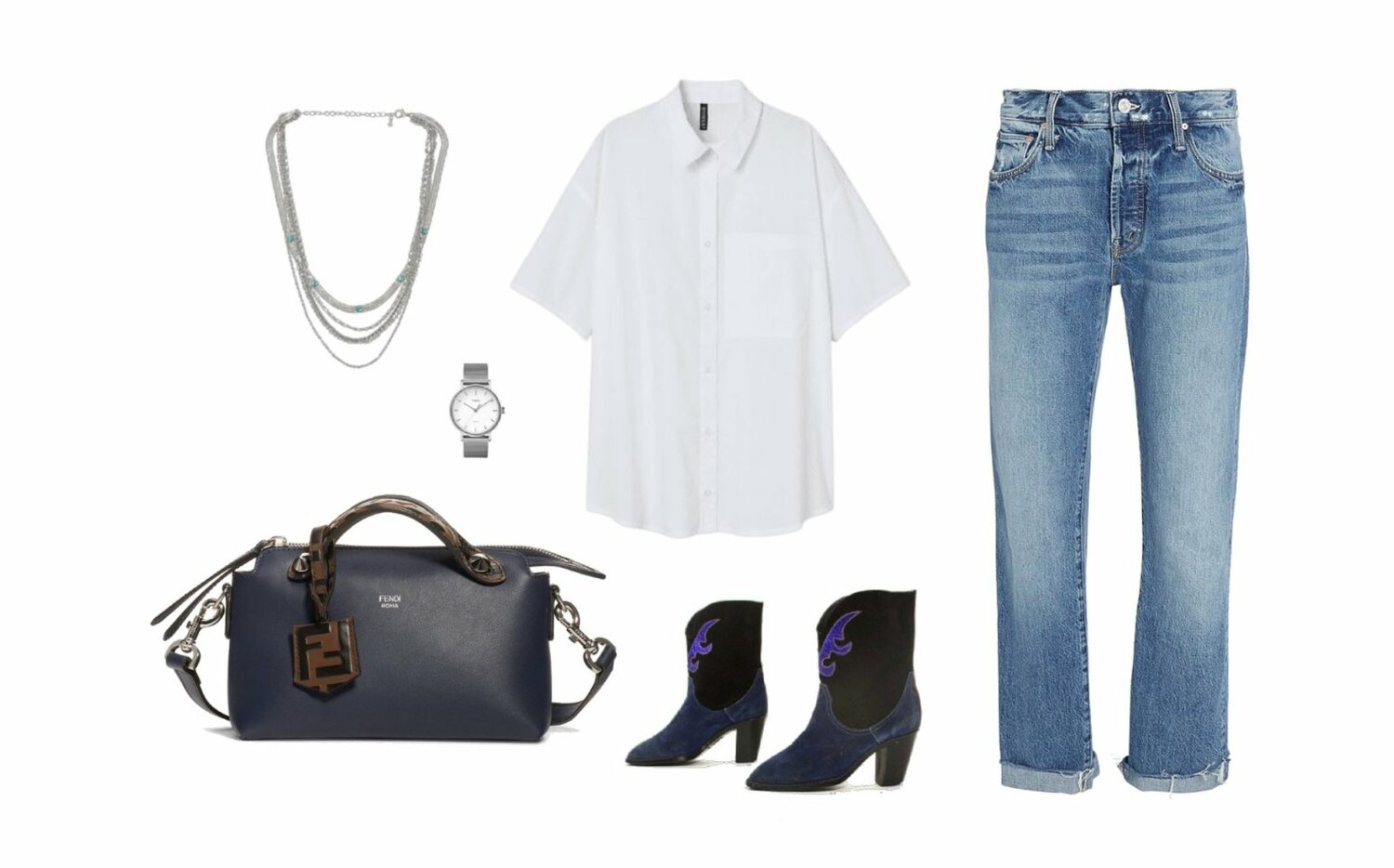 For an artistic, preppy style, wear boot-cut jeans in a dark wash and destroyed details that don't expose the skin too much. Cuff your jeans slightly, creating really thin cuffs. This is how to roll jeans with boots that will roll into tiny cuffs that won't overpower your outfit.  Wear a collared shirt in white and an opened vest.
If you want to dress for cool weather, you can wear a vest that's heavier in weight. Otherwise, wear a light, button-up made of cotton material. Add navy blue ankle boots that have zipper hardware. You can match your boots with your handbag, by wearing a dark blue, leather style shoulder carry that has double straps.
You can also wear a shorter, single strap shoulder carry and add stacked necklaces in silver.
Dark-Wash Jeans, Square Toe Leather Zip-Up Boots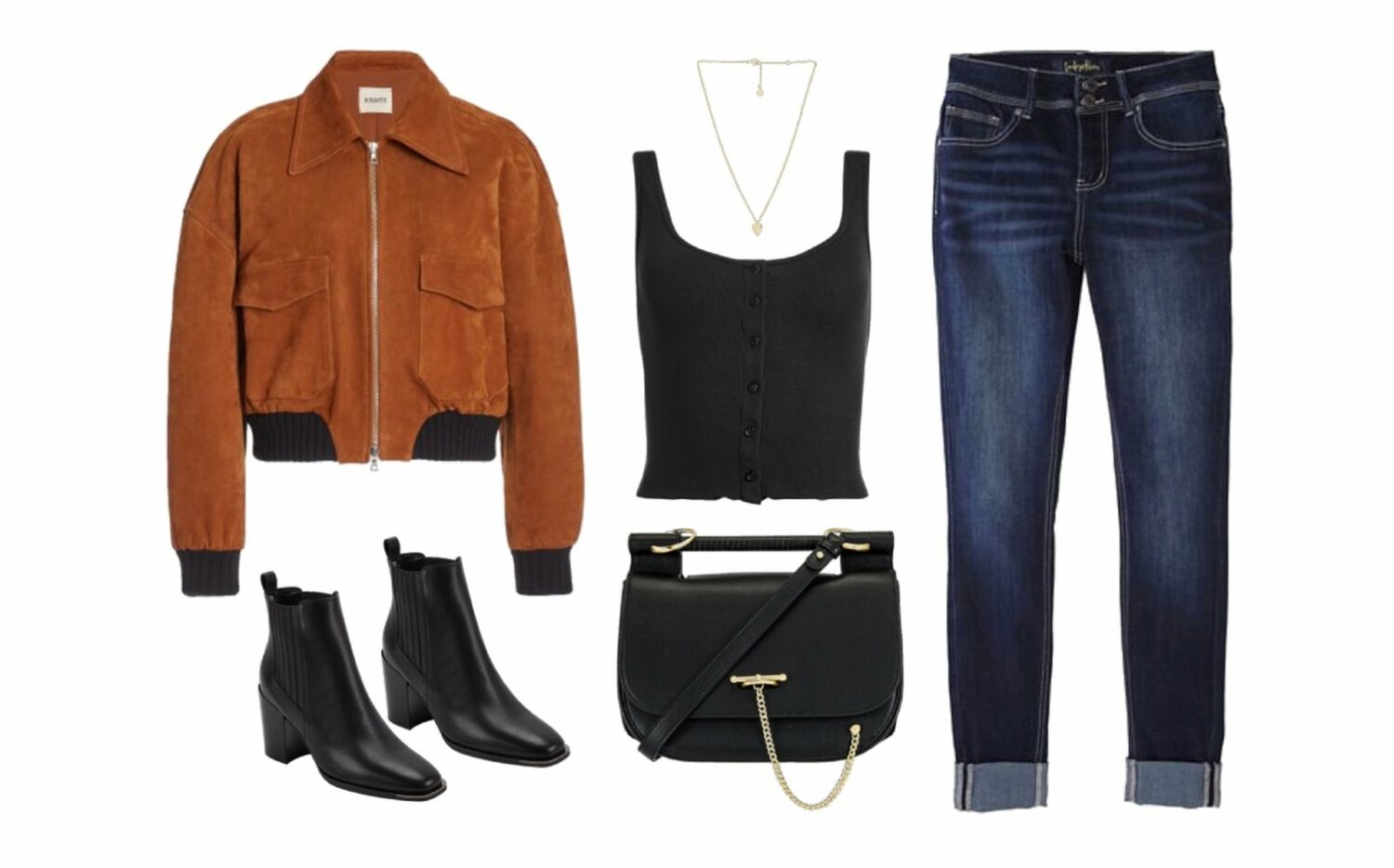 Wear a coral color, scoop neck sweater with dark-washed jeans. Cuff your jeans slightly and wear square-toe boots in a matte leather design. Make sure your boots stop at your ankle, to slightly expose your skin. With this look, you can wear a black t-shirt or ribbed tank.
Try wearing a cropped jacket in a moto or bomber style. You can also wear a suede jacket with embellished hardware such as studs and chains, to spice up your outfit! Add a black shoulder strap handbag and a long, gold-tone necklace.
High-Waist Button-Up Jeans, Cropped Sweater with Tassels, Short Rain Boots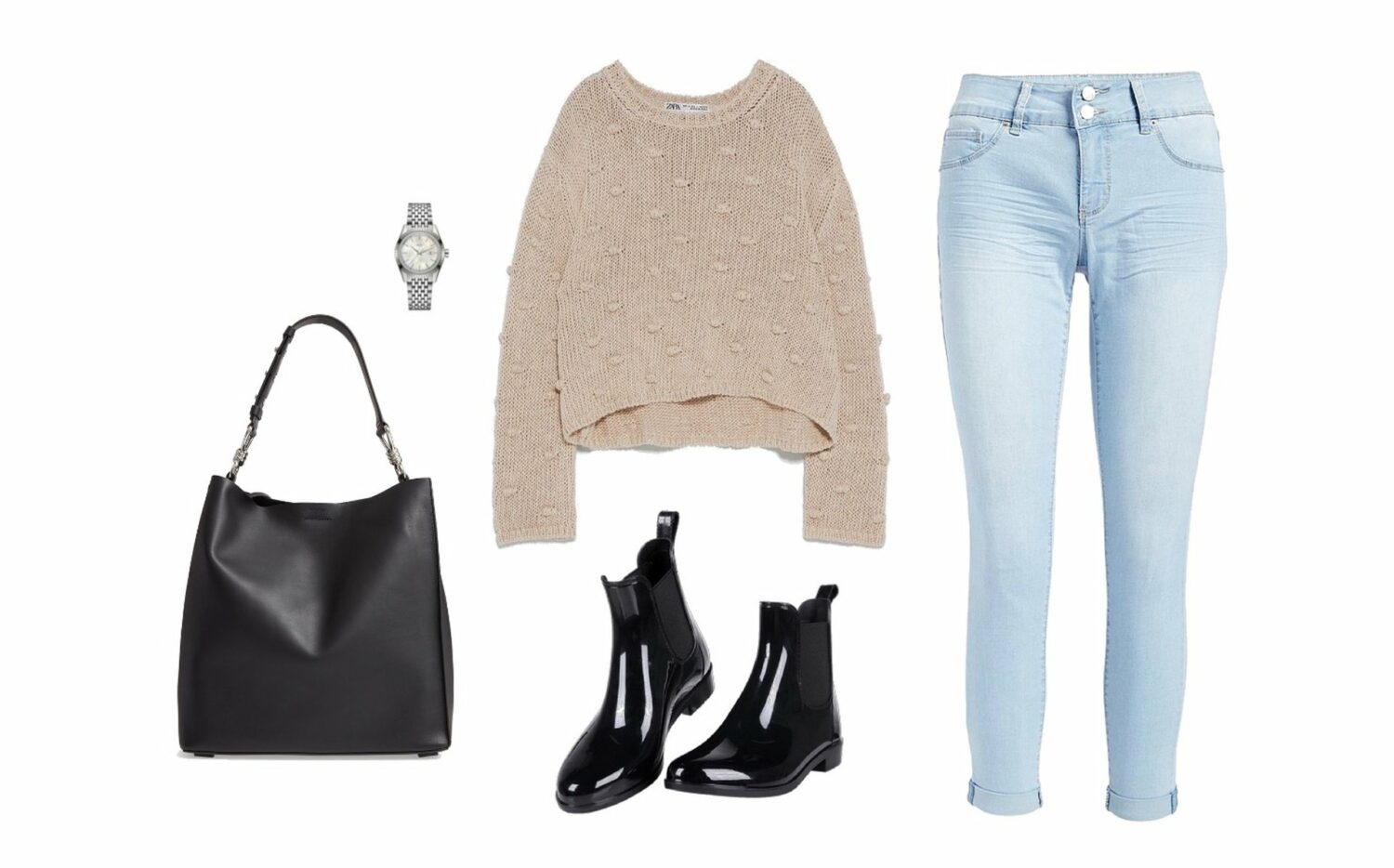 Wear high-waisted light-washed jeans that have a bit of stretch. This is how to cuff jeans with boots in a sexy way! Make sure the closure of your jeans are made of buttons, instead of a zipper. Try choosing a pair of jeans that have destroyed elements at the knees and thigh, but don't cut completely open.
Slightly cuff your jeans above your ankles. Add a cropped sweater that has textures, like all-over pompoms. Keep your sweater a solid color, since the design of your sweater will be busy. Wear ankle rain boots for a cool-girl type of look.
Read: How to Wear Chukka Boots With Jeans
Black Jeans, Ruffle Blouse, Short Boots/Ankle Boots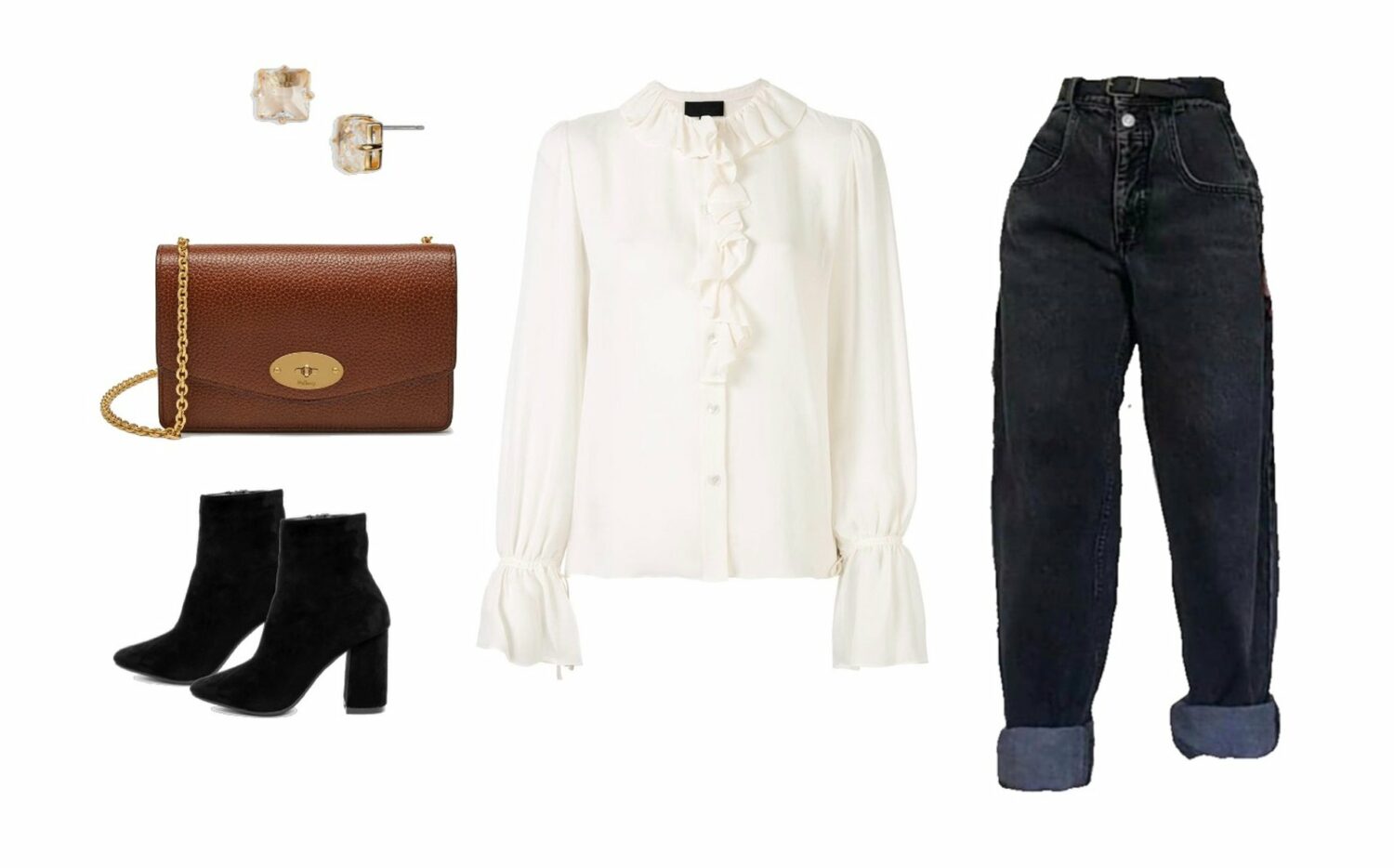 When black jeans are cuffed, they can create a grey color at the bottom of your jeans, adding an element of punk, without overwhelming your outfit. This is how to roll jeans with boots in a more artistic way. Once you have your jeans rolled into a neat cuff, try adding a ruffle blouse in black or white. You can wear short, ankle boots in suede material. Choose a black pair, or you can choose a black pair with a brown wooden heel.
Read: How to Style Grey Jeans
Faded Dark-Wash Jeans, Oversized Blazer, White T-Shirt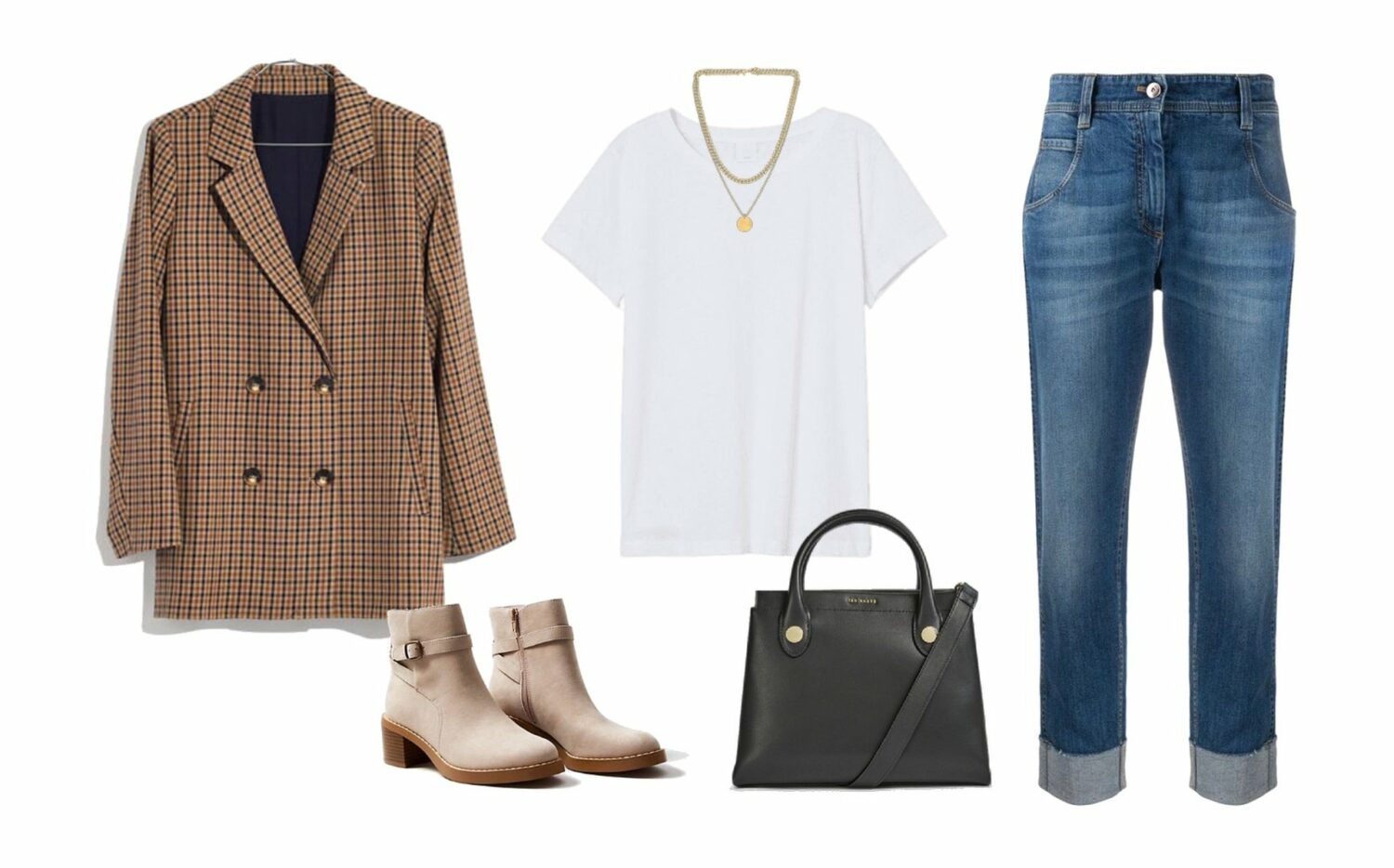 For an '80s inspired look, you can wear dark-wash jeans and create cuffs that are medium in size. You can wear black jeans with this look as well and create the same sized cuffs. Add a white t-shirt in a scoop neck or v-neck design.
If you want your look to remain casual, but add a touch of elegance, try wearing a boat neck t-shirt. Add an oversized blazer that will drape past your waist. Your blazer can be a solid color or a checkered pattern.
You can also wear a houndstooth blazer or even a striped one. For shoes, wear flat riding boots in black or brown (depending on your blazer color).
Read: How to Style Straight Leg Jeans
Spaghetti Strap Cami, Suede and Shearling Vest, Destroyed Jeans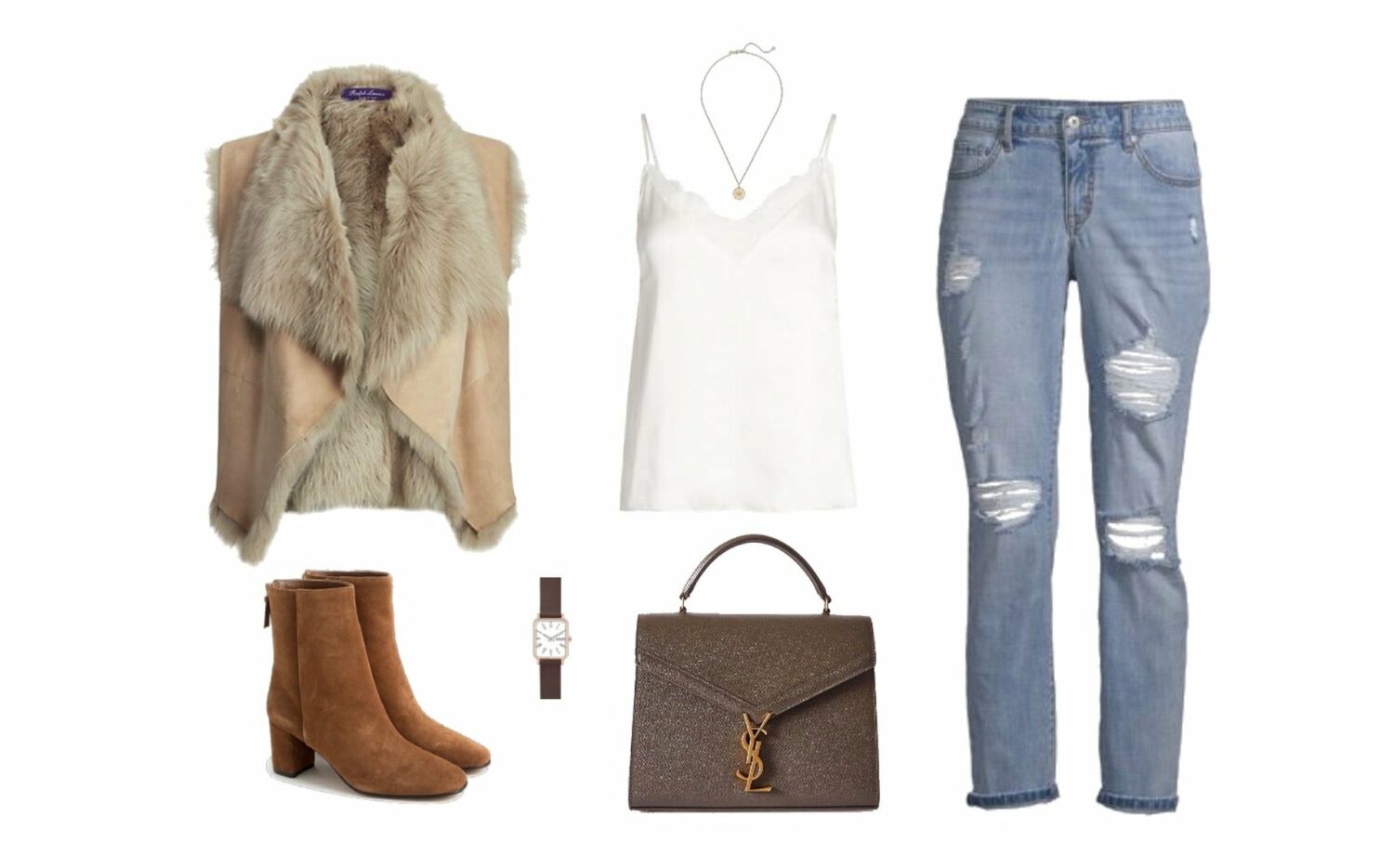 A spaghetti-strap blouse in a silk style will pair well with destroyed denim. Cuff your jeans once at the ankle. Try wearing a top that has thin shoulder straps or one that is strappy in the back. You can wear a shearling-style vest that also has suede material.
This way, you create a soft, winter-inspired look that can also be worn when the weather is more warm than cool. Wear dark brown or smoke grey booties that have a western-style cut at the upper and light, wooden heels.
Medium-Wash Jeans, Bomber Jacket, Long-Printed Scarf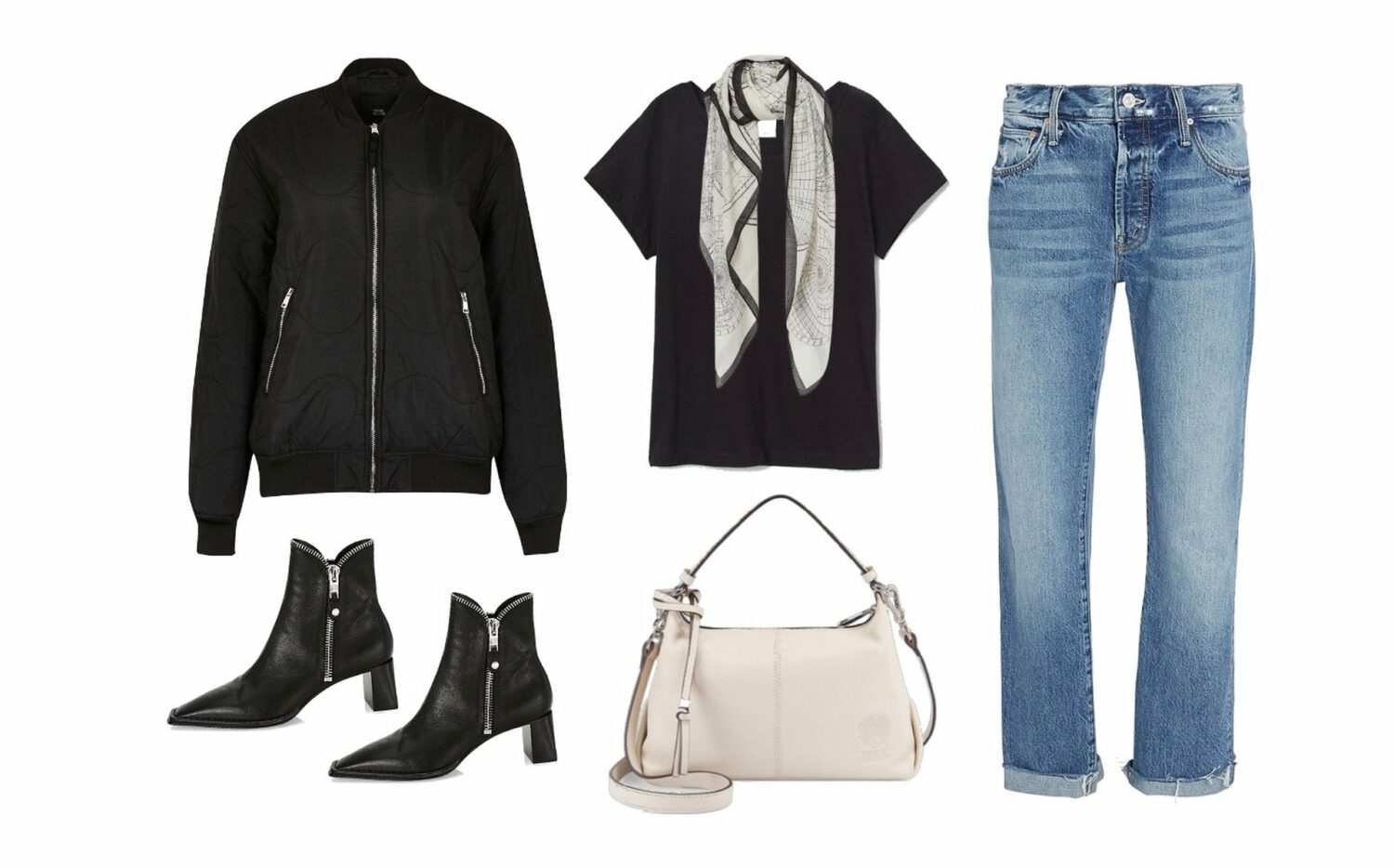 For a look that is versatile for busy days where you may need to be in more than one place, try wearing cuffed medium-wash jeans that aren't destroyed. Cuff your jeans past your ankles, so that your skin will show once you add your boots to the outfit. Make sure your cuffs are very thin in size.
Add a black bomber jacket and a black t-shirt or blouse. When choosing your style of boots for this outfit, try wearing ankle boots that fit higher past your ankle bone, but not quite at the calf. This is how to cuff jeans with boots while leaving more legroom and a flat surface. This prevents your pants from rubbing together as you walk throughout the day.
Add black, leather boots in a square-toe design and mix things up with a pair that has a spontaneous heel design like animal print or a different color!
Read: How to Wear Ankle Boots With Straight Leg Jeans
Embroidered Jeans, Sweater, Calf Boots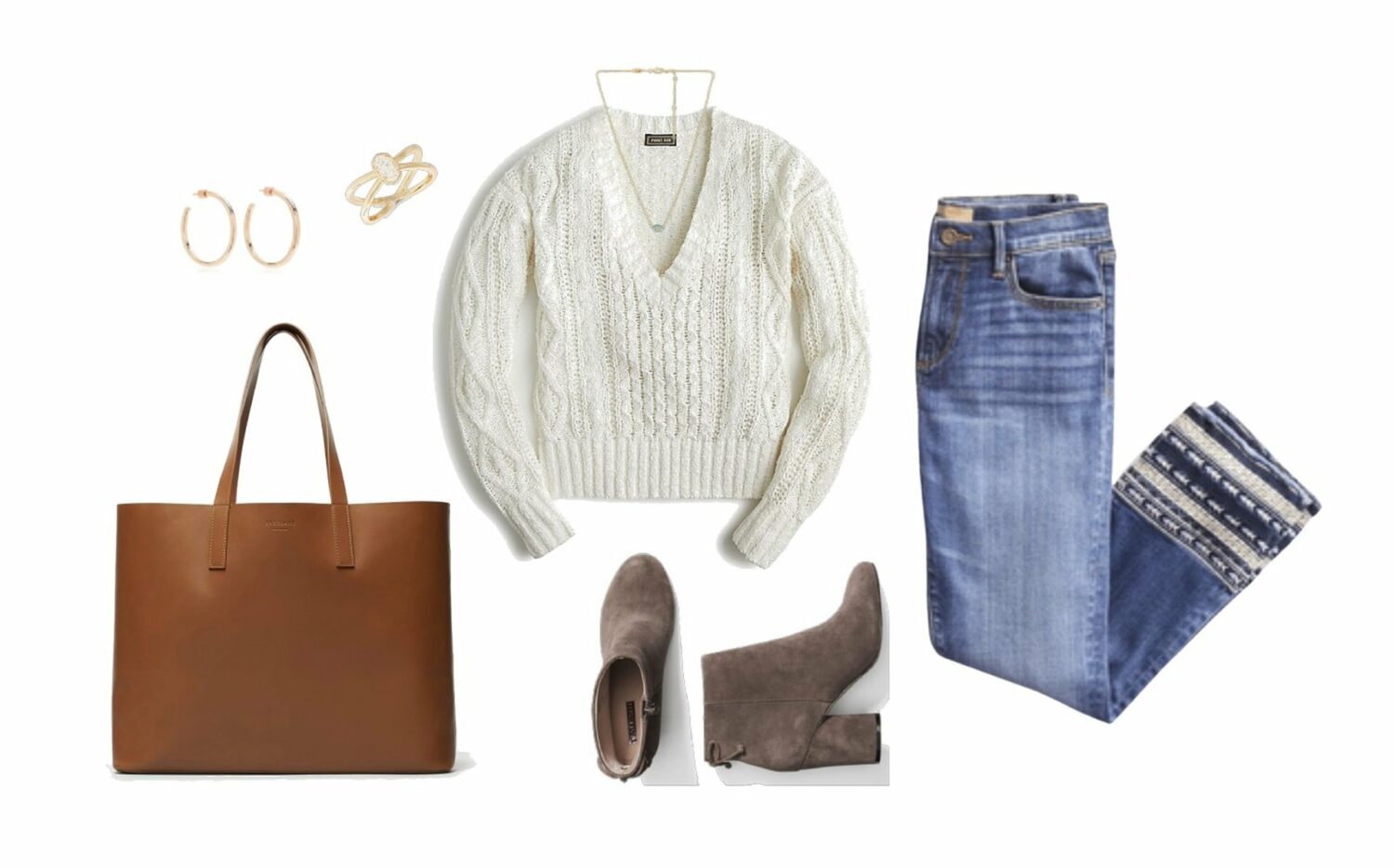 If you want a cozy look, try wearing a v-neck sweater in a thin cable knit design. Keep your sweater a solid color and wear cuffed jeans in a medium or light wash. Make sure your jeans have an embroidered pattern at the bottom, right above the area that will be cuffed.
The same pattern can also be on the front pocket, but try to avoid jeans that have too much of a busy pattern in more than two areas. Wear calf or knee-high boots in a taupe color and suede material. You can add a jacket in a leather style if you want to create more layers.
Wear a simple, gold-tone necklace and a brown shoulder tote. Wear a few gold-tone rings and small hoop earrings to complete your look.
Wearing boots, especially ankle and western style is an easy way to add to your fall or winter outfit. You can wear boots that fit at the ankle and adjust the size, as you see fit. If you want to tastefully expose your skin, you can wear ankle boots or short boots that fit a little past your ankle. This way, you don't have to worry about wearing bulky jeans that are too long. Wearing boots with cuffed jeans will always showcase your shoes while leaving your entire outfit polished and weather-ready.