If you purchase one of the products recommended in this article, I might receive a small affiliate commission. Thank you for your support!
Grey jeans are the best mix between dark and light-washed denim. Learning how to style grey jeans isn't as hard as it seems, and they can be worn with many combinations of garments. Some grey jeans can be found in solid shades, while others can be found with effects like whiskers and fading. Depending upon the look you want to wear, this style of jeans comes in the same lengths and cuts as blue jeans.
You can find different solutions to how to style grey jeans in a high-rise, straight-leg, and wide-leg. Some grey jeans are found in vintage styles as well like acid wash mom jeans. With this jean color, you can wear neutral colors like blue and black. Or, you can wear the brightest colors like neon green! Either way, grey jeans are a key to have in your wardrobe.
Plaid Blazer, T-Shirt, Destroyed Skinny Jeans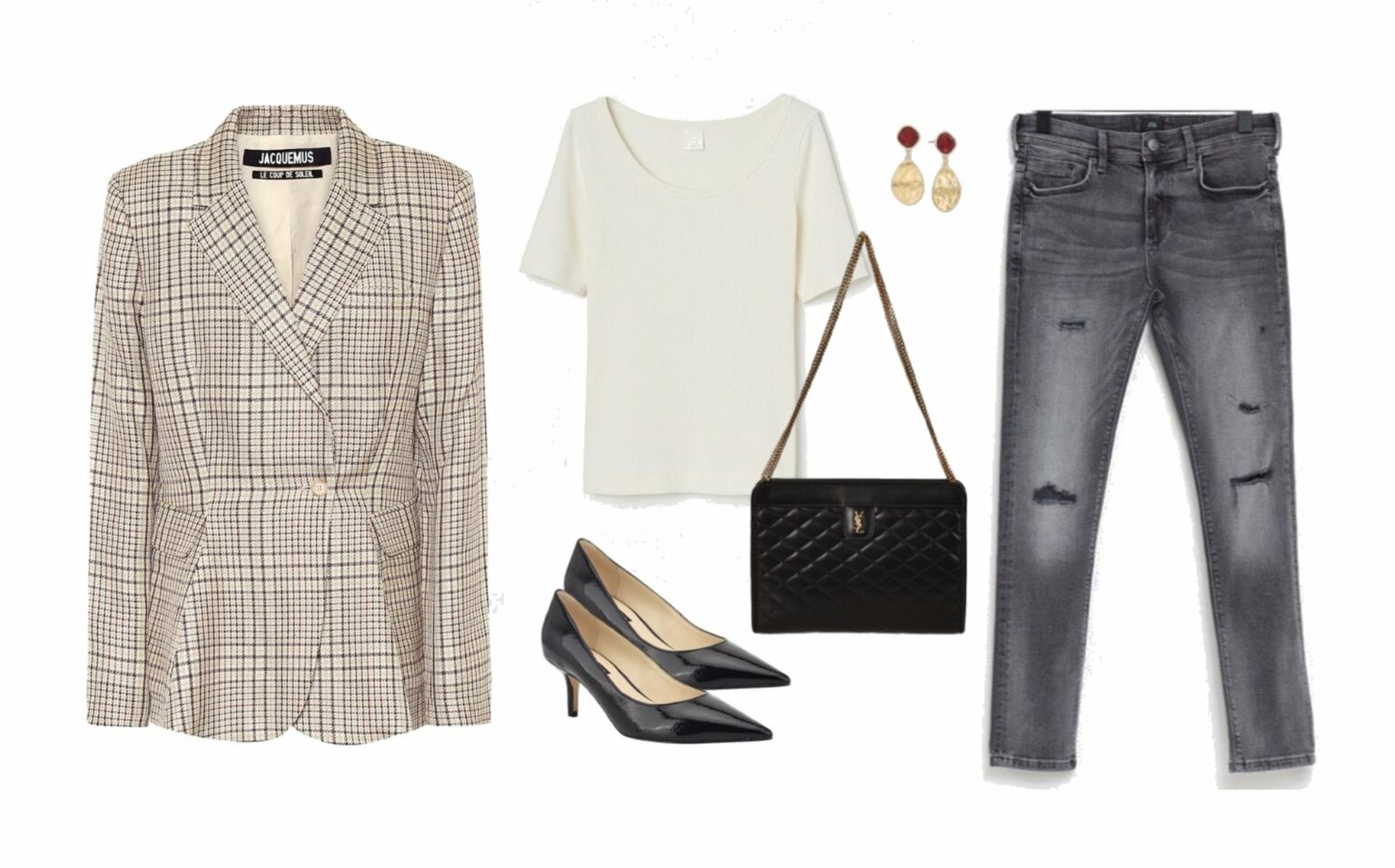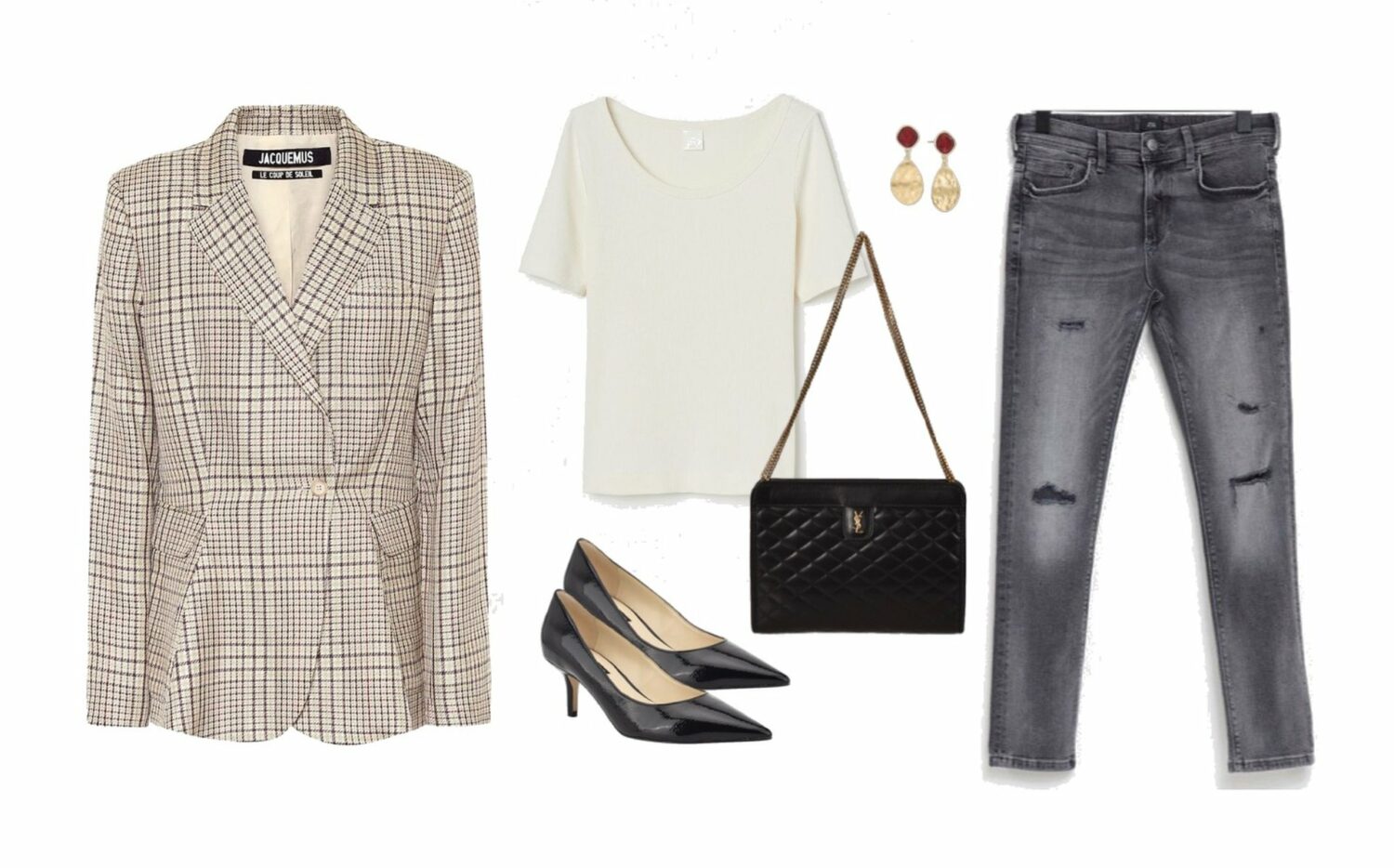 A plaid blazer has different colors in them that you can style with grey jeans. Try wearing a jacket that has blue, beige, and other neutral colors, so that you can easily pair your shoes with the look. Wear a plain white t-shirt, as well. This is a great way to dress up jeans for the office.
If you want to switch things up, wear a graphic t-shirt. Your graphic t-shirt can have one simple word or pattern on it and doesn't need to be too busy.
Make sure your jeans are skinny or bootcut. If you want a more sophisticated look, try wearing wide-leg jeans in a 70's style bell bottom. This is how to wear grey jeans to create a flattering silhouette when worn with your blazer since your blazer will pull in your waist and the bell hem will create a curve.
Add flat shoes, if you'll be doing a lot of walking or if your destination is more casual than dressy. You can also wear pointed-toe heels or if you choose to wear a sandal, try a shoe that how to style grey jeans covers the majority of the feet.
Cardigan, Spaghetti Strap Blouse, Printed Heels, Slim Jeans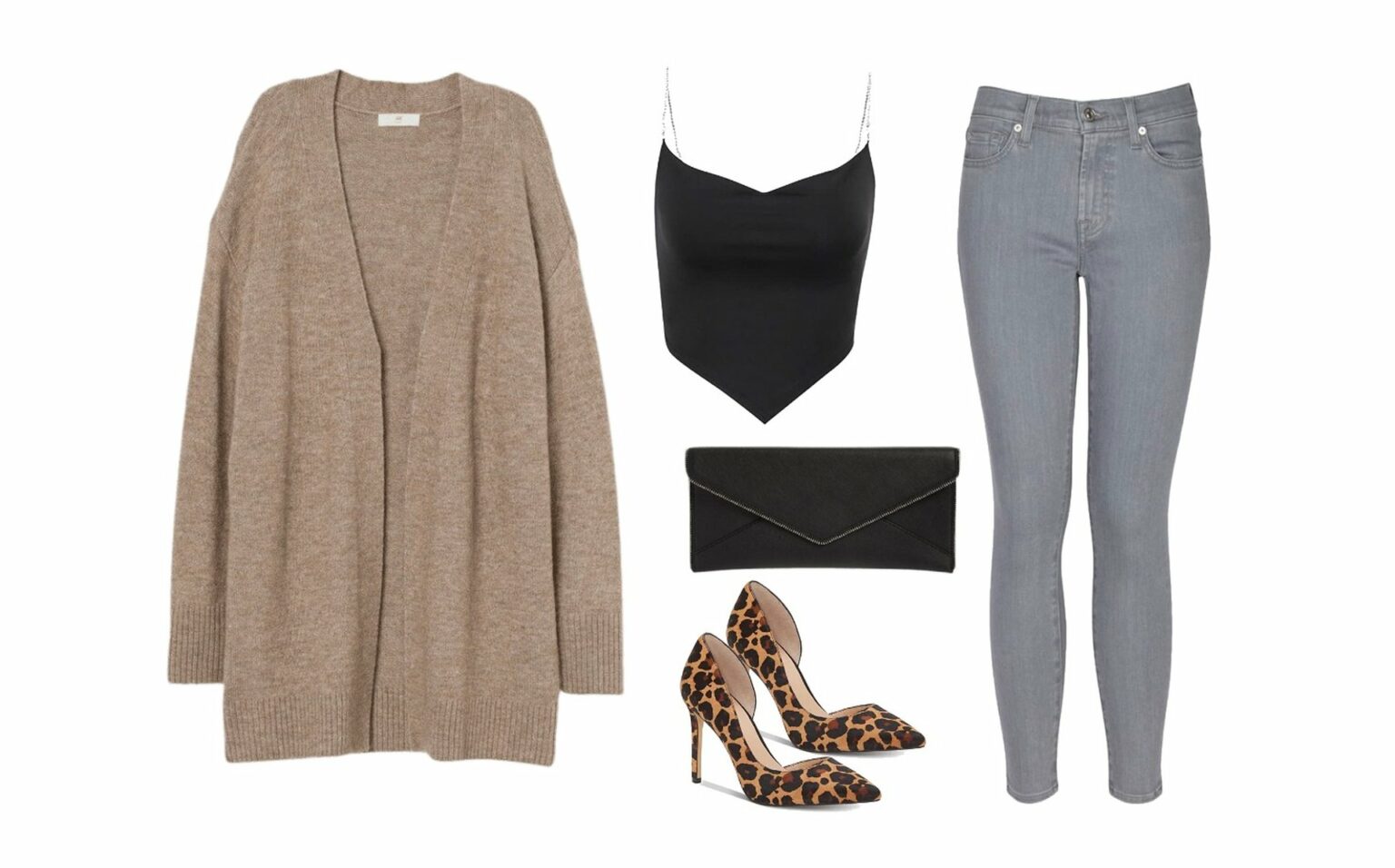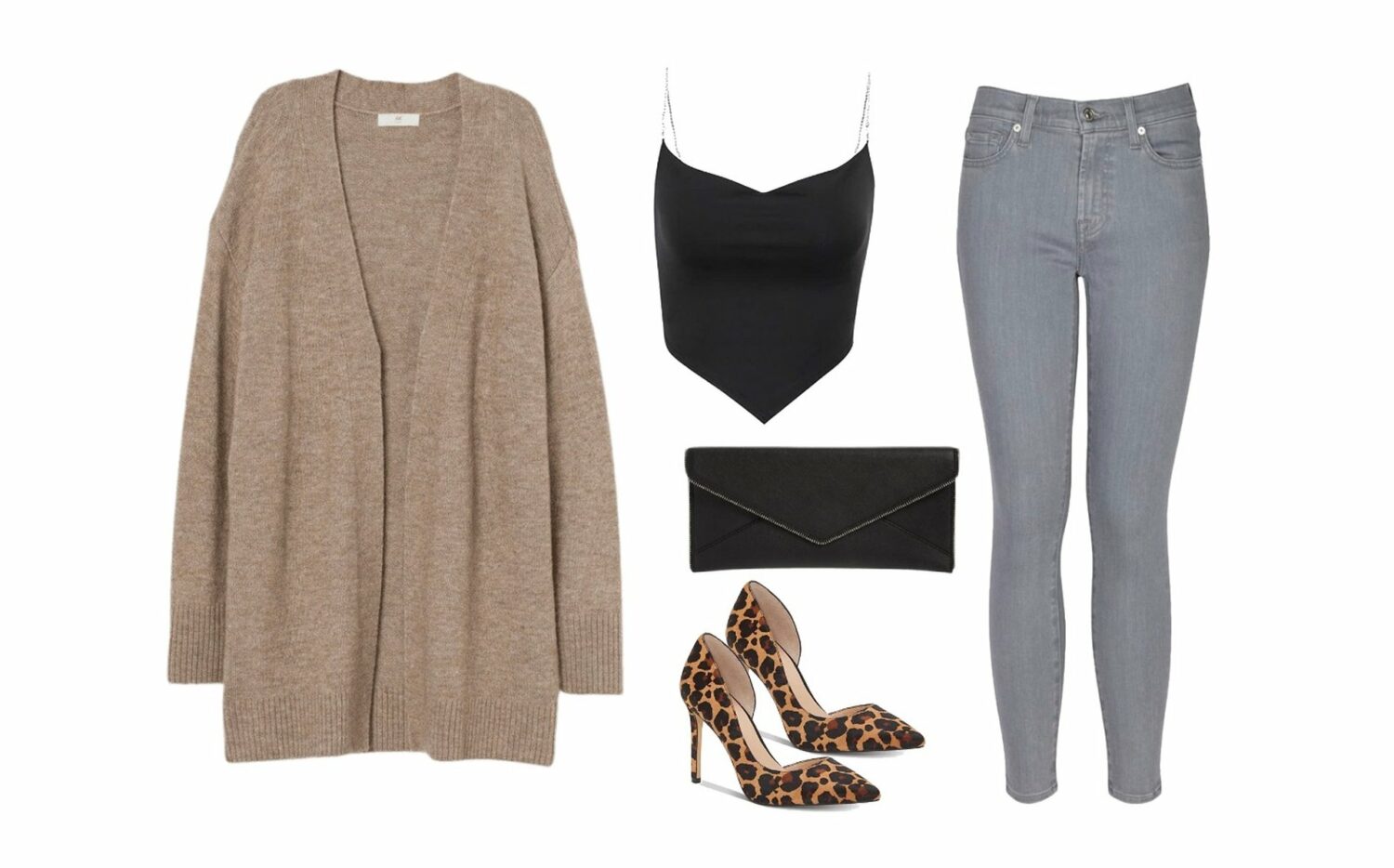 A look that has more of a wild-card effect would be grey skinny jeans and animal print shoes! You can wear a brown or tan cardigan to bring the print together within your shoes. Wear a spaghetti string blouse, so that your top layers aren't bulky when trying to wear sleeves under your sweater.
Choose a long cardigan that's open and doesn't have buttons, which is how to style grey jeans so that your top flows past your waist. Add a black envelope clutch and rounded or pointed-toe pumps. Choose a leopard or cheetah print that has similar black and tan colors to coordinate with your cardigan and clutch. Wear jeans that aren't destroyed and have a solid, light-grey hue throughout.
Read: How to Wear Jeans in the Summer
Solid Blazer, T-Shirt, Cuffed Straight-Leg Jeans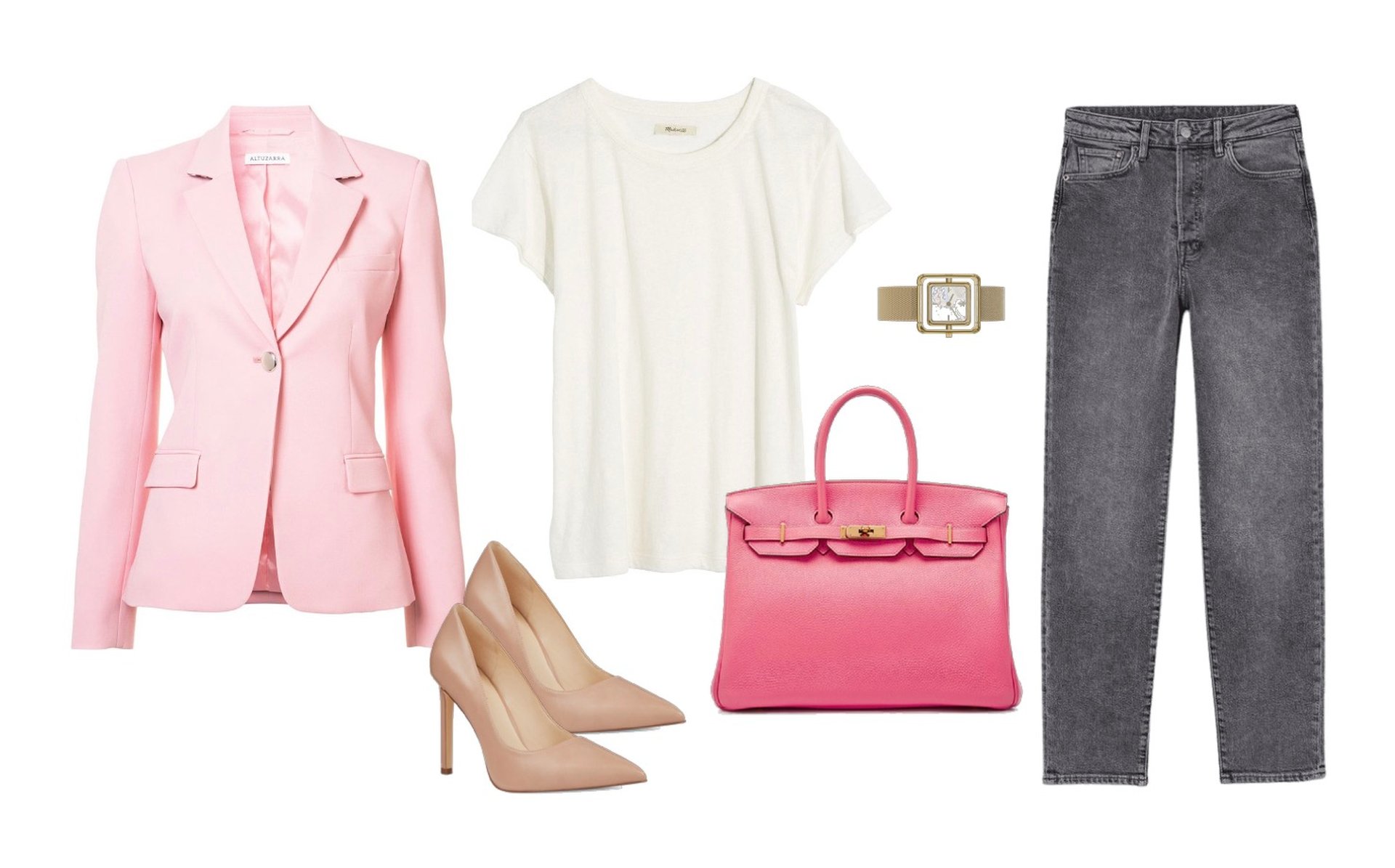 Since you'll be wearing grey jeans, colors on the opposite spectrum pop when paired with a neutral color in between. Try wearing a pastel pink blazer, with a white or wheat color shirt underneath.
Your shirt can be a blouse or a t-shirt, depending on the occasion/activities. Add more of the pink color with a handbag. Instead of wearing the same pastel pink handbag, choose a brighter or hot pink. This will create balance and not wash out your blazer. Add grey straight-leg jeans that are cuffed at the hem. You can wear nude pumps or sandals.
Read: How to Style Straight Leg Jeans
Moto Jacket, V-Neck T-Shirt, Skinny Jeans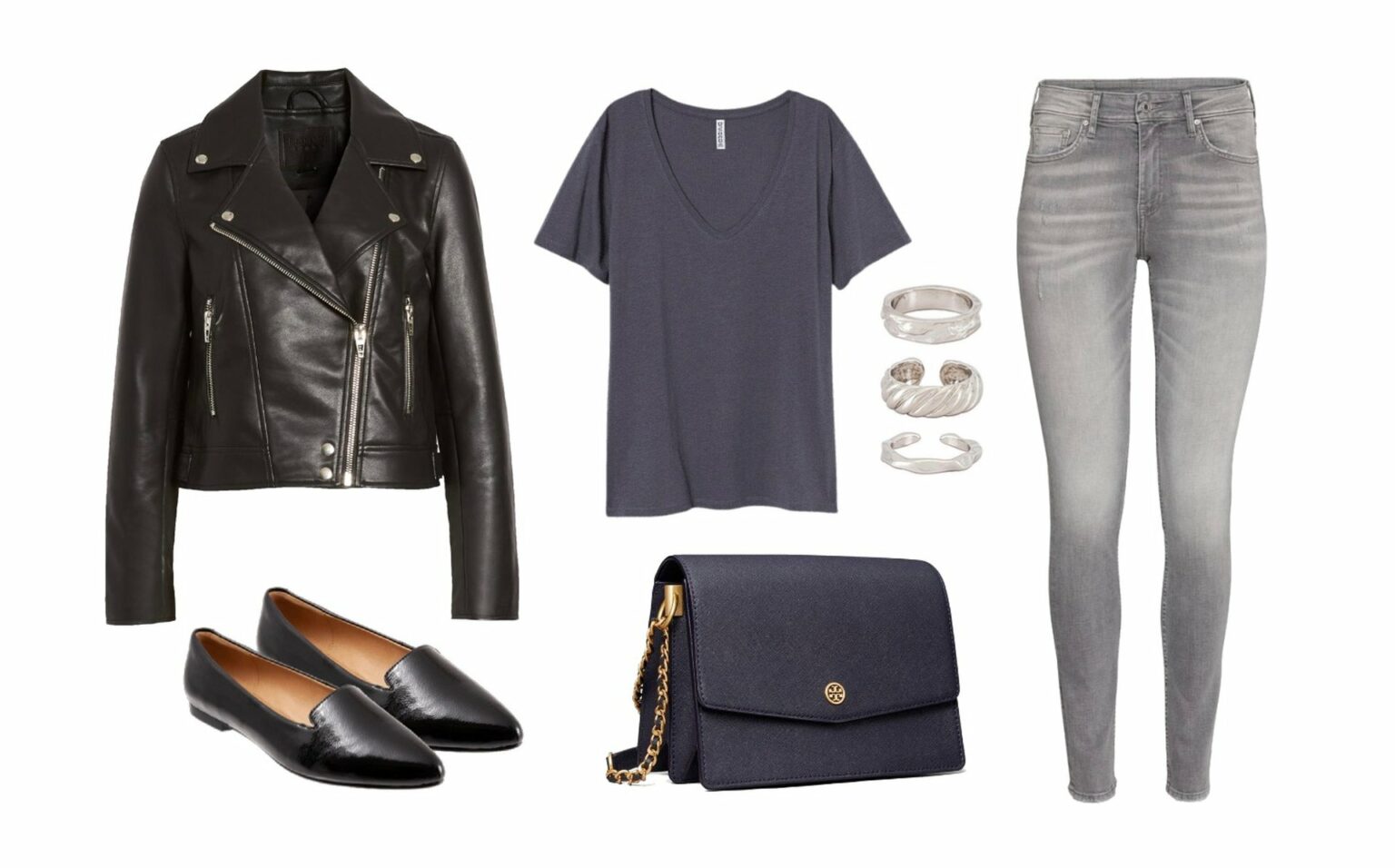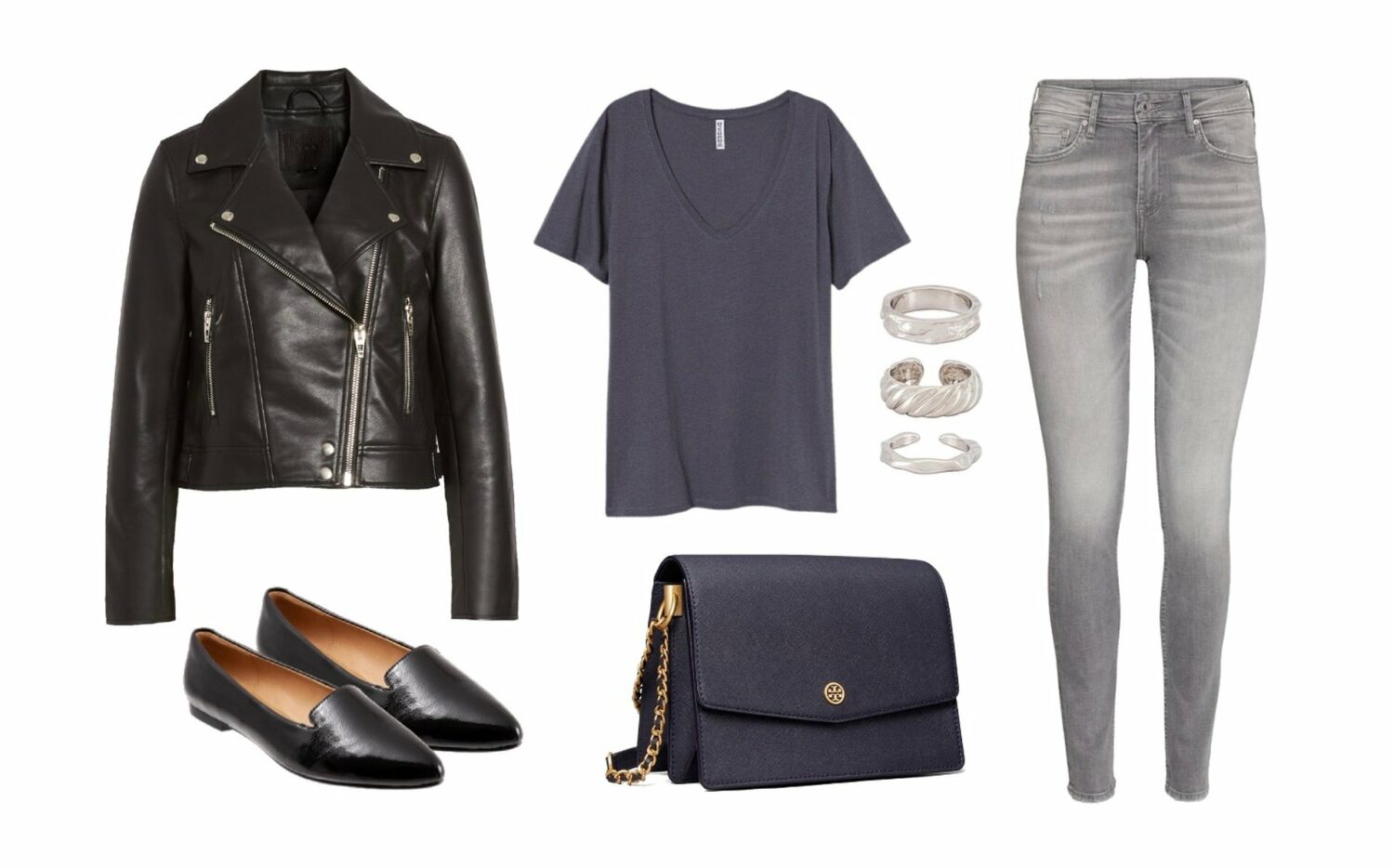 For a sexy look that isn't too over-the-top, add a motorcycle jacket with your jeans. You can wear grey skinny jeans that have a fading effect or whiskers, so there are lighter and darker grey colors within. Add a grey t-shirt in a darker shade. Wear this with your moto jacket in leather with silver hardware.
You can even wear a cropped leather jacket. For your handbag, try wearing a chain strap bag in dark blue. To add more luxury to your leather-style jacket, try choosing a handbag in a suede-like material. You can wear simple rings on a few of your fingers in silver or gold. This way you keep your look youthful.
Turtle Neck, Wide Brim Hat, Printed Shoes, Skinny Jeans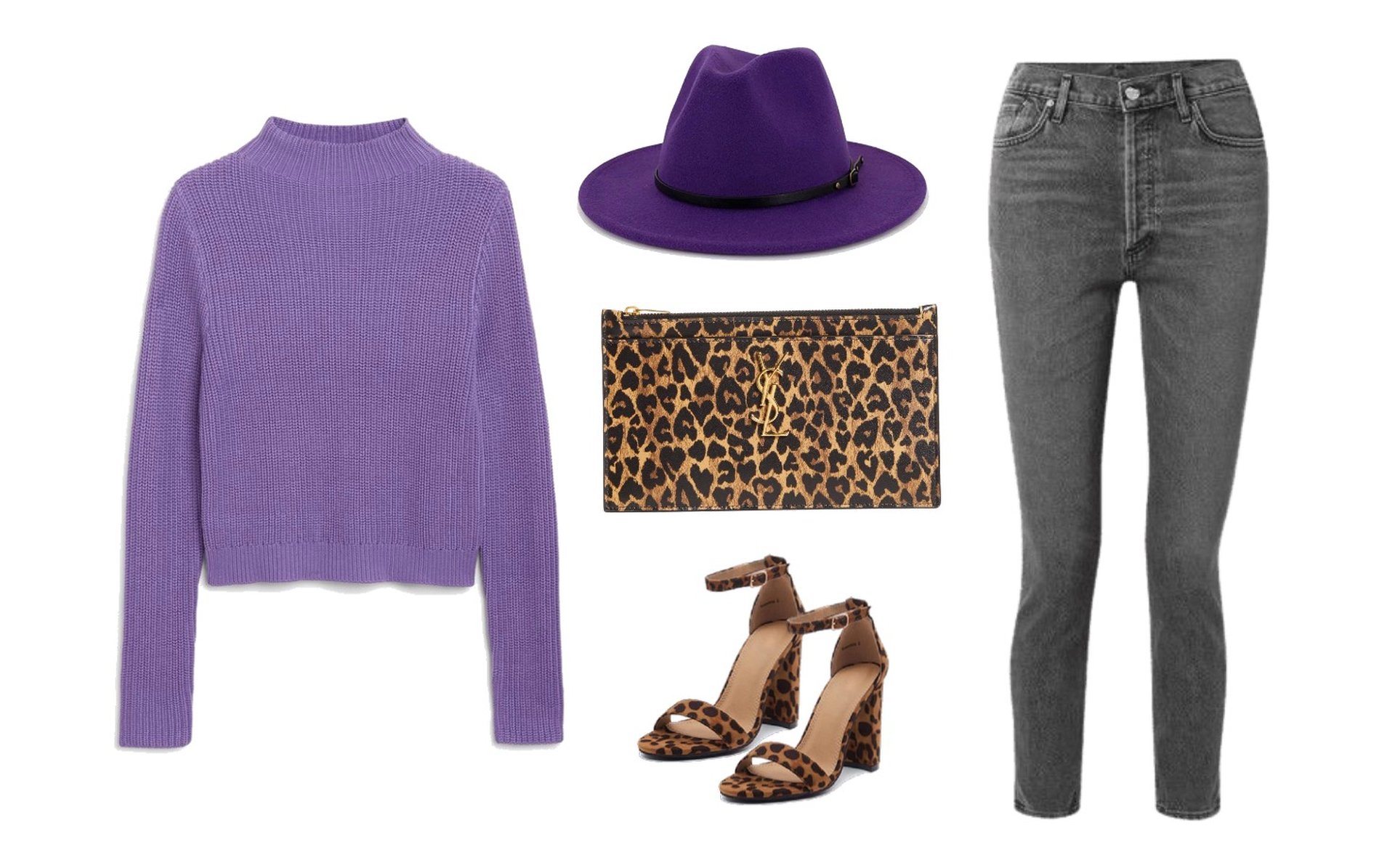 A purple turtle neck creates a sweet look when thinking of how to style grey jeans that are perfect for linking up at your favorite restaurant with a friend. Wear a purple turtle neck with a purple hat. This will create a uniform look that's sharp when added with grey jeans. You can also wear pointed-toe heels in animal print as well.
With this shoe type, try wearing ankle strap heels, to add fun to your shoes! Wear grey skinny jeans that stop right above your ankle straps. Add a matching leopard print clutch or shoulder strap bag that has removable straps and can act as a clutch, as well.
Cardigan, T-Shirt, Open-Toe Mules, Straight-Leg Jeans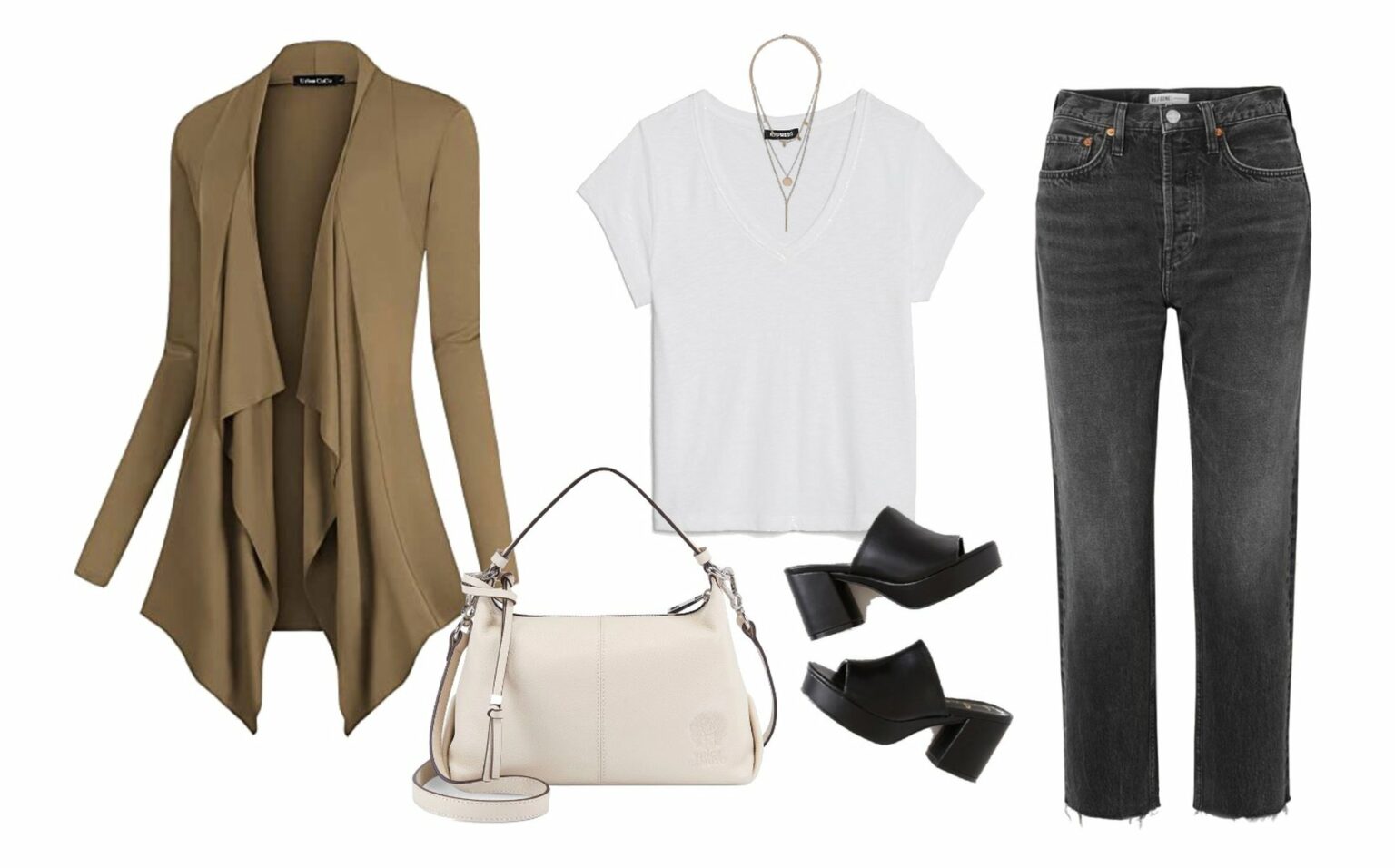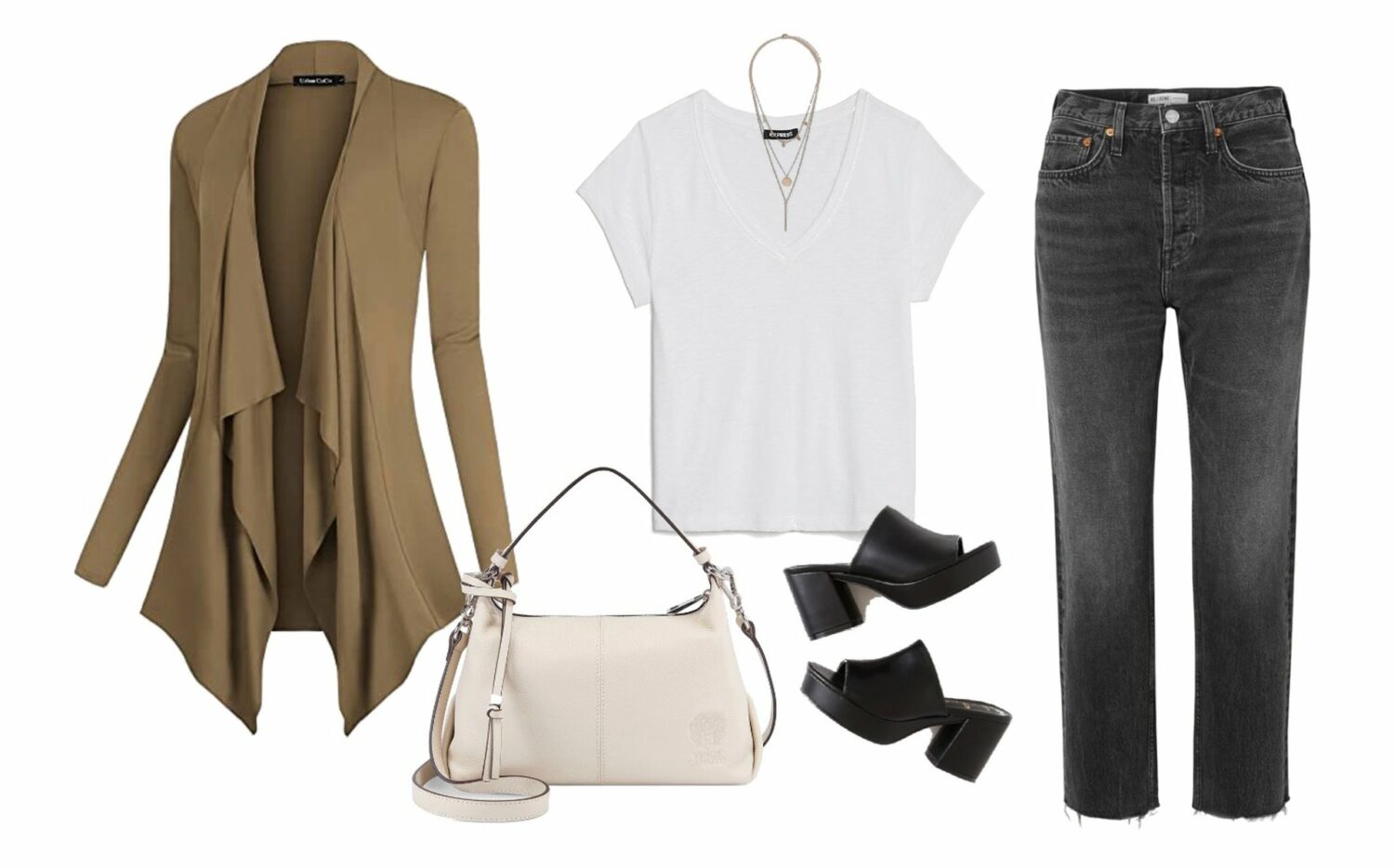 Grey jeans that have a pattern and zipper accents at the ankle are an edgy way to wear your cardigans, also. Try wearing a taupe color cardigan that's opened and buttonless, giving the same vibe as a short dress. To achieve this, choose a cardigan made of fabrics that loosely drape, versus a wool type of fabric that will be stiff.
You can even choose a cardigan-style top that has ruffles at the hem and will open so that your shirt is exposed. Wear a white v-neck tee and open-toe mule-style shoes that have a chunky heel and are made of leather material to cover the upper part of your feet. This way, your toes are exposed and your ankles and heel of your feet show, as well.
Pair this look with a convertible top handle handbag in white or cream, that also doubles as a shoulder strap.
Printed Blouse, Cardigan, Booties, Straight-Leg Jeans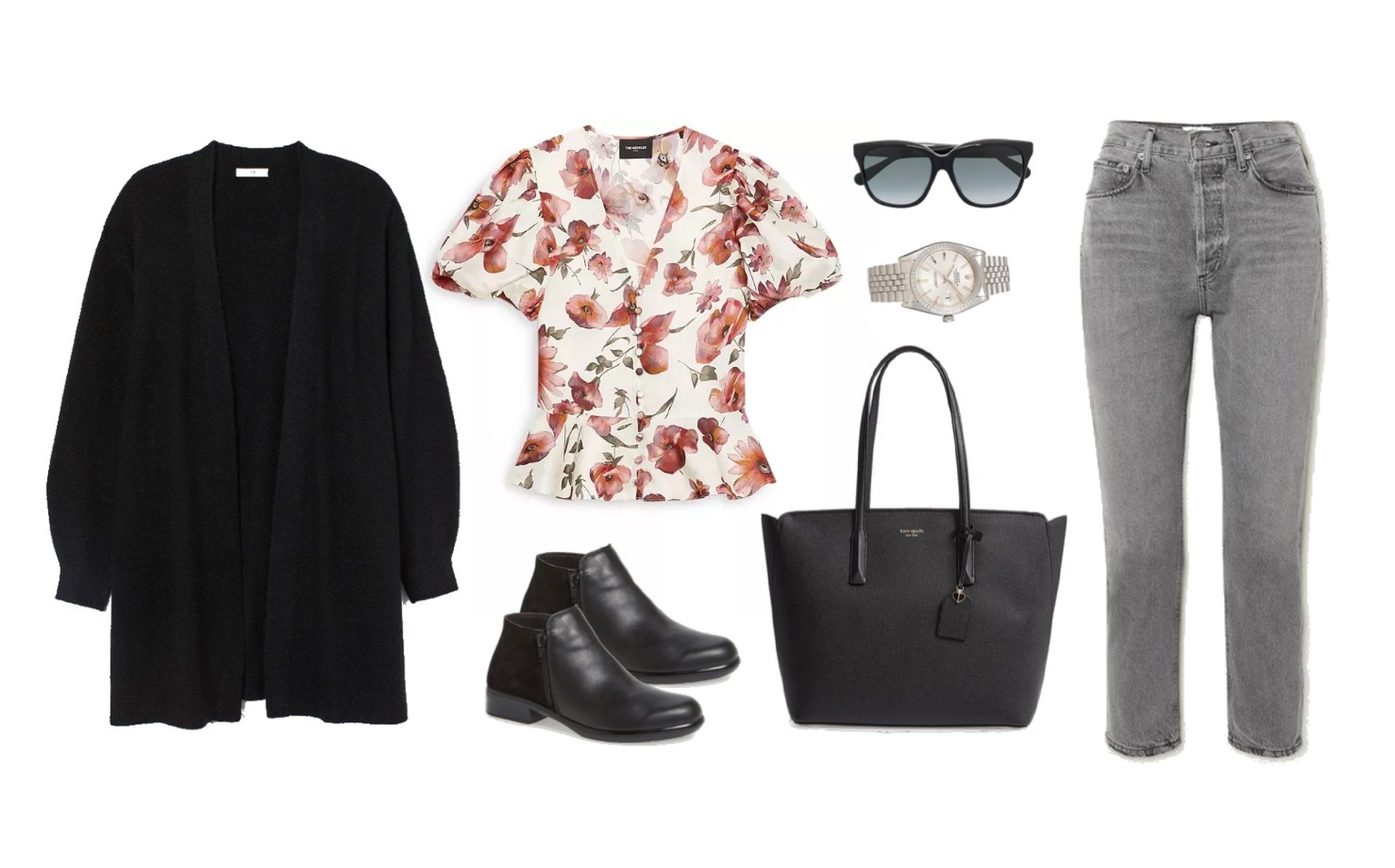 A printed blouse with a feminine, all-over graphic will pair well with dark grey straight jeans. Wear a top that has a flower or leaf print with a black cardigan. Scrunch your sleeves for a hipster type of look and add a neutral scarf in a light, chiffon type of fabric. You can wear a watch or stacked bracelets for accessories.
Add oversized sunglasses and a large, black shoulder tote with double straps. For shoes, you can wear pointed-toe flats or loafers. If you want to wear a heel, try wearing patent leather pumps or short booties with a small chunky heel.
Read: How to Wear Loafers With Jeans
Scoop-Neck T-Shirt, Pointed-Toe Heels, Slim Jeans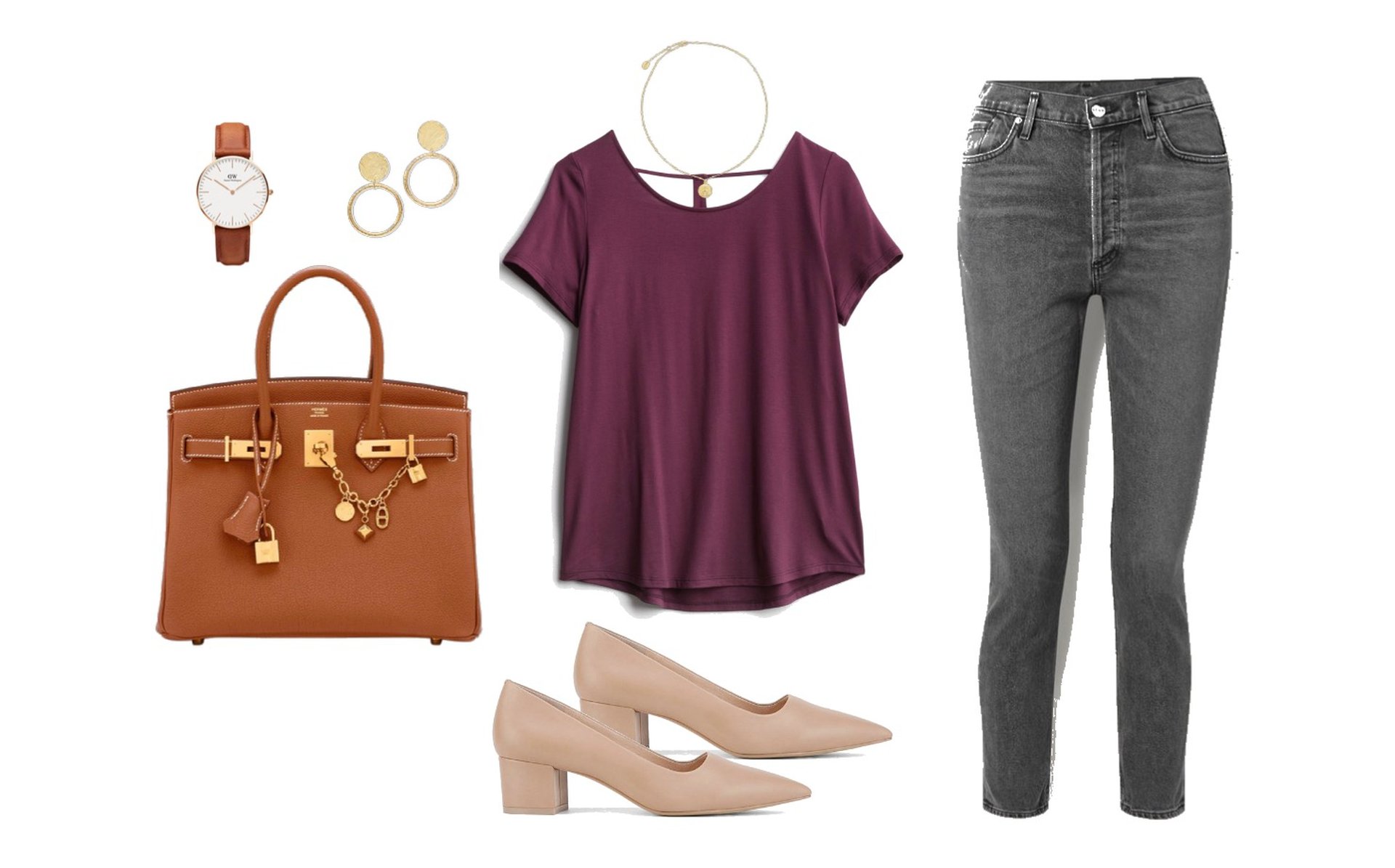 For a super simple look that you can wear if you need to quickly leave the house, try wearing a scoop or boat neck t-shirt and grey slim jeans. Wear a purple color that is deeper like a royal purple or dark berry. Add a chain necklace that hangs just below your chest that has a small to medium pendant, to create a centerpiece.
Add nude, pointed-toe-flats if you're heading to a casual business-like environment. You can also wear pointed-toe heels in nude, as well. This is how to wear grey jeans and bring all of the colors together. Add a tan, weather-style handbag with double straps. You can also add a leather band watch in a dark brown.
Read: How to Wear Pumas with Jeans
Hi-Lo Shirt, Straight-Leg Jeans, Slide In Flats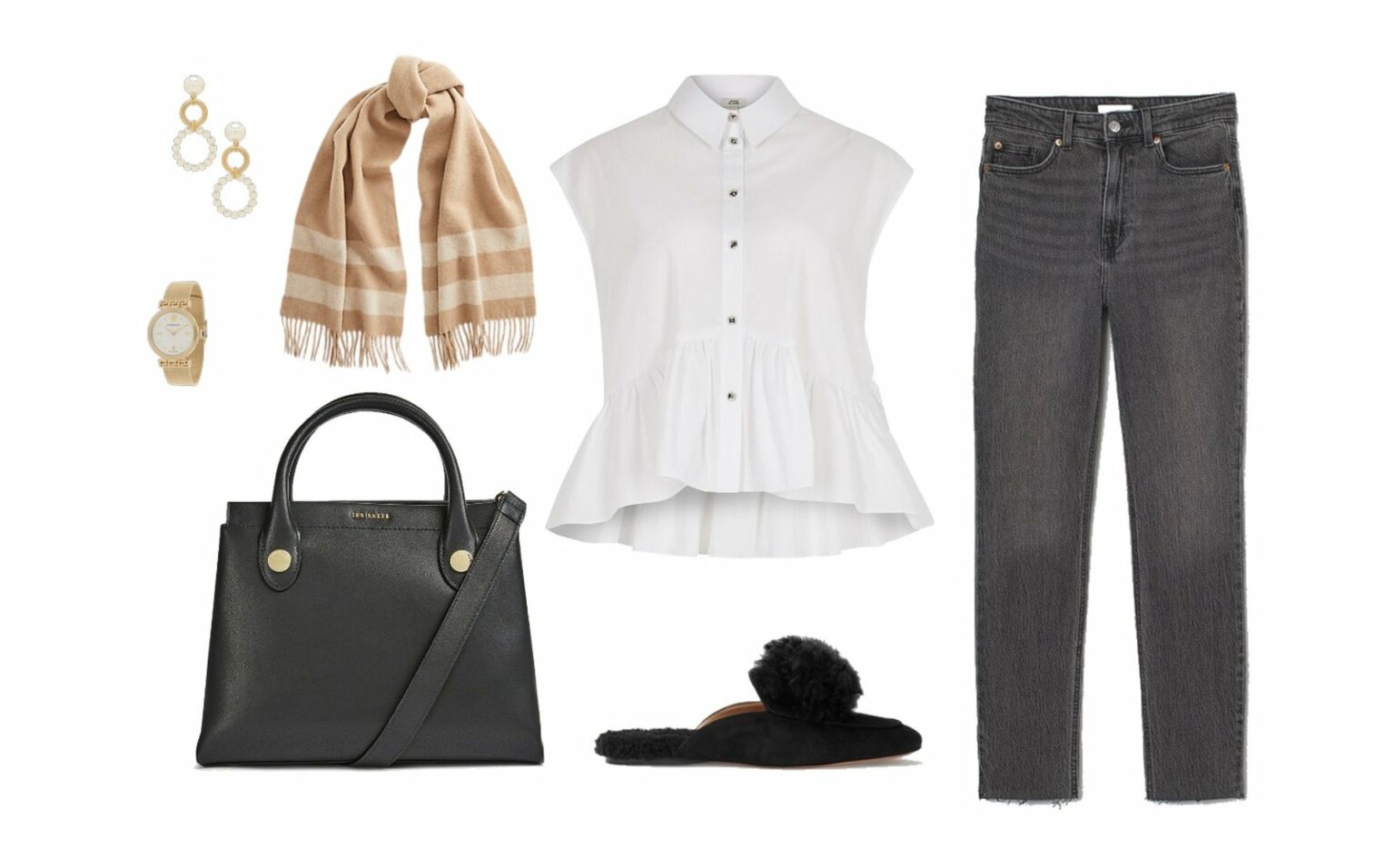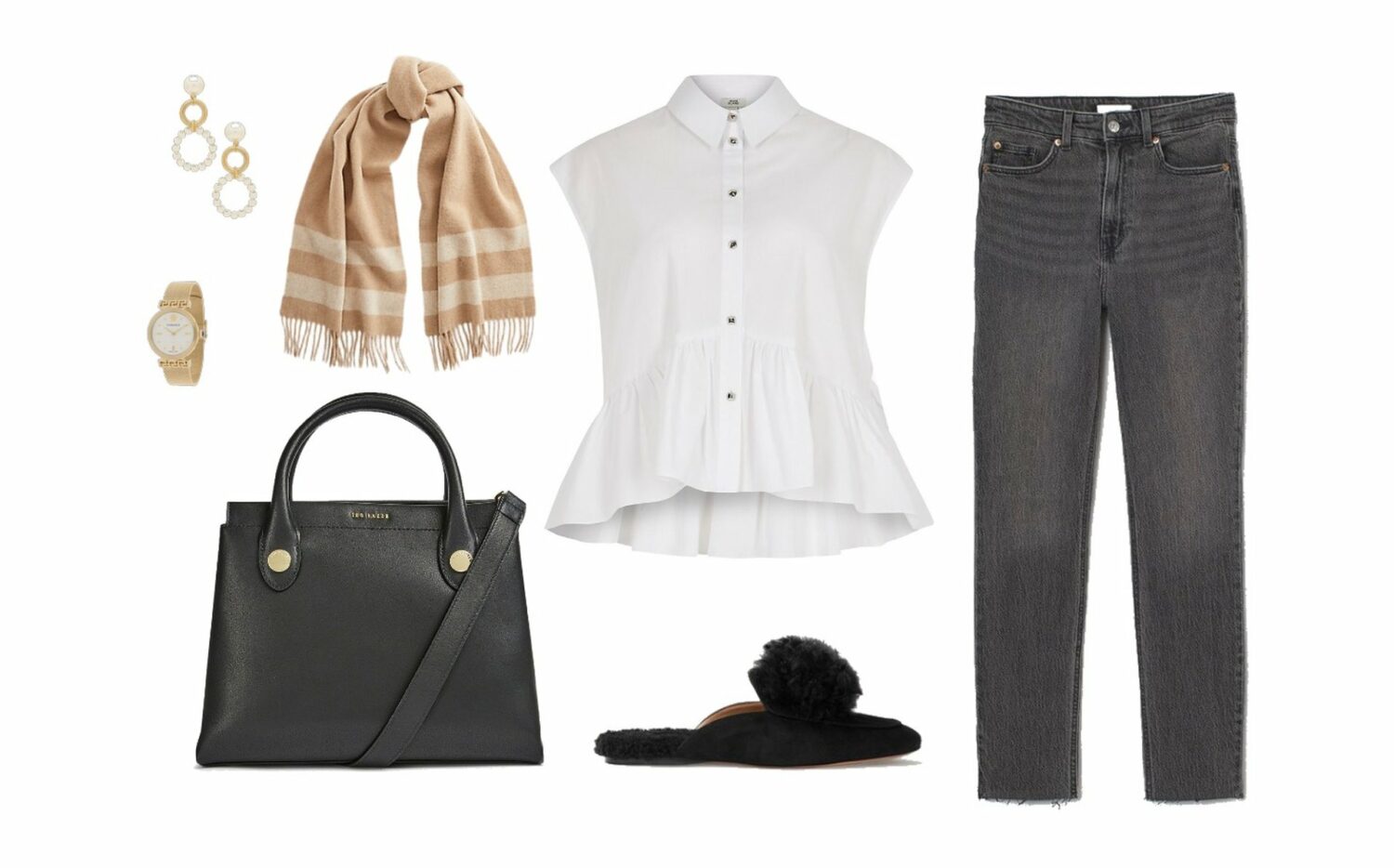 For a look that has more of a city-style, try wearing a hi-lo blouse in white. Make sure your shirt is sleeveless and has a scoop neck. This will keep your outfit crisp and clean when paired with grey jeans. You can choose grey skinny or straight-leg jeans. Wear a wheat color scarf that has fringe and add a black handbag.
You can play with shoes a bit more with this outfit since it has such a muted base. Try wearing suede slides in flats that have a very small, wooden heel. Your shoes can be black or if you want to switch things up, try a dark purple or a soft pink color. You can also wear classic mules that have graphic prints on them like jumbo flowers or pom poms.
This will add liveliness to your overall aesthetic. This way, your look stays casual but is also unique. Add pearl earrings that dangle a bit, instead of studs or hoops.
Long Sleeve Tee, Bootcut Jeans, Fedora, Booties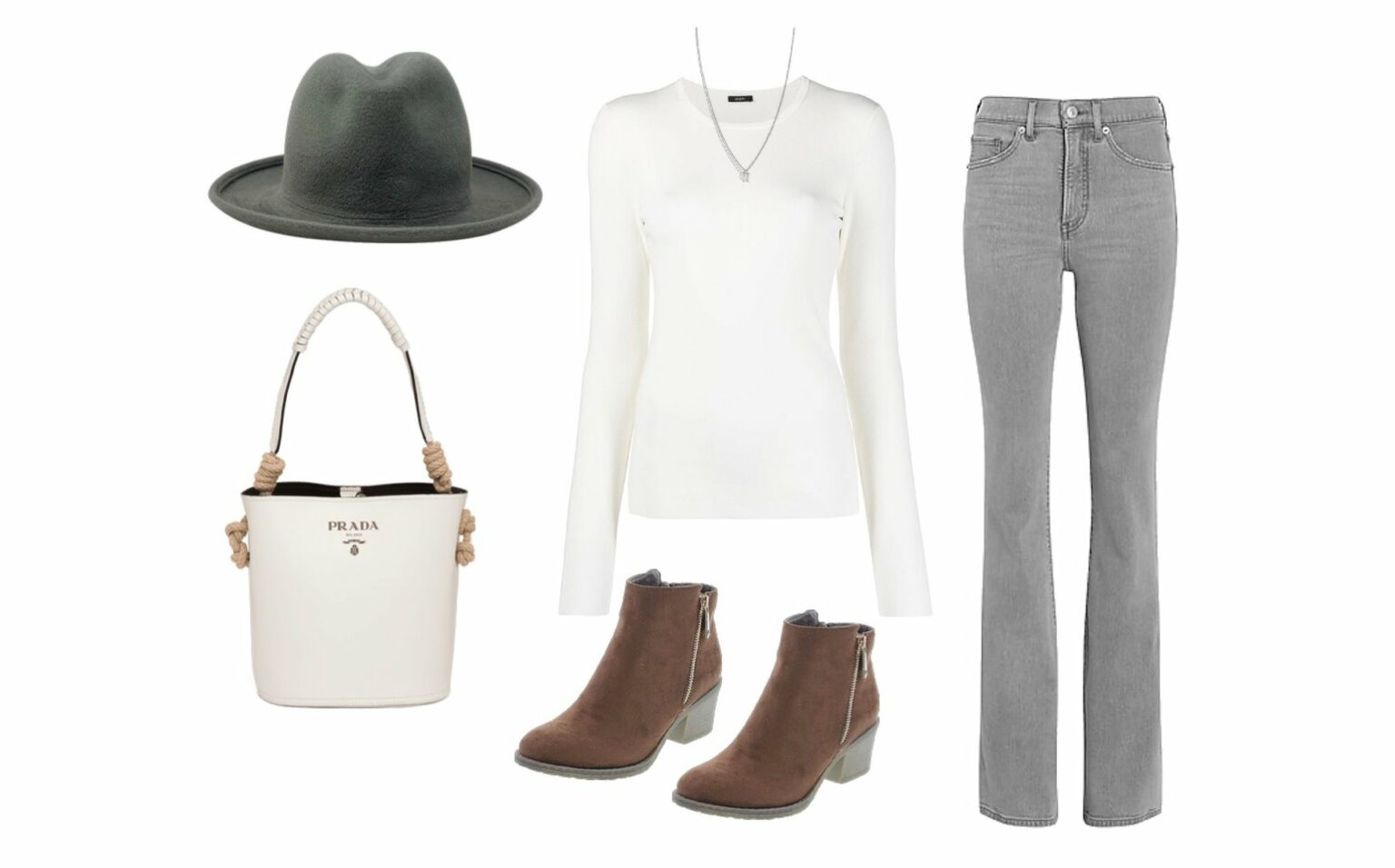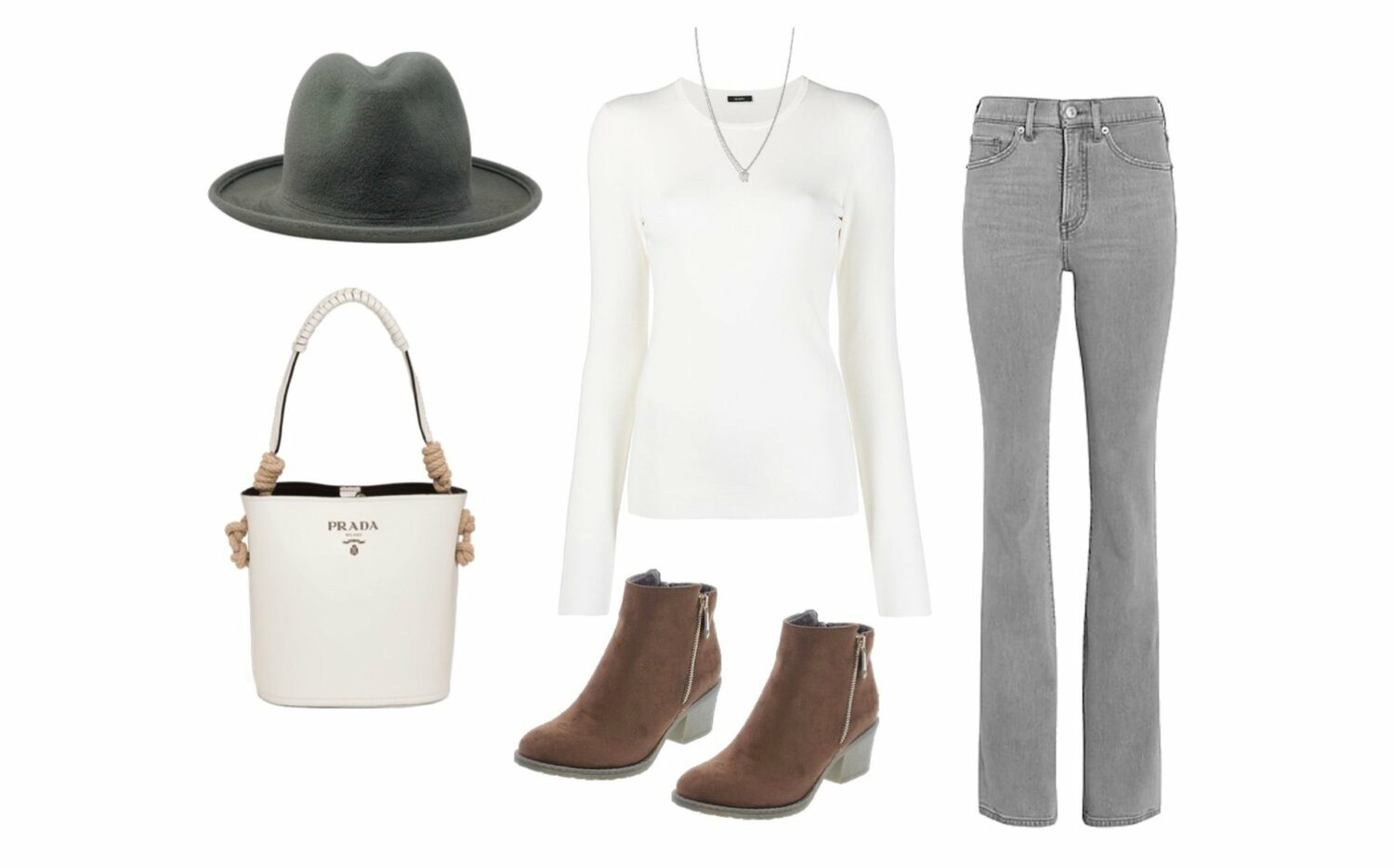 For a western-inspired look, try wearing a scoop neck t-shirt in white. Choose long sleeves, instead of short sleeves, and wear grey bootcut jeans. Add a white handbag that's larger in size like a hobo or bucket bag in leather. Wear a long necklace with a silver-tone chain.
To create the western aspect, wear a grey fedora or hat with a larger brim. Add camel-colored booties with a pointed toe and chunky heels. Your booties should stop at your ankle or calf. Try wearing a pair of booties that have suede-like material to create a luxurious look.
Read: How to Wear Bootcut Jeans
Grey jeans are the wild card of the different wash colors for denim. They can be paired with every color imaginable and bring extra light to rich, bright colors. You can keep a pair of grey jeans in your wardrobe for years to come, especially in a boot-cut or slim style.
Whenever you're feeling edgy and need to know how to style grey jeans, try wearing a pair that has different effects within its design. Keep the other pieces in your outfit as clean-cut as possible, in order to keep the grey base noticeable.