If you purchase one of the products recommended in this article, I might receive a small affiliate commission. Thank you for your support!
Jordans are one of the most iconic sneaker brands in fashion history, along with the man behind the brand, six-time NBA champion, Michael Jordan. Since the first Jordan release by Nike in 1985, they splashed on the scene and changed the way we view sneakers as a whole. They are worn by athletes throughout the NBA legacy and even inspire the most popular basketball stars today, to start their own brands. The Jordan releases are always on a Saturday, causing people to line up in the rain, sleet, or snow. Although they are very popular, Jordan's arent just hype. They are flexible in style and pair perfectly with athletic wear and jeans.
Before the newer releases, Jordans were more limited in the colorways and usually matched the Chicago Bulls uniforms in black, red, and white. Today, they are available in virtually all colorways which makes them easier to create jean outfits with. This is the ultimate guide on how to wear jordans with jeans by staying selective with your color choices and keeping things simple!
Hoodie, T-Shirt, and Slim Jeans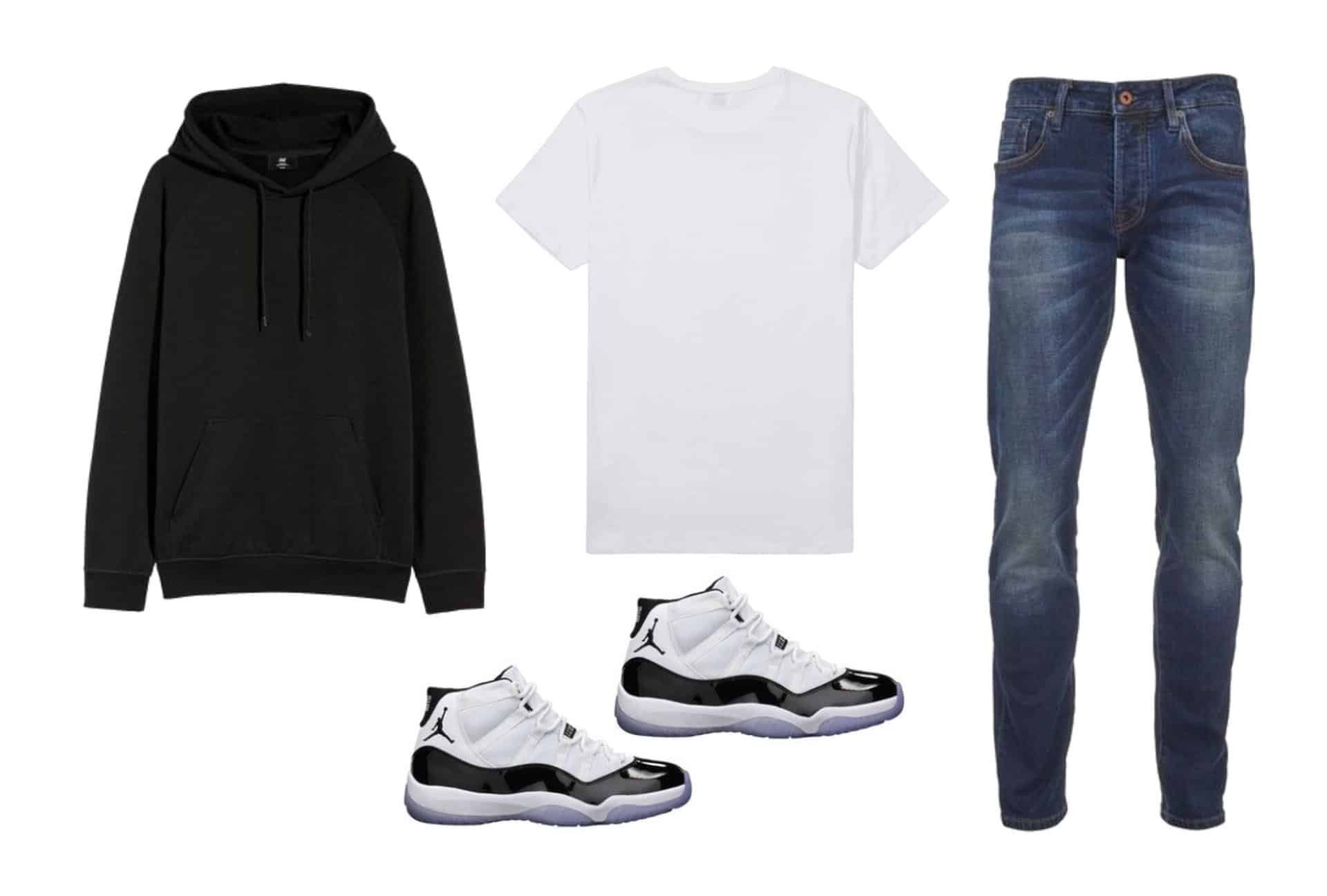 An easy outfit that you can create when wearing Jordans with jeans is a hoodie. You can wear a dark color hoodie in blue, green or black. Nike hoodies work the best since they are more performance wear pieces and will keep you warm. Add a t-shirt underneath, which can be long sleeve or short sleeve. Your tee won't be showing, but it's best to wear a black or white tee, in case you do remove your hoodie. This way, your shirt will still coordinate with your jeans and sneakers. Add slim jeans in a dark wash or black color and add a pair of high-top Jordans. If you want to wear low-top Jordans, the best pair is the Jordan 11s.
Read: How to Wear Jeans With High Tops
Hoodie, Pea Coat, and Skinny Jeans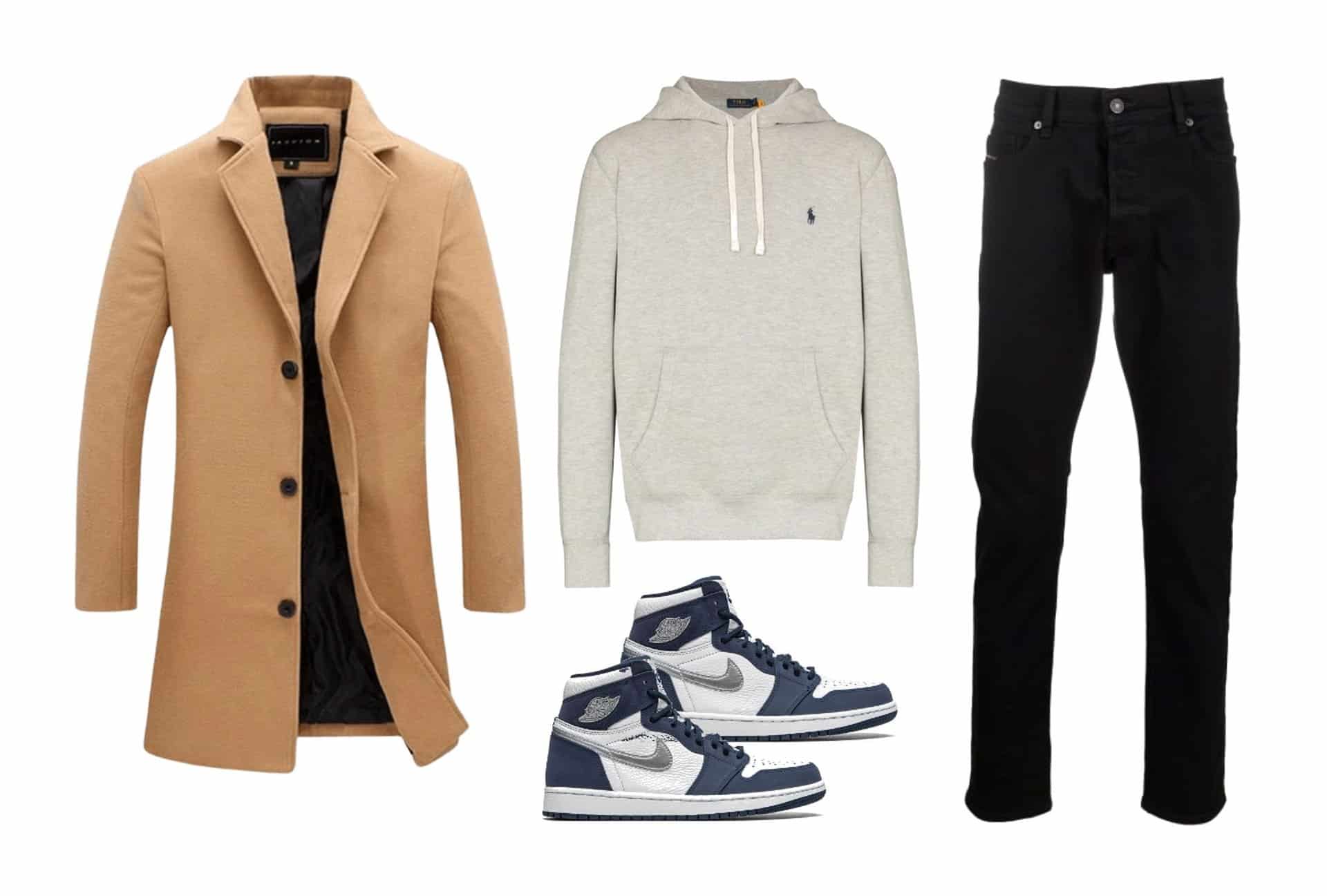 The best thing about wearing Jordans with jeans is they easily pair with a pea coat. This may seem like an odd combination, but it's one of the most effortless ways to wear Jordans with a pair of black jeans. Choose a pea coat in a grey or wheat color. Add a plain hoodie that doesn't have graphics. If your hoodie does have graphics, make sure the design is plain without having too much of a busy pattern. You can also add a long t-shirt that will peak from under your hoodie at the hem. Wear a black or white t-shirt with this look. If you want more color, add it in a subtle way with a darker color like navy blue. Wear a pair of high-top Jordan 1's in blue and white to complete your look.
Read: How to Wear a Suit Jacket With Jeans
Black Jeans, Sweater, and Button Up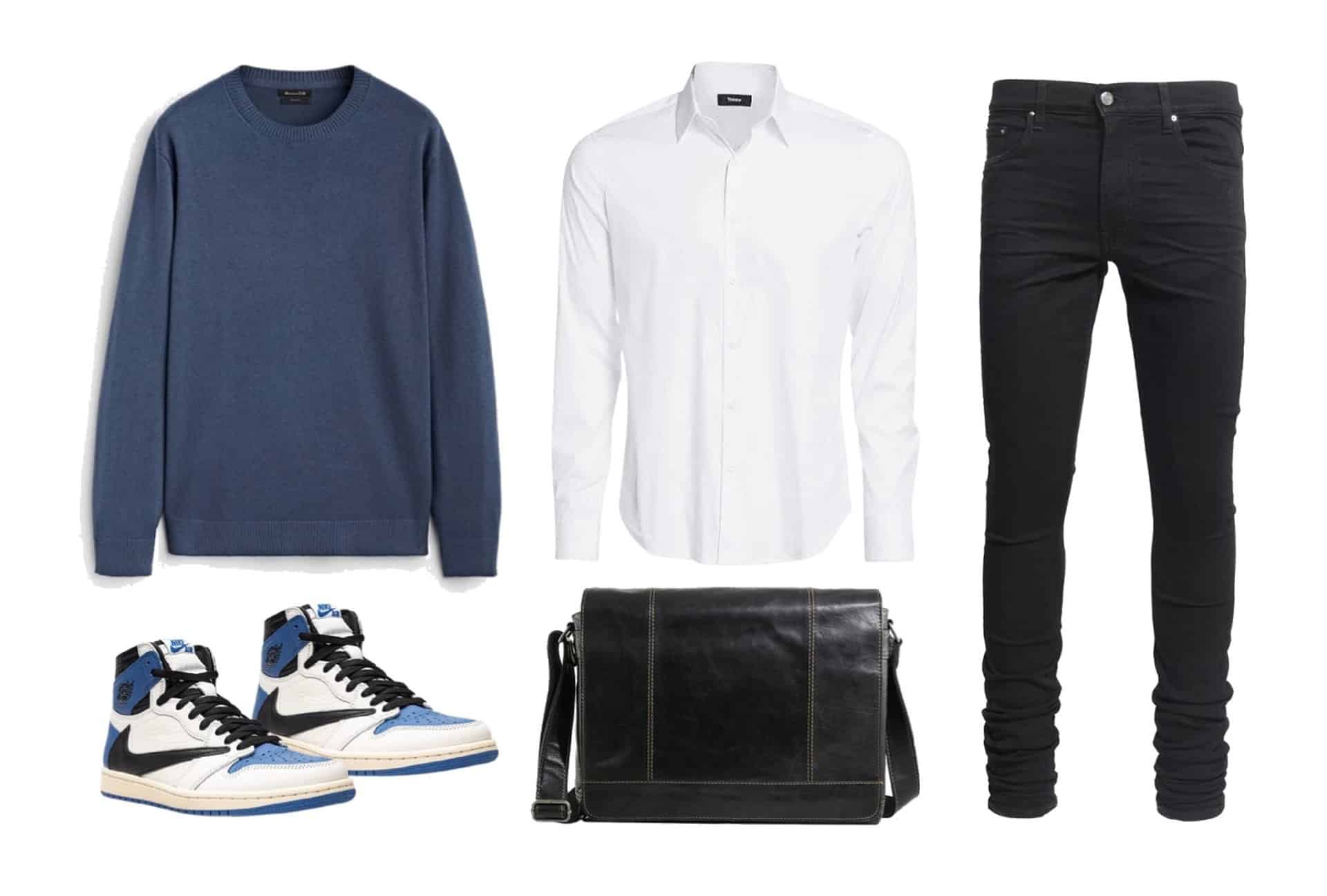 Start this outfit with a button-up. You can choose a white-collar shirt or you can choose a light blue color. Add a scoop neck sweater, this way your collar shirt will peek through from underneath. Your cuffs will also show at the sweater sleeves, which you can fold to create layers. Choose a pair of Jordan 1's in white and blue color. You can also wear a pair that has more color, like red or green. This look will pair well with a book bag or a laptop bag. Be sure to choose a bag that has a leather-style material. This is how to wear jordans with jeans by creating a business casual ensemble.
Flannel, Destroyed Denim, T-Shirt, and Snapback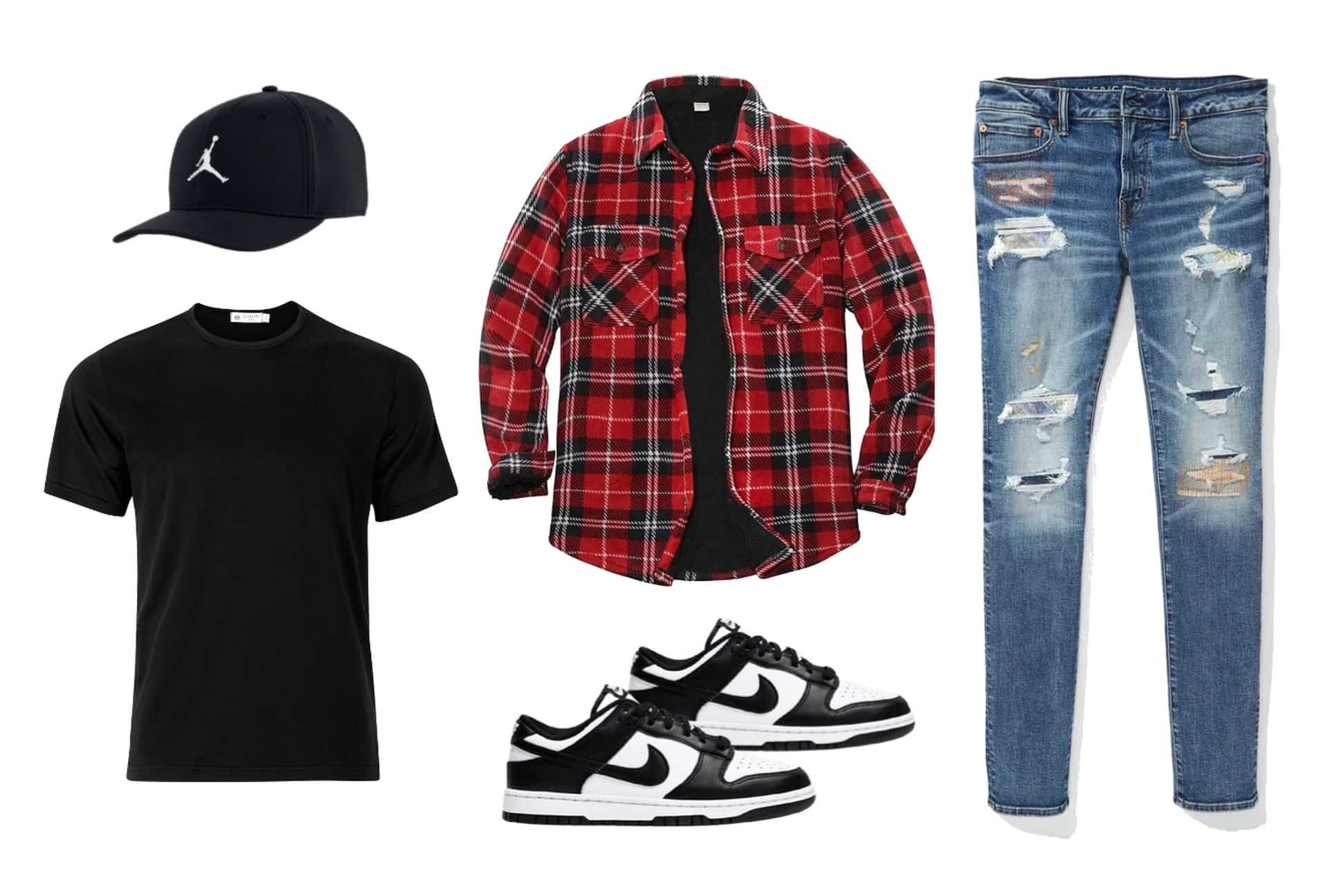 Wear your outfit with a flannel that's in a bright color or a red color. The best thing about this outfit is you can wear a thin or a thick shirt if you'd like. You can also wear a more heavy-duty flannel in the style of a jacket. This is more chunky and will keep you warm, since you'll simply have a t-shirt on and may need more coverage. Add a scoop neck t-shirt in black. You can also wear a white t-shirt. Add a pair of distressed denim in a medium wash. You can add a snapback cap in black.
Shearling Jean Jacket and Sweater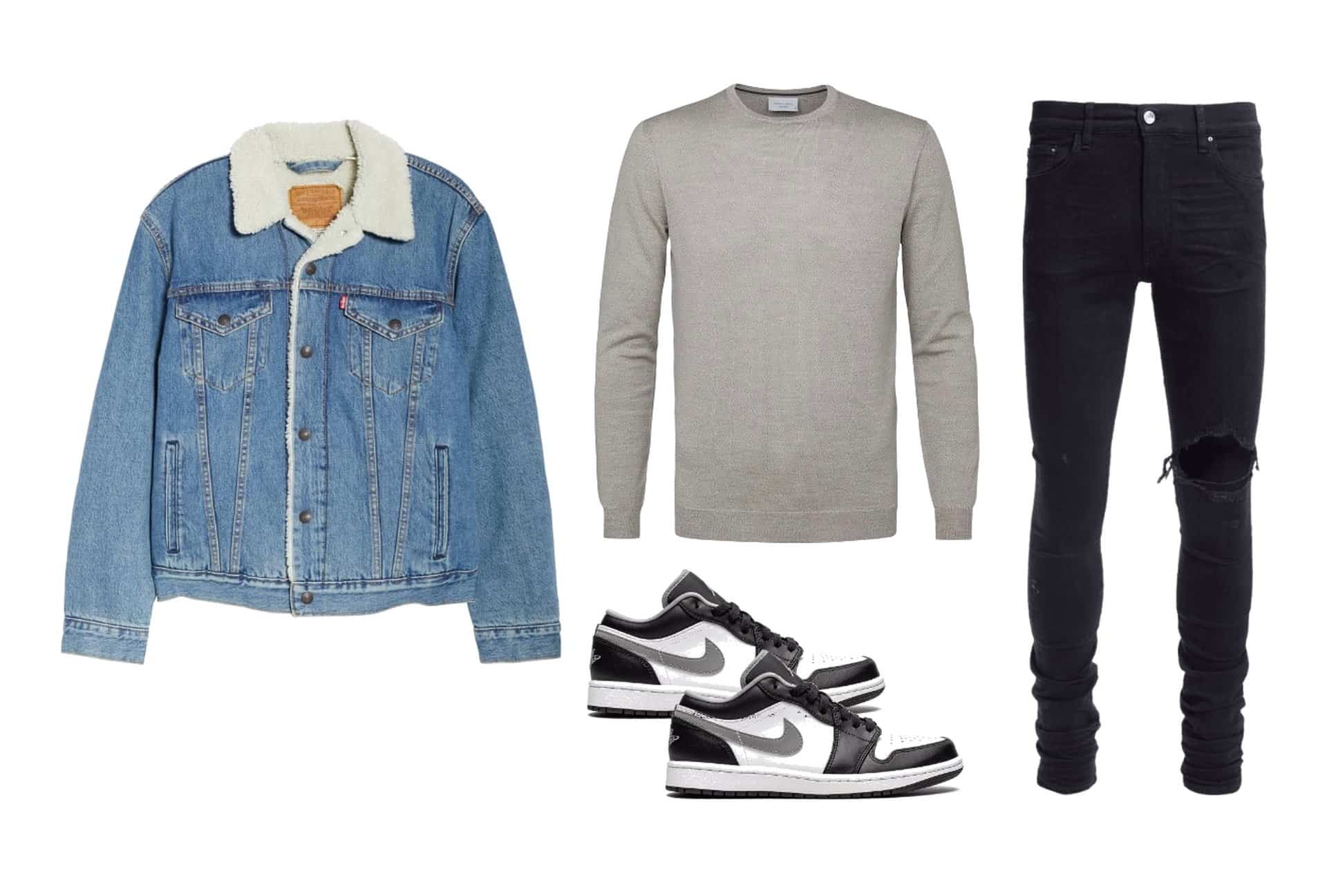 Wearing a shearling denim jacket is how to wear Jordans with jeans while creating a cozy look. Add a sweater underneath in a circle neck style. Your sweater doesn't have to be made of wool or thick material, since you'll already be wearing a jacket. Add a pair of black jeans and low-top Jordan 1's. You can add a gold chain necklace with or without a pendant. You can crop your jeans, for a more preppy look that's also urban.
Bomber Jacket, Sweater, and Dark Wash Jeans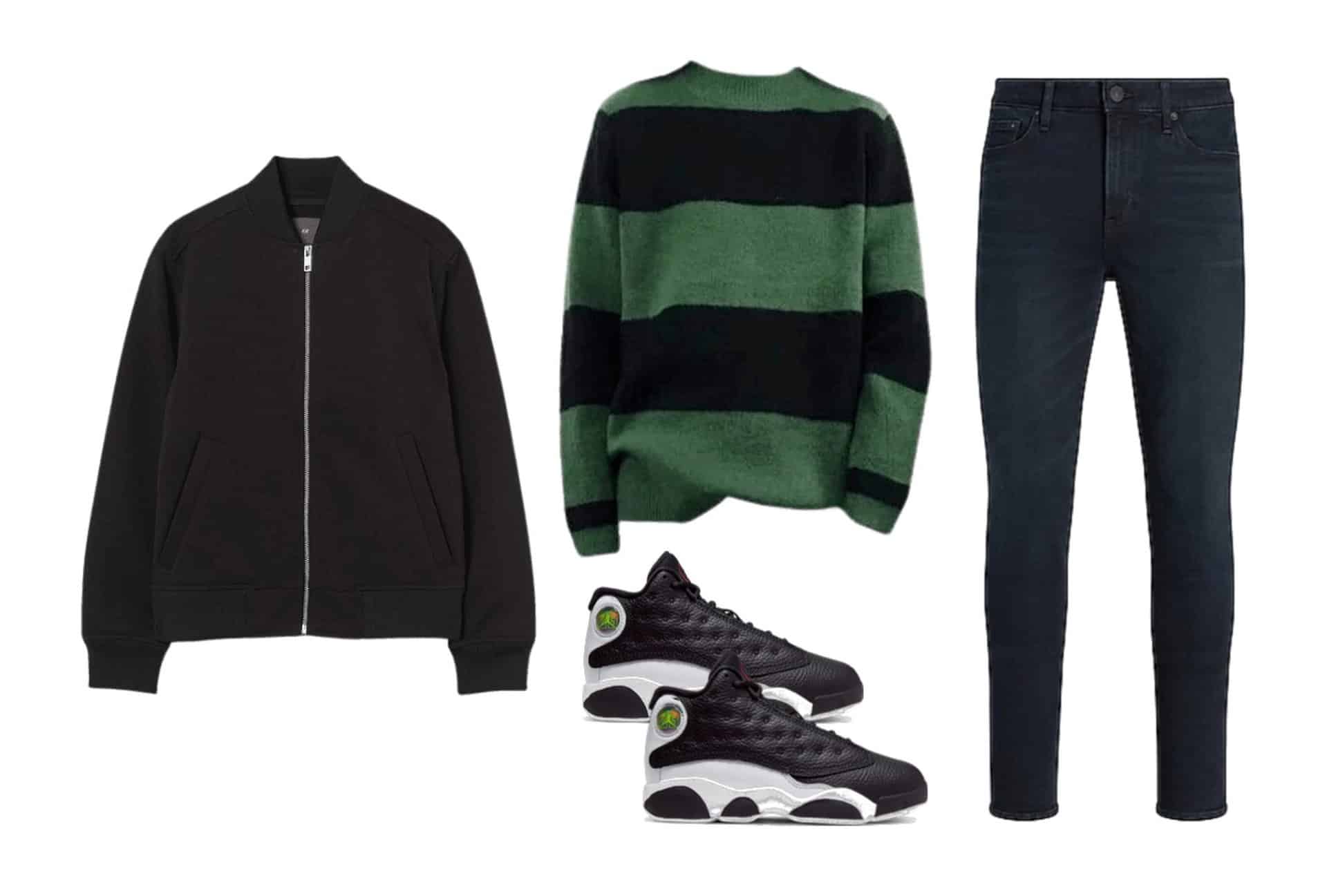 Wear a bomber jacket in black or blue. You can also wear a more collegiate-style patchwork letterman jacket. This look is preppy but still has a "cool kid" element. Add a pair of dark wash jeans or jeans in black. Depending on your jacket style, you can also wear white jeans. Add a pair of Jordan 13's with your outfit in a low-top design. With this look, you can wear a striped sweater or you can wear a black t-shirt.
Puffer Jacket, Destroyed Denim, and Hoodie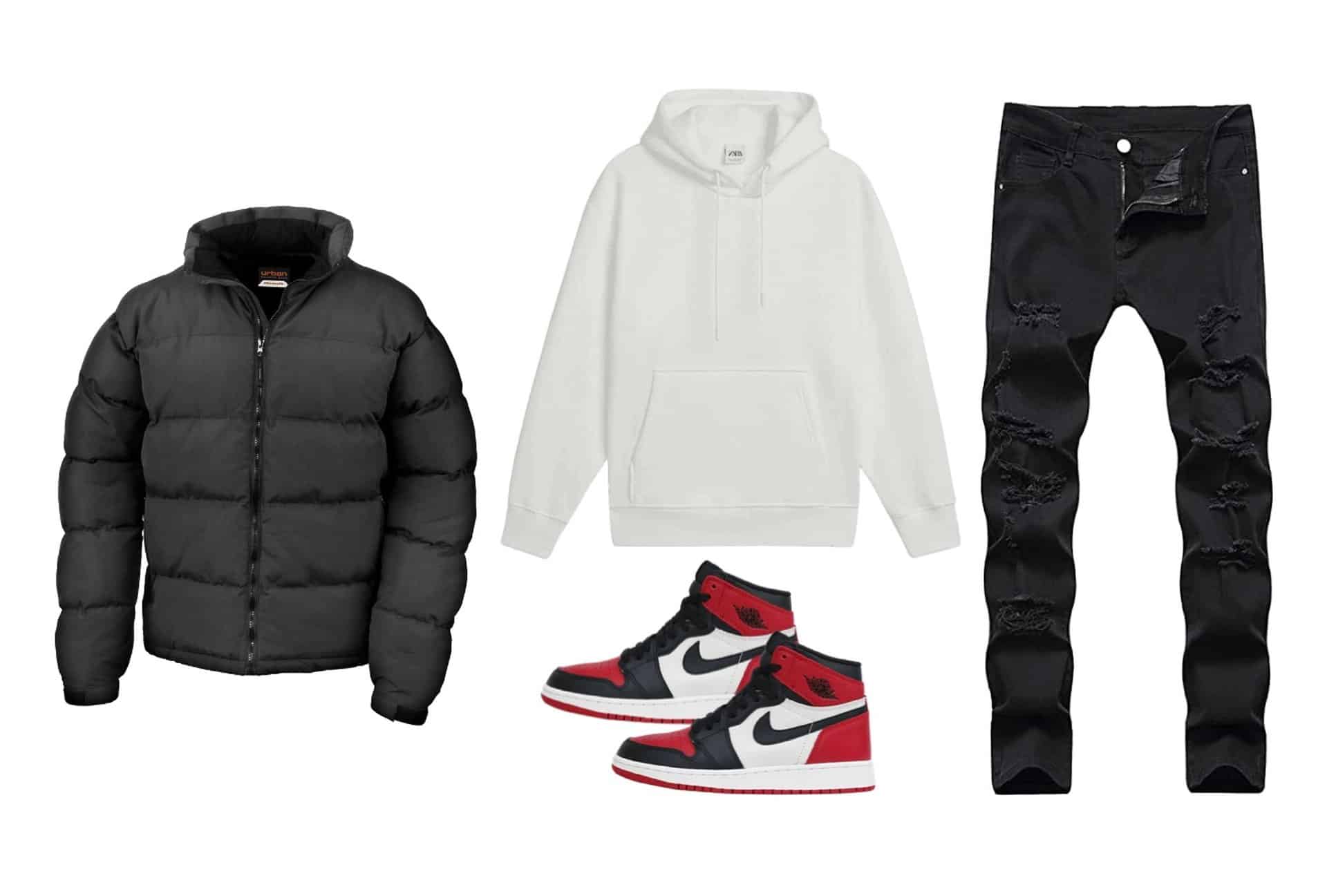 Wear a puffer jacket in black that's more of an oversized look and has large puff designs. This will create drama, making your jacket the centerpiece for your outfit. Add a white hoodie underneath. In the same way that you would wear your hoodie with a peacoat, you can wear a graphic design that's simplistic. If you want, you can also skip the graphics and wear a solid white hoodie. Add a pair of black destroyed jeans. With this look, you can wear a pair of jeans that have many destroyed elements, since your look will already be simplistic. The destroyed designs in your jeans will add a touch of edge to your outfit.
Cardigan, T-Shirt, and Boot-Cut Jeans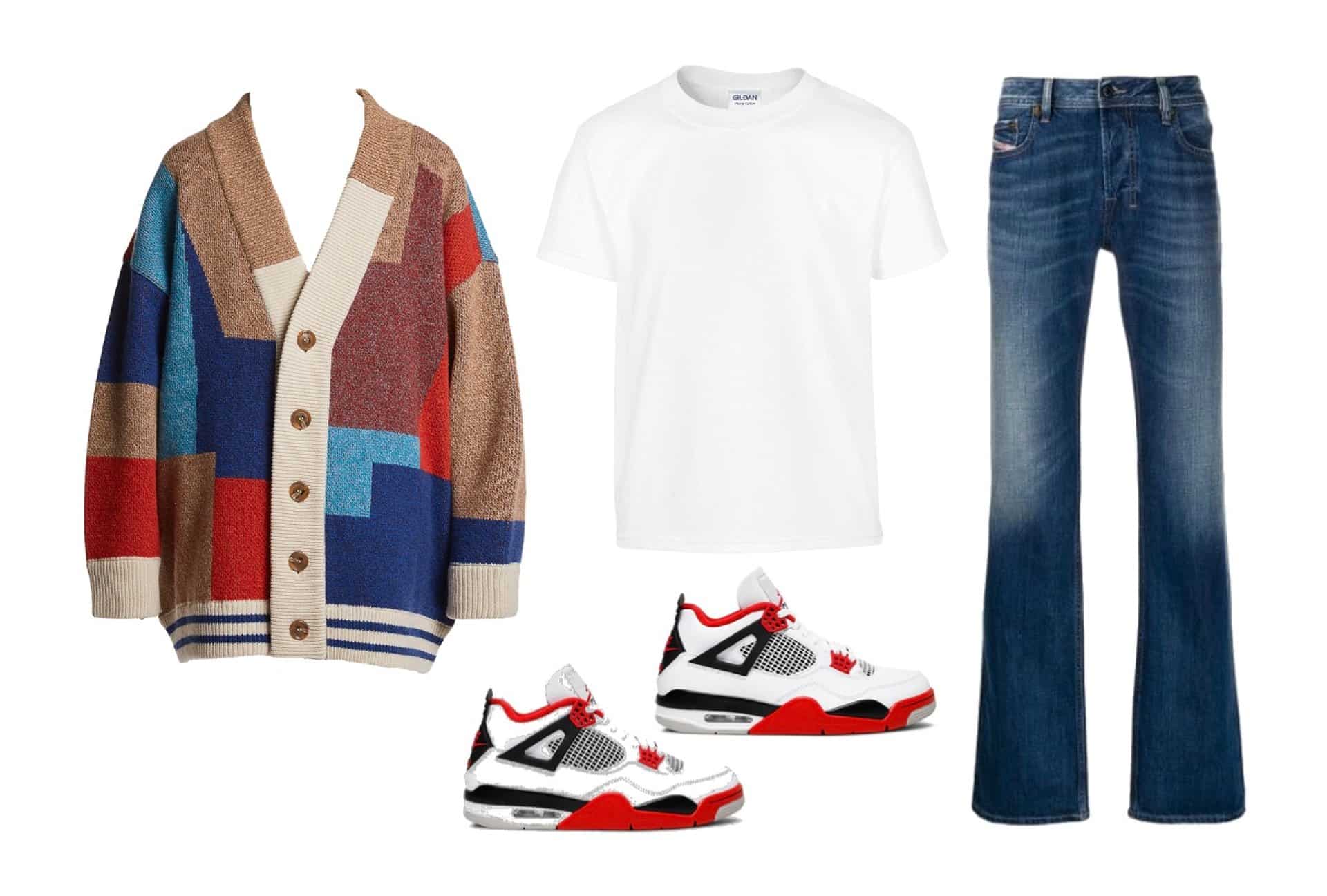 Wear a printed cardigan that has a standout design. You can also wear a striped or graphic cardigan as well. Add a white t-shirt in a scoop neck design. Try to avoid a v-neck design, since you'll be wearing a cardigan. If you want to wear a v-neck, versus a scoop neck, make sure your cardigan closes in a v-neck design, as well. Add a pair of boot-cut jeans that fit loosely, versus a pair of skinny jeans that fit more snug. Finish your look with a pair of Jordan 4 or 7's. Your shoes can incorporate colors that also coordinate with your sweater. For example, if you wear a blue and white cardigan with a white tee, wear a pair of Jordans that have a white base and blue accents.
Fisherman Vest, T-Shirt, and Cuffed Jeans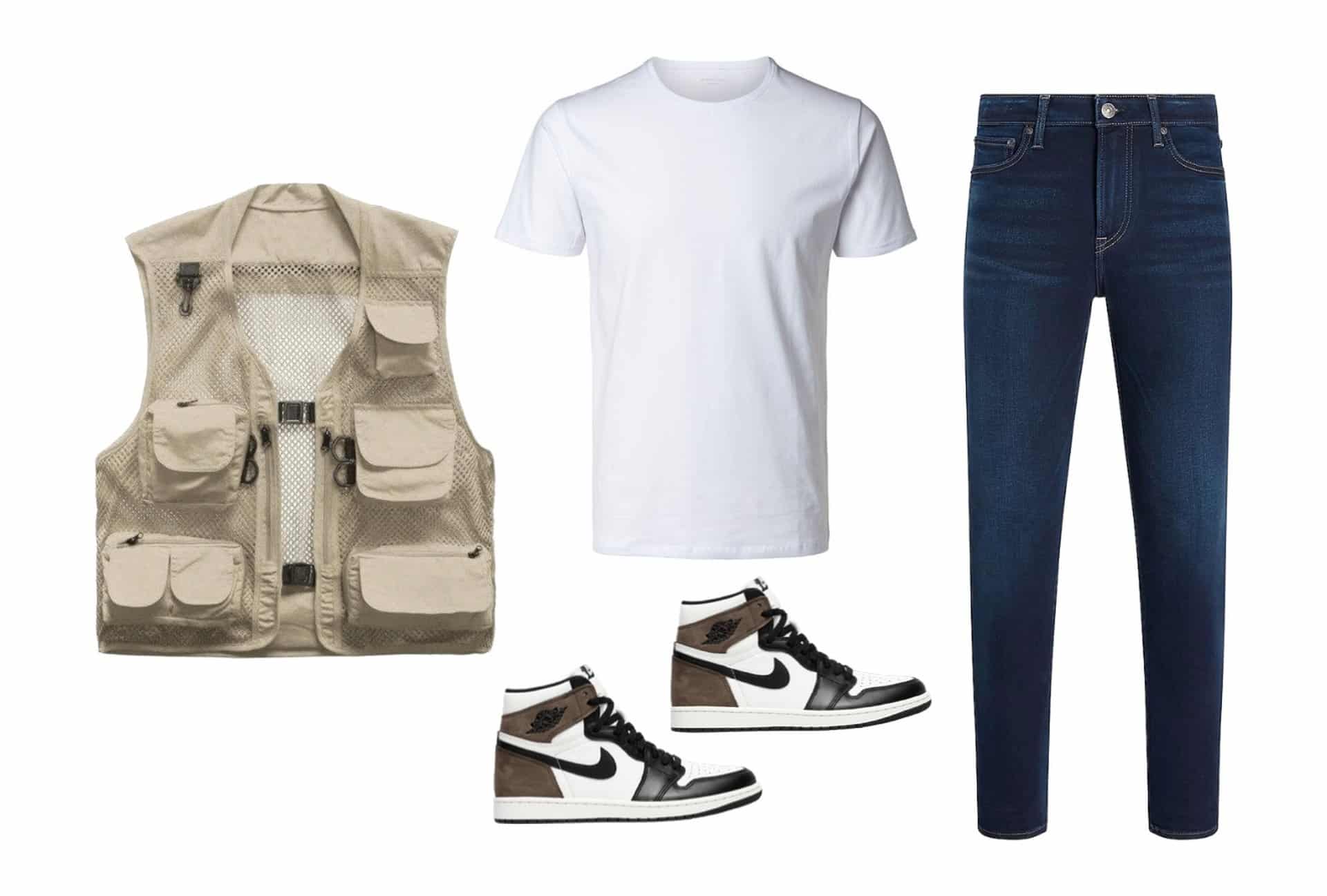 Wear an unexpected fisherman vest with your jeans and Jordans! Fisherman vests have plenty of pockets and put you in the midframe of a utilitarian jacket. The pockets are plenty, which will be good for storage. They usually come in neutral colors like beige and they also come in blue or black. Add a white t-shirt underneath. With this outfit, you can also wear a graphic t-shirt if you'd like. It doesn't necessarily have to be a busy graphic tee, but you can play with colors like red or green graphics. Add a pair of dark wash jeans and Jordan 1s'. You can wear either a pair of skinny or boot cut jeans.
Sweatshirt, White Jeans, and T-shirt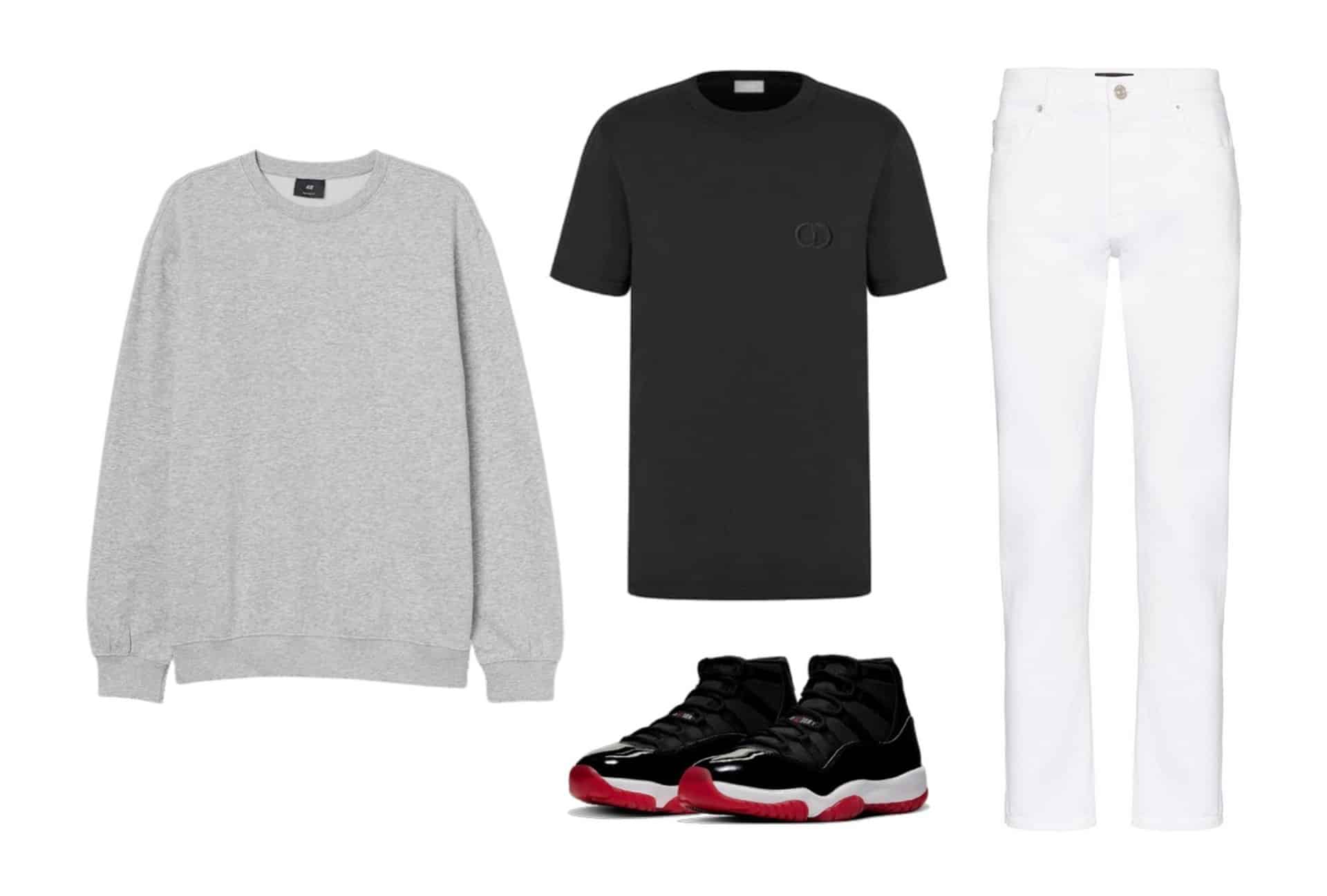 A grey sweatshirt is perfect to wear with jeans and Jordans. Try wearing a sweatshirt, which adds a different element to your outfit versus a full hoodie. You can dress your sweatshirt up or down with a t-shirt as a casual look. Or, you can add a button up to your look in white. Your sweatshirt can be plain in the front, or you can choose a sweatshirt that has a double-opened pocket. This pocket design will keep your hands warm, but can also be used for storage on the go. Add a pair of light wash skinny jeans, which is how to wear jordans with jeans without wearing too many layers.
For this look, try to skip wearing jeans with destroyed elements. You don't want to take away from the crisp look of your sweatshirt. Add a pair of white Jordan 1s. You can also wear colorful sneakers as well since the base of your outfit will be grey, white and blue. You can add a snapback or dad cap with this look as an accessory. This is also an outfit that's ideal for wearing a sports or Apple watch. This look also works well with a canvas backpack.
Read: 15 Best Jeans for Tall Skinny Men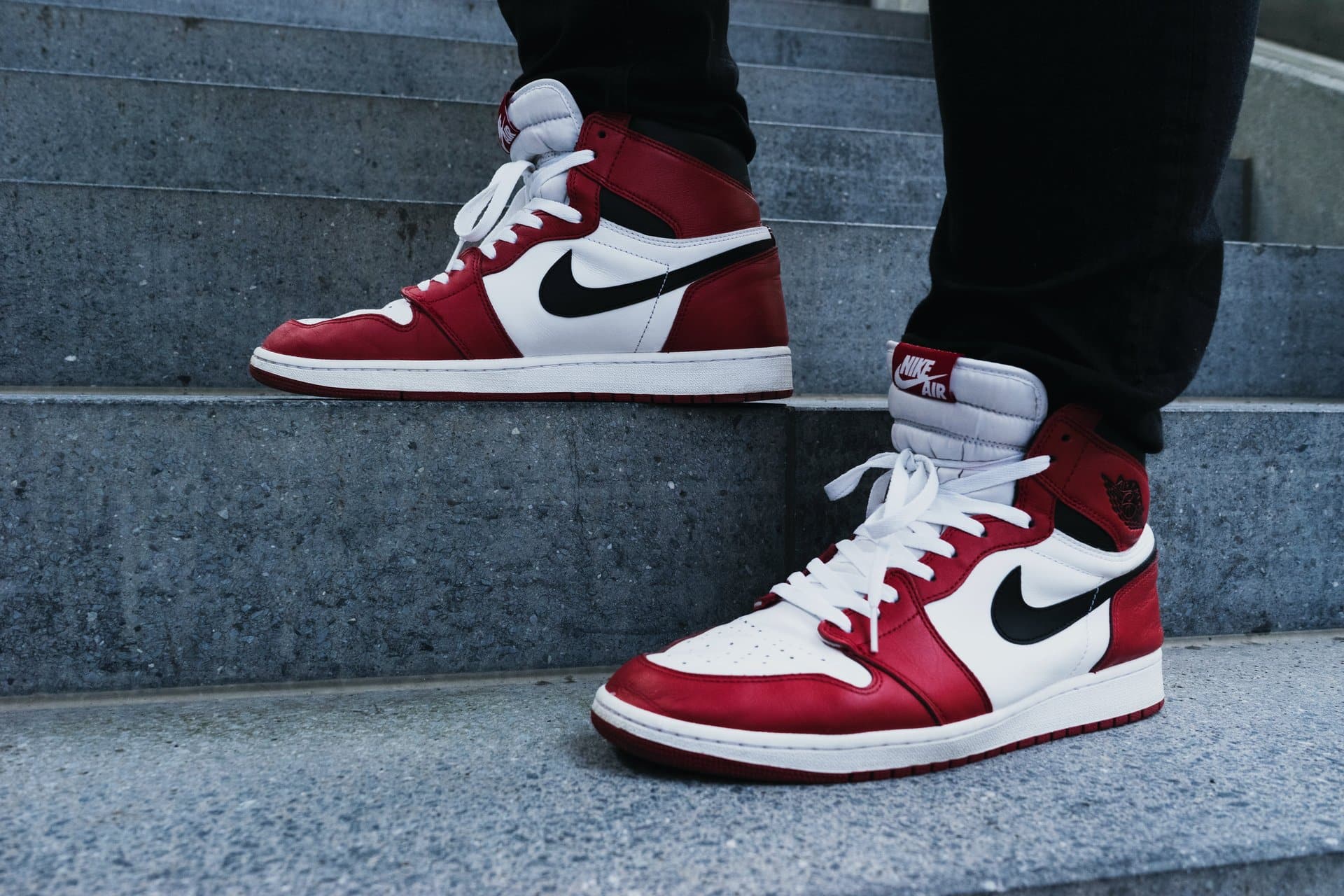 Creating jean outfits with Jordans is very easy. You can dress up the Jordan 1's the most since they have a classic design and the shoes are flat. They don't have the more chunky outer soles like modern shoes, which allows you to create business casual looks, as well. You can pair your jeans with a sweater and button-up to create a professional outfit. When you want a more urban look, you can wear your Jordan 1's with a hoodie paired with a coat or jacket.
The other Jordan releases are just as flexible as the Jordan 1's. Wear the Jordan 4, 5, and 6s with destroyed denim in both light and dark washes. When you want a more athletic look, try wearing the Jordan 11's with jeans, a t-shirt, and a windbreaker or bomber jacket. Overall, start your jeans with a centerpiece like a jacket, coat, or hoodie. Then, build upon your look with a t-shirt and bag or jewelry accessories.