If you purchase one of the products recommended in this article, I might receive a small affiliate commission. Thank you for your support!
High top sneakers are an easy way to add a touch of edge to your outfit. They can be worn with skinny or slim jeans, allowing your shoes to fit above your ankles. Your shoes can also be worn with boot cut jeans, which will create a classic slouch that still looks classy.
Although high top sneakers are versatile, there is a fine line between what you can wear that will appear crisp and neat, versus an outfit that will look disheveled. Follow this guide, to receive an all-inclusive breakdown of how to wear jeans with high tops
Distressed Skinny Jeans and T-Shirt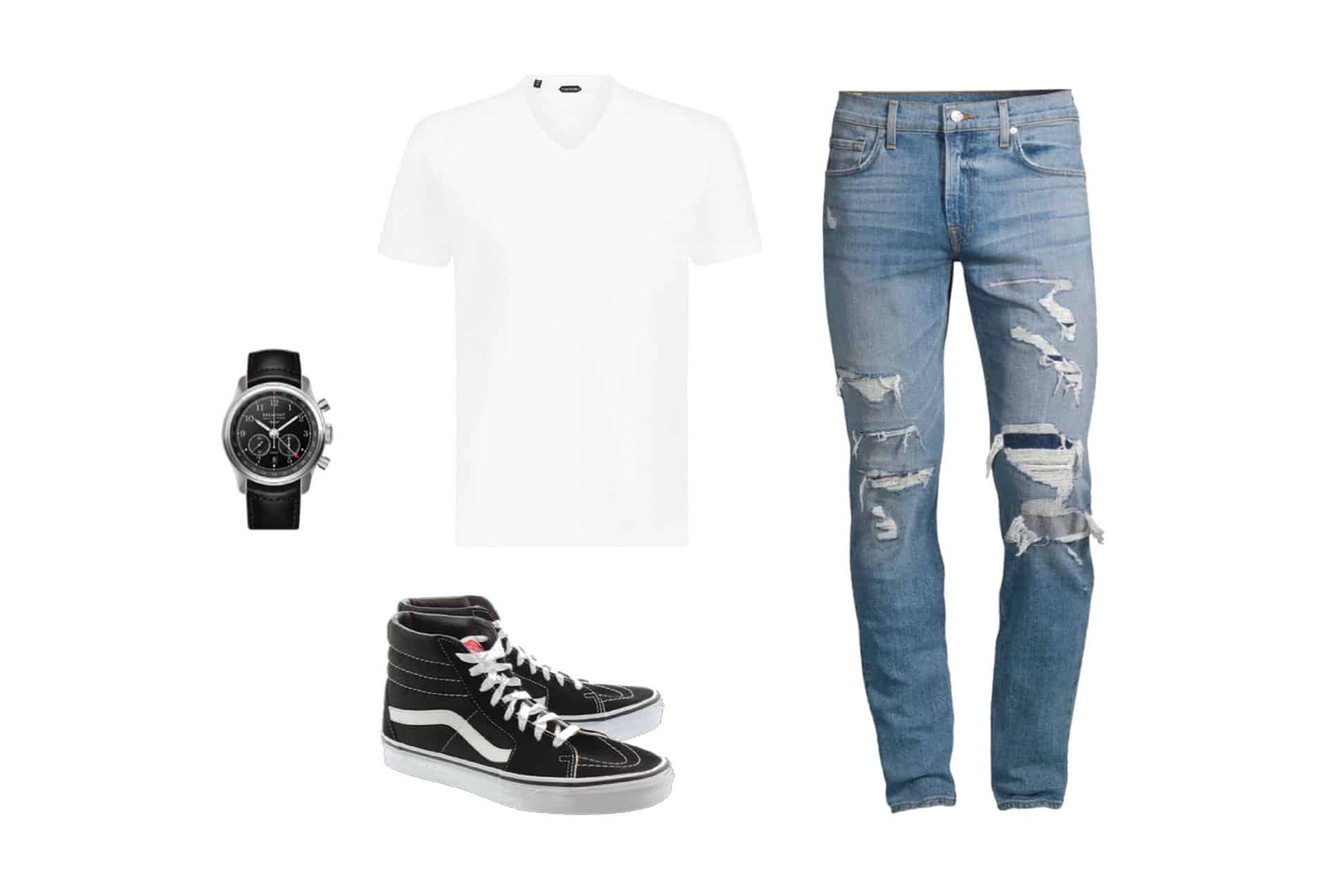 One of the simplest ways to wear high tops is with a t-shirt. Choose a plain v-neck t-shirt that has no graphics, in white or blue. You can also go for a scoop neck if that's more your style. Wear a shirt that is fitted but not necessarily tight, since you want a relaxed look. Add a pair of distressed jeans that have fringed openings. Be careful with wearing a pair that has too many distressed elements. You want your outfit to look modern, with a slight touch of urban.
Wear a pair of high top Vans made in a canvas style, which will keep your look crisp. You can add to your outfit with extra accessories including a chain necklace, watch, or bracelet. You can even add a ring if you'd like! Since this outfit is super simple, adding more jewelry won't overpower your t-shirt and jeans. Choose jeans in a light wash and skinny design.
T-Shirt, Bomber Jacket, and Slim Jeans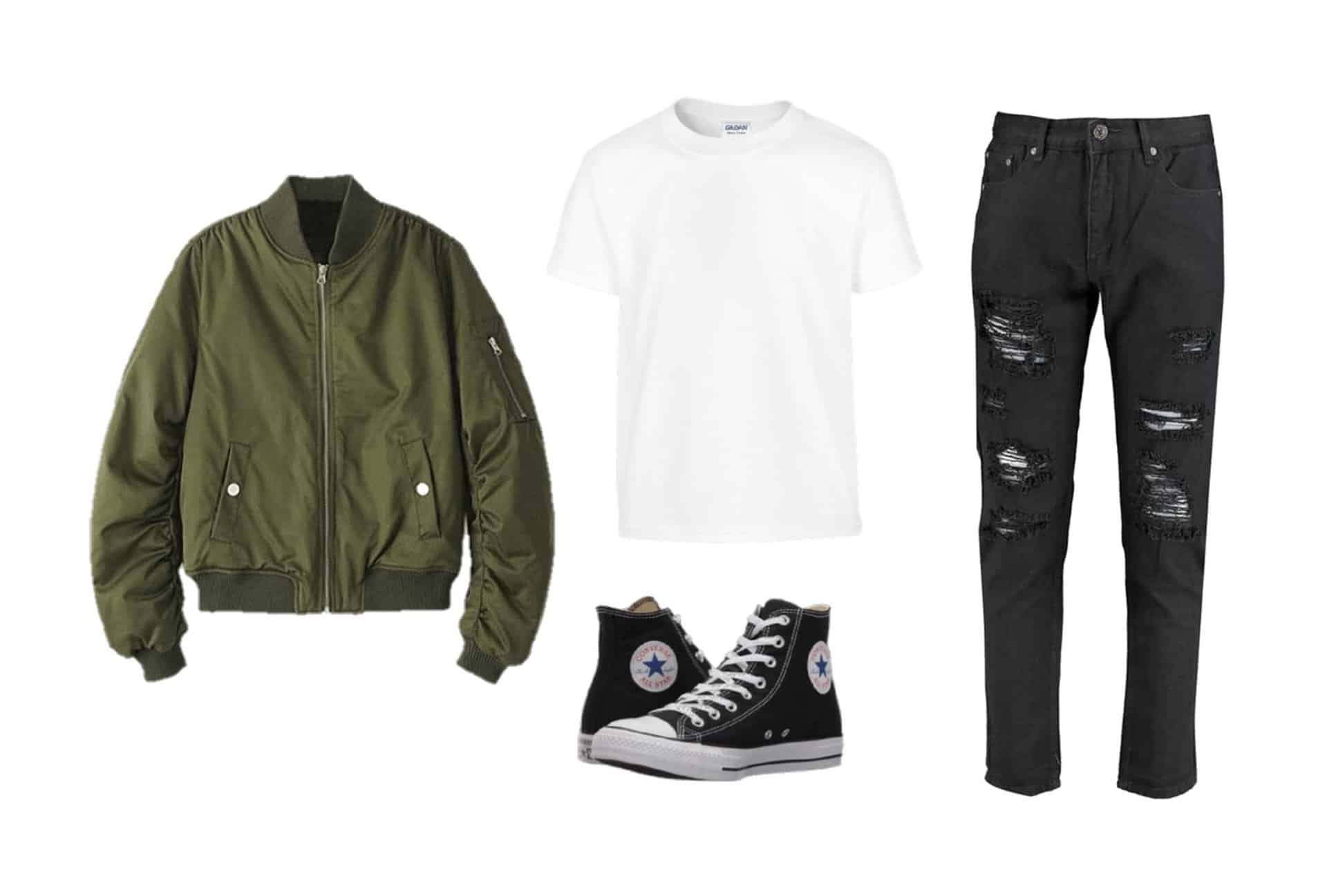 When thinking of how to wear jeans with high tops for a guys' night, try wearing jeans, a bomber jacket, and a t-shirt. With this outfit, you can start with your jacket and build upon the color and design with the rest of your pieces. Choose a jacket in black, olive green, or even a taupe color. Your jacket can be solid, or you can choose one with an all-over design.
If you're going for a solid jacket in black, you can wear a white or black t-shirt. If you want to wear a black t-shirt, try to keep the look sleek by wearing black jeans and black shoes. You can wear distressed denim, which will give your outfit an edge. Add black high-top sneakers like Chuck Taylors, which can also have white colors throughout the design. They don't have to be completely black all over.
If you want more of an athletic shoe, be careful to choose a shoe that doesn't look out of place when wearing jeans with high tops (steer clear of basketball-style shoes with thick outsole). Try a classic pair of Pumas or Nike Blazers. Both of these shoe styles are available in a suede or leather option. Either will be suitable for a casual outing, but the leather style will be best when you need to dress up a bit.
When deciding to wear your high tops with jeans and a printed bomber jacket, go for a camouflage design. You can wear high-tops that will complement the green colors or you can wear black sneakers. For either of the looks that you'll wear with a bomber jacket, slim jeans will be best. You can also wear boot cut jeans so that you have a slight bit of slouch at the ankle.
Trench Coat, Sweater Vest, Button Up, and Tie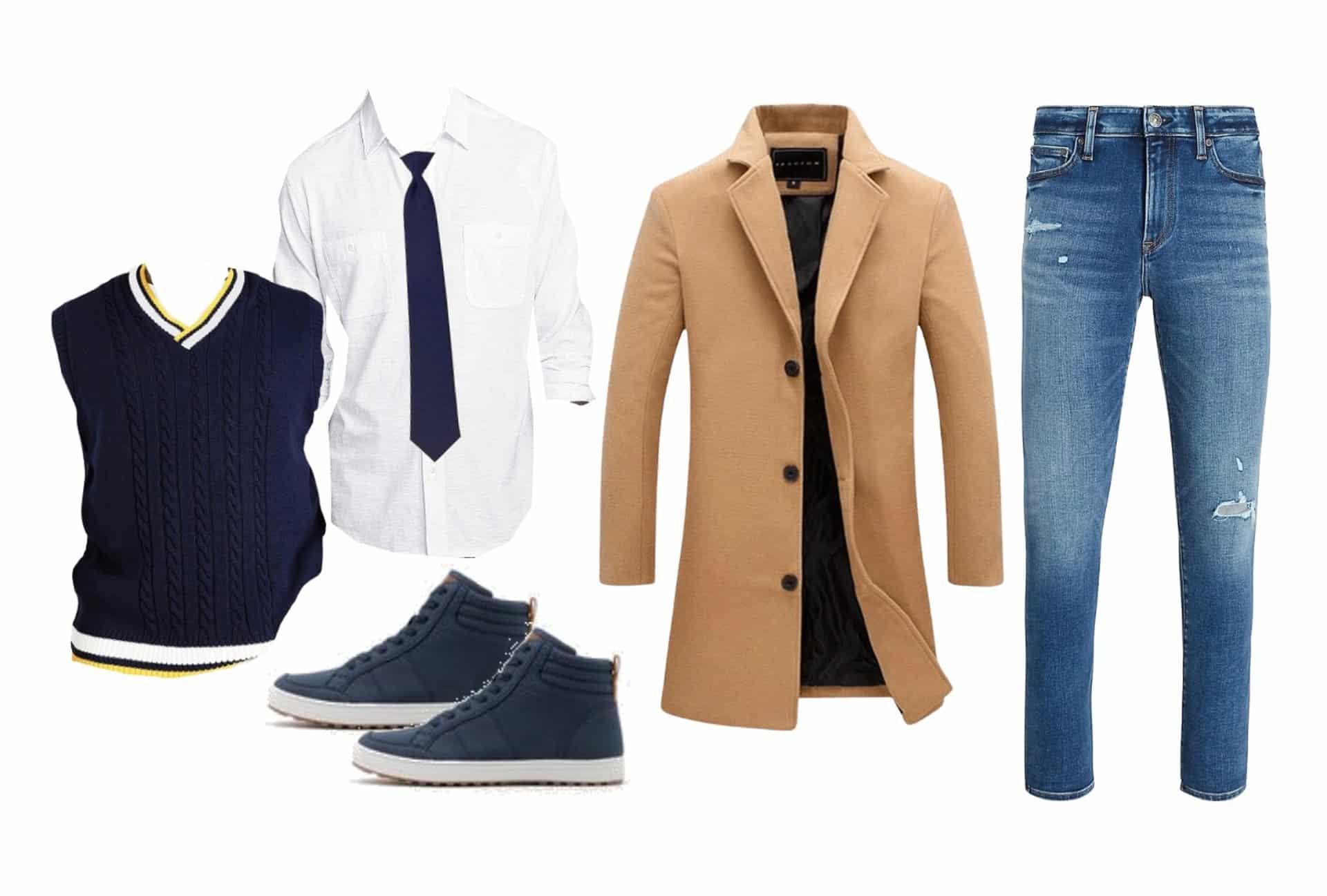 Wear a trench coat or a peacoat with high top sneakers for a dapper look. You can choose a wheat color coat and add a sweater vest. Be sure your coat is long and fits past your waist. You don't necessarily have to wear a coat that will stop at your knees but at least to your thigh area. This is how to wear jeans with high tops to create a more high-fashion look. Add a sweater vest in blue and a white button up. You can even add a tie to this look! Wear skinny or boot-cut jeans in a medium wash. Choose a blue pair of high top sneakers with this look.
Read: How to Wear Timbs With Jeans
Printed Collar Shirt and White Jeans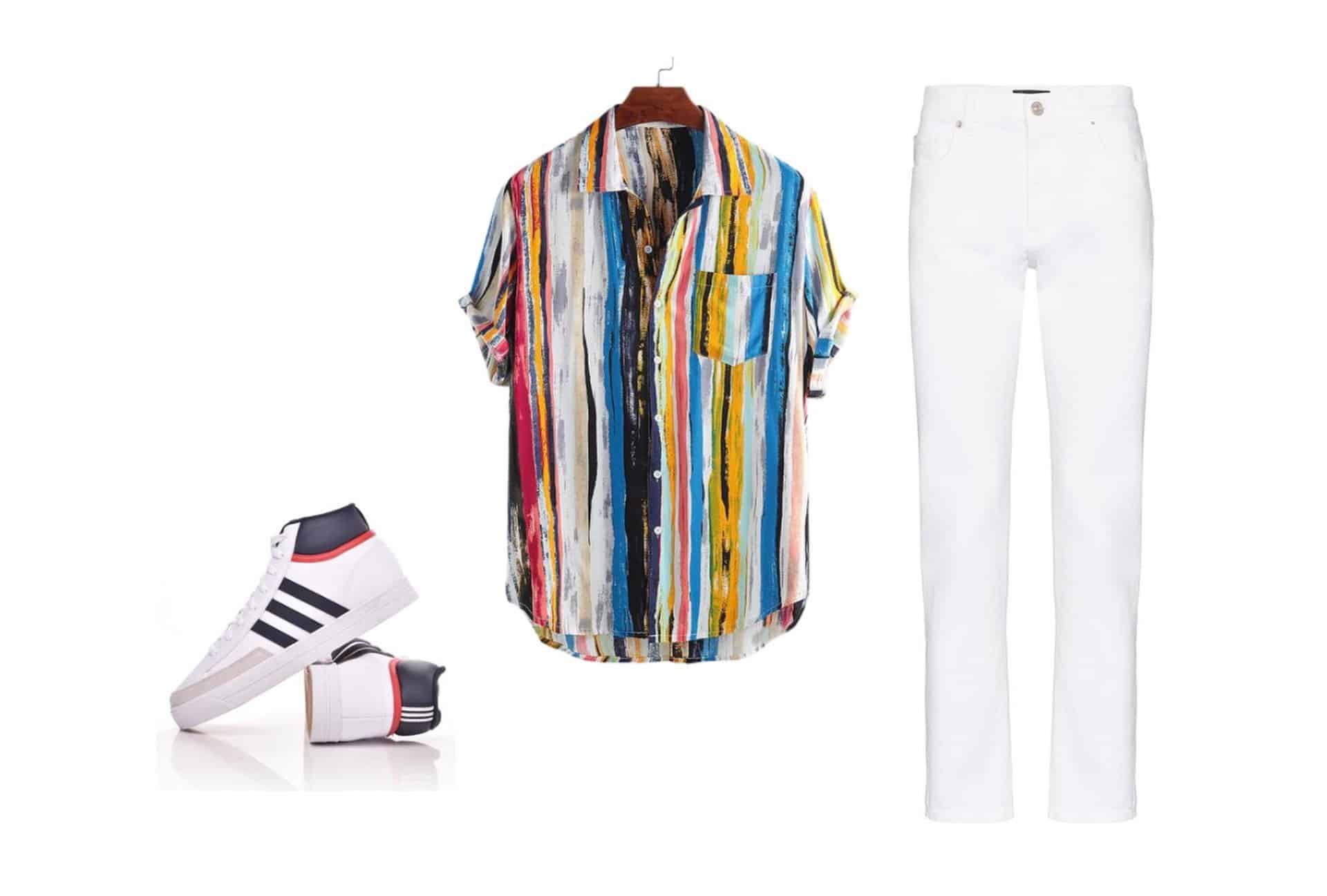 A great way to create a more tropical, vacation type of look is to wear white jeans. Wear a pair of white, boot cut jeans that will slouch a bit within your shoes. Add a pair of classic shell-toe Adidas that are high top and will match with your white jeans. For this look, keep your jeans solid and not distressed.
Add a buttoned, collar shirt that has a busy design all over. You can also wear a plain collar shirt, in the form of polo. With this look, be sure your sleeves are short. If you need to wear a jacket, try wearing a lightweight windbreaker jacket that has more of a sporty design. You can finish your outfit by adding accessories that are also along the vacation style lines, (think straw hats). Pair with a gold or silver-tone watch and you're all set!
Jean Jacket, White T-Shirt, and Black Jeans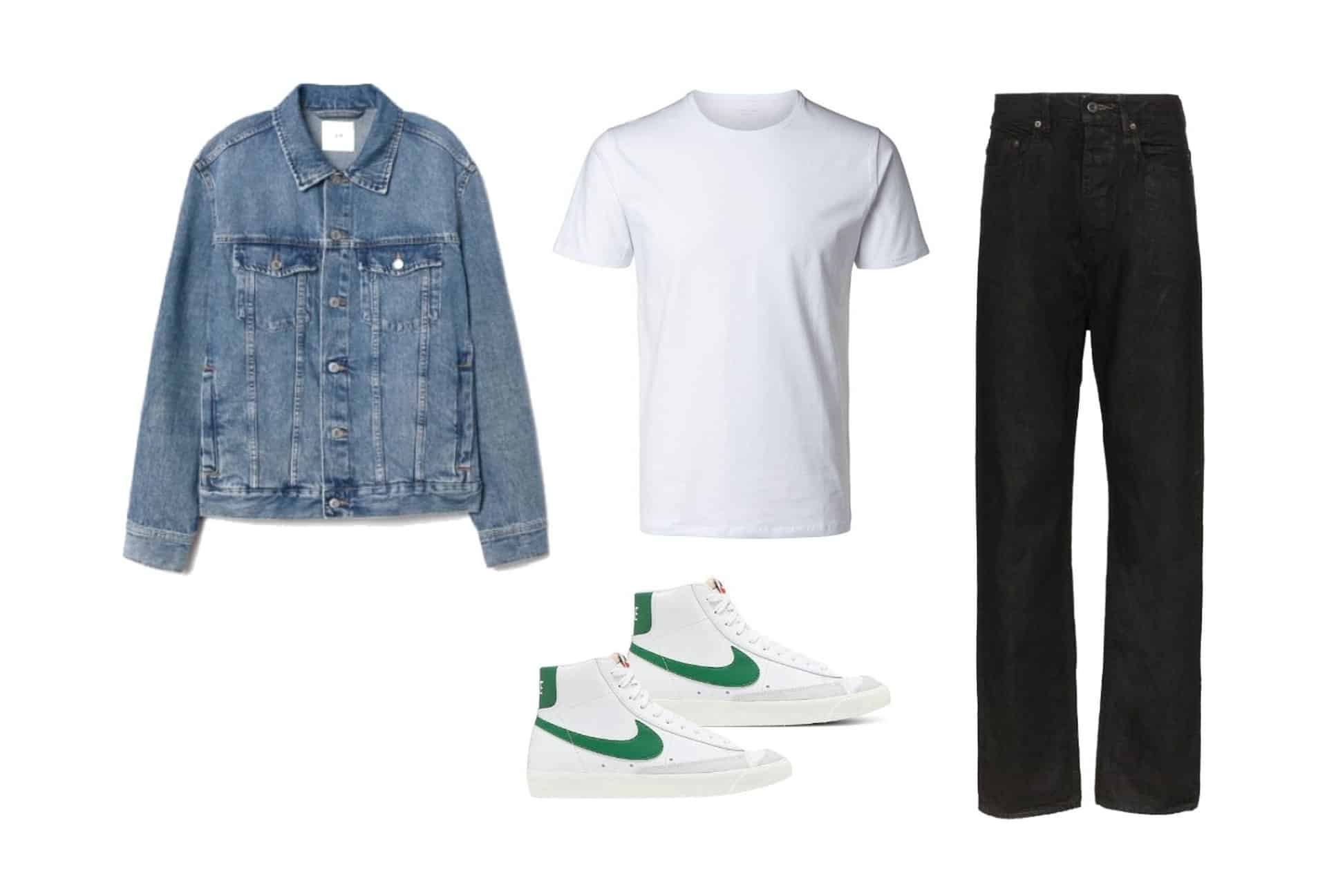 Wear a city-sleek look with a jean jacket. You can also wear a jean-style shirt that buttons and has a collar. This will give the feel of a full jacket. Add a white t-shirt underneath in a scoop neck style. With this look, avoid wearing a v-neck t-shirt, since you want your look to be more urban, versus suave.
You can add a pair of black or grey bottoms that are boot-cut while wearing jeans with high tops and a jean jacket. Your jeans can be distressed if you want to add to the rugged-like aspect of your look. Add white, high-top sneakers with this outfit. You can roll your sleeves and wear a watch or simple bracelet. This look is perfect for wearing white shoes that also have a different color within them as well. For example, you can wear a pair of white Nike Blazers that have a maroon or green check logo, instead of an entirely white pair of high tops.
Read: How to Wear Running Shoes With Jeans
Cashmere Sweater and Jeans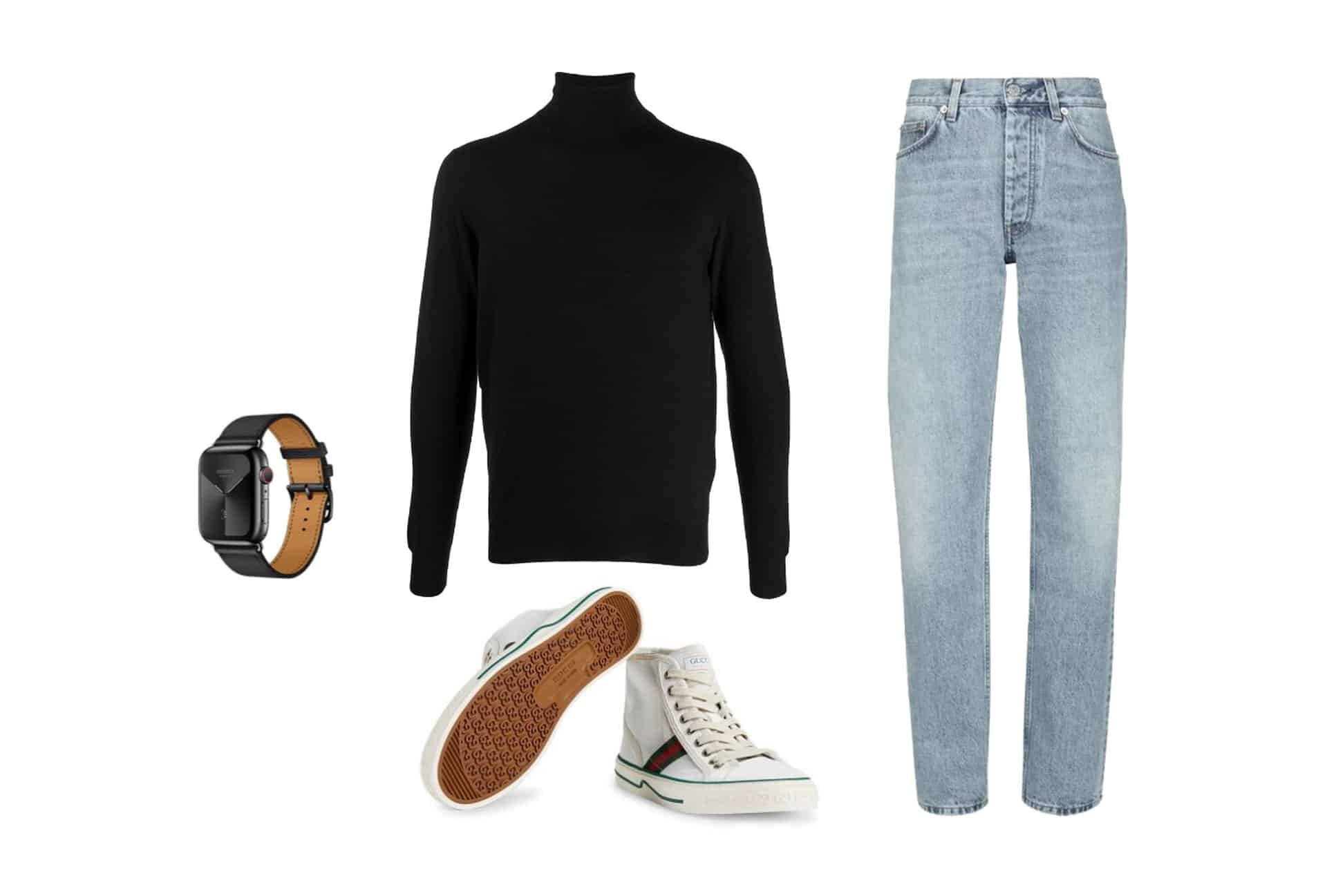 When you need to dress for cooler weather that doesn't allow for short sleeves, but doesn't necessarily demand a coat, try wearing a cashmere sweater. Cashmere is very soft, but the wool will keep you extremely warm, allowing you to avoid the need to bring a jacket along with you. Choose a solid sweater color in grey or black. You can choose other colors as well, like red, green, or blue, but be extra careful with your shoe colors when choosing colorful sweaters.
For example, if you choose a solid grey or black, you can easily wear your shoes with white high tops. You can do the same with your colorful sweaters, but you at least want to make sure there is some form of color that coordinates with your sweater within your shoes. Whether it's the shoe's logo or upper tag, make sure you include the same color element. This will prevent your shoes from sticking out in an unflattering way when you wear a colorful sweater. It's easier to coordinate with grey or black since they are all more muted colors. You can also roll your sleeves with this look as well and add a watch in gold or silver chain. You can also wear a leather band watch, which will make this look more sophisticated.
Suit Jacket and T-Shirt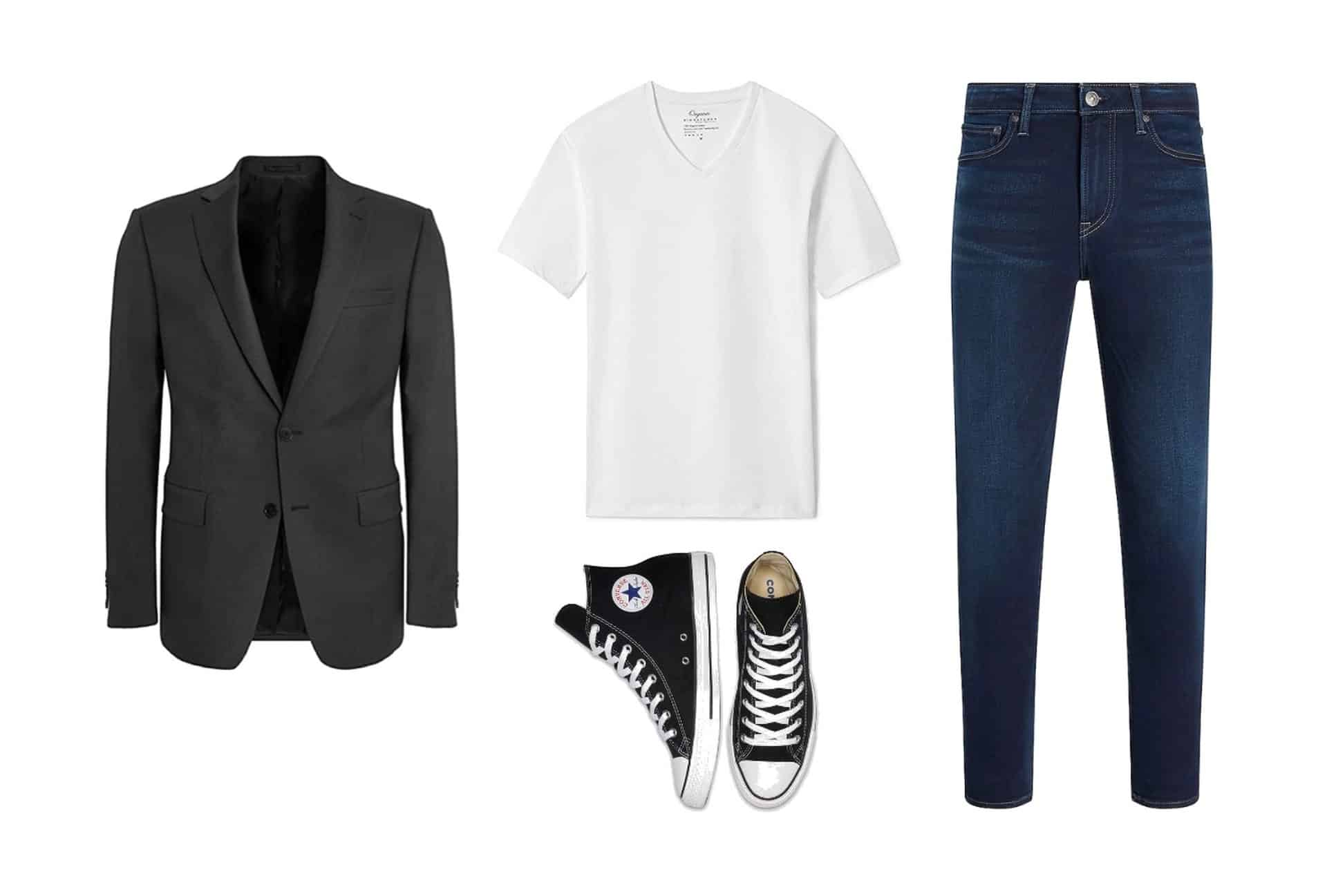 Dress up your sneaker look with a suit jacket and a t-shirt. This type of look is very tricky and has to be styled with precision! Try choosing a grey suit jacket. If you want to choose a lighter color, stick with wheat or blue. Your jacket can be navy or cobalt blue. If you want to go for a green or red, try choosing deeper tones like forest green or maroon. Add a black or white t-shirt to your look. In this instance, your tee can be v-neck, to add to the clean-cut aesthetic.
Add skinny jeans and classic high top sneakers like Converse, or Vans. With this look, you can skip accessories. Or, you can cuff your suit jacket and wear a watch. You can also wear a ring if you're an accessories guy.
Black Button Up and Black Jeans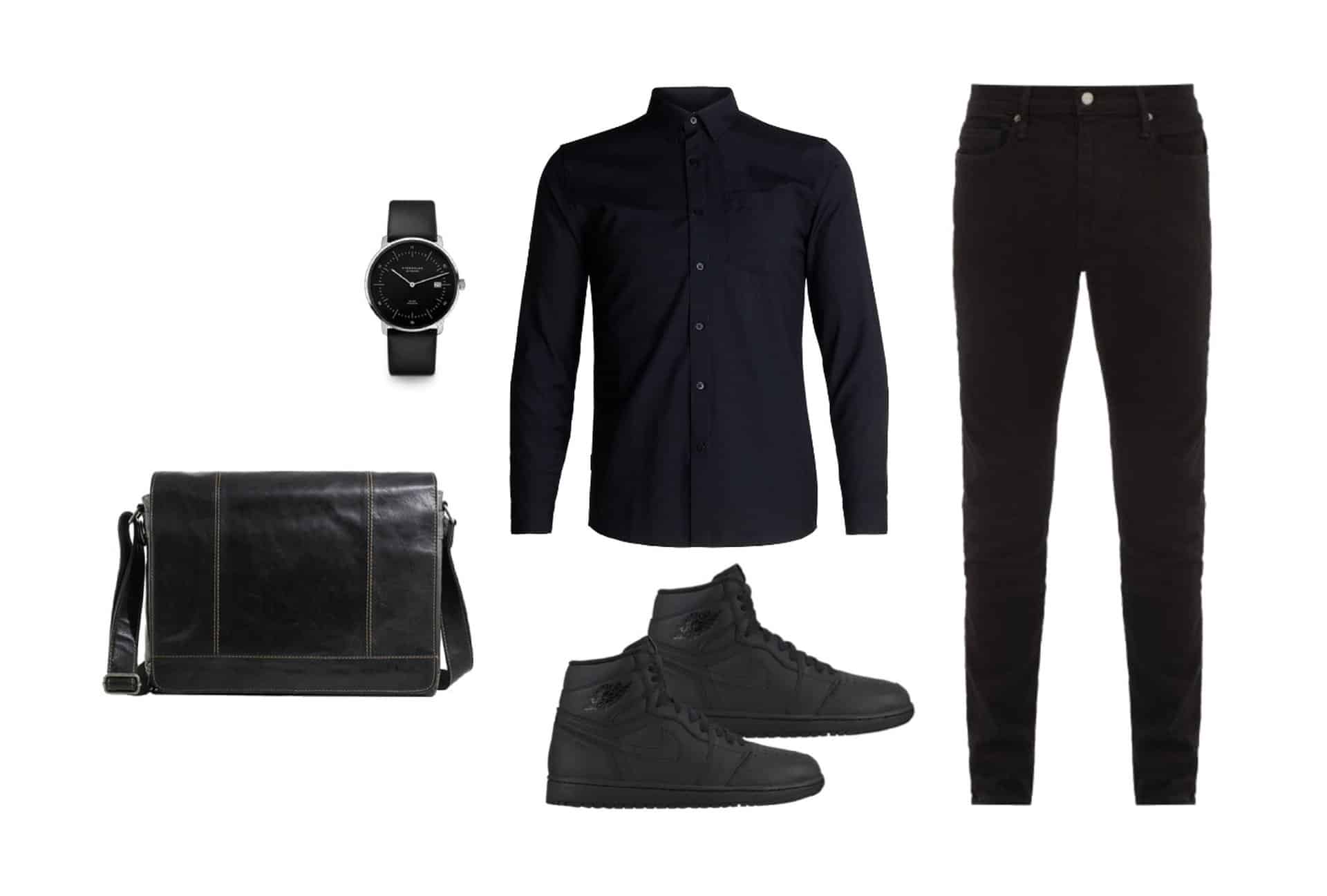 If you're dressing up jeans for work, create an office-casual-inspired look with an all-black outfit that has a more dressy element.  Wear a button up in black and pair with black jeans. With this look, you can even tuck your shirt and add a belt that has a silver buckle. Keep your jeans solid and either skinny or boot cut.
With this look, you can also wear a large duffle bag or a shoulder strap bag. Add black sneakers and a leather band watch. The best thing about this look is you can add layers when needed, without taking away from the appeal. Add a bomber, peacoat, or windbreaker to this jacket and easily transform your look to have an edgier feel.
Wearing high top sneakers with jeans is a fashionable way to stay comfortable throughout your day or on special occasions. The best thing about high-tops is they also offer ankle support and coverage for chilly weather days. When choosing which pieces to add to your sneakers, make sure you wear clothing that fits your body, but also gives breathing room. You always want your look to be casual, but also have the potential to dress up by adding a jacket or blazer.
When choosing how to wear jeans with high tops, classic styles are ideal. Nike, Puma, and Adidas are among the most popular shoes that you can find at virtually any sneaker store. One of the main pros of choosing readily available high tops from staple brands is the color options. Sticking to white or black as an all-around color is easiest. If you want different shades of green, red, or blue, choose designs that have slight color accents. If the color is in the side or back logo, they will allow you to wear vibrant or printed tops, without overwhelming your outfit.
Read: How to Wear Jordans With Jeans
Do high tops look good with jeans?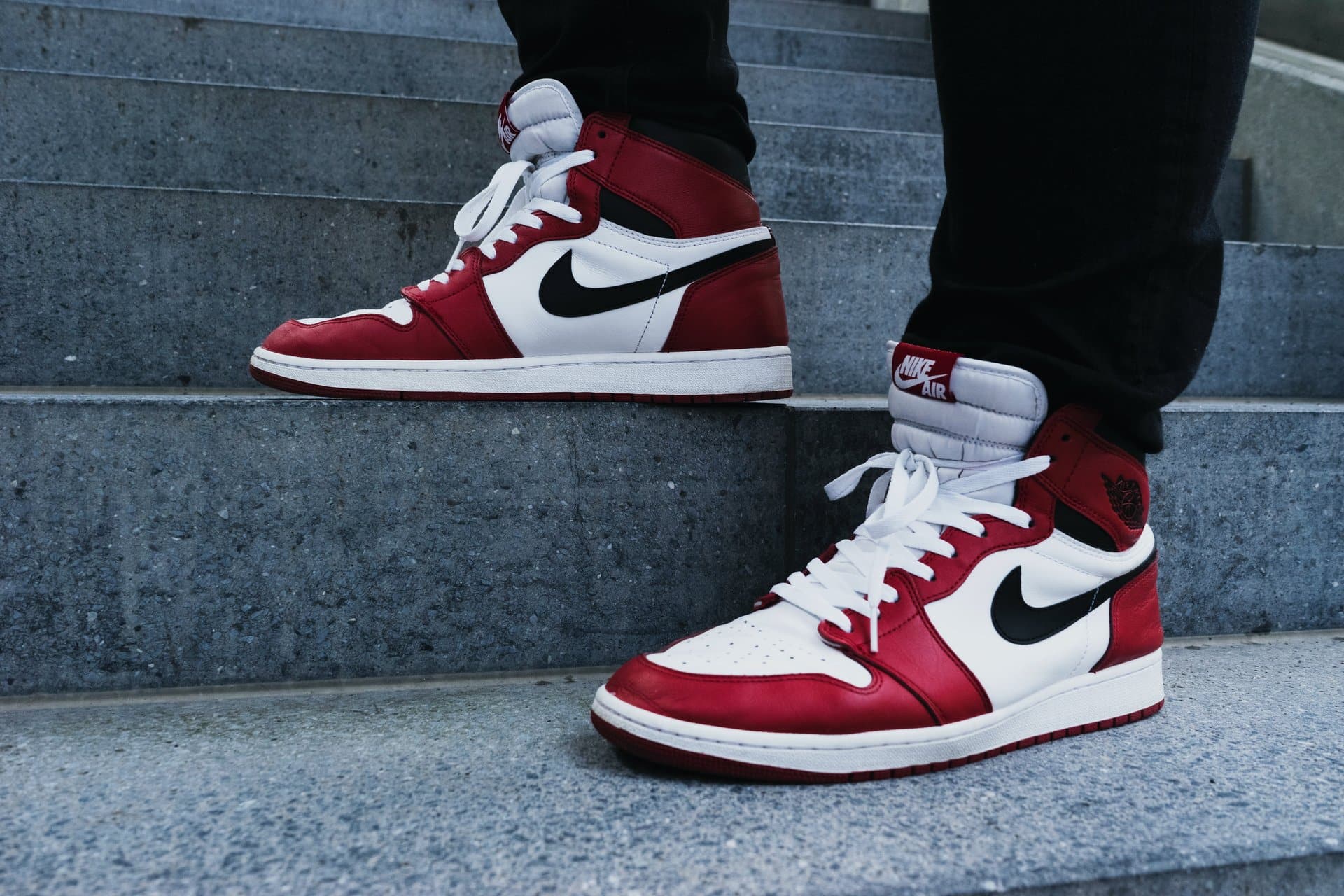 High top sneakers can be worn with skinny jeans or boot cut jeans. You can add to your look with a jacket or blazer. If you're wearing a jacket, a bomber style will be best. You can also wear a suit jacket if you want a business-casual look.
Read: How to Wear Pumas with Jeans
How do you cuff high top sneakers with jeans?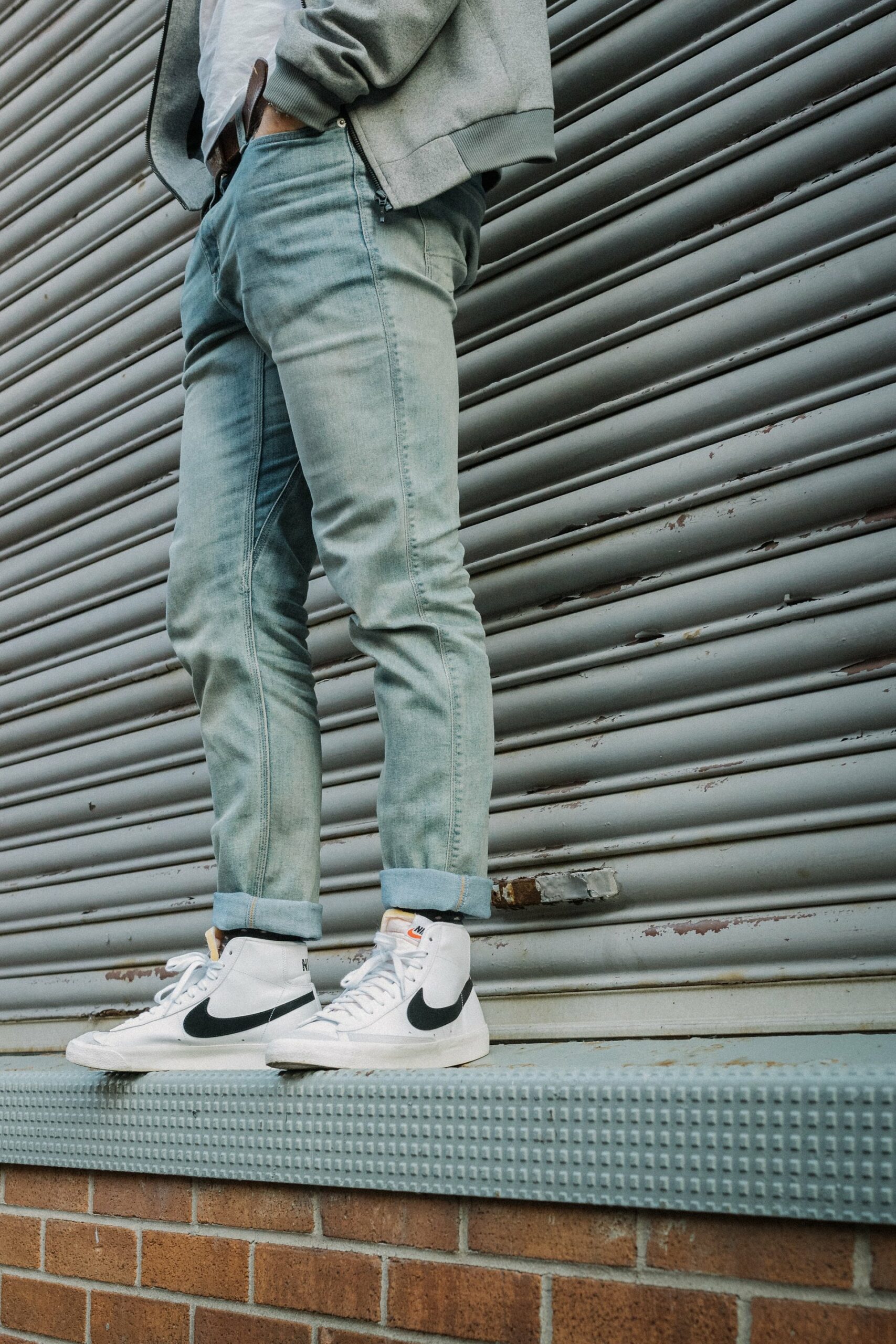 When cuffing your jeans while wearing high top sneakers, steer clear of large cuffs. Cuff your jeans slightly at the bottom, so that your jeans sit above your sneaker tongue. This style is best to cuff with boot cut jeans. To create a more tailored look, cuff your skinny jeans and wear socks. You can then add a pair of high top Chuck Taylor sneakers by Converse.