If you purchase one of the products recommended in this article, I might receive a small affiliate commission. Thank you for your support!
Suspenders became popular in the 1820s and have been worn by the most famous movie stars and celebrities throughout history. In the early 1820s a designer from Britain, by the name of Albert Thurston created the first pair of suspenders, which were formerly known as "braces" and designed for men. They were originally buttoned and were updated to a clasp method in 1894, making it easier to attach, to avoid the necessity of buttons being sewn into each pair of pants. Over the years, they were made popular by public figures like the late Larry King and fictional characters like Steve Urkel!
Wearing suspenders with your jeans is a chic and unique way to switch up your look. They fit the dress code of many types of occasions, as well. When you're heading out for drinks with the guys or a date night, add a swanky pair of suspenders to liven your look. When you step out, you will more than likely have a one-of-a-kind outfit. Suspenders are also lightweight, so they won't be irritating or make you feel restrained, as you wear them throughout the day. Use this guide to learn modern ways to wear suspenders with jeans.
Boot-cut Jeans, T-Shirt, Black Suspenders, Blazer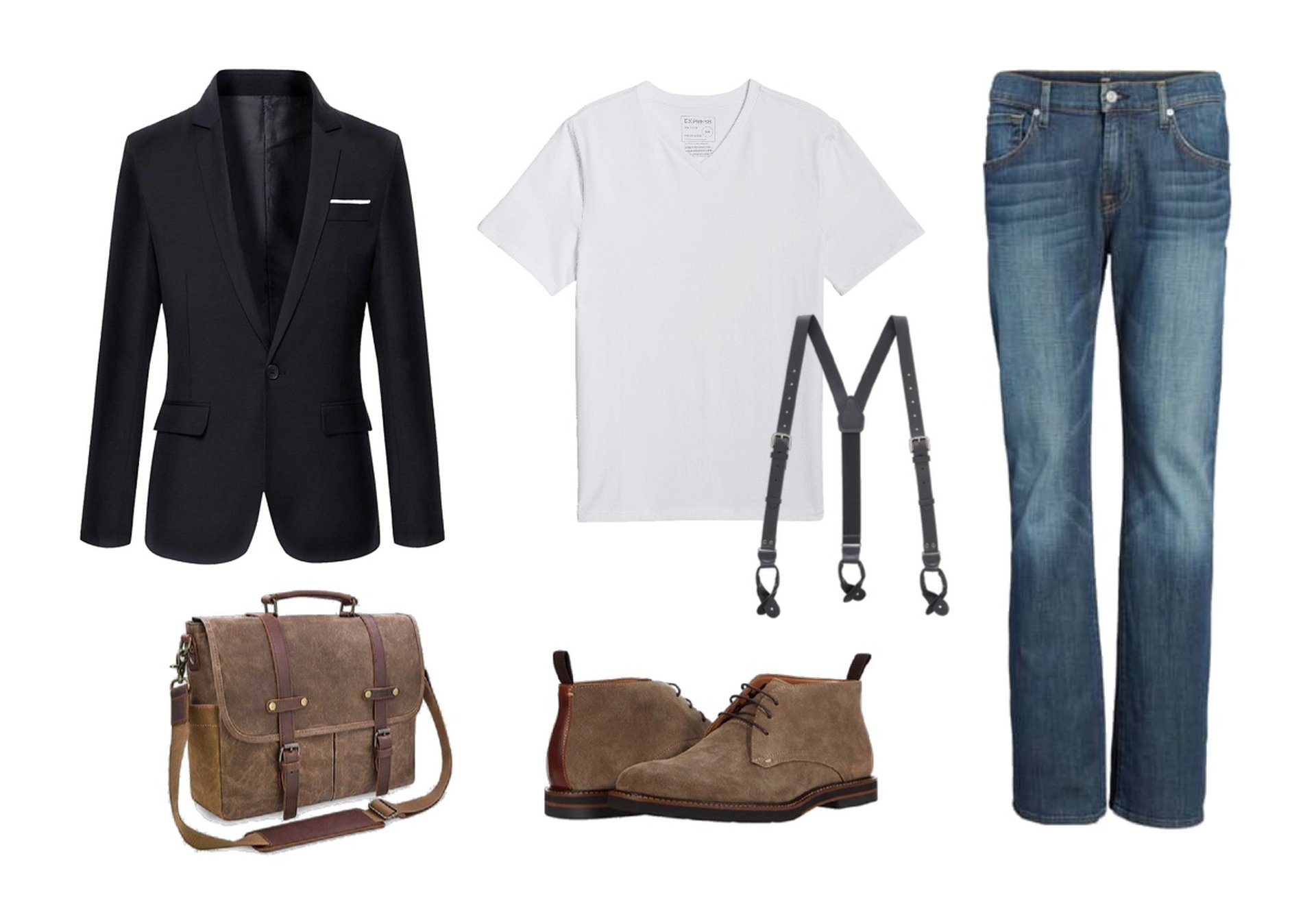 A clean-cut way to wear your suspenders is to wear them with a blazer. You can add jeans that give more room, like boot-cut jeans, rather than skinny jeans. Add suspenders in black or you can add a dark red or maroon color. Wear a white v-neck tee shirt. You can cuff your jeans and add chukka boots. Wear a black blazer that's fitted, so that your look appears tailored. This look can also be worn with a feather hat since it will have a more polished feel. You can also wear a laptop bag or a vintage paperboy type of bag. Choose a black bag that will coordinate with your wallet or shoes.
Read: How to Wear Jeans With High Tops
Black Suspenders, Button-Up, Skinny Jeans, Cardigan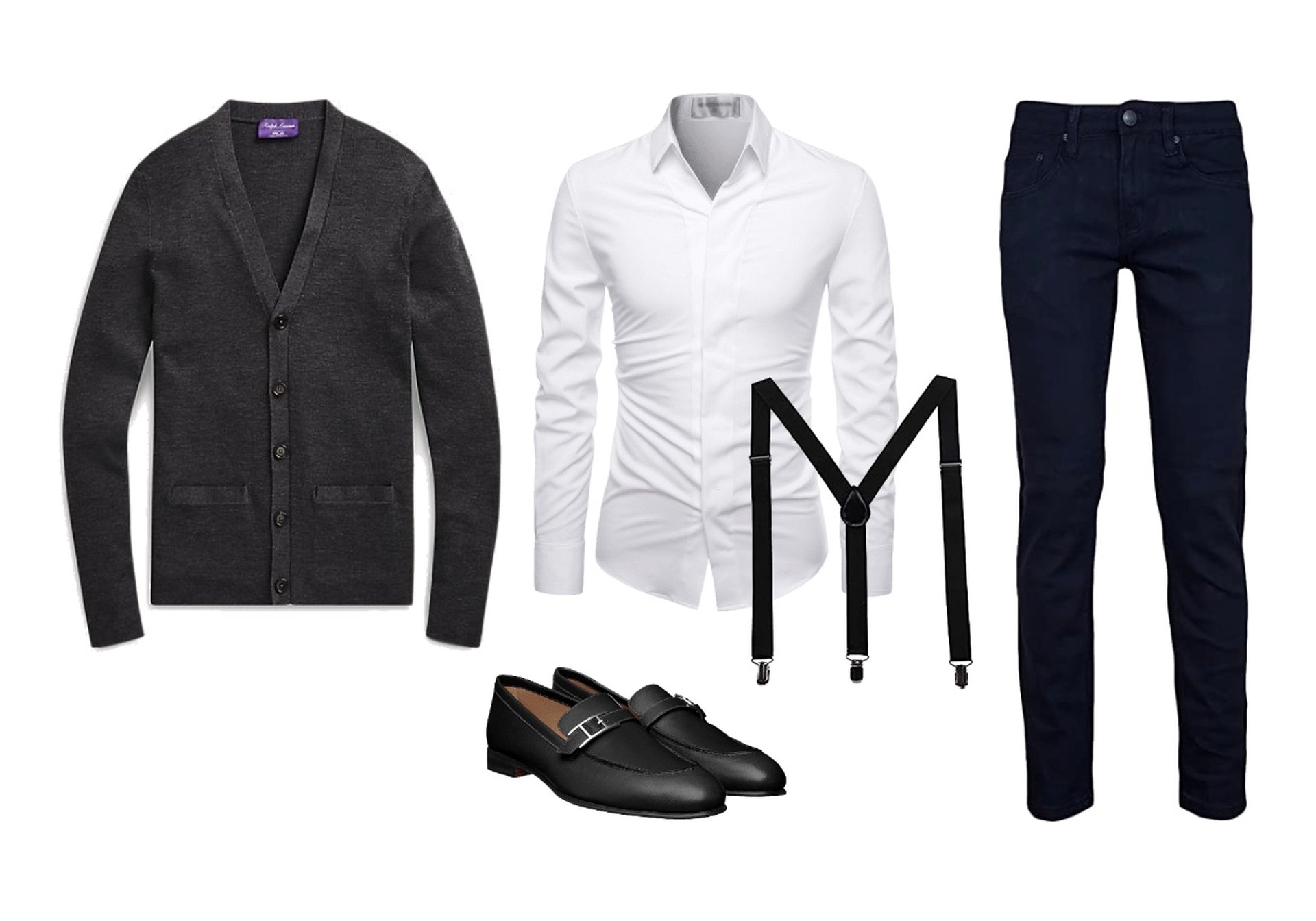 You can wear suspenders in a more preppy way with a button-up. Wear skinny jeans in a dark wash and add western-inspired boots. You can wear this look with a one-strap, men's bag, as well. You can add aviator sunglasses when the sun is out. When it's cool, you can add a cardigan or leather-style jacket. Make sure your cardigan doesn't have stripes and is in a solid color like black or wheat. You can choose a cardigan that stops a little below your waist or a longer cardigan. If you don't want to wear a cardigan, you can wear a long over-coat or trench coat. Add black or brown boots or loafers.
Collar Shirt, Dark-Wash Jeans, Fedora, Brown Suspenders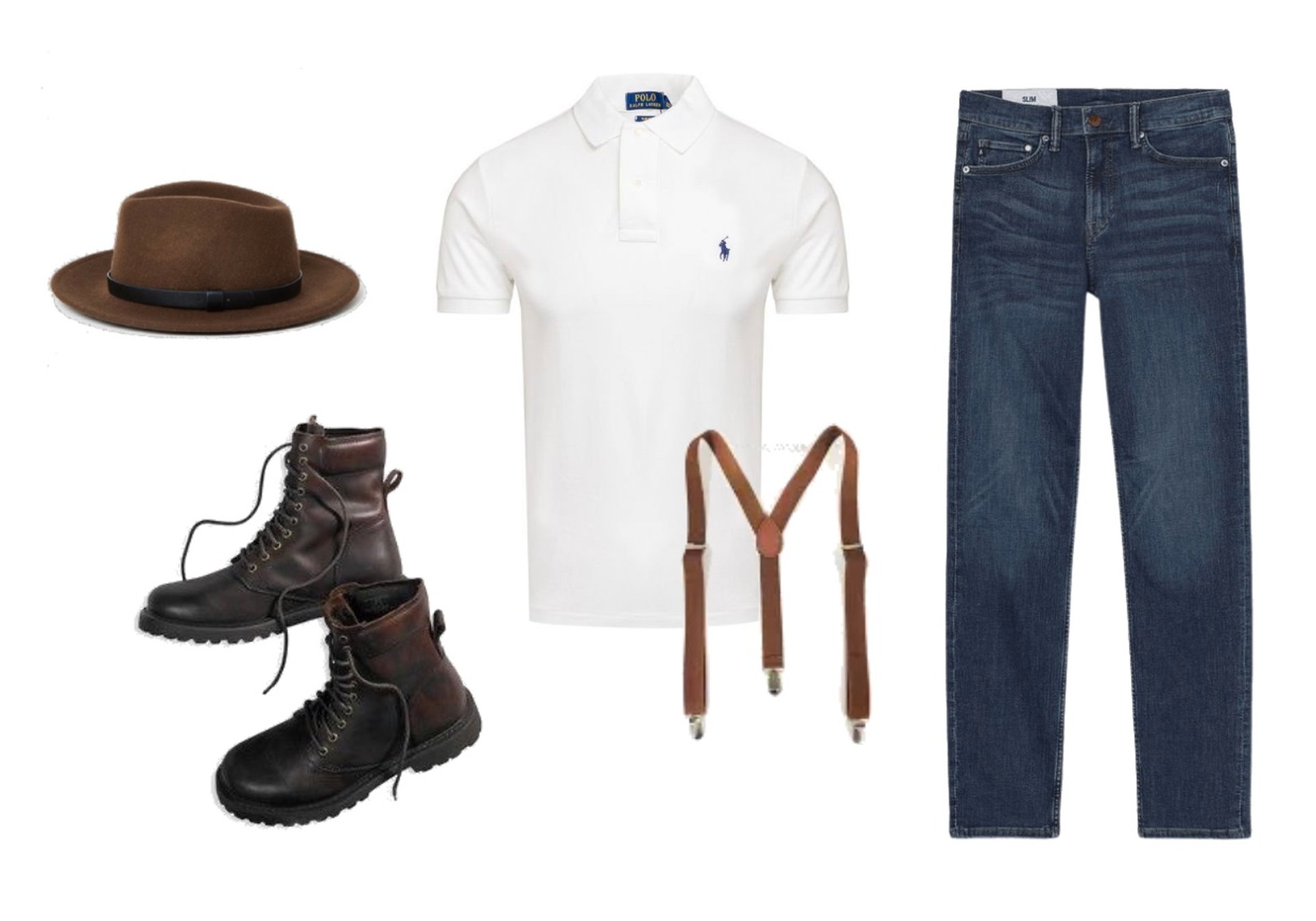 You can create a professional look that's also appropriate for the bar, with a fedora, jeans, and suspenders. Wear a white-collar shirt that has a full button-up design or it can be a half button. This form of the shirt will be more in a polo style, allowing you to unbutton only at the neck area. Add dark wash jeans and boots. Wear brown suspenders in a leather style. You can add a watch and silver jewelry that are simple in design. Wear a band ring and a thin chain necklace, both in a silver tone.
Turtleneck, Black Suspenders, Boot-cut Jeans or Skinny Jeans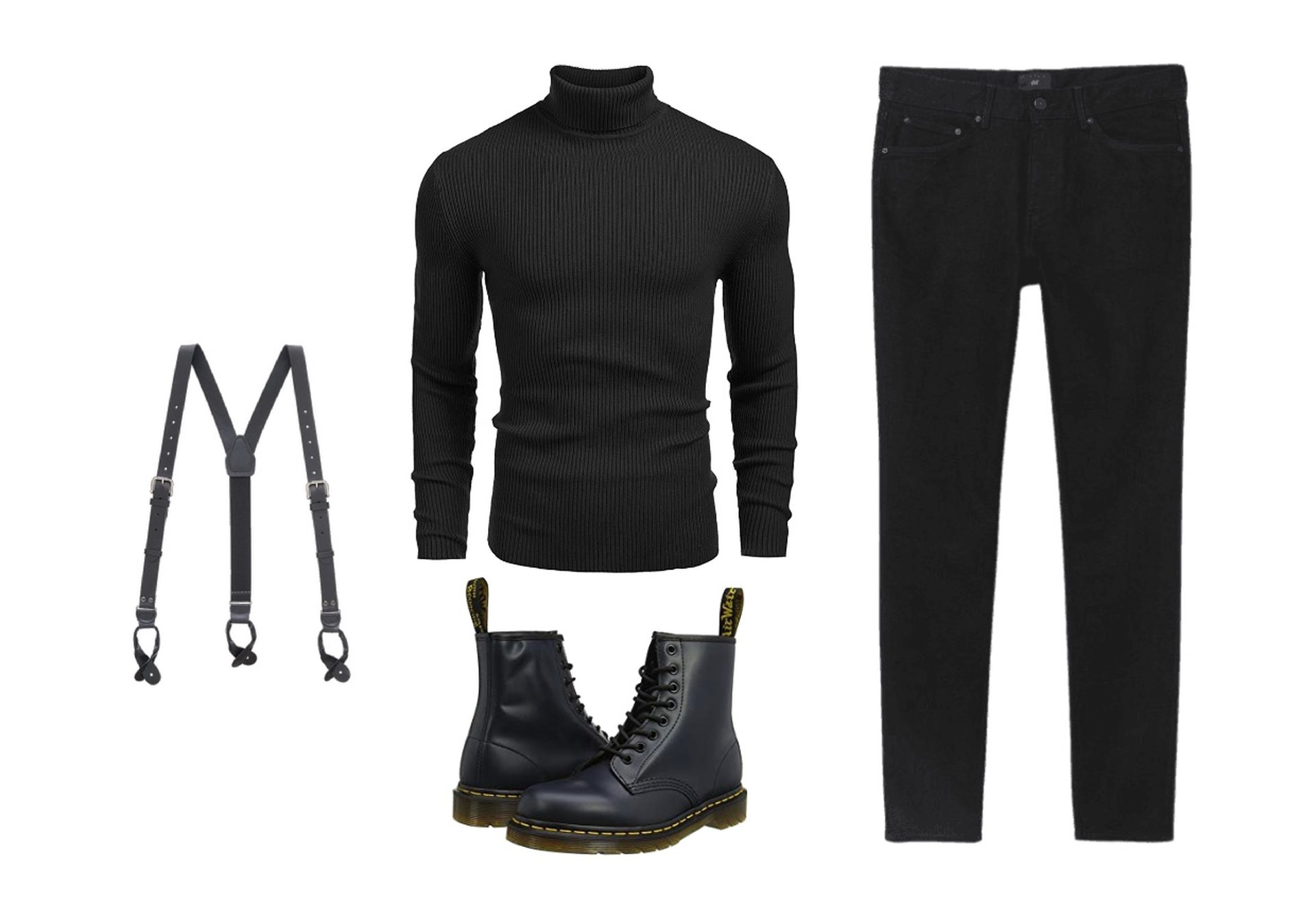 You can wear your jeans with a turtleneck and suspenders, as well. Wear a pair of black jeans and add a black turtleneck. You can even wear a scoop neck cashmere sweater with this type of look, creating a more cozy vibe. Add black chukka boots or you can add Doc. Martens with this look. Adding Doctor Marten boots is the best way to create an artisan-inspired outfit. You can even add a beanie hat! Keep your look monochromatic in all black or you can bring more attention to your shoes by wearing reddish-brown boots.
White Jeans, Button-Up Shirt, White Suspenders, Oxford Shoes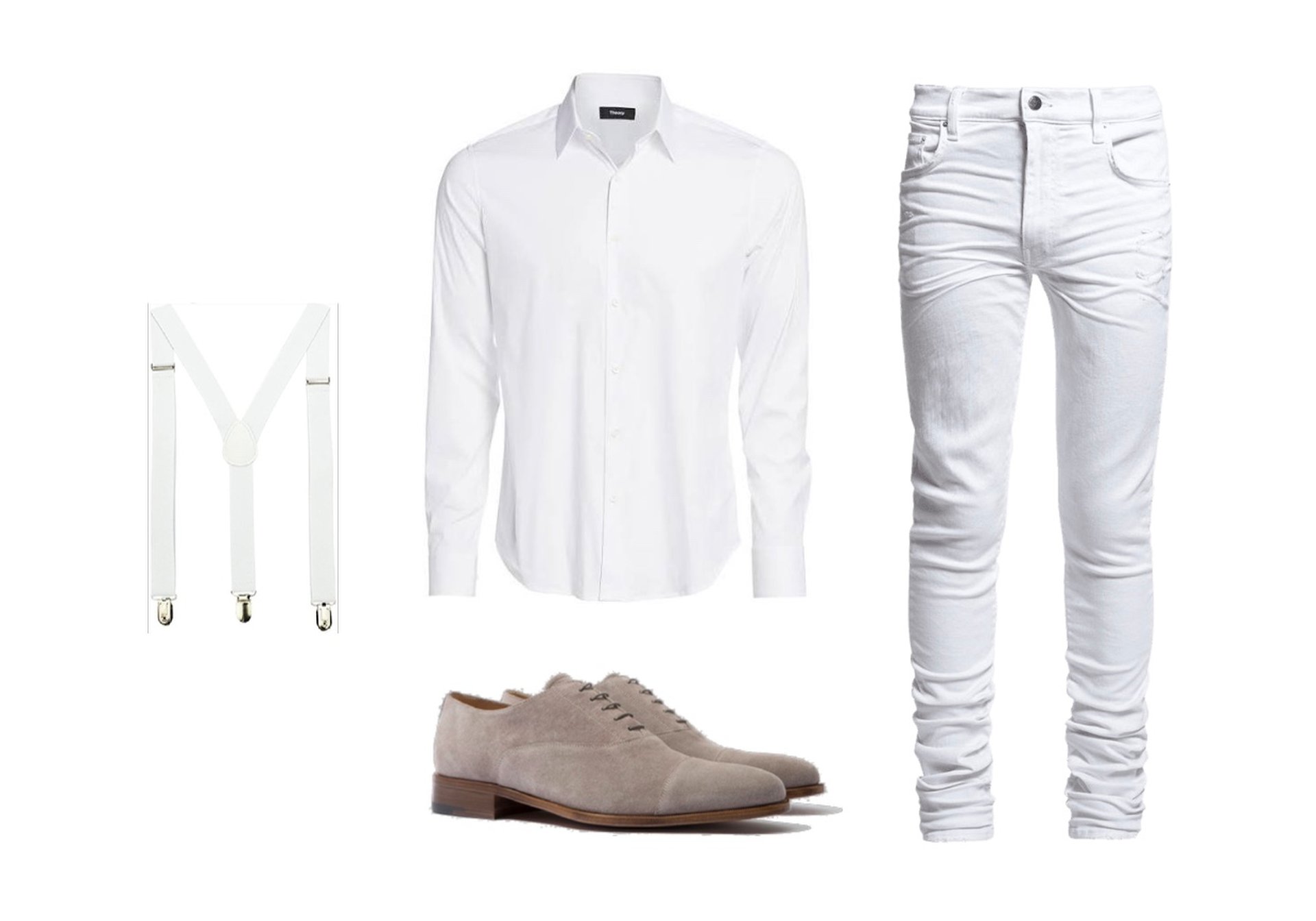 You can wear an all-white look, as well with suspenders. This look is very bold and can be worn at special events. Try wearing white jeans with a button-up shirt. Add white suspenders and taupe or nude color oxford dress shoes. You don't want your shoes to be white as well, since this can be a bit off-putting. Wearing taupe or nude takes more of an up-to-date approach that will appear smooth, rather than forced.
If you want to wear a black and white look, this can work with suspenders and white jeans, as well. Wear black suspenders and black shoes. The key to keeping this look luxurious is to stay away from jewelry or hat accessories. You can wear rings in silver or gold tones, but the accessory additions should stop here. This is to keep your look minimal, versus overcomplicated.
Dark-Wash Jeans, Scoop-Neck T-Shirt and Wide Brim Hat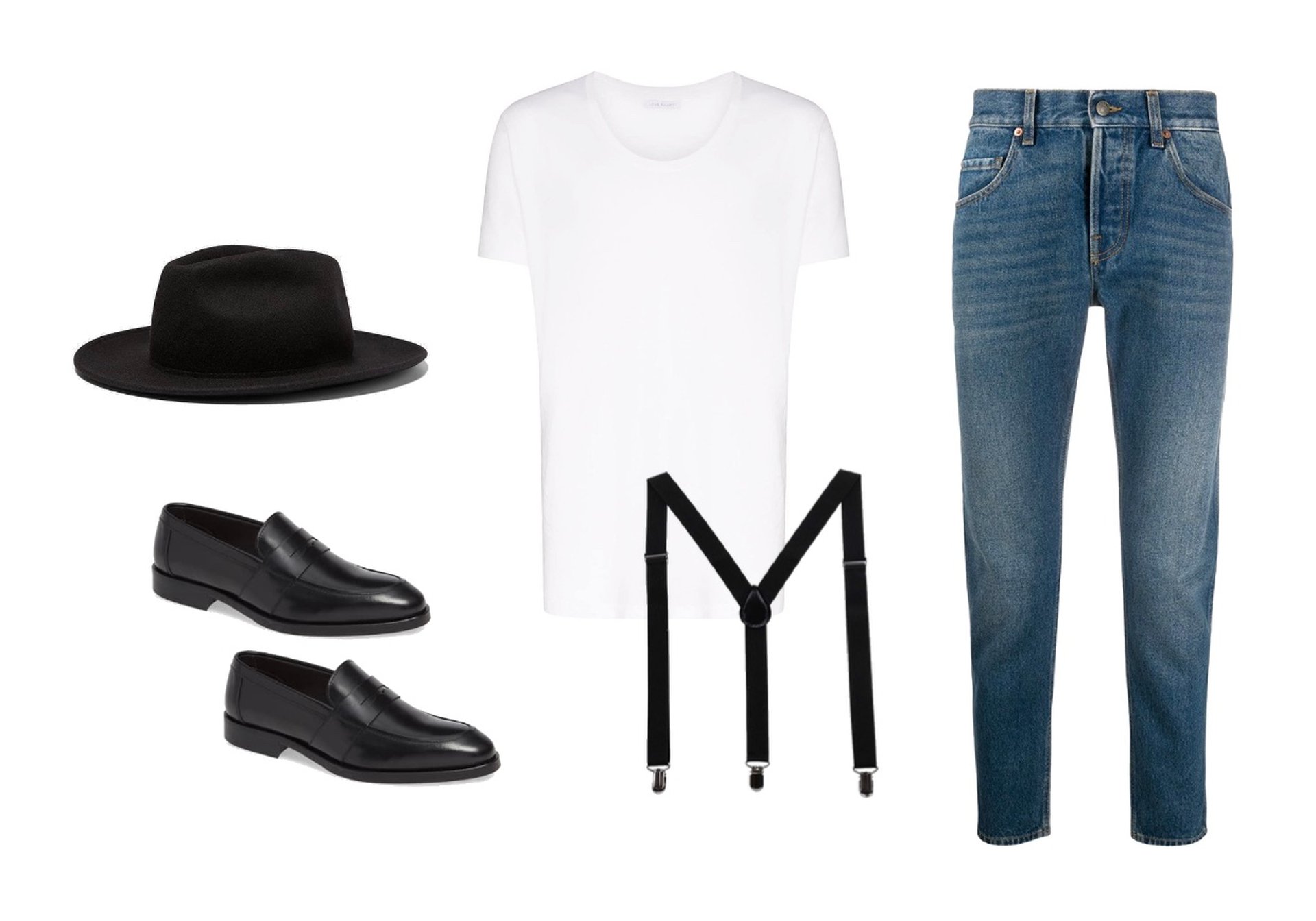 For a super simple day look, you can wear dark-wash jeans in a straight-leg style. With this outfit, your jeans can also be in a boot-cut style. Slightly cuff your jeans at the bottom. Add a scoop neck t-shirt and black suspenders. For shoes, you can choose classic penny loafers or Venetian loafers. Wearing loafers with jeans will add a dressy element, but will remain casual. Add a wide brim hat, if you want to dress up a little.
Blue or Maroon Oxford Shoes, Black Suspenders, Dark-Wash Skinny Jeans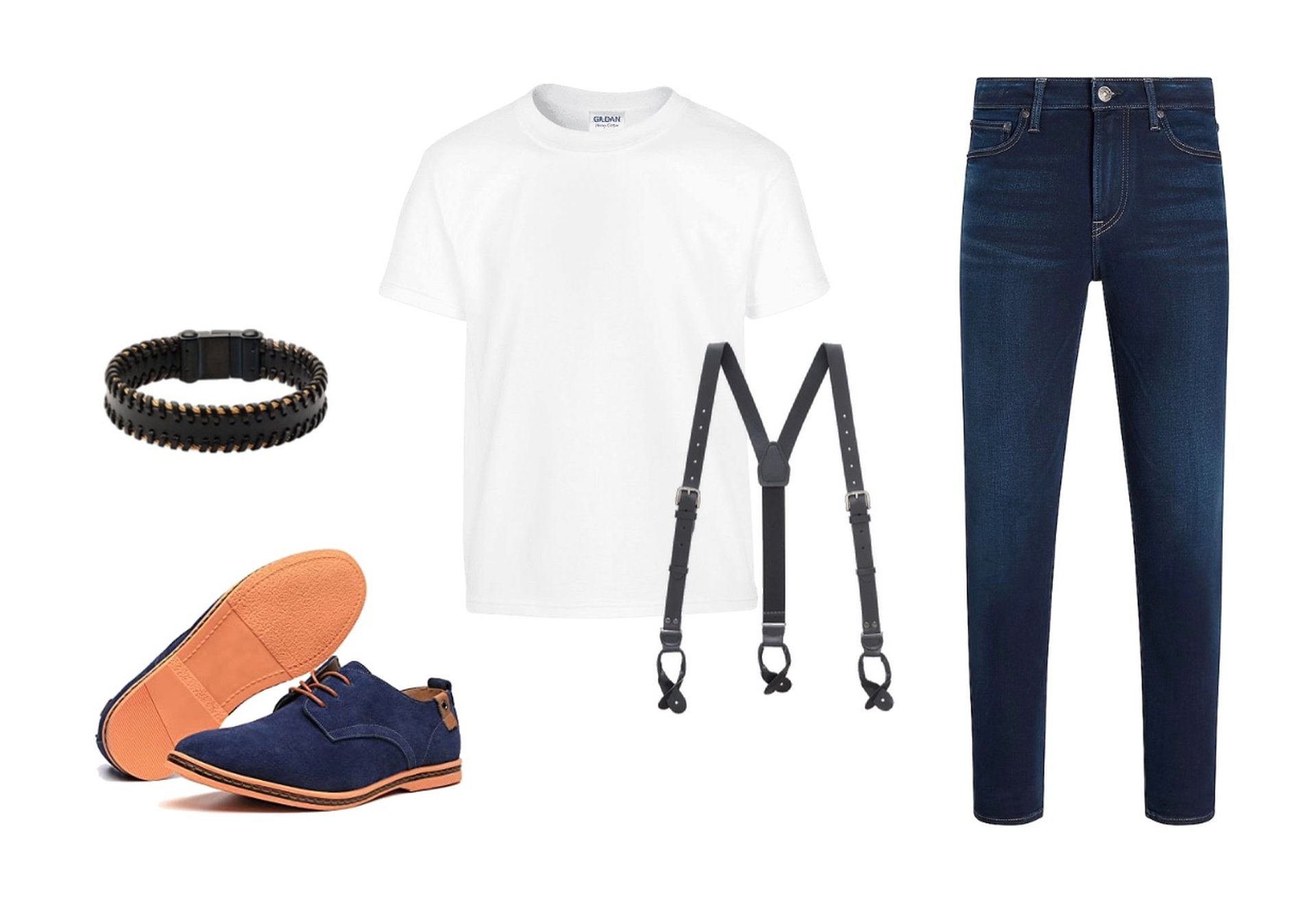 When thinking of how to wear suspenders with jeans, you can also add a pop of color to your shoes. Wear a pair of dark-washed skinny jeans and suspenders in black. Pair with a white tank or white t-shirt. Since your arms will be on display, this would be the time to play with accessories. Add leather or beaded bracelets. You can also wear studded earrings if you're feeling extra suave! Finish your look with a pair of suede-style oxfords in a standout color like maroon or blue. You can also add a blazer to this look, as well. This look will also work with a briefcase or a one-strap bag for men.
Graphic T-Shirt, Colorful Suspenders, Sneakers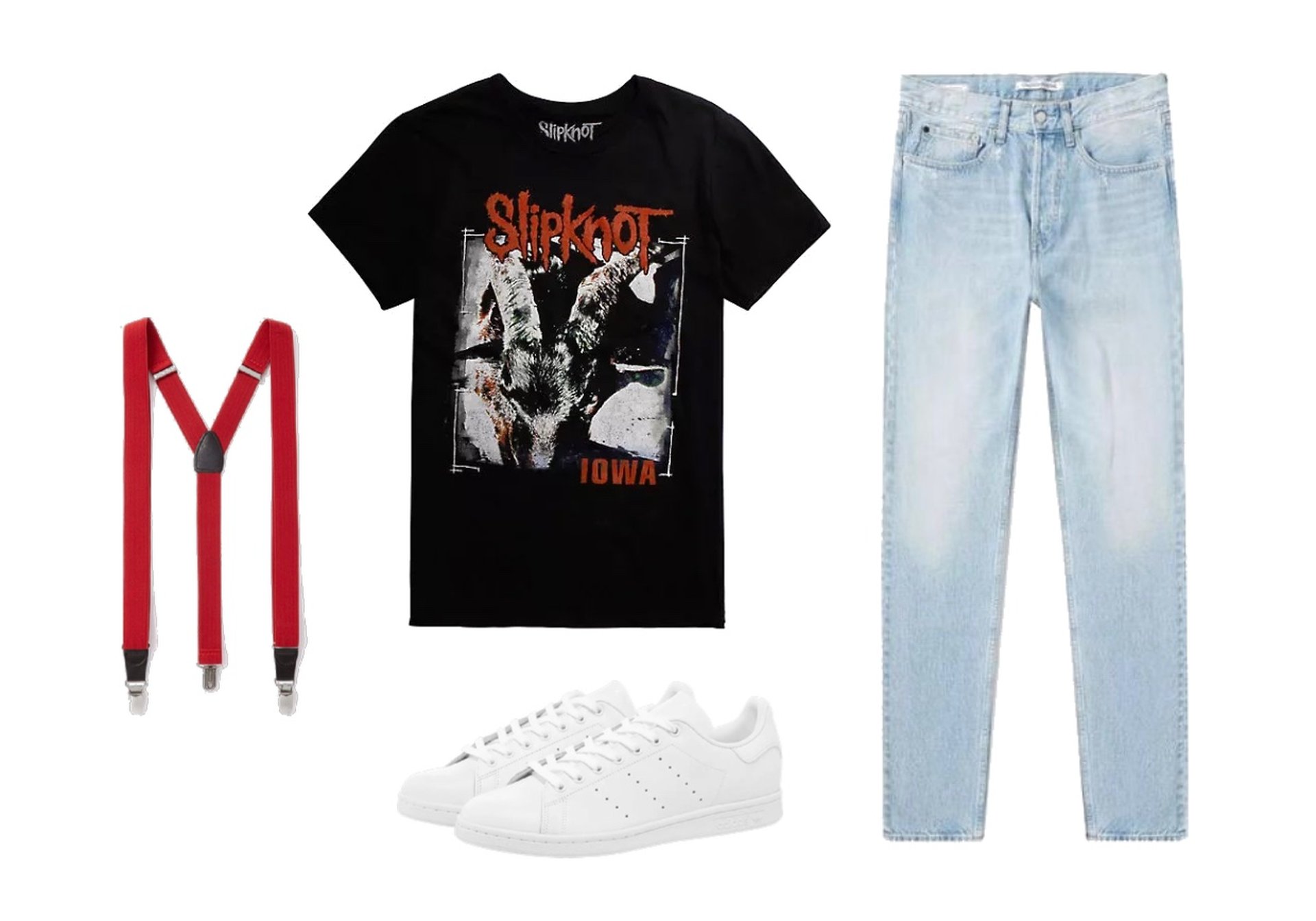 When choosing how to wear suspenders with jeans, if you're feeling more relaxed, try wearing them with a graphic t-shirt. You can wear virtually any wash color for your jeans. Light wash will pair well with darker graphic t-shirts. Darker wash graphic t-shirts will pair well with lighter t-shirts. You can wear your favorite band tee or you can wear a simple branded t-shirt. Wear colorful suspenders with this type of look, especially a pair that will compliment the color inside of your t-shirt. For example, if you have a red, white, and black band tee, you can wear red suspenders! Wear this look with sneakers in black or white. Try not to overdo it with colorful sneakers that will possibly make your outfit look too busy.
Read: How to Wear Jordans With Jeans
Distressed Jeans, T-Shirt, Brown Suspenders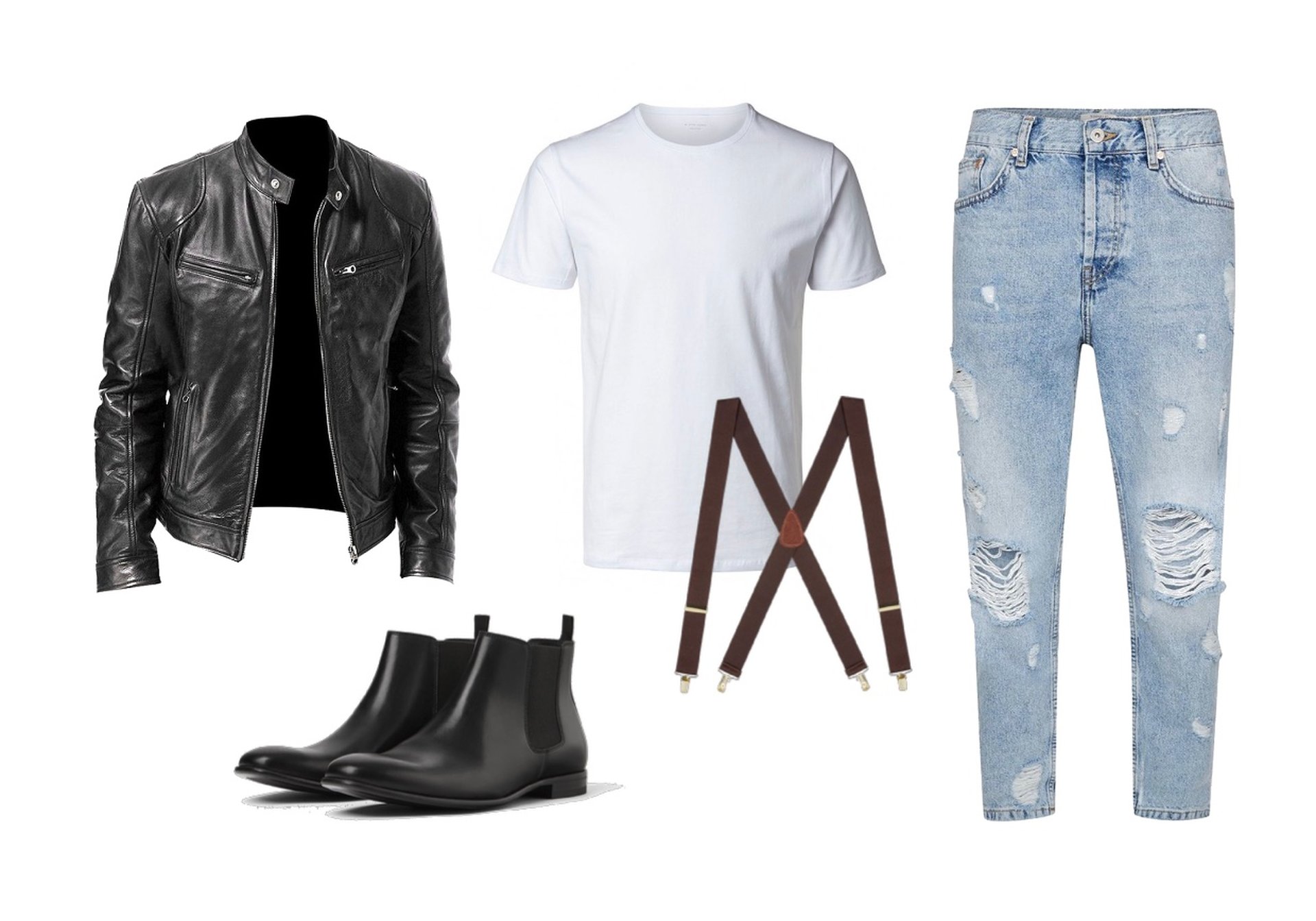 To create an all-around chilly weather look, try wearing your jeans in a light-wash, distressed style. Make sure your destroyed elements don't have too many openings. This is how to wear suspenders with jeans on a cool-weather day. Your jeans can be cuffed at the ends. Wear a white t-shirt. You can also switch things up and wear a black button-up. Go for black or brown suspenders. Add short boots that fit right at the ankle, in a black leather style. Finish your outfit with a black leather jacket in a bomber or moto style. With this look, you can skip jewelry accessories and wear sunglasses.
Suit-Vest, Straight-Leg Jeans, Collar Shirt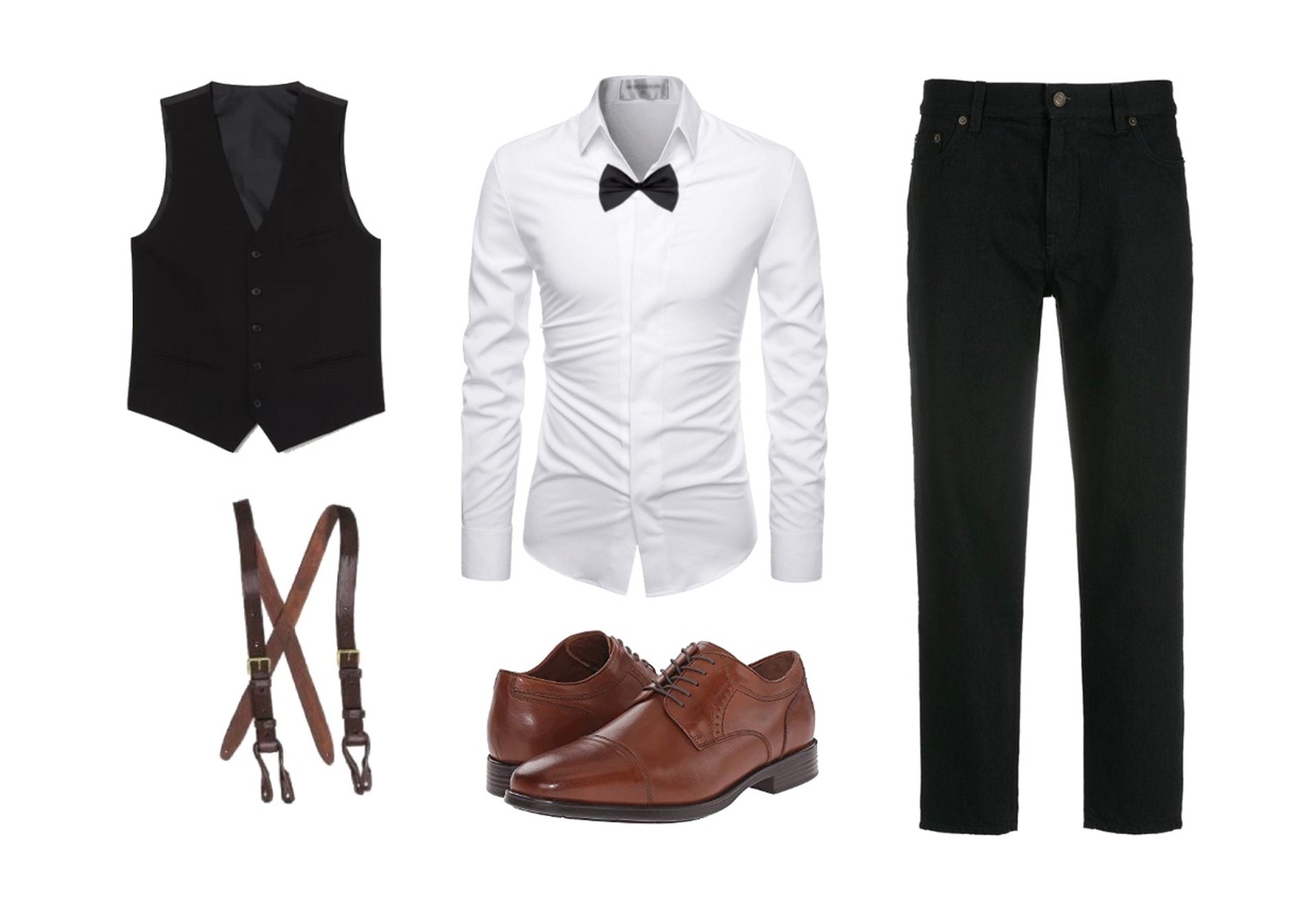 When you want to be full-on dressy, you can wear suspenders with jeans and a suit vest. Wear black or brown jeans with a white button-up shirt. You can button your shirt completely to the top and add a bow tie. This look is inspired by the 1920s and is perfect for more dressy types of events. You can wear a Jaxon hat in a newsboy style or you can wear a felt fedora. You can skip the hat and show off a fresh cut or style if you don't want to wear as many pieces. Cuff your sleeves to showcase your watch or bracelet. For shoes, you can wear brown or black oxfords. Wear your suspenders in brown or black, since either one will work with this ensemble.
When considering how to wear suspenders with jeans, a great way is to keep your look preppy, sleek, and casual at the same time. You can also play with each look and add to the more edgy outfit choices with rustic boots and distressed denim. When you want your look to be more urban-casual, wear canvas sneakers or loafers. You can always create a professional look with a blazer and wing-tip shoes. Dress up your suspender outfits with bags, ties, and fedora hats. Always be sure to keep your jewelry simple and opt for a watch or a single bracelet. If you want to wear rings, stick with band rings that you can wear on one or two of your fingers. Use these tips to create fashionable looks by starting with a pair of black, brown, or bright color suspenders!