If you purchase one of the products recommended in this article, I might receive a small affiliate commission. Thank you for your support!
Learning how to wear running shoes with jeans is a classic way to stay comfortable, stylish and do all of the things you need to do throughout the day. You can wear running shoes with many types of jackets, accessories, socks and other clothing pieces.
Running shoes that are white or in classic colors work best when you're styling your jeans, but colorful shoes can be worn as well. Colorful running shoes will make your outfit stand out and can be complementary to each of your looks. No matter the accessories your jeans will also bring any color of your shoes together, only leaving you to add more pieces and layers.
You can add a scarf to your look, different handbag styles, and jewelry styles like bangle bracelets or different color watch bands if you're wearing a smartwatch. Using this guide, you'll discover many more tips on how to wear running shoes with jeans, that will keep your options more open.
Moto Jacket, T-Shirt, White Cropped Jeans, Top Handle Mini Duffle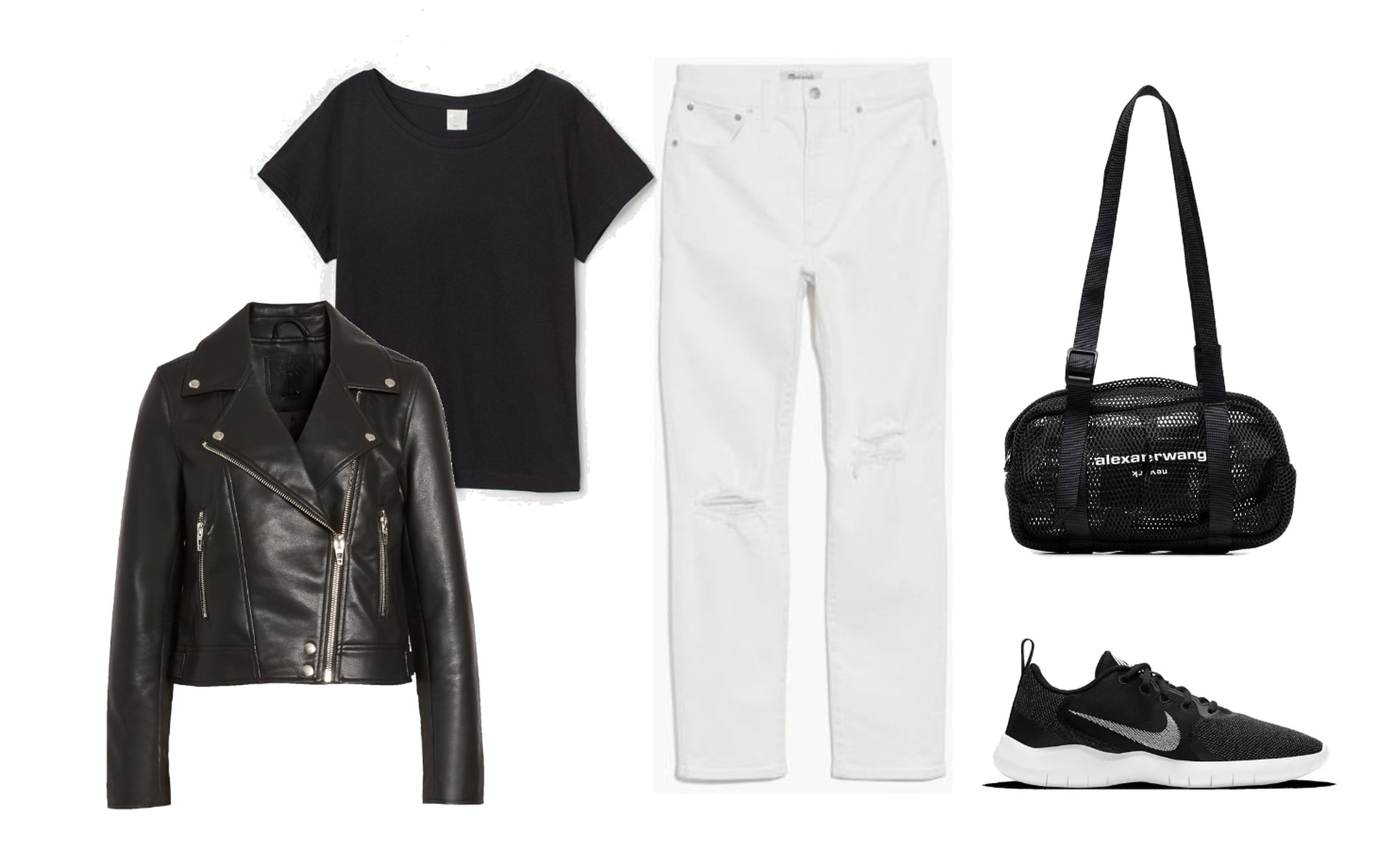 A casual biker look can be achieved with a motorcycle jacket. The jacket can be plain or with zippers and hardware. You can add a black t-shirt that is a scoop neck or v-neck. A t-shirt that is fitted will pull in your waist. Or, you can wear a shirt that is looser for a look that feels effortless. Add white jeans that have straight legs and are cropped to show your ankles.
A top handle duffle bag or mini duffle will help with storing your essential items as you move around and run errands. The running shoes you wear can be white or black.
Read: How to Style Straight Leg Jeans
Grey Sweater, Acid Wash Cropped Jeans, Watch, Shoulder Strap Bag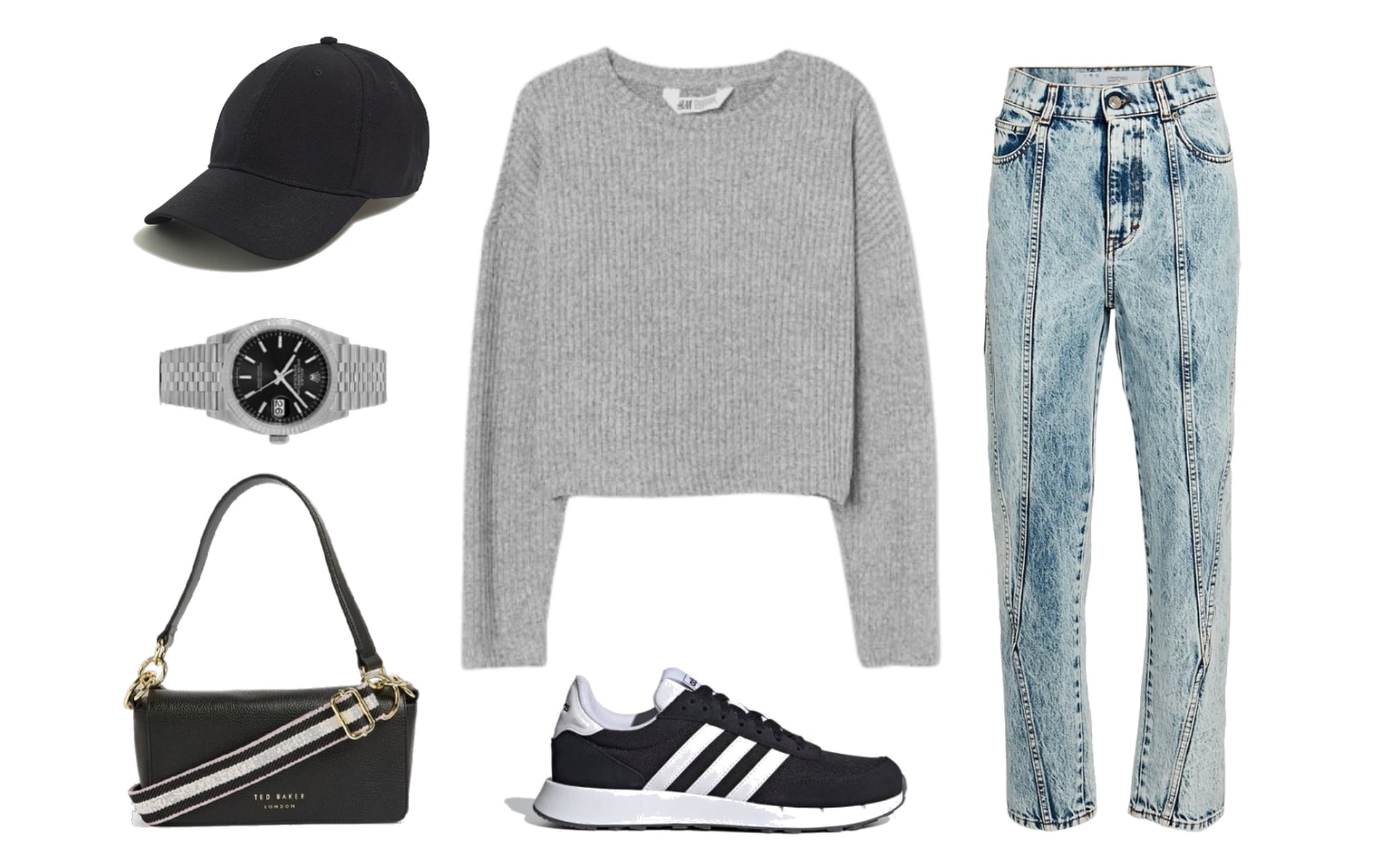 A grey sweater that has a scoop neck or a v-neck will go well with running shoes as a play on total opposites. The shoes will make your sweater stand out but in a good way. Your sweater can be a cable knit or a plain-woven sweater. Choose a light grey shirt if you want to keep your look softer.
Or, choose a darker grey shirt if you want more of a night look. Adding jeans that have a slight acid wash/faded grey effect is how to wear running shoes with jeans by creating a darker palette. Your running shoes can be black or grey. You can also wear running shoes in dark or light blue shades like powder,  sea, or navy blue. Add a strap-back cap in black, for a look that is more athletic.
Read: How To Style Grey Jeans
Blue Jean Jacket, Striped Shirt, Cropped Jeans, Double Strap Tote in Camel/Brown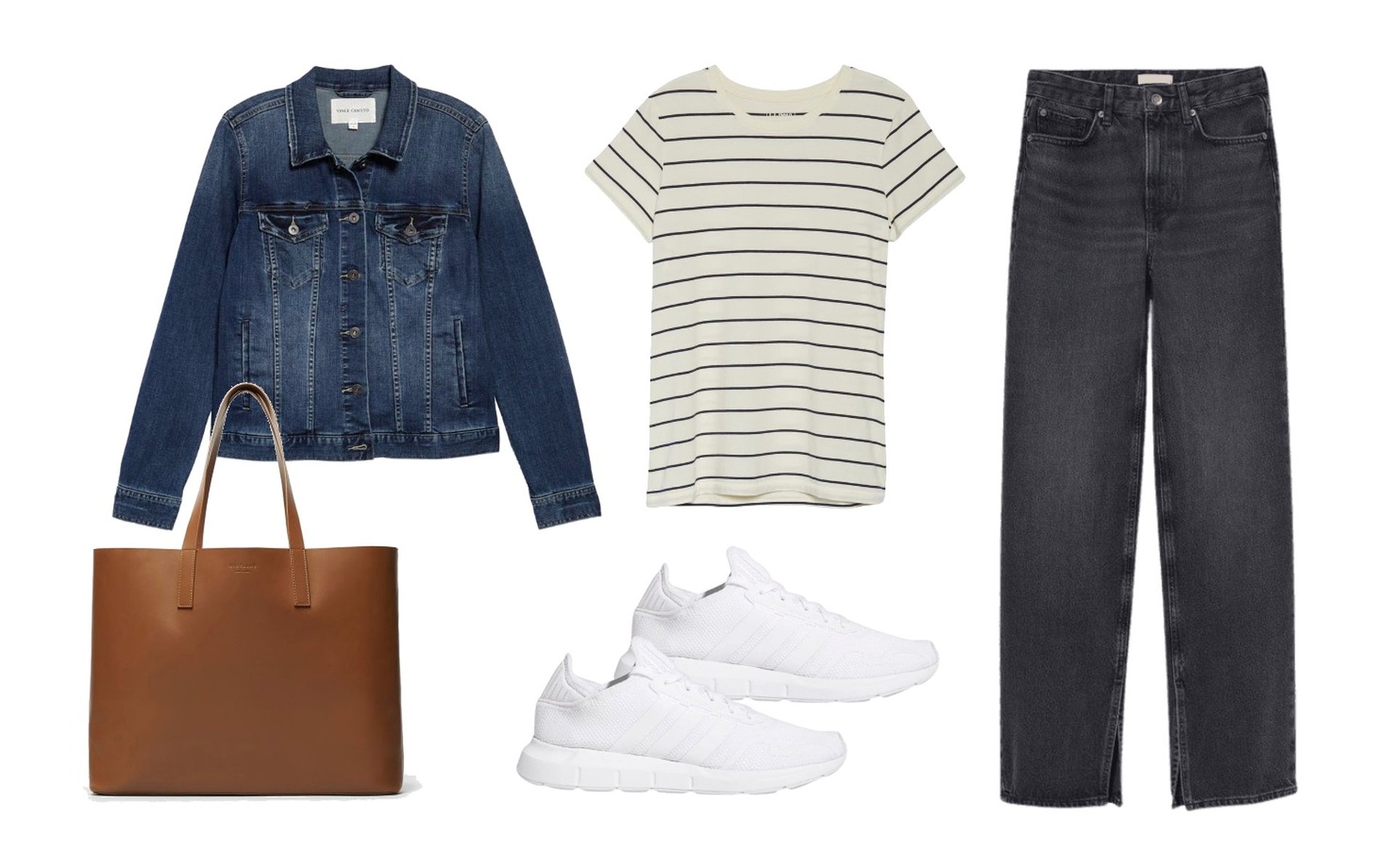 A blue jean jacket can be worn that has shearling around to make you look more classy/fancy. A plain blue jean jacket will give a more rugged appeal. Adding a striped shirt gives a sense of youthful playfulness. You can wear vertical or horizontal stripes in black and white, blue and white, or red and white.
Add cropped jeans in black. Your jeans can be destroyed or they can be plain. You can wear jeans with embellishments if you want to add spice. A double strap tote in camel or brown will offset your look and bring things together. Add white running shoes.
Green T-Shirt, Black Skinny Jeans, Chain Strap Bag, Stacked Necklaces, Sunglasses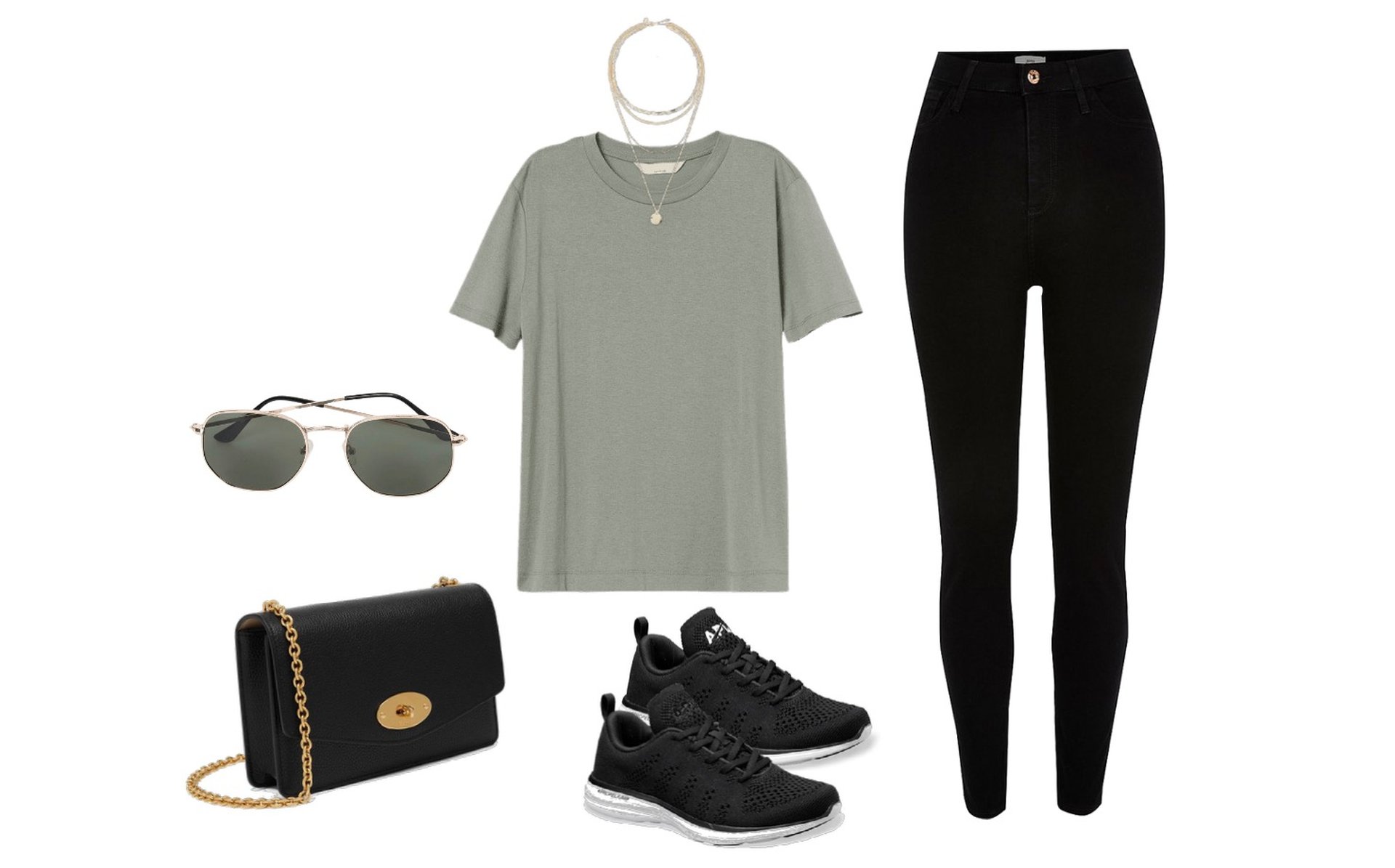 You can get into a more military view on how to style running shoes with jeans, by wearing an olive green t-shirt. For a cold day, you can wear a long sleeve shirt. Wear black skinny jeans with tapered legs. A chain strap bag will make your look more vibrant and add elements of surprise. Try a clasp closure bag with a gold chain strap.
You can also wear stacked necklaces in gold to match the chain in your bag. You can wear running shoes that are black and green or white running shoes. If you decide on green running shoes, try to keep your shoe color within the same color scheme as your shirt. You don't have to match the color exactly, as long as it isn't two totally opposite shades.
Graphic Sweatshirt, Distressed Denim, Convertible Tote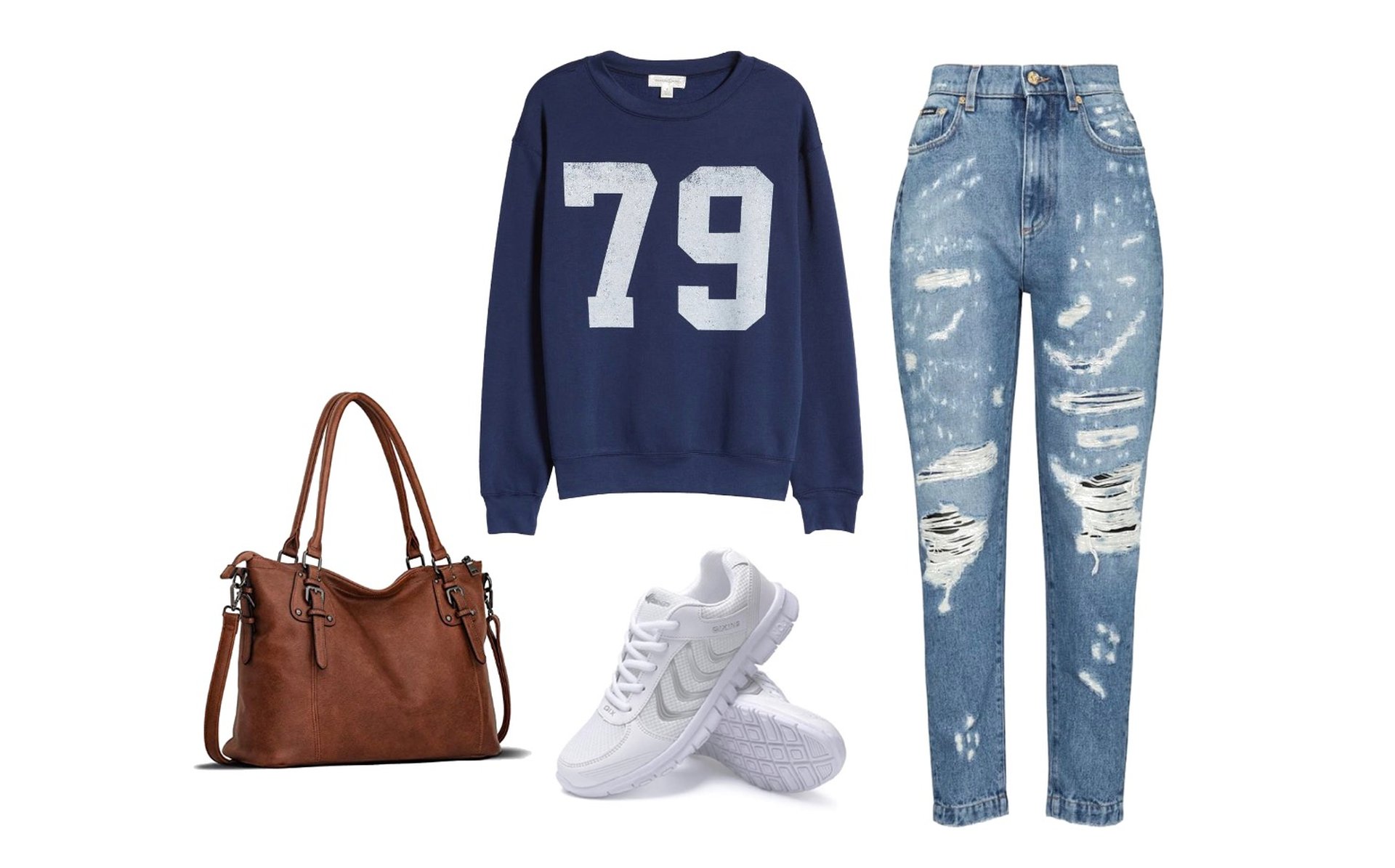 A graphic sweatshirt provides a sportsman-like look. You can wear a graphic sweatshirt in blue with red and white graphics. You can wear your favorite sports team whether it's professional or college sports and no matter the league. Pair this with a pair of distressed denim that has many distressed elements.
Wear a convertible tote in brown to compliment the blue color. You can also wear white shoes with this look, which is how to wear running shoes with jeans while making your tote bag appear more luxurious (since every other aspect is preppy). You can wear any combination of blue shoes that may have pink accents, but will still flow with your outfit.
High-Waist Mom Jeans, Leotard/One Piece, 90's-Style Shoulder Bag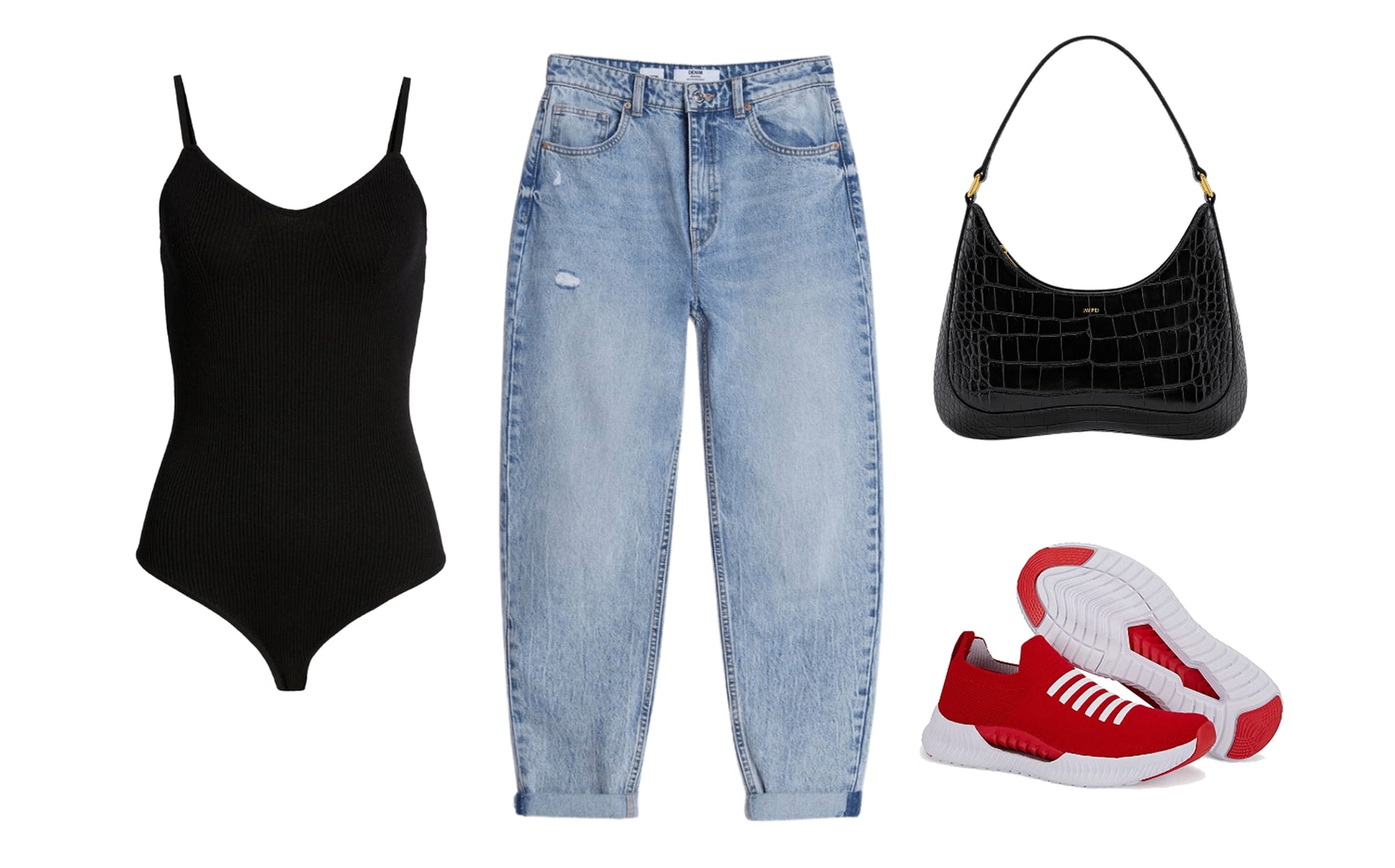 High waist mom jeans are a go-to when you want a look that is sophisticated but fun. Wear a completely unexpected piece like a leotard or one-piece top in white or black. Be sure to choose a top piece that has thick straps, so that your look remains casual and not overly dressed at the top and casual at the bottom.
You can wear light-washed jeans so that your shoes and top stand out with the color. Wear a 90's style shoulder bag, almost like a baguette or crescent shape to make your look chic, modern, and more of a minimalistic vibe.
Wear any combination of running shoes with this look, especially bright colors like green, red, or blue. You can choose a solid color pair, or you can wear a multi-color pair that incorporates all of the mentioned colors.
Dressy Top with Puffed Sleeves, Cropped Jeans, Necklace, Skinny Belt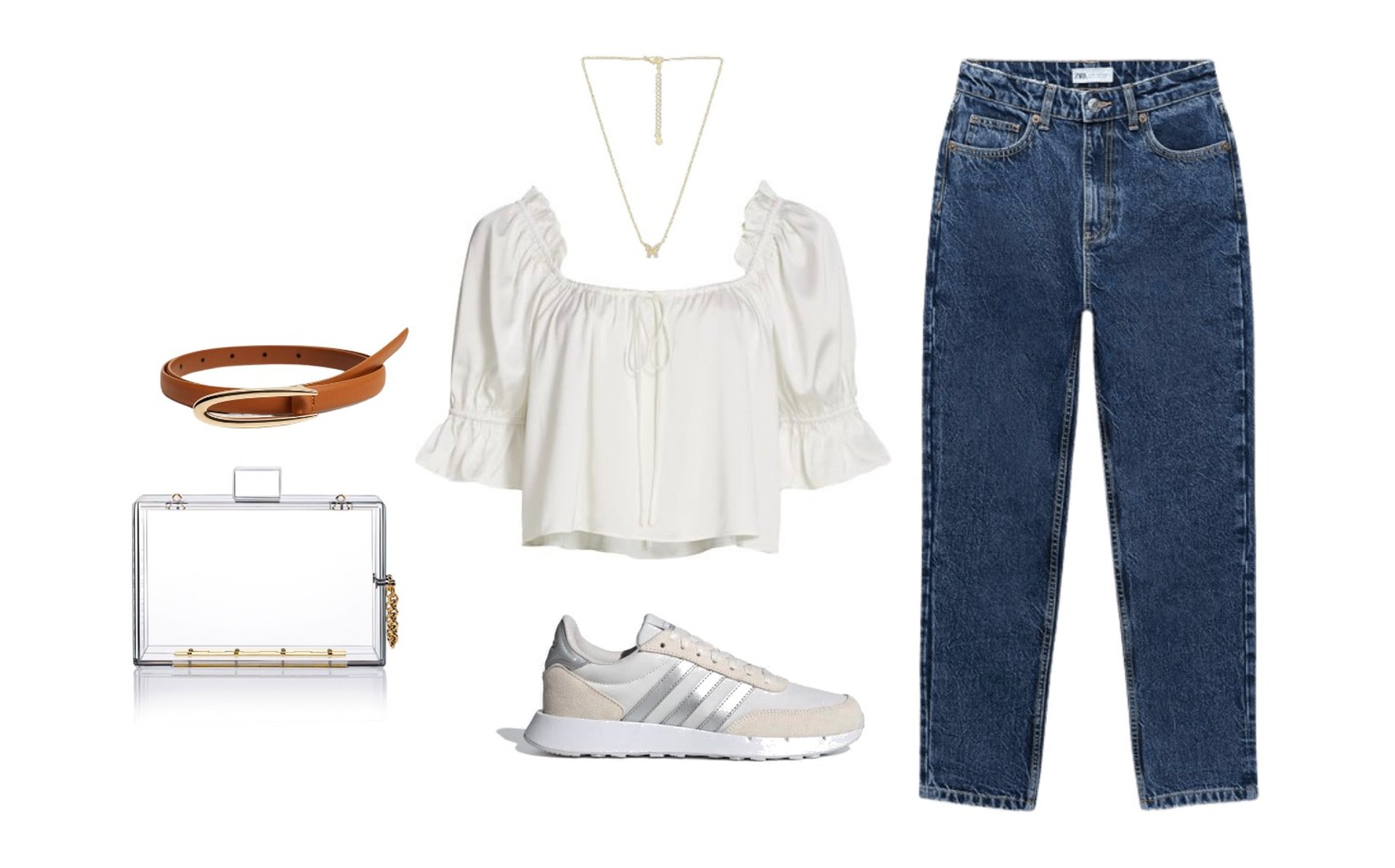 If you need to know how to style running shoes with jeans using a look that can also have a formal vibe, try a top with puffed sleeves. You can wear a scrunchy top that looks like a halter but has added puffed sleeves. Top this off with light or dark-washed mom jeans. A necklace that is long, but not too long with a pendant that stops right at your chest will work well with this look.
Add to your accessories a skinny belt. This look will go well with running shoes that have a classic design and colors like blue and white or black and white. If you want to add a handbag, you can choose an oversized bag for more drama. Or, you can wear an oversized clutch.
If you want a more princess-like look that is also sophisticated, try wearing an acrylic, box clutch. These clutch styles usually come in jewel-like colors, to give a look of embellished glam.
White T-Shirt, Utility Jacket, Shoulder Strap Bag, Skinny Jeans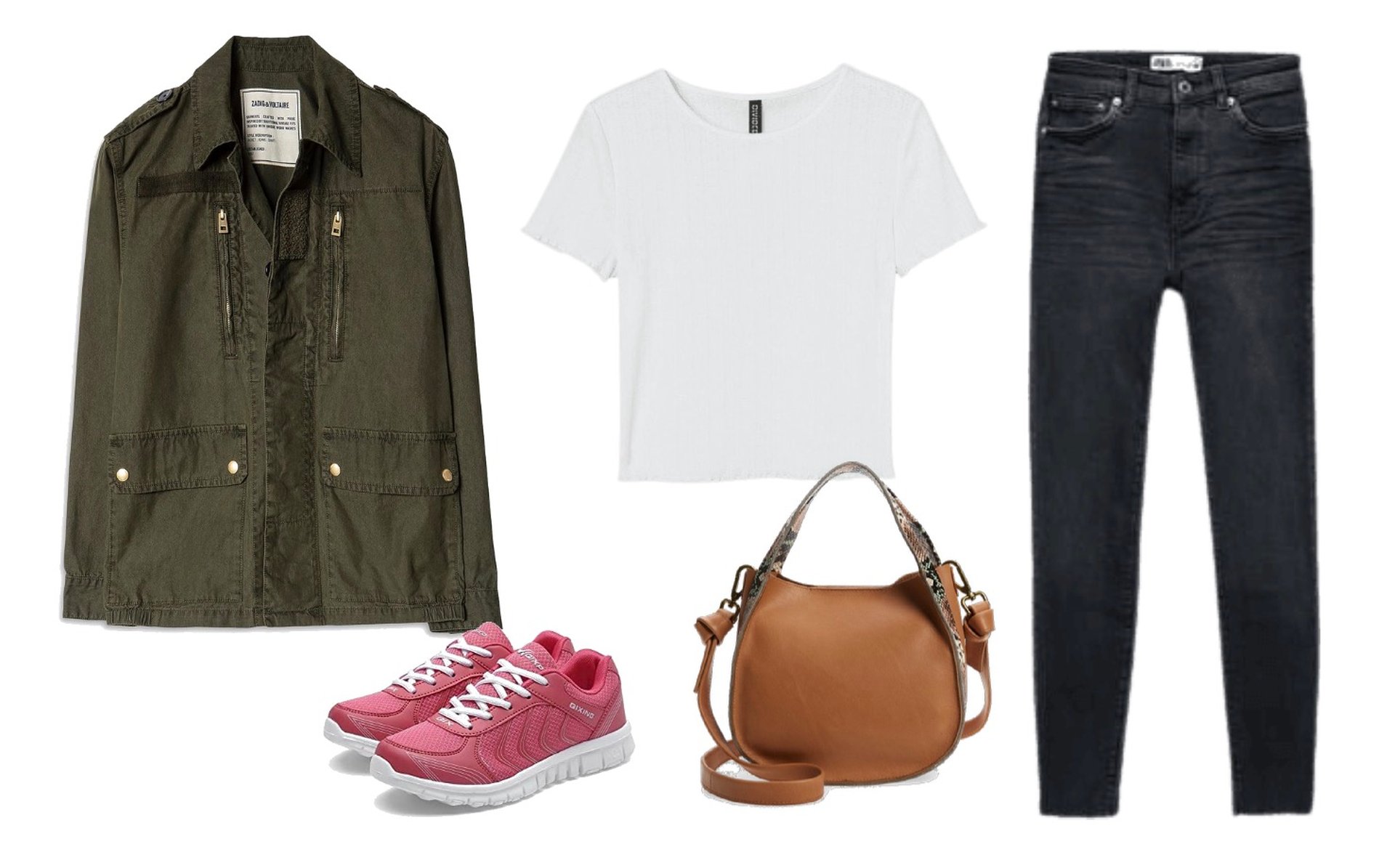 A plain white t-shirt and utility jacket is a cool vibe for your sneakers. There is a sense of strength and ruggedness that the utility jacket provides with the army-inspired elements. You can even add a hoodie underneath in black, white, gray, or red! Wear a shoulder strap bag in a tan color that you can put items in, even a laptop if you're needing to take work with you. Add running shoes in pink or salmon, a look that is chic and chill.
Read: How To Wear Timbs With Jeans
Sweater, White T-Shirt, Light-Washed Skinny Jeans, Structured Shoulder Carry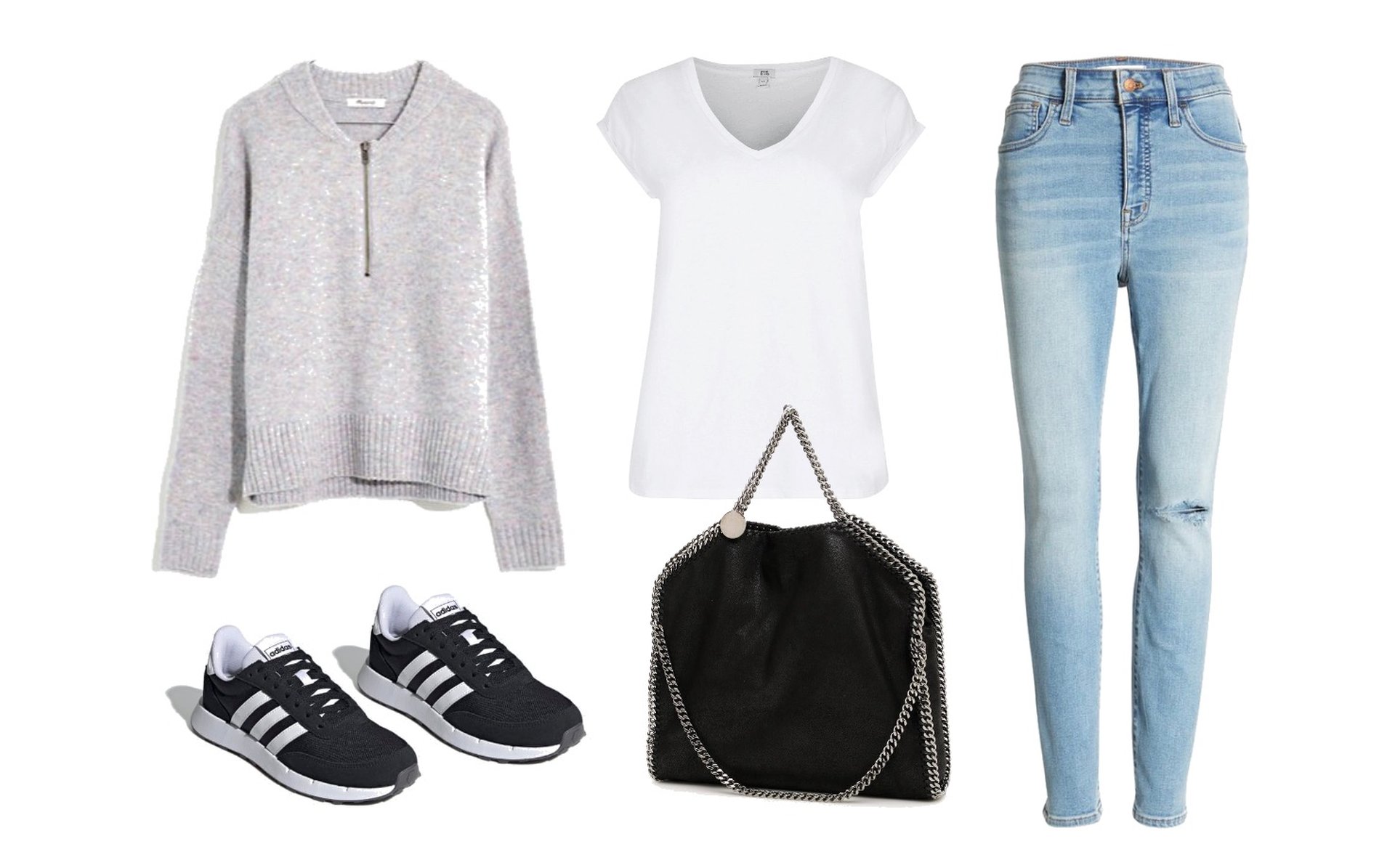 A gray sweater is a great way to wear your sneakers. With this sweater look, add a t-shirt underneath that sticks out enough to create visual layers. Your t-shirt can be white to keep your look clean. Wear light-washed skinny jeans and a structured tote with a chain strap.
Your running shoes can be white or black. If you want to wear colorful shoes, try not to wear a shoe that is multi-colored. Stick with a solid shoe so that the blocks of color come together without looking too busy.
If you want to wear a white shoe that has colored accents, be sure the color is incorporated in small parts throughout the shoe, versus a shoe that has an eclectic mixture of colors.
White T-Shirt, Cuffed Dark Denim, Clutch Bag, Striped Scarf, Gold Bangles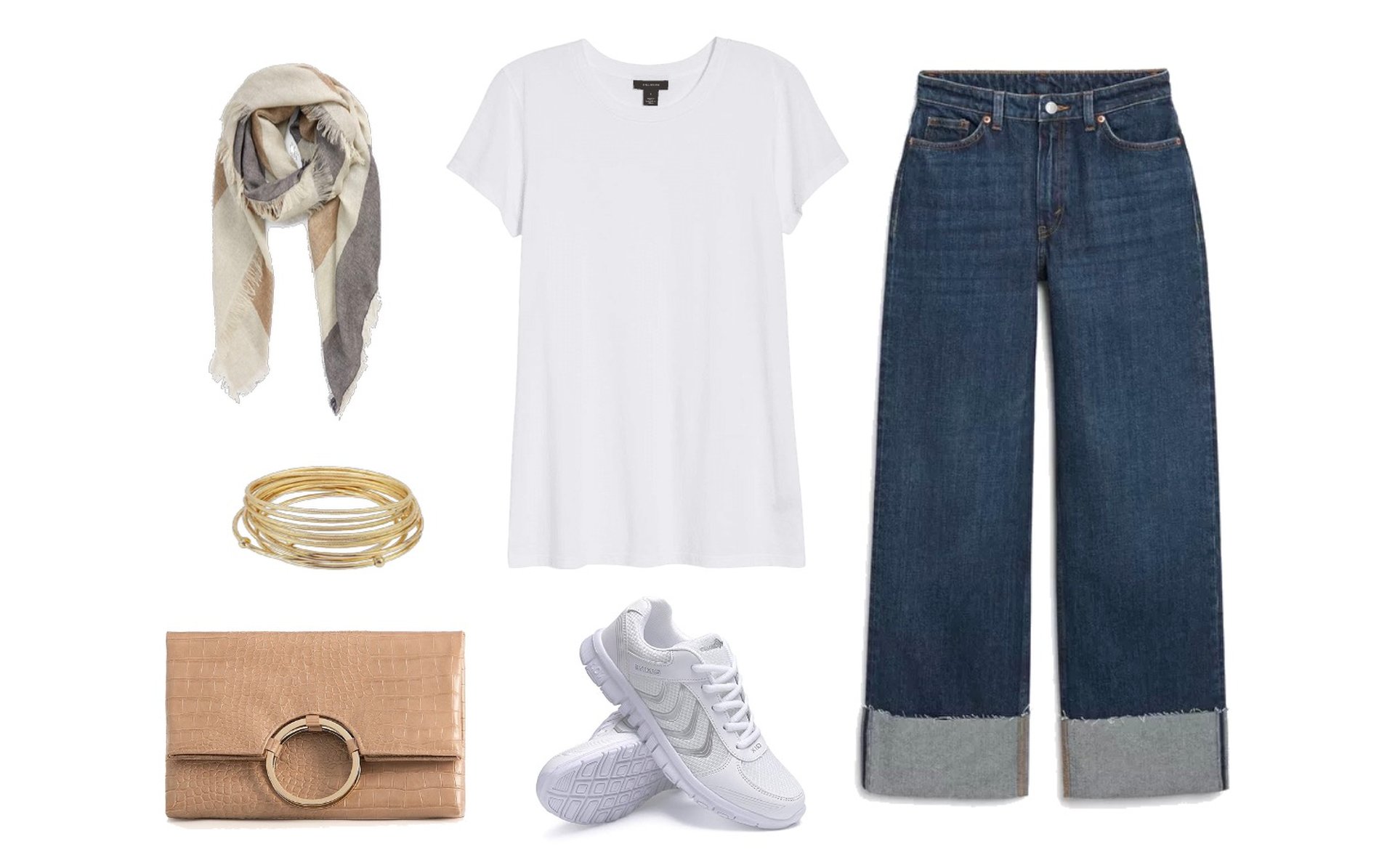 A white t-shirt that is short-sleeved paired with white running shoes is a good look for festivals and cool events. Wear a long striped, infinity scarf or a scarf that is long and can be tied more than once around the neck. Add gold bangles to keep your look casual. You can wear white running shoes or you can wear a complimenting color from your scarf. For example, if your scarf is white and blue, you can wear blue running shoes.
There are more than a few outlooks on how to wear running shoes with jeans. Running shoes are actually a great match for jeans since you stay comfortable and the shoes come in a variety of colorways. You can match your shoes directly with your outfit, or you can wear them as a complimenting wild card. If you want extra attention to your shoes, try wearing a pair that has a unique sole design like ombre, pebbled, or platform.
Read: How to Wear Jeans With High Tops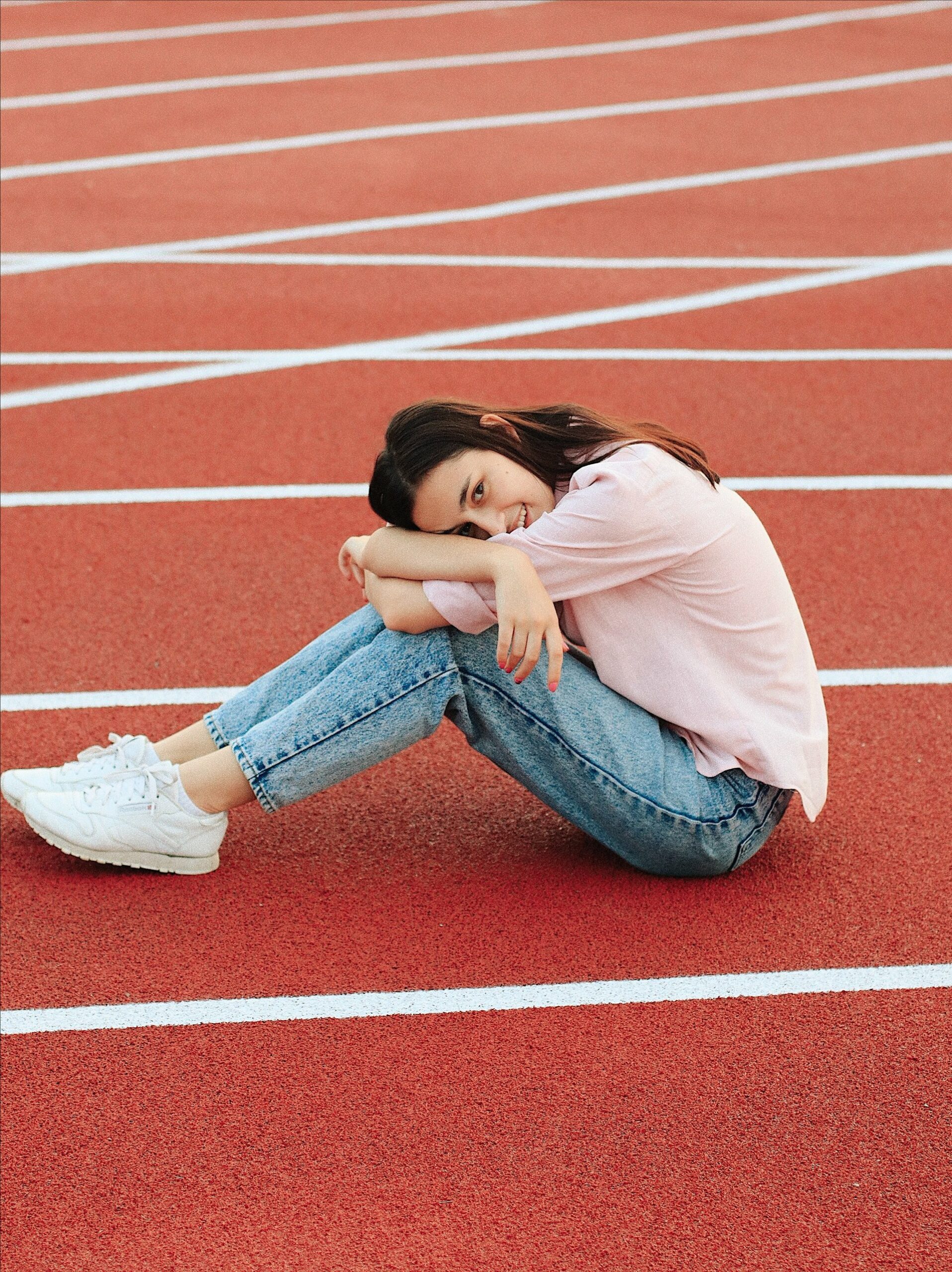 Is it OK to wear running shoes with jeans?
Absolutely! This is one of the best ways to wear your running shoes. This look is seamless and also the most functional for movement.
Can you wear running shoes with skinny jeans?
Skinny jeans are the best way to wear your running shoes. This allows you to wear a shoe no matter the height of the top of the shoe. It also keeps your entire shoe in view, showing all sides and details.