If you purchase one of the products recommended in this article, I might receive a small affiliate commission. Thank you for your support!
There's nothing like warm feet when you're feeling cold! Learning how to wear boot socks with jeans is one of the best ways to add layers to your outfit that are functional for keeping your legs and feet cozy. They come in different shades and textures, to match your jeans and boots. They also come in different lengths, whether you want higher or lower cuts.
The most important tip to consider when you're styling your jeans with boot socks is to determine the coverage you would like first. If you're participating in physical activity like hiking or outdoor events, try choosing a boot sock that's a bit thicker, since you will more than likely feel the wind and weather directly on your legs and feet. If you're having a more casual day or a day where you'll be mostly inside, you don't want to choose a boot sock that's too thick, to avoid a stuffy feeling.
Cropped Cardigan, T-Shirt, Dark-Wash Jeans, Camel Color Boots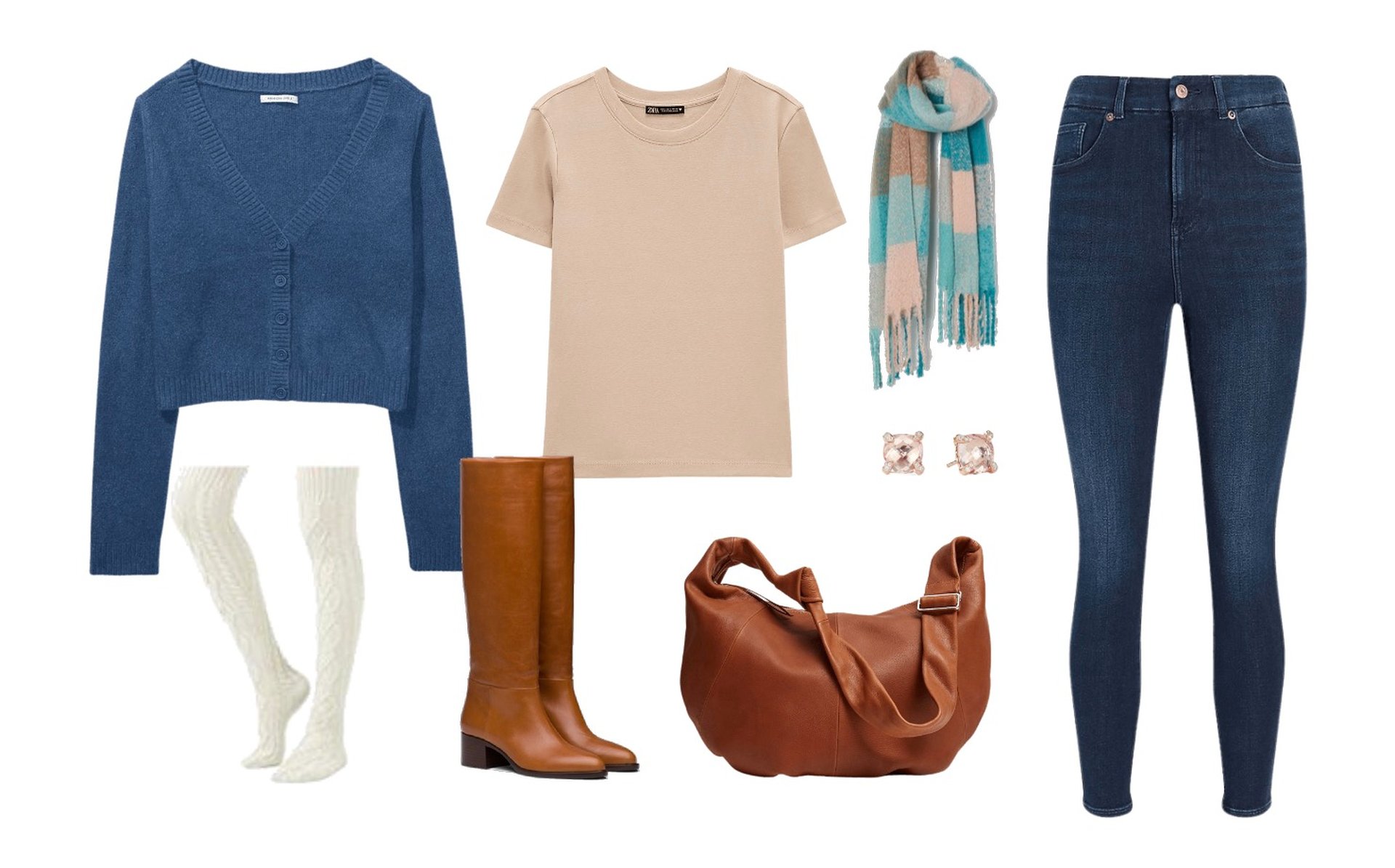 A cropped cardigan is a great way to stay warm but not wear a bulky sweater. Wear your sweater open, or choose a sweater that doesn't have a button and acts more like a coverup for your arms. You can add a long t-shirt or a t-shirt with a cami underneath in the same color.
This way, your shirt will appear longer (thigh length). Wear dark-washed jeans and light-colored boot socks. Add knee-high boots and a long scarf. With this look, you can wear a large shoulder carry handbag in a tan color. You can also wear a leather-style backpack. Add simple, studded earrings that have a single, diamond-like stone.
Buttoned Cardigan, Striped T-Shirt, Light-Wash Jeans, Riding Boots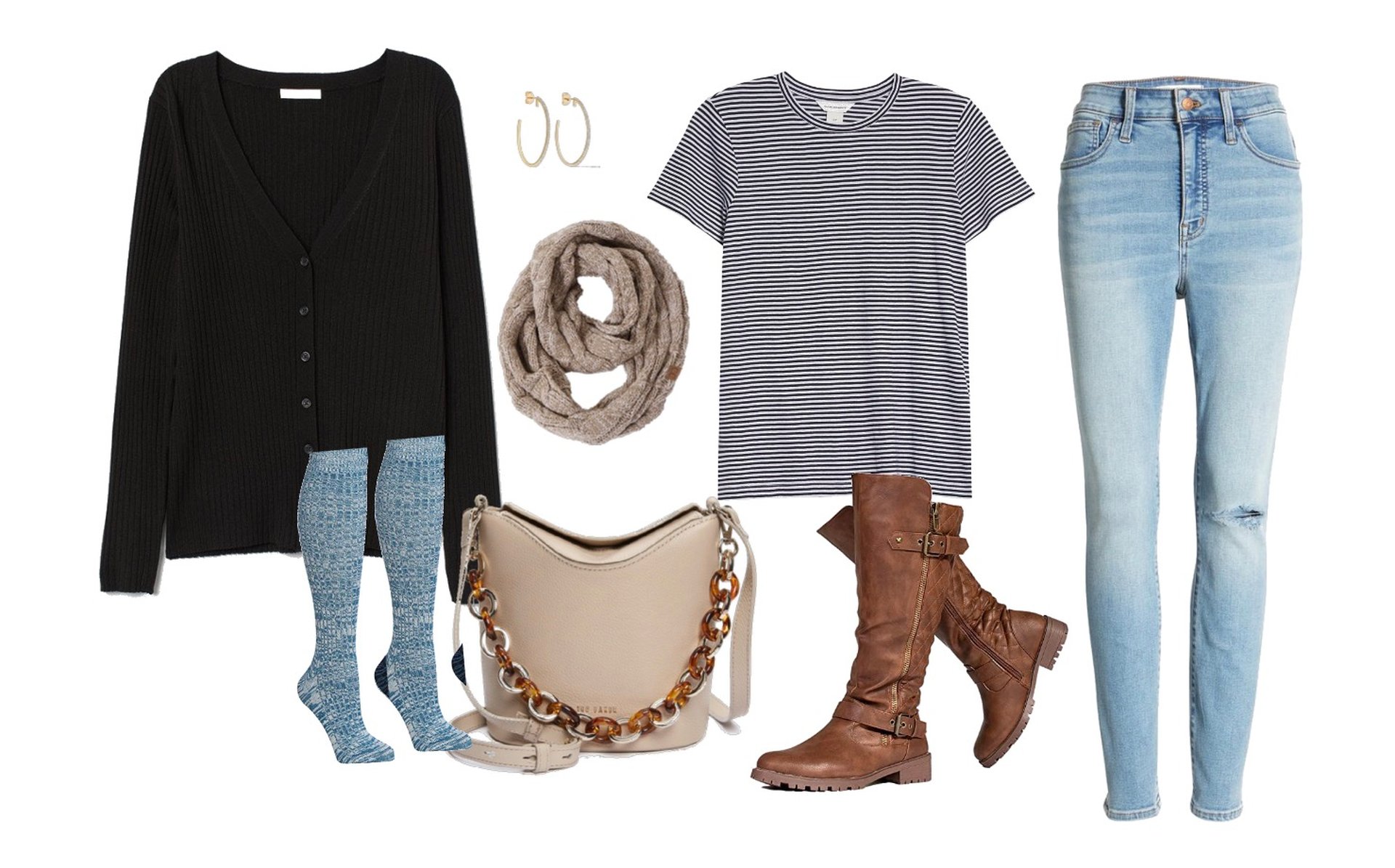 A buttoned cardigan is very popular and can quickly be found at any department store for a quick way to style boot socks with jeans. Try wearing a black cardigan with buttons, although you will leave your sweater open. Add a black and white, striped shirt. Play with black and brown colors by wearing a wheat-colored infinity scarf and dark brown boots in a rustic design.
This is one of the most simple solutions to how to wear skinny jeans with boot socks. It works by keeping your socks and jeans the same color. This is a look that you can wear with a handbag of a completely different color like red.
Try choosing a bucket bag or some form of crossbody purse. This way, the straps will add a wow factor to the black and white color palette of your outfit. Wear gold-tone hoops that are thin and odd-shaped or in an oblong shape, versus thicker, large circle hoops.
Read: How to Wear Jeans That Are Too Long
Printed Cardigan, T-Shirt, Medium-Wash Jeans, Black Boots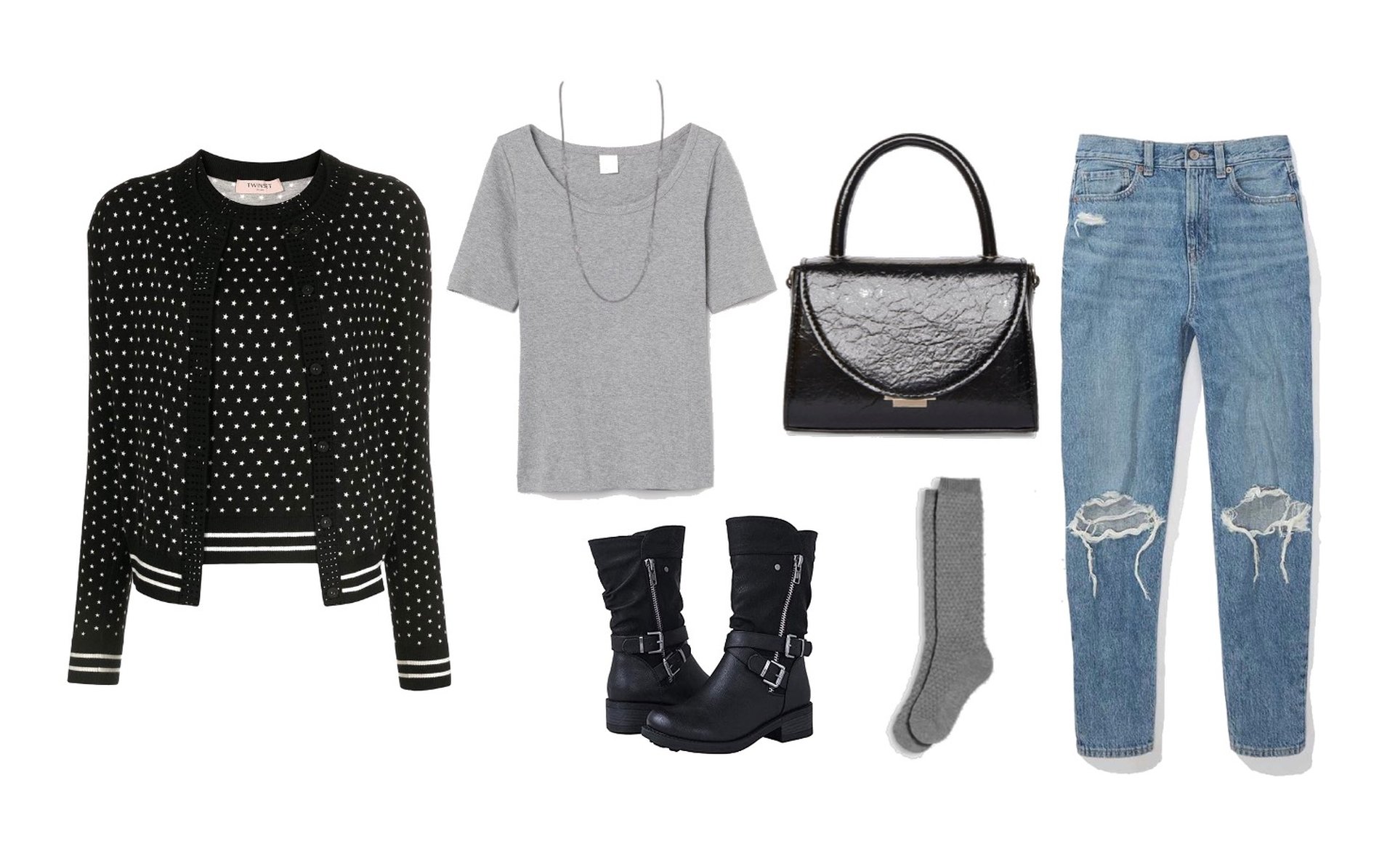 An open, printed cardigan without buttons is an ideal piece to create an illusion of a full cardigan. Since it has no buttons, it drapes open past your waist, giving you a slimmer figure. Wear a patterned cardigan in this style, with a grey t-shirt, medium washed jeans with a slightly destroyed pattern.
Add black, rounded toe-boots that fit at the calf, grey boot socks, and a long silver chain necklace. If you want to wear a gold-tone necklace, try adding a handbag that will compliment, like a blacktop handle with gold hardware.
Read: How to Wear Mid Calf Boots With Jeans
Black Wide-Leg Jeans, Black Ankle Boots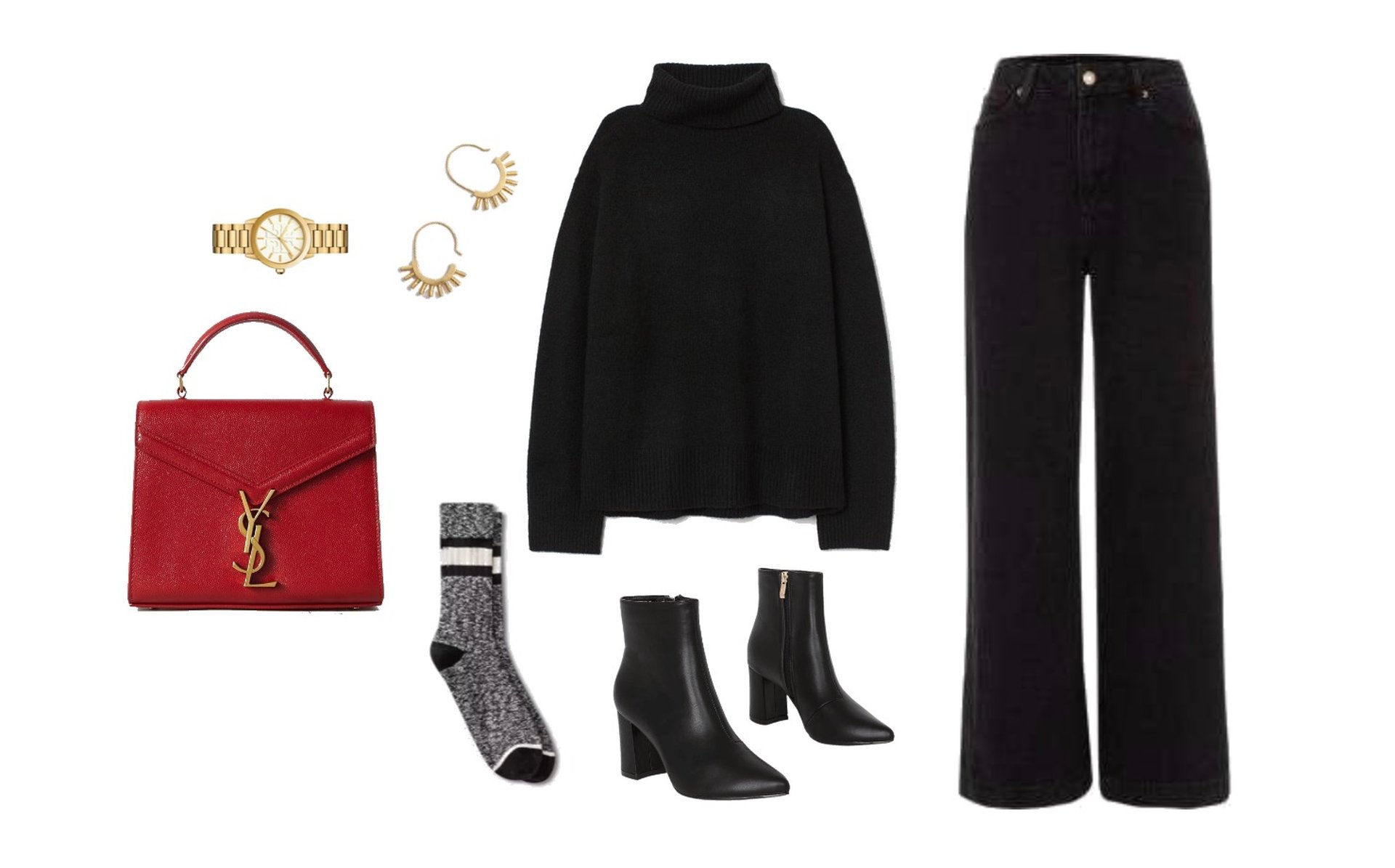 Wide-leg jeans are a popular trend that pairs well with ankle boots. Wear black, wide-leg jeans and a black turtleneck or black t-shirt, if you want a casual look. Add black and white, stripe boot socks, and black, pointed-toe boots or booties in a western style. You can add accessories, in any color with this look as an accent piece.
If you want to dress this look up a bit more, you can skip the turtle neck or t-shirt and wear a ruffle blouse in black. Since your socks will be black and white, try not to overdo it with your top and accessories. This is how to wear boot socks with jeans while keeping the look chic.
Dark-Wash Jeans, Brown Knee-High Boots, Grey T-Shirt, Blue Puffer Vest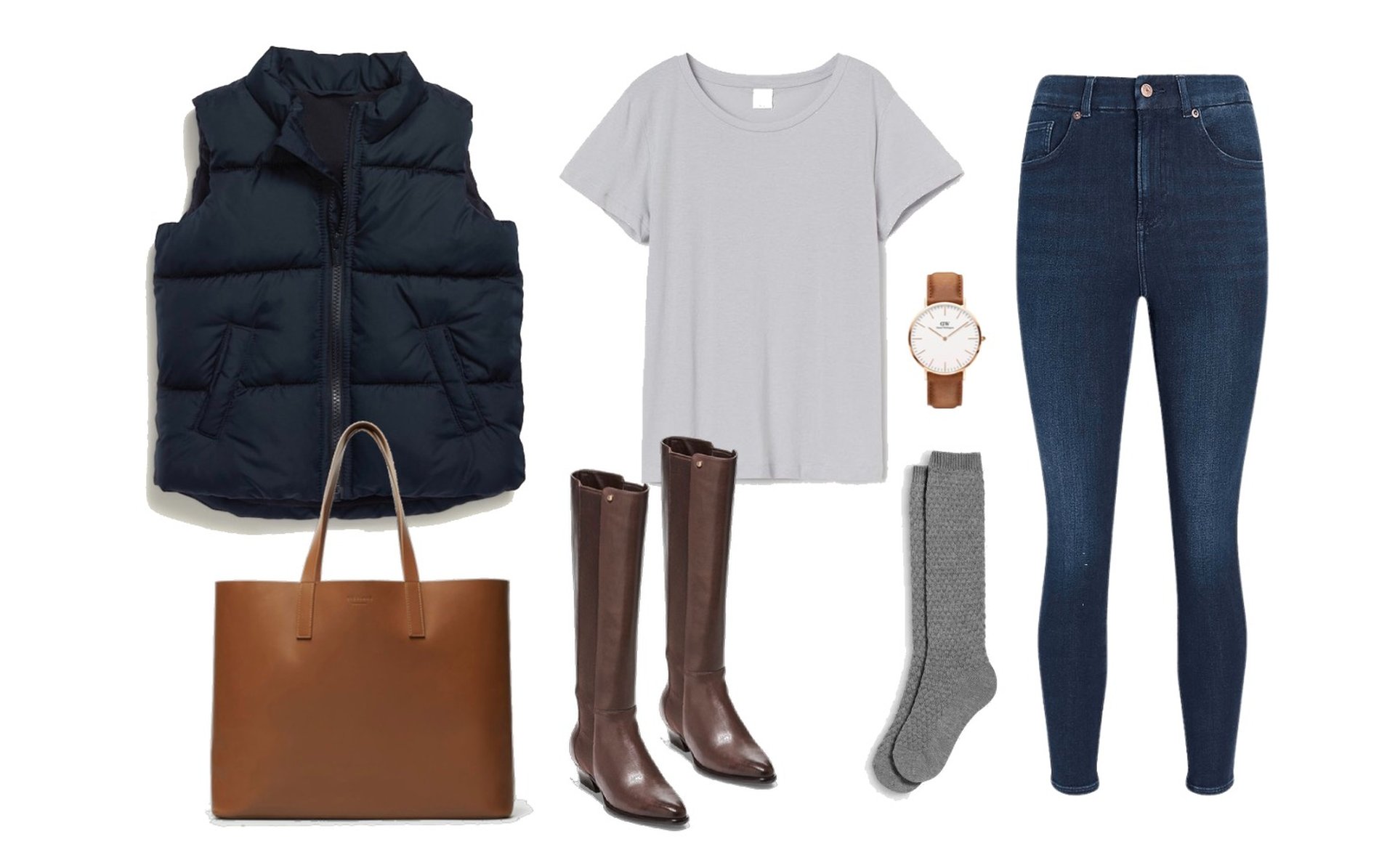 A great wild card for fall/winter is a puffer vest. A puffer vest acts as a jacket, without the heavy-duty sleeves or hood. Wear a navy blue vest that has gold-tone accents on the zipper and pocket hardware. Pair this with a white, black, or grey t-shirt. If you want more color, try adding a t-shirt in a color that compliments the navy color like burnt orange or yellow.
Add dark-wash jeans, grey boot socks, and brown knee-high boots. This look is ideal for a double strap shoulder carry in dark brown. You can also wear a black shoulder carry with the clasp and zipper matching the accents of your vest in gold.
Sweater Dress, Dark-Wash Jeans, Knee-High Black Boots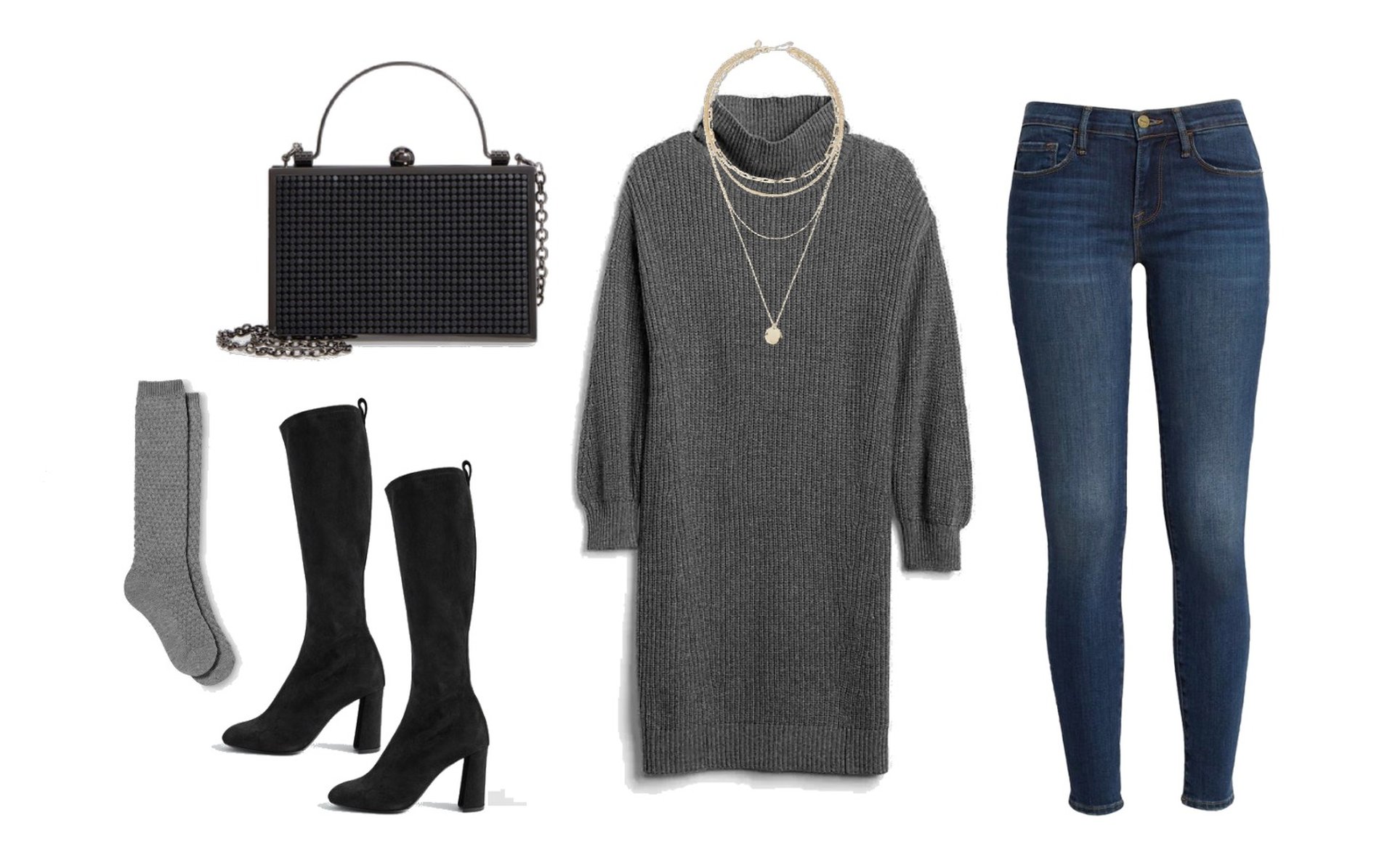 A sweater dress pairs well with jeans, if you want to have the look of an oversized sweater while keeping your legs covered. Adding an oversized sweater is how to wear skinny jeans with boot socks, using jeans that have a bit of stretch. Try wearing a grey sweater dress that has a turtleneck style and long sleeves that will cover your wrists, for the oversized effect.
Add grey, knee-high boot socks and black knee-high boots in a suede-like material. You can wear a long necklace that lies flat under your turtle neck hemline and cascades in the front of your sweater. You can also wear a shorter necklace around the neck of your sweater, for a more trendy look.
Since your sweater dress will be grey, choose gold jewelry that will be more noticeable on top of the flat grey color. You can add a clutch, instead of a larger handbag. Or, you can wear a black, or brown top-handle handbag in a box shape.
Read: How to Wear Grey Jeans
Paint Splotch, Destroyed Skinny Jeans, Leather Jacket, White Tunic, Black Moto Boots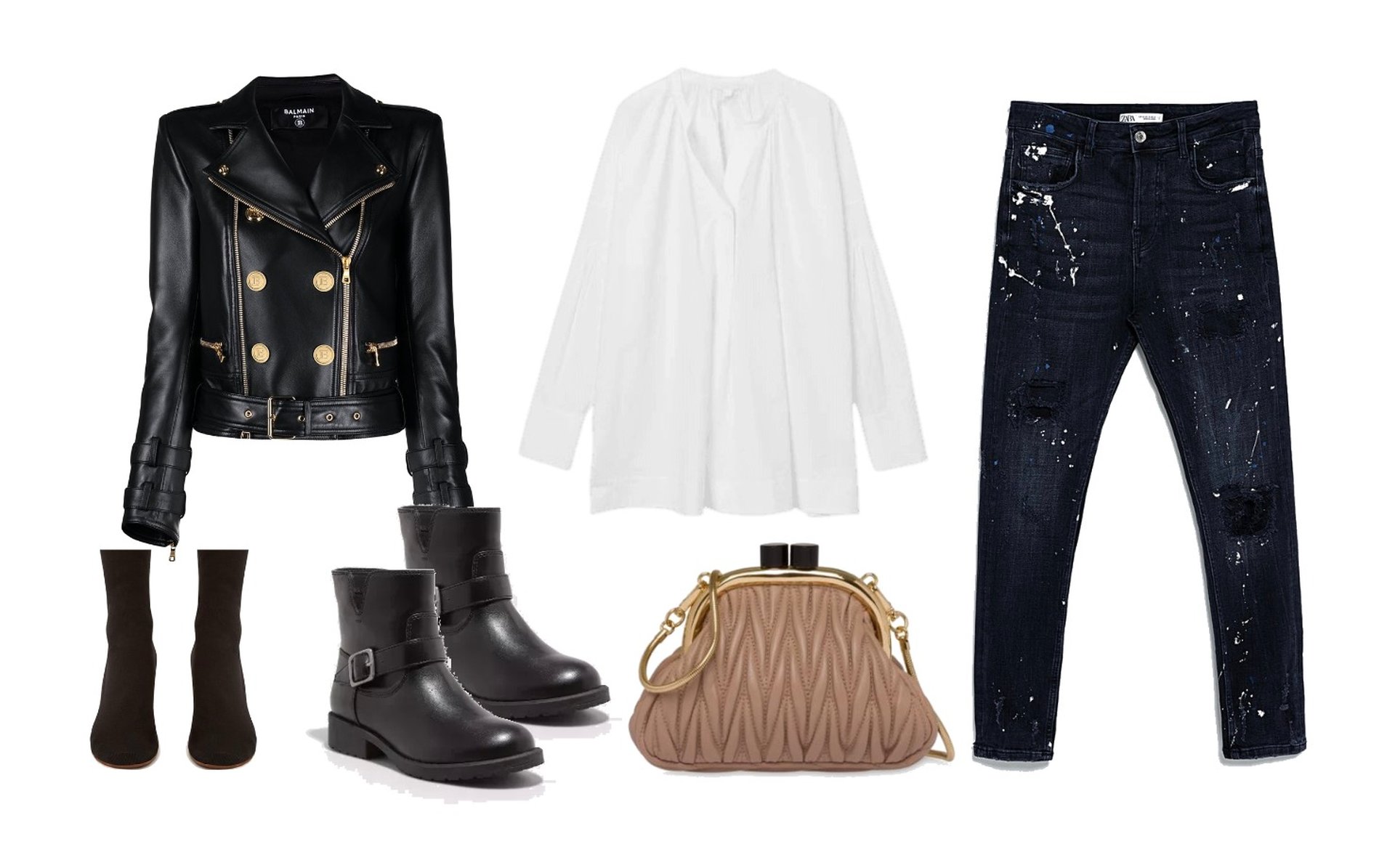 For an edgy, artistic look, try wearing boot socks with jeans that have paint splotch or bleach stain details! It sounds a bit odd or over-the-top, but can be very classy, with a touch of edge.
Try wearing black destroyed jeans with the paint details and a black moto jacket with gold hardware. Add ankle moto boots and black ankle boot-socks that you can wear right above your boots. Add a taupe color clutch and a watch with a taupe color band. Make sure your clutch has a bold clasp or closure, for added flare.
Read: How to Wear Doc Martens With Jeans
Sweater, Mid-Wash Jeans, Rain Boots, Shoulder Strap Handbag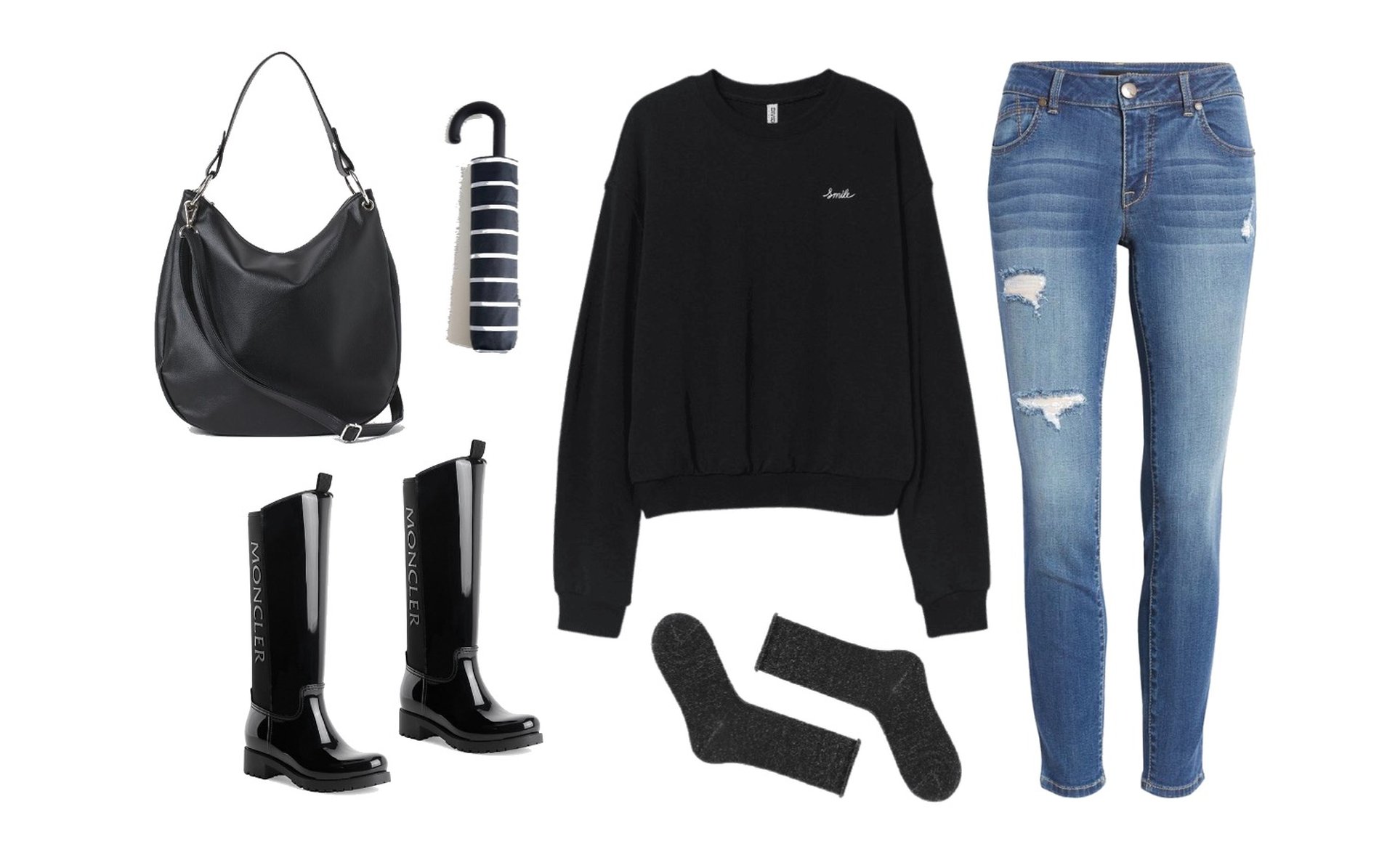 Choosing a black sweater is how to wear boot socks with jeans and a fall staple since it can be matched with almost any jeans style. Wear a fitted sweater with skinny jeans in medium-wash and destroyed jeans. You can also wear an oversized sweater with a scoop neck.
Add grey calf-length boot socks and black rain boots! This way, you're warm and ready for unexpected weather. You can wear a black handbag that has one strap and is more of a crescent shape.
This way, you can hold a fashionable umbrella inside. Choose an umbrella that has patterns like thick stripes in pink, black and white. In case you get caught in the rain, your look will still be complete, while you shield yourself from the moisture.
Long Sweater, Plaid Scarf, Light-Wash Destroyed Jeans, Tassel Hat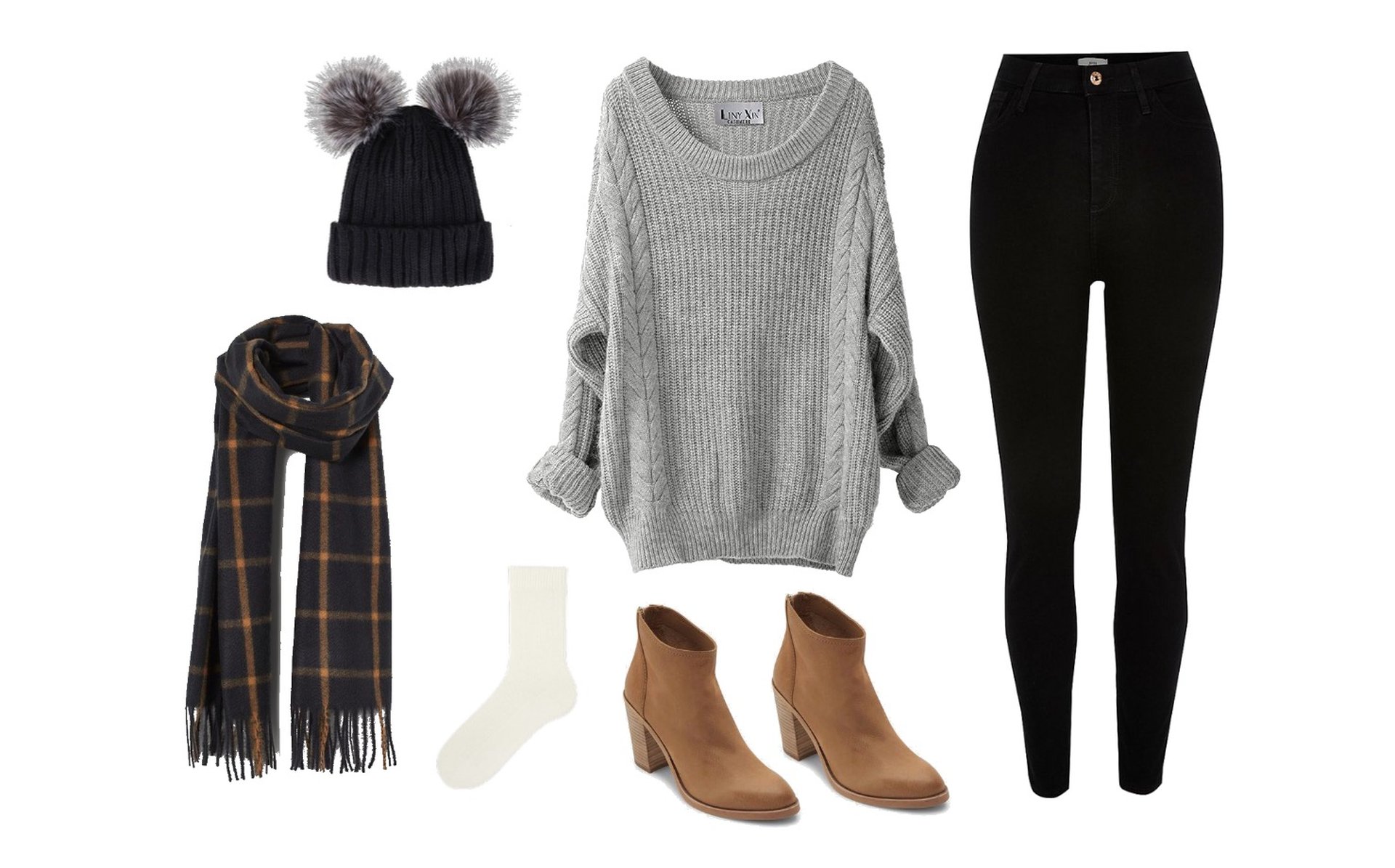 For a bohemian style look, you can wear a long grey sweater and a checkered, fringe scarf. Make sure your scarf is long in length so that it can hang below your sweater. You can choose a scarf in a multi-color that is also neutral with colors like black, grey, blue, tan, pink, or red.
You can wear a hat that has a puff ball at the end for a super sweet look that you can wear in very cold weather since your ears and head will be covered. Wear black skinny jeans with white boot-socks and tan ankle boots.
Read: How to Wear Duck Boots With Jeans
Light-Wash Destroyed Jean Shorts, Lace-Up Boots, Sweater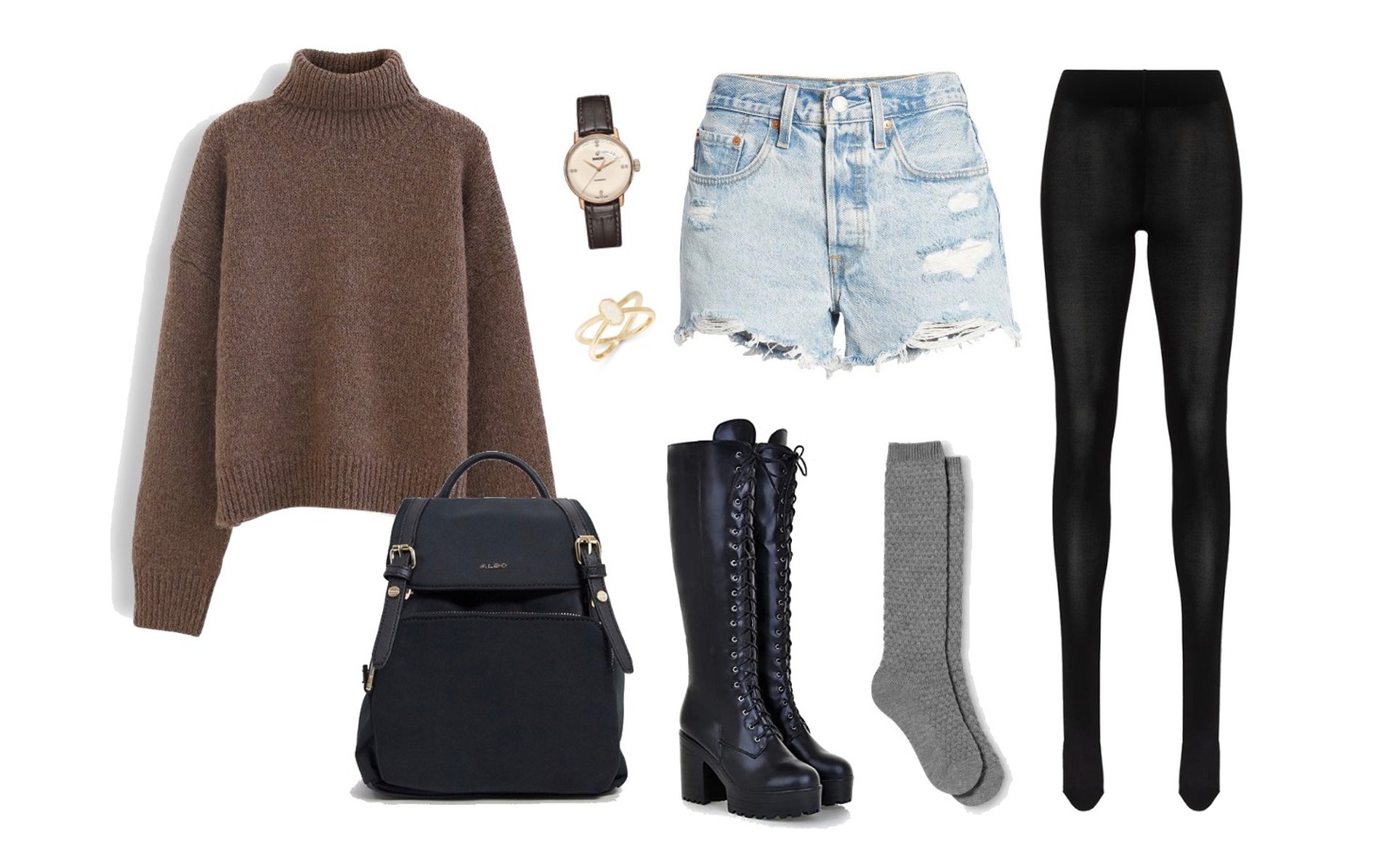 Jean shorts can be worn with boot socks in the fall as well. On days when the weather is more warm than cold, try wearing destroyed, high-waist jean shorts. You can add a black, brown, or grey sweater that's long enough to slightly tuck in, in the front. Add sheer tights in black and wear grey boot socks.
Since your bottoms will be short, try covering your legs as much as possible to keep your look classy. Try adding knee-high boots with intricate details like laces that actually tie up the leg as well. If you want to skip shorts and wear pants instead, try wearing destroyed skinny or straight-leg jeans.
Read: How to Cuff Jeans With Boots
Boot socks are often worn with leggings or tights alone but pair very well with jeans. You can always match your boot-socks with your sweater or shoe color, which are usually available in grey, black, blue, or tan. Since these footwear pieces are more for fall and winter, you have many different choices of how to wear boot socks with jeans and accessories like cable knit hats and scarfs.