Every man has a few pairs of denim jeans in his wardrobe as a basic wardrobe essential, but it can be especially difficult to find the best jeans for guys with big thighs that offer the style and fit they desire. One of the prevailing problems for men over normal sizes is finding clothes that fit well and provide ample room for larger frames. Men that are above a certain size need denim jeans that veer towards an athletic fit, offer more room in the crotch and thighs, and accentuate the legs without leaving an overly baggy appearance.
Luckily, there are more than a few options available from several brands that design excellent denim jeans for men with big thighs that are made for brawnier men. Searching for the best men's jeans for big thighs takes some research to find the best brands, and here we list and provide comprehensive information on the best options and why they make for an excellent pair.
These straight-fit jeans from IZOD are the best jeans for guys with big thighs as they are ultra soft and stretchy, providing comfort for men that lead busy lives. The style fits true to size and comes with a zip fly with button closure and 5-pocket construction. These effortless jeans also come in different shades of blue, ideal to pair with a classic white t-shirt.
Robust men with bigger, more athletic builds need pants that are created for a larger frame, and Amazon Essentials' athletic jeans offer comfort like no other. Men will appreciate the extra stretch offering maximum flexibility—not to mention that the fitting sits at the waist, giving more room around the hip and thigh area. For a relatively cheaper price, these jeans are definitely a steal.
These athletic fit jeans from Signature by Levi Strauss & Co. offer a premium look that stays authentic and timeless. With a variety of washes to choose from, you can easily pair them with t-shirts and sneakers or boots for a casual look.
Read: How to Wear Jordans With Jeans
Wrangler jeans provide the quality and fit that offers the perfect solution for men that require more coverage and comfort in their pants. Wranglers' regular fit jeans feature stretch denim that delivers authentic support and style and durability to match. The brand's signature denim jeans feature a flex waistband that bends and contours to a man's form, while the jeans have adequate room through the seat and thigh for a comfy fit that can be worn throughout the year. One reviewer added:
"A pair of jeans that fit a large frame without looking like a bag! This is my fourth pair and I am pleased beyond expectations. Wrangler produces a competitive look-good, feel-good men's blue jean in what they call "AUTHENTICS" and the price is far less than Levis. Shrinkage is minimal as is fading from regular laundering."
Read: How to Shrink Stretch Jeans
Men that work hard and play hard need pants that can keep up with their performance levels and Dickie's relaxed fit carpenter jeans are for busy men that are on the go all day, every day. These carpenter jeans are tough and durable, made from 100% cotton denim, with the fabric thick to handle any situation from daily errands to construction work. Other great features include triple-stitched seams and heavy-duty brass zippers, making these a pair of the best men's jeans for big thighs on the market today. One pleased customer opined:
"Bought these as flexible work jeans and they work perfect. I do a lot of climbing in and out of the truck and manipulating things of various sizes so I needed a jean like these. I don't think they would be tough enough for a mason or welder though. I do light field work and desk." – Beau
Read: Best Jeans for Construction
These straight-leg, carpenter jeans from Dickies feature a comfortable fit around the seat and thigh area and are made with 100% cotton. The Dickies brand is also naturally made for outdoor working conditions, so you can also count on these jeans to stay comfortable no matter if it's for workwear or casual setting.
Read: The Best Jeans for Cowboy Boots for Men
The best jeans for guys with big thighs are typically those with stretched denim as they come with more range of motion, and Amazon Essentials has designed a slim fit, stretch jeans that sit comfortably just below the waist while allowing extra room in the saddle. These jeans look great when paired with button-ups and t-shirts, even with a blazer for a more classy touch.
Read: How to Wear Timbs With Jeans
Wrangler has long been known in producing jeans that can withstand any weather, and these jeans still offer that but with an added comfort. Plus, the design provides ample space for the butt and thighs with its flex waistband. Plus, the 2% spandex material included makes these jeans more comfortable because of the extra stretching to ensure that pants don't pinch when you're in motion.
Read: Best Jeans for Beer Belly
Available in a wide range to accommodate more men with issues shopping for traditional sizes, Lucky Brand's 410 athletic fit jeans are among the best men's jeans for big thighs and have been designed with a looser thigh and hip area, whiskering, plus tapering down the leg for a modern look that still leaves plenty of room to maneuver. The mid-rise is flattering to men with larger frames and they are lightweight material as well, making them perfect for the spring and summer seasons. A reviewer posted this response upon purchase:
"The fabric on these pants are great and are extremely comfortable. I had a pair before of this series but a size larger, which were getting too loose on me. Since these were active sized, I took a chance on the 36 and they fit! Mostly, a little tight in the thigh but nothing uncomfortable. Everything else is good – I could probably use a 31 inseam but that's not available, so the 32 is slightly long but it is not dragging on the floor if I am in shoes. These will continue to be my favorite style of jeans."
Bigger men have their own set of needs when it comes to their apparel, and Goodthreads has designed their athletic-fit jeans to be able to take on just about anything. Created to allow men more movement and flexibility, the denim jeans are built for performance and are ideal for day-to-day wear. What makes these jeans stand out is construction – made from a cotton blend and 2% elastane, Goodthreads has made their denim for athletic men, featuring more room through the hip and thigh and tapering at the bottom to easily pair with any outdoor shoes. Men that want the versatility and durability in premium denim jeans can opt for Goodthreads athletic jeans that offer the best selections for men with bigger frames.
Read: Best Jeans for Short Men
These vintage jeans from Lucky Brand remain timeless with their dark wash. Made in a straight-leg opening that sits just at your waist, these jeans are versatile enough for a night out on the town or for a casual Friday at the office. Plus, you just can never go wrong with classic 5-pocket styling.
Urban Star's straight leg jeans have a relaxed and stretch fit that allow you to move comfortably. According to the brand, these jeans are made from stretchy cotton blends that give you that "sweat-pant freedom in the form of high-quality men's denim". Other features include deep pockets and reinforced stitching for that premium feel.
These straight jeans from Lucky Brand are one of the best jeans for guys with big thighs, with its dark stretch denim is made from cotton and elastane, two materials that improve movement and overall range of motion. Their finished look makes them perfect for pairing with a fitted blazer for an informal occasion or running errands.
Read: How to Wear Running Shoes With Jeans
Men that are more inclined to wear a slim fit should consider Levi's 502 tapered jeans as they have been constructed with highrise to provide more room in the thighs and improve comfortability. Essentially, the jeans fit similarly to a traditional slim fit, but a modified yet refined approach from the standard pair. Plus, these jeans are made from a cotton blend and 2% elastane with insulated fibers to provide warmth during the colder months.
Wrangler is a brand synonymous with durability and peak construction, and their Riggs relaxed fit jeans are made for long days working, and are made from 100% cotton Durashield denim fabric that reduces abrasion and protects the color of the denim. The classic styling includes a zipper closure, five-pocket style, and lined pockets, making these denim jeans built to last for several seasons.
Read: What Are the Best Jeans for Guys With No Butt?
Slightly baggier for men that require more room in the hips and thighs, Levi's 550 relaxed fit jeans provide comfort and a bit of stretch material that makes them more durable as well as providing a more classic look. The brand has long been a leader in designing men's jeans and their attention to detail is what makes them a winner across the board. Features a tapered straight leg, button closure, and a zip fly, a pair of jeans that are just as ideal for relaxing at home or on a full day out as a weekend warrior.
Lee has a full range of jeans that have been designed for men of all sizes, and the best men's jeans for big thighs that the brand makes are their regular fit straight leg jeans that offer a classic styling. Featuring five pockets, and a fit that accommodates larger thighs and waist, they come with the quality Lee is known for and are built to last.
Men with bigger thighs will appreciate the construction of Mavi's straight-leg jeans as they have been designed with a slightly higher rise as well as wider leg opening for a more comfortable fit. Made from organic move denim that is formulated for a bit of stretch, men wearing these jeans have more freedom of movement, and the nice dark blue finish gives the added versatility of being able to pair them with a nice blazer and Chelsea boots just as easily as sneakers and a t-shirt. These denim jeans are softer than most on the market, easy to wear and the contoured waistband provides a snug fit. One Mavi customer noted the quality of the pants:
"I bought the same brand in a major department store and wanted another pair 'cause they fit me perfectly. I have an athletic build and it can be hard for me to find jeans that fit me in my 33-inch waist and still have room for my thighs. These do the trick for me." – Hodgemw
Read: How to Wear Doc Martens With Jeans
These Buffalo David Bitton straight jeans contain 84% cotton, 15% recycled cotton, and 1% elastane, with the right amount of stretch that will give you comfort all day. They have a subtle whiskering throughout the jeans with different washes available for you to choose from. Plus, it's made with sustainably-sourced cotton from Africa, which is ideal if you're looking for ecofriendly options.
Lucky Brand is one of the most popular brands for men that need more material through the crotch and thigh area, featuring excellent relaxed fabric that ensures wearers are provided extreme comfort and durability. These straight-leg jeans are a great option for bigger men that would like the look of skinny jeans but with a bit more breathability.
For the ultimate in relaxed fit jeans that have been created for men of all sizes, Levi's 559 straight jeans are regarded as the worthy successor to their classic Levi 501 and have been designed for men with massive thighs that find it exceedingly difficult to find pants in their size. These jeans are known to fit very well around the thighs and sit low at the waist to prevent chafing. Reviewers love this edition, with one noting:
"For me the best fitting jeans I have ever worn. Wide and high on the hip and not too clingy on the legs."
As one of the most trusted brands in menswear, IZOD is known for designing classic apparel that is made for gentlemen—from casual to active lifestyles. Realizing the importance for men of all sizes to have access to pants that are both functional and fashionable, their relaxed comfort stretch jeans are some of the best jeans for guys with big thighs, featuring a 2-way comfort stretch that provides flexibility. Men that are constantly on the go and prefer a more polished look can turn to IZOD for an amazing pair of relaxed jeans.
Read: 21 Best Bootcut Jeans for Men
What jeans should guys with big thighs wear?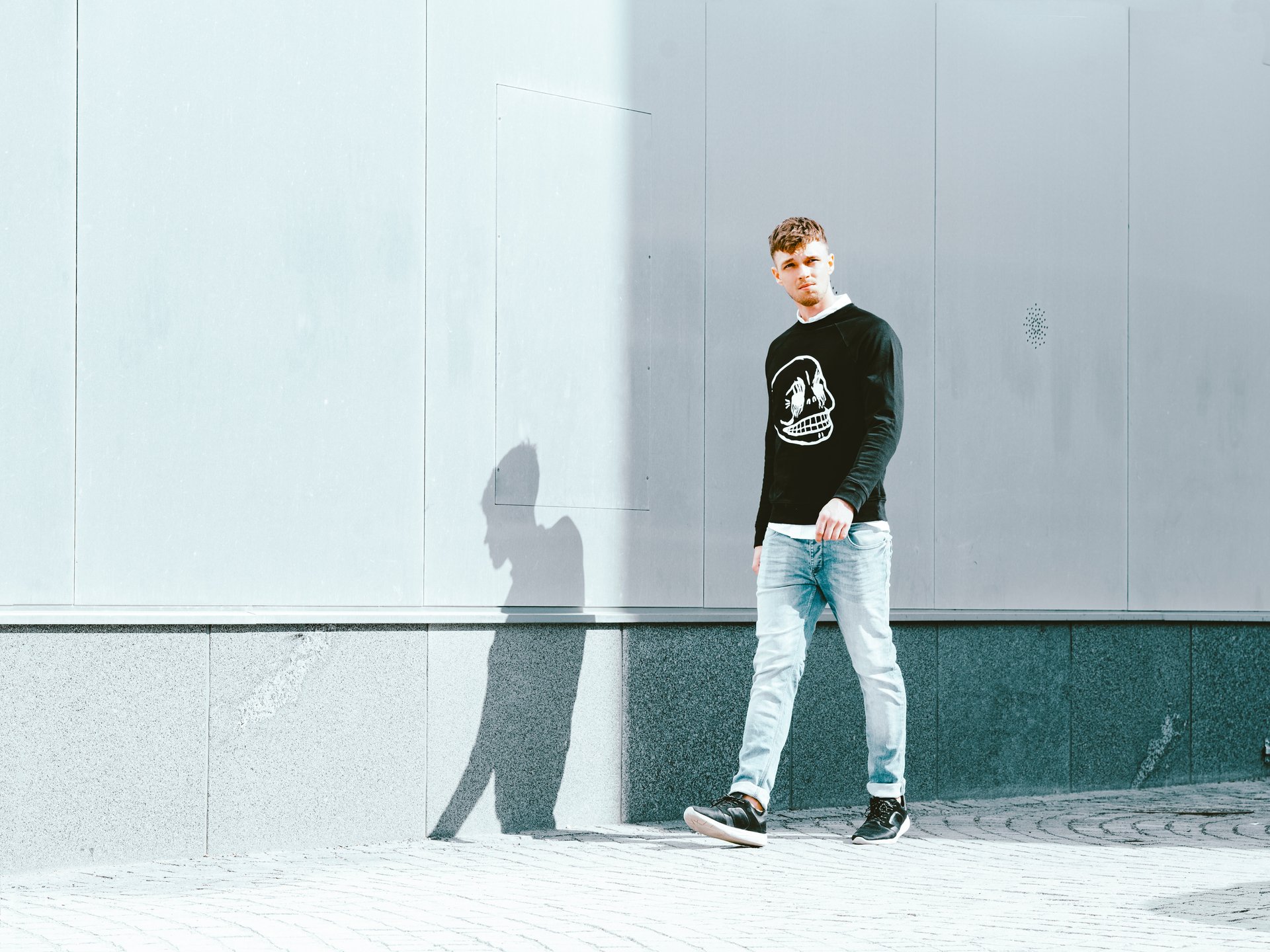 For men that have large thighs, skinny jeans, slim fit jeans, or straight jeans are all viable options to consider. Skinny jeans will highlight those strong thighs, while the slim fit and straight fit jeans are great for framing big thighs while leaving breathing room along the thighs and legs. Ultimately, the selection should strike a balance between comfort and fit.
Read: Best Jeans for Tall Skinny Men
What pants look good with big thighs?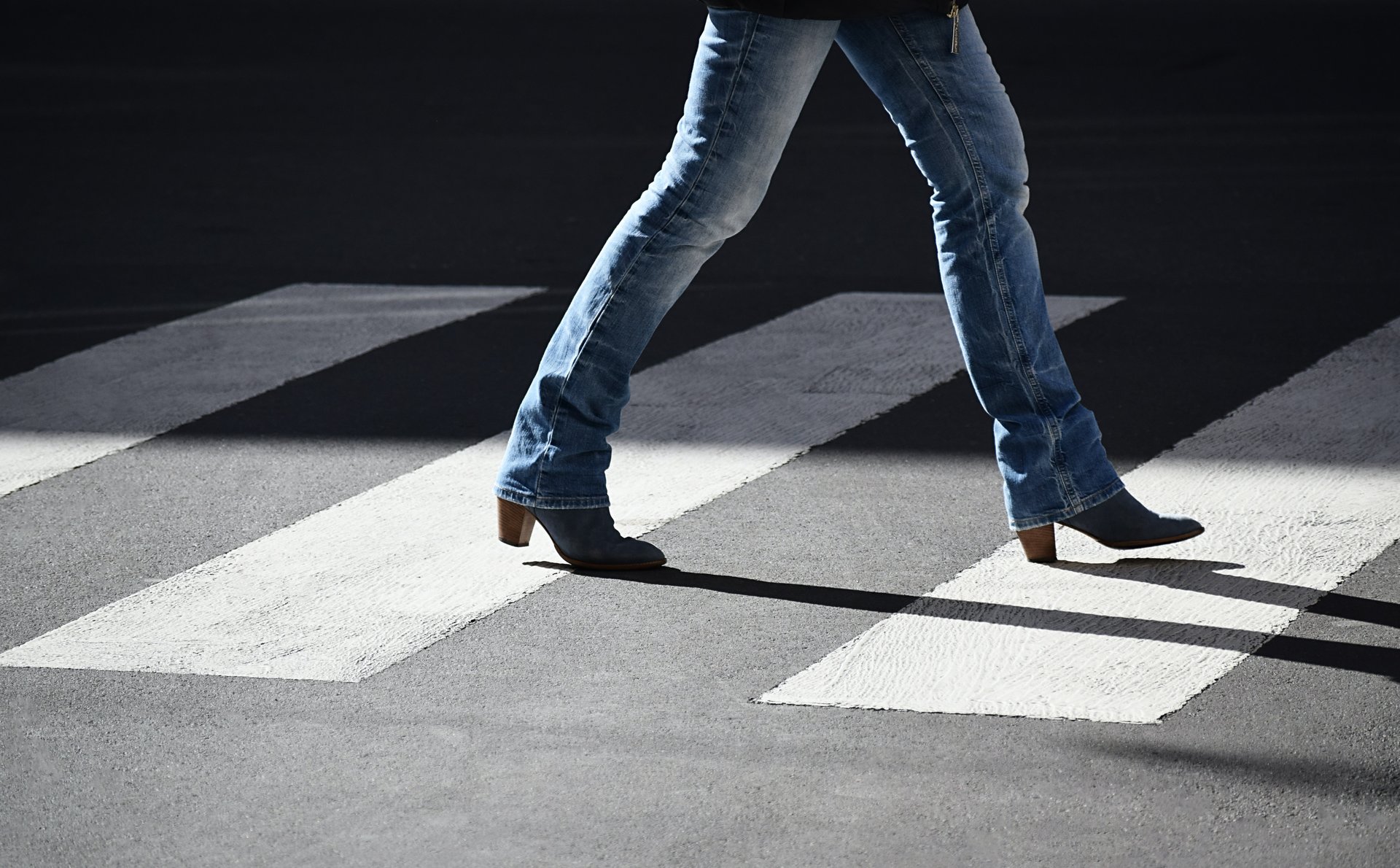 There should be no more trepidation for men with big thighs that are searching for pants that complement their frame. Straight-cut pants, casual-cut trousers, bootcut, and wide-cut trousers all work well in concealing bigger thighs and creating a great silhouette.
Read: How to Wear Bootcut Jeans
Should guys with big thighs wear skinny jeans?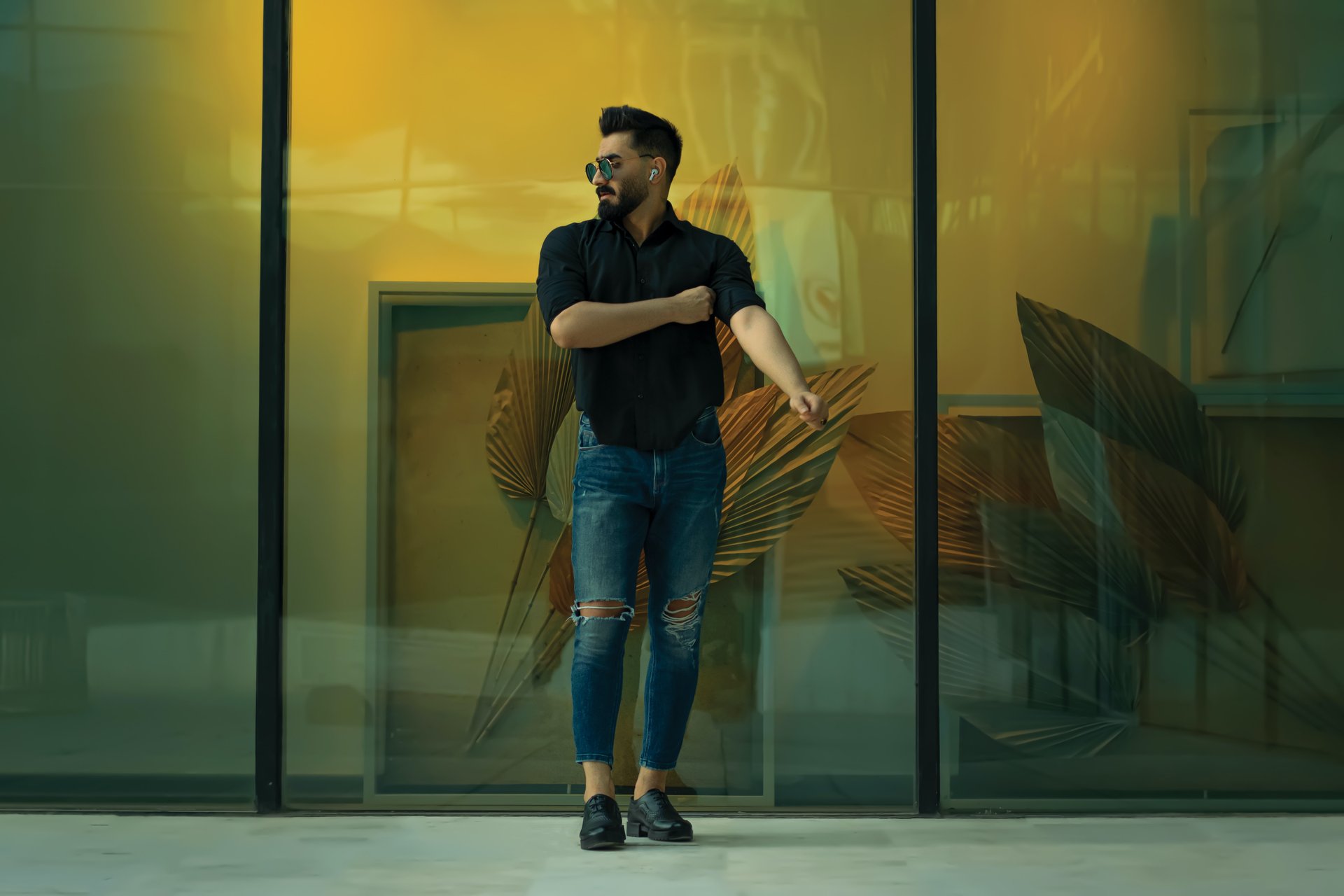 Men with big thighs should know that there are few brands that make skinny jeans that are flattering to their physique as they usually are too tight and impossible to pull over the legs. You will have more success with styles that feature a high waist that flattens the area around the stomach and prevents bulging. The best options include straight fit, slim fit, and athletic fit jeans.
---
Check out some of our other jeans guides: How to Hide Belly Fat in Jeans | Best Jean Shorts for Thick Thighs | Best Jeans for Big Guys