If you purchase one of the products recommended in this article, I might receive a small affiliate commission. Thank you for your support!
Comfortable, relaxed, and always chic, boyfriend jeans and mom jeans are definitely must-haves for every fashionista's wardrobe.
They look a bit similar, but they fit and flatter different body types and suit different styles, so if you want to up your fashion game, read on to find out how you can level up your style with these two different jeans.
What Are Mom Jeans?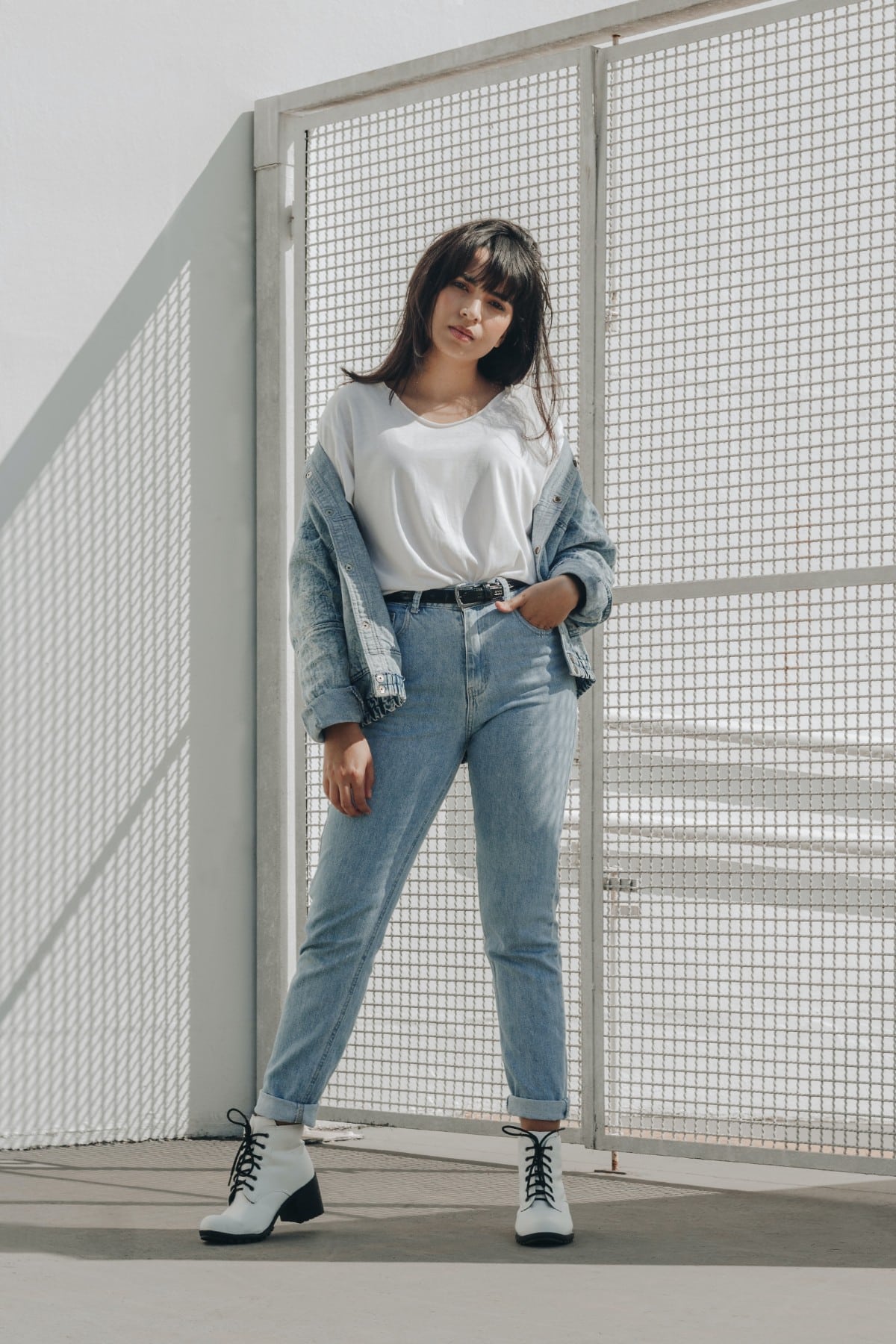 Mom jeans usually feature a high-rise waist and a relaxed fit throughout the legs. Oftentimes, mom jeans are made with 100% cotton for a vintage, rigid look. Mom jeans originated in the 80s.
Back then the denim trend was a high-waisted design and a tapered yet relaxed leg. If you watch any 80s show, you would probably spot this iconic style.
Mom jeans weren't called mom jeans back then, they got this name in the 2000s, when the new fave became low-waisted bootcut jeans.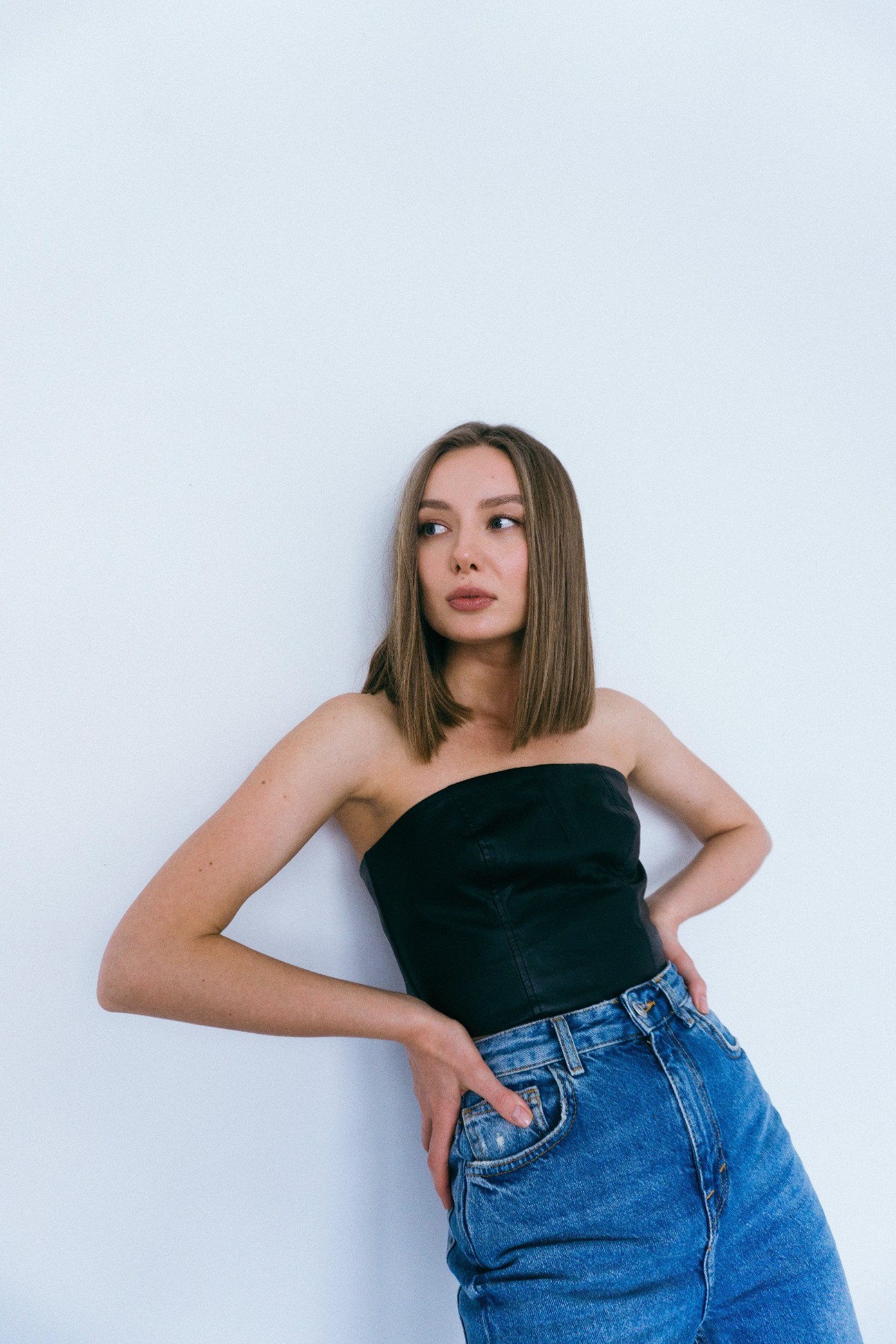 All the young fashion girls caught up with this trend quickly, and if you were still wearing high-waisted jeans, you were considered out of style and probably a mom (or someone around that age) – that's how mom jeans got its name.
The name mom jeans actually had negative meanings. It wasn't until the 2010s when mom jeans started to make a comeback. The style was updated to fit modern aesthetics, making them once again staples in every woman's wardrobe.
Mom jeans are worn by everyone nowadays because they're comfortable and effortlessly chic, making them the perfect everyday jeans for every season.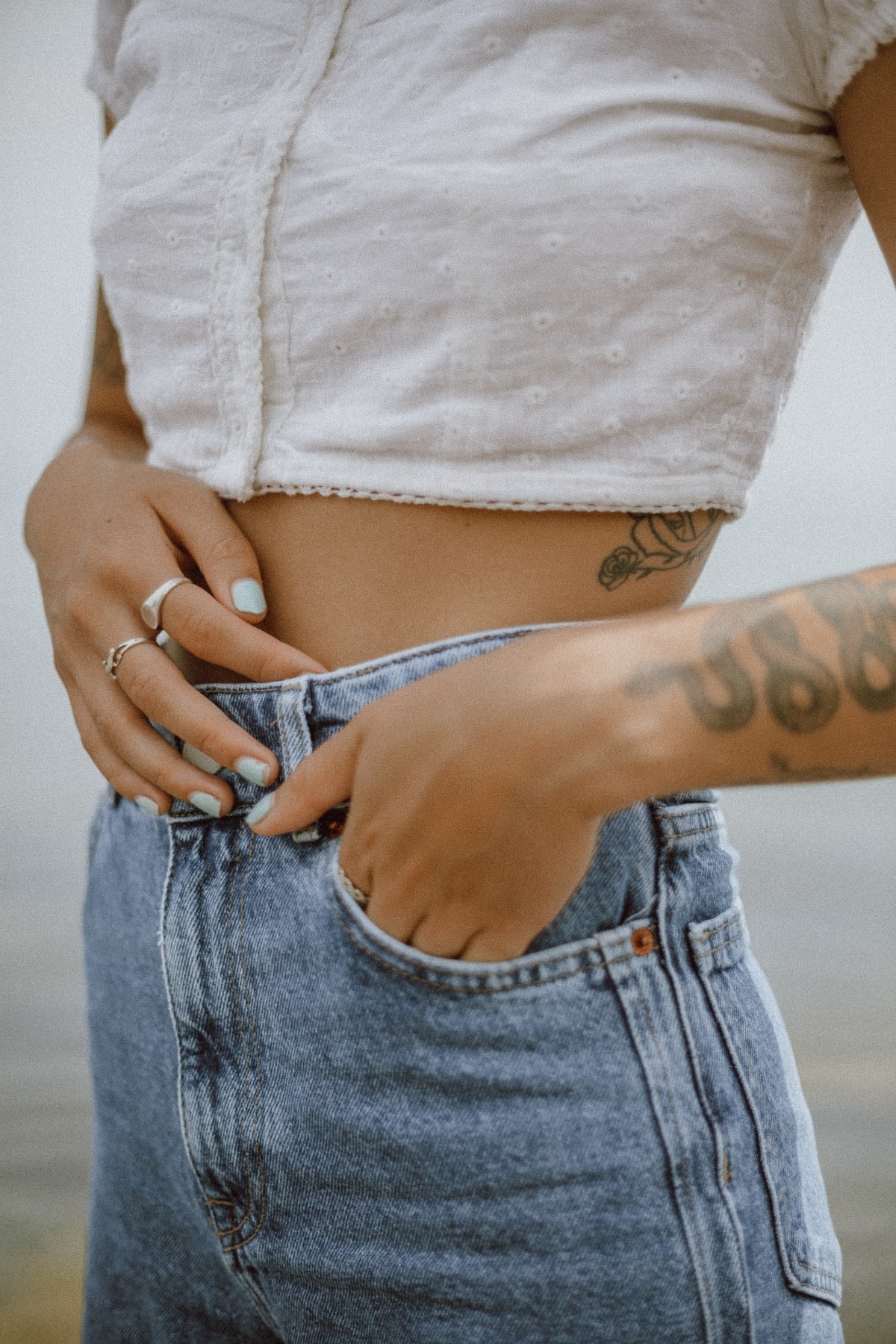 Simply style them with your favorite trainers and crop top, and you've got yourself a cute outfit. In winter, they look great with heeled booties and a leather jacket or coat (and the relaxed leg means you can wear tights underneath on freezing days).
You can also dress them up with heeled sandals and an off-the-shoulder top for a date or brunch with the girls.
Mom jeans are also very popular in alternative fashion. Many in the goth or punk style wear black mom jeans or distressed mom jeans as part of their unique personal style.
Read: What Shoes Should You Wear With Mom Jeans? 
What Are Boyfriend Jeans?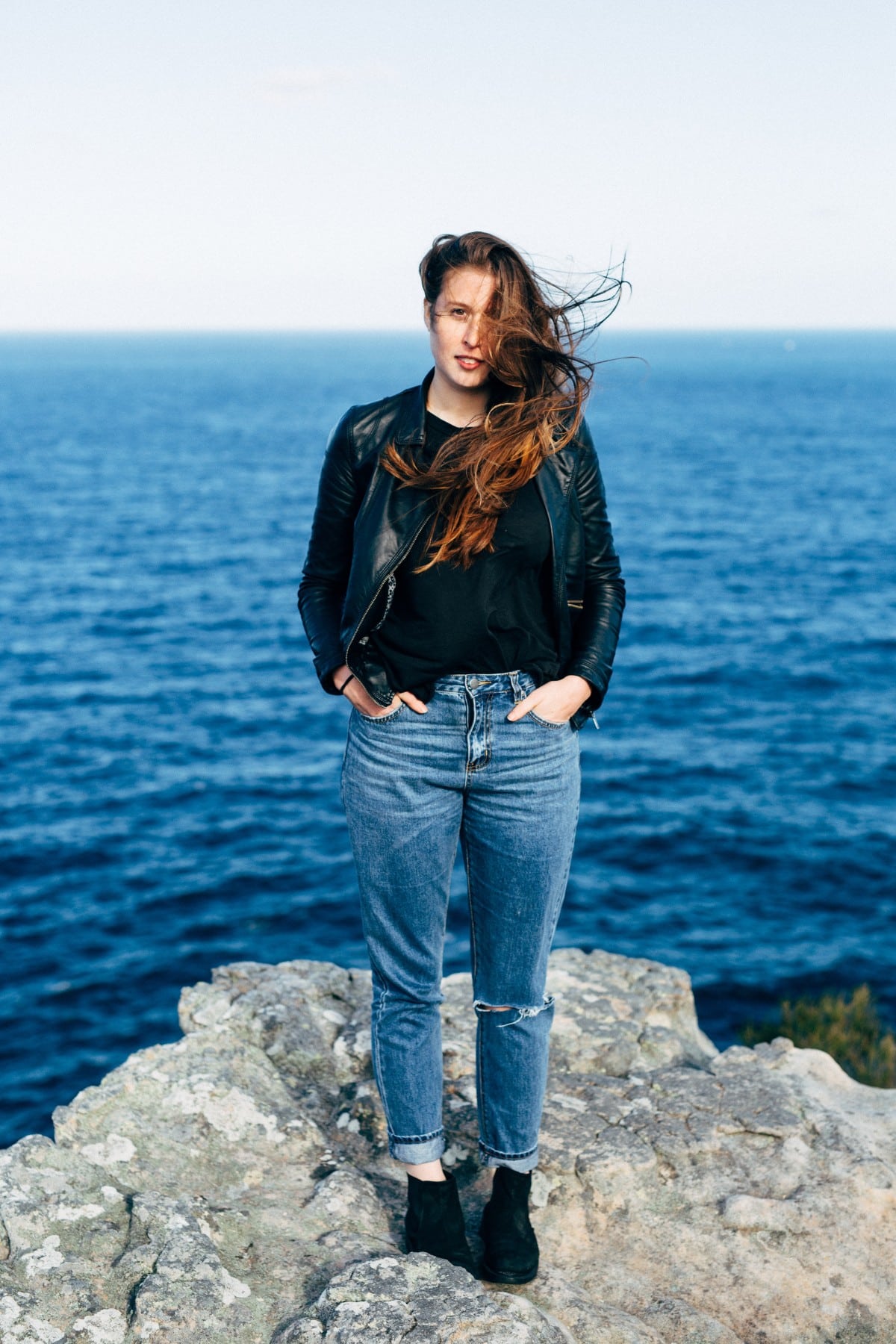 Boyfriend jeans are jeans that should look like they're borrowed from the boys. It's a very relaxed style that features a low-rise or mid-rise design and a straight leg fit.
Boyfriend jeans aren't as tapered as mom jeans, their fit is even more relaxed. You can wear them as full-length jeans, but the most popular way to wear boyfriend jeans is to wear them cuffed.
Boyfriend jeans originated in the 60s, and it is said that Marilyn Monroe first started the trend when she wore baggy jeans instead of more feminine styles.
A trend decades later also had girls borrowing clothes from their partner's wardrobe, one of the items was jeans.
After seeing this demand for menswear-inspired fashion, denim manufacturers started to produce jeans that have a relaxed fit but are made just for women, and that's how boyfriend jeans got their name.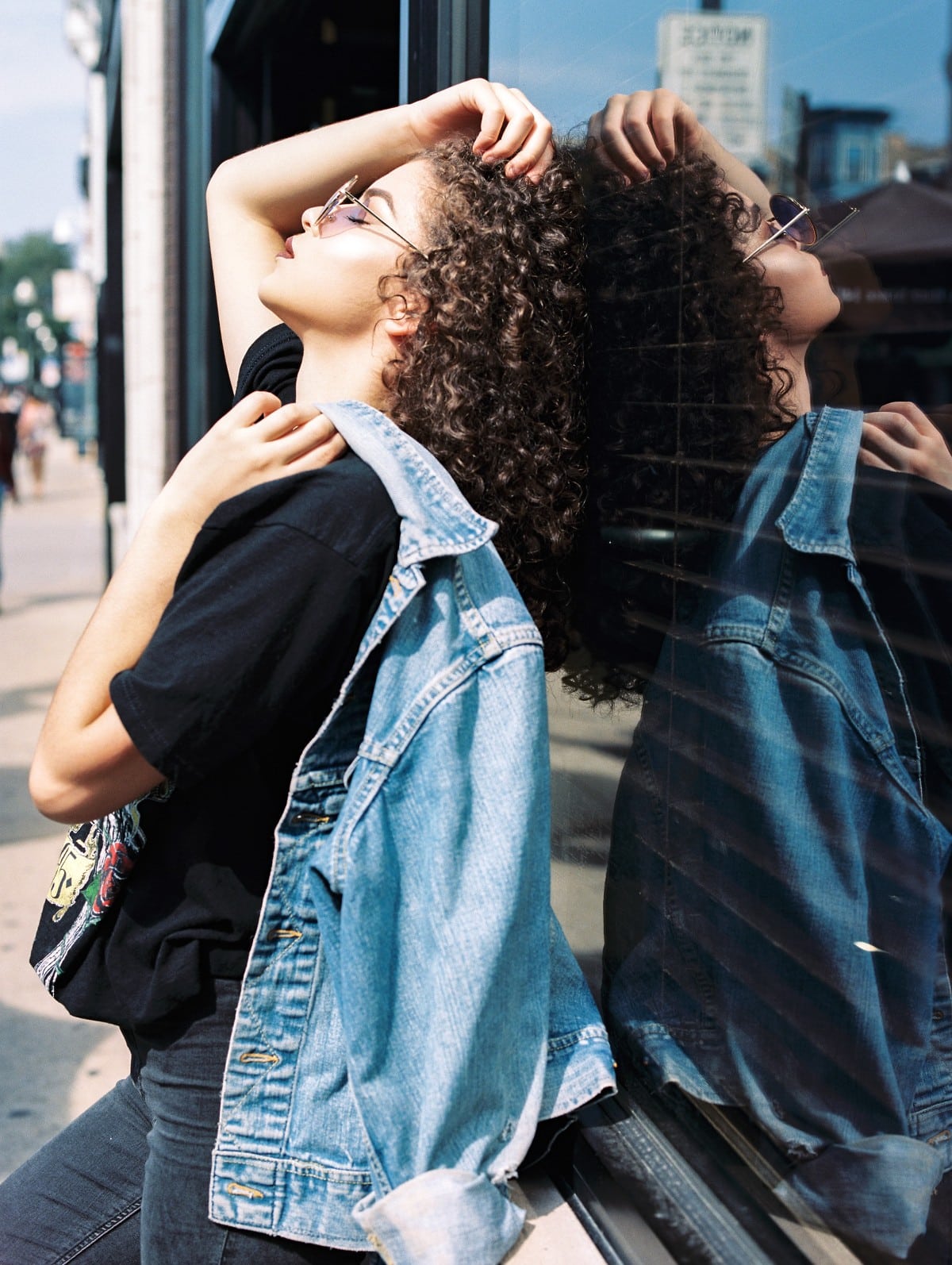 Boyfriend jeans are one of the staple ingredients for a tomboy look. Simply style it with sneakers and an oversized tee for that chic borrowed-from-the-boys look.
You can also glam them up with a pair of heels and a cute top. The contrast between the feminine pieces and the masculine cut is totally in style and has been worn by many celebrities.
Read: How to Wear Boyfriend Jeans Over 40 
Mom Jeans vs Boyfriend Jeans: What's the Difference?
Mom jeans are high-waisted and tapered while boyfriend jeans are mid to low-rise and relaxed.
Which Body Types Look Best in Mom Jeans?
Ladies with an hourglass shape or pear shape look great in mom jeans.
The relaxed tapered leg gives your curves more room, making it super comfortable for you.
The tapered design also creates a smooth and streamlined look down the legs. The high-rise waist even highlights your waistline, which emphasizes your killer curves.
Which Body Types Look Best in Boyfriend Jeans?
Boyfriend Jeans flatter the athletic body type, apple body shape, and the inverted triangle shape.
If your frame is more top-heavy like an apple shape or the inverted triangle shape, the baggier cut of boyfriend jeans can help balance your proportions if you wear them with a fitted top.
If you have an athletic build (also known as the rectangular body shape), then boyfriend jeans will also flatter your figure.
The baggy fit helps to create curves around your hips, and if you pair them with a top that has a bit of volume and heels, you can create a curvier figure.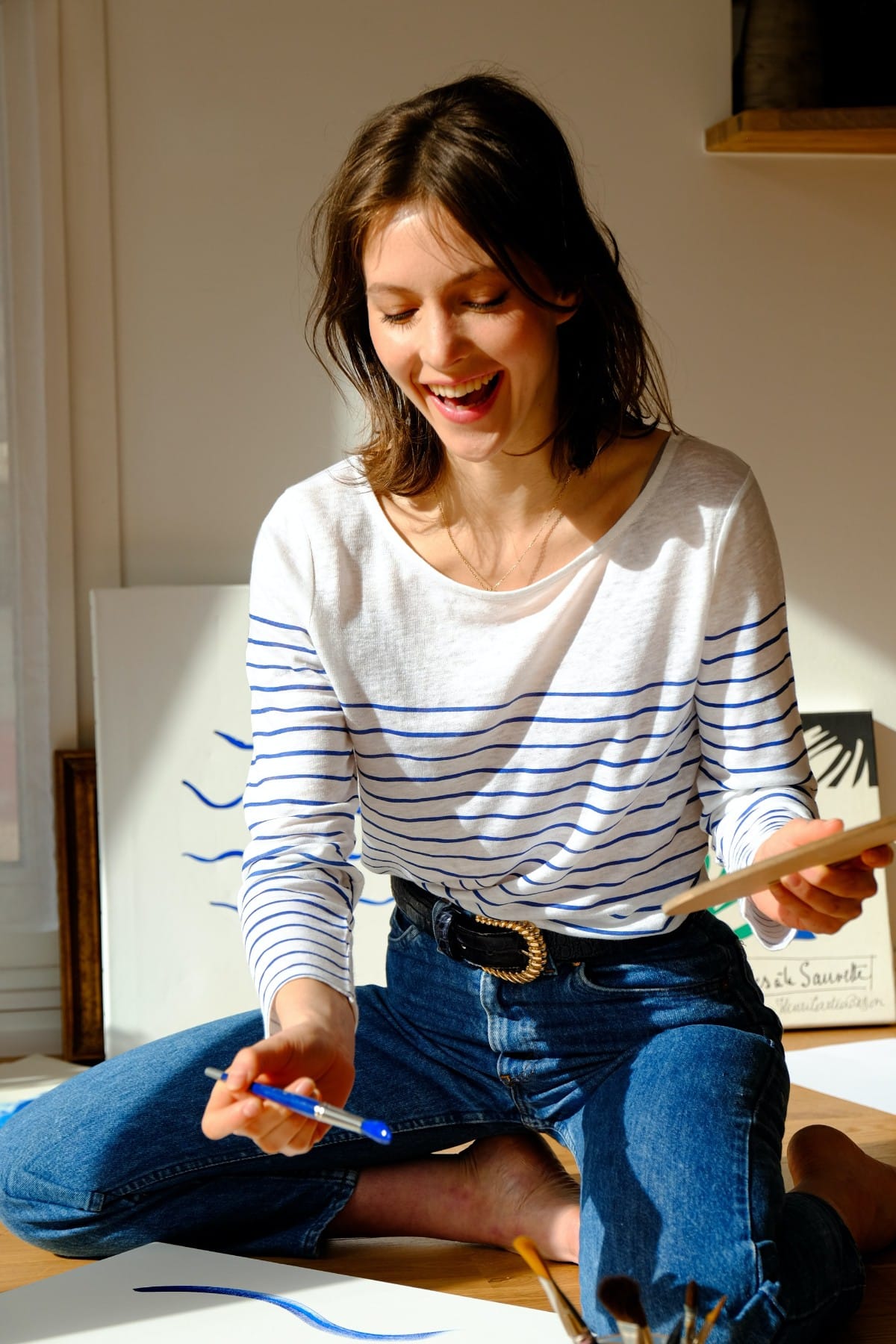 Mom jeans and boyfriend jeans are both comfy denim must-haves. Even though they have a similar relaxed fit and effortlessly chic look, they are far from the same. Now you know which style fits your body type and style best, you can start shopping for jeans that flatter your figure.
---
Check out our other guides: Best Shoes to Wear With Mom Jeans | Straight Jeans Vs Mom Jeans | Dad Jeans Vs Mom Jeans