Buying jeans can be a struggle for ladies blessed with an hourglass figure. There's always waist gaps big enough to fit a puppy, or the hip area is just too tight. Shopping for jeans can be such a frustrating ordeal!
If that sounds like you, you've come to the right place. We did our research and scoured Amazon for the best jeans for an hourglass shape and the result is this list of amazing jeans below. Read on to find your next faves.
Skinny Jeans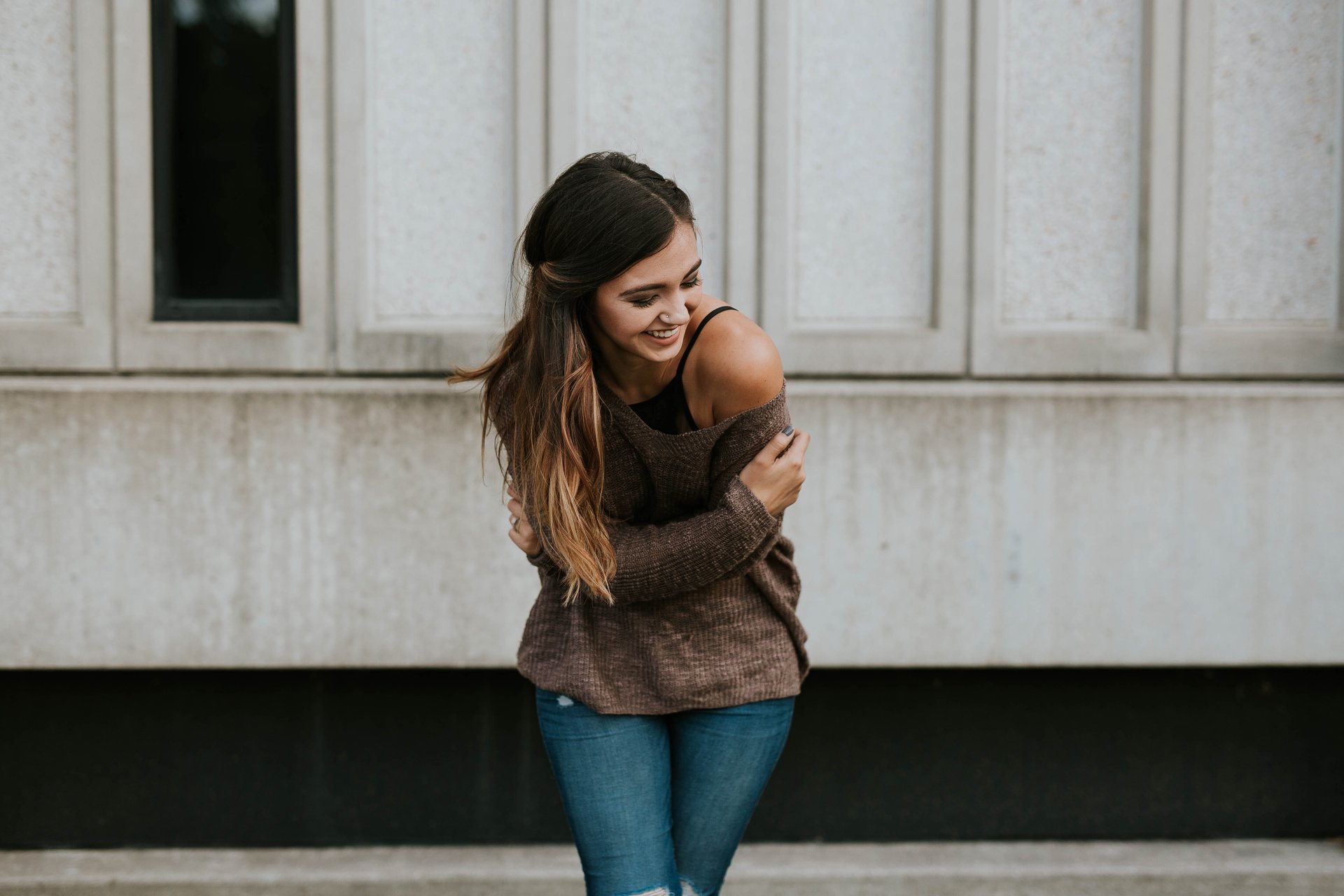 What better way to show off your sexy curves than putting on a pair of skinnies?
Skinny jeans have been a wardrobe staple for both women and men for many years, and even with the trend of wide-leg pants and mom jeans, they don't show signs of going away any time soon. Skinny jeans are one of the best jeans for an hourglass figure because of their curve-hugging fit. This type of fit gives your curves the spotlight. Especially the high-waisted ones, they highlight your waistline and accentuates those curves you were born with.
This premium denim brand never fails to deliver excellence in fit and style. The Jennie jeans are designed to flatter all figures. These babies are imbued with lots of stretch and feature a mid-rise design, which means they're comfortable for wearing all day. With a higher back rise, you won't have to deal with the dreaded waist gap. The 3D whiskering and fading are beautifully done to create a slightly worn look, and the horseshoe detailing on the back pockets gives them a unique look. The Jennie jeans can handle both your glam and casual looks, and they're sure to be your next go-to's.
Stand out from the crowd in these unique white skinnies by Liverpool. These come with a comfortable, set-in waistband that makes it flattering for almost any body type. Pair them with a pair of leopard-print booties and a simple black top for an effortlessly chic outfit, or wear heels with them on a night out. Either way, you're sure to stand out.
Read: 23 Best White Jeans for Curvy Women
Mid-rise jeans are some of the best jeans for an hourglass figure, which means you'll look fire in these skinnies by MetHera. The mid-rise design accentuates your waistline and enhances your natural curves, and the no-gap waist feature means the waistband will conform to your body shape. You can dress these jeans up or down, and the comfort they provide will surely make them your new faves.
Inspired by vintage designs, these high-rise skinnies by Lucky Brand will imbue all your looks with the right amount of edge and character. These skinny jeans are stretchy and high-waisted, which means they'll fit your curves like a glove without gaping at the waist. The distressed details in the front and on back pockets give these jeans some edge, and the slightly faded colors give them the vintage vibe that Lucky Brand is known for. With many washes to choose from, grab this pair to add some vintage character to your looks.
For those whose dressing style leans heavily on the edgy side, these jeans will be a great addition to your wardrobe. The high-rise design hugs your curves and prevents waist gaps, and the stretch means you don't have to sacrifice comfort for style. With heavily distressed details down the front leg (they even extend a little to the back), they'll add some edge to all your looks. Go for a glam look by pairing these with heels or style them with leather boots for an edgy look. Either way, you'll look amazing in them.
Straight Leg Jeans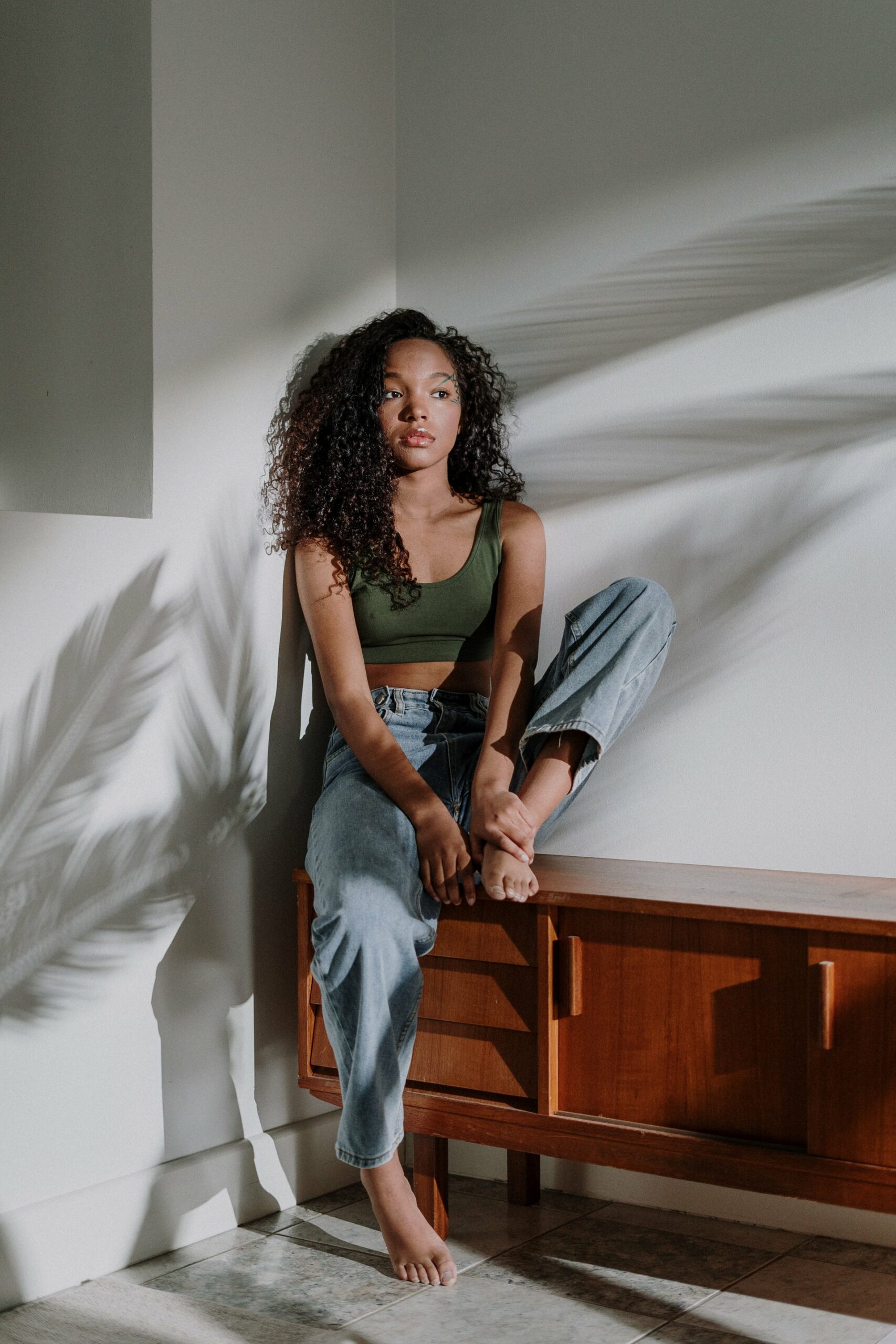 Straight-leg jeans are one of the best jeans for the hourglass figure because of their versatility and comfort. The wider legs give you more room and make wearing jeans in the summer cooler (both temperature-wise and style-wise), and the relaxed fit makes them perfect for everyday wear.
This classic silhouette looks good on an hourglass figure because the cut hugs your waist and hips well, so you can show off your curves in them. The wider legs also give you a proportionate look. Besides, now that gen Z kids have made them trendy again, why not get a pair?
Read: How to Style Straight Leg Jeans
How can you recommend jeans without mentioning Levi's? These straight-leg jeans by Levi's feature a comfortable mid-rise design, and they are imbued with stretch to provide more comfort for everyday wear. Designed with a relaxed hip and thigh, you get extra room in the legs and extra comfort as well. These mid-rise jeans also sit at the waist, which accentuates your curves. They're also versatile, so you'll look effortlessly chic in them whether you're wearing a simple t-shirt or something dressy. It really isn't hard to see why straight jeans are one of the best jeans for an hourglass figure.
These babies are high-rise, so they'll give you a defined waistline and in turn, highlight those sexy curves of yours. These jeans hold up their shape, giving you a sleek profile all day. They are also stretchy, so you can wear them all day while staying comfy. The classic silhouette of these straight jeans is super versatile, and you'll be able to put chic outfits together easily. Stylish, comfy, and versatile – these jeans by Bandolino are simply a wardrobe essential.
Producing denim that aims to provide everyone with a perfect fit, you can count on KUT from the Kloth for a pair of flattering jeans. Featuring the timeless 5-pocket design and a slender straight cut, these jeans will go with anything. They're especially ideal for hourglass figures since the denim hugs your hips, emphasizing your body shape even more.
These jeans by Democracy feature Ab Solution technology that will make sure you look your best all day long. The slimming panels in the front suck your tummy in, while the strategically placed pockets in the back enhance your sexy curves. The ultra-stretch fabric is soft, and it will hug your curves as well as prevent waist gaps. Other than all these features, these jeans just look really good. Pair them with some strappy heeled sandals and a simple t-shirt and you'll have a chic look that shows off those curves you were born with.
Created with premium denim, these straight-fit jeans from Wrangler promise a comfortable fit that also enhances your body figure. Not to mention that they come in all shades of denim blue from light to dark wash. These versatile jeans look just as good with heels as they do with sneakers, so get these wardrobe staples now to upgrade your style.
Bootcut Jeans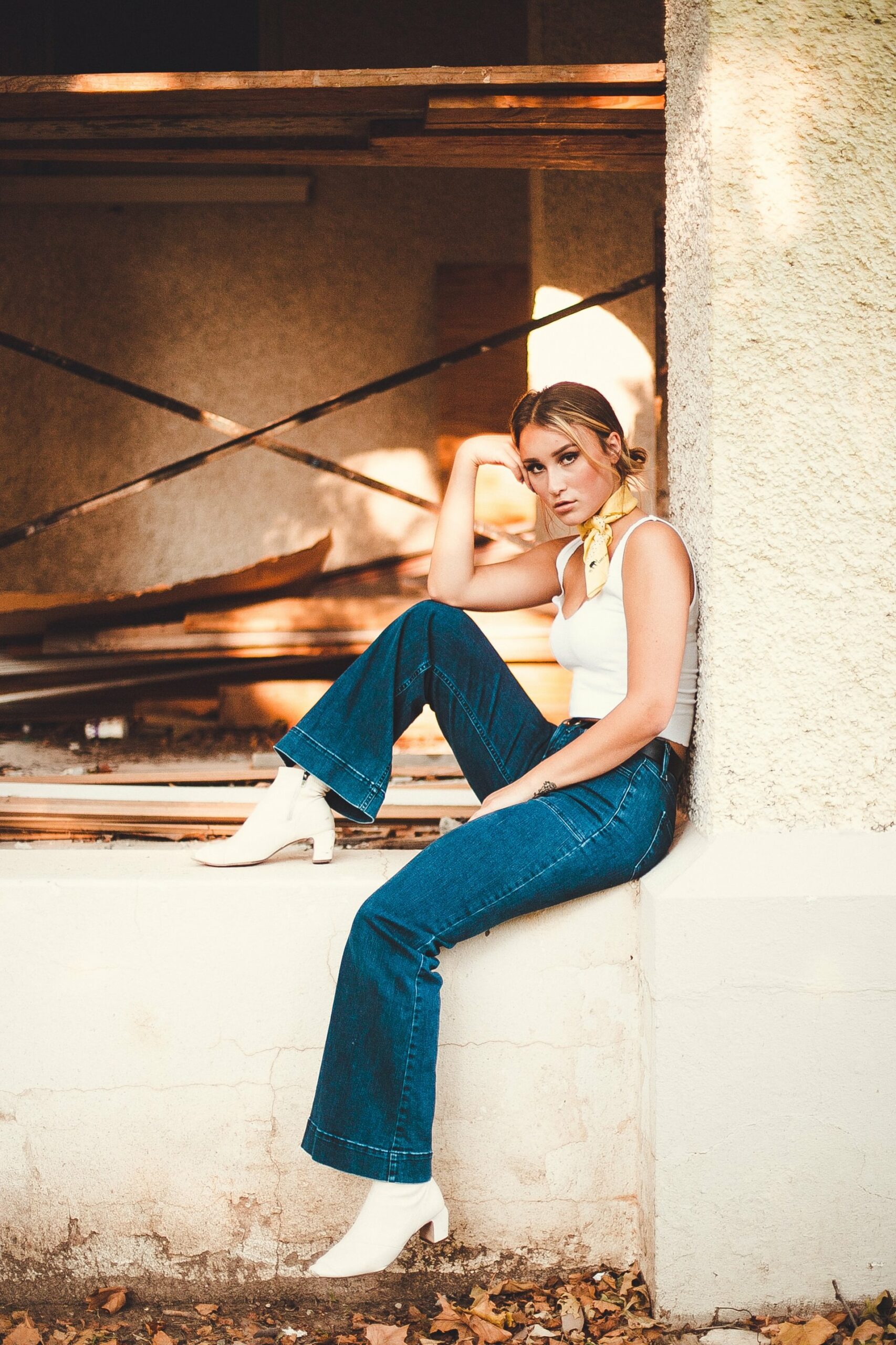 These 60s staples made a comeback and are again in every fashionista's wardrobe.
Bootcut jeans are also one of the best jeans for an hourglass figure. The fit from the waist down to your knees is snug and hugs your curves, showing off your hourglass figure. The slight flare at the bottom balances the curvier hips, giving you a proportionate look that's also stylish for the day-to-day.
Add some edge to your looks with this pair of ripped bootcut jeans for women. The high-waisted design and the snug fit around your hips and thighs accentuate your sexy curves, making them super flattering for all sizes. The randomly placed distressed details give these jeans the right amount of edge that will up your fashion game. These jeans have lots of stretch, meaning they'll hug your curves all day without losing shape and be comfy for everyday wear. These comfortable, flattering, and affordable jeans are a sexy fit for everyone.
High-rise jeans show off your curves, and this pair will do just that. This modern update of the classic silhouette features slimmer bootcut legs, meaning they'll fit your body more snugly. These jeans are super versatile and comfortable, so it's not hard to see why bootcut jeans are one of the best jeans for an hourglass figure. Style with a pair of heels or heeled boots for a sophisticated look, or stay casual by pairing them with sneakers. Either way, you're sure to look great in these jeans.
Stand out in these bootcut jeans with unique details. They feature a contour mid-rise waistband that prevents gaping, so you can sit without having to deal with waist gaps. These jeans feature stylish details that set them apart from others, including an elaborate stitching design on the back pockets, double buttons in the front, and beautifully faded colors. These babies have both plus-size and standard sizes, so you'll find your fit no matter what (unless they're sold out).
Read: How to Fade Jeans
You can always count on Lucky Brand for a pair of high-quality jeans. This pair has a mid-rise design that will accentuate your waistline. They also come in dark washes with a subtle fade and whiskering for that extra touch that is easy to pair with everything from white tees to dressy tops.
These bootcut jeans from KUT are made especially for hourglass figures with a higher rise on the sides, emphasizing your body type. KUT's jeans generally have the right amount of stretch in them, so you're sure to stay comfortable even after wearing all day. Throw in a button-up with high heels, and you're good for a timeless business casual outfit.
Wide Leg Jeans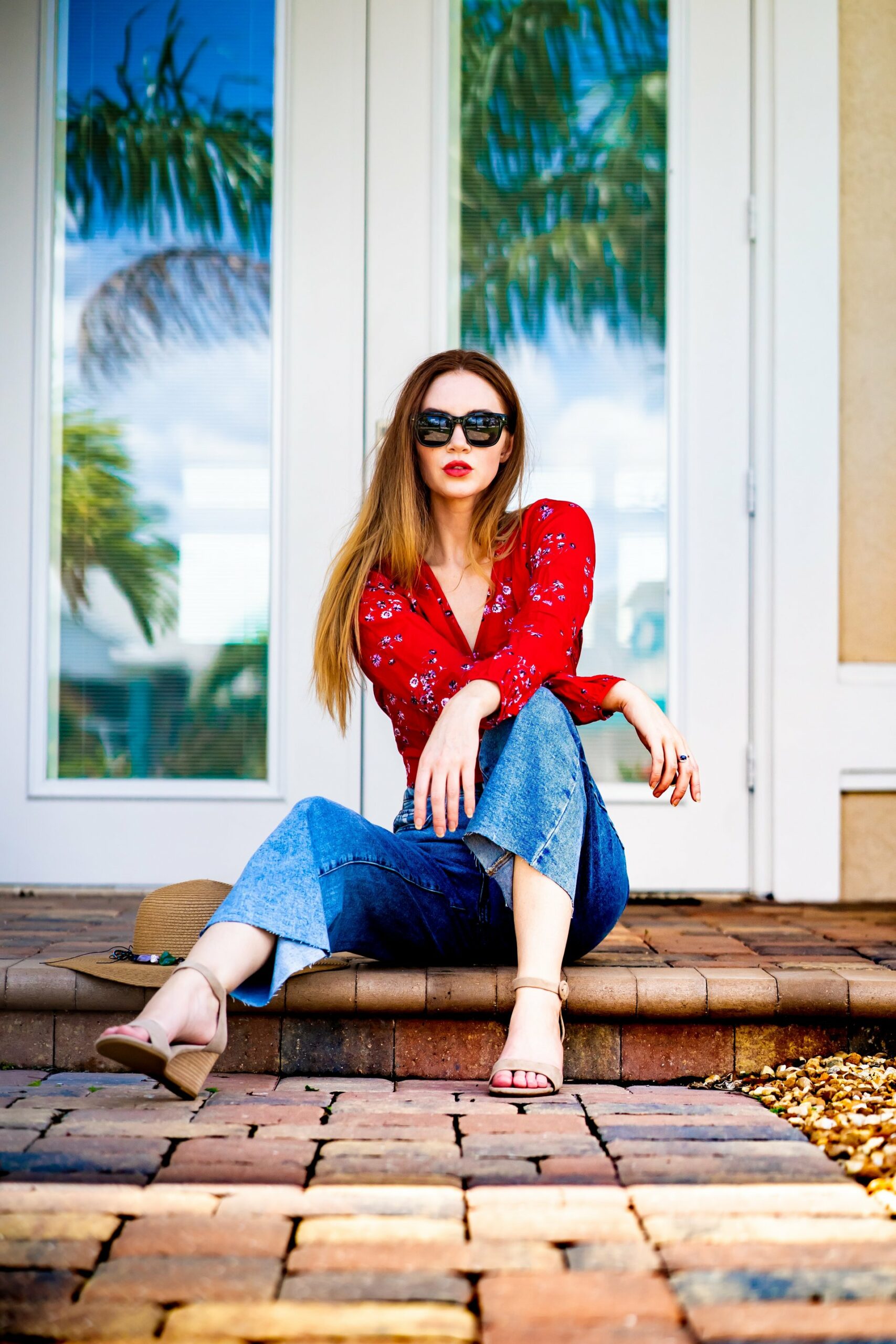 Wide-leg jeans are one of the best jeans for an hourglass figure. Just like bootcut jeans, the wide legs balance your curvier hips and give you a proportionate look. These jeans can be dressed up with a shirt and heels, and they can also be dressed down with sandals and chunky sneakers, so give them a try.
These jeans are proof that you don't have to sacrifice comfort for style. The high-rise design will accentuate your curves, with an added bonus of stretch that does not wear out with multiple use. Create a sophisticated look with heeled sandals or keep it casual with a pair of simple sneakers. You can dress them up for a date night or wear them every day. Being so versatile, they'll soon become your new go-to's.
Read: How to Dress Up Jeans for Work
Stay comfy and stylish all day in these cute wide-leg Jeans by Allegra K. The high-waisted design is stylish and highlights your curves, and the relaxing fit will keep you comfortable all day. The distressed treatment along the waistband and the two-button feature are details that help these jeans stand out. The wide legs mean you'll stay airy and cool all day in summer, and they look great with floral tops and sandals.
If you want a more baggy fit, these wide leg jeans from Genleck are perfect for you. They come in both ripped and plain vintage for that 90's vibe that you can style with crop tops and button-ups. Their shades of blue also work for a casual office look paired with your favorite high heels.
The high-rise design is super flattering and the wide legs create a balanced look, making them one of the best jeans for an hourglass shape. With its three-button waistline, you're sure to make any casual top look extra gorgeous. Grab a pair to give your wardrobe a stylish update.
These cropped jeans feature a raw hem that adds a bit of edge to the look and a unique button fly closure that will stand out. The high-rise design makes them super flattering for all body types, and the cropped length gives them a more laid-back vibe. They're a great piece for a tomboy outfit with sneakers and a simple t-shirt, and they'll look equally stylish when dressed up with a pair of strappy heeled sandals and a satin cami. Being such a versatile and flattering piece, it's not hard to see why they're one of the best jeans for an hourglass shape.
Mom Jeans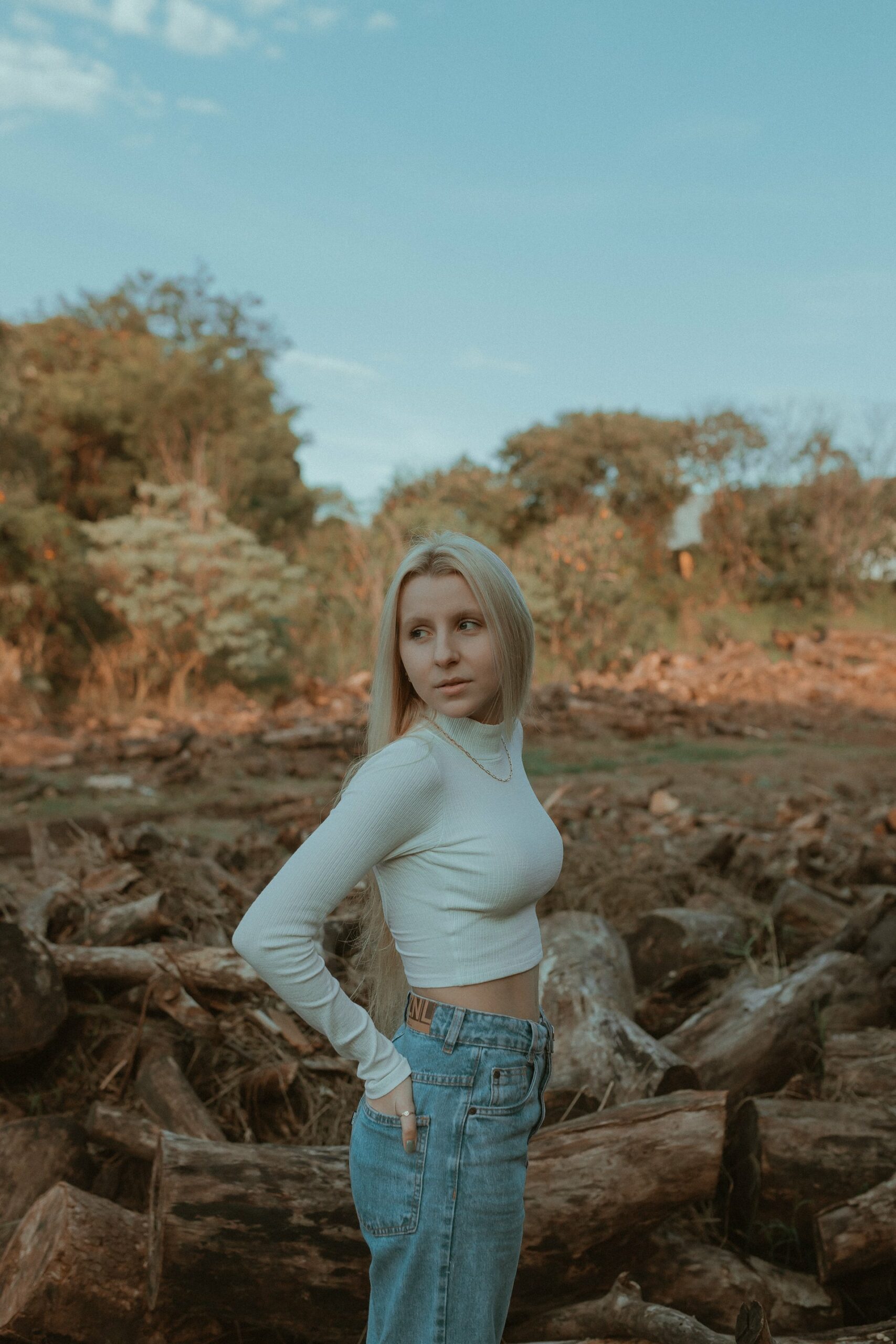 Mom jeans are another one of the best jeans for an hourglass shape (or for any shape, really), and here's why.
First, mom jeans are high-waisted, meaning they'll highlight your waistline and, in turn, your curves. Second, they have a more relaxed fit throughout the legs, but at the same time are slightly tapered to your shape, which gives you extra room in the legs without being too baggy, making them great for ladies with curvier hips and thighs. Lastly, they're just really comfortable and versatile. Plus, they're really stylish, too. How can you say no to them?
Read: What Shoes Should You Wear With Mom Jeans?
American Apparel takes the classic vintage denim to a new level with these stylish mom jeans. These non-stretch jeans feature a high-rise with slim-fit and tapered legs that would look stunning when paired with graphic tees or sweaters. Finish the look with a pair of white sneakers for an everyday look.
The pleated details and the slightly more baggy fit give these jeans a vintage vibe, and the high-waisted design accentuates your waist and helps highlight your sexy curves. Even without the stretch, these mom jeans are breathable and will hold up the shape even after days of wear. They're great for everyday wear, they look cute with glam heels and a sexy top, and they'll soon become your new go-to's.
Add some 90s vibe into your outfits with this pair. Infused with Lycra Xtra fiber, these jeans have some stretch, won't lose their shape, and will maintain their colors for years to come. With a vintage-inspired design, these jeans will upgrade your looks with some of that 90s' flair. Pair these cool jeans with sneakers for a casual everyday look, or dress them up with heels. Either way, you'll look stunning in them.
This pair is a hybrid of boyfriend jeans and mom jeans, giving them a feminine fit and a borrowed-from-the-boys look. With a high-waisted design and a decent amount of stretch, these jeans sit comfortably on your waistline and prevent waist gaps. They are more tapered around the waist and hip, which accentuates your curves. The rips down the relaxed legs give them some edge that will add character to all your looks. Featuring the flattering fit of mom jeans and the edge of boyfriend jeans, it's the best of both worlds with this pair.
These mom jeans from Little Vintage Girls feature roll-up capri cuffs that you can dress up (or down) no matter the occasion. They flatter almost any body type but look especially amazing for hourglass shapes since the high-waist fit accentuates your figure. Style them with tees or sweaters, and high heels for a classy touch.
Read: 22 Best Jeans for Women with Big Butts
What kinds of jeans should hourglass shapes not wear?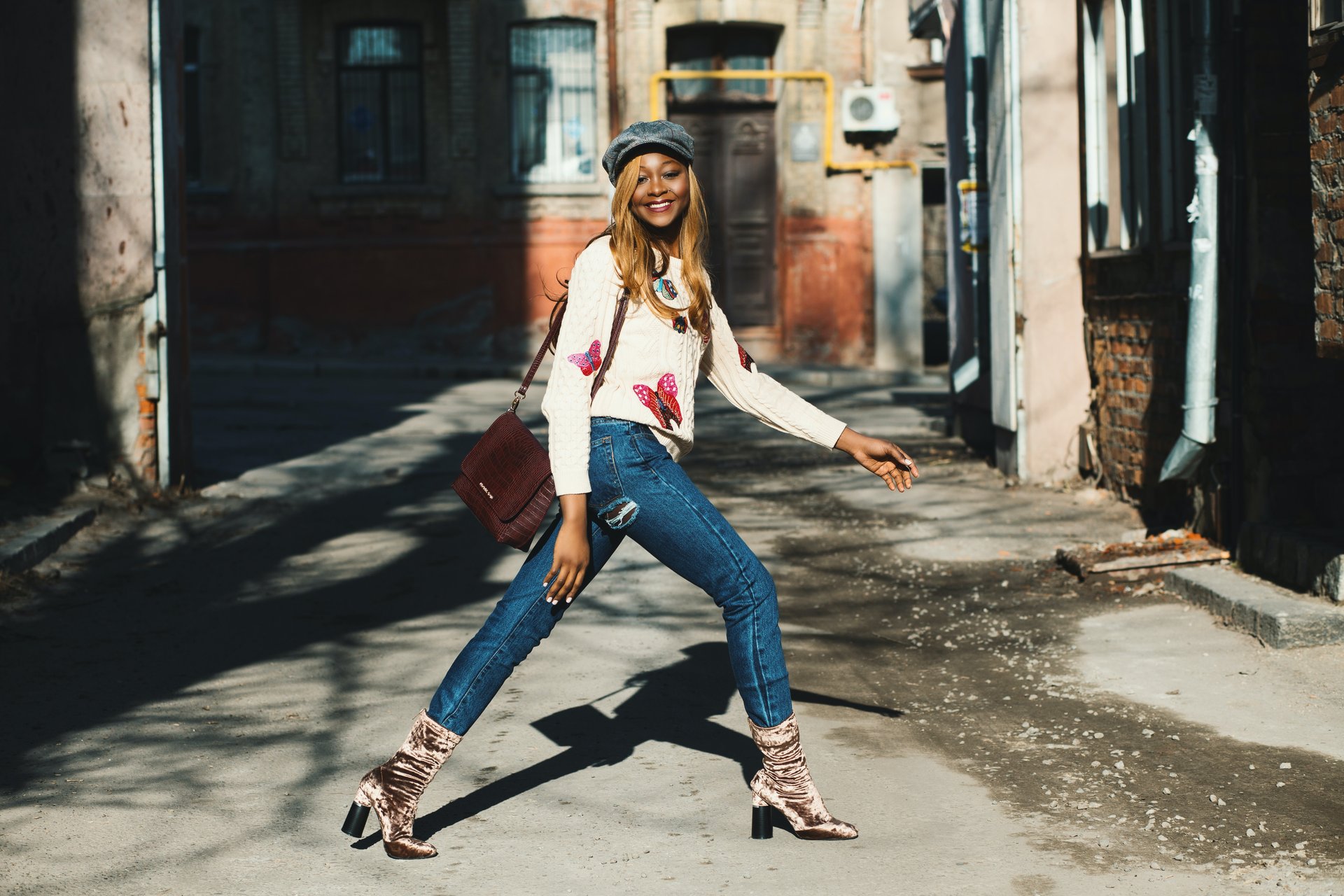 High-waisted jeans work best to highlight those curves you were born with, and mid-rise jeans look great as well. But, low-rise jeans are a no-no if you have an hourglass shape.
The waistline of low-rise jeans tends to be at the widest part of your hips, creating an unflattering look that doesn't define your waist while making your legs look shorter.
Jean shopping can be a struggle if you have the hourglass figure. The difference between your narrower waist and curvier hips could make finding the perfect fit difficult. But, you can find the perfect pair for you with ease if you know your body type and what works best for you.
In this article, we found the best types of jeans for an hourglass figure and created a list of amazing jeans for your body type. So, if you need a pair of new jeans, you can come here to find your next go-to's.
---
Check out some of our other denim guides: Best Jeans for a Small Waist and Big Thighs | Best Flare Jeans for Petites