Having a big stomach can often be the root of body confidence issues. Girls who are on the curvier side of the spectrum often have big stomachs and for them to find jeans that fit perfectly is nothing short of a miracle.
Jeans usually do not come with a lot of area in the waist, and curvy women often find them digging into their skin which is both uncomfortable and unaesthetic.
But having a big stomach is not something bad; it only means that there are more of you to love and cherish. Moreover, there are some plus-size jeans that you can try and surely like.
Let's look at some of the best plus size jeans for a big stomach.
If you are looking for a pair of straight-leg jeans that give you a snug shape but also cover your stomach, then you must opt for Lee Women's plus size relaxed fit straight-leg jeans. This pair is like your classic jeans and has a mid-rise waist that covers and tucks your big stomach inside easily.
With its relaxed fit, the thigh area will not be too tight on you, giving you maximum comfort. The leg opening is 18 inches, so you can easily fit into it without wrestling the fabric. You can find the traditional 5 pockets with the pair that has embroidery on the back.
A pair of stretchy bootcut jeans might be what you are looking for. This pair by Levi's is a women's classic that sits right on the waist, giving you an accentuated waistline.
For curvy girls with big stomachs, finding jeans with ample room in the thigh and hip area is very important.
You may have bigger thighs and hips if you have a big stomach; this is why you need to buy jeans keeping that in mind. Moreover, it is a good idea to get stretchable jeans that do not keep your movements restricted.
The Levi's women's classic bootcut jeans are one of the best plus-size jeans for a big stomach as they are stretchable and will hug your body in all the right places.
With a longer back rise, this pair can cover your stomach and give you much fabric in the back for a good fitting.
Skinny jeans and women with big stomachs don't always go well together, but that does not mean that you cannot find a pair. The Levi's women's 311 Shaping skinny jeans can give you the curvy silhouette you have been looking for.
With a snug fit in the legs and a broader waist, this pair can be your favorite go-to jeans every time you head out.
With the help of a zipper closure, you can fit all your curves within the waistband and enjoy a well-fitting pair of jeans. These pairs come in different options, such as standard plus size.
You can get your hands on the fit you think will suit your body the best.
Gapping is one of the most annoying problems women with voluptuous figures face. This is usually because of ill-fitting jeans.
You may stay uncomfortable throughout the day if you get jeans that fit around your thighs but have a gap as soon as you sit down. In this case, you can opt for Riders by Lee Indigo Stretch No Gap Waist Bootcut jeans.
These jeans are very stretchable and wrap around your figure in the most comfortable yet stylish way. They have a bootcut leg opening giving you a different style than the average straight-legged jeans.
The waist has elastic, so it does not dig into your skin and keeps you comfortable throughout the day.
Do you want to flaunt your curves but hide them in long flowy dresses? Not anymore! With the help of the Wrangler Women's Retro Mae plus-size jeans, you can let your curves steal the show.
This retrofit puts the style in stylish. With its contour waistband, you can expect to see your curves like never before. The pair is curve-hugging and will give you a flattering fit that will turn heads.
With its durable fabric and the trademark embellishment of a W on the back pocket, you can enjoy the gorgeous-looking pair of jeans.
If you are looking for a comfortable pair of jeans that you can wear day in and day out, then Riders by Lee Women's Plus Size Midrise straight-leg jeans are the best option. These jeans are made of a fabric that allows you to breathe and moves with you.
You can wear it all day long, and it won't be uncomfortable. It also comes with a midrise that can easily hold your stomach and give you the support you need. Moreover, the waist also gives you a slimming effect that can help improve your silhouette.
Are you a sucker for comfort? These Women's classic indigo denim jean leggings are the epitome of comfort when it comes to pants. With the look of denim jeans and the comfort of leggings, you can truly get the best of both worlds with them.
This pair comes with a faux flow which means that you can easily pull it on and not bother with the button or fly.
The slimming fit gives you the comfort of a tight stomach area. The stretchable fabric covers your stomach and gives you the support you need. Moreover, with the no-show coverage, you can bid farewell to panty lines that can be very embarrassing.
You can style these pants, put on a button-down shirt, go out for a meeting, or simply pull on a t-shirt and lounge in the living room all day long.
Don't worry about the fabric. These stretchy pants will retain their shape even if you wear them all day.
The Women's Plus-size Midrise Bootcut jeans give you the comfort you need for your daily life. It is very difficult to find a pair of jeans that gives your stomach the support it needs and ensures that you look good.
There is no reason why you shouldn't look stylish while staying comfortable. And to help you with both, you can wear the Women's Plus Size Midrise bootcut jeans by Lee Indigo.
This pair of stretchy jeans shapes your body in the best way and gives you the confidence to look your best. The straight leg gives you the perfect slimmed-down look that you can wear whenever you need a confidence boost.
Have you been super conscious about your jeans gapping from the back? We've all been there. Gapping can put you in several uncomfortable and embarrassing positions.
However, you don't have to worry about gapping if you have Wallflower Women's plus-size luscious curvy bootcut jeans. These jeans come with a midrise contour waistband that covers your stomach and prevents any instances of gapping.
Curvy women have lots to deal with in wardrobe choices, but you can get your hand on this pair of jeans and make your life easier.
The intastretch fabric makes it the best plus-size jeans for a big stomach as it stretches over your stomach and gives you the support you need.
If you are looking for a stylish option, the Democracy Women's plus size AB solution Ankle skimmer jeans are a good option. These jeans end just above your ankles, giving you a stylish outlook and a break from the mundane-looking straight jeans.
These jeans are the perfect option for women who have thicker thighs and a big stomach as they sculpt them perfectly, making sure that you have a voluptuous outlook.
If you have an hourglass shape and want to enhance it, hurry and get your hands on these jeans!
Fastening buttons when you have a big stomach can be a challenge. Not just that, but the button might even dig into your stomach, which can be extremely painful if you wear jeans throughout the day.
This is why this pull-on jean pair from Lee Women's collection is the best match for you. With its elastic band, you can easily pull the jeans over your legs and waist.
In addition to their pullover feature, these jeans also offer high comfort with the help of their stretchy fabric. The fabric does not cling onto your body in an unappealing way but makes sure that it sculpts your legs and stomach to give you a slimming and firm silhouette.
The Wallflower Women's Instastretch luscious curvy bootcut jeans are a match made in heaven for all the women who have curves and a big stomach.
These jeans come with a shaping and sculpting outlook. The style hugs your curves in all the right placing and makes you more appealing.
Over the years, you might have lost your confidence completely, but with the women's instastretch luscious curvy bootcut jeans, you can get it back. The pair of jeans has a midrise contour waistband that not just accentuates your waist but also prevents any chances of gapping.
Do you need a classic pair of jeans that will be your ride and die? The Signature by Levi Strauss is a pair you simply can't say no to. This pair of jeans comes with a high-quality stretchy fabric that gives you the comfort of wearing them all day, every day.
This is a pair that gives you both high quality and also helps you look super fashionable. The midrise waistband helps keep your stomach tucked and gives you a contoured shape.
Get these jeans, and you will be able to flaunt your body and look confident doing it.
What makes Democracy Women's Plus-size Ab-solution Itty Bitty boot jeans the best plus size jeans for big stomach? There are several features of this pair of jeans that make them a strong contender.
The super stretch denim is a great benefit as it looms over your body in a fitted fashion. Moreover, the pair comes with slimming panels that help you hold shape. With a hidden elastic band, you can forget worrying about gapping.
Not just that, but the pair also offers mesh panels that go over your stomach and help you with tummy control. On the other hand, if you are looking for a booty lift, the pair of jeans from Democracy has strategically placed pockets that can give you a booty that will drop jaws wherever you go.
If you want a new style of jeans, then you can try the Amanda Classic High Rise Tapered Jeans from Gloria Vanderbilt. These jeans cover your stomach completely as they are high waist and have a slightly tapered leg that will give you the fit you need.
You also get belt loops with the pair that make it easier to fasten it and fit your waist perfectly. With several different styles, you can develop interesting and aesthetically pleasing outfits.
Does it sound like a dream to be relaxed and look slim simultaneously? With Lee women's instantly slim classic relaxed fit, you can have a slimmed down silhouette and be as comfortable as possible.
These jeans are loose around your hips and thigh, which gives you plenty of room to move around and complete all your chores easily. The fabric comes with a slimming design that gives you hold and helps you achieve a toned shape.
With a 5 pocket style, this pair of jeans is one of the most popular options for plus-size women.
Do you want to elongate your figure and rock your curves? The NYDJ Women's plus size Marilyn Straight ankle jeans are the pair of jeans you are looking for. This pair comes with a figure elongating construction that ensures that your legs look longer.
With its high waist, you can easily tuck your stomach behind it, and the slimming panels will make sure that you get a sleek look.
These pants have a lift and tuck technology that makes them one of the best plus size jeans for a big stomach as it supports your curves and ensures that you get the best fit.
Ever wonder what real comfort looks like? The Ariat Women's R.e.a.l mid-rise bootcut jeans are a prime example of comfort. These jeans are designed to give you the ultimate comfort while making sure that you look like your best self.
These jeans have a classic western appeal that allows you to pair them up with different outfits to look fashionable.
This pair is a high-performance stretch pair that gives you the shape you need and promises high durability and flexibility.
The Democracy Plus Ab-solution Skinny jeans are the pants you need when you want to paint the town red. These jeans are the definition of confidence-building jeans. With them, you can get an instant booty lift.
Not just that, but this pair is the perfect companion for women who have a big stomach and can't find pants that fit perfectly.
This pair of jeans comes with a super stretchy fabric that can help cover all your curvaceous goodness. Moreover, if you are not comfortable with wearing jeans because they make you look bigger, then you can get the Democracy Plus skinny jeans.
These jeans have slimming panels that can give your silhouette a toned-down look.
The Bandolino Women's Mandie signature jeans are a high waist option that covers your stomach and gives you the confidence to go out in the world with your head held high.
You will also find belt loops on the waist that make this pair one of the best plus-size jeans for a big stomach. You can easily tighten them the way you please and give your curves the moment to shine.
These jeans are highly comfortable and can help you develop different outfit styles that can be your go-to choices for the summer.
Curvy women and skinny jeans are an unlikely combination. Many curvy women complain of not being able to find skinny jeans that fit them perfectly. But Gloria Vanderbilt women's comfort curvy skinny jeans have restated all such complaints.
These jeans are a flattering option for women who have big stomachs and need jeans that fit in all the right places. These jeans are a versatile option and can help you develop a plethora of outfit options.
Boyfriend jeans are the hip style nowadays, and if you get your hands on Levi's women's new boyfriend's jeans, you can stay ahead of the curve and come up with high fashion outfits.
These jeans come with a relaxed fit that gives you enough space in the hip and thigh areas to be comfortable when wearing these jeans. It sits right on the waist, so you do not have to worry about your big stomach pouring out of the jeans.
Jeans that sculpt your lower body are exactly what you need if you have a big stomach. This is where the Lee Women's Sculpting fit slim leg pull-on jeans come in.
These jeans have a pull-on closure where you can easily wear the jeans without having to wrestle with the buttons and the fly.
With these jeans, you can spend all your day completing chores and staying comfortable.
The Jag Jeans are pull-on jeans that are the best fit for you. Despite being skinny jeans, these jeans come with wide pull-on waistbands that help control your tummy and give you a slim look.
The Nora Midrise jeans can give you comfort and help you look good, and restore your confidence. It also comes with a classic 5-pocket design that can help give you a classic look and assist you in pairing it up with some of the best tops you have in your wardrobe.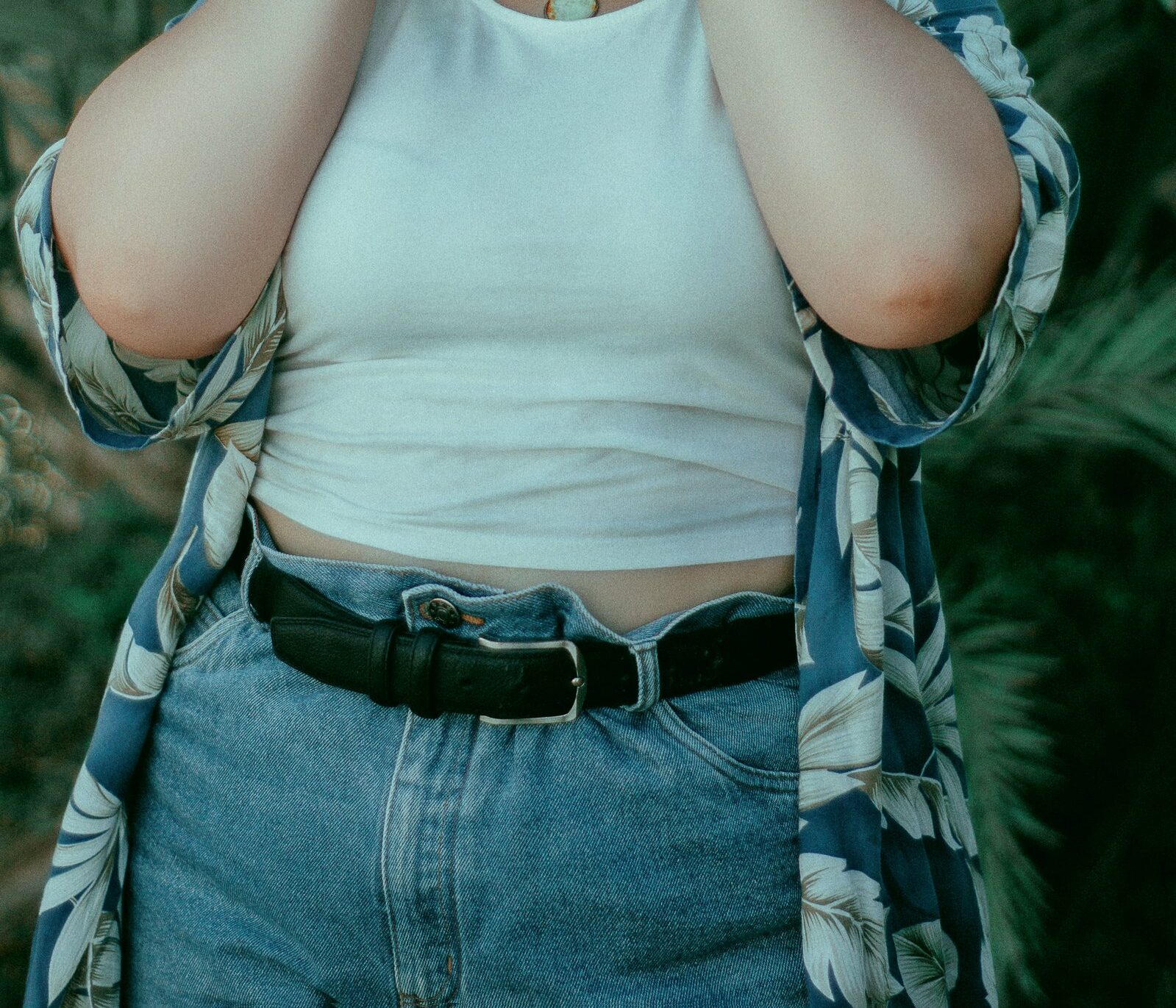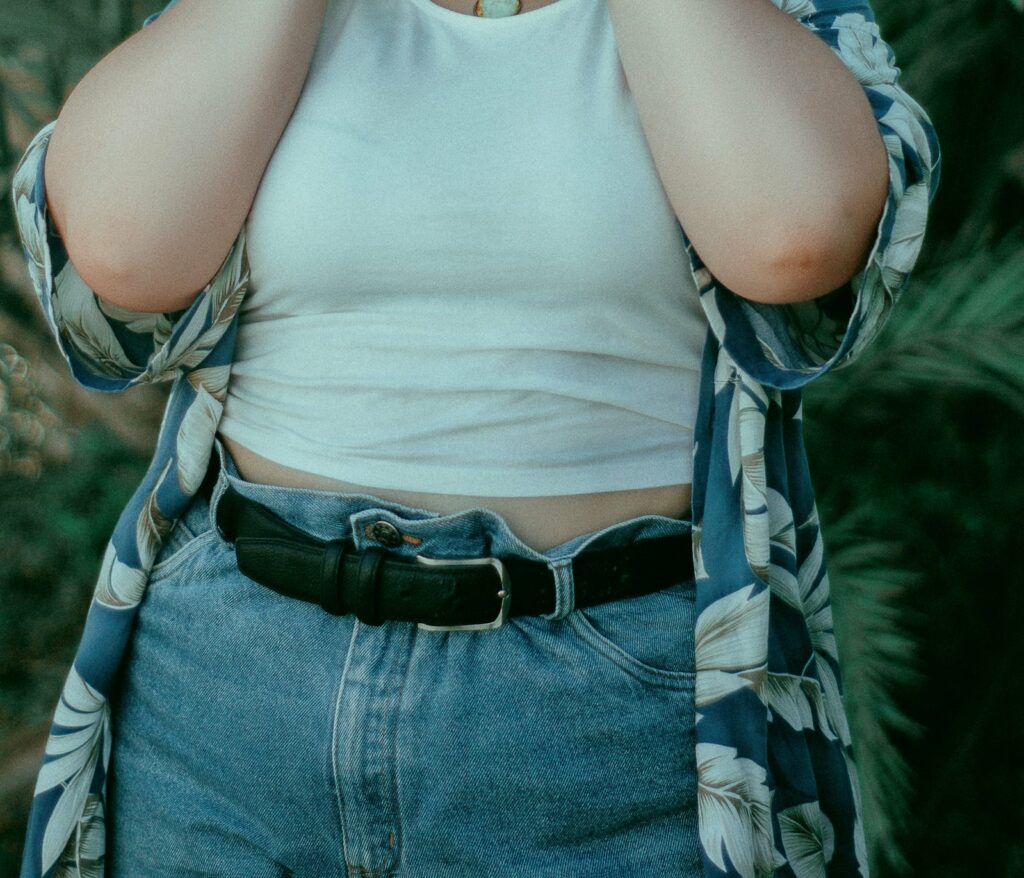 Finding the best plus-size jeans for a big stomach is not that difficult. With the jeans mentioned above, you can make sure that you have the right fit and can flaunt your curves with the utmost confidence.
Take a look at these jeans, and you will find many that check all your boxes!
Just make sure that you find a pair of jeans that you are most comfortable in and have the confidence to take on the world. With the right pair of jeans, you can do anything you want!
---
Check out some of our other jeans guides: Best Jeans for Apple-Shaped Plus-Size Women | Best Jeans for Muffin Tops | Best White Jeans for Curvy Women | Best Jeans for Big Belly and Skinny Legs | Best Jean Shorts for Thick Thighs